NFL Nation:

Bo Schembechler
July, 19, 2013
Jul 19
4:35
PM ET
San Francisco 49ers coach Jim Harbaugh
made headlines recently
for commenting on five Seattle Seahawks suspensions linked to performance-enhancing drugs. He specifically questioned whether players linked to Adderall were using that psycholstimulant as cover for taking substances more directly related to performance.
Five weeks later, the 49ers have acquired a cornerback suspended last season and
linked to Adderall use
. Eric Wright, 27, comes to the 49ers from the Tampa Bay Buccaneers in exchange for a conditional 2014 late-round draft choice, according to ESPN's Josina Anderson. He also has ties to 49ers assistant coaches Eric Mangini and Brad Seely, who were with Wright when all three worked for the Cleveland Browns.
Wright's PED history will be of particular interest in the NFC West.
"Play by the rules," Harbaugh said five weeks ago. "You want to be above reproach, especially when you're good, because you don't want people to come back and say, 'They're winning because they're cheating.' That's always going to be a knee-jerk reaction in my experience, since I was a little kid.
"We want to be a above reproach in everything and do everything by the rules. If you don't, if you cheat to win, then you've already lost, according to Bo Schembechler. And Bo Schembechler is about next to the word of God. It's not the word of God, but it's close."
Wright entered the NFL with Cleveland in 2007. Mangini became the Browns' coach in 2009. The 49ers previously signed veteran special-teams player
Ray Ventrone
, who also has ties to Mangini and Seely.
Wright gives the 49ers another veteran corner to compete in the secondary.
June, 11, 2013
Jun 11
4:29
PM ET
Last season,
San Francisco 49ers
coach Jim Harbaugh said he thought the
Seattle Seahawks
' defensive backs
broke rules on the field
. Harbaugh offered thoughts Tuesday on some of the Seahawks' recent violations off it, notably their five suspensions since 2011 for substances the NFL classifies as performance enhancing.

Harbaugh
"I've definitely noticed it," Harbaugh said, according to
a transcript from Grant Cohn
, who was at the 49ers' facility. "You don't know what it is. Even when people say what it is, you don't know that that's what it is."
Harbaugh referred specifically to reports of Seattle players using Adderall, an amphetamine that can be used to treat attention-deficit disorders. Adderall can also mask the presence of other banned substances. Some also use it recreationally.
"I've heard this thrown out or that, but that's usually the agent or the players themselves saying it's, for example, Adderal," Harbaugh said. "But the NFL doesn't release what it actually is, so you have no idea. You're taking somebody at their word that I don't know if you can take them at their word, understanding the circumstances."
Harbaugh said banned substances have "no place" in athletics.
"Play by the rules," Harbaugh said. "You want to be above reproach, especially when you're good, because you don't want people to come back and say, 'They're winning because they're cheating.' That's always going to be a knee-jerk reaction in my experience, since I was a little kid.
"We want to be a above reproach in everything and do everything by the rules. If you don't, if you cheat to win, then you've already lost, according to Bo Schembechler. And Bo Schembechler is about next to the word of God. It's not the word of God, but it's close."
Former 49ers linebacker
Larry Grant
tested positive for peformance-enhancing drugs and was suspended this offseason. He was no longer with the 49ers when the suspension came down. Defensive end
Bruce Irvin
was the latest Seahawks player to incur a suspension for PED violations. He'll miss the first four games of the 2013 season.
June, 5, 2013
Jun 5
12:00
PM ET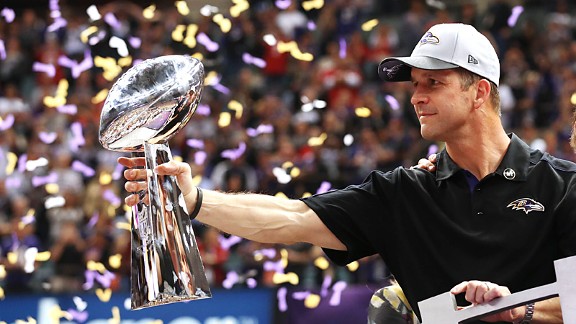 Matthew Emmons/USA TODAY SportsNo coach in NFL history has won more playoff games than the Baltimore Ravens' John Harbaugh in the first five seasons of a career.
When John Harbaugh was introduced as the
Baltimore Ravens
head coach, a reporter brought up the fact that owner Steve Bisciotti mentioned he was searching for the next Hall of Fame coach.
"By the way, did you know I said that?" Bisciotti said with a smile, patting Harbaugh on the back.
Five years and one Super Bowl championship later, no one is laughing anymore. While it's too early to start talking about making a bust of him for Canton, Harbaugh's ability to consistently win -- and win at a high level -- in a league that prides itself on parity underscores an unprecedented path of success.
No coach has won more games (including playoffs) than Harbaugh since he became the Ravens coach in 2008. No coach in NFL history has won more playoff games than Harbaugh in the first five seasons of a career. He is the only coach to win a playoff game in each of his first five seasons, and he is the only coach to advance to three conference title games in his first five years.
Harbaugh, 50, didn't make the cut in ESPN.com's
countdown of the 20 greatest coaches
of all time. He would, however, rank at the top of the list for the NFL's next great coach.
Some may dispute that by saying he's a good coach with great players. It's true that the Ravens have had at least five players make the Pro Bowl each season under Harbaugh, including six in 2012. What often goes overlooked is Harbaugh's knack for overcoming challenge after challenge. His teams have always survived serious injuries to star players, unpopular divorces with fan favorites, offensive inconsistency and a near-annual turnover at defensive coordinator (four in five seasons).
In 2008, his first season, Harbaugh went with a rookie starting quarterback (
Joe Flacco
) and guided the Ravens to the AFC Championship Game. In 2011, the Ravens parted ways with the top two receivers in franchise history (
Derrick Mason
and
Todd Heap
) before the start of training camp and Harbaugh got Baltimore to within one failed catch of the Super Bowl. And last season, despite reigning defensive player of the year
Terrell Suggs
and linebacker
Ray Lewis
missing a combined 18 games, Harbaugh captured another division title as well as the Vince Lombardi Trophy.
While many documented what winning the Super Bowl meant for Flacco, it represented validation for Harbaugh as well. It was only six years ago when Harbaugh, an accomplished special teams coach in the NFL, couldn't get an interview for the head-coaching job at Boston College (the job went to Jeff Jagodzinski). Today, he is shaking hands with President Barack Obama as part of the Super Bowl champions' visit to the White House.
"For me, there was no question in my mind that I could do it or would do it," Harbaugh said. "There wasn't any doubt personally about that. It was just a matter of where is it going to happen."
What you'll read now about Harbaugh is how this is his team with Lewis retiring. That's the perception on the outside. Those at Ravens headquarters know this has always been Harbaugh's team.
His attention to detail was key in turning the Ravens from underachievers to a perennial playoff team. His commitment to discipline changed the bad-boy culture in Baltimore. Last season's Super Bowl team featured just six players (Lewis, Suggs,
Ed Reed
,
Haloti Ngata
,
Marshal Yanda
and
Sam Koch
) who were on the team before Harbaugh. For the most part, these were
his
guys.
[+] Enlarge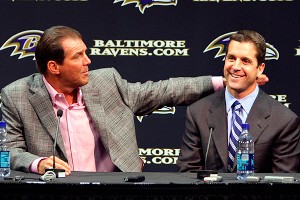 AP Photo/Rob CarrExpectations for John Harbaugh have always been high, starting when Ravens owner Steve Bisciotti, left, hired him in 2008.
When you sign up for Harbaugh's program, you're required to follow the rules at practice. Run full speed. Tuck in your shirts. Buckle your chinstrap. And don't ever think of sitting down. The signs posted throughout Ravens headquarters -- like W.I.N. (What's Important Now) and Team, Team, Team -- seem more suited for a college setting, but Harbaugh is all about professionalism. If you're not playing the best at that position, Harbaugh won't put you on the field, and it doesn't matter if you're a former Pro Bowl player.
Chris McAlister
and
Bryant McKinnie
learned that the hard way.
Harbaugh's tough love isn't for everyone.
Bart Scott
sounded off on him a few years ago, and
Bernard Pollard
said he wouldn't join the Ravens at the White House or ring ceremony after insinuating a problem with Harbaugh.
Harbaugh emphasized that he doesn't hold grudges and has respected every player who has been with the Ravens. In fact, Harbaugh believes one of the biggest factors to being a great coach is building relationships.
"The word I would use is you got to love your players," Harbaugh said, "and I believe Vince Lombardi loved his players. He was tough on them. He pushed them. They probably didn't love him back at the time. But they sure love him now."
Those who've remained have grown with Harbaugh.
"It was a lot different his first year," Yanda told The Baltimore Sun before the Super Bowl. "He didn't have his guys here, and some guys gave him fits and ticked him off. He didn't have his relationships built. But some of us have been together for five years now and we're more comfortable with him. We've had some great wins and tough losses together. We know him. We trust him, and he knows when it is time to work, we will work."
Harbaugh doesn't generate memorable quotes like Rex Ryan. He doesn't attract the same attention as his brother Jim. What Harbaugh stands for is a sum of the coaches that he learned under. From his father Jack, a longtime college coach, he understood the importance of connecting with players. From Bo Schembechler, he picked up the importance of physicality and the team concept. From Andy Reid, he developed the same meticulous nature.
Another fair comparison is Bill Belichick, who is considered the best head coach of this generation. Both got their start in the NFL coaching special teams and both had a football coach for a father growing up. And, in some respect, Harbaugh has Belichick to thank for where he is today. When the Ravens were looking at coaching candidates in 2008, Belichick called Bisciotti to suggest Harbaugh for the job.
"Take personalities completely out of it, they're both attention to detail, they're both schematically strong and they're both great evaluators of talent," said Ravens defensive coordinator Dean Pees, who also coached under Belichick. "They know how to handle players and they know how to hire coaching staffs."
Since 2008, Harbaugh has won 63 games, tied for the most in the NFL with Belichick. His .692 winning percentage in the playoffs is tied for fifth best in NFL history with Belichick. Now, Harbaugh is looking to become the first coach to repeat as Super Bowl champion since Belichick.
But Harbaugh will have to win this one without two future Hall of Fame players in Lewis and Reed. If Harbaugh has proved anything in his five seasons with the Ravens, it's how he attacks challenges.
"The greatest opportunity is in the biggest adversity. That's what it always is," Harbaugh said. "Every year, you can look at what was said before the season about what kind of team we were going to have and then you saw what we were able to accomplish. I'm really excited about the challenges we get to face."
January, 28, 2013
Jan 28
6:41
PM ET
NEW ORLEANS -- Looks like Jim Harbaugh needed less than 24 hours to get the hang of this Super Bowl media thing. The
San Francisco 49ers
' coach was a star Monday.
[+] Enlarge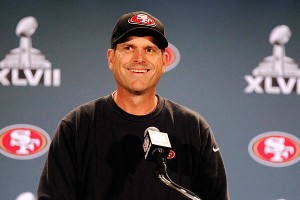 Tyler Kaufman/USA TODAY SportsSan Francisco 49ers coach Jim Harbaugh laughs at several of the questions asked of him during Monday's news conference in New Orleans.
Harbaugh, sometimes master of the awkward moment during his two-year run as 49ers coach, became master of Super Bowl ceremonies during an entertaining 20-minute session at the team hotel. He was at his best after Fox Sports' Nancy Gay asked Harbaugh a serious question about health dangers associated with football. She noted that President Obama recently questioned whether he would want a son to play the game.
"I have a four-month-old son, Jack Harbaugh, and if President Obama feels that way, then there will be a little less competition for Jack Harbaugh when he gets older," Harbaugh replied, stirring the room into laughter.
Great answer, and Harbaugh wasn't finished.
"It's still early," Harbaugh continued. "Jack is five months old but he's a really big kid. He's got an enormous head. We don't have a 40 time on him yet, but his wingspan is plus-one. As soon as he grows into that head, he's going to be something. It's early, but expectations are high for young Jack."
The answer revealed where Harbaugh stood on the matter. It also revealed a lighter side that Harbaugh used to his advantage throughout this session.
Harbaugh feigned injury to his pride when a reporter innocuously used the word "necklace" to describe the rope from which Harbaugh hangs a pen during games.
"Well, I take great offense that you call it a necklace," Harbaugh said. "It's a whistle. It's a coach's whistle that coaches have long worn. Every coach should have a whistle. It would be hard to go down to practice without a whistle."
Harbaugh beautifully captured his former college coach, Bo Schembechler, when asked about the University of Michigan legend's influence upon him as a coach.
Harbaugh had called Schembechler right after becoming a head coach for the first time, at the University of San Diego. From the top, Schembechler made Harbaugh take an oath to old-school football before the conversation continued.
"Jimmy, tell me you are going to have a tight end that puts his hand on the ground on every snap, tell me you will have a fullback who lines up directly behind the quarterback, and a halfback in the I-formation," Schembechler said, according to Harbaugh.
Of course it would be that way.
"Good," Schembechler said, according to Harbaugh. "Then congratulations on getting the job."
March, 21, 2011
3/21/11
8:18
PM ET
NEW ORLEANS -- Jim Harbaugh had just finished explaining why he thought football was the greatest game when the giggling began.
We were 13 minutes into a 15-minute interview session tacked onto another long day for the
San Francisco 49ers
' new head coach. Harbaugh had traveled to New Orleans from a charity event in Lake Tahoe, Nev., and he was two days into his first NFL owners meeting.
"It is the greatest game ever invented," Harbaugh had said. "It works every muscle of your body. You go to bed and sleep good after you have played football. You don't think about anything else except scoring a touchdown or making a play when you are out there on the field. I love it."
[+] Enlarge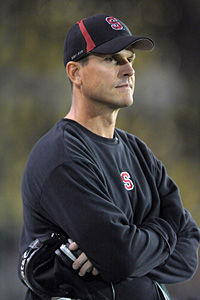 Kirby Lee/Image of Sport/US PresswireIt's clear from a conversation with Jim Harbaugh, who left Stanford to coach the 49ers, that he loves football.
Then came the giggling, which I figured was my cue, a 2-minute warning of sorts. Harbaugh had to be winding down. Hearing owners ramble on about labor relations and arcane rules changes would wear on any coach.
I glanced toward the 49ers' public-relations director and asked, lightheartedly, whether our 15-minute window had closed. There was no time for him to respond.
"It tests a man's courage," Harbaugh said.
At the time, I figured Harbaugh was joking about the courage it would take to extend him past the agreed-upon time limit. But after listening to a tape of our conversation, I realized Harbaugh was merely picking up where he had left off regarding his love for the game. He apparently hadn't noticed my little aside.
"You know, I could go on," Harbaugh said. "You start in the heat and go through a season that ends in the cold. The elements."
Now he was sounding more like an NFL Films narrative, without the dramatic intonations.
"Nothing makes you feel more like a man than when you defeat an opponent in the cold," Harbaugh went on. "Cold, bitter weather. Because now you have also not only beaten an opponent, but you conquered the elements as well. Hundreds of things I love about football."
There were times during our interview when Harbaugh ignored or did not see obvious cues, such as when I opened by asking what it's like to attend the NFL owners meeting as a first-time head coach. It had to be pretty cool.
"Well, it's informative," Harbaugh said. "It's been business-like. Business-like and informative. There is an agenda and people are packing it all in to, so far, a day and a half. There is no frills to this."
A computer could not have answered any more dryly.
Perhaps he had misunderstood. After settling into the job at the 49ers' headquarters, I noted, Harbaugh was now mingling with the other head coaches for the first time. I wondered whether the overall experience made his hiring as head coach sink in a little more. Has it been meaningful to him?
"It hasn't been nostalgic in any way," Harbaugh said. "It's really just trying to keep pace, learn and apply it to the task at hand."
Perhaps it's as simple as this: Football excites Harbaugh. The rest he endures.
Harbaugh's mind appeared to be running at all times. He tapped a pen on the end table next to him throughout the interview -- not rudely or to signal boredom, but more as though he were discharging excess energy. I counted 32 taps of the pen during one 11-second sequence.
Harbaugh is an equal-opportunity tapper. He tapped the pen when he spoke, too, including after I asked him about the importance of the tight end in his offense.
"In our philosophy, the tight end is a needed component because of the physical nature with which you want to play football," Harbaugh said.
His words became measured.
"The tight end. A fullback. Needed. Without those two positions, you tend more to be a finesse type of team."
Now he was rolling again.
"Especially if you can get a fullback, a man who lives a spartan life, who goes to bed and dreams about physical confrontation and getting from Point A to Point B to go hit somebody," Harbaugh said. "If you have that kind of face as your identity for your team, then you can play the kind of football that we are talking about."
Harbaugh traces his offensive lineage to Lindy Infante, who coached him as a player at Indianapolis, and Bill Walsh, who played a leading role in hiring him at Stanford and made famous the basic West Coast system Harbaugh is implementing with the 49ers.
Decades ago, critics slapped the "finesse" label on the West Coast system because it substituted short, precise passes for more manly running plays. The more offenses have gravitated toward three- and four-receiver personnel groupings in recent years, the more smash-mouth Walsh's approach appears by comparison. Harbaugh's background under Infante with Indianapolis and Bo Schembechler at Michigan are at play here. Infante worked under Marty Schottenheimer in Cleveland and Forrest Gregg in Cincinnati.
"It's a belief that the surest ways to win are if you can physically dominate an opponent, out-hustle them -- those are the surest ways to win," Harbaugh said.
Former 49ers coach Mike Singletary couldn't have said it better, but his background as a linebacker complicated efforts at implementation. With Harbaugh, the 49ers have a longtime former NFL quarterback with college head coaching experience and the proven ability to install a successful, creative offense.
"I feel that everything that has led up to this point where I am now -- playing, coaching, growing up with a dad who is a coach, a brother who is a coach, all that time, all those lessons, all that competition -- has prepared me for this one task, this one task of coaching the 49ers," Harbaugh said.
It's a huge challenge. The 49ers haven't been to the playoffs in nearly a decade. They won the last of their championships after the 1994 season.
Harbaugh won't be the only one giggling if he can turn them around.

NFL SCOREBOARD
Sunday, 12/22
Monday, 12/23