May, 30, 2014
May 30
10:00
AM ET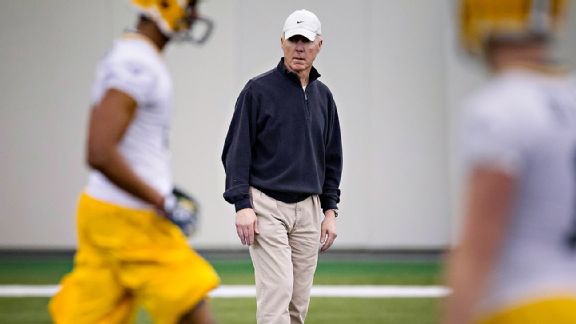 AP Photo/Mike RoemerUnder the direction of general manager Ted Thompson, the Green Bay Packers have maintained stability in the front office.
GREEN BAY, Wis. -- A month ago, Ted Thompson looked –- and sounded –- worn out.
In his annual pre-draft session with reporters, his speech was slower and more deliberate than usual, prompting whispers about his health and questions about how much longer he might continue as the
Green Bay Packers
' general manager.
Even Bob Harlan, the former Packers president and the man who hired Thompson in 2005, noticed a difference.
"I did see him on TV a couple of times where he seemed down, and I don't know if it was just exhaustion from the preparation for [the draft] and all the travel that he goes through because he just grinds all the time," Harlan said. "He's either in that room looking at video, or he's on the road."
At age 61, could Thompson have been showing signs that he was nearing the end of a successful run as general manager that has included one Super Bowl title?
Those close to him did not think so at the time, even when Thompson was forced to miss the NFL annual meetings in March because of an undisclosed personal matter. And they do not think so now, especially after he appeared energized following the draft.
So when Thompson joked a week after the draft
that he's "just getting started
," the Packers should hope there is more than just a shred of truth to his typically dry humor.
In many ways, Thompson is the key to keeping the Packers' successful leadership team intact.
Consider what happened when Thompson's mentor, Ron Wolf, retired in 2001: The Packers had a coach in Mike Sherman they wanted to keep. Harlan feared that if he went outside for a general manager, he might lose Sherman, so he added the GM role to Sherman's responsibilities. Four years later, it had become apparent it was too much for him, prompting Harlan to bring back Thompson, who had followed Mike Holmgren to Seattle and was the Seahawks' director of player personnel. Thompson and Sherman worked together for one season before Thompson fired him and hired coach Mike McCarthy.
All the while, some of quarterback Brett Favre's prime years passed without even reaching another NFC Championship Game during Sherman's tenure (2000-05).
It's not unreasonable to think the same problems could befall McCarthy and quarterback
Aaron Rodgers
if Thompson were to walk away anytime soon.
"That poses a problem; there's no doubt about it," Harlan said. "I guess because I saw it happen twice –- when Ron came in and Lindy [Infante] was here [as the coach] and with Ted, who tried very hard to make it work with Mike Sherman –- I know it can go downhill in a hurry. It is very difficult if the general manager cannot select his own coach."
No doubt, that's why current Packers president Mark Murphy indicated earlier this month that before any contract extension will be done for McCarthy, Thompson's situation will be taken care of first.
Like McCarthy, Thompson has two more years left on a contract he signed after the Packers won Super Bowl XLV. Thompson would not say how much longer he intends to work but added that he "wouldn't anticipate doing anything different."
When Harlan hired Thompson, he received no assurances of how long Thompson would stay on in the role, but Harlan considered Thompson -- who has never been married and does not have children – to be all football, all the time.
"I had watched him for all of those years when he was working for Ron in Green Bay, and his life was just football then as I'm sure it was in Seattle, too," Harlan said. "Ron was 53 when I hired him [in 1991], and I was shocked when he wanted to leave so early, but I understood. Frankly, what I was trying to do was make the move on Ted before it was time for me to go so that I could be sure football was good hands."
And Harlan's last major act as president did just that. Of the 53 players on the Packers' roster for Super Bowl XLV, 49 of them were acquired by Thompson, whose draft-and-develop philosophy has kept the Packers competitive on an annual basis.
If Murphy has a succession plan in mind for the GM job, he has not shared it. Perhaps he could try to lure former Packers scouts-turned-general managers John Schneider or John Dorsey back to town, but it might be tough to get Schneider out of Seattle or Dorsey out of Kansas City, where both have strong support from their owners.
It's possible he could maintain continuity by promoting vice president of player finance Russ Ball or one of Thompson's chief scouts –- Brian Gutekunst, Alonzo Highsmith or Eliot Wolf.
Some believe Murphy might hire a search firm -– as he has done with several other key front-office positions -– to identify candidates.
Or maybe, if the Packers are fortunate, Thompson will keep going strong.
One person close to him said recently that he does not see Thompson leaving anytime soon, unless the Packers win another Super Bowl, and that all the recent talk about him retiring "got him going."
When told of that, Harlan said, "I would think he'd at least go to 65, and then I think probably what he's going to do is become an area scout. He told me a long time ago that someday he might just go back to Texas and just be an area scout.
"Maybe he'd do it for the Packers. I would be surprised if he didn't work until at least 65. His health is good, and this is everything for him."
July, 3, 2012
7/03/12
2:10
PM ET
Almost a full year has gone by since our last FavreWatch post. As it turns out,
there is a little-known codicil
in the NFC North blog constitution which gives the blogger unlimited power to preserve order in times of emergency. And 365 days without a FavreWatch post most definitely qualifies.
Those of you who are hoping for an imminent reconciliation between former quarterback
Brett Favre
and the
Green Bay Packers
would be disappointed to learn what former team president Bob Harlan
told ESPN 540 on Tuesday morning
. According to Harlan, it appears Favre has declined an invitation to attend and/or participate in former coach Mike Holmgren's induction into the Packers Hall of Fame this summer.
Harlan envisioned the appearance as a first step toward a reconciliation and still holds out hope that Favre himself will be inducted into the Packers Hall of Fame before his presumptive 2016 enshrinement in the Pro Football Hall of Fame.
The full podcast of Harlan's appearance is available
, but here is a portion of what Harlan said:
"We had a meeting about two months ago and talked about who should be invited back [for Holmgen's ceremony] -- Jon Gruden, Andy Reid, people like that. And, we talked about players. And I said to the group, 'What about No. 4? This would be the perfect time for him to come back, come into Green Bay.'

"The crowd at the Hall of Fame banquet is an adoring crowd, they're as loyal to the Green Bay Packers as anybody. And unfortunately, I don't think he's going to do it. We did approach his agent, and I don't think Brett's going to do it. I feel badly about that."
It's reasonable to think Favre and the Packers will come together sometime in the next five years. But it doesn't appear that will happen in the summer of 2012.
July, 9, 2008
7/09/08
10:58
AM ET
Posted by ESPN.com's Kevin Seifert
Whether intentional or otherwise, a group of caravanning Green Bay Packers spent part of Tuesday painting quarterback Brett Favre as a retired player who misses the game -- and not one who is trying to get back into it.

Mark Murphy, the Packers' new president and CEO, told the Green Bay Press-Gazette that "no player leaves the game gracefully." During a promotional visit to Fond du Lac High School, Murphy added: "It's kind of the nature of what makes great players great, is they're competitors and they always want to compete and they want that next challenge, and it's hard to find that next thing that's going to give you that excitement and adrenaline. That's what we're seeing a little bit here."

Later, Murphy said: "I keep going back to his retirement announcement and how sincere and heartfelt that was. I think it's pretty reasonable that, as an organization, we're going to move on."

Murphy's sentiments -- echoed by Bob Harlan, his predecessor -- may well represent the Packers' true interpretation of Favre's situation. But it also positions the organization for the moment when -- and if -- Favre publicly announces his plans to play. (Or, at least, formally requests the Packers remove him from their reserve/retired list.)

The Packers know their least painful scenario is for Favre to remain retired. They also know how difficult it will be to win the public relations battle if Favre presses the issue at a time when the organization, in Murphy's words, is moving on.
Murphy's response reminds the public that four months ago, a teary Favre said on national television that he didn't want to play any longer. The Packers took Favre at his word, installed Aaron Rodgers as their starter and began the journey into a new era. Eventually, the Packers will consider the issue a matter of Favre keeping his word.
NFL SCOREBOARD
Thursday, 9/4
Sunday, 9/7
Monday, 9/8