January, 31, 2012
1/31/12
8:11
AM ET
It's a strange time in Indianapolis.
The city's on center stage as Super Bowl host, and the early reviews are excellent. I expect it to be as good a week in a cold-weather setting as we've seen because of the easy logistics of a compact downtown.
A Super Bowl week gives a city a chance to celebrate itself, and Indianapolis is doing so.

Manning
But all of it comes with a big, hovering and unavoidable question: What will happen with the Colts and
Peyton Manning
?
It's hard to find anyone now who expects the Colts -- with a new GM, a new coach and the No. 1 pick in the draft -- to pay Manning a $28 million bonus on March 8. When they don't, he'll be a free agent with questions about nerve regeneration and arm strength still lingering from the next surgery he had before last season started.
Colleague Elizabeth Merrill
spent time in Indianapolis
to get a sense of how it's feeling with its long-time superstar quarterback's fate so uncertain.
When Indianapolis won the bid to host the Super Bowl four years ago, it never could have imagined this: That the big event would be played in the backdrop of a miserable 2-14 Colts season, with its seemingly unbreakable quarterback out with a neck injury and now presumably on his way out of town.

Is Peyton Manning done in Indianapolis? That -- and not the merits of the two Super Bowl teams -- was the big news last week. The Colts aren't saying anything except for an occasional statement that assures the masses all is well on West 56th Street. But change is thick in the air, from the firing of coach Jim Caldwell and vice chairman Bill Polian to the draft day that is looming with young phenom Andrew Luck waiting with the No. 1 pick.

"I think the mourning process has begun," said longtime Indianapolis Star columnist Bob Kravitz, whose lengthy and rare interview with Manning last week revealed a quarterback who is obviously uncomfortable with all the change.

"I think as the Super Bowl arrives, and as geeked as people are, there's this cloud where people are starting to come to grips with the very real, not just possibility, but the likelihood that Peyton Manning is not going to be on that team anymore, that he's played his final down as a Colt."
December, 10, 2010
12/10/10
1:34
AM ET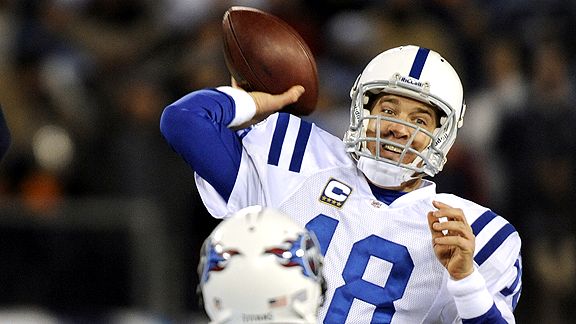 AP Photo/Joe Howell Peyton Manning passed for 319 yards, two touchdowns and no interceptions against the Titans.
NASHVILLE, Tenn. --
Peyton Manning
wouldn't say he was relieved. He wouldn't even say he had anything to be relieved about.
But a 300-yard passing game with two touchdowns and no interceptions in a
30-28 win
over the Titans, following a three-week swing with 11 picks, wiped away the I'm-in-pain grimace and allowed for something else entirely.
After the Colts got their record to 7-6 and earned a long rest before a crucial matchup with Jacksonville on Dec. 19, Manning might as well have been at Zanies -- the comedy club a few miles from LP Field -- with some of the lines he delivered on the NFL Network and in the interview room.
"Somebody asked, 'Are you in a slump?'" he said. "And I said, 'Well, I guess maybe I was, but I've been on about an eight-and-a-half year hitting streak going into that.'"
With a well-rounded effort in which the Colts took a big lead and held off Tennessee, they got into a lot of manageable third downs, ran the ball 32 times despite some ineffective carries, took the ball away twice while not turning it over and found enough big plays at pivotal moments to regain their balance.
[+] Enlarge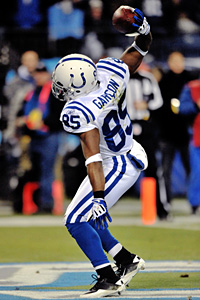 Jim Brown/US PRESSWIREPierre Garcon caught both of Peyton Manning's touchdown throws against the Titans.
It ended a three-game losing streak and started a string of four games that Manning said feel like high school in that each one amounts to a playoff game. Win out, and the Colts will win the division and get in the playoffs, just as they have for eight years running.
On this night, when an inexperienced player like
Blair White
cut in front of a sure touchdown pass to
Reggie Wayne
and created an incompletion, it didn't choke the offense.
And Manning was able to joke about a short week that was jammed with "What's wrong with Peyton?" pieces on every website and sports show in North America.
Indianapolis Star columnist Bob Kravitz asked Manning if he was amused by all the theories.
"I really don't want to offend you, Bob, but I don't read your column, I really don't," Manning said, filling the room with laughs. "Sometimes I think people like delivering bad news. Because I don't read it, but people tell me, they come up and say, 'Did you see what he wrote?' And I went, 'Actually, I didn't. But thank you for letting me know…'
"I really feel I've stayed really even-keeled throughout this whole time. I don't really think it's been a humbling experience because I felt like I was pretty humble going in. I don't get too high, I don't get too low, and I think it is kind of a test of faith and working through adversity.
"People always say, 'Hang in there.' And I went, 'I never was out there, wherever there is. I've always been in there, I'll always be in there.' Wherever that is, I never have left."
The Titans knew they'd be hard-pressed to see Manning have a fourth bad game in a row. They used the same plan they have for most of Jeff Fisher's time at the helm. They tried to force Manning and the offense to drive the ball, hoping elongated drives increased the possibilities of mistakes, and did all they could to get punter
Pat McAfee
and field goal kicker
Adam Vinatieri
involved.
The league's top red-zone defense allowed the league's top red-zone offense inside the 20-yard line five times. Tennessee gave up touchdowns the first three times, then made things more difficult and forced a couple field goals.
"[Manning] doesn't make mistakes unless you pressure him and get him off his spot," Titans safety
Chris Hope
said. "That's what caused those interceptions in those previous games, and also he was playing against teams he doesn't really play against a lot. He knows us well. He's played us a thousand times."
Kerry Collins
overcame a poor first half and rallied the Titans, with three scoring passes after intermission. But he knew the odds were long that Manning was going to offer up any prime field position or points as he had so frequently in the past three weeks.
"You knew the guy was going to come out and play well, he's Peyton Manning, you know?" Collins said. "He had that fire tonight that he was going to play well and he did."
Like Manning,
Dwight Freeney
said he's not paid attention to reviews of what the Colts have been doing, leaving his TV off while the results were bad.
"Obviously, you don't see a lot of interceptions most of the time," Freeney said. "I think because of how good he is and how consistent he is on a regular basis, it's a shock to everybody when you see the turnovers. But he's human like everyone else. We knew he would turn it around and do a great job just like he always has."
In leading the Colts back to the win column, Manning helped them maintain control of their fate. He could laugh and the Colts could relax as they made their way out of Music City and started to think about Jacksonville.
They could roll their eyes at the idea that following injuries to
Charlie Johnson
and
Jamey Richard
, their next option on the offensive line was going to be tight end
Brody Eldridge
at guard.
"We stopped the bleeding for one game," Freeney said.
And, he said, for about five minutes, all felt right with the world.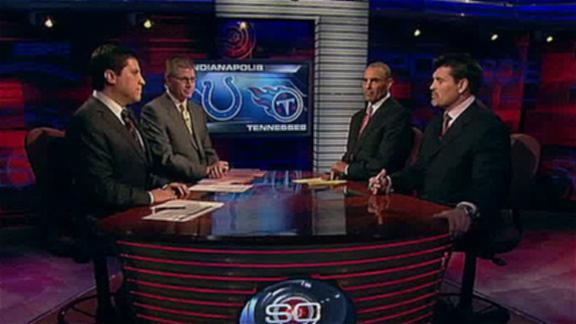 NFL SCOREBOARD
Thursday, 8/21
Friday, 8/22
Saturday, 8/23
Sunday, 8/24
WEEKLY LEADERS