NFL Nation:

Bob Lattinville
July, 31, 2014
Jul 31
4:59
PM ET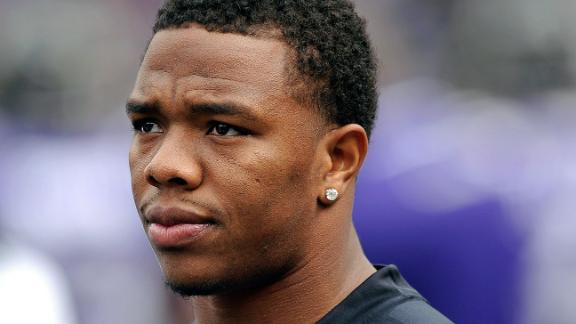 OWINGS MILLS, Md. -- In stark contrast to
Ray Rice
's awkward news conference in May, the
Baltimore Ravens
running back showed Thursday that he finally understood the weight of his actions from the alleged altercation with his then-fiancée in February.
He delivered the correct message, one the NFL failed to do last week with the two-game suspension, by not only apologizing to his wife, Janay Palmer, but also expressing a desire to become an advocate for domestic-violence causes.
Rice was compelling in his contrition, calling it the biggest mistake of his life. He stood in front of the microphone alone, without his wife standing by his side, and took full responsibility for the incident. Perhaps more importantly, Rice actually said the words "domestic violence," which weren't heard in his statement two months ago.
"My actions were inexcusable," Rice said. "That's something I have to live with the rest of my life."
Before anyone pats Rice on the back, this is what he should have said the first time when he broke his silence in May. Instead, Rice nervously fumbled through notes on his phone and apologized to team officials and his sponsors. That debacle of a news conference came across as damage control to his image.
His 17-minute news conference Thursday hit the right tones. He apologized to all women affected by domestic violence. He accepted the blame for losing the respect of fans. Rice came across as genuinely sorry.
"I let my wife down, I let my daughter down, I let my wife's parents down, I let the whole Baltimore community down," Rice said.
Rice's biggest misstep was not talking about what happened in the elevator. He was asked twice about it and declined to answer both times. His stance against domestic violence would have resonated stronger if he had explained his transgressions.
"I'll be honest: Like I said, I own my actions," Rice said. "I just don't want to keep reliving the incident. It doesn't bring any good to me. I'm just trying to move forward from it. I don't condone it. I take full responsibility for my actions. What happened that night is something that I'm going to pay for the rest of my life."
The only way Rice can move forward from this incident and show he's truly sincere is through his actions. It's not by his words. It's not by a hefty donation, which is merely a gesture. It's by proving this will remain a "one-time incident" and by supporting domestic-violence causes.
Thursday represented a small step forward for Rice. But it was an important one.
June, 21, 2011
6/21/11
12:10
PM ET
The last few weeks, in conjunction with our Power Rankings, I've done posts with AFC South players sharing their lists.
I wanted to do the same this week, but as we look at the NFL's up-and-coming assistant coaches, there was no player with the frame of reference to offer a ballot.
So I turned to agent Bob Lattinville. His firm,
Premier Stinson Sports
, represents over 100 college and professional coaches in football, men's and women's basketball and baseball. (We'll unveil our list at about 1 p.m. ET.)
But as a preview, we share Lattinville's thoughts.
I asked that he be reasonable and measured in including his own clients on his list of the top 10 up-and-coming assistants, and he was. Only his No. 10 selection is a client.
Here then, are his opening comments and his list. We thank him for supplying a great read from an interesting angle:
Following is my top 10 list of up-and-coming NFL assistant coaches. I split my list into two categories: (a) six younger, position coaches with eventual head-coach potential, and (b) four veteran, coordinator level coaches who are an opportunity away from ascending to a head-coach position.
My list not only takes into account statistical performance but, more importantly, player development and performance in the context of what these coaches deliver given the personnel resources provided and how they respond to the situations their players/positions/clubs are required to handle.
[+] Enlarge

David Butler II/US PresswireDirk Koetter has been the offensive coordinator in Jacksonville since the 2007 season.

Dirk Koetter (offensive coordinator, Jacksonville Jaguars). Koetter's expertise with X's and O's and scheme are rare, even for the NFL, and he remains cool under pressure.

Russ Grimm (assistant head coach/offensive line, Arizona Cardinals). Well respected by players, coaches and front offices, it's just a matter of time before this Hall of Famer rightly ascends to a head-coach position.

Juan Castillo (defensive coordinator, Philadelphia Eagles). An intelligent coach with a masterful ability to teach and relate to players. His recent switch to the defensive side of the ball will only enhance his already head coach-worthy credentials.

Greg Manusky (defensive coordinator, San Diego Chargers). Manusky's defenses are always among the NFL's most productive and his players play hard for him.

Edgar Bennett (wide receivers, Green Bay Packers). Bennett spent the last six years turning young, and frequently undrafted, running backs into NFL stars. His switch to coaching the Pack's talented group of wideouts will further showcase his skills.

Aaron Kromer (offensive line, New Orleans Saints). The cradle of coaches, Miami (Ohio), produced another winner in Kromer. Incredibly well respected by his players and mentored by one of the NFL's brightest minds in Sean Peyton, Kromer's troops make it all go for the Saints' prolific offense. Without exception, every player I have represented who played for Kromer says the same thing: "He made me better."

Todd Downing (quarterbacks, Detroit Lions). Downing prepared three quarterbacks for the Lions in 2010 and each one of them was productive. At only 31, Downing already has eight years of NFL experience under his belt.

Mike Priefer (special-teams coordinator, Minnesota Vikings). Organized and talented, this U.S. Naval Academy graduate also benefits from strong NFL bloodlines (son of veteran NFL special-teams coach Chuck Priefer). Working with players from several positions on both sides of the ball has developed Priefer's talent evaluation skills as well.

Mike Devlin (tight ends/assistant offensive line, New York Jets). A tough-minded coach's son, Devlin developed as a player under Iowa's Kirk Ferentz, carved out an NFL career from sheer will and flawless technique and is being polished by the league's hottest coaching staff.

Matt Griffin (offensive coach, Jacksonville Jaguars). Griffin's tireless approach, analytical skills and dedication to his players will flourish under Jack Del Rio, a head coach who develops and promotes his staff (an underappreciated aspect of good head coaches). (Lattinville represents Griffin.)