August, 30, 2013
8/30/13
2:00
AM ET
The
Minnesota Vikings
got their first win of the preseason on the night they used their starters the least, in a
24-23 win
over the
Tennessee Titans
on Thursday night.
Christian Ponder
,
Adrian Peterson
,
Jared Allen
and others watched from the sideline, but
Marcus Sherels
returned the second-half kickoff 109 yards for a touchdown and
McLeod Bethel-Thompson
led an eight-play, 71-yard drive to set up
Blair Walsh
's deciding field goal with 1:38 left.

Minnesota finished the preseason 1-3.
Here's a rundown of the rest of the night:
In a short night of work, backup quarterback Matt Cassel looked as sharp as he has all preseason, directing an 11-play, 80-yard scoring drive in his only action of the night. Cassel was 3-for-3 for 48 yards on the drive, connecting with Rodney Smith on a long pass and hitting John Carlson over the middle for 19 yards. Cassel finished his preseason 22-of-40 for 317 yards, a touchdown and an interception.
Matt Asiata and Joe Banyard each helped themselves in their push for one of the Vikings' last roster spots, both scoring a touchdown. Asiata ran with purpose and physicality, carrying eight times for 32 yards and a 1-yard score, while Banyard played most of the second half and surpassed 100 all-purpose yards, posting 62 on the ground and another 54 through the air. If the Vikings are looking for a running back who could give them a change of pace, Banyard might find a spot on the roster. But let's not kid ourselves here: The Vikings aren't exactly in the market to give many carries to anyone other than Peterson, and with the reigning MVP on the roster, third-string running backs have to be able to do other things. That might be why Asiata sticks in the end; he has proven himself on special teams. The Vikings could try to stash Banyard on the practice squad, where he was last season.
Desmond Bishop probably had his best night of the preseason in his third game back from a torn hamstring, making seven tackles and pulling down two Titans players in the backfield on Tennessee's first drive. It's worth noting that Marvin Mitchell, who has started at weak-side linebacker all through training camp, didn't play on Thursday night, as the Vikings treated him more like a starter than a player who has much to prove. But Bishop might have done enough to guarantee himself a roster spot, at the very least.
While Sherels stole the show for the Vikings, Bobby Felder had a night he'd probably rather forget, spraining his ankle while defending a 50-yard pass in the third quarter. X-rays on Felder's ankle were negative, but he probably would have liked to finish his preseason with a stronger impression after playing well early.
Fullback Zach Line, who didn't have to do much lead blocking in college, provided a nice example of it on the Vikings' drive for the go-ahead field goal. He and DeMarcus Love combined on a nice kick-out block on Banyard's 19-yard run. Line didn't show the pass-catching skills he'd displayed early, but he's probably done enough that the Vikings would at least consider using a practice-squad spot on him.
Speaking of Love, he had one of the odder moments of the game in the fourth quarter, when he caught a tipped pass, stretched the ball forward as he dove and got up to signal first down after getting the ball to the marker. Considering Love is set to serve a three-game suspension for violating the league's performance-enhancing drug policy, Thursday night could have been his last game with the Vikings.
Playing most of the game, Bethel-Thompson finished 19-of-26 for 187 yards, a touchdown and an interception.
The Vikings will make their final roster cuts before Saturday's deadline, and they open the regular season on Sept. 8 in Detroit.
August, 29, 2013
8/29/13
5:05
PM ET
The
Minnesota Vikings
close out the preseason at home on Thursday, playing host to the
Tennessee Titans
. The Vikings are expected to sit most of their starters, but a number of players will still have something to prove in advance of final roster cuts this weekend. Here are some things to watch:

Matt Cassel:
The quarterback hasn't been terribly impressive this preseason, doing his best work in the Vikings' exhibition opener against Houston. Since that game, where Cassel went 12-for-19 for 212 yards, a touchdown and an interception, he has completed just 7 of 18 passes for a total of 57 yards and has been sacked twice. With
Christian Ponder
likely to sit out, Cassel should get plenty of time to end his preseason on a good note and remind the Vikings why they are paying him $3.7 million this season to back up Ponder.
Cornerback battle:
Several position battles still have to be settled on the Vikings' roster, but the competition for the team's final cornerback spot is one of the more prominent ones.
Bobby Felder
, who spent last season on the practice squad, has had some impressive moments this preseason and might have a shot to unseat
Marcus Sherels
for a spot on the roster. Felder is bigger and more physical than Sherels, who served as the Vikings' fifth corner last season, and he's been productive enough as a punt returner that it looks like he could unseat Sherels there, too. If
Josh Robinson
falters in the slot, the Vikings would likely go to whomever wins this spot, so it could be important for them to get it right. Thursday will give them one final look at both players, and unless they wind up keeping six cornerbacks, Thursday's game could play a pivotal role in helping the Vikings decide whether Felder or Sherels stays.
The thin D-line:
With
Kevin Williams
and
Sharrif Floyd
still sitting out because of knee injuries, and
Christian Ballard
still away from the team because of personal issues, the Vikings will have plenty of work for their backup defensive tackles on Thursday night. Players such as
Anthony McCloud
,
Chase Baker
and
Everett Dawkins
should play extensively, and if it looks like Ballard's absence will extend into the season, the Vikings might have a roster spot for one of them. None of the players have distinguished themselves during the preseason, but a longer stretch of playing time could lend some more clarity to the situation.
Desmond Bishop:
He played 33 snaps on Sunday night in San Francisco, and Bishop should have plenty of time again on Thursday night to prove he should start at weak-side linebacker over
Marvin Mitchell
. He still had some lapses in pass coverage against the 49ers, but made nine tackles and looked more assertive against the run than he did in the previous game against the Bills, which was Bishop's first in more than a year after a torn hamstring ended his 2012 season after one game.
Final receiver spot:
Here's another area where Thursday's game could have plenty to say about who sticks on the roster.
Stephen Burton
has had an impressive camp, and caught three passes for 67 yards in the Vikings' first preseason game, but Ponder's interception on Sunday night in San Francisco could be attributed at least partially to Burton, who stopped his route and gave
Nnamdi Asomugha
a clear path to the ball. (Asomugha tipped the ball, and
C.J. Spillman
made the pick.) In that same game,
Joe Webb
caught a 3-yard touchdown pass from Ponder, showing what kind of a red-zone threat he could be. It seems unlikely the Vikings would keep six receivers, unless they only went with two quarterbacks, so they might have to decide between two players who spent all of last season on their roster. Another factor here could be the Vikings' impression of Webb as a run blocker; Burton has fared well there in the past, and in the Vikings' offense, a receiver's ability to block downfield for
Adrian Peterson
will always be important.
August, 24, 2013
8/24/13
6:50
PM ET
With
Antoine Winfield
off to Seattle,
Josh Robinson
's progression as a slot cornerback might be one of the biggest keys to the Vikings' defense this season. Winfield played the slot as well as anyone in the NFL last season, holding quarterbacks to the fourth-lowest passer rating in the league when they tested him in slot coverage, according to Pro Football Focus. Additionally, the website ranked Winfield as the best run-stopping corner in the league, and Winfield had done the job long enough that the Vikings were taking a gamble in deciding to cut him and turn the job over to Robinson.
Robinson
We won't know for sure how that experiment will play out until the regular season, but Sunday night's game in San Francisco could be a decent indicator of where Robinson stands. The 49ers run the ball well enough that Robinson could be tested in run support, and though San Francisco could use all five of its quarterbacks Sunday night, the presence of
Colin Kaepernick
could give Robinson something to handle for at least part of the game.
For his part, defensive coordinator Alan Williams said Robinson has looked "much more comfortable" in the slot than he expected the second-year corner would be at this point.
"To his credit, he's really working at it," Williams said. "He's coming along faster than I think that he even thought he would because he hadn't been inside. I think he's embracing it and liking the position in terms of what we allow him to do and the plays that he can make. I feel good about Josh being inside."
Bobby Felder
is making a strong push for a roster spot, and should get plenty of playing time Sunday. If he makes the team, he'd give the Vikings another option at slot corner. But the job, by all accounts, is Robinson's to lose. And how he handles it is definitely worth watching early in the Vikings' season.
Asked where Robinson has come the furthest, coach Leslie Frazier said, "I think just seeing him calm down a little bit. Sometimes he can get so hyper about what he's trying to get done that he begins to overthink things. He's begun to relax a little bit, and part of that is we put him in a lot of different situations in practice, trying to get him in some situations in games as well, so it is not the first time he sees things when we line up in Detroit.
"I think just the fact that he has slowed down mentally and begun to relax a little bit as a player is probably where the growth has come the most."
August, 21, 2013
8/21/13
6:29
PM ET
EDEN PRAIRIE, Minn. -- After a year on the Vikings' practice squad, the timing might have worked out just right for
Bobby Felder
.

He's competing for a cornerback spot after the Vikings let
Antoine Winfield
go, reducing their depth at the position and putting it mostly in the hands of younger players. He's the kind of rangy, physical corner the team is now trying to groom after drafting
Xavier Rhodes
and making plans to include more press coverage in their repertoire. He is competing for the punt returner job with
Marcus Sherels
, who took one punt back for a 77-yard touchdown last September but averaged just 6.77 yards on his other 31 returns. And so far this preseason, Felder has proved adept at downing rookie
Jeff Locke
's Australian-style punts deep in opposing territory.
The 22-year-old has become one of the surprises of Vikings camp largely because of all the ways he's shown he can add value to their roster. In the end, he might do enough to get himself into game action this year.
Felder got beat for a 34-yard touchdown in the Vikings' first preseason game when he jumped too early to take a ball away from Houston's
DeAndre Hopkins
, but was able to break up two goal-line passes thrown in his direction later in the game. His night on defense wasn't as busy last Friday against Buffalo -- "He made the plays that were at him," defensive coordinator Alan Williams said -- but Felder shone on special teams, downing two of Locke's punts inside the Bills' 10-yard line and taking one punt return back 37 yards.
He could be another option for the Vikings if
Josh Robinson
isn't able to replace Winfield at slot corner, and the Vikings will take a long look at him on defense this Sunday night against San Francisco.
"This will be a big week for Bobby. He's going to get some extended snaps in the nickel situations as well as special teams," Frazier said. "He did some good things in the Buffalo game; those returns were very good, he was good in covering kicks as well, so we need to get some views of him this week and next week and try to see where he is."
Special teams coordinator Mike Priefer praised Felder's work on Wednesday, too, and when decisions have to be made on the final roster spots, the special teams coordinator often plays a key role in determining who stays and who goes. If the Vikings like Felder more than Sherels as a punt returner and coverage man, it could mean as much as their opinion of both players on defense.
Whatever happens, Felder has put himself in the mix for a job with the Vikings. And if he wins a spot, he could have a confluence of fortunate circumstances to thank.
August, 16, 2013
8/16/13
10:15
PM ET
Reviewing Friday night's events at Ralph Wilson Stadium:
Buffalo Bills 20, Minnesota Vikings 16
Preseason record:
0-2

Of interest:
The evening began with left tackle
Matt Kalil
getting beat for a sack by Bills defensive end
Jerry Hughes
, and it didn't get much better, at least for a Vikings offense that again played without tailback
Adrian Peterson
. Coaches got quarterback
Christian Ponder
five series of work, but he took two sacks and was jumpy enough to complete only 5-of-12 passes for 53 yards. He led a 62-yard scoring drive, ending in a
Blair Walsh
's 36-yard field goal, but otherwise the Vikings gained a total of 20 yards on his other possessions. (Walsh earlier missed from 49 yards.) The Bills' rush was active, and center
John Sullivan
launched an early shotgun snap to scuttle one play, but all quarterbacks face adversity during the season. Ponder needed to react better and at times quicker Friday night. If you were hoping for an anxiety-relieving performance from him, this wasn't it. … Three of Ponder's completions went to tight end
Kyle Rudolph
, who also dropped an easy third-down pass. … The Vikings' defense played well against an equally underwhelming performance from Bills quarterback
Kevin Kolb
. Safety
Jamarca Sanford
intercepted a pass tipped by cornerback
Xavier Rhodes
, and linebacker
Desmond Bishop
showed up several times in extensive playing time -- albeit mostly with the third team. But he was also the closest defender on
Brad Smith
's 4-yard touchdown pass from
EJ Manuel
in the third quarter. … Punter
Jeff Locke
dropped three punts inside the 20, two of which were downed by special-teams hopeful
Bobby Felder
. … No. 3 quarterback
McCleod Bethel-Thompson
's 10-of-17 performance was, if nothing else, a nice showing to put on tape if the Vikings elect to keep two quarterbacks. … Receiver
Jarius Wright
suffered a concussion and did not play after halftime.
Up next:
Aug. 25 at
San Francisco 49ers
.
May, 30, 2012
5/30/12
4:45
PM ET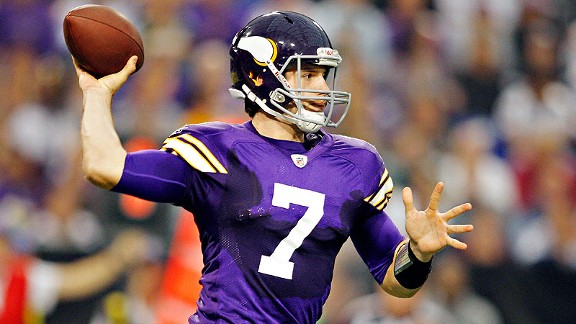 Bruce Kluckhohn/US PresswireVikings quarterback Christian Ponder said he wants to avoid "thinking too much."
EDEN PRAIRIE, Minn. -- Toward the end of an 11-on-11 drill Wednesday,
Christian Ponder
threw a pass that no NFL quarterback should make. Ponder, in whose hands the
Minnesota Vikings
have placed their short-term future, could not find an open receiver and began drifting to his right. He tried to throw the ball out of bounds, but instead short-armed it and lobbed a 5-yard duck into the arms of an undrafted rookie cornerback named
Bobby Felder
.
"Bonehead mistake," Ponder acknowledged to reporters even before he was asked. "Trying to throw the ball away and didn't."
The first rule of organized team activities (OTAs) is that you do not talk about organized team activities (OTAs.) Oh, wait.
That's "Fight Club."
Let's try again. The first rule of OTAs is that you do not draw conclusions from OTAs. No one in the history of the NFL has made a team, earned a starting job or provided incontrovertible evidence of future stardom in a springtime, no-pads practice.
So with that substantial caveat in mind, here is what I'll say of Ponder's work in Wednesday's OTA: You would be disappointed if you were hoping to see fundamental and significant improvement. As always, Ponder carried himself like an NFL quarterback. But his hit-and-miss results were indicative of a player who is still gaining confidence within his scheme. If I had to guess, a too-late thought about where he could have thrown that 11-on-11 pass play was responsible for the hitch that caused the interception.
In all fairness, that's what this time of year is for -- to grow more comfortable, not demonstrate it -- but that won't do much to assuage a fan base already on edge about Ponder's future. I've always found cornerback
Antoine Winfield
to be a measured voice of reason on young players, and here's what he said when I asked if he had seen Ponder make strides during the early portion of offseason work: "Well, it's hard to say right now. It's only been two days of OTAs. I'm not really sure. I'll have to answer that after training camp."
It would be a bit dramatic to suggest that Ponder, entering his second season and in the midst of his first true NFL offseason, is facing a make-or-break year. But an alarmist could look ahead and wonder what direction the Vikings might go if a poor season leaves them near the top of the 2013 draft.
To make that a moot point, Ponder is focused on improving two aspects of his 2011 performance: early down completion percentage and patience in the pocket. Let's take a look at each.
As the first chart shows, Ponder had the third-worst completion percentage on first down among 34 qualified quarterbacks last season, according to ESPN's Stats & Information. In most cases, quarterbacks should hold the biggest advantage over defenses on first down because every type of play must be accounted for. But in 2011, as the second chart shows, Ponder was the worst-performing quarterback in the NFL.
Why was that? Part of the blame should go to a series of injuries to tailback
Adrian Peterson
. It wasn't difficult to defend an offense that lost its best player. But Ponder acknowledged that he must be willing to accept positive first-down plays even if they aren't big gainers.
"Just [need to make] smarter decisions, I think," he said. "Not trying to force the ball down the field. I think if we have go routes called, if it's not open, have the patience to be able to check it down. It all comes down to patience and knowing your reads and finding the open guy. Football is not a hard game. You've just got to find the open guy and get the ball to him."
Ponder suggested that he wants to avoid "thinking too much," another indication that the Vikings' offensive scheme is not yet second-nature for him. But he is clearly making the mental effort to avoid what coach Leslie Frazier referred to earlier this season as "happy feet."
Ponder actually scrambled with great success as a rookie, converting 13 first downs on 28 carries that totaled 218 yards. But we all know that few NFL quarterbacks make a career of such plays.
"I've got to do a lot better job of moving around the pocket and not taking off so early and getting a feel for the pocket," he said.
Earlier this offseason, Frazier said: "I think as he gains more experience and more confidence, he'll stay in the pocket and get rid of the ball or do what he needs to do."
We've discussed several times
the criticism ESPN analyst
Trent Dilfer
directed at Ponder last season. In essence, Dilfer suggested that Ponder looks like a big-time quarterback, acts like a big-time quarterback and even throws like one in controlled drills. But when the proverbial lights turn on, Dilfer said, Ponder doesn't have the instincts and composure to play well.
Dilfer's words reverberated while I watched Ponder's botched throw-away and listened to him say he must develop a better feel in the pocket. But as long as we're using Fight Club -- er, OTA rules -- we won't draw any grand conclusions. We'll just say Christian Ponder is working hard to get better during a time that's designed for just that.
"He has a little chip on his shoulder this year," said receiver
Percy Harvin
, and for now that's a good thing.
NFL SCOREBOARD
Thursday, 11/20
Sunday, 11/23
Monday, 11/24
WEEKLY LEADERS