January, 31, 2013
1/31/13
2:00
PM ET
NEW ORLEANS -- The glitz is still here, but the tone this Super Bowl week just doesn't seem to fit with the celebrations on Bourbon Street or the free and easy nature of the host city.
The issue of player safety has been as topical as
Ray Lewis
' last game or brothers Jim and John Harbaugh coaching against each other.
We've heard predictions that the NFL will be gone in 30 years, or at least reduced to a game of two-hand touch. President Barack Obama hypothetically has wondered whether or not he would let a son play football. Current players have said they "signed up" for a violent game and all that may eventually come with it, even as thousands of former players are pursuing lawsuits claiming the NFL failed to warn them of the long-term effects of concussions.
ESPN.com surveyed a group of current and former players and executives to get their thoughts on the player-safety issues.
The group included current San Francisco linebacker
NaVorro Bowman
, former NFL cornerback Eric Davis, current Baltimore safety
Ed Reed
, retired quarterback Bobby Hebert, former NFL director of officiating Mike Pereira, former linebacker Willie McGinest, current San Francisco linebacker
Aldon Smith
, NFL Players Association president Domonique Foxworth, current Baltimore linebacker
Terrell Suggs
, retired lineman Shaun O'Hara, current San Francisco fullback
Bruce Miller
, longtime
Dallas Cowboys
executive Gil Brandt and current San Francisco guard
Alex Boone
.
[+] Enlarge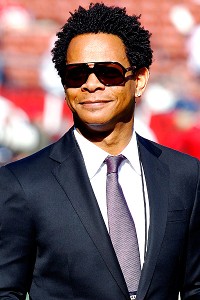 AP Photo/Kevin Terrell"Let's be real honest," former NFL safety Eric Davis said. "It's a gladiator sport. Coliseums were built for it."
Here are the highlights of their answers to the hot-button questions:
Where do you see the NFL in 30 years?
Brandt:
"I don't think we're Montgomery Ward. Montgomery Ward, at one time, was the leading retailer in the world and they made the mistake of saying we're not going to go into the little towns, we're just going to go into these big places, and they stood still. The league may doze, but it will never close. They're always looking for ways to make things better. They've been working on making the game safer and they'll continue to make it safer."
Pereria:
"I see it not a whole lot different than it is. I think the league will go as far as it can and still go further than it is now to try to make the game safer. But I don't think it's going to make the league disappear as some people have said. I think this is still a once-a-week game that people get very passionate about their games."
McGinest:
"I think the NFL definitely is going to be here to stay. I think that this is the best game in the world. I think that they're doing everything in their power to keep it that way and to make it one of the safest games. I don't think it's going to look different. I think they're just changing certain things to make it safer. If you're talking about hit zones, if you're talking about staying away from head shots and stuff like that, that's not something we're not used to hearing. So I don't think we're going to go back to leather helmets with no face masks or no helmets. This game is going to be the way it is. I just think they're doing everything and taking every precaution to make it safer."
O'Hara:
"Football is not going to disappear in 30 years. Will it look different? Of course it'll look different. Look at the game 30 years ago to today -- different game, different rules, different equipment. So 30 years from now, absolutely, it'll be a different game."
Are the safety concerns overblown?
Foxworth:
"My responsibility is just to protect the rights of the players and their health and safety, so I don't think that there can be enough [attention given to safety issues], especially given some of the things that have happened as a result of some of the head injuries. I'm pretty sure that those players and their families would say that there's no such thing as too much attention on the health and safety of the guys. So I come from that standpoint, and, being a former player, it's something I'm keenly aware of from a personal standpoint, and a lot of my friends are in this league and I know a lot of our kids may potentially be in this league. So it's very important that we put as much effort, time and money toward evolving the game and the science of the game as we can."
Smith:
"The game is what we signed up for. We didn't sign up for tennis. We didn't sign up for swimming and didn't realize we were going to go out there and get tackled. We signed up for football, which we knew was a physical sport."
Davis:
"Let's be real honest. It's a gladiator sport. Coliseums were built for it. People like to watch it and we're talking about big, strong, fast men. There are going to be collisions. There are going to be injuries. Do all the things you have to do to make it as safe as possible, but the reality is there's always going to be some danger."
Hebert:
"A little bit. But the NFL is so popular because it's the modern-day gladiator. I mean, I don't know what that says about mankind. But you can also look at boxing and ultimate fighting and how popular they are. Fans don't want to see flag football. I still think football will be here. You can change it, but you can only change it so far."
McGinest:
"I think it's necessary based on some of the studies, some of the former players and what they're going through, some of the players now. It's necessary. And it's also showing that the NFL cares about its players. If they're taking time to put on these full-on studies and they're going through every precaution with the testing of the gear and the helmets and they are willing to change certain things about the game to make sure that it's going to be here and be a safer game, it has all the signs of going in the right direction."
Boone:
"I just never understood how you change the game when you have players who are bigger, stronger and faster every year. It's just football. It's going to be physical. It's a physical sport. There are going to be injuries, but we're doing things to correct it.''
What one change would you make to improve safety?
Pereria:
"The safety issue is really all about the head. That's something the league has been focusing on for a long time and they'll continue to focus on making the rules broader than they are right now. Right now, only nine players are protected in certain situations. Can you go further? Possibly. The whole notion is going to try to be to get the head out of the game and get back to the wrap and tackling as opposed to lowering the head. They're serious about that, and they should be. To me, as I watch so much football on Sundays, it's already made a difference. You see situations where a defender really has a chance to blow up a receiver and he doesn't. To me, that means the rules are taking effect and that the fines have made a difference."
Davis:
"They're making the game safe for quarterbacks and star players. But they're not making it safer for all players. You never hear of a defenseless running back. You never hear of a defenseless linebacker. Defensive players aren't protected. Unless you make it safer for all players, I don't think you're doing as much good as you can. You have to put everyone on equal footing."
Reed:
"Defensive players should be protected, too. Offensive guys, quarterbacks in general, shouldn't be treated better than everybody on the football field.''
McGinest:
"I would take out the chop-block. That's another thing we don't talk about. A lot of emphasis is on the head, guys getting concussions and stuff, but there are also a lot of players getting their ACLs knocked out because now guys are diving. Now that they know they can't go high, guys are starting to attack with chop-blocking. That's also knocking guys' careers either out or messing them up. Not everybody's
Adrian Peterson
coming back from those injuries. A lot of guys, they take the wrong hit on the knee, they're never the same player."
O'Hara:
"I think the only real way to get everybody on the same page is to somehow get all the players in the NFL and all the coaches in the NFL and all the referees, get everybody in the same building and have, 'This is what is acceptable and this is what is not.' No second- and third-person regurgitation of the facts and, 'Here's what we're looking for,' because that needs to be consistent and everybody needs to hear the same message. Centralize the education, basically."
What else can be done to make things safer?
Hebert:
"I think you truly have to take it out of the players' hands as far as whether you're going to go back into the game or not after a head injury. As a player, when it comes to your teammates, you never want to be looked upon as a wuss. You want to be a tough son of a gun. To me, it totally has to be out of the hands of the players."
[+] Enlarge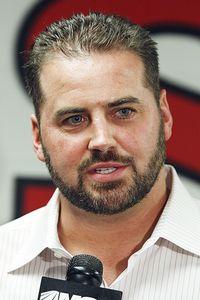 AP Photo/Mel Evans"You wouldn't give your son a circular saw and let him go and start whittling wood," former lineman Shaun O'Hara said. "You would teach him how to use that."
Davis:
"Look, the guys I played with and the guys that are playing now were schooled a certain way. It's too late for us and maybe too late for the guys still playing in the NFL. But the next generation is where a difference can be made. The kids that are coming into Pop Warner now need to be taught how to tackle properly. And maybe, just as importantly, they have to be taught that if you get dinged, if you take a hit to the head and you don't feel right, you go straight to the coach or the doctors and tell them immediately. People do that with ankle injuries. You hurt your ankle, you come out of the game. Head injuries need to be treated the same way."
Foxworth:
"In nine years, you can ask me that question and I'll have a definitive answer. But I don't know. We don't know how much damage repetitive hits do or whether it's the big knockout blows that do the damage. There are just so many questions. We're not sure about the best treatments and the quicker recovery time and if there are any precursors that make someone predisposed to have these kinds of brain injuries. Those are questions that will be answered by this Harvard research, and at that point, I think we can be able to set forth clear protocols of how to treat a player after a practice or how many hits [before] it's time to sit a guy out. Those sorts of things that are changes that can be made easily."
Brandt:
"I think it's like the Internet. People that are older, like myself, are not Internet-savvy. Kids that are 7 or 8 know more about it than I do. I think it's a thing that you build from the bottom up. Where I think we have a problem is that we have a lot of youth football leagues and the guys that are coaching sometimes get overzealous. I think we're gradually educating that element."
Would you let a young son start playing football right now?
Bowman:
"I'm not going to deter my kids from the game. When they see the game, they understand what it's all about. It's a physical game."
Suggs:
I respect [the president's comments] for the simple fact that this is a very physical and dangerous sport, especially considering that with the concussions and the current findings of Junior Seau. A parent would be reluctant [to let] his or her child play football. I think, if you play the game right and you play it appropriately, that injuries are part of the game.''
Pereria:
"Sure, I would. But I'd also be out there with him, coaching and working with the coaches to make sure that the game, at that level, is being coached properly and that kids are keeping their heads up and abiding by the rules that are still in the NFL rule book, which defines tackling as wrapping your arms around the opponent and taking him to the ground."
Miller:
"Everyone has their own opinions, but I would let my kid play football. It's a violent game, but not too violent. At the same time it builds character, hard work, dedication, responsibility. All of those things are important. They are taking caution to be careful and concerned for the players' safety and taking that into account more."
Foxworth:
"My son's so young, I like to think that we would have made advances by the time he's old enough to play to make it safer. Given the current state of the game, I wouldn't stop him from playing it, but I'd be very cautious about the exposure and the frequency with which he may come into contact with those type of dangers."
O'Hara:
"If my son wanted to play football, I would absolutely let him. I would drive him. But I would teach him. You wouldn't give your son a circular saw and let him go and start whittling wood. You would teach him how to use that. There's a proper way to use power tools. So my issue is, when I hear parents say, 'I don't want him to play football,' well, it's because you don't want to take the time to teach him how to do it right. Or you don't know how to teach him right. So that, to me, is a big sticking point. When I see kids that want to play football, I just want them to learn it the right way. We need to make sure our coaches are teaching our kids the right way to do things, because for every one kid that gets hurt, that's something that could affect a whole lifetime."
January, 29, 2013
1/29/13
12:52
PM ET
NEW ORLEANS -- I caught up with former New Orleans and Atlanta quarterback (and local radio host) Bobby Hebert during the San Francisco portion of Super Bowl media day.

I talked to him about matters involving a couple of projects that will run later in the week. But I also asked him for his prediction and thoughts on the game. I can share that part with you now.

"A lot of Saints fans are cheering for the Ravens,'' Hebert said. "They view Baltimore as a blue-collar port city like New Orleans.''

Although Hebert is deeply rooted in New Orleans, he's taking a different route than the locals.

"But I personally know (San Francisco coach) Jim Harbaugh from when he was at the University of Michigan and I was playing for the Michigan Panthers,'' Hebert said. "The Lions wouldn't let us use their facility, so we went to Ann Arbor. So I know Jim and I just think the 49ers are the better team overall. I think it will be a close game because we usually have close Super Bowls here. I'll take the 49ers by a field goal.''
November, 28, 2011
11/28/11
2:12
PM ET
NEW ORLEANS – Before I start getting ready to make my way over to the Mercedes-Benz Superdome, let's hear a few words from New Orleans quarterback
Drew Brees
.
Brees
In this
radio interview
with Bobby Hebert, Brees talks about how and why the Saints have exceled in November. They have won 10 straight November games.
"For us I think we always view that month of November as the middle part of the season and that is when I think the contenders separate themselves from the pretenders and we view ourselves as a contender and want to be that year in and year out,'' Brees said. "I think we just put extra emphasis on that month really to kind of establishing our identity and creating momentum moving into the latter half of the season."
The Saints can extend their November winning streak to 11 games when they host the
New York Giants
on Monday night. The Saints are coming off a bye and the Giants have struggled lately. But Brees said nothing will be easy because he expects the Giants to play like it's a must-win game.
"Yeah, they are extremely dangerous,'' Brees said. "Especially right now because so much of this league is not who you play it is when you play them. I just know our mentality. If we were in their situation and that would be very much a must-win. You want to play your best football. You are on the road Monday night in a hostile environment and all those things, so we are going to need to do our absolute best coming off a bye week to just show how well rested we are by coming out guns blazing and really execute well and just do all the little things cause games like this come down to who's the most disciplined and who can take care of it when it comes to crunch time."
May, 10, 2011
5/10/11
1:00
PM ET
What key event significantly changed the fortunes of the Saints -- for better or worse? Give us your take and we'll give you our definitive moment on May 25.
These events could be positives or negatives. In the case of the Saints, I elected to just stick with the positives because there have been a lot recently. This long-suffering franchise has done all sorts of good things since the devastation of Hurricane Katrina in 2005.
There have been two trips to the NFC Championship Game, a Super Bowl title and a future that still looks very bright, and most of your choices are from the modern era. You can trace all that's right with the Saints these days back to 2006, when coach Sean Payton and quarterback
Drew Brees
, who supposedly had a shoulder injury so bad he might not play again, arrived. For those with longer memories, I even included the arrival of Jim Mora as coach in 1986. That move triggered the first real surge of competitiveness as the "Dome Patrol'' and Bobby Hebert showed it was possible to win in New Orleans.
Prior to that, the highlights I left out were Tom Dempsey's 63-yard field goal and the days of Archie Manning running for his life, but also throwing some nice passes. Beyond that, there wasn't much else.
If you vote Other, give us your suggestion in the comments area below.
August, 5, 2010
8/05/10
11:08
AM ET
Over the next few days, you're going to hear a lot about Rickey Jackson from Rickey Jackson. And you're going to hear a lot about Jackson from Tom Benson.
[+] Enlarge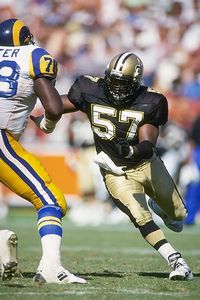 Stephen Dunn/Getty ImagesRickey Jackson compiled 128 sacks over his 15 seasons in the NFL.
That's because Jackson will be inducted into the Pro Football Hall of Fame on Saturday. He'll give his acceptance speech and Benson, the owner of the New Orleans Saints, will introduce him. You'll hear Jackson's thoughts and you'll hear accolades from Benson about a linebacker who helped make the Saints good for the first time in franchise history.
You'll hear analysts talk about Jackson. You'll see his career numbers flashed across the screen and you'll see highlights from his playing career. That's all going to be great. But let's do something different here. To fully understand why Jackson is going into the Hall of Fame, let's go back to the New Orleans locker room, practice fields and sidelines back in the team's first glory days.
Let's turn to Bobby Hebert, the quarterback through much of Jackson's time with the Saints, for an inside look at what it was like to play with the franchise's first Hall of Famer.
"Rickey and I always had a special bond because, even though I grew up in Louisiana and he grew up in Florida, we basically came from the same place,'' Hebert said. "We were driving down Highway 90 outside of New Orleans one time and Rickey was looking around at the sugar-cane fields and he said, "This is home''. It was just like Pahokee, Florida. They call it "the muck'' in Pahokee, but it was all the same. Rickey was as blue collar as you can get.''
Jackson was so blue collar that his body should have been black and blue and bruised throughout his career. It wasn't.
"He never taped his ankles,'' Hebert said. "Coach (Jim) Mora would get on him, but he wouldn't do it. Not for practice and not for games and he never had a sprained ankle. You're supposed to have official pads, but Rickey wouldn't do that. He'd take the real pads out of his thigh pads and knee pads and put in these little sponges like you use for doing the dishes so he'd be faster. So it was like he wasn't playing with any pads. But he was so good with his forearms and using his hands, that they weren't ever going to get to his knees or his thighs. He'd wear kicker shoulder pads when he could get away with it. He was basically a rugby player.
"Mora used to threaten him that he would fine him if he got hurt, but he never got hurt. He was a man among boys.''
And Jackson was "the man'' in the New Orleans locker room.
"You can't look at the NFL like war because, unless there's a freak accident, you're not going to die,'' Hebert said. "So I don't want to talk about going to battle. But, if I was in a fight, I want Rickey Jackson by my side. I can remember Rickey in the locker room. He would challenge guys. He'd walk up to guys and say if you're scared, say you're scared. Rickey was such a vocal leader. The coaches didn't even have to address things because Rickey ran that locker room and nipped everything in the bud.
"I can remember him telling him Pat Swilling, "Come on, you've got to step it up. You're having your big games and getting all your sacks against the Jets and the Bucs. Let's see you get sacks against a tough opponent''. He'd challenge players like no one else I ever saw and they would respond to it.''
Using a 3-4 defense, New Orleans' linebackers were called the "Dome Patrol''. Sam Mills, Swilling and Vaughn Johnson all had wonderful careers. But Jackson was the best of the bunch, Hebert said, and that's why he's going into the Hall of Fame.
"Sam Mills was the brains, calling the defense,'' Hebert said. "Pat Swilling and Vaughn Johnson were great players too. But Rickey was the heart and soul of the linebackers. Rickey was the heart and soul of the defense. Rickey Jackson was the heart and soul of the New Orleans Saints.''
February, 7, 2010
2/07/10
10:35
AM ET
MIAMI -- Looks like an absolutely gorgeous morning from my hotel window.
Walking down my hall a few minutes ago, I heard a voice from another room yelling something about Bobby Hebert (the former New Orleans quarterback) and then I heard a whole bunch of voices yelling "Who Dat." Sounds like at least one tailgate party has started and why not?
It's Super Bowl Sunday for a team and fan base that's never been to one. Might as well enjoy it.
Although the game is still a long way off, I'm starting to get ready. Our ESPN team bus is leaving for Sun Life Stadium at 12:30 p.m. ET because we're anticipating heavy traffic and long security lines.
Once I get settled into the stadium, I'll be back with pregame updates on the blog and we'll also be chatting live during the game on
NFL Nation Live
.
I'll be back in touch from Sun Life Stadium in a few hours.
February, 4, 2010
2/04/10
4:28
PM ET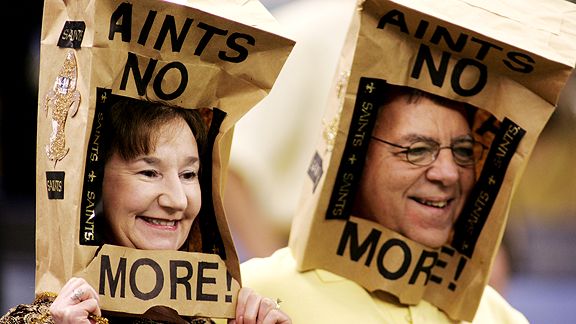 John David Mercer/US PresswireAfter over 40 years of waiting for a Super Bowl team -- and suffering through some painful seasons -- Saints fans can finally celebrate making it to Super Sunday.
MIAMI -- How far have the
New Orleans Saints
come as an organization?
From their first season in 1967 to the paper-sack-wearing Aints days, the franchise has endured a lot to win their first NFC championship and finally reach the Super Bowl.
"It didn't take us but 43 years to figure it out," said Archie Manning, a local icon who quarterbacked the Aints and still resides in New Orleans.
To get an idea of how much pride Saints alumni are feeling in the days leading up to Super Bowl XLIV, I asked Danny Abramowicz, Conrad Dobler, Henry Childs, Bobby Hebert and Manning to share their memories of some not-so-pleasant days.
Abramowicz (an original Saint -- drafted in the 17th round -- and Pro Bowl receiver and later a Saints broadcaster)
: "I can remember running out on the field the first day, opening game at Tulane Stadium in front of 85,000 people. We ran the kickoff back for a touchdown, and it went downhill."
Hebert (a Baton Rouge, La., native and Saints quarterback from 1985 through 1992)
: "It was always 'Wait 'til next year.' They didn't have a winning record their first 20 years."
Abramowicz
: "We were involved with one of the biggest fights of all time [Oct. 8, 1967 against the
New York Giants
at Yankee Stadium]. All the fans were pouring out onto the field. We had a guy on our team named Doug Atkins, who really was a freak of size. The last pass to me in the game against the Giants was a Hail Mary-type thing, and it was incomplete. I look up the field, and they had Doug pinned down and were beating him with helmets.
"I thought 'Well, I better get out of there.'
"In Yankee Stadium, you had to go through dugouts. I looked back one last time to see what was going on and missed the top step. My head hit the top of the dugout. I had to go back to the locker room and sit down in a chair. Guys were coming in with their shirts torn, and they were bleeding. A lot of silly stuff happened in those times."
Manning
: "You never get used to losing. The Saints can tell you, the Colts can tell you, when you win those games, the next Sunday comes around too quick. It's such a great feeling. The atmosphere is so good. But when you lose, that next Sunday almost won't get there."
Abramowicz
: "People came to our games for the halftime shows. We had Al Hirt, Pete Fountain. There were some great times, but an awful lot of bad times, a lot of butt-whippings."
Abramowicz
: "The lowest time in the franchise for me was in 1973. We opened the season, and everyone's fired up. Everyone thinks we're going to the Super Bowl on opening day. If you don't feel that way, then get the hell out of the game.
"We opened against the
Atlanta Falcons
, and that was our big rivalry at the time. They beat us that opening game, 62-7, just whipping the you-know-what out of us. This wasn't the
Dallas Cowboys
. This was the Atlanta Falcons. That was, in my time, the lowest."