May, 14, 2014
May 14
1:55
PM ET
The first two seasons resulted in big rushing yards and much acclaim. Not to mention a desire for more.
Alfred Morris
wants it; the Redskins say he can do it. More catches. More yards downfield. More production overall. Former running backs coach Bobby Turner would tell Morris that he was leaving yards on the field. Current running backs coach Randy Jordan delivered the same message.
"You can always find room for improvement," Morris said by phone. "It's good to have different coaches who can critique you more because they have an outside perspective."
Morris has rushed for a combined 2,888 yards in his first two seasons. But he's caught only 20 passes and both Turner last year and Jordan this offseason have told him he could gain more yards downfield, turning good runs into much longer ones.
First, the passing game. At the owners meetings, coach Jay Gruden said Morris could develop into a 20- to 25-catch running back. Clearly the Redskins would want someone else to handle the third-down role, whether it's
Roy Helu
this season or
Lache Seastrunk
in the future.
But with the weapons Washington has at receiver, Morris could be a forgotten man by defenses on early downs. Therefore, it would be wise for him to improve in this area. It's not just about his hands, though. He said he needs to do a better job running routes against man coverage.
"My focus is building confidence in the quarterbacks as well as the coaches to let them know I can catch," he said. "I know I can catch the ball."
Gruden said, "Obviously we want to have him be an all-around back. His hands aren't the most natural, but it's something you can work on."
For Morris, it's about winning more often on his routes. He said he talks to the receivers and even Helu about running routes.
"I can get better," Morris said. "Sometimes you get that linebacker that's real grabby and how to get away from them and set them up is something I never had much experience doing. [Helu's] one-on-one routes where he wins, sometimes I'm like, 'How did you do that?' I always pick brains so I can better myself."
As for more yards downfield, Morris did lead the NFL with 10 runs of 20 yards or more. He also had five carries that resulted in 30-plus yards, but only one that went at least 40. Morris was sixth in the NFL in yards per rush on those 20-plus runs (29.80), according to ESPN Stats & Information. Morris improved his agility last offseason; this offseason he's trying to work on a mindset.
"Usually it's a safety and me or a corner and it's just making a guy miss to get an extra 2 or 3 or 20 yards," Morris said. "It's just being a smarter ballplayer. Sometimes I get caught indecisive in between moves or which direction [to go]."
January, 9, 2014
Jan 9
9:15
PM ET
ASHBURN, Va. -- Jay Gruden's familiarity with several coaches on the
Washington Redskins
' staff helped make the job attractive. But, while it's likely that his future coordinators already are in the building, he's still going to interview other coaches for those positions.
The leading candidates to be the coordinators are thought to be Sean McVay (offense) and Jim Haslett (defense). Both are holdovers from the previous regime -- and both have ties to Gruden, having coached with him in the United Football League. Gruden said later Thursday that he greatly respects both. Because Gruden said he will call plays, it would be a surprise if McVay, who turns 28 later this month, wasn't elevated from tight ends coach. Also, Gruden said he wants to stick with a 3-4 defense, which Haslett has coached for four seasons here and two others in Pittsburgh.
But he also wasn't ready to name his coordinators just yet.
"We'll go through the process," Gruden said. "There are a lot of great coaches out there."
The Redskins also retained secondary coach Raheem Morris, who worked with Gruden in Tampa Bay for four seasons. But Morris fired Gruden when he took over as head coach in 2009, though it would still be a surprise if he wasn't retained considering he's well-liked by general manager Bruce Allen. Washington also has holdovers in running-backs coach Bobby Turner, offensive-line coach Chris Foerster, defensive-line coach Jacob Burney and assistant special-teams coach Richard Hightower.
"I will interview a lot of coaches," Gruden said. "I'll look at each coach that has been retained by Bruce [Allen] and interview everybody. I know a lot of coaches here that can coach. There are also good football people across the country looking to work and work for the Redskins. I've had 350 texts from great coaches looking to coach. I don't think finding a great coach and coaching staff will be difficult as it will be finding the right ones."
It helps the Redskins that only two other teams have filled their coaching vacancies and four others remain.
"The good part about getting our coach now is, his phone is blowing up with people ready to coach who are available now," Allen said.
October, 25, 2013
10/25/13
1:45
PM ET
ENGLEWOOD, Colo. -- When Mike Shanahan brings his
Washington Redskins
offense to Denver Sunday, the folks in the seats at Sports Authority Field at Mile High will certainly see a little of the league's new-age style with
Robert Griffin
III at quarterback.
But many will see what they've seen so many times before, with so many 100-yard games from so many backs, a pile of dominating wins and Mile High salutes. They will see a late-round draft pick --
Alfred Morris
, Redskins' sixth-rounder in 2012 -- working behind an offensive line with five players drilled to move as one, to fire out, all in one direction, to sweep defenders away like a windshield wiper.
They will see, once again, Mike Shanahan's zone run game. And in an increasingly pass-happy world, Shanahan still believes there is a place for a run game.
[+] Enlarge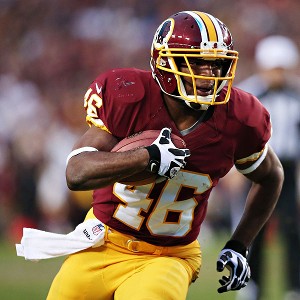 Win McNamee/Getty ImagesIt should surprise no one the Redskins have had success with late-round pick Alfred Morris.
"No. 1, you need great players,'' Shanahan said. "You've got to have everybody that buys in … you've got to have some very unselfish wide receivers, tight ends, offensive linemen, quarterbacks.''
And how the Broncos, who have faced just one team that has run it more than they passed it this season, handle that will have a lot to do with how Sunday goes. They do have some inside information, however, on Shanahan's staples.
Alex Gibbs, who carries the title of Broncos offensive consultant, was a long-time Shanahan assistant in Denver, including the two Super Bowl wins during Shanahan's tenure. Also, the quarterback behind center for those teams -- John Elway -- runs the Broncos' football operations, so when the Redskins move from the read-option to the traditional zone run game, the Broncos will know what's coming.
But knowing what's coming and stopping it has always been the riddle of Shanahan's run game. Gibbs, Shanahan and Redskins running backs coach Bobby Turner have been at the heart of it all since Shanahan was hired by Pat Bowlen in Denver in 1995.
And Turner has certainly been the under-the-radar guy of the triumvirate. The late Mike Heimerdinger, also a long-time Broncos assistant and Shanahan's former college roommate at Eastern Illinois, routinely joked before every draft "if Bobby likes a running back then I like him a lot, too.''
They never felt the need to like that running back in the first round. Since the start of the 1995 season the Broncos have had 18 different running backs rush for at least 100 yards in a game, 14 of those backs played for Shanahan in Denver. And none of the 14 who played for Shanahan was a first-round pick. The closest were Clinton Portis, who was a second-round selection in the 2002 draft, and Tatum Bell, a second-rounder in 2004.
But Terrell Davis was a sixth-round pick ('95), Mike Anderson was a sixth-round pick ('00), Olandis Gary was a fourth-round pick ('99), Quentin Griffin was a fourth-round pick ('03),
Peyton Hillis
was a seventh-round pick ('08) while both Mike Bell and Selvin Young were signed as undrafted rookies in 2006 and 2007, respectively.
Toss in Reuben Droughns, who was signed as a fullback after he had been released by the Lions, and it should shock that the Redskins took Morris on the draft's third day and he went on to roll up 1,613 rushing yards last season.
"You know what you're getting there,'' Broncos cornerback
Champ Bailey
has said. "It's all discipline, one-cut running backs who don't waste steps and they're coaching it the same way and finding the right guys. That's hard to stop when everybody sticks to what they're supposed to do. We know what it looks like -- we used to see it every day.''
Morris is another classic find. He showed up to the Senior Bowl in January of 2012, where the Redskins staff was coaching, as a late addition. He was almost sent home because the Washington coaches had wanted a fullback, not another running back, but Morris volunteered on the spot to play fullback. He did not get a carry in the game, but Shanahan said the coaches had seen enough to keep his name handy on the draft weekend.
Morris is currently ninth in the NFL in rushing with 472 yards, but he leads the league's running backs at 5.2 yards per carry. Washington also figures to be the sternest test of the season for the Broncos' base defense after the Colts rode a far more balanced attack than most opponents have offered to a 39-33 win this past Sunday night.
With the Broncos having sported big leads early in most games, opposing offenses have collectively ditched the run. The Ravens threw the ball 41 more times than they ran it, the Giants 30 more times, Jacksonville 15 more times and Dallas 22 more times without a rushing attempt in the fourth quarter. In the Broncos' only loss, the Colts had seven more passes than runs.
The Eagles, who rushed for 166 yards in a Week 4 loss to the Broncos, ran it four more times than they threw it in the game.
The Broncos expect the Redskins, who threw it 70.9 percent of the time in their 0-3 start, to operate more as they have over the past two weeks -- Washington is 2-1 in those games. Over their past three games the Redskins have run the ball on 52 percent of their offensive snaps.
"Their last couple of weeks -- well over 400 yards of total offense, over 200 yards rushing -- 45 points last week in the win, they're obviously better,'' Broncos defensive coordinator Jack Del Rio said. "It looks like [Griffin] is getting healthier as the year goes on.''
"If you can run the football and the defense has to respect it, I think it gives you a big advantage once you get to the playoffs to have a chance to win,'' Shanahan said. " … The defense can usually take a way a one-dimensional team, but when you can do both, it really puts a lot of pressure on a defense.''
August, 22, 2013
8/22/13
9:30
AM ET
His game film provided highlights of electric runs and flashy plays. The Redskins want a little more of both in their offense so they selected Florida State running back Chris Thompson in the fifth round. But Thompson can only help if healthy. Can he do so in the NFL?
What he's learning:
How to run at an NFL level as well as how to pass protect. Thompson has the speed; just take a look at his college film. He had mixed reviews against the Steelers, with a good first run and then fumbling on his second. He could have helped himself on the fumble by pressing the hole just a little longer, but because he cut back early the safety was in good position to fill the hole and hit him hard. That can be corrected by staying patient (which running backs coach Bobby Turner preaches; it's an absolute must in this offense). Like fellow rookie
Jawan Jamison
, he can duck behind his blockers at times to sort of get lost in the crowd, making it hard for defenders to see -- and use his short stature to his advantage. Thompson said he's not struggling with the track he must take on runs, something
Alfred Morris
needed to work on early last year, because it's similar to what he ran at Florida State. It's more about the tempo.
"Too fast or the [the hole] is closing up or just missing reads here and there," Thompson said of what he's learning. "I go back and look at film and try to correct it every day."
"He shows signs of what we're expecting," Turner said.
Thompson also is learning how to pass protect at an NFL level. Check the next topic for the physical demands of that role, but for now it's about learning how to read blitzes. In college, Thompson was only responsible for half the field. Here, he'd be responsible for the entire field.
Finally, Thompson has to learn how to be a returner. He said he was going to get a chance to return kickoffs against Pittsburgh, but did not. He did return kicks at Florida State early in his career. He also has been fielding punts in practice, though he never did it in college (except in practice) and, based on how he was catching the ball, has a long ways to go.
[+] Enlarge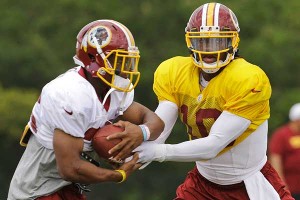 Steve Helber/AP PhotoChris Thompson's big-play ability is something that could help land him a spot on the Redskins' roster.
"The punters, their hang time is ridiculous at this level," he said. "Kickoffs are a whoooole lot easier."
What needs to be seen:
Durability. Thompson missed much of training camp while recovering from knee surgery last fall. He then hurt his shoulder against Pittsburgh on his second carry. He's listed at 5-foot-7 and 192 pounds, so his size always will draw concerns. But two years ago he broke his back and last year tore his ACL. Those can be considered freak injuries and not the nagging sort that derail some players. But even Thompson admitted he has to show he won't be affected by his knee injury. The Redskins just ended a three-year run with pint-sized
Brandon Banks
, who struggled to maintain his explosiveness because of injury issues. I like Thompson's character a whole lot more, and if the Redskins truly were worried about his size they wouldn't have drafted him. But if you can't stay healthy, that' s an issue. The one benefit for Thompson is that he won't be an every-down back in Washington; the Redskins need him to be a change-of-pace back. Still, if he plays on third downs he'll have to prove he can handle blitz pickups. The physics of the job -- small running back meets bigger hard-charging linebacker -- can be difficult. In college, Thompson was not asked to handle much of the protection duties, especially as a senior. He did block a linebacker on one rush, hitting him low.
"I have confidence I can block anybody," Thompson said. "I can do whatever a coach needs me to do. If he wants me to carry it 20, 30 times I can do it. Size doesn't mean a thing.
DeSean Jackson
is like 160 pounds and he's been doing great. It's confidence. If you listen so much about people saying you're too small and you just need to be a third-down back or catching balls out of the backfield, that's what you're gonna believe. I don't believe that. I believe I can do anything."
What stands out:
His speed and quickness. That was true watching his games at Florida State in particular and at times during training camp workouts. The tough part is we only saw it in snippets because he missed all that time and was admittedly not quite yet himself. But that speed is evident, as is his ability to quickly cut. It was shown on his 8-yard run in the fourth quarter versus Pittsburgh. He ran an outside zone and was able to string the outside linebacker wider than desired. The impressive part? Thompson's cut. He stuck his right foot in the ground and cut upfield. In about three steps Thompson executed his cut and got about 3 or 4 yards upfield. Some backs shuffle a little when they cut; he did not on this play. His size did not hurt him here either because the defense was flowing, no one was in the hole and nobody had a good angle on him so there was no clean shot. Instead, he could burrow into the opening and gain another 5 or 6 yards after contact.
"He has outstanding speed, cutting ability, ability to make the big plays and that's what we're looking for, to make the big plays," Turner said.
Projection:
Practice squad, assuming they keep only three running backs and a fullback. Thompson is a tough call because I know the coaches really like what he has to offer. Right now I'd take three other backs -- Morris,
Roy Helu
,
Evan Royster
-- ahead of him because I don't see Thompson helping in any sort of big role at this point and his durability is a major issue. He'd be a Banks-type player if he makes the team, a threat in their triple-option game, etc. But Banks made the roster by making big plays; Thompson needs to do the same. However, if they keep four running backs (plus a fullback) then he has a shot because of his explosiveness. I also think Thompson's status could change dramatically with one or two runs Saturday. But you can't fumble after the first time you get popped -- and also hurt your shoulder (though he did return).
August, 6, 2013
8/06/13
8:33
PM ET
Highlights from Tuesday's
Washington Redskins
' practice:
Redskins coach Mike Shanahan missed practice to attend the funeral of a close friend. Assistant head coach/running backs coach Bobby Turner ran practice. Turner has been with Shanahan for 18 years and has excelled at grooming running backs who fit the stretch zone system. But Turner is a man of few words who doesn't enjoy talking to the media. He took no questions in his post-practice press conference, instead reading a 115-word statement.

[+] Enlarge

AP Photo/Steve HelberRunning backs coach Bobby Turner, left, ran Redskins' practice on Tuesday.

The Redskins worked in shells instead of shoulder pads, which means there won't be many observations because players don't go at the same speed as when they have pads on. It's particularly tough to gauge a lineman's day in this situation. With the preseason opener two days away it's not a surprise that they would go in shells.

There's an excellent chance that the Redskins will open with three rookies in the secondary against the Titans, thanks in part to injuries. They are: corner David Amerson who will replace DeAngelo Hall, sitting out after hurting his ankle earlier in camp; safety Bacarri Rambo, the starter from the first day of camp; and safety Phillip Thomas, who would start if Brandon Meriweather does not. It's unlikely Meriweather would play considering he only returned to full work Monday after a week off because of his right knee.

It's also hard to imagine that another starting corner, Josh Wilson, started playing fulltime only recently because of offseason shoulder surgery. Wilson looked solid in 11-on-11 work.

Amerson made a leaping interception on a deep out thrown by Rex Grossman. Amerson also did a nice job in press coverage against Pierre Garcon. He did a good job with his left hand on a jam, mirrored Garcon's movements and made a sharp break when he cut. The quarterback looked elsewhere. Amerson struggled early in camp with some holds -- he straddled the line between a good jam and a hold several days in a row -- but he looked good on this route.

Left tackle Trent Williams, wearing a hard cast with padding on his left wrist, isn't sure if he'll play Monday. He did take work with the starters during the 11-on-11 portion. But Williams' hand is completely covered by the padding, leaving him with one hand to use against pass- rushers. Williams said he wants to play. "Yeah, it's football," he said.

It wasn't a big play, but it's one I liked nonetheless. Thomas came up against the run on a run by Chris Thompson, but he did so under control. Thompson initially appeared headed outside, but Thomas took that away with his angle. When Thompson cut back inside, Thomas easily reacted to the cut. He was patient and balanced. One of Thomas' biggest adjustments is learning how to fit on the run; he did a nice job on this one. Secondary coach Raheem Morris helps by often asking questions of him on the field -- like what he was looking at in a particular coverage -- rather than just telling him what he needed to do.

The four players who returned kickoffs Tuesday: Niles Paul, Evan Royster, Nick Williams and Skye Dawson.

Four players sat out Tuesday: tight end Jordan Reed (bruised foot), fullback Eric Kettani (knee), guard Josh LeRibeus (hyperextended knee) and guard/tackle Maurice Hurt (knee).

New special teams coach Keith Burns is not as loud as his predecessor, Danny Smith. But when he has a point to make, it gets made. When working with his first kick coverage unit, Burns was displeased with how they handled their execution, yelling about how some used their hands. He shouted at them to "go again!" They did. This time, they did it better.
January, 18, 2010
1/18/10
9:22
PM ET
Mike Nolan is
out as Denver's defensive coordinator
. Now, that is a "wow" move.
Last week's departures of offensive line coach Rick Dennison and running backs coach Bobby Turner, who took promotions with Houston and Washington, respectively, were newsy because both men had long Denver runs. But they weren't totally unexpected. Neither Dennison nor Turner were Josh McDaniels' guys. They were Mike Shanahan's guys. So, a change was natural.
[+] Enlarge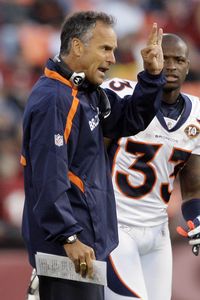 AP Photo/Jeff ChiuMike Nolan was behind the Broncos' switch to a 3-4 defensive alignment.
But Nolan was one of McDaniels' first hires when he took over in Denver last year. Nolan was hired essentially the same day McDaniels. They seemed like a perfect fit. Nolan had head-coaching experience to help the 33-year-old McDaniels out, and he was an expert in the 3-4 defense, which McDaniels runs.
Nolan's first season as McDaniels' coordinator worked very well. Nolan took a unit that was a work in progress and made it a solid unit. Denver finished seventh in the NFL in overall defense with a below average front seven. When Denver started 6-0, the defense was tremendous. The defense had some issues and Denver nosedived, finishing with an 8-8 record. Still, it was a solid unit for much of the season.
The presence of Nolan seemed like one of McDaniels' top building blocks heading into 2010. Then, seemingly out of the blue, came Monday's announcement. The Broncos characterized the decision as a mutual parting.
That means that the team had some role in this. Why?
I talked to some folks in the know and they said that McDaniels and Nolan didn't necessarily not get along. It was that the two simply decided to move apart.
Nolan will be fine. Miami is already interested in him. But what about Denver?
The Broncos have to go in a new direction. You would think McDaniels is going to stick to his NFL roots and keep the 3-4 defense. Coordinators for a 3-4 defense can be difficult to find because there are less coaches who specialize in the scheme than coaches who teach the more traditional 4-3 defense.
Former New England defensive coordinator Dean Pees could be a candidate. He and McDaniels worked together in New England. Pees recently said he will pursue other opportunities and allow his contract to expire. He knows the 3-4 and he knows McDaniels well, so this could be a seamless transition.
This news can't be great for many Denver players. This will be the fifth defensive coordinator in five seasons. Shanahan had three different coordinators in his final three years, and McDaniels will now have two defensive coordinators in his first two seasons in Denver.
This hire has to work out. The unit needs stability.
This is also yet another move that puts pressure on McDaniels, not that he cares. If the Denver defense takes a step back in 2010 after the fast success under Nolan, McDaniels will be criticized. But like with so many decisions in his first year in Denver, McDaniels does what he feels is necessary, no matter how unexpected.
The parting of ways with Nolan is another example.
January, 5, 2010
1/05/10
10:16
PM ET
Now that the long-awaited hiring of Mike Shanahan in Washington
has been completed,
expect our nation's capital to become Denver D.C. Shanahan, who coached the Broncos from 1995-2008, probably will bring a strong Denver flavor with him to the NFC East.
Coaches are usually comfortable with people they have worked with in the past.
As Shanahan builds his staff in the next few weeks and his roster in the next several months, look for him to reunite with some former coaches and players.
Coaches on the Broncos' staff who could join Shanahan -- if they are interested and if Denver allows them to leave -- include offensive line coach Rick Dennison and running backs coach Bobby Turner, both former longtime Shanahan assistants.
Jim and Jeff Goodman, the father-son personnel team fired in Denver shortly after Shanahan, also could resurface in Washington.
Any Denver free agents from the Shanahan era will be candidates to join their former coach as well. Little-utilized tight end
Tony Scheffler
and running back
Peyton Hillis
could leave if Denver is open to letting them go. Scheffler probably is going to be a restricted free agent.
Of course, the free-spending Redskins also have to be considered a possible landing spot for disgruntled receiver
Brandon Marshall
.
In short, if Shanahan worked with someone in Denver and they are available, there could be an upcoming reunion in Washington.
Posted by ESPN.com's Bill Williamson
Denver
A look at Josh McDaniels' coaching staff.
My take: McDaniels looks to have done a pretty nice job compiling his first NFL staff. The key to the staff, I believe, is the addition of defensive coordinator Mike Nolan and the fact that McDaniels kept holdovers Bobby Turner and Rick Dennison who mastered Shanahan's running attack. The offense can still work as it did with McDaniels touch and the defense has a legitimate force leading it.
Kansas City
It's not a great year to address the Chiefs' biggest draft need.
My take: Kansas City can't force the issue. It has the No. 3 overall pick. If there is no pass rusher who thrills the Chiefs, they shouldn't take him that high. They hold all the cards. They should draft the best available player or trade the pick rather than reaching at a position where the bust possibilities are high, anyway.
Oakland

Al Saunders lost his competition for the Raiders' offensive coordinator job.
My take: Scott Linehan is now in Detroit, so Al Saunders, who has danced with the Raiders before, could be on his way to working in Oakland. But for who?
San Diego

A.J. Smith thinks it's all about the quarterback.
My take: How can you argue with him? Smith is right on the money. Any team that has an elite quarterback has a chance. That's why the San Diego Chargers will be relevant for years to come. Philip Rivers is an elite quarterback.
NFL SCOREBOARD
Thursday, 11/20
Sunday, 11/23
Monday, 11/24
WEEKLY LEADERS