September, 12, 2013
9/12/13
1:00
PM ET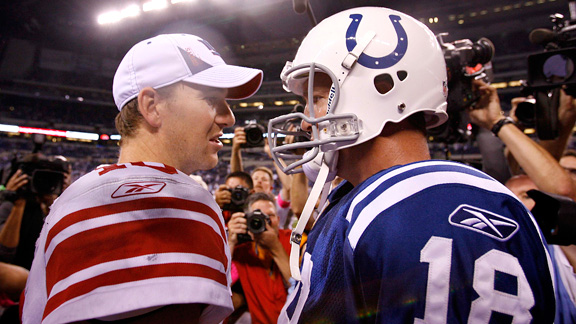 Brian Spurlock/US PresswireBrothers Eli (left) and Peyton Manning last met on the field during the 2010 season.
ENGLEWOOD, Colo. -- There is plenty in life's tapestry that
Champ Bailey
and
Peyton Manning
have in common.
Both were raised in the South, consistently credit their parents for showing them the importance of doing things the right way, played in the football-mad Southeastern Conference, and belong to the ultra-exclusive list of players who have been named to 12 Pro Bowls. Oh, and each understands what it is to look across a football field, with thousands in the seats around him and the last notes of the national anthem echoing in his ears, and see his brother on the other sideline.
"I've always said there's a lot of pride in that," Champ Bailey said of facing teams his brother, Boss, played on. "Family is family. Our thing was you don't drift apart; you play hard that day, in that game, because you want to win. You always want to win, to be the best, but it's hard to explain to people because it's never, 'I've got to beat you' -- because when the game was over, we were still brothers."
Boss and Champ Bailey were even teammates with the
Denver Broncos
for the 2008 season -- a year in which Boss Bailey played only six games because of injuries in what turned out to be the last season of Mike Shanahan's Denver tenure. The Bailey brothers felt the interest and dealt with the questions, but they weren't quarterbacks.
They weren't Super Bowl-winning quarterbacks. And they weren't Super-Bowl winning, "Saturday Night Live"-hosting quarterbacks who also happen to be two of corporate America's favorite pitchmen. So when football nation wants to see all there is to see, hear all there is to hear about a game that includes
Peyton Manning
and
Eli Manning
, it's a little different deal.
So much so that when Peyton was asked this week about what his parents -- Archie and Olivia -- think about all that will come with watching two of their sons in Sunday's nationally televised affair between the Denver Broncos and
New York Giants
, the Broncos' QB said:
"I don't think they enjoy it all that much."
Since the Giants made the draft-day trade with the
San Diego Chargers
in 2004 to acquire Eli, this will be the third, and perhaps because of NFL schedule rotations, last meeting between the brothers. Peyton's
Indianapolis Colts
won the previous two -- in 2006 and 2010. The 2006 game was the season opener for both teams.
"Well, I think the best part about this one is that it's not the opener," Eli said. "It's much better when it's the second game -- or later -- just because you don't have to be asked about it for three months. You get a week of questioning that you have to deal with."
Peyton was asked this week if Sunday's game was one he had been thinking about through the offseason, and he did what he usually does when the well-honed deflector shields are up -- he tried to move on to something else.
"We knew we were going to play them, and based off of last year I knew we'd probably be on TV," Peyton said with a laugh. "So when it was, where it was, Week 2 or whatever -- I'm glad we only have to talk about it for one week. … But I did the New York conference call and there was not one question about the Giants' defense. I had to force it in there myself."
Yes, he did, in the traditional conference call with the opponent's media. After several questions about facing Eli, Peyton simply said:
"I haven't been asked one question about the Giants' defense. That's where the focus is for me as a quarterback and for our offense. It's a good defense. They were put in some tough spots due to some turnovers against Dallas, but they were outstanding last year in creating turnovers, outstanding in the red zone, and so those are things that they're very capable of and that's where our focus is, is getting ready to play a tough defense on the road. At the same time, you do know because of their explosive offense, they're capable of scoring some points, so you better be on top of your game from an offensive standpoint."
It could all be a product of a wired world and 24/7 news cycles, with so many in the populace armed with cellphone cameras, but the Mannings publicly wrestle with this game. They are brothers, they are close, and they spend a great deal of time together. They talk plenty, though not about football this week, and they have even stood pop culture on its ear together with a little football on your phone. In short, they live with the idea, as Champ Bailey put it, that "family is family."
And even as they have tried to keep the rarity of it all at arm's length, to live in the week-to-week moments of the NFL, they both say they have taken time to appreciate the rarity of what has happened in the past -- it is unprecedented for quarterbacks of their stature in the game -- and will take a moment Sunday night to appreciate it once again.
"The past two times we have, for whatever reason, lined up across from each other during the national anthem," Peyton said. "So you do take a moment to realize that it is your brother over there that is a quarterback for the New York Giants in the NFL, and it is the same person that you grew up with. So it is unique, and I think you do take a moment to realize that it is special. But once the game gets started, all week the focus is on their defense, and you can go out there and just play."
"When I look back at the times we played against each other, I think you remember the national anthems and looking over and nodding at your big brother, talking to him before the game a little bit, the handshake after the game," Eli said. "Those things are special moments. … I'm proud of Peyton and his football career, also just proud of the way he's handled himself off the field and all the great things he's done. He's my big brother and one of my best friends."
March, 13, 2009
3/13/09
3:11
PM ET
Posted by ESPN.com's Kevin Seifert
A tip of the hat to NFC West colleague Mike Sando, who flagged the latest offering from a fellow known as AdamJT13 -- a blogger who has gained some cyber-fame for his ability to predict the NFL's awarding of compensatory draft picks.
The league has never publicized the formula it uses for this program, which gives extra selections to teams that lost more talent than it gained in free agency the previous year. The picks can be as high as the third round and as low as the seventh. I won't overwhelm you with too many details, but in general AdamJT13 -- whose true identity is unknown -- believes it is primarily based on the average annual value of the contracts in question.
Here is AdamJT13's personal blog, which lays out his methods.
Now, for the moment you've been waiting for: AdamJT13 predicts two NFC North teams will net extra picks when the NFL announces the results later this month.
Chicago Bears (3)
Detroit Lions (2)

February, 19, 2009
2/19/09
2:14
PM ET
Posted by ESPN.com's Bill Williamson

Stay tuned Thursday for movement on the Nnamdi Asomugha situation in Oakland. There were some strong indications Wednesday night and early Thursday that a long-term deal between the shutdown cornerback and the Raiders could be done at any time.
This would be huge news for the Raiders.
The Denver Post is reporting linebacker Boss Bailey may not be salary-cap causality. With five defensive starters already jettisoned and with more than $25 million in cap room freed up, Denver certainly doesn't need to create any more cap space.
New Kansas City coach Todd Haley said he hasn't named exact positions for several new assistant coaches because he hasn't figured it all out yet.
The Oakland Tribune is reporting that receiver Ronald Curry has been informed he will be cut.
The Chargers are hoping to secure LaDainian Tomlinson, Philip Rivers and Antonio Gates this offseason. Keeping his own has long been a mantra of San Diego general manager A.J. Smith.
The Ravens' decision to put the franchise tag on linebacker Terrell Suggs could affect both Denver's and Kansas City's plans. Both teams have plenty of cap room and both teams could have used a pass-rusher like Suggs.
The Chargers may be quietly bummed that the Raiders re-signed punter Shane Lechler. Many in San Diego believe their punter, Mike Scifres, is the best punter in the AFC but he keeps getting bypassed in favor of Lechler for the Pro Bowl. Some in the San Diego organization may have been hoping Lechler would go to an NFC team which would open a spot on the Pro Bowl roster for Scifres. My take on that one: Both Lechler and Scifres are the real deal.
Former Oakland wide receiver Tim Brown will coach the receivers in an alumni game featuring Notre Dame players in Tokyo this July.
February, 18, 2009
2/18/09
3:37
PM ET
Posted by ESPN.com's Bill Williamson
The fact that Denver has cut five defensive starters in the past couple of days may appear more drastic than it really is.
| | |
| --- | --- |
| | |
| | Dilip Vishwanat/Getty Images |
| | Less than a year after acquiring Dewayne Robertson from the Jets, the Broncos discarded the former first-round draft pick. |
Yes, replacing at least five starters is no easy task. But the truth is the new Denver regime can't wait to do it. The team needs a huge facelift on defense.
It began this week when the team waved goodbye to starters Dre' Bly (cornerback), Dewayne Robertson (defensive tackle), Jamie Winborn (linebacker), Marquand Manuel (safety) and John Engelberger (defensive end). Only Bly and Robertson could have conceivably been part of the makeover, but both were high-priced and neither made much of an impact last season.
So they're out.
There is more change to come. Outside linebacker Boss Bailey, who is injured, could be a candidate to be cut. Starters Ebenezer Ekuban (defensive end), Nate Webster (linebacker) and Marlon McCree (safety) are free agents and are not expected to return.
But again, many of these players were starters in 2008 because the team had no other choice.
Under new defensive coordinator Mike Nolan -- the former San Francisco head coach and longtime assistant -- the Broncos are moving toward becoming a 3-4 defense. Few of the above-mentioned players fit in the new scheme.
The Broncos have two cornerstones on defense: cornerback Champ Bailey and linebacker D.J. Williams. Other than that, it's an open audition.
Pass-rush specialist Elvis Dumervil should have a place on the defense and could be moved to linebacker from defensive end. Young defensive linemen Marcus Thomas and Jarvis Moss (the team's first-round pick in 2007) will likely get a chance to play in the new scheme.
Thomas has been fairly productive the past two years and has a chance to be a good player. Moss has been a major disappointment, but he has natural pass-rush skills so there's hope he could flourish in the new system.
Young linebackers Wesley Woodyard and Spencer Larsen may get a chance to fit in the 3-4 attack. Woodyard, an undrafted free agent signed last season, is a natural playmaker and was a tackling machine last year. Larsen, a sixth-round pick last season, is a hard-nosed, versatile player. Still, there will be new competition for both.
Other than Bailey, the Broncos will likely be looking for help in the secondary.
Expect Denver to try to get at least two defensive linemen, at least one linebacker and three new defensive backs through free agency, trades and the draft. While big names such as defensive end Julius Peppers and defensive tackle Albert Haynesworth will be tempting, the Broncos may opt to target several more reasonably priced free agents than one big-ticket item because of their numerous needs on defense.
Whatever happens, the change is going to be drastic. The release of five starters this week only begins the sea change on Denver's defense.
November, 2, 2008
11/02/08
11:26
PM ET
Posted by ESPN .com's Bill Williamson
DENVER -- What's the difference between the AFC West and the United States presidential race?
There will be a winner this week in the chase to be president.
| | |
| --- | --- |
| | |
| | Doug Pensinger/Getty Images |
| | Denver quarterback Jay Cutler played his worst game of the season Sunday, tossing three interceptions. |
Further cementing its stranglehold on the title of worst division in the NFL, the AFC West went a combined 0-3 Sunday. It was the second straight week the division went winless. The four AFC West teams are now 10-22 at the halfway point of the season. No, don't expect an AFC wild card to come out of this division.
With half a season to go, there is a legitimate chance the AFC West will produce the first playoff team with a losing record in the playoffs in a non-strike shortened season. Two 4-5 teams made the playoffs in 1982.
Only a strike could save this division. As silly as it sounds, the Denver Broncos, losers of four of their past five games, are leading the division. Denver is 4-4; San Diego, which had a bye this week, is 3-5; Oakland is 2-6 and Kansas City is 1-7.
After a 26-17 loss to visiting Miami on Sunday, in which the Broncos continued their sloppy ways on offense and untimely lapses on defense, Denver players tried to find a way to be positive.
"The division hasn't been good, we can look at that," Denver linebacker Nate Webster said. "But, come on, we need to start winning some games."
The Broncos, who play on a short week Thursday night at Cleveland, had an opportunity to separate themselves from San Diego while the Chargers were on a bye. With wins over Miami and Cleveland, Denver could have been 6-3 while San Diego was still 3-5. Now, Denver must try to avoid being 4-5 as the Chargers prepare to play host to Kansas City next Sunday.
"We have to shore things up," Denver running back Michael Pittman said. "We have to do it quick."
There is plenty of work to do. Quarterback Jay Cutler is coming off his worst game of the season, the vaunted Denver running attack is coming off its second-worst effort in the history of the franchise and the battered defense probably will now have to play without another stalwart, linebacker D.J. Williams, who suffered a knee injury.
"This was a bad game," Cutler said.
Other key developments from Sunday:
Turnovers continue to kill Denver: The Broncos continued to be careless with the ball. Cutler was the culprit Sunday. He threw three interceptions, two in the first quarter -- including one that was returned 32 yards by Miami cornerback Will Allen for a touchdown to give the Dolphins a 13-0 lead.
The Broncos have committed 15 turnovers in their four losses. Eleven of the turnovers have come in the first half of games. In the past five weeks, Denver has been outscored 56-0 on series after turnovers.
Simply put, the Broncos' defense is not stout enough to withstand the pressure of Denver's offensive mistakes.
The turnovers are also ruining a strong offense. In Denver's first three games, which were essentially mistake-free, Denver scored 114 points. In the five games since, Denver has scored a total of 76 points and no more than 19 points in a game.
"Turnovers, it's that simple," Cutler said when asked his thoughts on his unit's biggest issue.
Nowhere to run: In 14 seasons under Mike Shanahan, Denver has been the premier rushing offense in the NFL. It wasn't Sunday. Denver had 14 yards rushing. It was the second-fewest yards in team history. It was a Miami record for fewest rushing yards allowed. Denver ran the ball only 12 times. Shanahan categorized the effort as "embarrassing."
This is battered unit. Pittman left the game because of recurring neck stingers. After the game, Pittman suggested he may need time to rest the injury.
This may open the door for promising rookie Ryan Torain, who was eased into action Sunday. It was his NFL debut. The fifth-round pick from Arizona State broke his elbow in training camp in early August.
Torain was a non-factor against Miami. He had three carries for 1 yard. However, with Pittman hurting and Selvin Young out for the past three games with a groin injury, Denver may have to turn to Torain in an attempt to regain the Denver rushing spark.
Marshall no fan of defensive scheme: Fresh off his lowest catch output since becoming a starter late in his rookie season in 2006, Denver star receiver Brandon Marshall, who had two catches for 27 yards, was more focused on the game plan of Denver defensive coordinator Bob Slowik.
Marshall didn't like the fact that Denver cornerback Karl Paymah, who replaced the injured Champ Bailey, was playing so far off of Miami receiver Greg Camarillo. He had 11 catches for 111 yards.
"When I look at it, it's common sense, if I was a receiver going against our defense and they're stacking the box and we're playing a one-high defense and eight in the box, and the DBs are 10 yards off of me, I'm going to catch 10 to 12 balls a game," Marshall ranted. "I don't even know that receiver's name who caught all those balls.
"Tighten up the coverage and just play ball, it's real simple. It's real simple. They don't need to be 10 yards off. Tighten it up. You say they don't do that against us, the reason why is a receiver will kill them."
When a star bashes the coaching scheme, it is a sure sign of the wheels falling off a team.
Webster didn't buy into Marshall's complaint. He pointed to Denver's defense nullifying Miami's Wildcat formation. Miami ditched the Wildcat after having very little success using it Sunday. Miami had 75 yards rushing and Dolphins quarterback Chad Pennington completed 23 of 40 passes for 281 yards.
Webster also pointed to Miami's final series as the only poor defensive possession Denver had. The Dolphins went on a 15-play, 80-yard drive that took 8:02 to give them a nine-point lead with 3:08 to go.
"That was it," Webster said. "I don't think our defensive scheme rea
lly hurt us today."
Walking more wounded: When Bailey was lost for at least a month with a torn groin, Williams became Denver's best defensive player. The 2004 first-round pick was having a Pro Bowl season with 77 tackles at weakside linebacker.
Now Denver -- which also lost starting strongside linebacker Boss Bailey for the season two weeks ago -- probably will have to play without Williams for a while.
Shanahan said Williams has a sprained MCL in his knee and he had no idea how long Williams would be out. Williams, who didn't talk to reporters Sunday, departed the stadium on crutches. If Williams is out for an extended period, it could be devastating to Denver's defense.
He is a playmaker, and without the Baileys and Williams, the defense will be stretched extremely thin.
Yes, it was a disastrous Sunday for Denver. But here's the bright spot for the Broncos: They are still the best in the West.
Yes, the AFC West is that bad.
October, 31, 2008
10/31/08
4:33
PM ET
Posted by ESPN.com's Bill Williamson

Tampa Bay Buccaneers (5-3) at Kansas City Chiefs (1-6), 1 p.m. ET

There is something interesting about the Kansas City Chiefs as we head to November.
Seriously.
Thank you, Tyler Thigpen. At 1-6, the Chiefs aren't exactly a compelling study heading into the final nine games of their slate. However, Thigpen added some intrigue to their season. A whole lot of it.
In his second NFL start, Thigpen, who was horrible in his first start, played shockingly well in the Chiefs' last-minute 28-24 loss to the Jets last Sunday. Thigpen threw for 280 yards and two touchdowns and he wasn't intercepted. He completed his first 10 pass attempts.
Thigpen outplayed Brett Favre for much of the game. With quarterbacks Brodie Croyle and Damon Huard out for the rest of the season with injuries, Thigpen will get plenty of chances to build upon his strong game.
It won't be easy this week against a fine Tampa Bay defense. But we're looking forward to seeing how Thigpen performs. Last week, there was little to look forward to in Kansas City, other than the draft. But Thigpen has brought some life to the Chiefs' world.
Miami Dolphins (3-4) at Denver Broncos (4-3), 4:05 p.m. ET

Are the Denver Broncos ready for the Wildcat?
At this point, it's no sure thing the Broncos' defense could handle Heathcliff, the cat. Don't be surprised if the Wildcat roars loud and proud in the Rocky Mountains.
Denver's defense has been a sieve. Without the services of the Bailey brothers, Champ (the star cornerback is out for a month with a groin injury) and Boss (the linebacker is out for the year with a knee problem that required surgery), it could be tough sledding for the Broncos.
Denver, which sits atop the AFC West with a 4-3 record, has struggled against the run and pass on defense. Trick plays just complicate matters. Confusion could be the order of the day for the struggling Broncos defense.
If Miami leaves Denver with a win, it will be on the strength of the Wildcat.
Atlanta Falcons (4-3) at Oakland Raiders (2-5), 4:15 p.m. ET

This is a battle of the highly drafted quarterbacks.
Raiders quarterback JaMarcus Russell was the No. 1 overall draft pick in 2007. Falcons quarterback Matt Ryan was the No. 3 overall pick this year.
Maybe Russell can learn something from the rookie.
Ryan has been outstanding this season. He has the look of a winner and the Falcons are flying fairly high at 4-3. Yes, Ryan is a rookie but he looks like he's on his way to being a star. Russell has struggled right along with the Raiders, who are 2-5. Like Ryan, this is essentially Russell's rookie season. He played sparingly as a rookie last season.
Russell has shown some signs that he could be a winning quarterback, but he is behind Ryan in his development. Beating Ryan and the Falcons could go a long way in Russell's development.
October, 30, 2008
10/30/08
2:45
PM ET

Posted by ESPN.com's Bill Williamson
Inspired by our Fear Factor package, let's look at a situation that each AFC West team fears:
Denver: What if Champ Bailey doesn't heal well?

The Broncos need Bailey, their best defensive player, to heal quickly. Bailey suffered a groin injury on Oct. 20 at New England and he is expected to miss at least four weeks. That means Bailey probably won't be back until December. If the injury lingers, the Broncos could be in big trouble. Despite losing three of their past four games, Denver is 4-3 and sits atop the AFC West. But the team needs Bailey. The defense is in shambles and Bailey is badly missed. Four games is bad enough. The thought of Bailey missing five or six games is truly frightening for Denver.

Kansas City: What if Glenn Dorsey doesn't pan out?

The Chiefs expected Dorsey to make an instant impact when he was drafted with the No. 5 overall pick. He hasn't been a disaster but he hasn't been a defense-changing player, either. The Chiefs need Dorsey to make progress the rest of the season. He doesn't need to instantly transform into a Pro Bowl player, but he has to make a bigger impact. Dorsey is the centerpiece of the youth movement. If he doesn't develop that is a very scary situation for the Chiefs.
Oakland: What if Darren McFadden doesn't heal?

McFadden has been dealing with foot injuries virtually all season. The No. 4 overall pick of this year's draft has only had one good game this season. Often, turf toe injuries bother players all season. If McFadden can't become an impact player this season, the Raiders'offense will never have a chance to reach its full potential and in Oakland, that is a scary thought.
San Diego: What if Ron Rivera's defense doesn't improve?

The Chargers, desperate for a spark, fired Ted Cottrell as defensive coordinator and replaced him with Rivera, the team's inside linebackers coach. San Diego had Super Bowl aspirations to start the season, but the team is struggling mightily at 3-5. The hope is Rivera, who was a successful defensive coordinator in Chicago, can get more out of the unit than Cottrell could and the Chargers will make a strong second-half playoff run. If the Chargers defense doesn't improve under Rivera, they likely won't make the playoffs and that is an extremely fearful situation in San Diego.
October, 22, 2008
10/22/08
12:22
AM ET
Posted by ESPN.com's Bill Williamson
| | |
| --- | --- |
| | |
| | Joe Robbins/Getty Images |
| | The Broncos will be without star cornerback Champ Bailey for the next 4-6 weeks. |
Good luck to the Denver Broncos.
The Broncos, who have a bye this week, have to try to come out of a slump -- they have lost three of their last four games -- without Champ Bailey.
The star left cornerback is expected to miss 4-6 weeks with a groin injury. He suffered it in Denver's 41-7 loss at New England on Monday night.
Bailey is one of the best defensive players in the NFL. He has handling New England receiver Randy Moss before he was injured. Moss then took advantage of Dre' Bly with Bailey on the sideline. Rookie Jack Williams is expected to take Bailey's place in the starting lineup.
Denver's defense has been brutal much of the season. Bailey, along with linebacker D.J. Williams, was one of Denver's two feared defensive players. His loss is going to make it very challenging for Denver.
The one good thing is Denver doesn't play great passing teams while Bailey is out. Denver's first four games coming out of the bye are against Miami, Cleveland, Atlanta and Oakland.
Still, Bailey's loss will be felt. This is a player who has made eight straight Pro Bowls. He's a special player.
Injuries are starting to catch up to Denver. The Broncos are hoping to get their offense back to full strength after the bye. Tight end Tony Scheffler and Brandon Stokley missed the New England game. They are expected to play against Miami.
With Bailey out, the Broncos will need all the offensive weapons they can get to offset the huge loss to the defense. Bailey's younger brother, Boss Bailey, a Denver starting linebacker, suffered a knee injury Monday night and is done for the season.
October, 20, 2008
10/20/08
10:38
PM ET
Posted by ESPN.com's Tim Graham
FOXBOROUGH, Mass. -- New England Patriots running back Sammy Morris had a career game in just the first half. Now, he's out with a knee injury and his return is questionable for Monday night's game against the Denver Broncos in Gillette Stadium.
Morris ran for a personal-best 138 yards and a touchdown before halftime. That ties Morris for the 10th-highest first-half total since 2001, according to ESPN researcher Benjamin Lerner. The last rusher with at least 138 first-half yards was Denver's Selvin Young, who ran for 143 last December.
Before the game, the Patriots ended running back Laurence Maroney's season by placing him on injured reserve and deactivated LaMont Jordan, who's battling a calf problem.
For the Broncos, cornerback Champ Bailey and linebacker Boss Bailey will not return to the field, but quarterback Jay Cutler resumed control of the offense on the first series of the second half.
Champ Bailey is out with a groin injury, while Boss Bailey is out with a knee injury.

NFL SCOREBOARD
Thursday, 9/4
Sunday, 9/7
Monday, 9/8