NFL Nation:

Brandon Fisher
January, 3, 2012
1/03/12
4:16
PM ET
We know Jeff Fisher is in play for Miami and St. Louis. Indianapolis Star columnist Bob Kravitz
told PFT
he believes Fisher is in the mix in Indianapolis too.
[+] Enlarge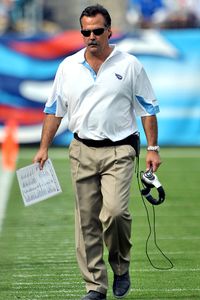 Jim Brown/US PresswireJeff Fisher is a candidate for the head coaching job in Miami and St. Louis, but could also be in play in Indianapolis.
Indications are Fisher will listen to everyone. But coaching code says you don't talk about a job that's not vacant, so I don't think he'd go beyond backchannel communication while Jim Caldwell remains in place.
At any rate, Fisher is the hot veteran coaching candidate and until he's coach somewhere, he still qualifies foremost as the Titans former head coach and falls under our purview. He said last week in an interview on Nashville's 104.5 The Zone that a GM and a quarterback were the two biggest factors for him as he explores job opportunities.
So some thoughts on his eventual re-emergence in the coaching ranks.
Power:
There can be a misperception he'd want general manager powers. He won't. He wants to work with a GM he gets along with and can build consensus with. Fisher will want control of his 53-man roster. And he won't want a situation where a GM is forcing free agents or draft picks on him that he and his staff don't want. But wanting a voice is a lot different from wanting to be a de facto GM. He believes in the value of a traditional coach-GM split and has no desire to work the scouting end of things as a fulltime GM.
General manager friends
: Fisher's got strong relationships with Rich McKay of the Falcons and Bill Polian, just let go by the Colts, as he served with both on the NFL's competition committee. McKay's in an administrative capacity now, but could he want back into football? He wouldn't come cheaply. Polian is probably too strong a personality. I have no feel for the relationship between Fisher and Chris Polian, who was also let go.
When the Titans replaced Floyd Reese in 2007 it was largely because Fisher and Reese's relationship had frayed. Among the replacement candidates Fisher helped interview before the Titans hired Mike Reinfeldt were: Ruston Webster (now with Reinfeldt in Tennessee), Reggie McKenzie (Green Bay's director of football administration), Ron Hill (NFL VP of football operations), Mike Ackerley (now a Texans scout) and Charles Bailey (former Jaguars pesonnel executive). The Titans wanted to talk to Randy Mueller, then with Miami, but didn't get permission. He's now with San Diego as "senior executive."
Maybe Fisher hit it off with one of those guys and would like to work with them. At years of league meetings and functions, he's likely formed friendships we don't know about with other, future-GM types.
If Fisher lands in a situation where he comes in hand in hand with a GM or in advance of a GM, he'll have a guy or two to put forward and be open to forming a new relationship if he hits it off with an existing GM or an owner's candidate.
Assistants:
His primary assistant coaches may be hard to predict.
His top defensive lieutenants from Tennessee are booked up. Gregg Williams is the coordinator in New Orleans and may be a head coaching candidate himself. If he was free, Fisher could pounce. Jim Schwartz is head coach in Detroit. (Brandon Fisher works on Schwartz's staff.) Chuck Cecil may be radioactive as he was a central figure in things coming apart for Fisher with the Titans. He could return to the league as a defensive backs coach, but Fisher would have to answer for a lot if he wanted to make Cecil coordinator. He'd certainly take recommendations from Williams and Schwartz about up-and-comers from the defensive staffs with their teams. Detroit linebacker coach Matt Burke was a young assistant on Fisher's staff who went with Schwartz for a promotion.
Fisher's top offensive friend and long-time coordinator, Mike Heimerdinger, died recently after a battle with cancer. Fisher could look to his former running backs coach Sherman Smith, who's now in the post with Seattle. But Smith's lone stint as an offensive coordinator didn't include play-calling duties under Jim Zorn in Washington. Titans quarterback coach Dowell Loggains is a bright young mind, but like Burke he may not be ready yet.
While Fisher spent time away from the game in a year off, he certainly has lists of coaches he would pursue and could get. But he'd be going with people he's not worked with before at a lot of spots -- like on the offensive line, where his former position coach, Mike Munchak, and his best line player, Bruce Matthews, are not available.
Markets:
He can be a star behind those shades. But don't think he'll take the bright lights of Miami over more low-key St. Louis or Indianapolis if he's choosing.
Fisher enjoyed the ability to be anonymous at times in Nashville and the willingness of the population to allow him a large degree of privacy. He's a Southern California guy who loves spending time at his Montana cabin.
He's not desperate for a beach, or television lights.
August, 10, 2011
8/10/11
7:12
PM ET
ALLEN PARK, Mich. -- I spent three days with the
Detroit Lions
in training camp last summer. Never once did I see linebacker
DeAndre Levy
or safety
Louis Delmas
, both of whom were rehabilitating injuries and wound up missing a big chunk of the preseason.
So even as the Lions have dealt with a number of high-profile injuries this summer, it's worth nothing that Levy and Delmas have provided a constant and reliable presence. Levy hasn't missed a practice since camp began July 29, and Delmas has missed only three because he needed a screw removed from a finger to complete a prior surgery.
[+] Enlarge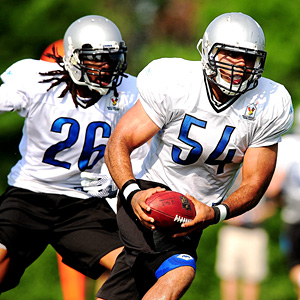 Andrew Weber/US PRESSWIRELouis Delmas (26) and DeAndre Levy (54) have been on the field making plays this training camp. "Our defense is so much better for that," coach Jim Schwartz said.
"Our defense is so much better for that," coach Jim Schwartz said. "Delmas, Levy, those guys that control a lot of the action, have been out there and going. That's so important."
Levy's health has been particularly important because it's given the Lions an opportunity to experiment with their three likely starters in various roles. During my time here,
Stephen Tulloch
has lined up in the middle with Levy and
Justin Durant
on the outside, but Schwartz suggested that Tulloch will see some time on the outside during the preseason with Levy kicked back inside.
"We want to let those guys go out and see what they can do," Schwartz said. "They'll probably play different positions in the preseason games. Probably by the third preseason game, we'll sort of settle on what we feel is the best combination for us and best for the defense."
Levy has played every linebacker position in his brief career. It has always been assumed he would settle in the middle, but quite frankly, Tulloch might well prove to be the Lions' best middle linebacker. If that's the case, Levy's multidimensional skills will come in handy.
This conversation would have been moot had Levy not been on the field, but Wednesday he said: "I feel good, and it's going to be nice to go into a season at over 70 percent healthy for a change."
A few thoughts on the Lions' practice Wednesday afternoon, which they conducted in shoulder pads and shorts:
Receiver Calvin Johnson was sidelined with a mild ankle injury and rookie Titus Young (hamstring) wasn't even on the field. So I got a good look at the Lions' receiver depth. Many of you have been asking about 6-foot-6 rookie Demario Ballard, but I have to say that another big receiver jumped out to me. Veteran Maurice Stovall made two catches in the back of the end zone during a red-zone drill. At 6-foot-5, Stovall is a bigger dude that I thought he was.

Offensive coordinator Scott Linehan singled out another receiver, Derrick Williams, as someone who has caught his eye during camp. "He's played every position for us," Linehan said. "He's jumped in when Calvin has been out. He's jumped in when Nate [Burleson] has been out. He's played the 'X' because Titus hasn't been able to go. ... That's been very important."

I spoke with both Linehan and quarterback Matthew Stafford about their third year together, and I'll expand on the topic in a future post. I'll wet your appetite with this: In his third season under Linehan in Minnesota, quarterback Daunte Culpepper had the best season of his career. Culpepper threw for 4,717 yards, 39 touchdowns and 11 interceptions. I would argue the Lions' offensive personnel this season rivals what Culpepper had to work with that season.

Former Tennessee Titans coach Jeff Fisher has attended the past two days of practice wearing Lions gear. No, he hasn't been hired as a consultant. Fisher was in Detroit because Schwartz was his protégé with the Titans and his son, Brandon, is an assistant this summer on Schwartz's staff. "Obviously, [Schwartz] took over a challenging situation," Fisher said. "To see them come on like they did last year despite the injuries was quite impressive. The guy's clearly got his stamp on this team."

I'll be back at Lions practice in the morning, and my formal Camp Confidential has been slotted to post Monday.
January, 27, 2011
1/27/11
9:26
PM ET
After his offensive coordinator, Mike Heimerdinger, was diagnosed with cancer and began treatment during the season, Titans coach Jeff Fisher brought in cheap help.
His oldest child, Brandon, joined Heimerdinger as he moved from the sideline to the coaching box, taking a crash course in play-calling terminology to be ready to help convey calls to quarterback coach Dowell Loggains on the field if needed.
[+] Enlarge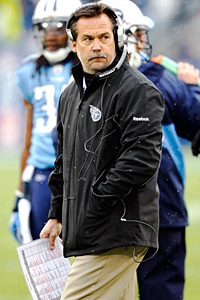 AP Photo/Paul SpinelliAccording to John Clayton, Jeff Fisher was looking to add his son, Brandon, to the Titans' coaching staff in 2011.
Loggains was sending the calls into
Rusty Smith
for one game, then to
Kerry Collins
for the remainder of the season.
After that little apprenticeship for Brandon Fisher, who played football at Montana, his father apparently wanted more.
A source told John Clayton that Jeff Fisher was looking to add Brandon Fisher to his 2011 staff as a quality control coach, and that turned out to be a breaking point for Bud Adams.
I can't believe Jeff Fisher didn't know it would be.
Nepotism has long been taboo for Adams, and it's the primary reason Gregg Williams, who wanted to bring his son Blake along, didn't rejoin the franchise as defensive coordinator after the 2008 season. Like Adams and ultimately Fisher, I wasn't big on the idea.
I think it's generally better to get your son who wants to coach on a friend's staff, not put him on your own. Gregg and Blake Williams landed in New Orleans instead.
From South Florida, as the two Saints assistants prepared to coach in Super Bowl XLIV, I wrote about why things didn't work out a second time with Gregg Williams and Tennessee and about Williams' subsequent reaction to what I wrote --
here
and
here
.
As for what just unfolded in Nashville...
Did Fisher have a change of heart and decide to challenge Adams when it came to his own son? Or did he know that pushing Brandon as a staff addition would likely blow things up and set him free from what was turning into an ugly, lame-duck situation?
And if Gregg Williams is to be a candidate for Fisher's old job now, would he be willing to leave his son out of the equation?
April, 24, 2010
4/24/10
8:20
PM ET
Jeff Fisher didn't love the line of questioning, but
Marc Mariani
had given him up.
The seventh-round receiver said it wasn't a Titans' scout or coach who notified him he'd been drafted by Tennessee, but Brandon Fisher, Jeff's son, who he played with at Montana.
The Titans brought in safety and returner
Tuff Harris
as an undrafted free agent from Montana in 2008 and he played a bit that season.
Asked if we might see more of an Auburn presence as his daughter matriculates there, Fisher passed on the question.
Mariani will be in the mix along with second-round receiver
Damian Williams
and fourth-round cornerback
Alterraun Verner
.
"I'm not going to loan him a car," Fisher said of his son's pal, who he said the Titans scouts liked.
One Titans sidenote: GM Mike Reinfeldt said while a lot of good defenders remained available, "the offense got wiped out." Still, the Titans headed into undrafted free agency seeking a running back and an interior offensive lineman.
December, 18, 2008
12/18/08
2:30
PM ET
Posted by ESPN.com's Paul Kuharsky
Fisher
Friday night, less than two days removed from his team's biggest game of the season, Jeff Fisher will leave the Titans' headquarters in Nashville and head 135 miles southeast to Chattanooga. There, he will surrender all claims to being the football big shot in the family, and watch his son, Brandon, try to help Montana beat Richmond for the Division I national championship.
(It still sounds more natural as Division I-AA, doesn't it? But we call it what the NCAA calls it, the Division I Football Championship Subdivision. Montana won titles in 1995 and 2001.)
Brandon is a junior linebacker for the Grizzlies.
I heard a bit of radio debate this week about Jeff Fisher missing Titans time for Wyoming's semifinal win in Virginia last week -- assistants Dave McGinnis and Chuck Cecil joined him on that trip -- and for this game. The coach has not shuffled the team's schedule for either game -- Friday late afternoons and evenings tend to be some of the rare downtime built into a standard NFL week.
Earlier this week, he was more open about Brandon than I expected with a few of us who are around the Titans regularly.
How special is this as a parent?
Jeff Fisher: It's really a neat deal. Knowing when he decided to attend the University of Montana, and knowing that they were very competitive, the hope somewhere along the line was that he'd get a chance to play here in Chattanooga, and I think the fact that it's here in the home state a few hours away makes it even more special.
Do you get more nervous for his games than yours?
JF: Yes, clearly. You can't control anything.
How has Brandon evolved as a player there?
JF: He came in there as a long-snapper and got hurt. He's battled through injuries over the last couple years. He's got three plates in his body and he's moved from safety to outside linebacker and he's battling and he's hanging in there. I'm proud to watch him play.
How's his playing style compared to your when you played at USC?
JF: I was outside, I was a wideside corner. I was a converted wide receiver. He's more of an in-the-box, rough-and-tumble kind of guy.
Did he get his defensive genes from you?
JF: You know, ever since he was little he kind of liked to run into things.
How much have you coached him over the years?
JF: We share a lot as far as his games and my games and each upcoming opponents and responsibilities and things like that. You know, as a parent someone gave me the advice a long time ago, they said "Don't mold them, help them unfold." So never have I said, "C'mon, let's go outside." I've said, "I'm here if you want me to." They could take advantage of it. I don't know if they listen.
Montana's got some star-power kid pull: Sophomore safety Houston Stockton's father is NBA great John Stockton.
NFL SCOREBOARD
Thursday, 9/4
Sunday, 9/7
Monday, 9/8