October, 20, 2013
Oct 20
12:00
PM ET
DETROIT -- The
Cincinnati Bengals
left home earlier this weekend knowing they would be healthy when they met the
Detroit Lions
at Ford Field on Sunday.
For that reason, they knew they wouldn't have to juggle their roster to accommodate for injured players before the nonconference showdown. Still, they had to trim their 53-man roster down to 46 active players ahead of the ballgame. They have done just that.
Among the list of inactive players will be cornerback
Brandon Ghee
, a four-year veteran who has dealt with injuries much of the season. He wasn't listed on the Bengals' injury report after returning from a thigh injury the week before. He also missed much of the preseason and the first three weeks of the regular season with a concussion. Ghee's inclusion on the inactives list was a sign that cornerback
Terence Newman
, who missed Wednesday's and Thursday's practices, will indeed play. He had been declared probable after working out Friday.
Like Sunday, Ghee probably could have played last week. He was declared inactive then in part to make room for cornerback
Leon Hall
, who returned to action last week after a hamstring injury held him out for two games. Another cornerback,
Chris Lewis-Harris
, made it to this Sunday's inactives as well.
Another addition to the list of inactives was center
Trevor Robinson
, who was declared inactive for the first time this season after guard
Mike Pollak
recovered from a knee injury and was added to the active roster.
Here is the full list of Bengals and Lions inactives:
Bengals:
CB Brandon Ghee, RB
Rex Burkhead
, CB Chris Lewis-Harris, C Trevor Robinson, OG
Tanner Hawkinson
, WR
Ryan Whalen
, DE
Margus Hunt
Lions:
WR
Nate Burleson
, QB
Kellen Moore
,
Jonte Green
CB, RB
Theo Riddick
, OG
Leroy Harris
, OT
Jason Fox
, TE
Tony Scheffler
October, 13, 2013
Oct 13
11:47
AM ET
ORCHARD PARK, N.Y. -- The
Cincinnati Bengals
' defense, one that prevented
New England Patriots
quarterback
Tom Brady
from throwing a touchdown pass last week, just got stronger ahead of its Sunday afternoon road tilt against the Bills.

Defensive end
Michael Johnson
and cornerback
Leon Hall
were declared active for the game after dealing with injuries the past few weeks. Johnson suffered a concussion in the Bengals' Week 4 loss at Cleveland. He was held out of practices from that game until Friday, when he was finally cleared following a battery of tests that he had to go through per the NFL's concussion protocol.
Hall practiced all of last week after suffering a hamstring injury in the Bengals' Week 3 win against the
Green Bay Packers
.
With Johnson and Hall in the mix, the Bengals' eighth-ranked unit gets a good lift just in time to face a Bills' offense that is in a bit of flux. Buffalo lost starting quarterback
EJ Manuel
to a knee injury at Cleveland last weekend, causing it to start former practice squad player
Thad Lewis
. This is Lewis' second-career start.
While Johnson and Hall were declared active, cornerback
Brandon Ghee
was declared inactive once again as he deals with a thigh injury. He has only played one game this season as he has had to battle through concussion issues, as well.
Here are the full lists of inactives for the Bills and Bengals:
Bengals
RB
Rex Burkhead
CB Brandon Ghee
CB
Chris Lewis-Harris
OG
Tanner Hawkinson
OG
Mike Pollak
WR
Ryan Whalen
DE
Margus Hunt
Bills
QB EJ Manuel
WR
Stevie Johnson
CB
Justin Rogers
CB
Brandon Burton
CB
Ron Brooks
LB
Ty Powell
OG
Antoine McClain
September, 28, 2013
Sep 28
4:00
PM ET
Plain and simple, teams in the AFC North just don't like one another. They can't stand each other. If there is a division in the NFL in which the teams involved have the truest sense of hate for one another, it's this one.
Just think about it. Whenever the
Cincinnati Bengals
and
Cleveland Browns
get together, enormous, vocal crowds usually turn out. Both franchises can enter a particular meeting having a poor season, stumbling to their respective losing records and still, FirstEnergy Stadium or Paul Brown Stadium will be rocking. That's what makes a true football rivalry.
This year, though, neither team appears to be bad. Far from it. The Bengals are a hot pick to end up in the AFC Championship Game, and the Browns, post-
Trent Richardson
trade, are suddenly the darling upstart of the conference. If there has been an underdog in the AFC to root for the last two weeks, Cleveland has been it.
When the two teams meet for the first time this season at 1 p.m. ET Sunday, here are four things you'll want to watch for:
1. The homecoming.
As a teenager in Cleveland,
Brian Hoyer
attended Browns games, dreaming he'd one day get an opportunity to start a game there as a professional quarterback. That day is on the horizon. It's Sunday. For the first time in his five-year career, the longtime backup will be taking starting snaps for the team he grew up cheering, in the city that raised him. After his impressive performance in last week's win over Minnesota, Hoyer was given the starting nod again this week, playing in place of
Brandon Weeden
, who has been dealing with a thumb injury. Watch for Hoyer's excitement level. Understandably, it will be high, and a packed home crowd ought to make it even higher. If he's too pumped up, though, it could be a problem for the Browns. If the Bengals can put pressure on him early and fluster him, the homecoming could be a long one for Hoyer.
[+] Enlarge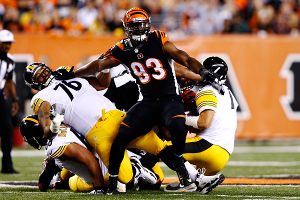 AP Photo/Joe RobbinsBengals defensive end Michael Johnson will have his hands full Sunday against the Browns' Pro Bowl tackle Joe Thomas.
2. The battle in the trenches.
Both teams feature offensive and defensive lines with a mix of young, promising talent and cagey, wily veterans. Cleveland's offensive line is anchored by six-time Pro Bowler
Joe Thomas
. The left tackle will be matched up with Bengals fifth-year defensive end
Michael Johnson
, who had his best game of the season last week against Green Bay. Among Johnson's more memorable plays from the win was his forced fumble that led to
Terence Newman
's recovery and 58-yard touchdown return, and his pass deflection on a fourth-and-5 one drive later that iced the win. Cincinnati's offensive line is anchored by Pro Bowl left tackle
Andrew Whitworth
. He likely will be paired against defensive end
Desmond Bryant
. When Bryant isn't giving him trouble, though, rookie outside linebacker
Barkevious Mingo
could. Mingo and Whitworth hail from the same Louisiana town and college football power (LSU) and have a long friendship that will be put to the test on the field for the first time.
3. Cameron coverage belongs to ...
Be on the lookout for where Browns tight end
Jordan Cameron
lines up on the line of scrimmage, and keep an eye out for which Bengals linebacker gets awarded the responsibility of covering him. Through three games, Cameron already has tied a career high in receptions (20) and set career marks with 269 receiving yards and four touchdowns. At the start of his third season, Cameron is blossoming into another one of the NFL's bright, young, pass-catching talents at tight end. Cincinnati certainly has had its eye on him all week, and the team feels confident it has a game plan that will stop him. Against the Vikings last week, Cameron had six receptions for 66 yards and three touchdowns.
This will be the first such test for the Bengals since the season opener, when Chicago's
Martellus Bennett
had three catches, including a touchdown in the Bears' 24-21 win. In the Bengals' other two games, injuries kept them from seeing just how effective the tight end could be in those offenses. The Packers'
Jermichael Finley
went down with a concussion in the first quarter of Cincinnati's 34-30 win last week.
4. Cornerback watch.
There may be more attention paid to the Bengals' pregame by their fans than anything else Sunday as they await the fate of their cornerbacks. Three of them,
Leon Hall
,
Dre Kirkpatrick
and Newman, were dealing with injuries this week. Safety
Reggie Nelson
also had his own injury concerns. Only Newman appears set to go, though, after Kirkpatrick, Hall and Nelson were listed as doubtful on the Bengals' injury report Friday. Coach Marvin Lewis is holding out hope that more optimistic news may come Sunday morning, but there is a strong possibility it might not. If it doesn't, look for
Brandon Ghee
, a young cornerback who is just returning from a concussion that had kept him out since the preseason, to slip into Hall's role. Newly re-signed safety
Chris Crocker
also could be in the mix to replace Nelson if need be. The cornerback watch will be a captivating one because it could have an impact on the Bengals' efforts at slowing Browns receiver
Josh Gordon
, who hauled in 10 passes from Hoyer last week.
September, 25, 2013
Sep 25
4:25
PM ET
CINCINNATI -- The health of the
Cincinnati Bengals
' secondary will end up being a dominant story line this week as Cincinnati tries to prepare for Cleveland's rejuvenated offensive attack when the teams meet at FirstEnergy Stadium on Sunday afternoon.
During their first full practice since beating Green Bay last weekend, the Bengals were without several key defensive backs Wednesday afternoon. Veterans
Leon Hall
,
Terence Newman
and
Reggie Nelson
joined
Dre Kirkpatrick
in either limited or non-practice capacity. On the heels of arguably the most physical and draining game of the season for the Bengals' defense, it shouldn't be too surprising that they, along with others, were out.
Said linebacker
Vontaze Burfict
, who did practice Wednesday after playing all 81 snaps last Sunday: "I was exhausted."
Still, just because the four didn't practice, that doesn't mean they won't be ready for kickoff. Coach Marvin Lewis was as optimistic as he has been all season when he provided an injury update during his Wednesday afternoon news conference.
"The sun came up a little bit," Lewis said, jokingly referencing the weather terms he sometimes uses to describe his players' health. "Everybody's doing a lot better than the initial Sunday-afternoon prognosis. We just have to go through the week and see how we do."
Among the good signs the Bengals do have on the injury front are those that concern cornerback
Brandon Ghee
. The Wake Forest product participated in the practice. It was his first since suffering a concussion in Cincinnati's preseason opener at Atlanta nearly two months ago.
"Definitely good to see him on the field to get some reps," defensive backs coach Mark Carrier said. "He hasn't played since August."
Here's the Bengals' full injury report:
Did Not Practice:
CB Leon Hall (hamstring), CB Dre Kirkpatrick (hamstring), S Reggie Nelson (hamstring), G
Mike Pollak
(knee)
Limited Practice Participation:
RB
BenJarvus Green-Ellis
(ankle), CB Terence Newman (knee)
Full Practice Participation:
OT
Anthony Collins
(knee), CB Brandon Ghee (concussion)
August, 21, 2010
8/21/10
1:09
PM ET
The
Cincinnati Bengals
had a solid showing Friday with a
22-9 preseason victory
against the
Philadelphia Eagles
. It was the third exhibition for Cincinnati.
Here are some observations:

The Good
New Bengals receiver Terrell Owens is fitting in well with the offense. Every exhibition game "T.O." shows you a little more of why the Bengals signed him to a one-year deal right before training camp. On Friday, Owens proved he can still go deep with a 43-yard reception down the sideline from quarterback Carson Palmer. Owens leads Cincinnati with nine preseason receptions for 108 yards.
After a series of miscues and poor execution on third down last week against the Denver Broncos, the Bengals made a dramatic improvement in that area against Philadelphia. Cincinnati held the Eagles to 1 of 7 (14 percent) on third-down conversions in the first half, which is when starters and contributors for both teams were still in the game. This was something Bengals head coach Marvin Lewis was very complimentary of Friday night.
Cincinnati backup cornerback Morgan Trent made a strong case for playing time with three interceptions in the second half.Trent played decent in stretches as the team's nickel cornerback last season, but the Bengals are looking for more consistency from the position. Cincinnati signed Adam Jones and drafted Brandon Ghee this offseason, but Trent's production puts him right in the mix.
The Bad
Despite Cincinnati playing its third preseason game, the starters continue to play sloppy at times. The Bengals had six first-half penalties, which needs to be improved before the start of the regular season. Palmer also threw two first-half interceptions against the Eagles.
The Bengals' first-team defense didn't get to the quarterback.Despite pressures, Cincinnati didn't get any sacks on Eagles quarterback Kevin Kolb, and had just one quarterback hit the entire first half. Bengals defensive coordinator Mike Zimmer has made improving the pass rush a big emphasis this offseason. Cincinnati did record three sacks overall against Philadelphia, but they came from backups in the second half.
Cincinnati safety Gibril Wilson suffered a major knee injury and is likely out for the 2010 season. But fortunately for the Bengals, safety is a position where they have a lot of depth, which includes veterans Roy Williams, Chris Crocker and Chinedum Ndukwe.
August, 9, 2010
8/09/10
1:53
AM ET
By
Matt Mosley
| ESPN.com
This was a Hall of Fame Game in name only. It wasn't pretty to watch either offense, but the Cowboys have reason feel good about their defense, which provided their only touchdown. Tight end
John Phillips
had an excellent evening, but it was cut short by what appears
to be a serious knee injury
. With
Martellus Bennett
's inconsistency last season, the Cowboys were counting on Phillips to play a significant role in the offense. The way his knee completely gave out as he started his route was not a good sign. Now, let's talk about what stood out to me in the Cowboys'
16-7 win
over the Bengals.
I know it was only one series, but left tackle Doug Free was outstanding in protecting Tony Romo. Antwan Odom's a pretty solid pass-rusher, but Free controlled him throughout the series. Even when he got knocked off balance on one play, he stayed in front of Odom. Before he got hurt, second-team left tackle Alex Barron did not impress me at all. The Cowboys' backup linemen made Geno Atkins look like he belonged in Canton, Ohio, on a permanent basis. And Michael Johnson also gave the Cowboys' blockers fits. John Phillips was the only player who consistently stayed with his blocks throughout the first half.
When I saw that Ron Winter was running the show, I knew we were in for a long evening. I know it wasn't his usual officiating crew, but he made sure they called everything. They hit Andre Gurode for a holding penalty on the Cowboys' first drive.
That was pretty entertaining to watch Miles Austin and Patrick Crayton match up with Adam Jones. The cornerback held his own for the most part, but Crayton and Romo fooled him on an excellent back-shoulder pass. Just exquisite timing -- especially since it's so early in camp.
Romo connected with Roy Williams on a crossing route during that first drive. The ball was a little behind Williams and it was high, but he snagged it anyway. That's a really good sign for Williams. I thought he and Austin made the most of their limited opportunities. Jason Garrett made it a point to get Williams involved quite a bit.
Felix Jones got bailed out by an offside call when the Cowboys were inside the Bengals' 10-yard line. He has to secure the ball in that situation.
[+] Enlarge

AP Photo/Ron SchwaneBrandon Sharpe of Dallas scored the Cowboys' only touchdown, returning an interception 6 yards against the Bengals.

Through one preseason game, it doesn't look like the Cowboys have solved those red-zone issues. It was only one opportunity, but there was no reason to get bogged down inside the 5-yard line.
David Buehler made his short field-goal attempts, but he missed a 49-yarder by about 20 yards to the left. It was a gigantic hook, and that's something that has to concern Wade Phillips. You can handle a miss from 49 yards, but it's concerning when the ball's not even close. I Thought I was watching more "highlights" of Tiger at the World Golf Challenge.
I loved how defensive end Stephen Bowen played Sunday night. He was an absolute beast from the right side. He forced a poor throw from Carson Palmer by collapsing the pocket in the first quarter. The Cowboys will be just fine if Marcus Spears isn't able to make it back for the first game. Jason Hatcher and Bowen both played well against the Bengals.
What an awful deal for John Phillips. He was the Cowboys' best offensive player in the first half and he hurt his knee in a non-contact situation. I seriously think he was ready to surpass Bennett. He can line up in the backfield as the lead blocker and he can make nice catches downfield. He was on his way to being the best blocking tight end on the team. I really believe that. Tough, tough injury for a guy who was having an excellent camp.
Kevin Ogletree caught everything thrown his way, but he has to know where he is on the field. On his first catch, he sort of staggered forward and lost the first down. It was an awkward play from a normally smooth player.
Tashard Choice showed some nice acceleration on that 21-yard run around the right side. You have to find a way to get him more involved in the offense. He's too good to only have two or three carries per game.
Herb Donaldson, it was nice knowing you. You can't fumble on your first carry of the evening. Gibril Wilson made a nice play to poke it out of there, but Donaldson did not secure the ball properly.
I thought Cris Collinsworth made a really nice assessment of Bowen when he compared him to Jim Jeffcoat. He's obviously not there yet, but he sort of moves like Jeffcoat. He doesn't look very fast, but he always seems to be causing trouble in the backfield. Really good night for him.
I'm not sure what happened to third-string quarterback Stephen McGee. He looked confident early in completing his first five passes. But as the night went on, he became more and more tentative. You're going to get sacked if you hold it that long. He reminded me of Drew Henson tonight because he just took too long to process things. McGee has good athleticism and an excellent arm, but you need to unload the ball. Otherwise, a guy named Michael Johnson suddenly looks like an All-Pro linebacker. Mike Zimmer appears to be onto something with that guy.
It was a good night for former Texas Tech players. Jamar Wall did an excellent job in coverage. On one particular play, Chad Ochocinco could not shake Wall. And linebackers Brandon Williams and Brandon Sharpe both had big interceptions. Williams had a nice return that should've set up a touchdown. Sharpe picked off a Jordan Palmer pass and returned it for a touchdown in the fourth quarter. Sort of fun to see Tony Romo cut off an interview with NBC to celebrate the touchdown with a loud, "Yes!" And if I'm Carson Palmer, I'm in there tomorrow morning begging the coaches not to cut my little brother. For goodness sakes, Jordan Palmer looked nothing like an NFL quarterback. He held the ball too long, and then he made backbreaking decisions.
Sorry, but Robert Brewster looked like a bust on this evening. The former Ball State offensive tackle was taken in the third round in '09. He promptly tore a pectoral muscle while lifting weights. On Sunday, he had no chance against the Bengals backup defensive ends and linebackers. He wasn't strong enough to anchor his body and he just got bullied the whole time he was in there. I was not impressed with anything about his performance.
Brian McCann's back there trying to make a play on a punt return and Brandon Ghee just nails him. I know they said Ghee was blocked into McCann, but I thought the play could've been avoided. You hate to see a defenseless player take a shot in the chest like that.
I thought Danny McCray had a nice outing. He had the interception, but he also was very active on special teams. The Cowboys wanted more turnovers this season, and on Sunday, they caused four. Jason Hatcher applied the pressure that led to McCray's interception. Did I mention how poorly the Bengals' backup quarterbacks played?
Wall had a solid game, but he got burned going for an interception on a pass to Matt Jones.
The Cowboys' young linebackers were incredibly active. Insider backer Jason Williams flattened one of the Bengals' running backs and Brandon Williams was flying all over the field. Also strong showings by Victor Butler and Steve Octavien. It looks like the Cowboys have a ton of depth at linebacker based on what we saw Sunday night. And rookie Sean Lee didn't even play because of a quadriceps injury that has slowed him early in camp.
Great special teams play by former Oklahoma standout Manuel Johnson to help the Cowboys down a Mat McBriar punt at the 1-yard line.
I liked how Marcus Dixon played in the second half. He was very active and he always seemed to be in the right place. If Jordan Palmer's going to hold the ball, Butler and Dixon are going to get to him. For a first preseason game, the defense was very impressive.
I thought Marion Barber looked quick early in the game. And he brought a ton of energy to the offense. I think the Cowboys will try to do a better job of keeping him fresh for the fourth quarter this season.
Former University of Texas star Jordan Shipley burned the Cowboys for a 64-yard punt return. Apparently Carson Palmer has been raving about Shipley. Shipley and Wall have faced each other several times in Big 12 play. Shipley certainly got the best of Wall with a nice move in the open field. And McBriar's one of the best punters in the league, but open-field tackling's not his strength.
It's probably time to end the Pat McQuistan era in Dallas. He's just not quick enough to hold off defensive tackles. And if you run a stunt against him, he's in big trouble.
Rookie running back Lonyae Miller out of Fresno State had his moments. He'll be a good practice squad candidate.
Overall, not a bad first outing. The Phillips injury is tough blow.
May, 4, 2010
5/04/10
12:11
PM ET
The possibility of
Adam "Pacman" Jones
joining the Cincinnati Bengals continues to gain steam.

Jones
According to ESPN.com senior writer John Clayton, the Bengals have
brought in the embattled cornerback for another workout Tuesday
. This is the second time in three months Cincinnati is showing interest in Jones, who also worked out for the Bengals in February.
Inviting Jones back is a telling sign that the Bengals are considering another controversial acquisition. It wouldn't be a major shock, because this has the look of another vintage Mike Brown signing. Cincinnati's owner is infamous for taking on players with baggage while getting them at a bargain-basement rate.
The Bengals may need help at cornerback behind starters
Leon Hall
and
Johnathan Joseph
if rookie third-round pick
Brandon Ghee
isn't ready.
There are more proven commodities and less troubled names available such as
Dre' Bly
,
Ken Lucas
and
Fred Smoot
. But the Bengals, as usual, seem to have their sights set on the much cheaper and more risky option in Jones, whose off-field troubles have made more headlines in recent years than his on-field performance.
April, 25, 2010
4/25/10
12:00
PM ET
I'm not big on grading an NFL draft 24 hours after it's complete. But I know a lot of people are.
So we bring in ESPN draft guru Mel Kiper to do the heavy lifting and provide his evaluations for the AFC North:
Baltimore Ravens
Kiper's draft grade:
A
Analysis:
Only two teams received the highest grade possible from Kiper, and the Ravens were one of them. To fully appreciate what Baltimore did in the draft, you have to consider the team began the week with just five draft picks. Then the Ravens shrewdly traded out of the first round with the
Denver Broncos
for three picks later in the draft, and that's when the Ravens went to work. Kiper loves the second-round selections of linebacker
Sergio Kindle
and defensive tackle
Terrence "Mount" Cody
. Kiper also believes the team grabbed a pair of quality tight end prospects in
Ed Dickson
and
Dennis Pitta
. Baltimore acquired as much talent as anyone without having a single selection in the first 42 picks.
Pittsburgh Steelers
Kiper's draft grade:
B
Analysis:
Kiper doesn't believe the Steelers drafted any huge impact players. But he liked the solid acquisitions, which resulted in a solid grade. I haven't seen anyone so far who doesn't like the choice of first-round pick
Maurkice Pouncey
. The former Florida center seems like a perfect fit in Pittsburgh's interior offensive line and should bring toughness to that unit. Linebackers
Jason Worilds
and
Thaddeus Gibson
were risky in terms of need, but Kiper believes they can help for now on special teams. Kiper highlighted running back
Jonathan Dwyer
as a possible sleeper.
Cincinnati Bengals
Kiper's draft grade:
C
Analysis:
Outside of the opening pick of tight end
Jermaine Gresham
, Kiper wasn't all that impressed with the Bengals' draft. Kiper, like most draft experts, believes defensive end
Carlos Dunlap
is a boom-or-bust player who underachieved despite great physical tools. Third-round cornerback
Brandon Ghee
potentially could help in sub packages against multiple-receiver sets, where Cincinnati struggled last season. No mention of receiver
Jordan Shipley
from Kiper. But he does think former Kansas receiver
Dezmon Briscoe
, who was taken in the sixth round, might surprise.
Cleveland Browns
Kiper's draft grade:
C
Analysis:
The first draft of the Mike Holmgren era in Cleveland also received an average grade from Kiper. He praised the pick of cornerback
Joe Haden
at No. 7 overall. But otherwise Kiper felt safety
T.J. Ward
and tailback
Montario Hardesty
were drafted too high and considered them reaches. Cleveland traded up in the second round to get Hardesty, who Kiper likes but didn't think the move up was necessary. Kiper also questioned why the Browns drafted Ward and
Larry Asante
, who are both considered "in-the-box" safeties. Kiper feels quarterback
Colt McCoy
at the end of the third round was a good value pick.
April, 23, 2010
4/23/10
2:00
PM ET
The second round of the 2010 NFL draft will begin at 6 p.m. ET. Many of you are asking me for a precise accounting of who each NFC North team will select. For that, I turn to ESPN's resident expert. (How convenient.)
You'll need an Insider subscription to view the
entire list
, but here are Mel Kiper's Black and Blue choices in his updated second-round mock draft:
No. 34
Team:
Minnesota Vikings
Pick:
USC safety
Taylor Mays
Seifert comment:
Pretty good value here for a great athlete, but watch out for a trade down.
No. 56
Team:
Green Bay Packers

Pick:
Alabama defensive tackle
Terrence Cody

Seifert comment:
With newly-signed
Ryan Pickett
on the roster along with 2009 first-rounder
B.J. Raji
, this might be a difficult choice.
No. 62
Team:
Minnesota

Pick:
Wake Forest cornerback
Brandon Ghee

Seifert comment:
Finally, the Vikings get their cornerback.
(As a reminder,
Scouts Inc.
has Chicago taking Florida safety
Major Wright
with its first pick of this draft, the 75th overall.)
April, 19, 2010
4/19/10
3:07
PM ET
In recent days, I asked two AFC scouts and two guys with scouting backgrounds who are now in the media the same 12 questions.

As we count down to Thursday, here's the first of four posts with their answers, which are largely a lesson in how many different views there can be on the same subjects.

I started with a focus on defensive end and cornerback, as I think all four AFC South teams will consider cornerback in the first round and three of our four teams will consider an end the first round (not Houston).

In order, rank defensive ends you think are top 35 picks:

Scout A: Derrick Morgan, Jason Pierre-Paul, Brandon Graham, Sergio Kindle, Jerry Hughes, Everson Griffen.

Scout B: Morgan, Pierre-Paul, Graham, Corey Wooten, Kindle, Carlos Dunlap, Hughes, Griffen

Matt Williamson, Scouts Inc.: Morgan, Graham, Pierre-Paul, Hughes, Jared Odrick (but only for a 3-4, otherwise he is a DT), Griffen

Daniel Jeremiah, movethesticks.com: Pierre-Paul, Graham (could be DE or OB), Morgan... that's it for 4-3 DE's.

Combined/consensus order: Morgan, Pierre-Paul, Graham, Hughes, Kindle, Griffin. Wooten, Dunlap and Odrick all get one mention as top 35 picks.

In order, rank cornerbacks you think are top 35 picks:

Scout A: Joe Haden, Patrick Robinson, Kyle Wilson.

Scout B: Haden, Wilson, Robinson, Devin McCourty, Brandon Ghee, Kareem Jackson, Dominique Franks, Perrish Cox

Williamson: Haden, Jackson, Wilson, McCourty

Jeremiah: Haden, Jackson, Wilson, McCourty

Combined/consensus order: Haden, Wilson, Jackson are one-two-three, with Wilson and McCourty even at four, though Wilson was mentioned as a first-rounder by all four. Ghee, Franks and Cox each got one mention.

NFL SCOREBOARD
Thursday, 12/5
Sunday, 12/8
Monday, 12/9
WEEKLY LEADERS