NFL Nation:

brandon hughes
September, 18, 2013
9/18/13
10:15
AM ET
PHILADELPHIA -- It is hard enough to fix a secondary in six months, as the Eagles have proven the hard way. It is impossible to fix one in the three days between Sunday's 33-30 loss to San Diego and Thursday night's matchup with
Alex Smith
and
Dwayne Bowe
of the
Kansas City Chiefs
.

Cornerback
Roc Carmichael
, signed Wednesday from the
Houston Texans
practice squad, isn't going to cover Bowe. He'll be inactive for this game. But the move adds to a pool of young defensive backs the Eagles hope will be able to contribute as the season goes on.
The Eagles will get starter
Bradley Fletcher
(concussion) back after one week. But
Brandon Hughes
is injured again. After breaking his hand in training camp, Hughes returned Sunday and pulled a hamstring. The Eagles placed him on short-term injured reserve to make room on the roster for Carmichael.
"We've had concerns since we got here with depth at the cornerback spot," head coach Chip Kelly said. "So that is a big concern for us overall. Didn't have Brandon in the first game, didn't have Fletch in the last game, and now Brandon's out again."
Carmichael, 25, was a fourth-round draft choice by the Texans in 2011. He played in six games last season, but was released at the end of training camp. There was a report the Eagles were interested in claiming him, but that never happened and he signed with Houston's practice squad.
He joins seventh-round pick
Jordan Poyer
and waiver-wire pickup
Shaun Prater
in development. Poyer was pressed into service in both games because of injury to other corners. He was immediately targeted for a touchdown pass by Washington's
Robert Griffin
III. Prater has been inactive in both games as he gets a crash course in Bill Davis' defensive playbook.
"He's coming along," Kelly said. "We picked him up after the cut down to 53, so I know those guys are working very hard with him. Shaun's working very hard himself. So we're hoping to get a chance to get him acclimated. But it's also not fair to him to throw him in the field if he doesn't understand what we're doing and expect him to make a play on a Thursday night or Sunday and turn around and say we haven't had a chance to cover that. But Shaun's coming, and we hope to have a chance to get him involved here soon."
The Eagles have the second-worst pass defense in the NFL and were helpless against San Diego's
Philip Rivers
on Sunday. Over the next three weeks, they face Smith,
Peyton Manning
and
Eli Manning
.
September, 16, 2013
9/16/13
1:30
PM ET
PHILADELPHIA -- An examination of four hot issues a day after the
Philadelphia Eagles
' 33-30
loss
to the
San Diego Chargers
:
[+] Enlarge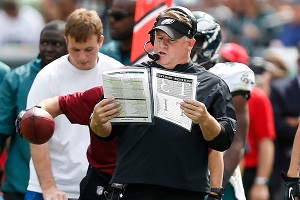 AP Photo/Brian GarfinkelChip Kelly said he made some mistakes during his first regular-season loss as an NFL head coach.
Crash course in the NFL rulebook:
Football coaches don't like to admit mistakes, but Chip Kelly acknowledged he didn't know he could keep
Michael Vick
in the game by calling time out after Vick was nicked on the Eagles' pivotal final possession.
"That's on me," Kelly said Monday. If he had known, he said, he would have used one of his three timeouts at that point.
Vick was slow to get up after being hit by San Diego's
Jarius Wynn
on first down at the Chargers 14. Referee Terry McAuley blew his whistle for an injury timeout, meaning Vick had to leave the field for at least one play -- unless Kelly called time himself.
Nick Foles
came in for one play, an incomplete pass to
DeSean Jackson
.
"I made mistakes," Kelly said. "No one coaches a perfect game, no one plays a perfect game."
Kelly's time management also questionable:
Kelly also said he should have bled time off the clock on that same possession, but his thought process was a little clearer.
The Eagles got the ball on their own 29, trailing 30-27, with 3:05 left in the fourth quarter. After throwing an incompletion, Vick completed three passes for 46 yards and scrambled once for 11. The Eagles moved to the San Diego 14 in 56 seconds. Kelly chose to keep the gas pedal to the floor.
"We were throwing the ball and it was working," Kelly said. He said it wouldn't have been "difficult" to shift gears and take more time in that final sequence. Instead, the Eagles kicked a game-tying field goal and left the Chargers 1:51 for their game-winning drive.
"We should have run the clock," Kelly said. "That's my decision."
Philip Rivers wasn't just standing around:
Kelly mocked ball-control offenses last month, saying time of possession only showed which offense was better at "standing around." In college, though, you don't face 10-year veterans playing their 118th NFL game.
Rivers continually ran the play clock down. But he was using the time to diagnose the Eagles' defense and change the Chargers' offensive calls.
"They basically put the game in his hands," Kelly said. "He was making a lot of checks up at the line of scrimmage."
The Eagles can't do much to fix their secondary on a short week:
Bradley Fletcher
, who missed Sunday's game with a concussion, was cleared to practice Monday. His return will help the Eagles' secondary improve for Thursday night's game against Andy Reid,
Alex Smith
and the Chiefs.
Unfortunately for coordinator Bill Davis,
Brandon Hughes
did not practice because of a hamstring injury. His availability for the Chiefs game is unknown.
As far as the safety situation,
Nate Allen
likely will start again. Rookie
Earl Wolff
got plenty of playing time Sunday, but is still making too many mistakes, Kelly said.
September, 13, 2013
9/13/13
4:40
PM ET
The
Philadelphia Eagles
will be without starting cornerback
Bradley Fletcher
(concussion) for Sunday's game against the
San Diego Chargers
.

That raises a couple of issues.
The most obvious is how defensive coordinator Bill Davis replaces Fletcher. He can move nickel corner
Brandon Boykin
outside and likely will much of the time. But that could mean putting the 5-foot-9 Boykin on the 6-5
Malcom Floyd
while also weakening the Eagles in the slot.
"I get this so much," Boykin said. "Regardless of what your height is, you have to go out and get it done. Every week, I'm going to face people that are taller than me. They switch their guys up. I might have to go against
Antonio Gates
, their tight end. That's not a challenge to me. I'm ready for it. I demand greatness from myself when the ball is in the air."
Davis said Wednesday the Eagles would "practice it a couple different ways, but that would be our first move, probably."
The other options are problematic.
Brandon Hughes
practiced this week, but he has been sidelined for nearly three weeks with a broken hand. Rookie
Jordan Poyer
has shown promise, but he was immediately targeted for a
Robert Griffin III
touchdown pass when he came in Monday night.
Shaun Prater
has been with the team only two weeks and was inactive Monday.
"All the guys that we just picked up are doing a great job of studying," Davis said, which suggests Prater isn't ready to play yet.
That brings us to the other issue. It is almost unfair to compare this year's defense to last year's. It is an entirely new scheme with new starters at six positions. So it probably wouldn't mean much that
Philip Rivers
is exactly the kind of quarterback that destroyed the Eagles the past couple of years -- smart, accurate, able to spot the weak link and exploit it.
Passer ratings against the Eagles last year looked like IQ scores at a Mensa meeting: Griffin (158.3),
Tony Romo
(150.5),
Matt Ryan
(137.4),
Eli Manning
(134.5),
Drew Brees
(137.4).
Take a starting corner out and those problems seem more likely to carry over into this game. The Eagles defense was impressive in the first half against Griffin, but he completed 25 of 38 passes for 276 yards (93.8 rating) in the second half.
Davis moves his corners around as needed, so he could try to get the 6-1
Cary Williams
on Floyd and Boykin on the 5-10
Eddie Royal
. Hughes (5-11) and Poyer (6-0) are likely to play based on their effectiveness.
May, 7, 2013
5/07/13
4:14
PM ET

On the topic of super-early roster projections, we take a look at the
Philadelphia Eagles
and the cornerback position,
with the help of our friend Sheil Kapadia
. He's got newcomers
Bradley Fletcher
and
Cary Williams
and holdover
Brandon Boykin
as sure things to make the roster, with two spots left for a group that includes
Curtis Marsh
,
Brandon Hughes
,
Trevard Lindley
,
Eddie Whitley
and 2013 seventh-round pick
Jordan Poyer
, who's an interesting wild card who could threaten Boykin's nickel corner spot if he comes quickly:
Poyer has a really good shot of sticking because of his wide array of skills. Poyer has experience playing inside, outside, safety and special teams (returner and coverage). Of course, if Chip Kelly and the coaches determine that Poyer is not particularly good at any of those skills, he could be let go. But at this point, he's got a good chance of making the team.
Also working in Poyer's favor is that the current staff is the one that drafted him, where a few of these other guys are holdovers who might not impress Kelly's staff the way they impressed Andy Reid's once upon a time. You have to figure free-agent signings Williams and Fletcher are the projected starters right now, with Boykin penciled in for the nickel role. But minicamps and the summer program will help sort out Boykin's chances of a larger role, and the chances of someone like Poyer -- who in the end is a seventh-round flyer for a reason -- to make an impact on this year's team.
September, 30, 2012
9/30/12
10:15
PM ET
PHILADELPHIA -- Not exactly an action-packed first half here Sunday night between the
New York Giants
and the
Philadelphia Eagles
, but one thing has clearly stood out. Through 30 minutes of play, the Eagles have not turned the ball over. And guess what? They're winning. Weird, the way that works.


The game has been a defensive struggle, with the Giants sending all kinds of pressure after Eagles quarterback
Michael Vick
and limiting his opportunities downfield while on the flip side the Eagles have covered the Giants' receivers well. But things loosened up a bit in the final minutes of the half. The Eagles shored up their protection a bit and marched down the field for a touchdown drive capped off by a 19-yard pass from Vick to
DeSean Jackson
. And then Giants quarterback
Eli Manning
looked as though he was putting together one of his patented two-minute drives in response, but Eagles backup cornerback
Brandon Hughes
broke up a pass in the end zone intended for
Domenik Hixon
, and the Giants had to settle for a
Lawrence Tynes
field goal.
So the Eagles lead 7-3, and as they honor all-time great
Brian Dawkins
here at halftime, they can feel pretty good about the way things have gone. As much pressure as Vick has faced, after turning the ball over nine times in his first three games this season he has managed to protect it well tonight. If the Eagles can continue to handle the Giants' pressure responsibly, and if the protection schemes continue to improve as they did in the final minutes of the half, they should be able to get some shots downfield. Giants safety
Kenny Phillips
left the game with a knee sprain, and fellow safety
Antrel Rolle
is playing in spite of the knee injury he suffered in the Carolina game a week and a half ago. Eagles wide receiver
Jeremy Maclin
has yet to catch a pass, and running back
LeSean McCoy
has only two rushing yards on six carries. So there is some potential offense still to come for Philadelphia if it can make some adjustments.
The Giants don't seem to have an inclination to get their run game going, and Manning has been firing the ball downfield all night. With starting wide receiver
Hakeem Nicks
out, he seems to be favoring Hixon. And with Eagles cornerback
Nnamdi Asomugha
out with an eye injury, Manning should see more chances in the second half. But the Eagles have been covering well with Hughes,
Brandon Boykin
and
Dominique Rodgers-Cromartie
, and they've put enough pressure on Manning to keep him from getting into a rhythm (at least until that final drive). If Philadelphia can continue to manage the offense the way it did on the touchdown drive -- and if it can avoid the turnovers that have plagued its offense all year until tonight -- the defense is playing well enough to win them the Eagles the game against Manning & Co. Those are big "if"s, but who knows? Maybe this Dawkins stuff is legit, and he's got them fired up.
August, 1, 2012
8/01/12
6:44
PM ET
BETHLEHEM, Pa. -- Yeah, they hit pretty hard at
Philadelphia Eagles
training camp. They go at it for about two hours in pads and in anger. When they're not in 11-on-11 drills, they're off to the side hitting each other. The most entertaining drill in camp is the ferocious one-on-one work the offensive linemen and defensive linemen do against each other, though part of the entertainment is the coaching duo of Howard Mudd and Jim Washburn.
Too much hitting? Too hard? Maybe. The Eagles have a bit of a walking-wounded thing going on. Starting defensive ends
Jason Babin
and
Trent Cole
are out (though Babin's injury isn't a contact injury), and defensive tackle
Cullen Jenkins
left practice Wednesday with a hamstring injury and is scheduled for an MRI on Wednesday night. Backup quarterback
Mike Kafka
took a hard shot from the first-team defensive line as he dove for the end zone in goal-line drills. And wide receiver
Jeremy Maclin
sat out a few plays after injuring his left hand on a hard hit he took in 11-on-11 drills, though he went back in and said afterwards that he was fine.
Yeah, if you need your football fix in early August, I'd say come on out to Lehigh and watch the Eagles pound on each other for a couple of hours. It was certainly the most lively and entertaining practice I've yet seen on my trip.
[+] Enlarge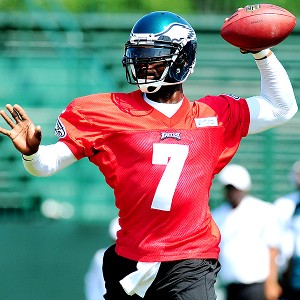 Evan Habeeb/US PRESSWIREMichael Vick didn't have his best day during training camp at Lehigh University on Wednesday.
Some other thoughts from said practice:
Michael Vick didn't have his best day. He threw into double coverage too often, was picked off twice and didn't dazzle the way we've seen him dazzle in training camp practices in the past. I doubt it's any cause for concern, but I know some people are going to ask how he looked, and the answer is I've seen him look better. And expect that I will again.

Backup quarterback Mike Kafka shows a decent command of the offense, but they reason the Eagles are in trouble if he has to go into a game is that he really can't throw the deep ball very well. And it's not as if this offense is going to want to live on dump-offs to the backs and tight ends and short passes over the middle. Maclin and DeSean Jackson are on this team, which makes the offense about field-stretching speed. Kafka's shortcomings in the deep passing game would be an issue if he had to play extended time.

Sticking with the quarterbacks for a second, it's easy to see what they like about rookie Nick Foles. First of all, he's 6-foot-6 and 243 pounds. But he has a big arm that really stands out when he takes the field with the third-team offense after Kafka's had his turn. He hit Mardy Gilyard with a beautiful deep pass down the right sideline at one point in practice, and while he can look scatter-armed at times, you can see the raw ability.

The first-team defense had a rough time against Kafka and the second-team offense in team drills, as the offense went down the field and scored on a Kafka touchdown pass to tight end Brett Brackett from the 1-yard line. (Brackett beat rookie linebacker Mychal Kendricks in coverage.) Of course, that first-team defense was without Cole, Babin and Jenkins, so that has to factor in. But it's not as though the replacements for those guys are no good. It suffices to say that the linebackers and defensive backs weren't thrilled with the way that series went.

I saw a fair bit of the two rookie running backs, and to my untrained eye Bryce Brown looks better than Chris Polk. Brown needs to get his pads lower, but he's running forward with burst and some power while Polk seemed to me to be running side-to-side too much. At some point, you need to go forward. They used Brown at the goal line.

With the injuries on the defensive line, the first-teamers up front were Brandon Graham and Darryl Tapp at the ends and Derek Landri and Fletcher Cox at the tackle spots. Graham looks fantastic. He was the star of those one-on-one lineman drills and looked good in the 11-on-11s as well.

Kendricks and Brian Rolle were the first-team linebackers flanking middle linebacker DeMeco Ryans. Kendricks also got some work with the first team, along with Jamar Chaney.

As expected, Nate Allen and Kurt Coleman are working at the starting safety spots. When I spoke with Andy Reid this morning, he called O.J. Atogwe the backup at Coleman's spot and Jaiquawn Jarrett the backup to Allen. Curtis Marsh and Brandon Hughes were the second-team corners, with Brandon Boykin in on nickel packages.

A lot of people have asked me about rookie receiver Marvin McNutt. He's big (6-2, 216) and there was at least one play on which he was able to use his size to beat Marsh on an inside route by shielding the ball with his body. So it looks as though he has good instincts.

I'm back for one more day here tomorrow, then I'll head home for a couple of days before completing my NFC East training camp tour with a trip to Oxnard to see the Cowboys early next week.
August, 25, 2011
8/25/11
10:50
PM ET
The plan was for the
Philadelphia Eagles
' starters to play three quarters of Thursday night's preseason game against the Browns. But
Michael Vick
took such a beating in the first half, and it was raining so hard at halftime, that it just didn't make any sense to run him back out there. And while it's easy to look big-picture and say the Eagles looked a lot better in this
24-14 exhibition victory
than they did last week against the Steelers, the fact is the offensive line's play in the first half had to be extremely disconcerting to their fans and their coaches.

The issues Thursday were at and to the right of center. Rookie
Jason Kelce
got the start with the first team at center in place of the veteran
Jamaal Jackson
, and he did little to make you think Jackson's job is or should be in jeopardy. Kelce had a holding penalty, a bad exchange with Vick and he and fellow rookie
Danny Watkins
were repeatedly shredded by rookie
Phil Taylor
and the Cleveland defensive line. As a result, Vick was under pressure throughout the first quarter and didn't have time to find his wide receivers downfield.
Running back
LeSean McCoy
continued to look excellent as a runner and as a great check-down option for a harried Vick in the passing game. And if the line is going to be this shaky all year, McCoy could catch 100 balls. But the line has to get better, or it could sink this promising Eagles season.
Center can be fixed, of course, because they can just put Jackson back in there until Kelce is actually ready. And
King Dunlap
is only a fill-in starter at right tackle until
Winston Justice
and/or
Ryan Harris
is healthy. But Watkins was the first-round pick, and he's going to start. And he's going to have to block better and communicate better with whoever's out there to his right and left, or Vick is going to be knocked around a lot.
Now, as we keep saying, it's only preseason, and the Eagles still have more than two weeks of practice time in which to fix these problems. I am by no means saying they cannot or will not fix their issues. But while the result of this game doesn't matter any more than the result of last week's game did, there are some specific issues that came up, good and bad, and the poor play of the right side of the offensive line was the one that stood out the most.
Some others:
1. Better work by the linebackers this week.
The Eagles' defense this year will be based on aggressive upfield pursuit by the defensive line, which means the linebackers will have to be more effective and responsible in coverage. We saw that Thursday night, especially from
Jamar Chaney
and rookie middle linebacker
Casey Matthews
. Last week was rough on Matthews, but the Eagles seem to have done a good thing for him this week, replacing him with
Brian Rolle
and/or
Brandon Hughes
on passing downs and allowing him to focus on playing the run more. Matthews' first-quarter highlight was a big stop on
Montario Hardesty
up the middle, and in general the linebackers in this game seemed to be in the right place and for the right amount of time much more reliably than they were against the Steelers.
2. Mike Patterson helps.
Back in action less than a month after suffering a seizure on the practice field, Patterson was a big addition to the defensive tackle rotation. He picked up an early sack, drawing a nice ovation from the pre-rainstorm crowd at Lincoln Financial Field, and along with
Cullen Jenkins
,
Derek Landri
and
Anthony Hargrove
, he helped deliver somewhat consistent pressure up the middle as the game went along. If
Antonio Dixon
makes it back from his injury, the Eagles are going to have a very deep, very talented defensive line rotation that will allow them to keep everyone fresh as aggressive as Juan Castillo and Jim Washburn want them to be throughout the games.
3. Vick was better, but tough to evaluate.
He didn't throw three interceptions as he did last week, and in general he did a better job of identifying and reacting to the blitz. His inability to get the ball to his receivers wasn't his fault, as discussed above, but he did a good job of finding McCoy and, every now and then, taking off and running when all else had failed. We're not likely to see him in the final preseason game, so this was his last warmup before the regular season. But he'll surely hope
Jeremy Maclin
is back and fully healthy by then, since that will help matters all around.
4. The cornerbacks all did nice things.
Nnamdi Asomugha
was his swarming, suffocating self, taking receivers out of the game.
Asante Samuel
came up with an interception.
Dominique Rodgers-Cromartie
blocked a kick. As they are on the defensive line, the Eagles are deep in the secondary, especially if
Jarrad Page
and
Kurt Coleman
can continue to make the contributions they're making at safety. In general, the defense was much more intense and directed this week. Again, we don't know what we're looking at in preseason. The Eagles may have game-planned and the Browns may have not. But from a confidence standpoint, the Eagles had a lot more about which to feel good on defense than they did after
Ben Roethlisberger
took them apart seven nights earlier.
5. The Eagles are also deep at running back, too.
Ronnie Brown
continues to look like a one-year steal, and
Dion Lewis
like a guy who could make it not matter if Brown leaves after one year. If McCoy is going to be leaned on heavily, the Eagles can feel good about their ability to give him breaks and keep him fresh.
I also thought both rookie kickers looked good, and in general that most of the individual evaluations off of this game had to be position. But the offensive line play in the first half was so alarming that it had to be the story of the night, and all eyes will be on the right side of that line once the games start for real.
NFL SCOREBOARD
Sunday, 2/2
WEEKLY LEADERS