NFL Nation:

Brandon James
November, 14, 2010
11/14/10
6:31
PM ET
Thoughts on the Colts'
23-17 win
over the Bengals at Lucas Oil Stadium.


What it means:
The Colts moved to 6-3 and stand alone atop the AFC South thanks to Tennessee's loss in Miami.
Turnover festival:
Indianapolis scored 17 points off turnovers.
Kelvin Hayden
had his second pick-6 in three games.
Tyjuan Hagler
and
Aaron Francisco
also had interceptions, while
Kavell Conner
and
Dwight Freeney
forced fumbles that were recovered by
Antonio Johnson
and
Mike Newton
. Meanwhile, the offense didn't turn it over. That's an easy way to survive being outgained 341-256 in total net yards.
What I liked:
A start for
Jeff Linkenbach
at right guard over
Mike Pollak
that appeared to be merit-based.
What I didn't like:
Pierre Garcon
's inability to secure an onsides kick late that would let the Colts' worry less. A 42-yard run by
Brian Leonard
on a fourth-and 1 for Cincinnati. It was his only carry of the game.
The next newcomer:
Brandon James did little as the punt returner, but he did chip in with four catches for 36 yards. For those keeping track he qualifies as the team's sixth wide receiver.
What's next:
A trip to New England for the always intriguing matchup with the Patriots.
September, 5, 2010
9/05/10
5:25
PM ET
Roster and practice-squad news so far Sunday:
Indianapolis Colts
Signed quarterback
Tom Brandstater
, defensive end
John Chick
, receiver
Brandon James
, defensive back
Mike Newton
and receiver
Blair White
to the practice squad.
Jacksonville Jaguars
Were awarded defensive tackle
Landon Cohen
off waivers from the
Detroit Lions
. Released offensive lineman
Paul McQuistan
.
Signed offensive tackle
Daniel Baldridge
, tight end
Mike Caussin
, receiver
John Matthews
, and defensive tackle Kommonyan Quaye to the practice squad.
Tennessee Titans
Were awarded linebacker
Tim Shaw
from the
Chicago Bears
and linebacker
Patrick Bailey
from the
Pittsburgh Steelers
off waivers. Released linebackers
Stanford Keglar
and running back
LeGarrette Blount
.
Signed defensive lineman
Hall Davis
, receiver
Dominique Edison
, cornerback Pete Ittersagen, center
Kevin Matthews
, safety
Myron Rolle
and linebacker
Patrick Trahan
to the practice squad.
September, 4, 2010
9/04/10
10:10
PM ET
Check
here
for a full list of Indianapolis' roster moves.

Biggest surprises:
Undrafted running back/returner
Devin Moore
, undrafted offensive tackle Jeff Linkenbach and undrafted cornerback
Brandon King
all won roster spots. Defensive tackle
Mitch King
, who also ranked as a long shot when camp started, survived. So did
Gijon Robinson
, the primary blocking tight end in recent years who figures to lose snaps to rookie
Brody Eldridge
.
John Chick
, a CFL star, lost out to
Keyunta Dawson
in his bid to be the fourth defensive end.
No-brainers:
Two out of three of the return candidates were going, and those turned out to be
Brandon James
and seventh-rounder
Ray Fisher
.
What's next:
The team traded an undisclosed pick to Washington for defensive back
Justin Tryon
, so it appears more settled with cornerback depth. Despite fan desires for a change from
Curtis Painter
, I'd expect he's locked in as the backup quarterback to
Peyton Manning
. The team is currently 10 deep on the offensive and defensive lines, but there doesn't seem to be a spot screaming out for help at the expense of a lineman right now.
September, 2, 2010
9/02/10
11:21
PM ET
Some bullet-point thoughts on the Colts' 30-28 preseason loss to Cincinnati on Thursday night.
The Colts sat 32 players.
The kick and punt return candidates didn't seem to do a whole lot to differentiate themselves. Devin Moore took two punts 4 yards and Brandon James took one punt 2 yards. Those two and Ray Fisher all had averages between 17.5 and 25 yards on kickoffs.
James and Tom Brandstater certainly had nice statistical nights, linking up for three touchdowns and a 2-point conversion in the final 20 minutes of the game.
Indy gave up a 93-yard touchdown run to Cedric Peerman and didn't get a run longer than Javarris James' 12-yarder.
Even playing a large share of guys who will be cut by Saturday, the Colts played pretty clean. They committed just three penalties worth 30 yards, while Cincinnati had 11 for 99.
August, 15, 2010
8/15/10
4:31
PM ET
Some bullet-point thoughts on the Colts'
37-17 preseason loss
to San Francisco on Sunday afternoon.
Impressive:
The starters on offense put together a smooth and efficient 89-yard touchdown drive on their first chance. Peyton Manning hit on 8 of 10 passes for 91 yards, and got to where people want him in these games -- to the sideline with a ball cap on.
The front-line defense, minus some key guys who were held out, made plays. Philip Wheeler forced a fumble right out of the gate. Robert Mathis pushed rookie tackle Anthony Davis around. Jerraud Powers pounced on a tipped ball for an interception, and scared Ted Ginn into a drop.
Rookie linebackers Pat Angerer and Kavell Conner were both very productive. Angerer had a couple sacks, and Conner was in on a lot of tackles. Barring injuries, there should not be room for them on defense. But they should be impact special teams guys.
Unimpressive:
Curtis Painter was incredibly ineffective. Even with protection issues, his performance makes it impossible to say he's improved on his rookie work. He was 9-for-19 for 64 yards with three interceptions. Yeesh. San Francisco third-stringer Nate Davis was more calm and collected than Painter and the Colts' third quarterback, Tom Brandstater.
Everyone was looking for a chance to assess new returners, but we'll have to wait at least until Game 2. Kickoff returns by Brandon James and Sam Giguere looked like the same old deal, and James only had a chance to field one punt.
Run defense in the second half against San Francisco's bulky rookie Anthony Dixon was insufficient. He will head back to the Bay Area feeling very good about himself after 21 carries for 100 yards and a touchdown.
Unfortunate:
Reserve safety and special teamer Jamie Silva went down with what looks to be a serious knee injury.
August, 12, 2010
8/12/10
12:09
PM ET
ESPN.com NFL Power Ranking
(pre-camp): 1
ANDERSON, Ind. -- They could have made a bid at an undefeated regular season and their hopes for a Super Bowl win were snuffed out by an onside kick and an untimely pick.
So it should concern the rest of the AFC South that the 2010
Indianapolis Colts
appear to be better than last year's version.
They get two high-quality players, who were injured for most of last year, back in safety
Bob Sanders
and receiver
Anthony Gonzalez
. The Colts added a third edge rusher and a blocking tight end in the draft.
"Coach [Jim] Caldwell wants us to be a consistent team and not one that plays really well one week and not one that goes into a slump the next couple of games and then comes back,"
Peyton Manning
said. "I think we have been pretty consistent. Our offseason work, our execution and our attention to detail in training camp make a difference.
"But what has happened in the past doesn't guarantee you anything for this 2010 season. We have some new players, new coaches and it is up to us to go out and form the identity of his team and to go out and try to win games this season."
THREE HOT ISSUES
[+] Enlarge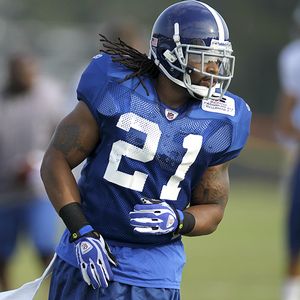 AP Photo/Darron CummingsBob Sanders doesn't plan on changing his style to avoid injuries. "It's a physical game," he said. "I make tackles."
1. Can Sanders stay on the field?
The thing that makes him so good is the same thing that makes him so injury prone. He throws himself around like a torpedo, and suffers the consequences. He's upbeat and happy right now to be spending his time on the field and with coaches and teammates instead of in the training room with medical staff.
"I don't think you can put yourself in less danger on the field," Sanders said when I asked if there was any way he could be less reckless to try to preserve himself. "We're football players so we're going to be physical. It's a physical game. I make tackles. You just never know what's going to happen. You just have to play your best, hope for the best, I pray and put it in God's hands and just try to do my job."
When he's out there, he'll be more creative than when we last saw him playing consistently. Second-year defensive coordinator Larry Coyer is much more willing to blitz than Ron Meeks was.
As good as
Melvin Bullitt
's been as Sanders' replacement, Sanders is a game-altering presence when he's out there. Sanders is making plays in camp. If he's out there, the Colts' defense could be fantastic.
2. Will offensive line changes amount to an upgrade?
Left guard
Ryan Lilja
was let go, so at least one spot will be filled by someone new.
Tony Ugoh
looked like the early choice, but he's been pulled back to tackle to work for the injured
Charlie Johnson
, so
Jamey Richard
is in play. Richard might shift to center while
Jeff Saturday
recovers from a knee scope, which could open the door for rookie
Jacques McClendon
, if he's healthy, or someone like
Jaimie Thomas
.
The talent pool now includes McClendon and tackle
Adam Terry
, but there was no overhaul. Pass protection combined with Manning's ability to get the ball out quick meant few sacks, but the team needs to run better for balance. Short-yardage bugaboos have been a factor in season-ending losses the past two years.
New offensive line coach Pete Metzelaars has a chance to make minor alterations that could have a bearing, and a quality-blocking tight end like
Brody Eldridge
could even help revive the once bread-and-butter stretch play.
[+] Enlarge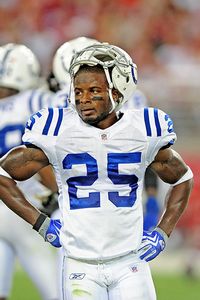 Mark J. Rebilas/US PresswireSecond-year cornerback Jerraud Powers had 66 tackles, a forced fumble and an interception during his rookie season.
3. Will secondary depth hold up?
Bill Polian purged the roster of some injury-prone corners, then saw third-round pick
Kevin Thomas
go down shortly after the draft with a serious knee injury.
Kelvin Hayden
,
Jerraud Powers
and
Jacob Lacey
should be a fine top three, but if one gets hurt,
Deshea Townsend
or
Marcus McCauley
, who were available recently, could be the next option.
If the Colts have to go that deep down the depth chart, their pass rush will be even more vital. But how many teams would love for the fourth cornerback to be a primary issue heading into a season?
BIGGEST SURPRISE
It's hard to find them with a very low-key team that drafts and grooms the bulk of its players. Polian's harped on short-yardage failures, but then the team didn't add a sure fire starter to the line with
Andy Alleman
(already gone), Terry and McClendon.
BIGGEST DISAPPOINTMENT
Before the Colts could start to sort things out, injuries dictated they move offensive linemen around. Saturday is out 2-6 weeks after a knee scope, and Johnson and McClendon are sidelined. It would have been nice to see Metzelaars have a full deck for a long stretch in order to best hold competitions and compare and contrast players. The sooner they resolve the lineup and start to build cohesion, the better. Now it's probably going to be later than would be ideal.
OBSERVATION DECK
[+] Enlarge

AP Photo/Darron CummingsExpect more surprises out of Larry Coyer's defense this season.

In Year 2 of Coyer's tenure as defensive coordinator, I expect the Colts will be more exotic with an occasional surprise look or package -- perhaps most often utilizing their depth at safety where Sanders, Antoine Bethea and Bullitt make for three starting-caliber players.

While the defensive line shows fantastic speed and strength, Mitch King looked the least smooth during the drill in which linemen weave through blocking dummies, turn a corner and try to strip a quarterback. For those excited about him, an adjusted timetable might be advisable.

As the punter and kickoff man, Pat McAfee is electric. But teams in the market for a kickoff specialist might want to keep an eye on Garrett Lindholm, who looks like he can regularly put the ball in the end zone.

Powers carries himself exceptionally well. During a break in one practice, as most guys went to the cool-down tent or took themselves out of football mentality for a minute, he picked the brain of Reggie Wayne. Powers already has become a media favorite, too.

Manning could make good money if his only job was to put on clinics about how to best loft red-zone passes to the pylons in the back corners of the end zones.

Joseph Addai knows what he's doing on every play, and Donald Brown is smart enough to follow his lead, though Brown doesn't shine in pass protection one-on-ones versus linebackers. The Colts will be just fine if the line can block for the runners, and maybe even if it can't. Brown's had more than a year to get pass protections down. If that keeps him off the field any this year, it's no one's fault but his.

Better didn't mean great for the interior defensive line in 2009. Daniel Muir and Antonio Johnson continue to improve, and Fili Moala will make for a third 300-pounder in there. He appears to be comfortable and ready to contribute.

The Colts haven't emphasized the return game and, at times, it's felt almost like they de-emphasized it. But undrafted rookie Brandon James is a miniature speedster who is in position to win at least the punt-return job. He could give Manning and the offense a short field once in a while.

John Chick, who joined the Colts from the Canadian Football League, could win the fourth defensive end spot if he shows a good learning curve and durability.
March, 25, 2010
3/25/10
2:16
PM ET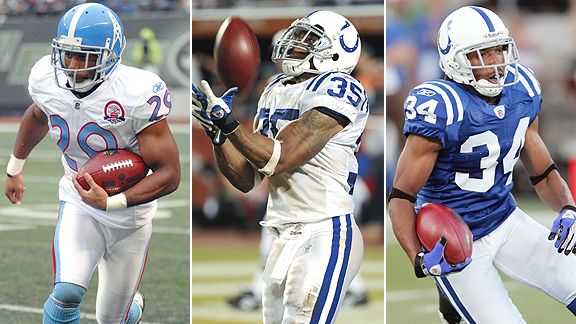 Icon SMIAFC South return men Ryan Mouton of the Titans and Chad Simpson and TJ Rushing of the Colts failed to get their teams the yards they needed.
The Titans' 2009 search for a returner was a failure. In recent years, the Colts haven't shown a lot of interest in finding a dynamic one.
Universal thinking is each team can solve the issue in the upcoming draft, though it would take a change in Indianapolis' approach for the Colts to focus on it.
So what does it take to unearth a quality return man?
I set out this week to address this from several angles, and I'm going to let some smart people with informative takes carry the day.
So without further ado…
Baltimore Ravens coach John Harbaugh
has a big background in special teams.
What's he want to see out of a prospective returner?

"Punt and kickoff return are completely different. In punt return, the bottom line is he's got to be a natural catcher. So catching a punt is a unique thing. If they can't catch, you can forget about it. Kick return is a little easier to catch, but some of these guys struggle to catch kicks. To me, a kick returner has to be a north-south runner. He's got to have a burst of acceleration and/or power, and he's got to have vision. It's usually more of a running back-type guy who can read the hole and cut off blocks. Punt return is a guy that can catch the ball naturally, has great body control and he can do two things at once. He's got to be able to catch the ball and feel the pressure around him. Make the guy miss, whether it's make or miss with the body control to slip through there, or be able to change speed and change angles."

Does he need to see a college player do that or can he project it?

"It's a good question. You'd rather see it because then you know. But if you don't see it, you can project it. But you've got to go work the guy out and see if he can catch. So you can take a guy that maybe wasn't a college punt returner, and maybe turn him into a pro punt returner. Maybe you find out that he has been catching punts every day but they didn't put him back there because he was their primary receiver or whatever. It's pretty rare to see a great pro punt returner who wasn't a pretty good college punt returner."

Matt Williamson of Scouts Inc. says he wants to see courage and toughness in a return man:

"It's funny. When looking/reading prospect reports on draft prospects this time of year, many scouts rightfully put something along the lines of, 'Also can contribute as a return man' as part of a young man's scouting report. That is all well and good, but like kickers and punters, is he one of the best 32 (or so) at this skill in the world? It is not for the faint of heart and while speed, elusiveness and vision are all paramount for either punt or kickoff returns, I think guts/fearlessness/toughness is maybe the most important. If you are going to keep a pure returner, he had better be outstanding-by NFL standards. Otherwise, he has to do something else. Be the fourth cornerback or wide receiver or be a core special teams player on coverage teams."

Keith Hawkins of ESPN Stats & Information took a look at some of the best returners in league history and some of the most productive guys in recent history to see if there were any commonalities:

"The one 'similarity' of the best returner historically (Brian Mitchell) and the best return man in 2009 (Joshua Cribbs) is that they were both college QBs.

"The other common denominator is that of the players below, only three were defensive backs in college: Darrien Gordon, Devin Hester, Deion Sanders.

"Another common denominator (with the exception of the 6-foot-1 Cribbs) is that they are all under six feet tall."
Finally,
Kevin Weidl of Scouts Inc
. was kind enough to run through the best return prospects in the draft:
Return Specialists

These guys will either be drafted or signed as free agents strictly for their return skills. Due to lack of size, they will need a creative offensive coordinator to contribute offensively at the next level.

Brandon Banks, Kansas State (5-7, 159) -- Banks is the top pure returner in this years' class. He possesses a nice combination of vision, quickness, speed and elusiveness to consistently set offenses up with favorable field position.

Brandon James, Florida (5-6, 176) -- James possesses great vision to locate and the short-area burst to quickly get through first line of defense. He also displays a quick stop and start and is very reliable tracking and fielding punts. Questionable overall long speed to outrun defenders when they have favorable angle in pursuit.

Trindon Holliday, LSU (5-5, 172) -- World-class track speed, and has the ability to exploit even the slimmest of creases. He is shifty but lacks elite elusiveness to make defenders miss in confined areas.

Other prospects that bring added value as returners (sorted by position);

Running backs

C.J. Spiller, Clemson -- The most dynamic and versatile offensive weapon in this year's class. Explosive short-area burst and elite top-end and long speed give him ability to rip off a big gain at any point in both phases of the return game.

Dexter McCluster, Ole Miss -- McCluster is pint sized (5-8) but shows great versatility and quickness to contribute as a change-of-pace back and wide receiver at the next level. Elite open-field capabilities make him dangerous as a punt returner.

Other RBs with returning experience: Joe McKnight, USC; Ben Tate, Auburn; Andre Dixon, UConn

Cornerbacks

Javier Arenas, Alabama -- Instinctive and tough football player who should step in and contribute immediately as a sub-package nickel back. Despite lack of elite top-end speed, Arenas is one of the more effective returners in this year's class. I love his vision, balance and quick stop and start as a returner.

Kyle Wilson, Boise State -- Physical press corner who shows great anticipation and ball skills out on an island. Wilson brings added value as a reliable punt returner with good speed and open-field capabilities.

Devin McCourty, Rutgers -- Not many holes in McCourty as a cornerback. Easy change of direction, strong overall ball skills, plays bigger than size indicates and not afraid to get jersey dirty in run support. McCourty is one of the most versatile special teams prospect in this year's class, an effective kick returner and outstanding gunner with punt coverage.

Akwasi Owusu-Ansah, IUP -- Possesses a nice combination of size, speed and ball skills teams covet as either a press corner or free safety at the next level. Owusu-Ansahis a strong open-field runner who has experience as both a kickoff and punt returner.

Other cornerbacks with returning experience: Perrish Cox, Oklahoma State; Syd'Quan Thompson, Cal; Walter Thurmond, Oregon; Dennis Rogan, Tennessee

Wide receivers

Golden Tate, Notre Dame -- Aggressive, savvy and sure-handed and should develop into at least a strong No. 3 WR at the next level. Reliable punt returner with good vision, balance and deceiving top-end speed.

Damian Williams, USC -- Smooth athlete and one of the most polished route runners in this year's receiver class. Despite lack of top-end speed, Williams will consistently field punts cleanly and has enough elusiveness to pick up positive yardage.

Mardy Gilyard, Cincinnati -- Instinctive and passionate playmaker on the field who should develop into a solid No. 3 WR. By no means a burner, but a difference-maker as a returner in both phases as he shows elite body control and never slows down out of cuts.

Jacoby Ford, Clemson -- World class track speed and should be a nice vertical threat at the next level. Elite top-end speed gives him ability to hit the home run at any point as both a kick and punt returner.

Antonio Brown, Central Michigan -- Quicker than fast, and should contribute working out of the slot at the next level. Brown brings added value as both a kick and punt returner with his open field capabilities and overall elusiveness.

Other receivers with returning experience: Jordan Shipley, Texas; Emmanuel Sanders, SMU; Andre Roberts, Citadel; David Reed, Utah

And a bonus
link
to a Pro Football Weekly story on the best special teamers in the draft, including three return specialists.
Final thoughts from me having taken all this in: Things always get twisted up with return guys. If the Colts or Titans draft a guy they intend to be a contributor as a cornerback or running back or receiver, there is a point at which they won't want to overload them with the extra job or expose them to injury on special teams. How long would we see Spiller or Wilson or McCourty or Tate be a special teamer? First-round receiver
Kenny Britt
returned kicks for the Titans late last season, but the team can't want him there much longer.
So I'd like to see both teams commit a pick to a return specialist, dedicating a roster spot to him.
Consistent fielding of punts and kicks was an issue for the Titans last year, and it's time for the team to actually have bigger expectations for its returner than an ability to fair catch.
Ryan Mouton
couldn't even do that reliably when things were at their worst.
The Colts have always seemed to figure they'd simply get the yards the return game doesn't provide from
Peyton Manning
and the offense. Their issues on special teams extend beyond the returners -- primarily
T.J. Rushing
on punts and
Chad Simpson
on kicks in 2009 -- and their blocking, and got magnified in the Super Bowl loss to New Orleans. But with offensive line and depth at corner and linebacker as the major needs in a draft where the Colts have eight picks, it appears a good time to try to add a dynamic piece.

NFL SCOREBOARD
Thursday, 12/18
Saturday, 12/20
Sunday, 12/21
Monday, 12/22
WEEKLY LEADERS