February, 27, 2013
2/27/13
6:02
PM ET
Guy Whimper
, released Wednesday by the Jaguars, was somewhat of a symbol of stubbornness to me.
Whimper
Jacksonville -- with, I believe, deposed general manager Gene Smith at the head of the line -- insisted Whimper was an NFL-caliber player. The evidence screamed otherwise.
The offensive tackle was brought in on Nov. 2, 2010 as offensive line depth. A third tackle at best, he would up starting 22 of a possible 40 games.
That was far more than the Jaguars ever envisioned they would need from him.
In a miserable 2-14 season that got both Smith and coach Mike Mularkey fired, Whimper caught a touchdown pass as a tackle eligible in Green Bay. But he was central in another tackle-eligible moment that might encapsulate the disastrous year more than any other.
In a 24-3 loss at Miami, officials said he botched a crucial play.
What I wrote about it
that afternoon
:
The worst, most symbolic moment of the game came after Jacksonville sacked (Ryan) Tannehill, forcing and recovering a fumble. Chad Henne threw a 20-yard touchdown pass to Justin Blackmon that should have put the Jaguars ahead 10-3. But tackle Guy Whimper, who'd come in the game and lined up as an eligible player running a route, failed to report and was flagged for an illegal substitution. Later, the drive ended without even a field goal as Henne failed to convert a fourth-and-1 run.
Whimper said afterward he reported as he was supposed to.
The Jaguars need to get a lot better on the offensive line. I'm not sure the new brass yet realizes the extent of the deficiencies, though David Caldwell recently acknowledged the team probably has blanks at left guard and right tackle right now.
It was time for Whimper to no longer be in the mix. The Jaguars also released quarterback
John Parker Wilson
and defensive back
Brandon King
.
August, 5, 2012
8/05/12
5:52
PM ET
ANDERSON, Ind. -- Quick hits from my first half-day with the Colts, out of a long practice and some interviews afterward.
[+] Enlarge

Paul Kuharsky/ESPN.comColts wide receiver Reggie Wayne works with the pass catching machine at Colts camp. Follow Paul Kuharsky on Instagram at pkuharsky.

Yes, it's a snap judgment -- camp practice reports are filled with such snapshots. But everything I've read and heard about Andrew Luck was on display. He's got great command of the offense considering how long he's been running it. I tweeted that and got hammered by some for anointing him. Of course we need to see him against better defenses that are more unfamiliar. But what we see now is all we have, and all we have is pretty good. I did feel like he sputtered towards the end of a long practice, when he put two balls too low in a red zone period -- one to T.Y. Hilton at the goal post (which rolled to me) and another short one low and behind Reggie Wayne. But after those he made a beautiful throw to Austin Collie in stride as he angled to the front left corner of the end zone with corner Brandon King nearby. It's easy to say it, but Luck's mannerisms and execution do remind one a bit of Peyton Manning -- he does the quick pump fake as he drops back, he's got a little hop, etc.

There were a lot of short throws by all the QBs. I don't know if the coverage dictated it or if it was the stuff they were focusing on today or if there was any big meaning to it. But the ball was out quickly for steady, if small, chunks of yardage. And guys were getting the ball with a chance to turn and look to find additional yards.

Wayne working on a Jugs machine is something to behold -- I watched his session after practice and got a couple decent pictures. It's mesmerizing in a Zamboni-like fashion, but there is obviously a lot more variance. He takes balls from one side, then the other, then straight on. He catches with both hands. He makes sure they are coming at difficult angles that force him to make the sort of tough plays he'll see in game situations.

Early quarterback work I liked: Working on their own with QB coach Clyde Christensen, they took drops into a corridor of the other two QBs, two coaches and a couple equipment guys. They slapped and poked at him while he dropped and as he moved back up in the "pocket" before making a throw.

During early special teams, Robert Mathis spent a bit of time on his own working on his drops into coverage. Not long after, linebackers and defensive backs covered tight ends and running backs in a one-on-one period. Mathis covered rookie Coby Fleener on the first snap, stayed on his hip and picked off Drew Stanton's throw.

Rookie running back Vick Ballard made a nice cach in the back left corner of the end zone in the same period, despite tight coverage from linebacker Scott Lutrus, who never turned to find the ball.

I planned on my initial bite of the apple here to be on veteran receiver Donnie Avery. He had a big chance with the Titans last year when Kenny Britt went down and couldn't work his way onto the field. Now he's drawing a lot of praise and sounds like he could factor into the mix for Luck and the Colts. Alas, he made a sprawling catch for a long TD from Luck (120 yards away from where I was, so it was hard to see) and landed badly. He was taken off the field with a left leg injury. Sounds like he will have an MRI, but coach Chuck Pagano promised "it's nothing major, I know that."

I spent three and a half days with the Jaguars last week and found it hard to judge the offense , which looked bad, because of the talent on the team's defense. It may be the opposite here – it may be hard to judge the offense, which looks good, because of the lack of talent on the team's defense -- especially at corner. Justin King, who's been running with the ones, has a hip flexor and missed his third day.

Antonio Johnson, the team's front-line nose tackle, said he's up to 330 pounds from 320 but feels like he's running around just the same.

More to come on this, but tight end Dwayne Allen is very good. Fits right in with what they are trying to do. Looks like a natural for this offense. A bright guy. His play and our chat is worth its own post. Stay tuned.
July, 3, 2012
7/03/12
2:00
PM ET
»
AFC camp battles
:
West
|
North
|
South
|
East
»
NFC
:
West
|
North
|
South
|
East
An early look at the biggest training camp position battles:

HOUSTON TEXANS
Right tackle:
Rashad Butler
versus
Derek Newton
Right guard:
Antoine Caldwell
versus
Brandon Brooks
The Texans are reshaping the right side of their offensive line after releasing right tackle
Eric Winston
to save money and watching right guard
Mike Brisiel
take a free-agent deal with the
Oakland Raiders
.
Butler and Caldwell have experience in the system and go into training camp as favorites to win the starting jobs. But it won't be a giant upset if one of them loses out to the promising kid in position to make a push. The team is high on Newton, who appeared in 14 games as a rookie in 2011, and Brooks, a third-round pick who was listed at 343 pounds when he was drafted and would be the team's biggest lineman even if he slims down. We won't see Newton and Brooks as starters, but we could see one of them pull an upset.

INDIANAPOLIS COLTS
Cornerback:
Kevin Thomas
versus all comers at left cornerback
The secondary is the Colts' biggest issue, and depth beyond starting right cornerback
Jerraud Powers
is very questionable at corner. Thomas lined up as the second starter during spring and summer work. But the team did a lot to give itself other options for that slot as well as nickel and dime.
The Colts traded for
Cassius Vaughn
, claimed
Korey Lindsey
off waivers and signed free agent
Justin King
, previously of St. Louis. Those three plus holdovers
Chris Rucker
,
Terrence Johnson
and
Brandon King
will look to earn roles during training camp. The team could continue to seek help at corner, too.

JACKSONVILLE JAGUARS
Cornerback:
Rashean Mathis
vs.
Aaron Ross
While
Derek Cox
will man right cornerback, veterans Mathis and Ross will compete for the starting job on the left side.
Mathis is a true pro who's been a good leader for the Jaguars for nine seasons. He's made great progress in a comeback from a shredded knee suffered in November. Ross was part of two Super Bowl-winning teams with the
New York Giants
and will also offer leadership. The guy who doesn't get the starting job will still be an important player on defense, lining up in the slot in the nickel package.

TENNESSEE TITANS
Quarterback:
Matt Hasselbeck
versus
Jake Locker
It's experience versus potential in what will be one of the most watched training camp battles in the NFL. Don't believe Hasselbeck can't lose the job. Coach Mike Munchak wouldn't be setting it up as a competition for show.
To me, the question is whether Locker can be accurate enough to make his mobility too appealing to pass up. If so, he's got a chance. If not, then Hasselbeck should retain the job. In the long run, it would be far easier to pull Hasselbeck along the way than it would be to take Locker out of the lineup. That could be a factor in what the Titans say will likely boil down to a gut feeling on whom they are better off with under center.
May, 24, 2012
5/24/12
11:20
AM ET
»
AFC Scenarios
:
East
|
West
|
North
|
South
»
NFC
:
East
|
West
|
North
|
South
Yes, the start of training camps is two months away, but it's never too early to consider the coming season. A look at the best-case and worst-case scenarios for the Colts in 2012.

Dream scenario (8-8):
I consider this a pretty optimistic dream, but since we're dreaming …
This one would require exemplary rookie seasons from quarterback
Andrew Luck
, tight ends
Coby Fleener
and
Dwayne Allen
and at least a few others from the new regime's first class.
But beyond that, they'll need several guys from the old regime to play far better in a new system than they did in the old one for which they were better suited.
Donald Brown
or
Delone Carter
will have to run effectively, for example. From a pool of returning cornerbacks including
Chris Rucker
,
Kevin Thomas
,
Terrence Johnson
and
Brandon King
, they need to find at least a nickel, and that presumes the guy they just traded for,
Cassius Vaughn
, will be the second starter. (If I am playing against the Colts, with that collection of defensive backs, I'm trying to get them in dime.)
Dwight Freeney
and
Robert Mathis
prove to be pass-rushing demons as outside linebackers in a 3-4 base set, where they are coming from less predictable spots and forcing quarterbacks into all kind of mistakes. Their play offsets the questions at other spots for the defense, and helps set Luck and the offense up with good field position.
Nightmare scenario (2-14):
Yes, it's possible the first year of the Ryan Grigson-Chuck Pagano regime matches the last year of the Bill Polian-Jim Caldwell one.
The Colts will face
Aaron Rodgers
,
Tom Brady
,
Matthew Stafford
and
Jay Cutler
in 2012. But if things go badly, plenty of second- and third-tier quarterbacks will also shred a patchwork secondary that added only safety
Tom Zbikowski
in free agency and Vaughn in a trade and got no help in the draft.
The defense can prove to have too few quality pieces to run a 3-4 or a 4-3 effectively, and if it's giving up a lot of points, Luck will be dropping back a lot to try to lead comebacks. If a line of leftovers and castoffs can't consistently fend off rushers, there will be trouble.
And should Luck get hurt and miss any time, the team will look to
Drew Stanton
or seventh-round pick
Chandler Harnish
. Either one is likely to leave fans pining for the halcyon days of
Dan Orlovsky
.
Also damaging would be the Texans ability to stay good and improvements from Tennessee and Jacksonville. The Colts got their two wins last season against the Titans and Texans late in the year.
April, 30, 2012
4/30/12
11:06
AM ET
The draft is over, the rosters are filled up.
But what areas weren't sufficiently addressed and where can we expect to see the teams of the AFC South continue to seek help?
Some thoughts.

Houston Texans
Veteran corner
Jason Allen
left as a free agent. He helped the Texans cover for
Kareem Jackson
, who played just 55.73 percent of the team's defensive snaps in 2011.
Brandon Harris
was a second-round pick out of Miami last year, but didn't show anything. The Texans look to be counting on him to contribute more. They like
Brice McCain
, but he's a situational guy.
But corner is a spot where the Texans need some additional depth at the very least.

Indianapolis Colts
The Colts loaded their roster with offensive players -- eight of 10 draft picks went on that side of the ball.
The defensive picks were on the defensive line.
Which means the Colts still have a ton of work to do in the defensive backfield.
Jerraud Powers
is a quality corner and a good leader. But after him, there are no proven corners on the roster. Is the second starter
Chris Rucker
?
Kevin Thomas
?
Mike Holmes
?
Brandon King
?
That's not a great group to be choosing from. Look for team to give some undrafted rookies a chance and grab a veteran or two as guys come free during camp cuts.

Jacksonville Jaguars
The Jaguars believe a healthy
Eben Britton
will help fortify their offensive line and he should.
But they don't have sufficient depth on the offensive line and should create a situation where there is more real competition.
They re-signed
Guy Whimper
, who is a swing tackle at best and had some bad stretches last season. They like
John Estes
as a reserve center, but it would be nice to have someone to compete with him for the right to take over for
Brad Meester
.

Tennessee Titans
The team has sent major mixed signals about its offensive line.
Tennessee courted all the top centers in free agency but did not land one. And then they didn't draft an offensive lineman. Coach Mike Munchak said it wasn't a dire need and the team can win with what it has.
Jim Wyatt of The Tennessean reports that among the team's undrafted rookies is
William Vlachos
. Perhaps the center from Alabama can scramble the mix. But the Titans should still be adding options on the interior.
October, 8, 2010
10/08/10
4:01
PM ET
»
NFC Final Word
:
East
|
West
|
North
|
South
»
AFC
:
East
|
West
|
North
|
South
Five nuggets of knowledge about Week 5:
Ninety minutes early:
Sunday at 11:30 a.m., we'll find out just who's OK to play and who's not among the Colts. Crucial guys who could miss action include
Austin Collie
,
Antoine Bethea
and
Jacob Lacey
. Bethea, who has a bad hamstring, almost has to play because the Colts will be digging deep to announce a starter at the other safety spot, where
Brandon King
or
DaJuan Morgan
look to be the primary possibilities. Whoever lines up at strong safety, look for the Chiefs to try to target him in any way possible.
Watch the tight ends:
Aaron Schatz of Football Outsiders says the Giants have the league's best defense against tight ends so far this year while the Texans have the league's
worst defense against tight ends
. Houston's not looked to
Owen Daniels
much, though
Joel Dreessen
's been effective, averaging 17 yards a catch.
Brian Cushing
's return should help the Texans' defensive deficiency against
Kevin Boss
, who has 110 yards on just five catches.
[+] Enlarge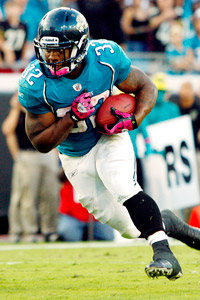 Kim Klement/US PresswireFacing Buffalo's struggling run defense may be just what Maurice Jones-Drew and the Jaguars need.
Packed in Bills:
The Jaguars seem to have accepted that they need to keep the passing game focused on short stuff to give
David Garrard
his best chance to succeed. But by doing so, they might not take defenders deep too often. And by not taking them deep, the run game becomes more difficult for
Maurice Jones-Drew
and blockers who have to deal with more people. Buffalo's dead last in run defense, so it may not be much of a factor at Ralph Wilson Stadium
Get creative:
Outside of some option plays, it doesn't seem like the Titans have been very creative with
Vince Young
this season. Even if he lost the coaches' faith for his poor preparation during Pittsburgh week, it's time to see if they can't find some things to get and keep him in a rhythm. If Young gets off to a hot start, the Cowboys might feel he warrants more attention. If that happens,
Chris Johnson
might break something big.
Not so unfamiliar:
Teams who haven't faced
Peyton Manning
often overestimate what they will be able to do against him. But Chiefs head coach Todd Haley has a defensive coordinator in Romeo Crennel who has gone against the four-time MVP before and I'd expect him to have a reasonable approach. On the other side, the Chiefs have a pair of backs in
Thomas Jones
and
Jamaal Charles
who might be able to pound away at a defense that's had trouble slowing
Arian Foster
and Jones-Drew.
October, 6, 2010
10/06/10
9:49
AM ET
»
NFC Stock Watch
:
East
|
West
|
North
|
South
»
AFC
:
East
|
West
|
North
|
South
FALLING
Chris Johnson and the Titans' run blocking:
All sort of explanations are rolling in, and some in Nashville are even asking for more
Javon Ringer
carries. That's craziness. But Fisher had said the run game isn't operating as it should be and with that being the case the Titans really have issues. The line needs to block better and Johnson needs to be decisive. He
tweeted a pledge
for a big October.



ChrisJohnson28

I wnt 2 let all my fantasy ppl & myfans kno not 2 worry ima have a gr8 oct its tkng a little time 2 adjust 2 the 8 n 9 inthe box #NOPRESSURE
Colts safeties:
Antoine Bethea
is an excellent player. But he's like to be stretched thin with the team's three best options aside from him --
Bob Sanders
,
Melvin Bullitt
and
Jamie Silva
-- all out now. The Colts are hoping for a late-season return from Sanders. In the meantime, their options on the roster are inexperienced
DaJuan Morgan
and rookie
Brandon King
, a converted corner who's had a hamstring issue.
Matt Cassel
may not be able to take advantage of that, but I suspect
Donovan McNabb
and
Matt Schaub
will.
Jamie Winborn, Titans linebacker:
He's been workmanlike and serviceable as a fill-in, but the dynamic
Gerald McRath
returns from his four-game suspension this week. The Titans should plug him directly back into the lineup and hash out what they will do when they decide to use nickel personnel. But Jeff Fisher's already spoken of the expectation of rust on McRath, which might mean Winborn retains a part time role for a bit.
RISING
[+] Enlarge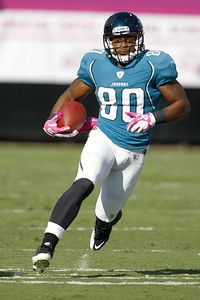 Justin Cooper/Icon SMIJaguars receiver Mike Thomas is averaging 12.2 yards per catch this season.
Mike Thomas, Jaguars receiver:
As I mentioned in Tuesday's High Energy Player of the Week post on
Tiquan Underwood
, I think the Colts' game was indicative of where the Jaguars are heading -- to a shorter passing game that won't ask
David Garrard
to make the sort of throws that failed him in the losses to San Diego and Philadelphia. Thomas had a solid game against Indianapolis and will be a big beneficiary of this alteration.
Troy Nolan, Texans safety:
The second-year safety had two picks in Oakland in his first action on defense, which prompted Gary Kubiak to pledge more playing time for him. I think
Eugene Wilson
qualifies as a weak spot for the defense and even if healthy, the team should stick with Nolan and give him a chance to be part of this young defensive backfield that's trying to grow up quickly together.
Josh Scobee, Jaguars kicker:
He doesn't rank high on the scoring list, but he's extended a great preseason into the regular season and four games in he hasn't even attempted a FG from under 44 yards. He's connected from 45, 44, 48, 51 and 59 for the Jaguars so far this season.
October, 5, 2010
10/05/10
11:16
AM ET
Adam Schefter reports that Colts strong safety
Melvin Bullitt
is
out for the season
with a broken bone in his right shoulder that will require surgery.
[+] Enlarge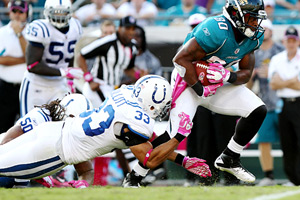 Kim Klement/US PresswireThe Colts were already thin at safety before losing Melvin Bullitt.
The news is a killer for the Colts, as safety was already their thinnest position.
Jamie Silva
was lost for the season to injury in the preseason and
Bob Sanders
(biceps) is out until at least the middle of November.
This is a giant loss for a defense that's been struggling. Bullitt is usually a steady and reliable player and it'll be tough to replace him.
Here's what Colts president Bill Polian had to say about depth at safety
last week
:
"The depth isn't what we'd like to have there at safety, but hopefully we'll continue to be OK. That's probably the area where we have the least depth and that's simply because of injury. You could never have imagined that both Jamie Silva and Bob [Sanders] would go down for extended periods in the same year, that's just bad luck but it happens to every team. You can't change it."
DaJuan Morgan
is the top backup with
Brandon King
, who's being converted from cornerback, also on the roster.
I don't know if they consider
Michael Lewis
a fit, but the recently cut 49er would bring some experience.
Scouts Inc. on Lewis:
"Lewis is a big, powerful safety who is most effective when lining up close to the line of scrimmage. He is an active safety who is quick to diagnose run plays and aggressive when supporting the run. Lewis takes good angles and has the power to take on and shed blockers. He looks to punish when tackling the ball carrier. He is not as effective when tackling in space and can be inconsistent in coverage. Lewis is a bit stiff in the hips and does not break down great for open-field tackles. He can struggle when trying to mirror receivers in their routes. He does do a good job of reading the quarterback's eyes to get a jump on the ball but lacks the quick transition and burst to close on the ball."
September, 14, 2010
9/14/10
3:18
PM ET
Solutions to the
Indianapolis Colts
' run defense woes won't come in the form of any thudding hits from strong safety
Bob Sanders
. Adam Schefter reports Sanders, hurt in the first half of the loss in Houston,
is out indefinitely
and perhaps for the season.

Sanders
It's possible we've seen the last of him in a Colts uniform.
When he plays, Sanders can be a terror. His 2007 Defensive Player of the Year award attests to that. But his reckless style resulted in multiple injuries and now it seems fair to say he's simply not put together in a way that allows him to sustain the pounding of an NFL season.
He's played in 48 games since he was a second-round pick in 2004 out of Iowa, and he's missed 49 games. If this is a season-ender, those numbers will be 48 and 64.
Melvin Bullitt
isn't the playmaker Sanders can be. But he's proved to be an above-average and reliable replacement. Safety depth, however, is now an issue. Undrafted rookie
Brandon King
, a cornerback at Purdue, is the lone healthy reserve safety now.
September, 4, 2010
9/04/10
10:10
PM ET
Check
here
for a full list of Indianapolis' roster moves.

Biggest surprises:
Undrafted running back/returner
Devin Moore
, undrafted offensive tackle Jeff Linkenbach and undrafted cornerback
Brandon King
all won roster spots. Defensive tackle
Mitch King
, who also ranked as a long shot when camp started, survived. So did
Gijon Robinson
, the primary blocking tight end in recent years who figures to lose snaps to rookie
Brody Eldridge
.
John Chick
, a CFL star, lost out to
Keyunta Dawson
in his bid to be the fourth defensive end.
No-brainers:
Two out of three of the return candidates were going, and those turned out to be
Brandon James
and seventh-rounder
Ray Fisher
.
What's next:
The team traded an undisclosed pick to Washington for defensive back
Justin Tryon
, so it appears more settled with cornerback depth. Despite fan desires for a change from
Curtis Painter
, I'd expect he's locked in as the backup quarterback to
Peyton Manning
. The team is currently 10 deep on the offensive and defensive lines, but there doesn't seem to be a spot screaming out for help at the expense of a lineman right now.
NFL SCOREBOARD
Thursday, 10/2
Sunday, 10/5
Monday, 10/6