NFL Nation:

Brandon Saine
January, 10, 2013
1/10/13
11:25
AM ET
The
Seattle Seahawks
added defensive end
Chris Clemons
and kicker
Steven Hauschka
to their injured reserve lists this week.
Rookie
Bruce Irvin
, the 15th overall choice in the draft, will start in Clemons' place. Recently signed veteran
Ryan Longwell
will handle kicking duties for Hauschka.
Those moves led me to compile IR lists for remaining NFC playoff teams. I used the reserve lists at Ourlads.com, which updates its rosters daily.
October, 15, 2012
10/15/12
7:09
PM ET
Before I run out of gas on what has been what I'll call Sonday -- a Sunday that never really ended and has bled into Monday -- let's review what we know about the
Green Bay Packers
' long list of injuries and personnel questions stemming from their 42-24 victory against the
Houston Texans
on Sunday/Monday.

Courtesy the
Twitter feed of ESPNMilwaukee.com reporter Jason Wilde
:
OK. Barring more breaking news, I'll be back with you Tuesday morning.
August, 12, 2012
8/12/12
8:47
PM ET
Via Twitter,
@molden86
voices what many of you have asked in the wake of the
Green Bay Packers
' acquisition of running back
Cedric Benson
, a deal
made official late Sunday afternoon
: "Why not just bring [
Ryan] Grant
back?!?"
Grant
Benson
After all, both players are 29. Grant has 605 fewer regular-season carries and knows the Packers offense far better than Benson at the moment.
Tyler Dunne offered a thorough look at the question earlier
over at the Milwaukee Journal Sentinel
. We're assuming it's the Packers who made this decision, rather than Grant turning down an offer. (We have no evidence of that.) Regardless, here are my two cents:
First, it should be noted the Packers gave Benson a one-year contract for the veteran's minimum ($825,000) with no bonus, according to ESPN business analyst Andrew Brandt. That means the Packers could release him at any point before Week 1 and not owe him a penny nor be required to devote any salary-cap space to his contract.
The money isn't as important as what it reminds us about this situation: This is a fluid and easily reversible situation. We can't assume the Packers have decided to make Benson their No. 1 or even their No. 2 running back in 2012. They're in an injury bind and needed a significant fill-in should
James Starks
' turf toe injury linger for more than a few weeks. The person the Packers brought in had to be capable of opening the season as a No. 1 running back, but also be expendable enough to be cast aside if Starks,
Alex Green
and
Brandon Saine
are all ready to open the season. (Remember, that was the Packers' original plan when training camp began.)
I realize the NFL is a cutthroat business, but the Packers' decision to sign Benson over Grant could be viewed as a show of respect. If they bring Grant back, and that could conceivably happen if injuries persist, it should be as a permanent member of the roster rather than as an expendable insurance policy. Grant's contributions to the team over the years merit such treatment.
Second, it's quite possible that whatever led the Packers to move on from Grant in the offseason informed this decision as well. Casting personal affinities aside, we shouldn't rule out the possibility that the Packers view Benson as a better player. That assessment wouldn't exactly leave the Packers on an island in the NFL. As we start the second full week of August, no other team has signed Grant, either.
To be clear, these are just educated guesses. The Packers' announcement came after Sunday's coach and player access, so we don't have an official explanation or comment. We'll update the blog whenever coach Mike McCarthy or general manager Ted Thompson addresses it.
August, 10, 2012
8/10/12
7:08
PM ET
ESPN's Chris Mortensen
blew me away Friday afternoon with his report that free-agent running back
Cedric Benson
is in Green Bay and preparing to sign a contract with the
Packers
. I don't necessarily stand in judgment against it, I'm just totally surprised. A few thoughts on this deal, assuming it occurs:
General manager Ted Thompson stepped out of his comfort zone a couple of times this offseason to sign veteran free agents, in each case for a specific reason. He didn't think his team could go with an untested player at center, so he signed Jeff Saturday. And he thought the Packers needed multiple infusions of juice at defensive line, leading to the acquisitions of Anthony Hargrove, Daniel Muir and Phillip Merling. So he must have thought his backfield was in worse shape than it appeared to be to pursue Benson.

[+] Enlarge

AP Photo/Tony TribbleCedric Benson has rushed for at least 1,000 yards for the Bengals in each of the past three seasons.

The Packers clearly committed to James Starks as their lead back in the offseason, and while he struggled in Thursday night's preseason opener, that would be an awfully quick hook on that commitment. Starks is still just 26 and the Packers are usually pretty patient with their player development.

The Packers have downplayed the significance of experience and veteran depth in the backfield since Ryan Grant injured his ankle in Week 1 of the 2010 season. Since then, they have passed up numerous opportunities to add veterans with cache, including then-Buffalo Bills running back Marshawn Lynch, and instead remained committed to their internal depth. The timing of this move is a legitimate question. Why now?

With all of that said, the Packers had a need for some experience in the backfield. At this point, Alex Green and Brandon Saine, with a combined 21 NFL carries, were Starks' backups. But the Packers had not acted on that need for so long that most of us had given up on pushing it.

I reached out to Matt Williamson of Scouts Inc., who liked the deal from a pure football perspective. Williamson doesn't think Benson will help the Packers in their passing game, but it's worth noting he produced more than 1,000 rushing yards for the Cincinnati Bengals in each of the past three seasons. "Benson is a better runner still than anyone the Packers have right now," Williamson said. "He can get what is blocked still -- and a bit more. And he should be a decent inside zone runner, especially against unstacked boxes." In other words, Benson should be able to capitalize more than Starks on defenses situated to play the run.

Benson is 29 and has a long history of legal problems. We all know the Chicago Bears released him in 2008 as a result. He was suspended one game last season after a pair of misdemeanor assault arrests. That's only relevant to the Packers in that another incident would probably lead to a significantly longer suspension, per the NFL's policy against repeat offenses.

Overall, this move is notable mostly for what it reveals about the Packers' internal view of their backfield. To me, you don't go through the trouble of signing Cedric Benson just for a look-see. You bring him in because you think you need him. I think a reasonable argument could be made that the Packers needed more juice in their backfield. I'm just surprised they acted on it when they did.
May, 16, 2012
5/16/12
12:00
PM ET
»
NFC pressure points
:
West
|
North
|
South
|
East
»
AFC pressure points
:
West
|
North
|
South
|
East
Examining who faces the most challenging season for the Green Bay Packers and why.

Today is May 16. That leaves about 2 1/2 months before training camp and almost four months before the start of the regular season for reinforcements to arrive. But for the time being, there is only one player on the Packers' roster who seems suited to be a No. 1 back in the NFL.
It's difficult to know for sure, but from the outside it appears the Packers are clearing the road for
James Starks
to take over that role in his third NFL season. Veteran starter
Ryan Grant
has not been re-signed and the Packers did not draft a running back last month. Behind Starks are veteran fullback/short-yardage specialist
John Kuhn
and two second-year players in
Alex Green
and
Brandon Saine
; Green is recovering from a torn ACL in his knee.
Grant could always re-sign at a later date, but if not, the Packers are taking a bit of a leap in hoping that Starks can stay on the field for a full season. He missed the first 13 games of 2010 because of a hamstring injury and was limited during the second half of 2011 because of knee and ankle ailments. Overall, he's missed as many games (16) as he's played. The pressure is on Starks to demonstrate he is not a part-time back.
March, 9, 2012
3/09/12
12:38
PM ET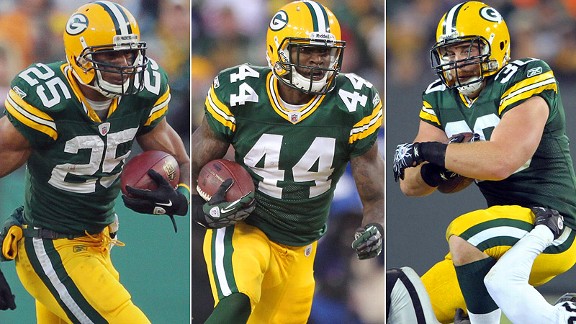 US PresswireRyan Grant, James Starks and John Kuhn led the Packers running game in 2011.
In the early days of Mike McCarthy's tenure with the
Green Bay Packers
, it was fashionable to question his running game and contrast its production with the passing of
Brett Favre
and
Aaron Rodgers
. The Packers' recent success amid the NFL's passing explosion has all but stifled such squawking, so it was notable last month when McCarthy brought up the issue unprompted at the NFL scouting combine.
Although he didn't provide much detail, McCarthy made clear he wants more from his running game in 2012.
"We feel we're maxing out the drop-back game in normal down and distance," McCarthy said. "Are we maxing out the run game in normal down and distance? I think it'd be safe to say no as we stand here today. Those are the types of things we are going to take a close look at."
I think we can all agree the Packers' running game has been an afterthought in recent seasons. As the first chart illustrates, they ranked at the bottom of most statistical categories -- including, importantly, attempts -- in 2011. McCarthy said he is "not really worried about how many times we run the ball" but plans to change "how we run the ball."
The second chart shows the Packers' run-pass ratios by down in 2011, one that -- like most teams -- progressively leans toward the pass as you move from first to third down.
McCarthy declined to explain because he hasn't presented his ideas to players yet. My guess is that whatever changes he has in mind -- possibly using different kinds of running plays in certain situations -- won't be obvious to the casual observer. To me, the proverbial elephant in the room is not how often the Packers run the ball or what kind of plays they use. It's
who
the Packers are going to hand the ball off to in the first place.
As of this moment, it's difficult to count on either of the Packers' top two tailbacks to be a feature back in 2012.
Ryan Grant
is 29 and appears set to test the free-agent market, while
James Starks
has quite frankly missed too much time with injuries to merit the Packers' full trust.
The third chart shows every Packers running back who had a carry last season.
Alex Green
, a third-round draft pick last season, is returning from a torn anterior cruciate ligament.
Brandon Saine
, who played on 69 snaps last season, was a practice-squad promotion.
Taken altogether, the running back position rises to one of the Packers' more underrated offseason areas of need. It's important for McCarthy to perform his micro-analysis and make the kind of subtle adjustments he's referring to, but its impact will be limited if the Packers don't address the personnel side of the issue.
Last month, McCarthy used words like "very consistent" and "solid" to describe Grant's season. Addressing Starks, he said: "James' availability, that's his issue. When James is available and he's playing week in and week out, he's a young player that gets better. But when he doesn't play he's not going to make the progress. I think James is a very talented guy, very bright future, but his availability wasn't where you'd like it to be."
Starks played in 13 games last season, but knee and ankle injuries he suffered in Week 11 against the
Tampa Bay Buccaneers
limited him to 13 carries over the Packers' final six regular-season games. In 2010, you'll remember he made only three regular-season appearances before taking over the position in the playoffs.
So over the course of two seasons, Starks has had two limited spans of good health and production: The Packers' four-game playoff push in 2010 and the first 10 games of 2011. Is that enough to be counted on as a lead back in 2012? Based on McCarthy's comments, I don't think so.
It's quite possible the Packers could make a committee system work with Starks,
John Kuhn
and perhaps Green or Saine. And I would agree with those who don't want to see the Packers devote too many additional resources to their offense, not when their defense crashed in 2011 and could use depth and upgrades at several positions. Perhaps McCarthy's schematic analysis is designed to minimize the need for additional personnel.
But this isn't the time for committing to a committee system, not as we stand on the doorstep of the NFL's player acquisition period. Committees are what teams settle on, not what they plan for. And at the moment, their personnel situation in the backfield merits at least an attempt to enhance. If other priorities ultimately trump it, so be it. We'll soon see if the Packers agree.
December, 23, 2011
12/23/11
1:31
PM ET
»
NFC Final Word
:
East
|
West
|
North
|
South
»
AFC
:
East
|
West
|
North
|
South
Five nuggets of knowledge on Week 16:
Busted rivalry:
When the NFL released its schedule this spring, most of us had high expectations for a late-December matchup between the
Green Bay Packers
and
Chicago Bears
. Instead, an injury-devastated Bears team will limp north
as (deserved) 13-point underdogs
. It's possible the Packers will have clinched home-field advantage even before taking the field Sunday night, if the
San Francisco 49ers
lose Saturday at the
Seattle Seahawks
. If not, the Packers will attempt to secure it against a team playing without quarterback
Jay Cutler
, running backs
Matt Forte
and
Marion Barber
, and receiver
Johnny Knox
. Third-string running back
Kahlil Bell
is expected to start, pairing with third-string quarterback
Josh McCown
-- who has a history of helping the Packers' playoff positioning. (See:
Noooooooooooooooo!
) One other interesting bit of history: The Packers are one of five teams in NFL history to open a season 13-0 and then lose in their 14th game. All four of the other teams lost their 15th game, too. That list includes the 2009 and 2005
Indianapolis Colts
, the 2009
New Orleans Saints
and the 1998
Denver Broncos
.
[+] Enlarge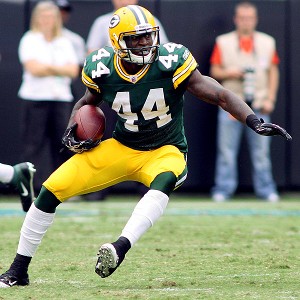 Jeremy Brevard/US PresswireGreen Bay's James Starks is expected to play Sunday against the Bears.
Packers run game:
For several reasons, Sunday night's game would be an obvious target for the Packers to rely on and enhance their running game.
James Starks
(ankle) and
Brandon Saine
(concussion) are expected to return. The Packers will start a makeshift offensive line that likely will include
T.J. Lang
at right tackle and
Evan Dietrich-Smith
at left guard; the best way for offensive linemen to get comfortable is via run blocking. And it's also worth repeating that the Bears historically have done a good job limiting Packers quarterback
Aaron Rodgers
' downfield opportunities. According to ESPN Stats & Information, Rodgers has completed only five of 26 attempts on throws against the Bears that traveled in the air 21 yards or more. He's thrown one touchdown, a game-winner to receiver
Greg Jennings
in 2009, and two interceptions on those passes.
Detroit's challenge:
The
Detroit Lions
will clinch a playoff spot Saturday if they beat the
San Diego Chargers
in what will likely be a raucous atmosphere at Ford Field. (There are also several scenarios to clinch this weekend even if they lose.
They're noted in this post
.) Hopefully everyone knows the Chargers are on one of their annual December rolls. They've won three consecutive games after a six-game losing streak. Since Norv Turner took the head coaching job in 2007, the Chargers are 20-2 in December. This will be no cakewalk.
Big targets:
Chargers quarterback
Philip Rivers
struggled earlier this season, but he has been the NFL's most efficient quarterback over the past three weeks based on Total Quarterback Rating. Rivers has hit a groove with a pair of 6-foot-5 receivers that will pose significant matchup problems for the Lions.
Malcom Floyd
has 11 receptions for 233 yards and two touchdowns over the past two games, while
Vincent Jackson
has caught 12 passes for 211 yards and a touchdown. Jackson has been sidelined in practice this week by a groin injury. Lions cornerback
Chris Houston
(knee) clearly wasn't 100 percent last week against the
Oakland Raiders
, and the team re-signed
Brandon McDonald
this week for extra depth. Safety
Louis Delmas
(knee) also remains sidelined, and backup
Chris Harris
was cleared Thursday to practice following a concussion.
Make it stop:
If you're a big-picture observer, you see ample motivation for the
Minnesota Vikings
to lose Sunday at the
Washington Redskins
. One more victory by the Indianapolis Colts, in conjunction with two more Vikings defeats, would give the Vikings an excellent chance to secure the No. 1 overall pick of the 2012 draft. A loss to the Redskins would extend the Vikings' losing streak to seven games, tying a franchise record set in their original expansion season of 1961. But I'm not sure what would be worse: tying that record or extending their NFL record of games without an interception, which currently stands at nine. Redskins quarterback
Rex Grossman
has thrown at least one interception in his past 10 starts, and he is tied for the second-most interceptions in the NFL (18) despite missing three games this season. Something's got to give.
December, 18, 2011
12/18/11
11:40
AM ET
December, 18, 2011
12/18/11
10:34
AM ET
KANSAS CITY -- Greetings from Arrowhead Stadium on an unusually warm December day where the high is forecast to reach, yes, 59 degrees. Sunscreen for everyone!
We'll have more information soon for you on the status of
Green Bay Packers
running backs
James Starks
(ankle) and
Brandon Saine
(concussion), both of whom are game-time decisions, and right guard
Josh Sitton
, who seems to have a decent chance to start after a two-week absence caused by a knee injury.
Finally, we'll soon post a module for the live chat ESPNChicago.com will host during Sunday's game between the
Chicago Bears
and
Seattle Seahawks
. I won't be involved, but feel free to jump in if it suits your fancy. Back in a bit.
December, 15, 2011
12/15/11
6:07
PM ET
Sifting through Thursday's news bits:
Chicago Bears:
There were two big news stories Thursday at Halas Hall. We've covered
the arrest
of receiver
Sam Hurd
. We should also note that running back
Marion Barber
conducted an interview with two reporters Thursday. Via
the Chicago Sun-Times
, this is what Barber had to say about his late-game mistakes last Sunday in Denver: "My thoughts on it is getting to this next week and just preparing as much as I can to be ready for this game of course."
Detroit Lions:
It's going to be tough for safety
Louis Delmas
(knee), cornerback
Aaron Berry
(shoulder), linebacker
Justin Durant
(hamstring) and defensive lineman
Nick Fairley
(foot) to play Sunday at the
Oakland Raiders
. All missed practice Thursday for the second consecutive day. Cornerback
Eric Wright
(hamstring) also missed practice. Cornerback
Chris Houston
(knee) was again a limited participant, and running back
Kevin Smith
(ankle) also got some practice work in.
Green Bay Packers:
The Packers had no changes in their injury report. Running back
James Starks
(ankle), defensive lineman
Ryan Pickett
(concussion) and running back
Brandon Saine
(concussion) all sat out practice. Guard
Josh Sitton
was a limited participant for a second consecutive day.
Minnesota Vikings:
Things continue to look good for tailback
Adrian Peterson
(ankle) to return after a three-game absence. Peterson told reporters Thursday that he will play Sunday against the
New Orleans Saints
. Receiver
Greg Camarillo
(concussion) returned to practice Thursday, and it appears the Vikings will have all players available for Sunday's game.
NFL SCOREBOARD
Sunday, 2/2
WEEKLY LEADERS