NFL Nation:

Brandon Weedon
September, 16, 2013
9/16/13
10:15
AM ET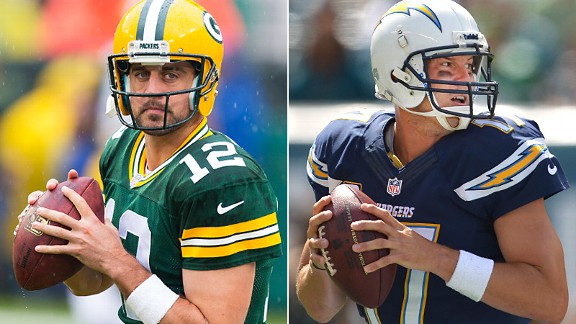 USA TODAY SportsAaron Rodgers and Philip Rivers both put up big numbers on Sunday in leading their teams to victory.
Our weekly deep dive into NFL quarterback play. Many thanks to our friends at ESPN Stats & Information for supplying analysis and data to drive this post. Remember that Total QBR runs on a scale of 0-100. The scale for traditional passer rating is 0-158.3.
OF NOTE
Philip Rivers
Passer rating:
124.3
QBR:
93.5
Analysis:
By this measure, Rivers put together the best game for a quarterback in Week 2. He completed 76 percent of his passes (36 of 47) for 419 yards and three touchdowns without a turnover and just one sack. On third down, he was nearly perfect (12 completions in 13 attempts for a Total QBR of 98.4) and he was much better in the fourth quarter as the
San Diego Chargers
held off the
Philadelphia Eagles
. Rivers' QBR in the fourth quarter was 72.6. It was 0.02 in the Week 1 collapse to the
Houston Texans
and 7.7 combined over the previous two seasons.
Peyton Manning
Passer rating:
105.5
QBR:
89.1
Analysis:
The
Denver Broncos
focused on their mid-range passing game against the
New York Giants
; 32 of Manning's 43 passes -- and 25 of his 30 completions -- traveled 10 yards or fewer in the air. Broncos receivers accounted for 116 yards after the catch. The end result was a highly efficient game for Manning: 69.8 percent completions, no interceptions and no sacks.
Aaron Rodgers
Passer rating:
146.0
QBR:
80.9
Analysis:
Rodgers took three early sacks when the game was still competitive, accounting for the QBR dip, but ultimately he became the first NFL player since 1962 to have 480 yards, four touchdowns and no interceptions in one game (Y.A. Tittle). He also completed 81.0 percent of his passes, the third-best total of his career. How did he do it? Actually, by playing it relatively safe. All told, 35 of his 42 attempts traveled fewer than 15 yards downfield and 11 were at or behind the line of scrimmage. He also torched the
Washington Redskins
' standard four-man rush, completing 24 of 26 passes against that scheme.
Ryan
Matt Ryan
Passer rating:
117.8
QBR:
79.0
Analysis:
Ryan played a really nice game against the
St. Louis Rams
. He completed 13 of 17 passes against the blitz, including an 81-yard throw to receiver
Julio Jones
. He also hit on 7 of 10 passes on third downs and connected on all 10 passes he threw in the fourth quarter. Finally, Ryan didn't take any unnecessary risks. Of his 43 attempts, 26 traveled 5 or fewer yards downfield. He completed 22 of them.
Sam Bradford
Passer rating:
87.8
QBR:
58.1
Analysis:
You won't find a less aggressive approach than what the Rams took Sunday against the Falcons. It's true that Bradford threw for 352 yards, but to do it he attempted 55 passes. Of that total, 35 traveled 5 or fewer yards downfield. And he completed barely half of those throws (19), well below the league average of 68 percent for the 2012 season. Overall, Bradford's average pass Sunday averaged just 5.6 yards past the line of scrimmage.
Robert Griffin III
Passer rating:
104.2
QBR:
43.0
Analysis:
The Washington Redskins' plan to limit Griffin's running opportunities has made him a different quarterback. The Redskins used the read-option only three times Sunday against the
Green Bay Packers
. As best as can be seen via video analysis, Griffin has taken off nine times this season and none has been a genuinely designed run. Meanwhile, much of his passing production -- 44 percent of his yards and four of his five touchdown throws -- has come in fourth-quarter "garbage time." His QBR in the first quarter of games this season is 0.5 and it is 5.6 in the second quarter. It's fair to expect improvement as he grows more confident with his knee, but for now, Griffin is not the same player he was in 2012.
Ponder
Christian Ponder
Passer rating:
75.3
QBR:
44.1
Analysis:
Ponder produced a frustrating mix of mistakes and downfield success in a loss to the
Chicago Bears
. He telegraphed a sideline throw that was intercepted by Bears cornerback
Tim Jennings
and returned for a touchdown and completed only 53.3 percent of his passes. But he also tied a career high by completing five passes that traveled at least 15 yards downfield, including a 20-yard touchdown to tight end
Kyle Rudolph
. Overall, amid a Fox Sports report that he is on a shorter leash than many people realize, Ponder didn't lose his job but also didn't do enough to secure it long-term, either.
Colin Kaepernick
Passer rating:
20.1
QBR:
14.0
Analysis:
Kaepernick had the worst game of his career no matter how you look at it. He completed fewer than 50 percent of his passes, committed four turnovers and took three sacks. He did rush for 87 yards against the
Seattle Seahawks
, but he reacted poorly to pressure for most of the night. The Seahawks had him under duress on 13 of his 35 drop-backs, and he completed only one pass (for 14 yards) on those plays.
ROUNDING OUT THE WEEK
Michael Vick
Passer rating:
123.4
QBR:
81.5
Briefly:
Vick threw for a career-high 428 yards, leading the Eagles to incredible production despite holding possession for fewer than 20 minutes of the game. The Eagles ran 58 plays and amassed 511 yards in that time period. He completed six passes that traveled at least 15 yards downfield for a total of 199 yards.
Smith
Alex Smith
Passer rating:
95.0
QBR:
65.5
Briefly:
A career-high 57 rushing yards included an 18-yard scramble on a third-and-15 play in a one-score game. Smith has now thrown two touchdowns without an interception in each of his first two games in the
Kansas City Chiefs
' offense.
Matthew Stafford
Passer rating:
108.3
QBR:
60.3
Briefly:
Stafford threw two first-half touchdowns to
Calvin Johnson
, but the
Detroit Lions
' offense seemed stymied after a
Reggie Bush
knee injury. Stafford almost exclusively worked the underneath routes, throwing only three passes that traveled at least 15 yards downfield. All three were incomplete, the first time since Week 9 of 2010 that he has not completed at least one such throw.
Eli Manning
Passer rating:
53.3
QBR:
57.5
Briefly:
Manning threw four interceptions against the Broncos and is now the first player since 2005 to throw seven in his first two games of a season. On Sunday, he converted only one third down on 11 attempts and misfired on 10 of 14 passes that traveled at least 15 yards downfield. He did finish with 362 yards, but for the most part, Manning has been a mess early in 2013.
Romo
Tony Romo
Passer rating:
99.1
QBR:
57.1
Briefly:
Romo connected with receiver
Dez Bryant
five times in the first quarter for 100 yards but managed just four more completions to Bryant for 41 yards thereafter. The Chiefs brought an extra rusher on 19 of Romo's 40 drop-backs after the first quarter, an adjustment that worked well.
Joe Flacco
Passer rating:
94.4
QBR:
57.0
Briefly:
The Ravens managed a victory over the
Cleveland Browns
, but for the second consecutive week, Flacco struggled to get the ball downfield. He missed on all five passes of at least 20 yards downfield and has now missed 11 of 13 such throws in two games.
Jay Cutler
Passer rating:
97.2
QBR:
54.7
Briefly:
Cutler made two big mistakes, fumbling on a sack that the
Minnesota Vikings
returned for a touchdown and then forcing a ball into the end zone for an interception. But he led a game-winning drive in the fourth quarter for the second consecutive week and now has 15 fourth-quarter comeback victories in his career, via Pro Football Reference.
Brees
Drew Brees
Passer rating:
67.6
QBR:
54.0
Briefly
Brees struggled against the
Tampa Bay Buccaneers
' pressure, managing just one completion in seven attempts while under duress. But his 31-yard strike to
Marques Colston
late in the fourth quarter set up the game-winning field goal.
EJ Manuel
Passer rating:
89.3
QBR:
51.6
Briefly:
Manuel's 296 passing yards were the most by a Bills rookie quarterback since 1970. He led a game-winning drive in his second NFL start, pulling his QBR from 29.6 to 51.6 in that possession.
Andrew Luck
Passer rating:
79.7
QBR:
51.5
Briefly:
Luck had a decent day on his feet, converting two third downs on scrambles. Once again, though, he didn't have much success downfield. He completed only 9 of 24 passes with an interception on balls that traveled more than 5 yards downfield.
Tannehill
Ryan Tannehill
Passer rating:
107.4
QBR:
44.4
Briefly
: The
Miami Dolphins
' big road victory against the
Indianapolis Colts
featured a strong downfield passing performance. Tannehill completed 8 of 9 passes that traveled more than 10 yards downfield for 209 yards, including all three he targeted receiver
Mike Wallace
with. But he also took five sacks, including three on third down.
Jake Locker
Passer rating:
92.1
QBR:
44.3
Briefly:
The
Tennessee Titans
have developed a relatively safe game plan for Locker. Only two of his 17 completions traveled more than 10 yards in the air.
Carson Palmer
Passer rating:
73.5
QBR:
42.0
Briefly:
Palmer completed just 3 of 8 passes in the fourth quarter but alertly targeted the end zone late and drew a pass interference call on the goal line to set up the
Arizona Cardinals
' game-winning score.
Schaub
Matt Schaub
Passer rating:
76.6
QBR:
40.8
Analysis:
Schaub had an excellent first quarter but then capped his struggles by throwing a terrible interception that was returned 23 yards for a touchdown in the fourth quarter, when his QBR was 16.7. He did rally in overtime to complete two passes to receiver
DeAndre Hopkins
to clinch the victory.
Chad Henne
Passer rating:
92.1
QBR:
39.4
Analysis:
The
Jacksonville Jaguars
managed just nine points against the
Oakland Raiders
in Henne's first start. He was sacked five times.
Cam Newton
Passer rating:
79.8
QBR:
35.0
Briefly:
Newton didn't get out of the pocket much at all, attempting just one pass outside of it against the
Buffalo Bills
, and he took six sacks -- four on third down. His one completion of longer than 15 yards downfield was a 40-yard touchdown to receiver
Ted Ginn
.
Freeman
Josh Freeman
Passer rating:
56.1
QBR:
30.9
Briefly:
Capping a chaotic week, Freeman managed just nine completions in a loss to the
New Orleans Saints
-- including two apiece in the third and fourth quarters.
Brandon Weeden
Passer rating:
83.8
QBR:
26.7
Briefly:
Weeden didn't have a turnover but he took five sacks and now has been brought down 11 times in two games this season.
Russell Wilson
Passer rating:
63.9
QBR:
25.9
Briefly:
In a game dominated by defense, Wilson struggled -- but not as much as Kaepernick. He completed only 8 of 19 passes and took four sacks -- three against the 49ers' standard four-man rush -- but he also threw a touchdown pass and committed only one turnover.
Brady
Tom Brady
Passer rating:
71.0
QBR:
24.2
Briefly:
The
New England Patriots
' lack of reliable receivers is alarming. Brady targeted
Julian Edelman
18 times. Of his other 21 throws, he completed only six and had four dropped.
Terrelle Pryor
Passer rating:
76.0
QBR:
18.2
Briefly:
Although the numbers were not exceptional, Pryor led the Raiders to a victory in his second start. He managed 176 combined yards, passing and receiving, and took three sacks but did not commit a turnover.
Geno Smith
Passer rating:
27.6
QBR:
15.0
Briefly:
Smith's fourth quarter against the Patriots was a reversal of his success in Week 1. He completed 1 of 6 passes in a winnable game while throwing three interceptions, the most during the fourth quarter in an NFL game in six seasons.
August, 26, 2013
8/26/13
6:10
PM ET
NFL teams have played their most important snaps of the 2013 exhibition season now that every team has played at least three games.
This becomes a good time to check out how many snaps each projected starting quarterback has played. The players listed in the chart below entered preseason as the quarterbacks I considered most likely to start season openers. We might have to make adjustments in some cases.
Teams have different priorities based on a range of factors. This snapshot does provide some context.
A few notes regarding the NFC West info:
March, 13, 2012
3/13/12
9:30
AM ET
As a disclaimer, I can't classify any of the remaining
Cleveland Browns
' options at quarterback as the "best move" because there really isn't one after losing out on
Robert Griffin III
.

But, as free agency begins today at 4 p.m. ET, the best option is to wait and see if
Kevin Kolb
is released from the cap-strapped
Arizona Cardinals
. He's due a $7-million roster bonus on March 17, so there's no guarantee he will be available. The risk is not doing anything on the quarterback front for the first four days of free agency for someone who might not get let go. But Kolb represents the best value considering the alternatives.
The Browns shouldn't sign
Matt Flynn
to a $50-million contract based on two starts. They shouldn't reach for Texas A&M's
Ryan Tannehill
in the top 10 of the draft. And they shouldn't put their hopes in a 28-year-old rookie like Oklahoma State's
Brandon Weeden
.
Browns general manager Tom Heckert said it was doubtful the team would sign a big-name quarterback in free agency, but that was before Cleveland fell short in its bid for RG3 on Friday night. The fact that the Browns were pursuing a deal to move up and get RG3 proves team officials aren't sold on
Colt McCoy
as their quarterback in 2012.
Adding Kolb makes sense for the Browns, even though he doesn't provide the playmaking ability of RG3 or the same buzz as Flynn.
Unlike Flynn, the Browns have a familiarity with Kolb. Heckert and Browns coach Pat Shurmur were with the
Philadelphia Eagles
in 2007 when they drafted Kolb.
And, unlike Flynn, Kolb's contract will be much more reasonable because his stock is down after a disappointing first season in Arizona. Injuries and ineffectiveness left him 2-6 in his eight full games as a starter. But Kolb showed flashes during his time with the Eagles.
At the very least, Kolb vs. McCoy would be a stronger quarterback competition than McCoy against a rookie.
It's hard to get a read on the Browns' level of interest in Kolb. According to the
Cleveland Plain Dealer
, the Browns weren't as interested in Kolb as most thought they were last year.
Heckert addressed Kolb
on Thursday with Cleveland reporters, saying, "I still think Kevin is going to be a good player. Time will tell on that. He hasn't really played a whole lot. Even last year he was hurt."
At this point, the Browns missed out on their first attempt for a quarterback when the Redskins outbid them for RG3. Now, it's time to see what the Browns' next move will be.
February, 23, 2012
2/23/12
11:00
AM ET
INDIANAPOLIS -- Let's take a look at what AFC West each team may be seeking during the NFL combine, which starts Thursday:
Will the Raiders still love speed?
It became a combine ritual. The Raiders would draft the fastest, or one of the fastest players, at the combine. It happened several times in recent years:
Stanford Routt
,
Darrius Heyward-Bey
,
Jacoby Ford
and
DeMarcus Van Dyke
. No team in the NFL valued speed more than Al Davis' Raiders. Davis died in October. Will the Raiders be married to speed now that Reggie McKenzie is the general manager? I'm sure the Raiders will stick to Davis' values somewhat, but I think it will no longer be automatic to connect the fastest combine runners to the Raiders.
Will the Chargers get their pass-rusher?
The Chargers took defensive end
Corey Liuget
at No. 18 last year and bypassed several pass-rushers in a deep class. This year's class is not nearly as deep, but the Chargers still need a pass-rusher. Once again, San Diego has the No. 18 pick.
[+] Enlarge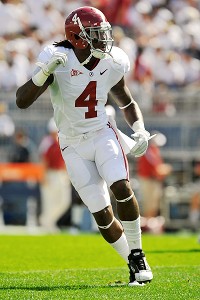 Randy Litzinger/Icon SMISafety Mark Barron is one of several Alabama defenders that AFC West teams may take a look at.
Will the Alabama defense roll into the AFC West?
Alabama won the BCS championship last season on the strength of a dominant defense. There are several key Alabama defenders who will go early in the draft, starting with linebackers
Courtney Upshaw
, safety
Mark Barron
and cornerback
Dre Kirkpatrick
. I could see all three players drawing interest in the AFC West. I think San Diego would jump on Upshaw if he somehow fell to No. 18, and it could take Barron if it doesn't address safety in free agency. If Kirkpatrick drops, Denver could take him at No. 25.
Will the Broncos look at quarterbacks?
Yes, I believe they will, but it remains to be seen whether Denver makes a play for a quarterback in the early rounds. Denver looked at all the top quarterbacks last year, and I think
John Elway
and his group will do the same this year. In his last mock draft, Todd McShay of Scouts Inc. has Denver taking Texas A&M's
Ryan Tannehill
at No. 25. I'm not sure Denver -- which has committed to
Tim Tebow
going to training camp as the No. 1 quarterback -- will take a quarterback that high, but there will be interest in the position.
Is Trent Richardson on the Chiefs' radar?
The Alabama star running back won't compete at the combine because of a minor knee surgery. However, he will be able to run at his pro day next month. Still, perhaps the Chiefs will meet with Richardson. He has been connected to Kansas City in several mock drafts. I'd be surprised if Kansas City ended up with him because of other needs and because the Chiefs have running back
Jamaal Charles
coming back from a torn ACL. But it is an intriguing scenario.
Chiefs, Chargers looking at the O-line:
Both Kansas City and San Diego could use their top pick on an offensive lineman. There are several players who could help their standing with a strong combine. I think Stanford tackle
Jonathan Martin
will be closely watched by both teams. San Diego could also look at Wisconsin's
Peter Konz
if it doesn't want to re-sign free agent
Nick Hardwick
.
Watch out for Luke Kuechly:
The Boston College inside linebacker has a chance to be a hot name in the top half of the first round if he has a big combine. He was productive in college and his game translates well to the NFL. Kansas City will surely be interested in him and could have competition if Kuechly lights it up in Indy.
Broncos will be watching running backs:
The Broncos probably will add a running back early in the draft or in free agency. Denver could use its top pick on the position. It will be closely watching Miami's
Lamar Miller
, Washington's
Chris Polk
, Virginia Tech's
David Wilson
and Boise State's
Doug Martin
, among other tailbacks, this week
Is this the time for a tight end in San Diego?
I expect the Chargers to look at tight ends this week. This isn't considered a great class, but the Chargers need to consider getting younger at the position.
Antonio Gates
will turn 32 in June and has been dealing with injuries the past few years. The Chargers probably would have to commit a second-round pick for the top tight ends, which include Stanford's
Coby Fleener
, Clemson's
Dwayne Allen
(though, they could both be late first-round choices) and Georgia's
Orson Charles
.
Nick Foles needs to show Denver some accuracy:
There was talk that the Arizona quarterback could be on Denver's radar last season. But he had some trouble with interceptions, which may have cooled the team on him. If he can show better accuracy at the combine. Foles could be a mid-round target of the Broncos again.
The Raiders need to pay big attention:
The Raiders currently have the smallest draft class in the NFL this season. They have just a fifth- and a sixth-round pick. They will, though, probably get two or three compensatory picks next month. The earliest will be at the end of the third round. But don't think for a moment that the combine won't matter to Oakland. The Raiders will have to dig deep and find great value in the mid-to-late rounds to get some something positive from this class. Closely scouting the combine will be essential.
Is Brandon Weeden too old?
The Oklahoma State quarterback is one of the more interesting players in the draft. He has skills that translate to the NFL, and some people think he could be a future starter. But Weeden turns 29 in October. There really isn't much time to groom him. Is it worth spending a premium pick on a player who could be over the hill in five years? I think both Denver and Kansas City could look at him, but they would have to be comfortable with his age.
Will the coin flip the Chiefs' way?
The Chiefs will have a coin flip with Seattle to determine the No. 11 and No. 12 picks in the draft. It is set to take place Friday. If the Chiefs lose and get the No. 12 pick, it will not be the end of the world, but there's no denying there is more value in having the No. 11 pick.
Will Mercilus impress the Chargers?
One player to keep an eye on for the Chargers is Illinois pass-rusher
Whitney Mercilus
. He came on strong in 2011, but there are consistency questions. If he answers all the right questions on and off the field this week, I could see his being a target at No. 18.
Will Chiefs look at suspect character players?
Kansas City has a reputation for taking players with sterling off-field reputations. However, last year, genearl manager Scott Pioli took Pitt receiver
Jon Baldwin
in the first round and Georgia pass-rusher
Justin Houston
in the third round. Both had character questions. Baldwin ended up missing a chunk of his rookie season because of a reported training camp fight with veteran
Thomas Jones
. It hurt his development. However, Houston was outstanding as a rookie. Let's see whether Pioli takes more risks this year.
Will Broncos add players to aid Tebow?
If Denver takes a running back early, adds to the offensive line and beefs up the defense, that means it is doing what it can to build around Tebow. The best way Denver can win with Tebow is with a good running game and strong defense.
Will the Broncos finally draft a defensive tackle in the first round?
Denver could take a defensive tackle at No. 25. Among the players it may consider are Penn State's
Devon Still
, Mississippi State's
Fletcher Cox
and Michigan State's
Jerel Worthy
. Denver hasn't taken a defensive tackle in the first round since
Trevor Pryce
in 1997.
Will Arizona State linebacker impress the Chiefs or Chargers?
Arizona State's middle linebacker
Vontaze Burfict
was considered a top-10 pick before the season. But after his production fell off and he had some character issues, Burfict is no longer considered a sure first rounder. I think he could help both the Chiefs and Chargers. His progress this week will be watched by these two teams.

NFL SCOREBOARD
Thursday, 12/18
Saturday, 12/20
Sunday, 12/21
Monday, 12/22
WEEKLY LEADERS