NFL Nation:

Braylon Edwards trade
October, 14, 2009
10/14/09
3:09
PM ET
| | |
| --- | --- |
| | |
| | AP Photo/Steve Cannon; Steve Dykes-US PRESSWIRE |
| | The New York Jets landed Braylon Edwards in a deal last week; will the Bills ship Terrell Owens out of Buffalo before the trade deadline? |

Posted by ESPN.com's Tim Graham
Unlike trade deadlines in the other major sports, the NFL's closing date doesn't elicit an entertaining barrage of player movement.
Blockbuster deadline deals are rare, but they do happen. Eric Dickerson, Hershel Walker and Jerry Rice were traded at the deadline. Lesser stars such as
Roy Williams
,
Chris Chambers
and
Keenan McCardell
were bartered, too.
This year's trade deadline is Tuesday.
The biggest name being bandied about lately is
Terrell Owens
. The
Buffalo Bills
haven't been able to figure out how to use the future Hall of Famer, who likely will be gone when his contract is up after the season.
With that in mind, here's a deadline preview for all four AFC East clubs.
October, 13, 2009
10/13/09
12:23
PM ET
»
NFC Stock Watch
:
East
|
West
|
North
|
South
»
AFC
:
East
|
West
|
North
|
South

Posted by ESPN.com's Tim Graham
Falling
Rex Ryan's defense.
The
New York Jets
rookie head coach said he was embarrassed for not having his defense better prepared to stop the
Miami Dolphins
, who pretty much did whatever they wanted Monday night. The Dolphins unleashed the Wildcat.
Chad Henne
picked them apart through the air.
The Jets went into the game ranked fourth in total defense, 13th in run defense and fifth in pass defense. Ryan's aggressive style was supposed to be showcased against a Dolphins offense that gave up six sacks a week earlier against the
Buffalo Bills
.
Roscoe Parrish, Bills receiver and punt returner.
Parrish wanted out of Buffalo shortly after they signed
Terrell Owens
. Parrish saw the writing on the wall. He was going to get balls thrown his way only after Owens,
Lee Evans
and
Josh Reed
got theirs, and probably after
Marshawn Lynch
,
Fred Jackson
and whomever was at tight end, too.
Parrish didn't get his wish, and despite agent Drew Rosenhaus's attempts to orchestrate a trade by planting rumors Parrish was on the block -- even though Parrish later admitted the Bills didn't want to deal him -- he's still in Orchard Park. Parrish has one catch for 5 yards and muffed a punt inside the final three minutes to give the
Cleveland Browns
a gift field goal and 6-3 victory.
Trent Edwards, Bills quarterback.
Buffalo's supposed quarterback of the future seems to regress every week. Of course, it's not totally his fault. He's often scrambling for his life because he's (not) protected by a line that's thinner on talent than it is experience, and that's saying something.
Edwards was among the NFL's passing leaders a couple weeks into the season, but he's 19th now. He has been saddled with the unflattering nickname Captain Checkdown, reflected in his 58.1 completion percentage. But he's averaging 6.4 yards per attempt (23rd in the league). He has thrown five touchdowns and six interceptions.
Rising
Chad Henne, Dolphins quarterback.
The sophomore from Michigan was pressed into service several months ahead of schedule when
Chad Pennington
suffered a season-ending shoulder injury in Week 3. But Henne is 2-0 as a starter and introduced himself to NFL fans with a fantastic game Monday night.
In a thrilling 31-27 victory over the Jets, Henne completed 20 of 26 passes for 241 yards and two touchdowns with no interceptions. He had a 130.4 passer rating, something Pennington didn't accomplish last year. And Pennington ranks in the top-10 all-time in passer rating.
Braylon Edwards, Jets receiver.
Edwards made a nice first impression by showing everyone exactly why the Jets acquired him last Wednesday from the
Cleveland Browns
. Edwards, a big-play threat who became known for his drops and off-field misbehavior, looked more like the player who caught 80 passes and 16 touchdowns in 2007.
In a game where the Jets scored three touchdowns, Edwards greatly influenced all of them. He caught five passes for 64 yards, including a 3-yard touchdown. He had another score reversed on a spot review. The Jets scored two plays later. He also drew a pass interference call near the goal line to set up another touchdown.

Miami's Wildcat offense.
The Dolphins called their direct-snap offense 16 times for 110 yards from scrimmage, six first downs and the winning touchdown. Observers continue to wonder when defenses will catch up with the Wildcat and render it extinct, but the Dolphins keep using it with great success.
"That was our offense," Dolphins outside linebacker
Joey Porter
said. "So to all the Wildcat haters, and to say our offense is a fluke: Keep thinking it's a fluke if you want to."
October, 8, 2009
10/08/09
10:19
AM ET

Posted by ESPN.com's Tim Graham
The real impact of
Braylon Edwards
on the
New York Jets
' offense probably won't be found on his personal stat line.
His presence will be sprinkled throughout the lineup, and the player who might benefit most of all is tight end
Dustin Keller
.
"Keller will be really difficult to key on now," Scouts Inc. analyst Matt Williamson said.
Keller should be scarier to opposing defenses than he has been. He's averaging three receptions and 43 yards a game.
If the Jets' base personnel consists of two running backs, Edwards and
Jerricho Cotchery
at receiver and Keller at tight end, then base defenses will have a difficult time matching up.
"All of a sudden you're going to see more two-high-safety looks, which is going to help the running game," Williamson said. "You're going to see more teams worried about the other weapons.
"Keller is not an in-line, pounding tight end. This will get Keller detached from the formation more and up against a linebacker more often. I think he'll abuse that kind of coverage."
Edwards also should provide a jolt for versatile running back
Leon Washington
. Similar to Keller, the Jets can more easily maneuver Washington into mismatches.
"You start Leon Washington out in the backfield and motion him out wide," Williamson said. "If you get a heavier linebacker on him, you exploit that mismatch.
"It opens up an awful lot for the whole offense."
October, 7, 2009
10/07/09
5:00
PM ET

Posted by ESPN.com's James Walker
BEREA, Ohio -- The AFC North blog spent Wednesday at
Cleveland Browns
headquarters following the blockbuster trade of receiver
Braylon Edwards
.
Here are some notes and observations:
Browns coach Eric Mangini definitely sent a message to his team. There's a strong feeling in Cleveland's locker room Wednesday that no player is safe until after the Oct. 20 trade deadline. Cleveland is 0-4 and going nowhere. So it may not be the last trade as the Browns begin building for the future.
Although Edwards didn't speak with the Browns' media before leaving, I'm told Edwards is happy that he's out of Cleveland. He wanted a change of scenery and was pretty much counting the days to free agency. This is the final year of a five-year contract and he didn't plan to re-sign with the Browns.
Rest assured Jets coach Rex Ryan talked to his twin brother, Rob, to get a scouting report on Edwards before New York signed off on the deal. Rob Ryan is the defensive coordinator in Cleveland and spent enough time with Edwards this year to get a feel for whether the receiver could mesh well with his twin brother as head coach.
As far as my personal opinion, Edwards' tenure in New York can go either way. He usually plays hard on good teams, so it could work out with the Jets. But Edwards also can get frazzled easily if he has a bad game. He often thought Cleveland's media was too harsh on him, so I can't imagine how he would react following a bad game with the relentless New York media. From Cleveland's perspective, I have no problem with the Browns getting something when Edwards wasn't returning next year. But they should have made this move in the offseason when Edwards' value was higher.
According to some of the former New York Jets with Cleveland, receiver Chansi Stuckey is a smart player. He is at his best in the slot, which makes you wonder if he's starting material or just a No. 3 receiver. Ironically Stuckey had one more reception (11) this season than Edwards (10) through four games.
Finally, Mangini dodged the question twice of whether trading Edwards for Stuckey, special-teamer Jason Trusnik and two draft picks instantly makes the team better. The truth is it doesn't. Cleveland is a worse team Wednesday than it was a day ago. But the Browns could've gone winless without Edwards in the first month of the season. So with two additional players and reportedly third- and fifth-round picks in 2010, the Browns can only hope the trade works out best in the long-term.
October, 7, 2009
10/07/09
2:18
PM ET

Posted by ESPN.com's Tim Graham
New York Jets
head coach Rex Ryan, speaking to South Florida reporters on a conference call to preview Monday night's game against the
Miami Dolphins
in Land Shark Stadium, reacted to the
Braylon Edwards
trade in a manner you'd expect.
Ryan loves the acquisition, and he's not afraid to wave a dismissive hand at those clubs who aren't willing to make such a dramatic maneuver.
"I want to win now," Ryan said. "Every team in the league should want to win now. In my opinion it's a copout for any team to say, 'We've got a four-year program.' Well, how convenient. Your contract is four years, or whatever. To me, I don't see how that's justified.
"Every team in the league has the same amount of money, the same resources. So why shouldn't you go for the same goal? We're going for the Super Bowl championship. If people say that's ridiculous, I think it's ridiculous you should have any other goal in mind."
Meanwhile,
Buffalo Bills
fans who read this are now choking back tears.

Posted by ESPN.com's James Walker
BEREA, Ohio -- There is a running joke in northeast Ohio that the
Cleveland Browns
should wear green jerseys this year and rename themselves the Cleveland Jets. That came after new head coach Eric Mangini acquired seven of his former players from New York last offseason.
On Wednesday the Browns acquired two more former Jets in receiver
Chansi Stuckey
and special teams ace
Jason Trusnik
in exchange for former Pro Bowl receiver
Braylon Edwards
. It was the second trade in six months between Mangini's current and former team.
Currently nine of Cleveland's 53 players are made up of former Jets—or 17 percent of Mangini's roster. Technically it's in general manager George Kokinis' contract to make roster decisions. But it's very evident Mangini is calling the shots with so many players being shipped in from New York.
The results have been sub-par. Players such as safety
Abram Elam
, defensive end
Kenyon Coleman
and linebackers
Eric Barton
and
David Bowens
are all contributors but none have made enough impact to help the Browns (0-4) win a game this season.
Cleveland Jets
The Browns have nine former New York Jets on their roster.
Player
Position
Acquired

Eric Barton

LB

Free agent

David Bowens

LB

Free agent

Kenyon Coleman

DL

Trade

Abram Elam

S

Trade

C.J. Mosley

DL

Free agent

Hank Poteat

CB

Free agent

Brett Ratliff

QB

Trade

Chansi Stuckey

WR

Trade

Jason Trusnik

LB

Trade
October, 7, 2009
10/07/09
1:30
PM ET

Posted by ESPN.com's Tim Graham
New York Jets
general manager Mike Tannenbaum held a news conference Wednesday afternoon to discuss the trade for receiver
Braylon Edwards
.
Tannenbaum said the organization feels comfortable adding Edwards despite the lingering legal issues that could lead to disciplinary action from the NFL. Tannenbaum also expects Edwards to start Monday night against the
Miami Dolphins
in Land Shark Stadium.
Some highlights from the news conference:
Are there concerns over recent allegations Edwards allegedly punched a friend of LeBron James?
"We went through a thorough researching. [Jets vice president of security) Steve Yarnell does a great job, and we are comfortable where we are in adding Braylon to the team.
"We reached out to the League. Steve Yarnell reached out to law enforcement. We are comfortable adding Braylon. We will cooperate with the authorities. We are glad he is here. We did all of our due diligence, and we are comfortable adding him to the team."
Have there been any assurances from the NFL?
"No assurances from the league. All I am saying is that we reached out to the league. We reached out to law enforcement. Steve Yarnell and I did that last night. We feel comfortable adding Braylon where the situation is right now."
Are the Jets are negotiating a new contract for Edwards?
"We acquired Braylon and his contract. We're going to honor his contract. Right now, our intentions are that he is going to be here with the contract that we acquired in the trade. That is our plans."
How will Edwards impact the offense?
"We think this is going to help both our passing game and our running game, the coverages that we'll see. And I think our running backs will be happy with this trade as well. I think it's going to help balance out our offense. We think he'll be able to help all aspects of the offense."
Can Edwards be the player he was in 2007?
"Braylon is 26 years old. Young players go through ups and downs. We're excited to have him. We like the environment he is coming into. He has a lot of good teammates that are going to support him to be successful. I think he is going to help us be a winning football team.
"I'm not into numbers of receptions or touchdowns. I'm into winning football. Whatever he can do to help us win. That is blocking in the running game, drawing coverages to his side of the field. That's what we're looking for. There will be a lot of production as well. We're not going to assess this trade based on 'X' catches or number of touchdowns. It's more about the total package he brings."
October, 7, 2009
10/07/09
1:00
PM ET

Posted by ESPN.com's James Walker
BEREA, Ohio -- If the winless
Cleveland Browns
are willing to trade former Pro Bowl receiver
Braylon Edwards
, they can trade just about anyone.
"I'm definitely surprised," Browns linebacker D'Qwell Jackson said.
That was the resounding reaction Wednesday in a shocked locker room after Cleveland's
blockbuster deal
to send Edwards to the
New York Jets
.
Browns head coach Eric Mangini reiterated that personal conduct is very important. Through trading Edwards, Mangini's message was clear: Get with the program or get out.
"That's been the message since he got here," Browns Pro Bowl left tackle
Joe Thomas
said. "You're going to do things the way you're coached to do it and the way you're told to do it. If you're not, then we'll find somebody else."
Mangini added that, contrary to popular belief, he had trade talks with teams other than the Jets.
But in the end, New York once again provided the best package for Edwards. Cleveland in return gained receiver
Chansi Stuckey
, special-teams ace
Jason Trusnik
and two draft picks in 2010. It was the second trade in six months between those two teams.
Moving forward, it's still to be determined who Cleveland's starting receivers will be Sunday against the
Buffalo Bills
. Rookie
Mohamed Massaquoi
will take one spot, while fellow rookie
Brian Robiskie
,
Josh Cribbs
and
Mike Furrey
will compete for the other starting job. Stuckey is out of the running for now as he has to learn the playbook.
Every pass-catcher from the high-powered offense of the Browns in 2007 is now gone. Edwards and tight end
Kellen Winslow
Jr. were both traded in 2009 and
Joe Jurevicius
was released last offseason.
"There's just times where you just move forward and we got to get better," said Browns quarterback
Derek Anderson
, who was also surprised by the move. "The 11 guys that we put out there, we got to find a way to get it done and execute the plays no matter who those guys are."
October, 7, 2009
10/07/09
12:33
PM ET

Posted by ESPN.com's Tim Graham
If you're a
New York Jets
fan and would like to express your gratitude, mail your thank-you notes to:
| | |
| --- | --- |
| | |
| | James Lang/US PRESSWIRE |
| | The Jets traded up with the Browns in this year's draft to select Mark Sanchez at No. 5. |
Cleveland Browns
Attention: Eric Mangini
76 Lou Groza Blvd.
Berea, Ohio 44017
The New York Jets pulled off another trade with their former head coach's new team. The Browns have a general manager, George Kokinis, but Mangini most certainly was involved to a high degree in trading receiver
Braylon Edwards
to the Jets on Wednesday morning.
This, of course, isn't the first time the Jets and Browns brokered a major deal. The Jets made a five-for-one deal to acquire Cleveland's fifth overall draft pick for the purposes of selecting Southern California quarterback
Mark Sanchez
.
So the Jets have acquired the third overall pick from the 2005 draft and the fifth overall pick from this year. And what, really, have they parted with?
Cleveland, clearly in a rebuilding mode, is collecting draft picks for the future. New York is tweaking their roster to win this year.
What the Jets have gotten from dealing with the Browns
Mark Sanchez, quarterback: The Sanchise won the job in training camp and, despite some rookie mistakes, has the Jets 3-1 and tied for first place in the AFC East.
Braylon Edwards, receiver: He had off-the-field problems and was erratic in the Browns' offense, but he's the big-play receiver the Jets were lacking.
What the Browns have gotten from dealing with the Jets
Brett Ratliff, quarterback: He's third on the depth chart behind Derek Anderson and Brady Quinn.
Chansi Stuckey, receiver: Stuckey was the Jets' No. 2 receiver, but didn't seize the job out of camp as much as he was a better option than David Clowney.
Jason Trusnik, linebacker: A depth player and special-teamer, he was undrafted out of Division III Ohio Northern and has an injury history.
Abram Elam, safety: Elam starts for the Browns but would have been a backup for the Jets behind Kerry Rhodes and Jim Leonhard.
Kenyon Coleman, defensive end: Coleman starts for the Browns.
17th overall draft pick (Sanchez trade): The Browns turned another trade, giving the pick to the Tampa Bay Buccaneers, who took quarterback Josh Freeman, for picks Nos. 19 and 191. The Browns then dealt No. 19 to the Philadelphia Eagles for Nos. 21 and 195.

The Browns drafted starting center Alex Mack at No. 19, cornerback Coye Francies at No. 191 and running back James Davis at No. 195. Francies is a backup, while Davis is on injured reserve after a promising preseason.
52nd overall draft pick (Sanchez trade): The Browns kept the pick and selected defensive end David Veikune, who now is a backup inside linebacker.
Two undisclosed draft picks (Edwards trade).
October, 7, 2009
10/07/09
11:10
AM ET

Posted by ESPN.com's Tim Graham
The
New York Jets
went into 2009 with one of the NFL's best offensive lines, two Pro Bowlers in their backfield, a dangerous tight end and a potential star at quarterback.
The only missing element was the big-play receiver.
The Jets finally snagged him Wednesday morning, swinging a deal with the
Cleveland Browns
to acquire
Braylon Edwards
for receiver
Chansi Stuckey
, special-teamer
Jason Trusnik
and two undisclosed picks.
I phoned Scouts Inc. analyst Matt Williamson to ask what he thought adding Edwards would do for the Jets' offense. Williamson was amazed by the trade.
"That offense is now complete," Williamson said, "and for the long haul, too."
| | |
| --- | --- |
| | |
| | Rex Brown/Getty Images |
| | The addition of Braylon Edwards fills a void in the Jets' offense. |
The addition of Edwards will impact every facet of the Jets' offense. You think coordinator Brian Schottenheimer is smiling?
Rookie quarterback
Mark Sanchez
now has a go-to guy when he needs to stretch the field or for jump balls in the end zone. He puts
Jerricho Cotchery
in a more natural No. 2 receiver role. He backs off the safeties to give tight end
Dustin Keller
more room to get open. With fewer defenders near the line of scrimmage, running backs
Thomas Jones
and
Leon Washington
will get some space, too.
"That was the one hole in this offense," Williamson said. "That was the best way they could go out to fill it."
We don't yet know what draft picks the Jets will part with, but even if one of them was their first-round pick for next year, Williamson thinks the Jets won this trade hands down.
Given the Jets' promising 3-1 start, they probably won't be drafting in the top 10 next spring.
"If they were to use a first-round pick on a receiver -- let's say it's No. 25 overall -- it wouldn't be an elite prospect," Williamson pointed out. "It would be a B-type guy, not an A-type guy. And rookie receivers don't do well. It usually takes them a while.
"Now you get the guy immediately. You're a contender. The defense is there. The running game should be there. The peripheral receiving options look really strong between Cotchery and Washington and Keller. That's a lot to throw at people, and I think Sanchez can digest it all and make his progression even smoother."
Edwards, however, has been erratic. He had a monster 2007 campaign: 80 receptions for 1,289 yards and 16 touchdowns.
But for the past couple of years he has been plagued by dropped passes and off-the-field incorrigibility that made Browns fans shake their heads in disgust.
Elias Sports Bureau counted 14 drops for Edwards last year with 55 catches, an outlandish drops-to-receptions ratio of 1 to 4.
"Coming off that 2007 season, I was about ready to anoint him," Williamson said. "He has it in him. He needs to cut down on the drops. He needs to be more consistent. There's no doubt about that.
"But his supporting cast hasn't helped him. There's not many guys out there you look at physically and producing in this league I would say 'He can be No. 1,' but Braylon's one of them. From that regard, it's a tremendous move.
"The Jets are a contender. It's early enough in the year that it might take him a month to get acclimated, but so what? You have him for the stretch run. You have him for the playoffs, where he's clicking with everybody."
October, 7, 2009
10/07/09
9:53
AM ET

Posted by ESPN.com's Tim Graham
The
New York Jets
finally acquired the big-play receiver they've been trying to locate for months.
| | |
| --- | --- |
| | |
| | Paul Jasienski/Getty Images |
| | The Jets hope Braylon Edwards is able to enhance their vertical passing attack. |
In a
blockbuster move
that further solidifies the Jets as a contender and Mike Tannenbaum as the most daring general manager in the NFL, the
Cleveland Browns
have unloaded problematic wideout
Braylon Edwards
for No. 2 Jets receiver
Chansi Stuckey
, linebacker and special-teamer
Jason Trusnik
and two undisclosed draft choices.
Mark Sanchez
now has the deep threat the Jets had been trying to obtain for him.
Jerricho Cotchery
will make a fine second option, an upgrade over what Stuckey offered.
The Browns have had enough of Edwards' act. He has been a problem off the field and could be facing league disciplinary action after a recent
alleged altercation
outside a Cleveland nightclub.
Edwards has been accused of punching an associate of NBA superstar LeBron James, Cleveland's reigning monarch. We've since discovered Edwards had a brewing off-field rivalry with James, and the alleged assault was "this town isn't big enough for the both of us" move.
New York is plenty big enough, especially with
Plaxico Burress
behind bars.
I'm only half-joking when I wonder out loud if Cleveland mayor Frank G. Jackson or Ohio governor Ted Strickland ordered Browns coach Eric Mangini to get rid of Edwards once and for all.
"I've never crossed paths with Braylon before, but it seems like there is a little jealously going on with Braylon and me and my friends," James told the Cleveland Plain-Dealer. "I have no idea why. I've never said anything to Braylon at all. For him to do that I think is very childish. My friend is 130 pounds. Seriously, it is like hitting one of my kids or something like that. It doesn't make sense, but the right people will take care of it."
The Plain Dealer noted the police report listed the man Edwards punched is 5-foot-7 and 135 pounds. Edwards is listed at 6-foot-3 and 215 pounds.
"It is unfortunate that some guys don't understand that," James said. "You are a role model to kids, and you should carry yourself that way on and off the field."
But from a football standpoint, Jets fans should be thrilled.
They didn't give up much with Stuckey, a reliable No. 2 receiver who has 11 receptions for 120 yards and one touchdown through four games.
Edwards hasn't been too involved in the Browns' struggling offense, but his abilities are beyond his number so far: 10 receptions for 139 yards and zero touchdowns. Two years ago, he caught 80 passes for 1,289 yards and 16 touchdowns.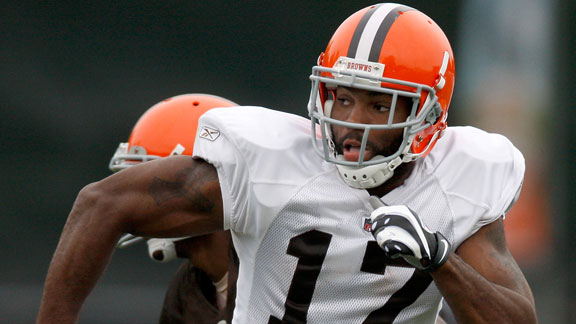 October, 7, 2009
10/07/09
9:37
AM ET

Posted by ESPN.com's James Walker
Receiver
Braylon Edwards
' tenure with the
Cleveland Browns
came to an end Wednesday in a move that was long overdue. These
recent allegations
and his lack of production only
hastened the trade
to the
New York Jets
.
| | |
| --- | --- |
| | |
| | AP Photo/Mark Duncan |
| | The Browns have agreed to trade wide receiver Braylon Edwards to the Jets. |
Cleveland was never a good fit for Edwards. His boisterous, big-city personality often came off as too brash in such a blue-collar city. A trade to New York is an ideal landing spot for the former Browns receiver.
Edwards will be a free agent after the season and made it clear that he wouldn't return. So the winless Browns (0-4) got Jets receiver
Chansi Stuckey
, special-teamer
Jason Trusnik
and two draft picks.
Edwards was rarely happy with the Browns. In the 2005 draft, he believed the
Miami Dolphins
would take him with the second overall pick. But when the Dolphins selected tailback
Ronnie Brown
instead, leaving the Browns to select Edwards at No. 3, the receiver seemed disappointed at the prospect of coming to Cleveland (or not going to Miami).
The initial hunch was correct.
With the exception of some good moments in 2007, Edwards' tenure in Cleveland was mostly a disappointment. He was a late arrival to training camp and later suffered a season-ending knee injury in his rookie year. He's been among the league leaders in drops the past two seasons in addition to several off-the-field incidents that often served as distractions.
Edwards also butted heads with coaches and teammates through the years. One of the more infamous moments came when he was yanking former Browns quarterback
Charlie Frye
's jersey on the sideline while arguing with other players.
Edwards also had a strange complex as a University of Michigan alum playing in Ohio State Buckeye country. He thought he never got a fair shot, but that was terribly overrated. Browns fans mostly were upset with Edwards' drops and inconsistency.
The arrival of coach Eric Mangini, who is a disciplinarian, made it just a matter of time before Edwards exited Cleveland. The Browns couldn't find the right deal in the offseason but they were able to make their second trade in six months with Mangini's former team.
Getting a fresh start is best for Edwards and the Browns.
October, 7, 2009
10/07/09
9:25
AM ET

Posted by ESPN.com's Mike Sando
Mike Moses asks via Facebook
whether the
Jets' acquisition
of receiver
Braylon Edwards
might be linked from a timing standpoint to
Michael Crabtree
's new
deal with the 49ers
.
Mike Sando:
The 49ers did accuse the Jets of tampering with Crabtree during the negotiations, but the timing of these transactions is probably a coincidence. NFL rules would prohibit the 49ers from trading Crabtree's rights before March. The Jets acquired Edwards with the 2009 season in mind.
Also, it's pretty clear those tampering charges would have made it impossible for the Jets to show any sort of interest in Crabtree now or in the future. For that reason, the Jets would not have been waiting to see what happened with Crabtree before deciding to pursue a deal with Edwards.

NFL SCOREBOARD
Thursday, 9/18
Sunday, 9/21
Monday, 9/22