February, 13, 2012
2/13/12
12:00
PM ET
With the offseason in full swing, let's take a look at one major question facing each NFC North team as it begins preparations for the 2012 season:

CHICAGO BEARS
In
last year's version of Leading Questions
, we wondered when the Bears would address the depth behind their aging defensive stars. That issue is still on the table, but of greater 2012 importance is this:
How will the Bears manage their transition to new offensive coordinator Mike Tice?
Tice will retain much of the terminology and some of the philosophy from former coordinator Mike Martz. But Tice has his own spin on the "three-digit offense," and the Bears will need to realign behind a power running game and a passing approach that emphasizes downfield throws.
Tight end and receiver are two positions the Bears need to focus on this offseason, either by developing their existing players like
Kellen Davis
and/or acquiring a legitimate downfield threat. New general manager Phil Emery should have more than $20 million in cap space to work with, and the free-agent market should be deep with receivers.
But to make Tice's offense work, Emery will also need to ensure the return of free-agent tailback
Matt Forte
and find him a reliable backup as well.
DETROIT LIONS
In a tight salary-cap situation, can the Lions keep their nucleus together and add where needed?

Years of high draft positioning made the Lions a talented team but also one facing a cap crunch in 2012. Preliminary cap reconciliation leaves the Lions with $122 million in cap commitments, about $2 million above the estimated $120 million cap. And that total doesn't include three defensive starters who are pending free agents: defensive end
Cliff Avril
, middle linebacker
Stephen Tulloch
and cornerback
Eric Wright
.
The Lions will need to find ways to shave from that total, whether it's borrowing from future caps -- a tool now available in the NFL's new collective bargaining agreement (CBA) -- or reducing the cap figures in existing contracts.
As we've discussed, receiver
Calvin Johnson
should be the first target for a cap-reducing contract extension. He's projected to account for about $22 million against the cap in the final year of his rookie deal. Johnson, quarterback
Matthew Stafford
, defensive tackle
Ndamukong Suh
and defensive end
Kyle Vanden Bosch
are estimated to account for nearly half of the Lions' total cap allotment.
What does all this mean? We are all figuring out the NFL's new salary-cap rules together, but it's clear the Lions must make some difficult short-term decisions and weigh them against long-term prosperity.

GREEN BAY PACKERS
What can the Packers do to improve a pass defense that gave up more passing yards than any team in NFL history?
The easiest answer is to address the pass rush, which weakened in 2011 when the Packers couldn't find a suitable replacement for departed free agent
Cullen Jenkins
. The rush could come from the defensive end position, where the Packers have waited two years for the highly touted
Mike Neal
to make an impact, or through acquiring a pass-rushing outside linebacker.
General manager Ted Thompson has been reluctant in recent years to utilize veteran free agency, and the truth is that few teams allow a legitimate pass-rusher to depart without compensation. But the situation was serious enough in 2011 that Thompson will at least need to consider every avenue available for a substantial and fast-acting solution. The Packers had 29 sacks in 2011, tied for the third-worst total in the NFL.
Parallel to that issue, however, Thompson will also have to monitor a situation at safety that contributed to the Packers' defensive problems in 2011. Pro Bowl safety
Nick Collins
will find out in March whether he can continue his career or if he must retire because of a serious neck injury. The Packers missed his leadership and instincts in center field and would need to acquire a long-term replacement if he retires.

MINNESOTA VIKINGS
The development of quarterback
Christian Ponder
will dominate many of the Vikings' offseason headlines, but there is an equally important question hovering over the team:
How fast can it upgrade its historically poor pass defense?
Vikings opponents finished the season with a 107.6 passer rating, the third-highest figure in NFL history. Their eight interceptions tied for the league's lowest total in 2011 and only one player among the back seven who started the majority of games in 2011 -- linebacker
Chad Greenway
-- is assured a starting job in 2012.
It's difficult to replace six starters in one offseason, but the Vikings have already begun their defensive overhaul by hiring new defensive coordinator Alan Williams, bringing back Brendan Daly as their defensive line coach and making former coordinator, Fred Pagac, their primary linebackers coach.
The personnel situation is most dire in the secondary, where two of the Vikings' primary safeties --
Husain Abdullah
and
Tyrell Johnson
-- are free agents. Talented cornerback
Chris Cook
, suspended for the final 10 games of the season following a domestic-violence incident, remains in limbo. Cook's trial date is tentatively scheduled for March 5. The future of veteran cornerback
Antoine Winfield
must be addressed as well; Winfield turns 35 in June.
January, 19, 2012
1/19/12
1:25
PM ET
Just to keep you updated, the Minnesota Vikings have made it official: Former Indianapolis Colts defensive backs coach Alan Williams is their new defensive coordinator and Brendan Daly will take over as their defensive line coach.

A news release made no mention of former coordinator Fred Pagac,
who reportedly will share duties
as linebackers coach with Mike Singletary, who will also be a special assistant to the head coach. I'll withhold most comments until later Thursday, when we should hear from coach Leslie Frazier.
In general, however, I would view these moves as more of a re-shuffling than a shakeup considering the familiarity of all involved. Frazier and Williams worked together on the Colts' staff in 2005 and 2006, and both are devoted to former Colts coach Tony Dungy's Tampa-2 defense. Williams was once part of a Tampa Bay Buccaneers staff that included Dungy as the head coach and former Vikings defensive coordinator Mike Tomlin as the defensive backs coach.
Daly was the Vikings' assistant defensive line coach from 2006-08, the final two years under Frazier. He replaced Karl Dunbar, who was fired. It is presumed that defensive backs coach Joe Woods will return in his current role. More to come.
November, 18, 2011
11/18/11
1:31
PM ET
»
NFC Final Word
:
East
|
West
|
North
|
South
»
AFC
:
East
|
West
|
North
|
South
Five nuggets of knowledge about Week 11:
Skelton's opportunity.
Arizona Cardinals
quarterback
John Skelton
steps up in class when he faces the
San Francisco 49ers
' defense. The matchup figures to be a tough one from a protection standpoint, but the Cardinals have found ways to strike for big plays this season. They have seven pass plays of at least 40 yards this season, fourth-most in the league behind Detroit, Green Bay and Houston. The 49ers have given up seven such plays, tied for fourth-most in the league. That gives Arizona a puncher's chance against the 49ers. And if Skelton can somehow pull out a victory, his stock will rise considerably.
[+] Enlarge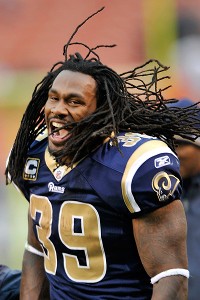 David Richard/US PresswireThe Rams' Steven Jackson has 30 career games with at least 100 rushing yards.
Ganging up on power backs.
Steven Jackson
,
Marshawn Lynch
,
Beanie Wells
and
Frank Gore
give the NFC West four running backs able to dish out punishment. All are physical runners. I'm most interested in seeing whether Jackson can top 100 yards rushing for the fourth game in a row. He has 30 career games with at least 100 yards, but none against Seattle. That's surprising given that Jackson has faced the Seahawks more times than he has faced any other team -- 14, counting playoffs.
49ers hold their ground.
Every NFL team but the 49ers has allowed at least three rushing touchdowns this season. San Francisco has allowed zero. The 49ers are the first team since the 1999
Jacksonville Jaguars
to go nine games into a season without allowing one, according to ESPN Stats & Information. The Cardinals rank tied for 11th in the league with eight rushing scores, but they have zero in their past two games. Wells' injured knee has robbed power from him. Wells had only 10 carries for 29 yards against the 49ers last season. He did carry 15 times for 79 yards against them as a rookie in 2009.
Cornerbacks in focus.
The
St. Louis Rams
and
Seattle Seahawks
will play without cornerbacks
Ron Bartell
,
Bradley Fletcher
,
Jerome Murphy
,
Al Harris
,
Walter Thurmond
or
Marcus Trufant
, among others. The team best able to exploit issues in the secondary could prevail. Seattle feels better about its cornerback situation, but the raw talent is questionable. Two of the Seahawks' five players at the position were undrafted. Two others are rookies. None of the five was drafted earlier than the fifth round. That was partly by design, however. The team traded 2006 first-rounder
Kelly Jennings
and 2007 second-rounder
Josh Wilson
.
Explosive potential in return game.
Patrick Peterson
and
Ted Ginn
Jr. give the Cardinals-49ers game big-play potential on returns. Peterson has helped Arizona go from 27th last season to second this season in punt-return average. He leads the NFL in that category with a 17.6-yard average among players with more than 15 punt returns. His three touchdowns on punt returns also lead the NFL. The 49ers' Ginn ranks third in punt-return average and third in kick-return average among players with more than 15 returns in each category. He also has two touchdowns. The Cardinals' kick returner,
LaRod Stephens-Howling
, has been quiet this season. He scored three times on returns over the previous two seasons.
February, 17, 2009
2/17/09
7:42
AM ET
Posted by ESPN.com's Kevin Seifert
To the extent there have been rumors about a possible position change for Chicago cornerback Charles Tillman, Brad Biggs of the Chicago Sun-Times reports it won't happen.
There have been suggestions that Tillman could move to safety and replace veteran Mike Brown, who was told last week he won't be offered a new contract. But Tillman, who is recovering from shoulder surgery, is expected to remain at cornerback, according to the report.
In the end, finding a replacement for Tillman at cornerback would have proved more difficult than replacing Brown.
Tillman won't be cleared in time to participate in the Bears' mandatory minicamp next month. He should be ready for training camp.
Continuing around the NFC North:
January, 31, 2009
1/31/09
10:29
AM ET
Posted by ESPN.com's Mike Sando

Mike Tulumello of the East Valley Tribune looks into Kurt Warner's chances for the Hall of Fame. One voter says Warner won't be in the conversation without a victory over the Steelers in Super Bowl XLIII.
Bernie Miklasz of the St. Louis Post-Dispatch quotes Marshall Faulk and Joe Montana as saying Warner should be in the Hall of Fame either way.
Also from Miklasz: Brenda Warner speaks for her husband at the NFL's man of the year news conference.

Kent Somers of the Arizona Republic checks in with Cardinals general manager Rod Graves, who declines to gloat about the team's success.
Also from Somers: He sizes up Russ Grimm's chances for the Hall of Fame.
More from Somers: Cardinals coach Ken Whisenhunt consults the notes he took while observing other coaches, including Bill Cowher.
Darren Urban of azcardinals.com asks Cardinals players about differences between Whisenhunt and former coach Dennis Green. Urban: "Safety Adrian Wilson said too often there were two different messages coming from the coaching staff -- one from Green, and one from the assistants."
Bob McManaman of the Arizona Republic explains how Cardinals rookie Dominique Rodgers-Cromartie made it through the week, which included a short trip home Tuesday.
Dan Bickley of the Arizona Republic follows Rocky Bleier and Mike Ditka on an emotional visit to a veterans hospital. Bleier, the Vietnam veteran and former Steelers fullback, discourages comparisons to former Cardinals safety Pat Tillman, who died in Afghanistan. Bleier: "I got drafted. Pat chose. There's a big difference."
Ginger Rough of the Arizona Republic looks at the Cardinals' revamped conditioning program.
John Faherty of the Arizona Republic checks in with Cardinals fans in Tampa. They feel outnumbered.
Scott Bordow of the East Valley Tribune compares the current Cardinals organization to the Steelers of nearly 40 years ago.
Revenge of the Birds' Hawkwind looks at keys to the game for Arizona.
John Dudley of Cold, Hard Football Facts makes a case for the Cardinals as Super Bowl champs. Ken Whisenhunt has an 8-1 record in postseason as an assistant and head coach.
Aaron Schatz of Football Outsiders previews Super Bowl XLIII: "The real mystery of the Arizona playoff surge is the improved pass defense."
Doug Farrar of Football Outsiders profiles the Cardinals' Karlos Dansby and others. Farrar: "Given Pittsburgh's reliance on the pass in situations both conventional and unconventional (hint: a lot of third-and-short), don't be surprised if Dansby has the modus operandi for success."

Jim Thomas of the St. Louis Post-Dispatch says the hiring of Kevin Demoff puts the Rams in position to start negotiating contracts with key players, including Oshiomogho Atogwe and Ron Bartell. Also, Brendan Daly is joining the Rams' coaching staff, probably to oversee the defensive line. Finally, former Rams assistant Jeff Horton is joining former Rams head coach Scott Linehan in Detroit.

The 49ers' Web site provides a transcript of Jimmy Raye's conference call with reporters.
Also from the 49ers: a transcript of Mike Singletary's conference call with reporters.
More from 49ers: links to recent interviews involving team president Jed York.
Niners scout Quentus Cumby picks the Cardinals to beat the Steelers. Cumby: "The first half of the game, I think both teams will be feeling each other out and Pittsburgh may have the upper hand early on. As soon as Arizona realizes that it's just another football game, I think they're going to explode."
Niners assistant Tom Rathman explains why he's rooting for Arizona in the Super Bowl. He doesn't want the Steelers to pass the 49ers in Super Bowl victories.
John Crumpacker of the San Francisco Chronicle says the hiring of Raye and quarterbacks coach Michael Johnson rounds out the offensive staff.
Matt Maiocco of the Santa Rosa Press-Democrat offers highlights from the conference calls with Raye and Singletary.
Also from Maiocco: Raye's philosophy lined up with that of Singletary.
Matt Barrows of the Sacramento Bee says the 49ers would like Johnson to eventually succeed the 62-year-old Raye as coordinator.
Dan Brown of the San Jose Mercury News says the 49ers and Raye are the same age. Also: "Raye pointed to his successful 2000 Chiefs team as evidence that he can air it out when called upon. Quarterback Elvis Grbac threw for 4,169 yards and 28 touchdowns that season, while tight end Tony Gonzalez and rece
ivers Andre Rison and Derrick Alexander also had big seasons."
Note: If you see anything from the Seahawks or more stories worth checking out, please share links in the comments. Thanks.