November, 21, 2011
11/21/11
12:32
AM ET
SAN FRANCISCO --
Vernon Davis
, once the
San Francisco 49ers
' publicly brashest player, has grown into a reliable source of perspective.
The Pro Bowl tight end broke open the 49ers'
23-7
victory over Arizona with a second-half touchdown reception Sunday. He said the 49ers have long been a confident team, but in past seasons, doubt crept in when the defeats piled up.
Now, at 9-1, the doubt is gone. Why? One reason, Davis said, was the new coaching staff's insistence upon coaching to the smallest details, a theme quarterback
Alex Smith
has hit upon as well.
"It makes a big difference in my eyes, I believe," Davis said. "A little thing could be me getting the correct depth on my route that's 12 yards. Don't get 11, get 12. Don't get 14, get 12, those type of things. Catching the ball with your eyes. Whether it's (tackle)
Anthony Davis
getting his second step down right after his first step, those little things right there can make a difference, a big difference."
Right, but didn't previous coaches emphasize details as well?
"One thing that I found out is that you can focus on the little things as much as you can, year after year after year, but you revert back to your bad habits," Davis said. "You always revert back. That's what the coaches are there for: to get on you. Sometimes, you get coaches that don't really talk about the little things. You might be doing so well that they don't mention the little things to you."
The 49ers won comfortably Sunday, but their offense and special teams didn't do all the little things well. There were blocked field goals, dropped passes, errant throws and penalties in the return game.
Davis' touchdown reception was the 34th of his career, moving him past
Brent Jones
on the 49ers' all-time list for tight ends. Again, though, Davis sought perspective.
"It's a great feeling," he said. "The win meant more to me today. I'm more excited about the win than anything. I can celebrate the touchdown catch later. It's all about winning right now and that's what I'm most excited about."
June, 24, 2010
6/24/10
9:30
AM ET
Notable players:
QB
Joe Montana
, QB
Steve Young
, WR
Jerry Rice
, WR
John Taylor
, RB
Roger Craig
, FB
Tom Rathman
, TE
Brent Jones
, G
Guy McIntyre
, FS
Ronnie Lott
, OLB
Charles Haley
, DE
Pierce Holt
, DE
Kevin Fagan
, OLB Keena Turner, LB Matt Millen.
[+] Enlarge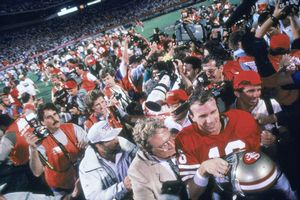 Andy Hayt/Getty ImagesJoe Montana and the 49ers were at the height of their success during the 1989 season.
Analysis:
The
San Francisco 49ers
had multiple teams worthy of consideration as the best in franchise history. I'll take the one that outscored its opponents 126-26 during the postseason, including 55-10 over the
Denver Broncos
in the Super Bowl. Denver led the NFL in scoring defense that season.
The 1989 team featured the 49ers' offense at the peak of its powers.
Joe Montana averaged 9.1 yards per attempt with 13 starts that season. The figure for three-game starter Steve Young -- 10.9 yards per attempt -- was even more ridiculous.
Drew Brees
set a career high at 8.5 yards per attempt last season.
Tom Brady
's average was 8.3 during his historic 2007 season.
Dan Marino
was at 9.0 in his 1984 career season. None could match the 49ers' top two quarterbacks during this special season.
This was the first 49ers team of the 1980s without Bill Walsh, but offensive coordinator Mike Holmgren was still there, as were nearly all of the team's iconic offensive players from the decade. Tight end Brent Jones emerged as a starter. Roger Craig topped 1,000 yards rushing. Fullback Tom Rathman caught 73 passes. Montana set a career high for passer rating at 112.1, completing 70.2 percent with 26 touchdowns and eight interceptions. Rice caught 17 touchdown passes while averaging 18.1 yards per reception.
The defense was typically overlooked except by those forced to play against it.
John Elway
completed only 10 of 26 passes for 108 yards and two interceptions against the 49ers in the Super Bowl.
"Their defense doesn't get enough credit," Broncos coach
Dan Reeves said
afterward. ''I can't say enough about them.''
Walsh later regretted retiring. This team made it easy to see why.
Most impressive win:
Having already touched on the Super Bowl victory, let's focus on the victory that delivered the NFC West title to San Francisco that season. Montana passed for 458 yards, including 286 to receiver John Taylor, and the 49ers twice overcame 17-point deficits to edge the division-rival Rams, 30-27, on the road.
Transcending Walsh:
This 49ers team became the only one in NFL history to win back-to-back Super Bowls with different head coaches. The change from Walsh to George Seifert might have actually helped this team, at least for a season. The offensive-minded Walsh left the defensive-minded Seifert with a veteran offense trained to function at a high level without much big-picture help. Holmgren took the best of what Walsh taught him and made it even better with his own tweaking. In that sense, the 1989 team might have gotten the best of what Walsh and Holmgren had to offer. Montana was also at his best. He never enjoyed a finer season.
Honorable mention
1984:
This was the team that knocked off Marino in the Super Bowl after the quarterback shredded defenses for a then-record 48 touchdown passes. This was a great 49ers team with a franchise-best 15-1 record, but the best group in 49ers history needed to include Rice, I thought. He arrived the next year.
1994:
Proponents of this team will point to a defense featuring
Deion Sanders
,
Rickey Jackson
,
Ken Norton
,
Merton Hanks
,
Eric Davis
,
Tim McDonald
,
Bryant Young
and others. They'll point to Young's record six touchdown passes against the
San Diego Chargers
in the Super Bowl.
1948:
Let's save some recognition for one of the early 49ers teams. This one outscored opponents by more than 17 points per game on its way to a 12-2 record. Frankie Albert put up modern-day numbers with 29 touchdown passes, 10 interceptions and a 102.9 rating.
February, 6, 2010
2/06/10
8:00
PM ET
FORT LAUDERDALE, Fla. --
Jerry Rice
left nothing to chance during his NFL career with the
San Francisco 49ers
,
Oakland Raiders
and
Seattle Seahawks
.
The all-time receiving leader certainly wasn't banking on enshrinement in the Pro Football Hall of Fame, even if others viewed his candidacy as a no-brainer.
[+] Enlarge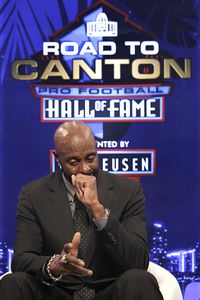 AP Photo/Wilfredo LeeAn emotional Jerry Rice reacts to his induction into the Hall of Fame.
"It means the world because a weight is on your shoulder for so long and you just never know," Rice said after his selection as part of the 2010 class. "I never took it for granted. I'm a very superstitious guy and I didn't think of myself as being a shoo-in."
Rice's face revealed elation even well after his name was announced.
"When my name got called, it was just like when I got drafted by the San Francisco 49ers," he said. "All the emotions hit and like I said, I'm glad to be part of this class. Now I get a chance to say thank you to everyone that played a very important part in my life: my family, my coaches -- high school, college, professionally -- the fans and media because I drew energy from my fans and also from the people who supported me."
Rice became emotional when reflecting on his late father, the late Bill Walsh and the values his parents instilled in him through hard work and old-school discipline. Rice recalled the way his father made him lay bricks as a kid and the hard stares his dad would give him when young Jerry needed to be kept in line. He also admitted that some 49ers teammates initially wondered if he was showboating when he insisted upon taking every reception to the end zone during practices.
"But then it became contagious and
Roger Craig
started doing it,
Brent Jones
, and it was all for just getting in position so you could make blocks downfield," Rice said. "If you came to a practice for the San Francisco 49ers, it was just like a game situation."
Rice voiced support for Craig,
Charles Haley
,
Tim Brown
and the other former teammates who fell short on Hall of Fame voting.
Brown, one of 15 finalists this year, called Rice and offered congratulations -- on Friday.
"But still, I didn't take it for granted," Rice said. "I think he deserves to be in here, also."
March, 19, 2009
3/19/09
8:15
AM ET
Posted by ESPN.com's Mike Sando

Jim Thomas of the St. Louis Post-Dispatch checks in with Marc Bulger as the Rams' quarterback learns a new offense. Bulger expects the offense to be more receiver friendly. That is probably true once the ball is snapped. I'll be curious to see how the receivers and everyone else handles learning the extensive verbiage associated with this system. The Seahawks are navigating away from some of those complexities, hoping shorter learning curves will help receivers become productive with less time in the offense.

John Crumpacker of the San Francisco Chronicle says the 49ers' interest in Steelers free-agent tackle Marvel Smith comes amid concerns about Smith's history of back injuries. Smith's agent says his client is healthy and eager to play near his Bay Area roots.
Mark Purdy of the San Jose Mercury News offers good-natured advice for 49ers coach Mike Singletary. He discourages any potential interest in Broncos quarterback Jay Cutler while suggesting Singletary model some Vernon Davis dreads to keep the players loose.
Daniel Brown of the San Jose Mercury News says former 49ers tight end Brent Jones is among those offering post-career advice to current NFL players at the Stanford Graduate School of Business. Jones on retiring young: "Golf gets old after a year."

Darren Urban of azcardinals.com says re-signing Bertrand Berry helps the Cardinals on the field and in the locker room. Same for bringing back Clark Haggans. Urban: "Having guys like him, Haggans and Bryan Robinson still around is big for a guy like Darnell Dockett. I am interested to see how Dockett is going forward, knowing he still wants an upgraded contract and now that his best buddy Antonio Smith isn't around."

John Morgan of Field Gulls offers names for consideration on a round-by-round basis as the Seahawks approach the draft. His thoughts on Eugene Monroe: "Monroe makes too much sense for too many reasons to ignore. He's probably the best offensive tackle in the draft, though some prefer Jason Smith's potential. He's athletic, with great feet; a great fit in a classic zone-blocking scheme, and is an already polished, even dominant pass blocker. Sean Locklear stays left tackle. Ray Willis sticks at right guard. Walter Jones, if he can play, sticks at left tackle and Monroe develops under one of the all-time greats while playing left guard."
ESPN's John Clayton checks in with former Seahawks receiver Bobby Engram. Engram on joining the Chiefs: "This is a young team. I'm excited about working with Matt Cassel. He's calm and collected, and he makes crisp, sharp decisions on the field. This is a team that played well but struggled to win games late in the fourth quarter. You go in there and try to lead by example."
NFL SCOREBOARD
Sunday, 2/2
WEEKLY LEADERS