NFL Nation:

Brenton Bersin
August, 17, 2014
Aug 17
11:26
PM ET
CHARLOTTE, N.C. -- The
Carolina Panthers
for most of the first quarter of Sunday night's
28-16 victory
over the
Kansas City Chiefs
looked like the team many predict will take a big fall in 2014.
And then they didn't.
With quarterback
Cam Newton
finally getting into a rhythm in his first preseason game since undergoing left ankle surgery in March, the Panthers went into halftime with a 14-6 lead after both teams played their first string.
Newton didn't do anything spectacular and missed rookie wide receiver
Kelvin Benjamin
wide open early down the left sideline. But the ankle held up as he scrambled three times, and he completed three of his final four pass attempts for 60 yards.
Overall, it was a positive first step. Here are some other thoughts on the Panthers' second preseason game of the year:
A few more thoughts on Newton, who finished 4-of-9 for 65 yards. It had to be a confidence-builder for him and the coaching staff that he spun out of trouble under a heavy rush before going down. If this was a regular-season game, he might have turned one or two into positive yards. The ankle looks good to go.
As much as Newton's return was anticipated, the return of running back Jonathan Stewart also spoke volumes. Stewart has been hampered by ankle injuries the past two seasons, and he entered training camp with a hamstring injury. But he looked stronger and more fluid than ever in rushing for touchdowns of 2 and 3 yards, his first time in the end zone since late in the 2012 season. His presence as an inside threat brings back visions of 2009, when he and DeAngelo Williams became known as "Double Trouble.''
Benjamin made two tough catches over the middle, one from Newton and one from backup Derek Anderson, to further he is a legitimate No. 1 receiver. He also made a rookie mistake, head-butting the defender late in the first half after making a spectacular catch out of bounds. That earned him a good talking to from coach Ron Rivera.
The defense started off slow for the second straight week, with the secondary looking shaky at best. But the Chiefs were held to two field goals, and the Panthers tightened things up in the second quarter. Cornerbacks Antoine Cason, Melvin White and Josh Norman made big plays.
The offensive line still has some question marks. Newton was sacked twice and Anderson once in the first half. Right tackle Nate Chandler struggled some early and was replaced by veteran Garry Williams for a series. Williams gave up a sack. Left tackle Byron Bell, however, held his own.
Kenjon Barner looked good on a 32-yard kickoff return, which might seal the fate of wide receiver Keahola Pilares, who did not play. Barner still is scary in pass blocking, allowing the defender to get past him almost untouched to sack Anderson.
Brenton Bersin's touchdown catch in the third quarter and an earlier catch in which he went low against good coverage might have solidified his spot as the fourth or fifth receiver.
August, 11, 2014
Aug 11
5:45
PM ET
SPARTANBURG, S.C. -- A daily review of the hot topics coming out of the
Carolina Panthers
training camp from Wofford College:
Twenty years ago, for Carolina's inaugural trip to Wofford College for camp, there were 10 consecutive days when the temperature topped 100 degrees. It was an issue. This year it's the lack of heat that concerns coach Ron Rivera. He would have liked a few more hot, humid days to prepare Carolina for what it will face in the opener at Tampa Bay. Many days have been in the 70s. One practice was so cool that Rivera had to wear a jacket. So when the humidity rose toward the end of Monday's practice, you could see players wear down and the intensity decline. Rivera spent longer than normal talking to the team afterwards, reminding "you've got to fight it because that's probably what we're going to face when we go to Tampa Bay.''
Tight end/fullback Richie Brockel demonstrated why he will make the final roster during one-on-one drills with the linebackers. First he handled outside linebacker Thomas Davis and then he held his own against linebacker Chase Blackburn. Rivera said Brockel demonstrates the kind of toughness he wants to see from all his players. "It transfers to the rest of the team,'' he said. Brockel jokingly said he volunteered to play defense.
Rivera says he hasn't settled on a starting offensive line, but it appears set with Byron Bell at left tackle, Amini Silatolu at left guard, Ryan Kalil at center, Trai Turner at right guard and Nate Chandler at right tackle. The position of most concern entering camp was left tackle. Bell started the preseason opener and was there again for Monday's practice in full pads. He left at one point with a minor issue with patella tendinitis, but Rivera insisted that won't keep him out of a game. Garry Williams finished at left tackle and likely will give relief to both tackles when the season begins.
Undrafted rookie running back Darrin Reaves left practice with a knee injury and likely will be held out the next few days. He's impressed with his toughness and hard-nosed running, in some ways more than Kenjon Barner. Also out were defensive end Charles Johnson (hamstring), defensive end Mario Addison (flu), defensive end Kony Ealy (foot) and offensive lineman Derek Dennis (flu).
Wide receivers Tiquan Underwood, Brenton Bersin and Tavarres King began one segment of team drills so the coaches could get an idea of what they can do with quarterback Cam Newton. The staff is looking for a few receivers to consistently step up after the top three of Kelvin Benjamin, Jerricho Cotchery and Jason Avant. Underwood, signed as a free agent, looked good with a catch on the first play. Then he dropped the second pass that hit him in the numbers. If you were setting the 53-man roster today, he'd be around 54 or 55.
The Panthers practice at 9:25 a.m. ET on Tuesday, the final session of camp in Spartanburg before returning to Charlotte, N.C., for the rest of the preseason.
August, 9, 2014
Aug 9
11:45
AM ET
CHARLOTTE, N.C. -- "Smoo" or "Schmoo" or whatever
Carolina Panthers
quarterback
Cam Newton
called rookie wide receiver
Kelvin Benjamin
after Friday night's amazing catch, it's a keeper.
Think about it. Every time Benjamin makes a big catch the crowd can shout "Smoooooooooo" or "Schmooooooo." It will sound like a boo just like it does when the crowd screams "Luuuuuuuuuu-ke'' when middle linebacker
Luke Kuechly
makes a big play.
[+] Enlarge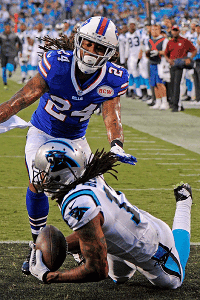 AP Photo/Mike McCarnKelvin Benjamin showed the ability to make key catches on Friday.
And if Friday night and training camp are good indicators, Benjamin will make plenty of big catches.
If you missed the one in the 20-18 preseason loss to the
Buffalo Bills
, the former Florida State standout stepped on the heel of cornerback
Stephon Gilmore
as he approached the goal line, stumbled to the ground, gathered himself and sprawled his 6-foot-5, 240-pound body out as he went to the ground for the catch.
"Smooooooooooo!!!"
"Schmooooooooo!!!"
We may never know what "Smoo" or "Schmoo" means. Benjamin has no idea and Newton says "the world may never know."
When pressed if perhaps it could be short for "Smooooooth," Newton replied to the reporter, "Mr. Newton, you are too impatient."
No arguments here.
Regardless, "Smoo" or "Schmoo" is a keeper.
Here are a few other leftover thoughts from Carolina's preseason opener:
Third-string quarterback Joe Webb did about everything the Panthers imagined when they signed him to imitate starter Cam Newton. He completed 16 of 28 pass attempts for 180 yards and a touchdown. He led the team in rushing with 30 yards on four carries. Unfortunately, when all is said and done I just don't see the Panthers keeping three quarterbacks even though coach Ron Rivera says it's a possibility.

With Benjamin, Jerricho Cotchery and Jason Avant locks at wide receiver, the other two or three spots remain up for grabs. Tavarres King helped his stock with four catches for 50 yards. He had another long reception negated by a holding call. Undrafted rookie Philly Brown caught three passes for 23 yards. Marcus Lucas had a costly drop. Brenton Bersin, who has impressed in camp, was targeted four times but caught only one pass for 19 yards. Stay tuned.

Tight end Brandon Williams deserves a spot on the final roster. The former college basketball player has been impressive in camp, and he backed that up with three catches for 50 yards and a touchdown against Buffalo.

Cornerback Josh Norman continues to be a training camp phenom. The former Coastal Carolina star, who had four interceptions during one practice in 2012 and led the Panthers in picks during the 2013 preseason, had another in the end zone against Buffalo to draw praise from Rivera.

How valuable is kicker Graham Gano, who did not play with a sore lower back? His replacement, Jordan Gay, missed the first extra point from 33 yards. That forced Carolina to go for two after its next two touchdowns. Had Gano played and made the first, Carolina kicks the last two and wins 21-20.

Newton didn't get the "official" word he was being held out until he was getting treatment before kickoff even though Rivera and company never had serious plans to play him. As I said on Friday, it was the right call. No need to rush him back until he's turned fully loose to run in practice, which should be soon. "It's not how I felt, it's about my progression," Newton said. "It's a plan that's in place for me to be back there. Do I want to be out there? Absolutely I do. But have to be smart. Have to be coachable, too."

Sunday's 6:10 p.m. ET practice at Wofford College in Spartanburg, S.C., has been moved to 3:10 p.m. The 3:10 p.m. Monday and Tuesday practices will be moved to 9:25 a.m. as the Panthers wrap up camp.
July, 31, 2014
Jul 31
5:58
PM ET
SPARTANBURG, S.C. -- A daily review of the hot topics coming out of the
Carolina Panthers
training camp:
Cam Newton overthrows a pass off the outreached fingertips of wide receiver Jerricho Cotchery. Newton throws a pass high and wide to tight end Greg Olsen. Newton throws high again. Yes, the franchise quarterback struggled early on this rainy Thursday morning. It had nothing to do with his left ankle, on which he underwent surgery in March. Asked if the weather had anything to do with it, coach Ron Rivera emphatically and sternly said, "No.'' But the struggles were noticeable, enough that the Panthers ran a couple of segments again. "He was perfect," Rivera said of Newton the second time around. "Once he got into his rhythm, he practiced very well down the stretch." Newton was especially impressive on his final two-minute drills -- or 1:30, as the Panthers like to go with -- finishing a drive with a touchdown pass over the middle to Cotchery. Newton also was more active in talking to his wide receivers and tight ends about what they were doing as it related to him.
With first-round draft pick Kelvin Benjamin (bruised left knee) out another day, former Wofford standout Brenton Bersin opened as the first-string slot receiver when the Panthers opened in team drills. Normally, Jason Avant or Cotchery line up there with Benjamin on the field. Bersin's presence shows just how far he has come from an undrafted free agent cut early in 2012 to making the practice squad a year ago. Rivera said Bersin could help the team and he wants to see how he does against the first-team defense. Tavarres King also had a good day of practice. Three straight, according to Rivera, as the Panthers look to rebuild at receiver. Meanwhile, Benjamin's rehab is coming along nicely from his knee injury. There's still no timetable for his return, only that he will be re-evaluated before Friday's practice. He is not expected to miss next week's preseason opener against Buffalo.
With left tackle Jordan Gross retired, the Panthers are looking for more leadership out of center Ryan Kalil. Rivera has been impressed with the way the four-time Pro Bowl selection has been more vocal in camp. Kalil admits he doesn't like speaking to groups as much as Gross did, but there's no doubt his leadership up front will be key to how this rebuilt line performs.
The Panthers practiced kickoff returns for the first time in camp. Wide receiver Tiquan Underwood and fullback Mike Tolbert were the first pair deep. The speedy Underwood was signed as a free agent wide receiver, but he hasn't done anything particularly noteworthy there. His best way to secure a roster spot might be as a return specialist. Tolbert's primary role on kickoffs is supposed to be as a blocker, but a couple of times, the 2013 Pro Bowl selection lined up as the primary returner. Rivera quickly reminded the player known as "Fat Guy" -- among other things -- that he should return kicks only in "emergency" situations.
Outside linebacker Thomas Davis looked like he was searching for a contact early in practice as he and several trainers scoured the field. He actually lost a diamond earring. He stayed afterward looking for it, but no luck. Davis wasn't as much concerned with the earring as he was having to file an insurance claim on it. Maybe it will show up later, as his lost wedding ring once did.
The Panthers practice at 9:25 a.m. again on Friday. The forecast is for more rain.
August, 27, 2012
8/27/12
3:16
PM ET
Olindo Mare
, who received a huge contract from the
Carolina Panthers
last year, won't be handling the kickoff duties for the team this year.

The Panthers announced Monday that Mare has been released. Presumably, that means former Canadian League player
Justin Medlock
has won what was a competition for Carolina's kicking job throughout the preseason.
Mare's signing last year caused controversy because the Panthers released
John Kasay
, the final remaining player from their 1995 expansion team, to make room for Mare. The thinking was that Mare was as accurate as Kasay and could also handle kickoff duties. But Mare had a disappointing 2011 season and missed some crucial field-goal attempts. The Panthers brought Medlock in as competition and decided to let Mare go.
Although the Panthers gave Mare a four-year, $12 million contract last year, the salary-cap implications of his release are minimal. Mare was scheduled to count $3.2 million against this year's salary cap. By releasing him, the Panthers still will be responsible for $3.1 million.
The kicker job isn't the only area where the Panthers are going in a younger direction. They also released veteran
Nick Harris
. That means the Panthers are ready to go with rookie
Brad Nortman
as their punter. The Panthers drafted Nortman in the sixth round. They brought in Harris to compete with him and Nortman won the job.
As Carolina trimmed its roster to 75 players, there were several other moves of note.
Receiver
David Gettis
, who missed last season with a knee injury, has been placed on the physically unable to perform list. Gettis, who had been considered a candidate to start, wasn't able to get healthy enough during the preseason. By going on PUP, Gettis now can be activated after six games. The Panthers also placed cornerback
Brandon Hogan
on the reserve/injured list. Hogan had been considered a candidate for significant playing time, but he also was slow in recovering from a knee issue. In the next five days, it will be decided if Hogan will take an injury settlement, be placed on injured reserve for the entire season or be released.
The Panthers also waived receiver
Darvin Adams
, guard
Roger Allen
, receiver
Michael Avila
, receiver
Brenton Bersin
, guard
Will Blackwell
, defensive end
Eric Norwood
, running back
Lyndon Rowells
, tight end
Greg Smith
, running back
Josh Vaughan
and receiver
Rico Wallace
.
NFL SCOREBOARD
Thursday, 11/27
Sunday, 11/30
Monday, 12/1