NFL Nation:

brett brackett
September, 1, 2013
9/01/13
5:00
PM ET
JACKSONVILLE, Fla. -- Jaguars general manager Dave Caldwell had promised that the team would be aggressive when it came to working the waiver wire and trying to improve the bottom part of the roster.

He wasn't kidding.
The Jaguars were awarded seven players off waivers on Sunday, adding receiver Stephen Burton (Minnesota), defensive back Winston Guy (Seattle), tight end Clay Harbor (Philadelphia), guard Jacques McClendon (Atlanta), linebacker Chris McCoy (Philadelphia), linebacker J.T. Thomas (Chicago) and tight end D.J. Williams (Green Bay).
They aren't done yet, either. Caldwell said the team will look at the players other teams released on Sunday and there could be some additional signings on Monday.
"We'll evaluate that pool and from that pool we'll see if we can upgrade somewhere," Caldwell said. "We will always look for an edge and an advantage of where we can try to get better."
Speed and the ability to play on special teams are the two traits for which Caldwell is looking in available players. Six of the seven players signed have special-teams value.
"It's something we've looked at the whole time," Caldwell said. "We're always going to look to get better in every phase, not just special teams. It's offense, defense, [and] it's personnel. Whatever we're doing we're going to work to get better. We felt like when we came here in the offseason we wanted to upgrade our team speed. We feel like we didn't completely do that in the offseason but we feel like we did that today."
To make room for the seven additions, the Jaguars cut defensive back
Antwon Blake
, tight end
Brett Brackett
, center
Dan Gerberry
, defensive tackle
Kyle Love
, fullback
Lonnie Pryor
, receiver
Jordan Shipley
and linebacker
Andy Studebaker
.
The Jaguars also signed the following players to the practice squad: cornerback Marcus Burley, defensive end
Ryan Davis
, receiver Jeremy Ebert, guard Drew Nowak, receiver Tobais Palmer, quarterback Matt Scott, and safety Steven Terrell. The Jaguars have one remaining spot to fill on the practice squad.
Here's a quick look at the seven new players:
Burton:
The former 2011 seventh-round draft pick played in 15 games for Minnesota last season and caught seven passes for 73 yards and one touchdown.
Guy:
He was a sixth-round pick by Seattle last year and played in three games, including the NFC divisional playoff game against Atlanta.
Harbor:
He spent the past three seasons in Philadelphia after the Eagles took him in the fourth round in 2010. He has played in 39 games (18 starts) and has 47 catches for 421 yards and four touchdowns. Also has lined up at receiver.
McClendon:
The former 2010 fourth-round pick by Indianapolis has played in only four games.
McCoy:
Miami selected him in the fourth round in 2010 and he spent that season on the practice squad with three teams (Miami, Houston and Seattle). He spent the past two seasons with Calgary in the Canadian Football League.
Thomas:
Chicago selected him in the sixth round in 2011. After spending his rookie season on injured reserve he played in every game last season for the Bears.
Williams:
He spent the past two seasons with Green Bay after the Packers selected him in the fifth round in 2011. He has nine career catches for 70 yards. He also can line up at fullback.
September, 3, 2012
9/03/12
5:10
PM ET
The
Jacksonville Jaguars
may get more of a test of their depth Sunday in Minnesota than they'd like.

Coach Mike Mularkey told Jacksonville reporters after Monday's practice that starting cornerback
Derek Cox
(hamstring) doesn't look likely to play and would be replaced by
William Middleton
.
And starting right guard
Uche Nwaneri
(sprained ankle) got a rest day and will go through full treatment tomorrow.
"We're hoping to get him back Wednesday," Mularkey said. "That's kind of the plan as we speak. If that's not the case we can work with (Mike) Brewster in there or (Josh) Beekman, either one. We are planning on Uche being back."
The Jaguars also suffered a new injury, as Mularkey watched
Brett Brackett
go down right in front of him with a knee injury. Brackett, a tight end, was recently claimed off waivers from the Eagles.
"I was standing right behind him and it did not look like something simple," Mularkey said. "It looked serious. They're checking him out. They were checking him out at one o'clock today, but it did not look good standing behind him."
If he's lost the Jaguars would be shopping for a third tight end after
Marcedes Lewis
and
Zach Potter
.
August, 6, 2012
8/06/12
12:00
PM ET
BETHLEHEM, Pa. -- A year ago, as excitement swirled around the free-agent-happy
Philadelphia Eagles
and preseason predictions called for big things, something still didn't feel quite right.

"I didn't think the expectations were too high, but I knew that the timing might not match up as quickly as everyone wanted it to," cornerback
Nnamdi Asomugha
said after practice last week. "Because you would hear, 'Oh, they're going to be this, going to be that,' and then you'd come out in practice and you could see us blowing plays. Yes, we could be there, but we weren't there yet. That's what I was feeling in training camp. Right now in training camp, it feels completely different."
Last week, before the Eagles' training camp was rocked by Sunday's news of the death of coach Andy Reid's son Garrett, the atmosphere was serene and businesslike. The players have been practicing together since February, when Asomugha and quarterback
Michael Vick
were organizing players-only workouts at the University of Pennsylvania. And late July welcomed them to one of the hardest-hitting camps in the NFL. Their motivation is clear and simple -- they were 8-8 last year and believe they should have been better. They admit to being downright angry about the way the 2011 season went.
"Yeah, I think there's a determined effort to try to maximize our opportunity," Eagles general manager Howie Roseman said. "You see it from the players. You see it from the coaches. You see it from the support staff. And I think last year, maybe you underestimated how long it takes to acclimate."
No such issues or excuses this time around. This is basically the same group as last year's, with new guys at middle linebacker and left tackle. All of the coaches who were new to the team or their roles last year are back. All of the new schemes implemented last year by defensive coordinator Juan Castillo, defensive line coach Jim Washburn and offensive line coach Howard Mudd are familiar by now, and everybody should be more comfortable in them. If the Eagles flop again, there won't be anywhere to look for explanations other than within. That's why this August's focus is internal, and on the things that are important, rather than any hype they might be attracting.
"I don't want anyone buying into anything," Asomugha said. "I just want us to get into this season and just play the way we know how to play. I'll be completely honest with you: Our team looks very good. Obviously it's camp, we're not playing against anybody. But we're under specific instruction: Don't talk. Don't blow this thing up. Don't nothing. Let's just get in the season and let's just start playing football."
Once they do that, the Eagles believe that this time around, everything will be just fine.
THREE HOT ISSUES
1. Can Vick lead them to greatness?
There is no player in the league under more pressure in 2012 than Vick. The brilliance of his 2010 season was away under the disappointment of his injury- and interception-riddled 2011, in which he failed to take that critical next step in his late-career development as a leader and a quarterback. The popular narrative is that this is the first time since 2006 in Atlanta that Vick has had a real offseason as a team's starting quarterback. He began 2010 as the Eagles' backup, and the 2011 offseason was wiped away by the lockout. The result, everyone says, is that Vick has spent more time than ever before at the team facility, working out, studying film and applying himself to details in order to get better.
"It's all evident," Vick said of his 2011 film review. "A lot of the turnovers I had, I think eight of them, were on balls that got tipped, so I need to try and release the ball a little higher, do something differently. There's nothing more gratifying than learning from a mistake. Interceptions are going to happen, but you try to keep them to a minimum and think about ball control."
The more focus on detail, the better for Vick, who has long relied on his unusual and considerable talent to carry him through. As last year proved, being a quarterback is about the little things, and much more than just what you can do with your arm and your legs.
"I see him just being smarter," wide receiver
DeSean Jackson
said of Vick. "He's taking a leadership role where he can be coached and be taught by other people as well. He's not at a point where he doesn't feel like anybody can tell him anything. He interacts, and he wants to know what it is that he's doing something wrong. And if he is doing something wrong, you can just get on him, just like a regular individual, a regular player."
[+] Enlarge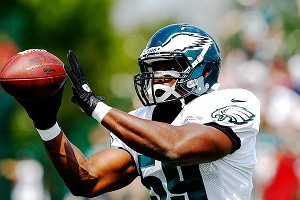 AP Photo/Brian GarfinkelThe Eagles believe veteran DeMeco Ryans will provide the defense with stability at linebacker.
2. The "quarterback of the defense."
The big player acquisition of the Eagles' offseason was middle linebacker
DeMeco Ryans
, whom they acquired in a trade with the
Houston Texans
prior to the draft. Ryans is a well-respected veteran who was emerging as one of the top linebackers in the league before his 2010 Achilles injury. A misfit in the 3-4 defense the Texans implemented during his rehab, Ryans is more comfortable playing the middle linebacker spot in the Eagles' 4-3. He's also healthy and looking like the player who was so universally loved and respected by Texans teammates, who called him "Cap." The Eagles' defense, which started unprepared rookie
Casey Matthews
as its middle linebacker last September, should benefit from Ryans' veteran presence in the role.
"You see that stability there," Reid said. "The game's slower for him than it would be for a rookie. So he's able to just kind of get everybody lined up, get everybody settled and calmed down."
Roseman said it was a priority for the Eagles to find "the quarterback of our defense," and Ryans is aware that he was brought in to correct 2011's biggest defensive flaw. But he's trying to keep those expectations as calm as he's trying to keep his defensive teammates.
"It's not going to take one person to fix all the problems," Ryans said. "It takes everybody working together and finding out how we can make all 11 guys play better and have a better defense."
Sure, but what they like about Ryans is that he can help teach everybody just how to do that. And who can play a little, too.
"It's not like we just got a guy off the street who has some experience," Asomugha said. "This guy is a big-time player."
3. Replacin' Jason.
Left tackle
Jason Peters
may have been the best player on the Eagles' roster last year, and that's no slight to anyone else. Peters was a monster blocker who was critical to the overall success of the offensive line and to the breakout season of running back
LeSean McCoy
. But Peters injured his Achilles in the offseason and is out for the year. His replacement is free-agent signee
Demetress Bell
, who's athletic like Peters and has the potential to be an adequate replacement. Bell's issue has been staying healthy and on the field, but so far his teammates say he's looking good and picking up Mudd's complex blocking schemes.
"I think he's one of the best options we could have had to replace Jason," left guard
Evan Mathis
said. "He displays great athleticism. He has a hunger to learn and a hunger to get better. And what's good for him is, Jason had a monster season, so he can go look at the film of Jason having a monster season, take what he's learning from Howard, apply it to what he's doing on the field and just try and replicate that and do exactly what Jason was doing. He's making strides daily."
REASON FOR OPTIMISM
For all that went wrong last year, the Eagles still managed to finish 8-8 and weren't eliminated from playoff contention until Week 16. Had they managed to hold just one of those blown fourth-quarter leads -- against the 49ers, Falcons or Giants, say -- we might be having a very different discussion about their 2011. They played well enough at the end of last year (and in the first three quarters of their September games) to prove to themselves they can be as good as they think they can be. If they can cut down on the costly mistakes, and if they get the mental boost they say they got from their season-ending four-game winning streak, it's not a long journey from where they were to a division title.
REASON FOR PESSIMISM
So much comes down to Vick, and with a backup corps that currently comprises
Mike Kafka
,
Trent Edwards
and rookie
Nick Foles
, it's more important than ever for him to stay healthy. He hasn't played 16 games in a season since 2006, and the Eagles were 1-2 in the three games he missed last year. When he's at his best, Vick gives the Eagles advantages at the position over any team in the league. He can do things with his arm and his legs that other quarterbacks can't. But his relatively small size and his all-out style of play have created a history of injury that can't be overlooked when forecasting his -- and the Eagles' -- season. If he doesn't play well, or if they lose him for an extended period of time, it's going to be difficult for them to compete with the top teams in the NFC.
OBSERVATION DECK
[+] Enlarge

Kevin C. Cox/Getty ImagesNow fully healthy, WR Jeremy Maclin has the tools to have a career season in 2012.