NFL Nation:

Brett Hundley
March, 24, 2015
Mar 24
11:00
AM ET
Join us today at 1 p.m. ET, 10 a.m. PT for NFL Nation TV's Spreecast Episode 49 as we welcome in draft hopeful Brett Hundley and break down the latest in offseason league news.
Host Paul Gutierrez (San Francisco 49ers reporter) and co-hosts Coley Harvey (Cincinnati Bengals reporter) and Mike Wells (Indianapolis Colts reporter) will be joined all show by Jeremy Fowler (Cleveland Browns and ESPN senior reporter), in addition to Hundley and two other NFL Nation reporters. Wells and Gutierrez will provide updates from the NFL owners meetings in Phoenix.
Fresh off a record-setting career at UCLA, Hundley is one of the many former college players hoping to be claimed in this year's draft that begins April 30. He's regarded as one of the top quarterbacks in this year's class. He'll stop by for a few moments to discuss his pre-draft journey, and how prepared he believes he is for the NFL.
Also, Todd Archer (Dallas Cowboys reporter) will chat about Greg Hardy's recent free-agency signing in Big D, and the reaction it has sparked there.
Ben Goessling (Minnesota Vikings reporter) will fill us in on the latest in the Adrian Peterson saga. Are the words of Peterson's agent a benefit or a hindrance? Also, what was up with the camel-riding birthday celebration the embattled rusher had over the weekend?
Fowler will help close things down by discussing the latest in the Browns' quarterback soap opera, and the television show they could be featured on later this summer.
Viewers are encouraged to log in and ask the panelists questions as well as contribute in the chat feature.
March, 9, 2015
Mar 9
10:00
AM ET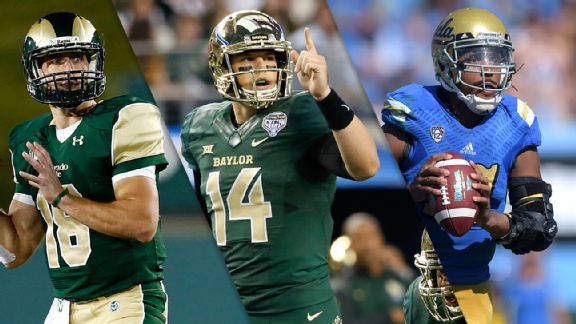 USA Today SportsOffseason QB pursuits make it clear NFL teams believe the second tier of QBs in the 2015 draft -- including Garrett Grayson, Bryce Petty, and Brett Hundley -- are not ready to make an early impact.
(For all Inside Slant posts, follow this link.)
For all the NFL's recent personnel dramatics, from the stunning dismantling of the
Philadelphia Eagles
to
Ndamukong Suh
's decision to move to Miami to the ongoing soap opera starring
Adrian Peterson
, the most important takeaway has been a clear expression of the depressing state of the quarterback position.
While Suh was preparing to accept a $114 million contract from the Dolphins, the
Cleveland Browns
were cleaning up after a bidding war for -- yes --
Josh McCown
's services. After they acquired running back
LeSean McCoy
, whose new contract will pay him $16 million in 2015, the
Buffalo Bills
actually gave up a draft choice to secure
Matt Cassel
. With free agent
Brian Hoyer
reportedly close to signing with the
Houston Texans
, soon
Jake Locker
(!) will be the most attractive name available on the market.
The NFL's quarterback shortage is no secret, but this year's scramble originates from morbid fear. Teams are fighting over backup-quality starters because the 2015 draft class is one of the weakest in recent memory. No one -- save the
Tampa Bay Buccaneers
, who own the No. 1 overall pick -- wants to enter the draft hoping to elevate its quarterback depth chart, much less find a starter.
I contacted ESPN's Steve Muench, who spends the year scouting college prospects for Scouts Inc., to get a better understanding of this class. To be clear, the drop-off is steep after Florida State's
Jameis Winston
and Oregon's
Marcus Mariota
. No one else has a grade higher than the fourth round. "This is a bad, bad class," Muench said.
Because the position is so overvalued, of course, we can expect some of those fourth-round talents to rise into the second and third rounds. In recent history, that's the cutoff for finding a decent NFL quarterback in the draft.
As the chart shows, it has been 10 years since a quarterback drafted in the fourth round or lower has gone on to start as many as 20 games. The middle class of quarterbacks -- your Andy Daltons, Colin Kaepernicks, Mike Glennons and others -- are now going to be off the board no later than the third round, and probably before.
So who will push into that group? (Full disclosure: We collaborated
on a similar exercise last year.
) Muench suggested three prospects for this year, with a big qualifier: None measure up even to the incomparable Jimmy Garoppolo -- the 2014 sleeper whom the
New England Patriots
drafted with the No. 62 overall pick. Here they are, ranked by their Scouts Inc. grades, with Muench's extended thoughts:
Garrett Grayson
School:
Colorado State
Muench:
"He's got a good build at 6-foot-2 and 213 pounds, and he's got bigger hands (10 inches), which really helps him get a good grip and spin the ball. When you watch his tape, you see good pocket mobility, more than enough arm strength with some streak throwing. But when he's in rhythm, he's accurate. He's got to work on how he handles pressure and be better at diagnosing pre-snap reads, but in the end he gets the job done a lot of the time. You look
at his game last year
against Boston College, and he throws two interceptions in the first quarter of the game. He comes back in the second half, makes better decisions, gets in a rhythm, and throws a touchdown to win it in the end. That's Garrett Grayson in a nutshell."
Bryce Petty
School:
Baylor
Muench:
"He's a hot name for obvious reasons. He had those stats at Baylor, especially
throwing for 510 yards
against TCU. He's a leader in the locker room. From everything we've heard, you're going to be hard-pressed to find a guy you want in your locker room more than him, and that's really important for a guy coming out. You either have that or you don't. Most people know the other sides. He has to adjust to a pro-style offense after what he played in at Baylor, the way he reads the field. His decision making has to speed up, and he has to develop the footwork dropping from under center. So we see him as more of a project than some people might realize. He has great intangibles, is a great leader with slightly above-average arm strength, but I'm not sure he can drive the ball in certain situations. He's a good athlete, but not a great one. He'll have big issues getting his footwork down, and he has a lot to learn about playing in the NFL."
Brett Hundley
School:
UCLA
Muench:
"He's a fascinating prospect. He's not quite
Logan Thomas
, who was the workout star last year with outrageous height-weight-speed, but he's that guy this year. He's got that 36-inch vertical, those 10 1/2-inch hands, the 4.6 speed. From a physical standpoint, he's everything you would want. And he can be very accurate when the first read is there. The concern with him is if you take away that first read, as NFL defenses do, how good is he going to be? How effective is he going to be checking down and finding the next guy? For whatever reason, he kind of regressed at the end of the season. His last two games, he struggled, and then he didn't go to the Senior Bowl. He ended his career about as poorly as you can heading into the draft evaluation season. But he did throw well at the combine. We've all seen teams reach for a guy like this. Maybe they learned from the Jake Lockers or the EJ Manuels, but he'll be intriguing to teams in the same way."
The next grouping, based on Scouts Inc.'s evaluations, includes Oregon State's
Sean Mannion
, East Carolina's
Shane Carden
, and Southeast Louisiana State's
Bryan Bennett
. It wouldn't be a surprise to see one of them move close to the fourth-round barrier as well. But the NFL has already spoken, in its own way. There is little expectation that a rookie not named Winston or Mariota will impact the league in 2015.
February, 20, 2015
Feb 20
11:00
AM ET
INDIANAPOLIS -- Finding options to solve the
St. Louis Rams
' quarterback question isn't hard. Finding a realistic, legitimate answer is.
"Let's be real," general manager Les Snead said. "The pool of quarterbacks for anybody, that's usually the slimmest of pools of any of the players."
It's the hardest position to project, which is exactly what the Rams and nearly every team in the NFL are forced to do. In the past decade or so, the college and professional games have moved in opposite directions.
College quarterbacks ring up video-game numbers playing in wide-open, spread offenses that ask them to make one read and get rid of the ball. The production is eye-popping, but it leaves a clear void in terms of NFL readiness.
[+] Enlarge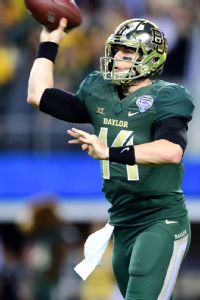 Allen Kee/ESPN ImagesBryce Petty had a prolific career at Baylor, but never called a play in a huddle.
Meanwhile, the NFL has become a quarterback-driven league in which signal-callers capable of making pre-snap reads and going through multiple progressions has become not only preferred, but mandatory. Because fewer college quarterbacks are coming from pro-style offenses, the type of quarterback prepared to contribute right away is becoming an endangered species.
Without a deep pool of refined candidates to choose from, teams often find themselves selecting prospects and hoping they develop. Problem is, teams have become less and less committed to actually doing the developing. More often than not, those young quarterbacks are thrown into the fire. When they fail, teams move on to the next one.
Wash, rinse, repeat.
"It's a cycle that needs to be broken," Snead said. "Here's how it's got to happen. You take a guy from one of those systems, you've got to take him and then you've got to tell [everyone], 'Guys, we're not playing him this year.' But it's OK. I don't care what happens. You need to unwind the system because he's been speaking French to where I speak Spanish. He can do it, it's just I think it's a lot easier transition to let him unwind first and then start rewinding his brain."
From the Rams' perspective, that's a process that probably would have been best implemented in 2014. Had the Rams used a higher pick on a quarterback last year, they could have one who has spent a year in the system and would be closer to ready than just about any they can reasonably get this time around.
The Rams now find themselves in a position where they are searching for a young quarterback who can contribute in the event
Sam Bradford
can't stay healthy. If they choose to do that in the draft, it's all but certain anyone they add won't be able to play right away.
This year's draft features Florida State's
Jameis Winston
and Oregon's
Marcus Mariota
, whom many consider the top two in the draft. There's a perceived drop-off after the pair, but even Winston and Mariota come with question marks. In Mariota's case, it's those same questions about transitioning from a wide-open college system to playing in the NFL.
Neither Winston nor Mariota figures to be available to the Rams at No. 10 overall, which means they're going to have to find help elsewhere. UCLA's
Brett Hundley
and Baylor's
Bryce Petty
, both of whom had formal interviews with the Rams scheduled this week, are considered next in line, but also face endless questions about their ability to make a transition into the NFL.
Petty might offer the best example of a system quarterback attempting to make that move. Until last month's Senior Bowl, Petty had never even had a play call relayed to him over a headset, having to spit it back out in a huddle.
"Honestly, it's got to be hard for them to diagnose and project anybody, really," Petty said. "You really got to just get in there and be with them and talk X's and O's with them. For me, it's a great opportunity being here, being able to talk to them now."
Hundley's learning curve won't be quite as steep, but he will still be asked to do more than make one read and take off running.
"I think going over film with them is huge," Hundley said. "I think these formal interviews that we get to do and get to sit in the classroom and talk to them, that's when we get the opportunity to express our reads, our thoughts, and go over it with them in detail. I think that's a big time to show what you're looking at, you know your stuff."
But the reality is there simply aren't enough quarterbacks who do know their stuff or, more to the point, have proved capable of executing it. That is why the Rams are all but certain to again hand the reins over to Bradford. Snead and the Rams envision adding plenty of insurance at the position in hopes that they can strike gold. But in this, the fourth year of the Snead and Jeff Fisher regime, they don't have much time to see that through.
"There's a lot of stones to turn over," Snead said. "What you're alluding to, people don't want to give you really good QBs, so a lot of times you've got to go find them.
"There's stones out there, but when you turn them over, there's nothing under them."
February, 19, 2015
Feb 19
6:00
PM ET
INDIANAPOLIS -- Observed and heard at the NFL combine on Thursday.
Winston
Winston's weight not a problem:
A photo of an apparently pudgy
Jameis Winston
caused a stir on the Internet recently. But Winston showed up at the combine in good shape. He weighed in at 231 pounds. That's one pound more than he was listed at by Florida State. Winston's height was listed as 6-foot-4 last season. He checked in just a bit shorter (6-foot-3 3/5) than that. Oregon quarterback
Marcus Mariota
came in at the exact same height as Winston. Mariota weighed 221.
Longer visits coming:
The Bucs have yet to use their official 15-minute interview sessions with Winston or Mariota. But there's only so much you can do in such a short time. That's why the Bucs are planning visits with both quarterbacks on their college campuses and at One Buccaneer Place.
Man of few words:
Winston was scheduled to speak to the media Thursday. But that was postponed until Friday for unspecified reasons. That left Mariota in the spotlight and it quickly became obvious he's not a media darling. Mariota was polite, but his answers were full of clichés and weren't very lengthy.
Underrated?
UCLA's
Brett Hundley
, whom some draft experts have ranked third behind Winston and Mariota, said he thinks some people are taking this quarterback class too lightly. "We are ready to show the nation we're more than we're put out to be.''
Hometown hero:
USC wide receiver
Nelson Agholor
, a Tampa native, said his favorite player growing up was former Bucs cornerback Ronde Barber.
February, 16, 2015
Feb 16
8:00
AM ET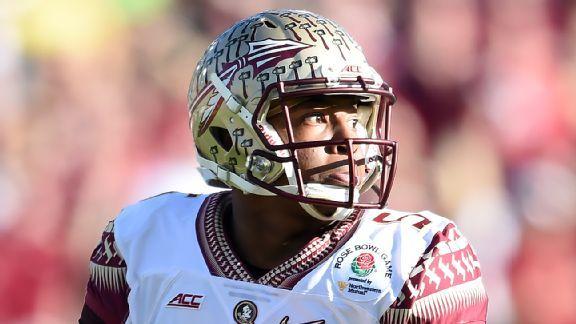 A closer look at the areas the Tampa Bay Buccaneers could address in the draft. We'll get started with a look at the quarterbacks, who are scheduled to work out Saturday in Indianapolis.
Position of need:
The Bucs currently don't have a starting quarterback and all indications are they'll address that with the first pick in the draft. They cleared the way for that to happen by releasing veteran
Josh McCown
, who started 11 games last year. McCown was supposed to be a model of efficiency after throwing 13 touchdowns with just one interception in Chicago in 2013. But McCown was erratic in 2014, throwing 11 touchdowns with 14 interceptions for an offense ranked No. 30 in the league.
Three players the Bucs could target in the draft:
Jameis Winston, QB, Florida State:
Winston is the early favorite to be selected by the Bucs. He played in a pro-style offense in college and is the most NFL-ready quarterback in this draft. Winston has experience as a pocket passer and could thrive quickly with
Vincent Jackson
and
Mike Evans
as his top targets. The questions with Winston come off the field. The Bucs need to decide if Winston is mature enough to be the face of the franchise.
Marcus Mariota, QB, Oregon:
There are no off-field questions about Mariota. But there are some on-field concerns. He has a low-key personality and might not have the charisma to be a leader. He also has played in a spread offense in college and it remains to be seen if he can thrive in a pro-style offense.
Brett Hundley, QB, UCLA:
The Bucs are almost certain to use the first pick on Winston or Mariota because there is a big drop-off in the quarterbacks after that. But Tampa Bay could pull a surprise and use the first pick on another position. In that scenario, Hundley would be the best quarterback available after the first round.
February, 16, 2015
Feb 16
8:00
AM ET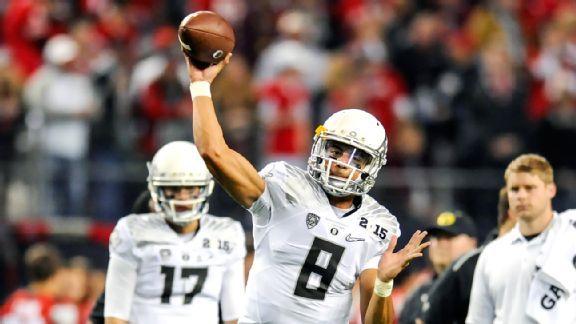 A closer look at the areas the
St. Louis Rams
could address in the draft. We'll get started today with a look at the quarterbacks, which are scheduled to work out Saturday in Indianapolis.
Position of need: Quarterback --
The Rams plan to bring
Sam Bradford
back -- they'd like to do it at a reduced, incentive-laden rate -- but they have been very open about their desire to bring in plenty of competition for him.
Shaun Hill
is an unrestricted free agent, and
Austin Davis
is a restricted free agent, meaning the Rams could have some decisions to make. Davis and Hill split starting duties last year and both went 3-5 as starters, while ranking 29th and 30th in the league in QBR. Bradford will likely have every opportunity to be the starter again so long as he remains healthy, but the Rams must do what they should have done last year and find a young quarterback who offers a potential long-term solution.
Three players the Rams could target in the draft:
Marcus Mariota, Oregon:
It seems unlikely that Mariota or Florida State's
Jameis Winston
will be available when the Rams pick 10th overall in the first round, but the early returns seem to indicate that Mariota is the more likely of the two to slip a little bit. Even if Mariota doesn't fall to No. 10, the Rams would be wise to do as much homework as possible on him in Indianapolis in case he were to slide into the range of a potential trade-up. There are questions about Mariota's ability to fit in an NFL scheme, and I would wonder if the Rams are equipped to best use him, but those are questions for which the Rams would be well served to find answers this week.
Brett Hundley, UCLA:
As it stands, Hundley is considered by many (though not all) draft pundits as the third best quarterback in the class and a potential second-round choice. But from talking to some scouts around the league, I'm not sure that teams view him that way. Hundley is a project, but he does have all the physical tools needed to succeed. The Rams must go to Indianapolis in search of finding out just how much of a project Hundley could be and how they could maximize his skills.
Bryce Petty, Baylor:
The Rams got to see Petty up close at the Senior Bowl and probably have already done their share of homework on him (like most of the players headed to Indianapolis), but Petty is still an interesting name to keep an eye on this week. Because the Rams are likely to be out of range for the top two, they're going to have to dig in further to players down the list like Petty and others. In Petty's case, it comes down to his ability to transition from Baylor's spread attack to the NFL.
Finding a quarterback capable of handling starting duties in the NFL has become an increasingly difficult task given the proliferation of scheme-centric offenses at the college level. Which means there's more legwork than ever that goes into finding the right fit.
April, 22, 2014
4/22/14
8:00
AM ET
MINNEAPOLIS -- There are just 16 days to go until the 2014 NFL draft, meaning we're firmly in the time of year when general managers are more likely to top off their draft preparations with a dollop of misdirection than a scintilla of truth.
And yet, when
Minnesota Vikings
general manager Rick Spielman described the process of evaluating this year's quarterback class as "torturous" in an interview published Monday, his comments were structured around a consistent theme he's been hitting since the Vikings began draft preparations in earnest three months ago.
"Every one of these quarterbacks ... nothing is a sure thing," Spielman said
in a discussion with MMQB.com on Monday
. "There's no
Andrew Luck
, no
Peyton Manning
. It is such a mixed bag with each player -- every one of them has positives, every one of them has negatives. And if that's the way you end up feeling, why don't you just wait 'til later in the draft and take someone with the first pick you're sure will help you right now?"
[+] Enlarge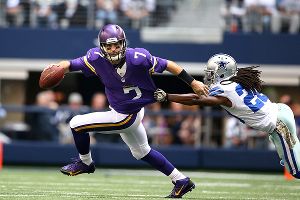 Matthew Emmons/USA TODAY SportsWould the Vikings have stayed with Christian Ponder as long as they did if he had been drafted in the second or third round?
Since January, Spielman has been talking about how far and wide the Vikings would search for a quarterback, how careful they would be not to get boxed into drafting one in the first round. He has described this class as being without a sure thing since February and has talked since March about how re-signing
Matt Cassel
gave the Vikings the freedom to wait on a quarterback.
There are a couple of viable explanations for the consistency. One possibility is that Spielman has been crafting the narrative that the Vikings won't force a quarterback pick at No. 8 for months, possibly to ward off teams that might be interested in leapfrogging the Vikings for a QB or to create a market for trading down. The other scenario is that Spielman is staring at the situation, knowing how damaging the fallout could be for him if he misses on another highly drafted passer, and is mulling the possibility that a first-round quarterback might just be too big of a gamble in this draft.
Plenty of people around the league believe the Vikings won't take a quarterback at No. 8, choosing instead to draft a defensive player or trade back a few spots to accumulate more picks before picking a defender. With the caveat that what you hear from people around the league has to be triple-filtered this time of year, I'm inclined to think it's likely the Vikings wait, for a couple reasons. First, the Vikings still have enough defensive needs that they would be helped sooner by a linebacker or defensive back than they would by drafting a quarterback who needs time to develop. There's some legitimacy to Spielman's statements that the Vikings aren't that far away from being back in the playoffs. That's based on how many close games they might have won with only slightly more efficient quarterbacking and a less porous defense last season. If you believe a full season of Cassel and the prospect of defensive improvement is enough for a quick pivot while
Adrian Peterson
is still in his 20s, wouldn't it be tempting to consider that route?
The second, and probably more important reason for the Vikings to wait on a quarterback, is this: They've seen just how much time and how many resources can be squandered on a quarterback who doesn't pan out. Peterson was 26 when
Christian Ponder
made his first start for the Vikings.
Percy Harvin
was a 23-year-old turning into a breakout star, and
Jared Allen
was in the midst of a 22-sack season at age 29. The Vikings were in the middle of a rebuilding project under Spielman and Leslie Frazier, but those don't have to take that long in the modern NFL when there are cornerstone players in place.
Heading into 2014, though, Harvin, Allen and Frazier are gone, Ponder has lost the benefit of the doubt, and the Vikings are still trying to figure out their long-term answer at quarterback. Spielman outlived Frazier in Minnesota and got a chance to hire his own coach in Mike Zimmer, but he probably can't survive another big swing and miss at quarterback. If the Vikings were to hitch their fortunes to the wrong guy at No. 8, Zimmer could eventually be dragged down with the GM.
It's interesting to think about what might have happened in 2011 if the Vikings had taken Ponder in the second or third round and if they would have felt less compelled to stand by him. Would they have made a play for
Robert Griffin III
the next year or taken
Russell Wilson
instead of
Josh Robinson
in the third round after Frazier and his staff coached Wilson at the Senior Bowl?
The Vikings might have decided to give Ponder time anyway, but it's difficult to argue any team faces the same pressure to stick by a second-day draft pick as it does with the 12th overall selection. It has to be in the back of Spielman's mind that taking a quarterback later in the draft wouldn't carry the same kind of inherent commitment as drafting one in the top 10, in addition to the fact that passing on QB at No. 8 would give him the opportunity to pick from a dynamic group of defensive players. Considering the quarterbacks that could be in next year's class -- such as Florida State's Jameis Winston, UCLA's Brett Hundley and Oregon's Marcus Mariota -- the Vikings had better know how tethered they want to be to a quarterback they would take this year.
The Vikings are in eight days of pre-draft meetings that conclude next Tuesday, when players return to the team facility for a three-day voluntary minicamp. That event will give Zimmer his first real chance to work with players and make some determinations about what he has in Cassel and Ponder. From there, the Vikings can have their final discussions about how they want to approach the quarterback position. But it seems possible, as it has for months, that they are seriously weighing the benefits of waiting if they're not completely enamored with a QB in the first round.
"How many franchise quarterbacks actually come out?" Spielman said earlier this offseason. "Last couple years, there have been a couple guys that have been taken in the second and third rounds that have been successful. I think there's some depth in this quarterback class. You're definitely not going to be forced to take a quarterback at 8 unless you're totally sold on that quarterback. I can guarantee you that it's not going to be a forced issue."
January, 3, 2014
1/03/14
8:00
AM ET
IRVING, Texas --
Dallas Cowboys
owner and general manager Jerry Jones has already said he will not be in the quarterback business when it comes to May's draft. For such a great salesman, Jones is sure missing a way to keep the Cowboys in the offseason headlines.
Orton
Romo
Saying no is easy to say in December and perhaps a way to show even more belief in
Tony Romo
, who is coming off back surgery. But Jones should not be so dismissive. He might be forced into doing it anyway.
To disappoint plenty of you, this will not delve into the merits of possibly going after Johnny Manziel, Blake Bortles or Brett Hundley or any other possible quarterback in the first round. This is solely about the current state of the position with the Cowboys.
Romo will be coming off of his second back surgery in eight months. He turns 34 in April. He is coming off one of his best seasons with 31 touchdown passes and 10 interceptions. He is signed through 2019 and scheduled to count $21.7 million against the cap. That figure will be reduced when the Cowboys restructure his contract, but at some point they will have to come to the conclusion he cannot last forever.
Kyle Orton
showed in the season finale he can still play the game. He threw for 358 yards and had two touchdown passes in his first meaningful game in a long time. The fourth-quarter interception was bad, but Orton was better than many thought. He could start for a number of teams in the NFL. There's also a question of how much longer he wants to play.
"You just don't even think about that right now," Orton said at his locker after the Eagles' game. "Just a tough way to end the season ... All you think about right now is everything you put into it and you've got plenty of time to think about the future."
Orton counts $4.3775 million against the cap. That's $26 million of cap space committed to the quarterback position. The Cowboys will have decisions to make in order to trim enough money to get under the projected cap of $126.3 million.
Orton might prove to be too costly at his current price. He has a base salary of $3.25 million in 2014. The Cowboys could restructure his deal like they did in 2013, but that would push future dollars against the cap. If they cut Orton, the move would save almost $1 million.
It would also leave the Cowboys without a backup to Romo.
And this is where the draft comes into play, or at least a cheaper veteran option. The Cowboys have not gone cheap at the backup QB spot since Jason Garrett arrived.
Brad Johnson
wasn't cheap.
Jon Kitna
wasn't cheap. Orton has not been cheap.
The Cowboys looked at veteran options leading into Week 17, like
David Carr
,
John Skelton
and
Tyler Thigpen
, but went with Kitna because of his familiarity with the offense with such a short turnaround.
Maybe it's silly to move on from Orton with Romo coming off back surgery. It might be sillier not to start the process of finding the quarterback to succeed Romo eventually.
December, 16, 2013
12/16/13
2:30
PM ET
JACKSONVILLE, Fla. -- The
Jacksonville Jaguars
' loss to Buffalo ended a three-game winning streak, but it also improved their draft position by two spots.
If the season ended today the Jaguars (4-10) would own the No. 4 overall pick. Houston (2-12), St. Louis (6-8) and Oakland (4-10) would have the first three picks, with the Rams picking that high because of a trade with Washington.
Bradford
Cutler
If the current order holds, the Jaguars are in a good spot if they indeed want to pick a quarterback with their first pick. There are rumblings that the Texans are going to make a run at
Jay Cutler
in the offseason, which would be a smart move because the Texans -- despite this season's record -- are still a playoff-caliber team if they find a good quarterback.
Cutler would keep the Texans' window open for the next few seasons. It would be unfair to expect a rookie quarterback to carry the team, especially since none of the them appear to be in the same class as
Andrew Luck
.
St. Louis wouldn't appear to be thinking quarterback, although there is some uncertainty there because of the season-ending knee injury to
Sam Bradford
. Before he was hurt in October, Bradford was on pace to have the best season of his career, and there were reports that the Rams wanted to do a contract extension for the former No. 1 overall selection.
If the injury has changed their mind, the Rams could take a quarterback with their first of two first-round picks, but they also need help on the offensive line and at safety. Texas A&M offensive tackle Jake Matthews is an option.
Oakland would be the wild card.
Terrelle Pryor
appeared to be their quarterback early in the season, but now it's
Matt McGloin
. Is either a long-term answer? Probably not, so quarterback would be the Raiders' top need. The Raiders are unpredictable, and it wouldn't be a shock if they bypassed a quarterback for one of the top linebackers or Clemson receiver Sammy Watkins.
If the Raiders did take a quarterback, that would leave the Jaguars with at worst their second choice among the available quarterbacks. It isn't as deep a crop as originally thought now that Oregon's Marcus Mariota and Baylor's Bryce Petty have said they are returning to school. Louisville's Teddy Bridgewater and Texas A&M's Johnny Manziel are expected to leave early and UCLA's Brett Hundley is waffling, but there also are several senior prospects worth considering in the first round, including LSU's Zach Mettenberger and Fresno State's Derek Carr.
August, 28, 2013
8/28/13
8:52
AM ET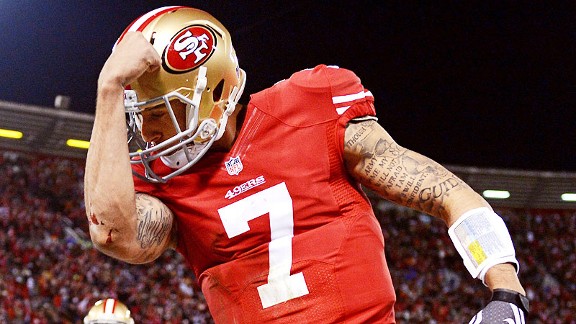 Harry How/Getty ImagesColin Kaepernick might be the class of the 2011 QB class, but has just seven regular-season starts.
Just two years ago, a half-dozen NFL teams -- nearly 20 percent of the league -- stepped to their draft boards and selected quarterbacks they hoped would lead their franchise to better days. The group included one Heisman Trophy winner, along with five others of more debatable renown, and their arrival marked the second time in modern league history that
six quarterbacks had been drafted among the first 36 picks.
Now, to varying degrees of severity and consequence, all six are entering important third seasons. Only two have winning records as starters. At least three and probably four are facing an "or else" season and it must be remembered that even the star of the group -- the
San Francisco 49ers
'
Colin Kaepernick
-- has made only seven regular-season starts.
So with the 2013 season kickoff just eight days away, it seems appropriate to recognize that a cross-section of the league will be impacted by the performance of the 2011 quarterback class. It will drive four division races -- the NFC West, AFC South, NFC North and AFC North -- and could shape the rush for what initially appears to be a strong 2014 draft class of passers.
[+] Enlarge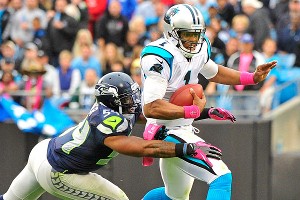 Grant Halverson/Getty ImagesCam Newton was the No. 1 overall pick of the 2011 draft, but has a 13-19 record in two years.
The chart below provides a career snapshot not only for Kaepernick but also
Cam Newton
,
Jake Locker
,
Blaine Gabbert
,
Christian Ponder
and
Andy Dalton
. They don't all represent flashy NFL franchises, and you haven't heard as much about them this summer as perhaps the
New York Jets
,
Tim Tebow
and
Robert Griffin
III. But league outcomes aren't influenced by popularity and off-field drama, and the smart observer knows the fortunes of the
Carolina Panthers
,
Tennessee Titans
,
Jacksonville Jaguars
,
Minnesota Vikings
and
Cincinnati Bengals
are just as impactful as the Jets, the 49ers, the
Washington Redskins
and everyone else.
This class could determine the winner of Super Bowl XLVIII, and it will certainly steer much of what the league's final standings look like four months from now.
"This is a pivotal year for a lot of those guys," said Matt Williamson, who scouts the NFL for ESPN.com. "There's no doubt about that."
Kaepernick and Newton bracketed the class two years ago and clearly are the best of the lot. Despite his limited body of work, Williamson said of Kaepernick: "If I were starting a team, there are very few people I would pick ahead of him. That's how well-rounded his game is."
Newton has generated more polarizing analysis from the public, due mostly to a 13-19 record that has overshadowed his two-year totals of 7,290 passing yards and 1,447 rushing yards. But Williamson said: "He can be great. He can be
Ben Roethlisberger
if he wants. That's how much ability he has."
That's more than we can say about Gabbert, Locker, Ponder and Dalton -- all of whom could play themselves out of their jobs this season. Let's move through a quick rundown, courtesy Williamson's analysis:
Gabbert

Gabbert: "He actually looked good in the preseason. They're really stressing getting the ball out of his hands. He handles the rush so poorly. [He has taken 62 sacks in 25 NFL games]. The scheme looks better for him. They're not going to give the defense time to get there. I'm not saying he's a success story, but they were smart to put him in this kind of scheme. I would say this is as best as he's ever looked." (Note: Gabbert is dealing with a hairline fracture of his right thumb this summer, which has caused him to miss one preseason game and likely another.)

Locker

Locker: "The key with him is his supporting cast is really good now. They had all kinds of interior offensive line problems last year. He got a lot of pressure up the gut. They're really good at guard and center now and have a lot of young weapons. But of all the guys, he seems to be the one that's out of excuses. I know he hasn't played much, but his accuracy is just really poor. He's one of those guys that can make every throw and is as gifted as anyone out there. He runs really well and he just misses guys. He just flat-out misses or his ball placement in tight windows isn't very good. He was like that coming out of school, just reckless in everything he did. He doesn't have a great feel for the pocket. His footwork is so-so, and he really needs coaching. He is far away."

Ponder

Ponder: "He has had a lot of ability. I wonder about coaching there. The biggest thing with that offense is they don't throw the ball downfield. There is no verticality in that offense at all. With Adrian Peterson back there, you should be throwing play-action bombs. If you're a Ponder apologist, you say the coaches aren't calling them. Who is he going to throw deep to? There is no Randy Moss. But he seems like a checkdown king, too. He seems unwilling to throw downfield. Now, this year, I think Greg Jennings is a little more vertical, and Cordarrelle Patterson can really fly. That will be a real telling thing for Ponder, if he can't do any better downfield. To have his kind of production with Adrian Peterson back there, that's totally unacceptable."

Dalton

Dalton: "I've been really critical of the Bengals for trying to go the route of just putting more people around him. He has won there, but I don't think he's good enough to win that division consistently or be a Super Bowl contender. … If you don't have great physical attributes, and he doesn't, then you've got to be on time and on target with everything. Timing has to be perfect, accuracy has to be perfect; and his just aren't. He relies on A.J. Green a lot to do the work. They were smart to realize he can't bring in all the throws, so they drafted two guys to help him with shorter passes. Drafting Giovani Bernard, he is a good receiver. Same with Tyler Eifert. Dalton can make the short passes to them. They did make some Andy Dalton-friendly draft picks, but still. …"
So what if they fail? In its preseason evaluations of college quarterbacks, Scouts Inc. has given nine first-, second- or third-round grades, according to ESPN scout Steve Muench. The list is topped by Louisville's Teddy Bridgewater, UCLA's Brett Hundley and Miami's Stephen Morris, but it also includes a slew of strong-armed passers who have demonstrated nimble feet at a time when the league treasures that attribute more than ever.
Players such as Clemson's Tajh Boyd, Texas A&M's Johnny Manziel and Oregon's Marcus Mariota "all have deficiencies as passers," Muench said, "but they have played in big stages, they have the arm talent and there is no question they can make plays with their feet. Other quarterbacks to keep an eye on this season are Alabama's A.J. McCarron, Virginia Tech's Logan Thomas and Ohio State's Braxton Miller."
Come April, at least a few teams will be lining up their draft boards and looking for a quarterback to lead their franchise to better days. A few could be repeat shoppers from 2011. Consider it the circle of (NFL) life.
Related:
The rest of the 2011 draft class
is exceptionally talented
, according to Bill Barnwell of Grantland.com.