January, 16, 2014
1/16/14
8:11
AM ET
NASHVILLE, Tenn. -- The Titans' secondary was good last year, so defensive backs coach
Brett Maxie
should have been retained.
[+] Enlarge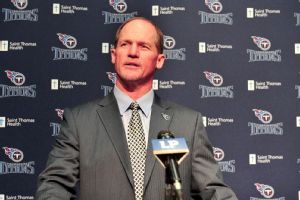 Frederick Breedon/Getty ImagesLet's give Ken Whisenhunt the benefit of the doubt before judging the moves he made regarding the Titans' coaching staff.
The Titans special teams were bad last year, so special teams coach Nate Kaczor and his assistant, Steve Hoffman, should not have been retained.
That's the popular thinking for at least a portion of Titans fans who are vocal on Twitter.
It's overly simplistic and incorrect.
I thought Maxie and assistant secondary coach Steve Brown did a good job last season.
Ken Whisenhunt kept Brown but let Maxie go.
Maybe he loved Maxie's work but has someone else in mind. Maybe he didn't like Maxie's work. Maybe a coaching colleague he trusts told him something about Maxie and something different about Brown. Maybe Ruston Webster gave him different reviews of the two. Maybe he's got a list of secondary coaches he covets and thinks a new guy working with a holdover will maximize the secondary's chances to do its best.
There are a number of factors that could have come into play. Whisenhunt's not going to spell them out for us.
The same is the case with regard to keeping Kaczor and Hoffman.
It's at least a partial endorsement of their work.
Tennessee's special teams were a problem last year, though things settled down when a quality returner,
Leon Washington
, fell into their lap late in the season.
But while those guys were heard, they weren't ultimately responsible for
Darius Reynaud
starting out as returner or
Devon Wylie
holding the job for a bit. Look higher up the Titans organizational chart for blame there -- to
Mike Munchak
and Webster.
As for silly, side-spinning, tee-less onside kicks ...
Perhaps Kaczor brought the idea to the table. But the head coach is the guy responsible for the team using it. Munchak, and any head coach, holds veto power and ultimate responsibility.
Whisenhunt is a smart coach who's respected around the league and arrives with six years as a head coach on his resume.
He's taken in some info and decided to keep the special teams assistants who were in place.
Rather than immediately call it a crazy move, how about we wait and see how they do given another chance?
---
The list of assistants and their fates, per Jim Wyatt of The Tennessean:
Retained:
Steve Watterson, assistant head coach/strength and conditioning; Steve Brown, assistant secondary coach; Sylvester Croom, running backs; Steve Hoffman, assistant special teams;
Shawn Jefferson
, wide receivers; Nate Kaczor, special teams.
Let go:
Dowell Loggains, offensive coordinator; George Henshaw, tight ends;
Bruce Matthews
, offensive line; Brett Maxie, secondary; Chet Parlavecchio, linebackers;
Dave Ragone
, quarterbacks; Tracy Rocker, defensive line.
Contract not renewed:
Jerry Gray
, defensive coordinator; Gregg Williams, senior assistant/defense;
Keith Millard
, pass rush.
TBA*:
Jonathan Gannon, defensive assistant/quality control; Arthur Smith, offensive line/tight end assistant.
* Wyatt says they are retained for now, but the new offensive coordinator will have a say in what direction the team goes.
June, 19, 2012
6/19/12
4:36
PM ET
The Titans were not super high on
Michael Griffin
after he finished his fifth season.
They put the franchise tag on him because it wasn't too expensive, because they lacked alternatives, because they weren't sure they could count on him for the long term.
[+] Enlarge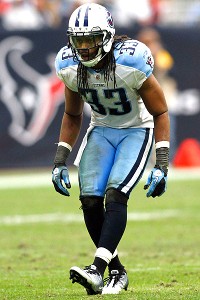 Brett Davis/US PresswireMichael Griffin finished last season with 75 tackles and a pair of interceptions.
I know they were disappointed that his play didn't maintain its early level or improve.
I've been critical of Griffin, who
agreed to a five-year extension with the team Tuesday
. He's a good player when things are going great around him. When they aren't, he tends to play worse. And that's not a quality I want in a first-round pick or from a guy who gets a long term-contract.
That said, he's done the most he could since the season ended -- accepting the franchise tag without complaint or threat, showing up for offseason conditioning, OTAs and, this week, minicamp. He's at least trying to lead, and the team's clearly seen positive change and increased professionalism and accountability.
"If things aren't good around you, it's difficult for a safety to play well for any team," general manager Ruston Webster said. "He is a talented player with a lot of traits to play the position that others in the NFL don't have. If he can just relax and play, we're really working hard to make the team better around him."
We'll need to see the money on the deal to get a sure sense of just what sort of deal this is.
Here are four other factors I suspect were at least partly in play here:
Endorsements: New secondary coaches Brett Maxie and Steve Brown must like him. The team wouldn't make a long-term commitment like this without an endorsement from the position coach involved. Defensive coordinator Jerry Gray is a former defensive back with great insight into the position.

The market: Safety seems increasingly thin around the league. It's not a position where you can find a veteran replacement or a draft pick who can step right in very easily. Griffin, even with a résumé with some holes, would have drawn attention if they hadn't franchised him and would have again if he played under the tag this year and came free in 2013.

Price: This isn't Eric Weddle money. It's $15 million guaranteed on a five-year, $35 million deal. The cap hit for this season is down from the franchise number of $6.2 million.

Role: The Titans feel like they have the personnel to give guys the sort of limited roles that suit them. Griffin is a far better ball-hawking centerfielder than he is an all-around guy. You want an all-around guy at that rate, but he'll play his best if and when they can allow him to play the ball. And they think that will be often.
May, 3, 2012
5/03/12
5:45
PM ET
Since the Titans added seven players in the draft, I've said several times that I am a bit scared of their leanings toward potential over production, or the weight of athleticism in several of the selections.

But it's important to note that of the seven players, that "complaint" centers on less than half the class.
Second round outside linebacker
Zach Brown
brings some questions about being more of an athlete than a football player. Fourth-round cornerback
Coty Sensabaugh
is an excellent athlete with great speed. Fifth-round tight end
Taylor Thompson
is a big-time athlete who didn't play tight end in college.
("You may say there are some more productive," GM Ruston Webster said of Brown, "but few are more talented.")
Perhaps those perceptions from draft analysts are off.
Perhaps three Titans assistants -- linebacker coach Frank Bush, secondary coach Brett Maxie and tight ends coach John Zernhelt -- will coach that trio up, and they will pan out in just the way the team imagines.
Perhaps we'll rave about how their athleticism benefits the team.
It's also worth noting that the rest of the class, led by receiver
Kendall Wright
, appears to be composed of guys who qualify, without question, as football players.
August, 19, 2010
8/19/10
1:01
PM ET
By
Matt Mosley
| ESPN.com
ESPN.com NFL Power Ranking
(pre-camp): 4
OXNARD, Calif. -- No one would blame 34-year-old linebacker
Keith Brooking
for taking a day or two off in training camp, but that's not his style. He missed the Cowboys' OTAs this offseason after having a relatively minor knee surgery and now he's refusing to leave the field.
Brooking, who played in a Super Bowl with the
Atlanta Falcons
, hears the clock ticking on his career -- and he also hears rookie
Sean Lee
's footsteps.
"Dick Butkus is my idol and he always said you never want your last play to be a stinker," Brooking told the NFC East blog . "In saying that, he knew how precious this game is. The window's closing on me every passing day and it's time to push all my chips in."
Brooking has become the inspirational leader of this defense. He was frustrated last season when he had to come off the field in the nickel and he has reminded everyone in this camp that he can run step for step with running backs in pass coverage. Everyone expected Lee to replace
Bobby Carpenter
in the nickel defense, but Brooking's not making it easy.
"They've been drafting guys to take my place for 13 years," he said. "I thrive on the competition and I'm going to keep coming no matter who they bring in."
That said, Brooking and Lee have become fast friends. Lee speaks in awe of Brooking and
Bradie James
. Coach Wade Phillips has taken to calling Lee "Brooking" when he sees him around camp.
"Sean Lee keeps me young," Brooking said. "They've made a lot of comparisons between us, and most of them are accurate."
But Lee will have to wait his turn with the Cowboys because Brooking may be having the best camp of his 13-year career.
THREE HOT ISSUES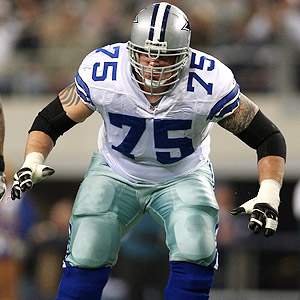 Matthew Emmons/US PresswireDallas hopes to have Marc Colombo back in time for the opener at Washington.
1. Is there enough depth on the offensive line?
That's a question folks were asking even before starting left guard
Kyle Kosier
and right tackle
Marc Colombo
suffered injuries. Colombo probably will return in time for the opener against Washington on Sept. 12, but Kosier could miss a couple of games. Veteran
Montrae Holland
(48 career starts) will replace Kosier. Holland's had his moments in the league, but he has started only two games since joining the Cowboys in '08.
Robert Brewster
may get the start in Colombo's place, and that's a problem. Brewster's footwork has been questionable and he's getting blown off the ball in pass protection. And on Wednesday, the Cowboys couldn't seem to decide whether quarterback
Tony Romo
would play Saturday against the Chargers. The Cowboys are extremely talented at the skill positions, but a couple of injuries on the offensive line could derail this team. The good news is that left tackle
Doug Free
has had an excellent camp. Owner/general manager Jerry Jones believes that Free will be an upgrade over
Flozell Adams
. I think that may be the case down the road, but for now, Free's still somewhat of a wild card.
2. Will the Cowboys score in the red zone at any point this preseason?
Romo's coming off the best season of his career with 26 touchdowns and only nine interceptions. He stopped putting so much pressure on himself to constantly make plays, in part, because he knew the defense would get him the ball back quickly. But for all the yards, the Cowboys were not a good red zone team. They ran the ball well between the 20s, but they were stymied after that.
Romo told a couple of us Monday that we're going to "enjoy" the Cowboys' new red zone plays. He said that Jason Garrett was purposefully being vanilla with his play calls because he doesn't want to tip his hand. The good news is that tight ends
Jason Witten
and
Martellus Bennett
have made several plays in the red zone during practice. If Romo can develop some trust in the 6-foot-6 Bennett, it would give the Cowboys quite a weapon. Bennett has made some remarkable catches since returning from an ankle injury Sunday. He's trying to persuade Romo to go ahead and force the ball to him even when it looks like he's covered.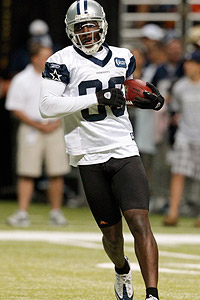 AP Photo/Tony GutierrezThe Cowboys are uncertain if Dez Bryant will play in the team's remaining preseason games.
3. How much of a setback was Dez Bryant's high ankle sprain?
Bryant was supposed to be the story of this camp, and he delivered all the headlines until
Jon Kitna
fired a pass behind him. He appears to be ahead of schedule in his rehab work with Cowboys associate head athletic trainer Britt Brown. Bryant has done a nice job of staying in the playbook and he passed a pop quiz from Garrett after practice Wednesday. You can stand there and watch him play catch during practice and be amazed by the way he snags balls with his left hand. The more I'm around Bryant, the more obvious it becomes that he's going to force his way into the starting lineup early in the season. I think we'll see him play in the final preseason game just to get a feel for game speed. It will be interesting to see if Phillips lets Romo play a series with him just to work on their rhythm.
BIGGEST SURPRISE
Cornerback
Cletis Gordon
and safety
Danny McCray
tied for this coveted award. My colleagues at ESPNDallas.com have Gordon with 10 interceptions in training camp. The ball just seems to find him and that's a great thing for a cornerback. He'll be the Cowboys' fourth cornerback.
The University of Texas wanted to make McCray into a linebacker, so the Houston native opted to play at LSU. He's one of at least nine rookies from the school and he was not even close to being the headliner. He played in the shadows of
Chad Jones
, the Giants' third-round draft pick who was in a horrific car accident this offseason. Special teams coach Joe DeCamillis thinks McCray could be a star for him. His play on special teams jumped off the screen in the Hall of Fame Game, but he also has shown excellent range at safety. There's no way to keep McCray off the 53-man roster.
BIGGEST DISAPPOINTMENT
The Cowboys still like wide receiver
Kevin Ogletree
's potential, but he's really missed some great opportunities in this camp. The knock on Ogletree is his consistency, and he hasn't done a lot to overcome that reputation. He has tremendous speed and runs nice routes. But he'll lose focus and drop a couple of balls in practice. When Bryant suffered the ankle injury, Ogletree should've seized the opportunity. But all he did is make
Patrick Crayton
look more valuable than ever.
[+] Enlarge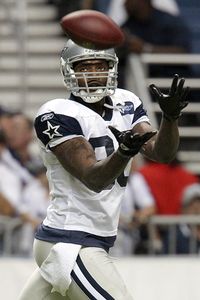 AP Photo/Tony GutierrezMartellus Bennett is out to prove he can be a threat in Dallas' offensive attack.
OBSERVATION DECK
Bennett has pretty much taken over camp the past three days. He told me Tuesday that he watched film of Brandon Marshall before practice every day because he loves his intensity. Bennett believes that he's been too nice of a guy to everyone in general and wants to play with more attitude. I don't know about the attitude, but he's catching everything. Perhaps he'll gain Garrett's trust heading into the season. As I mentioned earlier, I think he could be a huge weapon in the red zone.

Nose tackle Jay Ratliff had surgery on both elbows in the offseason and he's finally playing without pain. He's relentless in practice and he has put some of his mixed martial arts training to use. Ratliff has quietly become an important leader for this defense.

Brewster's still a work in progress, and that's as nicely as I can put it. He's had a difficult time anchoring in the two preseason games and he's lunging at defenders. The good news is that he's doing everything in his power to turn the corner. And he's going to get a huge opportunity this Saturday against the Chargers. If he can hold up well as the starter (if Alex Barron is out), that should solidify his roster spot.

Romo walked past the Beast West Coast bureau Wednesday and jokingly asked me whether he was playing Saturday. Moments earlier, Phillips had indicated that Romo might play an entire quarter. In other Romo news, he was seen sprinting after practice Wednesday near a busy street in Oxnard. I was later told that he was filming a spot for a TV network. According to an eyewitness, he was trailed by two motorcycle cops.

David Buehler has to be the cockiest place-kicker I've met -- and that's not a bad thing. The former USC kicker doesn't seem to have a care in the world, even though Cowboys fans are wondering what he'll do in real games. Other than that 49-yarder that he almost hooked into the stands in Canton, Ohio, he has been pretty consistent.

The Cowboys are going to try to get the ball to Crayton in the red zone. They've been lining him up in the slot and they're hoping to take advantage of his strength and sure hands. I love watching him compete against press coverage. He's a heady player who knows how to set up a route.

Safeties coach Brett Maxie has done some solid work with Alan Ball in camp. Ball looks like he has been starting for years. There are no false steps with this guy right now. Maxie is trying to get Ball to be a little more vocal on the field. That's not really Ball's nature, but he's getting a lot better at communicating with his teammates.

The John Phillips knee injury really hurts the Cowboys' offense. Garrett had made Phillips an important part of the running game and he was getting a lot better at catching passes. In fact, he was sensational against the Bengals before the injury. Without Phillips, the Cowboys only have two legitimate tight ends on the roster. We'll see what Scott Sicko does when he comes back from this concussion, but it's not a deep position right now.

What a superb camp it has been for Terence Newman. Everyone thought Mike Jenkins had passed him by, but Newman has responded with an excellent camp. He's doing a good job of getting his hands on everything.

Felix Jones looks so much bigger than I remember him, but the burst is still there. The Cowboys may have the best three-deep backfield in the NFC. Tashard Choice is an excellent back who could start for a lot of teams. Garrett has to find different ways to get him the ball. This team needs to get Jones and Choice in space.
June, 23, 2009
6/23/09
5:38
PM ET
| | |
| --- | --- |
| | |
| | Andy Lyons, Paul Jasienski and Marc Serota/Getty Images |
| | With the prevalence of wideouts over 6 feet tall, teams are seeking similar-size cornerbacks such as Nnamdi Asomugha, Darrelle Revis and Sean Smith to match up. |
Posted by ESPN.com's Tim Graham
DAVIE, Fla. -- In a land of munchkins, Randy Moss and Terrell Owens -- already giants in their field -- stand even taller.
Towering receivers make it seem so easy when they leap into the air and come down with the ball for a touchdown. They're tall. They can sky. They're often unchallenged.
The NFL has enough short cornerbacks to fill a forest of Keebler trees. That's the way it has been for years. By football standards, the cornerbacks are uncommonly good for men standing 5 foot 8 or 5 foot 9. You won't see quarterbacks or linebackers that size. Or punters, for that matter.
Cornerbacks are wiry bundles of fast-twitch muscles. What they give up in physicality they compensate with zippiness and vertical leaps.
But cornerback size has become an issue in some front offices.
Teams, including the Miami Dolphins, have made an effort to grow. There's a greater emphasis being placed on matching up physically, whether it be on jump balls in the end zone or press coverage at the line of scrimmage.
"When you have 6-5 against 5-8, you have some discrepancies there," Dolphins secondary coach Todd Bowles said.
Cornerbacks have experienced an acute growth spurt in recent years.
The Elias Sports Bureau found that 31 percent of cornerbacks who started at least eight games in 2004 were listed at 6 feet or taller.
| | |
| --- | --- |
| | |
| | Tom Hauck/Getty Images |
| | Dominique Rodgers-Cromartie was one of four 6-foot-2 starting cornerbacks last season. |
Last year, the number was 41 percent.
No regular starter was taller than 6 foot 2 last year, but the four listed at that height were Nnamdi Asomugha, Antonio Cromartie, Dominique Rodgers-Cromartie and Ike Taylor. So that's the best in the business (Asomugha), the 2007 interception leader (Cromartie), a top rookie last year (Rodgers-Cromartie) and two Super Bowl starters (Rodgers-Cromartie, Taylor).
In previewing the 2006 draft, ESPN's John Clayton noted there also were four 6-foot-2 starting cornerbacks the year before. That quartet was considerably less impressive: Julian Battle, Gary Baxter, Mike Rumph and Andre Woolfolk.
Apparently, finer tall athletes are playing the position now.
"The receivers are getting a lot bigger, the Calvin Johnsons, Randy Mosses and Terrell Owenses of the world," said Bowles, who played eight seasons at safety for the Washington Redskins and San Francisco 49ers. "You can get a 5-8, 180-pound corner with all the quickness and skill in the world, but you get third-and-2, third-and-3, the [receivers are] running slants and pushing them out of the way and bodying them out in the red zone."
In Clayton's story from 2006, he quoted then-Tennessee Titans general manager Floyd Reese as saying the "optimum height [for a cornerback] is about 5-11." Reese cited a 10-year study that suggested taller cornerbacks don't last as long because they tend to be more physical.
Reese, now a senior football adviser with the New England Patriots, has watched his new club grow at cornerback. This offseason, the Patriots traded 5-foot-9 starter Ellis Hobbs and picked up 6-foot Shawn Springs and 6-foot-1 Leigh Bodden.
Elsewhere in the AFC East, the New York Jets have 6-foot Pro Bowler Darrelle Revis and 5-foot-10 Lito Sheppard. The Buffalo Bills have the shortest projected starters. Terrence McGee is listed at 5 foot 9, and Leodis McKelvin at 5 foot 10. But free-agent acquisition Drayton Florence is 6 feet tall.
The Dolphins were concerned with their size at cornerback even before the Bills welcomed Owens to the AFC East.
The Dolphins sometimes felt overmatched last year against a series of big receivers: Moss, Larry Fitzgerald, Andre Johnson, Brandon Marshall and Dwayne Bowe.
Miami kept Marshall and Bowe in check, but surrendered 153 yards to Fitzgerald, 178 yards to Johnson and 125 yards and three touchdowns to Moss.
"You better have some big, strong people that can compete against these guys," Dolphins head coach Tony Sparano said, "because they're big, strong, physical receivers that can take over a game in those situations. I think that you need to be prepared when you're playing against them."
Miami's starting cornerbacks last year
were Will Allen and Andre' Goodman. Both are listed at 5 foot 10, an inch below the league average for an NFL starter.
| | |
| --- | --- |
| | |
| | Gene Lower/Getty Images |
| | The Dolphins got bigger at CB this offseason through the draft and by signing 5-foot-11 Eric Green. |
Goodman departed via free agency. The Dolphins signed Eric Green, a 5-foot-11 former Arizona Cardinal, and selected two more corners early in the draft. They chose Vontae Davis (5 foot 11) of Illinois in the first round and Sean Smith (6 foot 4) of Utah in the second round.
"We like big corners," Sparano said. "In fact, we'll take smaller corners in some situations off the [draft] board, and they might just be good players for other people, just maybe not for us."
Smith is a sequoia corner at 6-4. He received first-team reps at right corner during organized team activities.
"It definitely makes it more difficult for receivers to catch the ball and ball placement for quarterbacks," Smith said. "With my reach and size, you definitely have to keep the ball away from me. With that in my mind, my size helps me out a lot."
Sparano's former team, the Dallas Cowboys, is among those not motivated to get taller at cornerback.
The Cowboys, in fact, have gotten shorter. They traded Anthony Henry and moved Alan Ball to safety. Each is listed at 6-foot-1.
"Our top three corners right now are 5-10 or less, and we're pretty satisfied with that because they all can run," Cowboys assistant secondary coach Brett Maxie said. "They all can play the ball down the field, and they're physical."
Maxie noted the NFC East doesn't have the same physical receivers to worry about as other divisions, especially now that the New York Giants have ejected Plaxico Burress.
"We face faster, smaller guys," said Maxie, who played safety for 13 years in the NFL. "You've got to be able to match up with those guys. You can't sit there and press all day. You've got to be able to play off, react quickly, change it up.
"Some teams would rather go after a tougher 5-foot-9 corner that can play Cover 2 and jam and tackle and be physical at the point of attack rather than go out and get a 6-foot corner who's a cover guy and not real physical."
Maxie also explained the taller a cornerback is, the more difficulty he will have recovering when beat at the line. Once the receiver gets a step, it's tougher for a defender with size to quickly change direction and cover him.
"If you go out and get that bigger corner, he better be able to press at the line of scrimmage," Maxie said. "Secondly, he's got to be able to run."
Those players are difficult to find, but they're out there. One team has two of them. Green Bay Packers cornerbacks Al Harris and Charles Woodson are 6 foot 1 each and made the Pro Bowl last year.
The Dolphins are confident bigger will be better for them.
"You probably lose a little bit of niftiness, but speed and physicalness makes up for that," Bowles said. "With the receivers as big as they are nowadays, you don't see the niftiness in them anymore anyways. That's why we thought it was important."
May, 2, 2009
5/02/09
10:46
PM ET
Posted by ESPN.com's Matt Mosley
IRVING, Texas -- It was easy to tell the survivors from the onlookers Saturday afternoon at the Cowboys' practice facility. Even an hour and a half after 64 mph winds ripped the club's practice facility to shreds at 3:27 p.m. local time, some of the reporters who'd been inside the facility when the storm arrived had shell-shocked looks on their faces.
I had been at Saturday's morning practice and subsequent interview session, but wasn't attending the afternoon workout. When I returned to Valley Ranch at about 4:30 p.m., there were fire trucks and police cars everywhere. Gawkers were walking up and down the street taking pictures of the area where the practice bubble once sat. If you've ever driven through the area surrounding Valley Ranch, you know how prominent the structure was. It was 85 feet tall and it took up 80,000 square feet. The practice bubble looked like a gigantic white tent, and I can remember thinking how unnatural it looked in the neighborhood when it opened in the summer of 2003.
The morning practice had been held outside, but with dark clouds forming, the Cowboys held the afternoon session indoors. According to people I talked to at the scene, the first sign of trouble was when the light fixtures atop the facility started swaying violently. And then the entire building began to shake back and forth. By the time people started racing for the exits, the structure was already crumbling.
My former colleague at the Dallas Morning News, Todd Archer, was trapped in one of the doorways. Here's his account of what happened. He credits former Texas Tech defensive end Brandon Williams and Cincinnati safety DeAngelo Smith for lifting the door frame so that he could escape the building. Nick Eatman of Dallascowboys.com attempted to help Archer, but said it was like "lifting a car."
The Cowboys didn't reveal the names of the 12 people injured in the collapse, but I've confirmed that special teams coach Joe DeCamillis was transported to a local hospital for a possible neck injury. I'm also told that assistant secondary coach Brett Maxie suffered a laceration on his leg that required stitches. As I left the building Saturday night, a longtime cameraman for the local Fox affiliate, Larry Rodriguez, was about to receive treatment for a gash in his hand.
"I reached up to try and block a beam that was falling on me," he said. "But then I realized that wasn't a wise move."
Most of the reporters who were inside the building during its collapse appeared to have minor cuts and bruises. It created a surreal scene in which the reporters were being interviewed by other reporters. I reached one of the rookies by cell phone this evening, but he said players had been instructed not to talk about the situation.
In some of the TV footage following the collapse, you could see guard Greg Isdaner, a free-agent rookie out of West Virginia, holding onto a pole inside the practice bubble with a look of sheer terror on his face. According to the Fort Worth Star-Telegram, Cowboys head coach Wade Phillips attempted to direct emergency crews to three people who were trapped underneath the debris.
I walked out toward the practice bubble at about 6 p.m. local time Saturday and couldn't believe the sight. As one reporter who was inside the building said, "It's like a bear ripped up a tent."
When you look at the destruction, it's hard to imagine how everyone survived. It's not like a couple of steel poles fell down. Pretty much the entire framework came tumbling down. I shudder to think what the result would've been if this were a full-roster minicamp. The head of emergency services in Dallas County, Dr. Paul Pepe, said there were only three "serious" injuries and that none of them were life-threatening. And according to the latest report from the Star-Telegram, only one person will have to stay in the hospital overnight.
Team spokesman Rich Dalrymple said owner Jerry Jones had cut his trip to the Kentucky Derby short and was flying home Saturday night. The players participating in this weekend's minicamp are expected to hold meetings Sunday, but they probably won't practice. We'll obviously keep you posted on any new developments.
Update: As of 12:08 a.m. ET, a Cowboys scout named Rich Behm is undergoing surgery on his spinal cord at a Dallas hospital, according to a source close to the family. DeCamillis, who is former NFL head coach Dan Reeves' son-in-law, has two broken vertebrae, according to sources.
Update 2: Very sad news Sunday night. Word is out that Behm is paralyzed from the waist down.
May, 2, 2009
5/02/09
7:13
PM ET
Posted by ESPN.com's Matt Mosley
An air-supported practice bubble at the Cowboys' Valley Ranch headquarters collapsed this afternoon while players and coaches were conducting a rookie minicamp. A Cowboys spokesman has told The Dallas Morning News that four members of the club's support staff have been transported to a local hospital, but no serious injuries have been reported. The local CBS affiliate (KTVT 11) had talked to assistant coach Brett Maxie, who had a gash in his leg that he apparently suffered during the roof collapse.
I had attended the morning practice session and the open locker room period, but didn't stick around for the second practice. A severe thunderstorm hit the area about an hour ago, and that's apparently what caused the collapse. I'm on my way to Valley Ranch as we speak and will try to provide more details as they emerge. Here's the latest report from the scene via the Morning News' blog.
May, 1, 2009
5/01/09
4:46
PM ET
Posted by ESPN.com's Matt Mosley
IRVING, Texas -- The crowd at today's Dallas Cowboys rookie minicamp was thinner than usual, in part because the most recognizable player was a fourth-round draft choice out of Texas A&M named Stephen McGee who missed most of the '08 season with a shoulder injury. Before approaching lockers, reporters would confer to make sure they were about to interview the correct player.
I'll admit that I spent 10 minutes visiting with two former Cincinnati defensive backs before realizing which one was Mike Mickens (seventh round) and which one was DeAngelo Smith (fifth round). The two college pals seemed to enjoy the confusion -- especially when one Fort Worth-based reporter blurted, "OK, who's who here?"
Smith is a 5-foot-11, 197-pound cornerback who will convert to safety for the Cowboys. Mickens was projected as a third-round pick following his junior season, but he elected to return for his senior season and injured his left knee. According to Mickens, he didn't give the knee enough time to heal before playing at "50 percent" in the Orange Bowl. He knows the decision may have cost him a few rounds in the draft, but he doesn't have any regrets.
"I didn't even think about sitting out the bowl game," Mickens said after his first practice with the Cowboys on Friday. "When there's a chance to compete, I'm going to be out there. No one tried to talk me out of it because they knew what I'd say."
Last Sunday, Mickens said he "gave up hope" when he wasn't taken in the fifth round. And that's why he was thrilled to receive a phone call from Jerry Jones in the seventh round. Mickens couldn't participate in the Senior Bowl and the combine because of his knee injury. And he wasn't himself at Cincinnati's pro day in March, running a 4.53 in the 40-yard dash. He said he'd run a 4.41 his sophomore season at Cincinnati. And to the naked eye Friday, he didn't appear to be favoring his left knee at all.
The most impressive thing about Mickens, Smith and fifth-round safety Michael Hamlin out of Clemson is that they caught pretty much everything thrown their way Friday. The Cowboys only had eight interceptions last season, and they wanted players with what scouts refer to as "good ball production."
Mickens, Smith and Hamlin combined to have 38 interceptions in college. And safeties coach Brett Maxie said he saw Hamlin catch some low throws Friday that grabbed his attention. OK, I'll be back in a moment with tidbits on the players I focused on during the minicamp.