August, 31, 2013
8/31/13
6:27
PM ET

Most significant move:
The Falcons were 13-3 last year and kept most of their team together. That's why it's more than a little surprising that four undrafted free agents made the roster. That's a tribute to the scouting staff. OT
Terren Jones
, LB
Paul Worrilow
, LB
Joplo Bartu
and OT
Ryan Schraeder
made the team. Worrilow and Bartu should contribute immediately on special teams. Schraeder has shown the ability to play both right and left tackle.
Fan favorite:
He was a long shot all the way, but Banks was being followed closely by fans. That's because he had a unique history. Banks spent five years in prison and later was exonerated. Banks' attempt to make the team was a great story while it lasted. But it may not be completely over. The Falcons reportedly may offer Banks a position working with the team.
What's next:
The Falcons could be combing the waiver wire for offensive line help. Second-year pro
Lamar Holmes
is unproven at right tackle and the Falcons, who lost projected starter
Mike Johnson
to injury, might want to bring in an alternative. Even if Holmes plays well, the line still could use more depth. It also is possible the Falcons could bring in a veteran quarterback because backup
Dominique Davis
never has taken a snap in the regular season.
Players cut:
Waived LB
Brian Banks
, G
Theo Goins
, DT
Neal Huynh
, CB
Terrence Johnson
, S
Charles Mitchell
, DT
Micanor Regis
, T
Alec Savoie
, LB
Pat Schiller
, K
Jeremy Shelley
, CB
Peyton Thompson
, RB
Ronnie Wingo
, FB
Patrick DiMarco
, LB
Robert James
, WR
Darius Johnson
, CB
Jordan Mabin
, G
Phillipkeith Manley
, G
Jacques McClendon
, WR
Martel Moore
, DT
Adam Replogle
and WR
James Rodgers
. The Falcons also placed QB
Sean Renfree
and TE
Andrew Szczerba
on injured reserve.
August, 30, 2013
8/30/13
1:04
PM ET
The feel-good story of
Brian Banks
apparently is coming to an end -- sort of.
Jay Glazer reports the
Atlanta Falcons
are
releasing
the linebacker, who was playing football for the first time in 10 years. You probably know the backstory on Banks. He was a highly-recruited high school linebacker, but his career got sidetracked and he spent five years in prison. Banks later was exonerated after his accuser recanted her claims.
The Falcons decided to give Banks a look during the offseason. But, ultimately, he wasn't able to catch up fast enough to make an NFL roster.
But Banks' time with the Falcons may not be over after all. Glazer also reports that owner Arthur Blank is contemplating a role for Banks within the organization.
April, 3, 2013
4/03/13
1:45
PM ET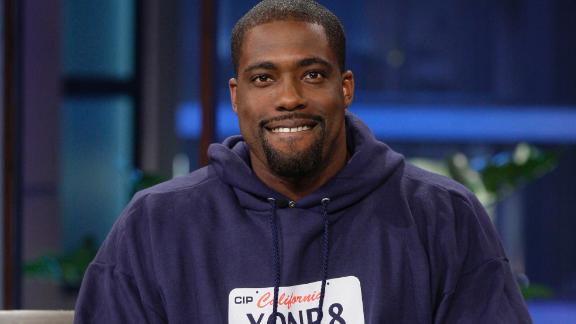 Atlanta Falcons
coach Mike Smith might be one of the straightest shooters in the NFL. That's why he just might be the perfect coach for Brian Banks.
If you don't know Banks' story already, he's the linebacker that had it all -- once upon a time -- and lost it. Banks was a top recruit coming out of high school and had committed to the University of Southern California. But Banks never got to play college football.
He was charged with rape and kidnapping, and spent more than five years in prison. Eventually, he was exonerated as his accuser recanted her claims.
The Falcons, who worked out Banks last summer and had stayed in touch, signed him to a contract Wednesday morning. But the deal didn't come with any promises.
"I had a really amazing one-on-one conversation with (Smith) where he congratulated me and said that he was happy for me to be here, but this is just the beginning of a long road to taking that next step and making the 53-man roster,'' Banks said in a conference call with the Atlanta media. "We both agreed that I don't expect any handouts or favoritism. I'm here to work like everybody else. The result of my hard work will be whatever they deem necessary. All I can do is do my best."
Banks' best might be good enough. He's 27, and the Falcons must have seen some physical talent in a player who spent last year with Las Vegas of the United Football League. Despite Banks' age, there's no need for the Falcons to rush him.
If Smith and his staff think Banks shows enough in training camp to play in the NFL, they can groom him slowly as a reserve behind middle linebacker
Akeem Dent
or on the practice squad. There also is the matter of the attention that comes with Banks because of his past.
In some markets, that might create a distraction. But I think Atlanta is a different situation. Banks is a one-day story, because the Falcons are a veteran team that came 10 yards from the Super Bowl last season. Taking the next step is the big offseason story for the Falcons, and that will keep the attention off Banks.
He's also coming into a locker room that has strong veteran leadership, and he'll be coached by a good defensive staff led by coordinator Mike Nolan.
Banks said all he can ask for is a chance.
"That's why I work so hard now for the dreams I want to succeed in, because there's one point in my life where I lost everything,'' Banks said.
With the Falcons, Banks will at least get a fair chance to show if he can play in the NFL.
August, 19, 2012
8/19/12
8:25
AM ET
Reviewing Saturday's action at Soldier Field:


Chicago Bears 33, Washington Redskins 31
Preseason record:
1-1
Of interest:
On an overall positive night for the Bears, three players encountered injuries worth monitoring. Punter
Adam Podlesh
suffered a hip flexor while trying to catch Redskins returner Brian Banks and will have an MRI on Sunday. Safety
Chris Conte
left the stadium with his right arm in a sling after suffering a shoulder injury, and rookie safety
Brandon Hardin
was carted off the field because of an apparent neck injury. Hardin was able to move his arms and legs and never lost consciousness. … Quarterback
Jay Cutler
's first action was productive. He completed four of his first five passes, including a 41-yarder to receiver
Brandon Marshall
on their first live play together in five years. … Rookie receiver
Alshon Jeffery
continues to suggest he'll be ready to contribute right away, turning a throw over the middle from
Jason Campbell
into a 34-yard gain and catching a team-high three passes. …
Michael Bush
's pair of red-zone touchdowns further strengthened the idea that he will be the Bears' red zone and short-yardage back. … Defensive end
Israel Idonije
had 2.5 sacks, including a forced fumble against the Redskins' Robert Griffin III. … It was a wild night on special teams. The Bears gave up a 91-yard scoring return to Banks, but
Lorenzo Booker
had a 105-yard kickoff return for a touchdown and
Eric Weems
also had a 48-yard return. Place-kicker
Robbie Gould
hit a 57-yard field goal with 31 seconds remaining to account for the winning margin.
Local coverage:
Podlesh thinks he'll be ready for the start of the season, according to
Sean Jensen of the Chicago Sun-Times
. … Coach Lovie Smith didn't think that Conte's injury was too serious, and the Bears are crossing their fingers on Hardin.
Vaughn McClure of the Chicago Tribune
has more. … The Bears can live with how their offensive line played Saturday night, according to
Dan Pompei of the Chicago Tribune
. … It appears Jeffery has earned the trust of the Bears' quarterbacks, writes
Michael C. Wright of ESPNChicago.com
. …
Melissa Isaacson of ESPNChicago.com
: "This is a different Jay Cutler, with a different offensive coordinator and a different Bears team around him. ... Cutler and his new receivers showed the first glimpse of a passing offense that will be able to stand up to the better defensive backs while finally taking its place in a new NFL that isn't all that new anymore." … The Bears took a hard look not only at left tackle, between
J'Marcus Webb
and
Chris Williams
, but also at left guard between
Chris Spencer
and
Chilo Rachal
, according to
Jeff Dickerson of ESPNChicago.com
.
Up next:
Friday at
New York Giants
June, 14, 2012
6/14/12
7:11
PM ET
RENTON, Wash. -- Thoughts and observations after watching the
Seattle Seahawks
complete their three-day mandatory camp Thursday:


It was rookie quarterback Russell Wilson's turn to get extensive reps with the starting offense. He appeared in command and wasn't bashful about telling more experienced teammates where to line up. Wilson spoke to reporters afterward and again projected the qualities teams seek in a leader. He's confident, engaging and unafraid to answer questions head on. Can he play? The Seahawks will find out more during preseason.
The Seahawks are loading up rookie linebacker Bobby Wagner with play calls, same as they did for K.J. Wright last season. Wright has been expected to handle the calls this season even though Wagner projects as the middle linebacker in the base defense. That might not be the case, however. Wright smiled and shook his head when asked about continuing to handle all the calls. He's heard and read the reports suggesting that will be the case. But Wright said Wagner is making the calls. Wright said he expects Wagner to make the calls this season. The Seahawks have options, but for now at least, they want to see what Wagner can handle. Hand strength is one of Wagner's biggest assets -- and an important one for middle linebackers, who must continually operate in heavy traffic.
Receiver Ben Obomanu dropped an accurate deep pass from Wilson. Obomanu has had some trouble with drops during this camp. He finished last season with five drops, tied with Anthony McCoy for most on the team (Obomanu had more targets, 57-24). The competition at receiver will be intense during camp. Sidney Rice, Doug Baldwin and Golden Tate appear to be locks for roster spots. Obomanu could be close behind. Mike Williams, Kris Durham and Ricardo Lockette are factors as well.
Linebacker Brian Banks wrapped up his second practice on a tryout basis. He exceeded expectations but will need time to improve his conditioning, coach Pete Carroll said. Banks, exonerated after spending more than five years in prison, remains unsigned.
That's it for the Seahawks -- and every other NFC West team -- until training camp. I've picked up material from the various camps to use in future entries. It's been a good week that way.
June, 8, 2012
6/08/12
7:10
PM ET
It doesn't appear the San Diego Chargers will pursue linebacker Brian Banks. However, the Kansas City Chiefs appear set to take a look at him.
U-T San Diego reports
that San Diego coach Norv Turner said the team doesn't plan to invite Banks back after his Friday workout. The paper adds that Banks will soon
work out with the Chiefs
.
Banks worked out for the Seahawks on Thursday, and the team invited him back for its upcoming minicamp. Banks was recently exonerated from a sexual assault charge on which he was convicted 10 years ago. He was 16 and prized USC recruit when he went to jail; he is now 26. Seattle coach Pete Carroll is the man who recruited him at USC.
June, 7, 2012
6/07/12
7:50
PM ET
Thoughts and observations after watching Seattle Seahawks coach Pete Carroll and free-agent linebacker Brian Banks address reporters following
Banks' tryout
Thursday:

Banks
The Seahawks have posted video from Carroll and from Banks. The excitement over the possibilities was palpable. Carroll called Banks a "solid natural athlete" with "good natural quickness" and flexibility. But after a wrongful conviction ended Banks' high school career and sent him to prison for six years, the 26-year-old prospect faces long odds. Carroll: "We're going to support the chance and have a vision for what he could become more than what he is today and see where it goes."
Banks realizes much work lies ahead and that he is only starting out. At the risk of seeing what someone rooting for Banks might see, I thought he projected maturity, perspective, intelligence and personality. He seemed credible when saying this opportunity would not define him. He said he has plans for his life regardless.
Banks said he played one season with Long Beach City College following his parole, but new requirements forcing parolees to wear tracking devices made continuing his career impractical. The NCAA allows players a five-year window to play four seasons. Banks played at Long Beach City in 2007. I don't know if he could have pursued college football opportunities outside the NCAA, but accepting a pro tryout can compromise an athlete's amateur status. "Why not shoot for the stars?" Banks said.
Banks said he measured 6-foot-2 and 239 pounds. That is prototypical size for an NFL linebacker. The Seahawks' current linebackers average about 235 pounds based on listed weights. Seattle has less depth at linebacker than at some positions, but even mentioning where Banks might fit is extraordinarily premature. He hasn't even formally accepted the team's offer to attend minicamp on a tryout basis next week. Banks said he would go over options with his agent, Bruce Tollner.
Banks said he ran a 40-yard dash, but did not know his time. He said he has run times in the 4.6-second range. That would place him in the top third of linebackers tested at the 2012 scouting combine. Carroll: "He's very coordinated, good natural quickness, very good flexibility, he jumped well, he caught the ball real well ... his hand-eye coordination was there. You can just see, he's not in the kind of condition that our guys need to be in. So this week in particular will not be a great indication, but it will be a start and we'll see where it goes from there."
June, 7, 2012
6/07/12
3:17
PM ET
Brian Banks has finished his first tryout with the
Seattle Seahawks
.

The team did not get a chance to watch Banks participate in organized team activities, which
the NFL canceled
, so the Seahawks hope to
take a closer look
at the linebacker during their minicamp next week. They've invited him to participate in their June 12-14 camp, on a tryout basis.
That's great news for Banks, who is trying to transition to the NFL at age 26 following his wrongful imprisonment. A team presumably would not put Banks on the field in a competitive situation as a publicity stunt. Banks must have shown sufficient athleticism to warrant another look without putting himself or others at undue risk.
Coach Pete Carroll even said "
it's very possible
" that Banks could earn a roster spot. There would be no advantage in Carroll taking such tack publicly unless it were true. Why create unrealistic expectations? Carroll also spoke Thursday about balancing hopes against the reality that Banks has much work to do even in a best-case scenario.
Banks would first have to accept the Seahawks' offer to attend their camp. He could have options with other teams. We're still in the early stages of the process. Banks would not sign as part of the Seahawks' 90-man roster. He would attend on a tryout basis, which is common.
The minicamp Seattle has scheduled for June 12-14 will take place in a tightly controlled setting. The NFL has already punished the Seahawks for violating rules against contact. The team was going to be under heightened scrutiny for that reason. Throw in Banks, whose story has resonated nationally, and exponentially more eyeballs will be trained on the Seahawks next week.
Banks' story is irresistible. It's easy to root for him personally whether or not you're a fan of the team giving him a chance. Seattle camp next week was already mandatory for veterans. It'll become mandatory viewing if Banks accepts the invite.
May, 30, 2012
5/30/12
9:56
PM ET
Shortly after being exonerated in a sexual assault case from 10 years ago, linebacker Brian Banks expressed interest in trying out for the
San Diego Chargers
.
The team didn't show any initial interest in the Southern California resident. However,
U-T San Diego reported Wednesday
, the Chargers have been in contact with Banks. No tryout has been scheduled, but the contact indicates that the team will consider looking at Banks.
ESPN's Rick Reilly reported earlier Wednesday that the Chiefs called Banks about setting up a tryout. He has talked to several other teams and has a workout scheduled with the Seahawks next week.
Banks, now 26, was a highly prized USC recruit before he was convicted of sexual assault. He was recently exonerated.
Meanwhile,
U-T San Diego reports
that linebacker
Larry English
returned to organized team activities after suffering a minor groin injury.

NFL SCOREBOARD
Sunday, 2/2
WEEKLY LEADERS