September, 3, 2011
9/03/11
6:49
PM ET
Check here
for a complete list of the
Chicago Bears
' roster moves.

Surprise move:
The Bears have now bid farewell to three locker room stalwarts: Center
Olin Kreutz
, receiver
Rashied Davis
and now tight end
Desmond Clark
. The Bears released Clark as part of Saturday's roster cutdown, deciding to keep undrafted rookie
Kyle Adams
instead. Clark
said via Twitter
that "I played my butt off but sometimes it's more about the business." The Bears indicated that he was released with an injury. Regardless, intentionally or otherwise, the Bears have at least temporarily created a player leadership void.
No-brainers:
After last week's communication fiasco, there was little doubt that running back
Chester Taylor
would be
part of this cutdown
. The Bears need only two tailbacks behind starter
Matt Forte
, and those roles will be filled by
Marion Barber
and
Kahlil Bell
. They also kept fullback
Will Ta'ufo'ou
. I don't know if the Bears entered training camp planning to keep undrafted rookie receiver
Dane Sanzenbacher
, but his quick ascension as a slot receiver was obvious by the midpoint of the preseason. Quarterback
Jay Cutler
loves throwing to him.
What's next:
The Bears' depth at linebacker is a little scary. They kept only five at the position, with
Brian Iwuh
and undrafted rookie
Dom DeCicco
as the reserves behind
Lance Briggs
,
Brian Urlacher
and
Nick Roach
. You would think the Bears would at least scan the waiver wire for additional depth, especially with Briggs nursing a knee injury. And with Barber and Bell having suffered preseason injuries, the Bears might check out emergency running back depth as well.
August, 23, 2011
8/23/11
12:00
PM ET
I'll admit I was a bit groggy by the time I posted
Monday night's Observation deck
on the
Chicago Bears
' 41-13 loss to the
New York Giants
. My general impression of the Bears' defense was pretty neutral, especially on a night when the opponent rang up 41 points, and I wrote as much. I saw what I thought was some really sharp play in the first couple of series and thought the Bears' performance dipped at about the same time that coach Lovie Smith began removing his starters.
So I was surprised Tuesday morning to see the teeth-gnashing and general concern about the way the Bears' defense played and, especially, tackled. And I agree with
Brad Biggs of the Chicago Tribune
on this much: Smith's postgame criticism is as rare as it gets.
(While talking about the health of his team, Smith interjected: "You've got to tackle a little bit better before you start talking about injuries and things like that." Smith almost never criticizes his players, assistants or team in public.)
[+] Enlarge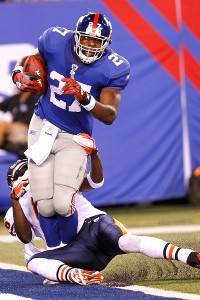 Tim Farrell/The Star-Ledger via US PresswireBrandon Jacobs
Maybe my expectations for preseason games are too low, but I go into them thinking they will be sloppy and light on fundamentals. You can get a sense for individual skills and competence in some instances, but once coaches begin sitting their starters, you're riding a slippery slope on any subsequent judgment from a team perspective.
But just for fun, I went back and re-watched the Bears' first four defensive series, after which middle linebacker
Brian Urlacher
departed. Remember, linebacker
Lance Briggs
was already sidelined for the game. What I saw confirmed my original thoughts: The Bears' starters missed maybe three tackles, one of them glaring, but also made more than a few secure stops to minimize or break up plays in the early going.
Here's what I saw:
First possession
Second possession
Third possession
Defensive end Israel Idonije missed a backfield opportunity on tailback Brandon Jacobs, who went on to a 7-yard gain on first down.

Nobody missed a tackle on Jacobs' 18-yard run on third-and-1. The Giants caught the Bears in a man defense, and linebacker Brian Iwuh followed the receiver in motion away from the point of attack.

Peppers rushed Manning on two other plays, contributing to incompletions.

Jennings tackled Bradshaw 4 yards short of a first down on third-and-10.

The Giants caught the Bears in another favorable matchup on fourth-and-4. Manning lofted a nifty 21-yard pass over Moore to receiver Victor Cruz.

Urlacher tackled Jacobs after a 4-yard gain in the red zone.

Iwuh knocked away Manning's pass for Manningham on third-and-goal, forcing a field goal.
Fourth possession
The Giants took over at the Bears' 31-yard line following Devin Thomas' 73-yard kickoff return.

Linebacker Nick Roach stuffed a Jacobs run for a 1-yard loss.

Harris stopped a reverse to Manningham after a 1-yard gain.

Bradshaw gained 13 yards on a screen play largely because center David Baas drilled Iwuh to the turf.

On the next play, Wright whiffed on Jacobs at about the 10-yard line and Jacobs dragged Harris about 4 yards into the end zone for an 18-yard scoring jaunt.
To be sure, the night didn't end well for the Bears' defense. Maybe you can excuse a safety getting dragged a few yards by a 275-pound back, but never do you want to see a safety juked by the same guy. Considered as a whole, however, I didn't see nearly enough to panic during those four possessions.
You could make the argument that backups should play better than the way the Bears' did Monday night. You can question whether they have the depth to withstand any significant injuries. Specifically, you could argue that Wright shouldn't have continued to miss tackles later in the second quarter just because he was playing with some non-starters.
But you're on your own there. In my experience, you're much better off under-analyzing preseason games than overanalyzing them. I understand why Smith was upset. He is a stickler for physical football, and he can't excuse the play of backups and mishmash lineups. But we can. So let's everyone calm down and move on.
August, 22, 2011
8/22/11
1:22
PM ET
Three things to watch for in the Chicago Bears' preseason game at the New York Giants on Monday night. Kickoff is set for 8 p.m. ET. The game will be televised on ESPN.


1. Offensive line progress.
No shocker here. The Bears gave up nine sacks in their preseason opener, including four by the first team, and have yet to soothe fears about the state of their biggest question mark. The hold of two starters on their respective positions is tenuous at best, and the future of left tackle
J'Marcus Webb
and right guard
Lance Louis
could ride on demonstrable improvement against the Giants. (Yes, the Giants are the team that sacked quarterback
Jay Cutler
nine times in one half last season.) Otherwise, the Bears might be tempted to fall back on Plan B, which would include sliding center
Roberto Garza
to right guard, inserting
Chris Spencer
as the center and/or replacing Webb with veteran
Frank Omiyale
. It might be now or never for this group.
2. Defensive replacements.
Linebacker
Lance Briggs
won't play because of a bruised knee and likely will be replaced by
Brian Iwuh
. More interesting to me, however, will be the play of two young defensive starters the Bears have put in important positions this summer. Defensive tackle
Henry Melton
and free safety
Major Wright
both had nice debuts last week, but preseason or not, it will be important to see them take the next step of starting a night game on the road. Both are in playmaking roles in the Bears' scheme.
3. Using the big receiver:
The Bears inserted
Roy Williams
into their starting lineup earlier this month, displacing former starter
Johnny Knox
. But by all accounts, Williams and Cutler are still developing an on-field relationship. Williams didn't catch a pass last week, and it's fair to expect at least a hint of the production the Bears are expecting out of him.
Knox had a strong week of practice
last week and has not willingly accepted his demotion, so stay tuned.
September, 5, 2010
9/05/10
5:15
PM ET
If the
Green Bay Packers
are planning any significant player moves before resuming practice this week, it won't be through the initial waiver process. Packers general manager Ted Thompson
said Sunday during a news conference
that the team did not put in a claim after NFL teams cut down their rosters to 53 Saturday.
The Packers did have a number of their cuts claimed by other teams, however, and there has been a good level of activity in and around all four NFC North teams Sunday. I'll keep a running list on this post of the most significant players involved:
September, 4, 2010
9/04/10
8:48
PM ET
Check
here
for a full list of Chicago's roster moves.

Biggest surprise:
There were no earth-shattering moments Saturday for the Bears. But it was sobering to see them give up on three members of their 2009 draft class, including defensive end
Jarron Gilbert
, receiver
Juaquin Iglesias
and safety
Al Afalava
. Defensive lineman
Henry Melton
squeezed onto the roster, and the class did produce two 2010 starters: Receiver
Johnny Knox
and right guard
Lance Louis
. Meanwhile, guard
Josh Beekman
was put out of his misery. The Bears have been trying to replace Beekman for two years and finally released him. Finally, the Bears kept four tailbacks --
Matt Forte
,
Chester Taylor
,
Kahlil Bell
and
Garrett Wolfe
. Forte and Taylor are expected to get all of the offensive snaps, but Bell and Wolfe have special teams value.
No-brainers:
There was plenty of excitement when the Bears drafted quarterback
Dan LeFevour
, an Illinois native, but it was apparent early in training camp that he wasn't destined to make the roster. The Bears devoted all of their offensive reps to starter
Jay Cutler
and then-backup
Caleb Hanie
.
Todd Collins
has taken over at No. 2 because of Hanie's shoulder injury, and there was no way the Bears were going to release Hanie and keep LeFevour. You wonder if he won't end up back on their practice squad.
What's next:
The Bears are going to have to get their special teams re-situated after releasing
Tim Shaw
, who led the team with 30 special teams tackles last year. It appears Shaw was released to make room for linebacker
Brian Iwuh
, who the team believes is more suited for its defensive scheme.
May, 14, 2009
5/14/09
2:26
PM ET
| | |
| --- | --- |
| | |
| | Icon Sports Media |
| | For Jacksonville to rebound from a disappointing 2008 season, it will need a better performance from linebackers Clint Ingram (51) and Justin Durant (56). |
Posted by ESPN.com's Paul Kuharsky
Jack Del Rio was a third-round draft pick, a tough player who earned a spot on the All-Rookie team, built an 11-season résumé, made a Pro Bowl trip and amassed nearly 1,000 career tackles.
With a linebacker's mentality underneath his headset, it would befit Del Rio's Jaguars to be led by its linebackers, a group that failed to make enough plays for the 2008 season's disappointing 5-11 squad.
Now, without fixture Mike Peterson -- whose falling out with Del Rio last season added to the team's troubles -- three backers will be trying to put their stamps on the 2009 team: Daryl Smith, 27, a second-round pick from 2004; Clint Ingram, 26, a third-round draft pick from 2006; and Justin Durant, 23, a second-rounder from 2007.
"He expects a lot out of you," Ingram said of Del Rio. "Having him around is really an advantage. He's somebody who played the position and knows exactly what you're looking at. He's not been out of the game too long, he can relate to what we are going through, a lot of the things that we are seeing on the field."
A Closer Look
Coach Mark Duffner and a scout weigh in on Justin Durant, Clint Ingram and Daryl Smith:
JUSTIN DURANT

Duffner: "A very quick, athletic, fast player. He has excellent change of direction, he's a very quick-twitch player. He has a lot of range. We feel like he's got a lot of big play capability and ability. He has played primarily as an outside linebacker for us. He's a very active player."

Scout: "He's a bit undersized and I expect they're moving him inside to the Mike. He's a phenomenal athlete, he's quick to the football, he's an aggressive tackler, he can play in coverage with range, he can man up. He's got the greatest upside of all of them and he can really develop into a consistent 100-tackle type. [He had 113 last year, according to the team's count.] ... The horses up front [John Henderson and Rob Meier] will allow for Durant's instincts to help him get to the football quickly, free up a lot of stuff for him to run tackle to tackle or sideline to sideline. Whether or not he has the ability to hold up will be the question, and I think the guys up front can limit the amount of hits he takes."
CLINT INGRAM

Duffner: "Clint started off very slowly last year, you know it was a personal situation where a close friend of his and one of our teammates got injured. I think that affected Clint early in the start of our season. But as the year went on, particularly in the latter half of the season I thought he really started to come on and play. He's a very strong, sudden, explosive player, a very strong hitter, he has very natural strength. We've put him at outside linebacker, and those are really interchangeable, that's where he's had the vast majority of his experience and repetition."

Scout: "He's not as fluid straight line as Durant and lacks Durant's speed. His big thing is attacking well against the run. He's a Sam type, an on-the-line, jam-the-tight-end guy who works well going downhill and in gaps on the offensive line. He has some struggles in coverage dropping back, being fluid, in his ability to see and react to crossing routes and ranging to the sidelines."
DARYL SMITH

Duffner: "I think he's a very good football player, he's got size, speed, strength, quickness, change of direction. He's very versatile, he's played all of our linebacker positions and we're going to try to keep him at really one and let him continue to ascend as a player. He's strong against the run, he's got pass rush ability. He's really got everything you're looking for in terms of a linebacker. I think he's a bright guy, I think he's a very instinctive player too, he has big-play ability. ... We moved him around, he played outside, he played Mike and never really had a home where he could really take off. I thought he had a solid year for us last year, but if he's in one spot, you'll see him really start to spike up in terms of his productivity."

Scout: "He's got the versatility to play inside or outside. He's aggressive, he's a good athlete. He's tough against the run. He plays pass better than Ingram, but not as good as Durant. He has little holes you can poke with the passing game and run fits. I see him as the weakside guy who can run and chase, but he can bounce around."
Ingram said Del Rio interacts with the linebackers quite a bit -- "I don't even see where he has time to take care of any of that stuff he has to do as a head coach as much as I see him around" -- and has learned much from Del Rio about being patient in making his reads and using precise footwork.
The Jaguars are finished reflecting on last season, but in conversations with the AFC South Blog this week both Durant and Ingram said they are holding themselves and the linebacker group accountable.
"We had a lot of mental errors, we allowed too many big plays, we allowed too many rushing yards, we just really weren't good as a whole," Durant said. "... I missed too many tackles last year, I didn't make as many plays as I should have made. I put a lot of pressure on myself to perform. I think that I am a playmaker. That's what I am working on this year, my tackling, my open-field tackling and being more physical."
On Ingram's report card, last year the linebackers played C-plus or B-minus football, and he gave himself a C.
"When things are going like that, I feel like I should be able to step up and do some things and get guys going and be one of those guys who can get something rolling," he said. "Defenses feed off of big plays, hits, emotion. Some of that type of stuff I feel like I should have done a better job of, I should have done a better job out on the field showing it. I did all right, but nowhere close to what I expect out of myself, nowhere close to what coaches expect."
He's reluctant to use it as an excuse and knows it affected the entire team, but Ingram was not himself early in the season. He was coming to terms with the shooting of offensive tackle Richard Collier, a close friend who wound up losing a leg.
For a Jacksonville bounce back this fall, the Jaguars' athletic trio of linebackers will need to more consistently make plays. At this time of year, everyone around the league is optimistic about just about everything, but at least they can sketch out why.
Linebackers coach Mark Duffner said the Jaguars allowed their scheme to get blurred a bit last year. The focus now is making things clearer for players so that they are able to use their talents without over-thinking things. They should resist the temptation to overextend. [Still, the defense was centered on takedowns by the linebackers far more than anyone else in the AFC South: Some 42 percent of Jacksonville's tackles were by linebackers, with Houston at 33 percent, and Indianapolis and Tennessee at 29 percent.]
April, 2, 2009
4/02/09
2:30
PM ET
| | |
| --- | --- |
| | |
| | Courtesy of the Jacksonville Jaguars/Icon SMI |
| | Jaguars GM Gene Smith and coach Jack Del Rio are placing a larger emphasize on building team chemistry and this season. |
Posted by ESPN.com's Paul Kuharsky
To any Jacksonville Jaguar who might have been a bit reserved in 2008, who deferred to leaders like Fred Taylor and Mike Peterson, who thought it better to fit in and follow than to try to help set a tone, general manager Gene Smith and coach Jack Del Rio have a message:
Step forward.
"When you look at things with a league with great parity, I do think team chemistry is a direct factor, a big reason why some teams win at a higher level than other teams," Smith said. "I am a firm believer, and I say this all the time, that good players that play great together win championships.
"In order to play together you've got to have people that are unselfish, that are very disciplined, that put team first and where you have great peer leadership. That's where you develop that core team chemistry that enables you to succeed at a higher level."
Smith has been with the organization since 1994 and was elevated to GM after the 2008 season, taking over for vice president of player personnel James "Shack" Harris, who had resigned. With the new post came more power than Harris had -- Smith has control of all personnel decisions. As the Jaguars headed into the 2009 season and Smith sorted through the roster he inherited, the team appeared to believe in addition by subtraction:
It let several free agents go without any effort to retain them: Peterson, a linebacker, landed in Atlanta; safety Gerald Sensabaugh in Dallas; left tackle Khalif Barnes in Oakland and Pierson Prioleau in New Orleans. Receiver Reggie Williams is unsigned.
It dumped players considered to be mistakes who didn't produce or got in trouble: Receivers Jerry Porter and Matt Jones and cornerback Drayton Florence.
It parted ways with some older guys who were looked to as leaders and spokesmen: Taylor (now a Patriots running back) and defensive end Paul Spicer (now with the Saints).
| | |
| --- | --- |
| | |
| | Kevin C. Cox/Getty Images |
| | Mike Peterson is gone from Jacksonville after clashing with coach Jack Del Rio last season. |
Peterson's relationship with Del Rio soured and came to a head after a well-publicized incident last year in which Peterson chafed over criticism from his coach. It was not a good development in a locker room that was already decimated by injuries, filled with underperformers and fracturing because of how some guys who'd been paid (like Porter and Florence) or wanted to be paid (like Peterson and Williams) were acting or being treated.
"The leaders, the veterans of the team, the true guys that were part of the team last year and will be part of the team going forward, all came and said, 'Coach, you did the right thing,'" Del Rio said of the Peterson developments. "That was important. It was something that needed to be done.
"Again, that's a situation where a guy was putting selfish interests ahead of the team, and then bucked up when challenged about it. It's been portrayed a certain way, and that's OK, because I'm not really concerned with it. But I know, and everybody that was a part of that understands that there's a way to do it that's right and there's a way to do it that's wrong, and there's going to be accountability in our organization."
How did a team that had great chemistry and success in 2007 lose so much of it in a year's time?
This was a big part of Del Rio's explanation at the owners' meetings:
"The thing that stood out in my mind was that we did pay a couple of guys a lot and elected not to -- for whatever reasons internally, and I'm not saying I didn't support it -- but when you don't pay a handful of guys whose contracts are expiring, and you are paying a couple that come in and don't prove to be the right kind of guys, it disrupts things. I think that was part of it."
That shouldn't be an issue going forward.
After conceding mistakes with Porter and Florence, the Jaguars have sworn off high-priced free agents. The two outsiders brought in -- tackle Tra Thomas and safety Sean Considine -- were inexpensive. The free agents they've re-signed were role players who didn't get much, either -- veteran center Brad Meester and special-teamers and backups Montell Owens, Brian Iwuh and Scott Starks.
| | |
| --- | --- |
| | |
| | Steve Mitchell/US Presswire |
| | Maurice Jones-Drew will be expected to take on a larger leadership role this season. |
The one guy who's in line for a pricey extension, running back Maurice Jones-Drew, might be the team's most important player. It would be hard for anyone to grumble legitimately if MJD gets his new deal.
With or without a new package, Jones-Drew will be looked to by the post-Taylor Jags to lead more.
"Certainly, Maurice Drew is one of the electrifying guys in the league," Del Rio said. "We're going to get him more opportunities. I think yo
u'll see some of his leadership skills emerge with the void created. He never really wanted to step on Fred's toes. And I think now that Fred's not there, it's going to open up the door for Maurice to be more assertive."
He and the rest of the Jaguars' vets will be joined by Smith's first draft class -- currently nine picks deep. Smith has said he plans to build through the draft, and that he plans to place a premium on character in his selections.
"We want to add good teammates to this football team," he said.
Del Rio emphasized that the franchise hardly feels the cupboard is bare. Smith pointed to players he expects to take on larger leadership roles in the new environment.
"We have a good core of what I would call emerging leaders, we have some young ascending players from Rashean Mathis, Daryl Smith, David Garrard, Marcedes Lewis, Brad Meester, Greg Jones, Maurice Jones-Drew. We go down the list, we have a number of players.
"Montell Owens is an outstanding leader on special teams. We have a good core and we have other guys that are emerging as well. As you build a team chemistry and you get people believing in 'we,' you have a chance to compete at a high level."
It's an age-old debate: Does chemistry beget winning or does winning beget chemistry?
Del Rio said he played on teams that had great chemistry but didn't win, that the 1989 Dallas Cowboys developed respect for each other even as they finished 1-15. The Cowboys of the early 90s, the Ravens of 2000 (for whom he was an assistant coach) and the 2007 Jaguars all had great chemistry, he said.
"It was as unselfish, team-first, egos-really-checked-at-the-door as it could be," Del Rio said of his group two years ago. "The same combination of guys for the most part kind of soured the following year. As coaches, we'd like to get our hands on it, whatever that magic formula is, and sprinkle it on all of our players. But it doesn't work that way. You have to work at it ....
"It's not automatic. I think there's a common respect needed. Last year -- again, I hate to continue to go back talking about it -- but one of the things that was clear early on was that this time of year we had a lot of talk about, 'Boy, my contract's not getting done, I need this.' There was a lot of 'I, I, I' and not enough 'We, We, We.' So we just need to get back to that commitment of doing things for the good of the team, and putting team first. That's going to be an emphasis."
March, 5, 2009
3/05/09
1:45
PM ET
Posted by ESPN.com's Paul Kuharsky
In Monroeville, Ohio (population roughly 1,400), nestled about halfway between Cleveland and Toledo, a swath of teal runs through a region tinted orange.
The reason for the patch of Jaguars fans in Browns country is Gene Smith, the 45-year-old first-year Jacksonville general manager and senior vice president of personnel.
A small but determined defensive end and tight end during his career at Monroeville High, Smith left town stamped with the work ethic of his father, Delbert, a construction worker, and with a friendship with his coach, Steve Ringholz, that would last a lifetime.
| | |
| --- | --- |
| | |
| | Courtesy of the Jacksonville Jaguars |
| | New Jaguars general manager Gene Smith prefers a steady approach to building a team, rather than making splashy acquisitions. |
"He was a self-made player. He didn't have great athletic ability but he worked very hard and he not only demanded a lot out of himself, but he demanded a lot out of his teammates," Ringholz said. "He had a lot of instincts for the game of football. He had a lot of instincts for dealing with people."
When he wasn't playing football, he was often working for his father, learning early the importance of a good shift, while developing an interest in the way things are built.
"When you're working for your dad, you're a laborer," Smith said with a laugh. "Concrete and structural work interested me most. But when I say concrete, I was the guy who was wheeling the concrete. I didn't have all the high-level chores now, I was tending mud if we were laying block.
"But the structural part is a lot of what I did, studding up walls and anything structural and with concrete. My dad always taught me that the key to a good home is putting in a good foundation, and that's why I think with a good football team, a good foundation starts up front with your offensive and defensive lines."
It's too neat a metaphor, too hokey, but it works: The guy now in charge of putting the Jaguars together, who will work to build consensus but ultimately has the final say on personnel matters and roster decisions, is simply looking for the studs and concrete with which to rebuild a team.
It won't come with high-priced free agents, an approach the Jaguars have used before with poor results. It will come with a patient plan, heavily reliant on the draft. The Jaguars intend to start with strong lines and build from the back end of the roster, at least at the beginning.
The Gene Smith file
• Born: Dec. 31, 1963
• High School: Monroeville (Ohio)
• College: Heidelberg College, degree in education
• Graduate School: Ohio University, athletic administration
• Family: Married with two daughters


Career track

• 2009 -- GM and Sr. VP of player personnel
• 2008 -- Executive director, college and pro personnel
• 2000-2007 -- Director of college scouting
• 1996-2000 -- Scout, southeast region
• 1994-1995 -- Jaguars BLESTO combine scout
• 1989-1994 -- Assistant coach, Edinboro University
• 1986-1988 -- Graduate assistant, assistant coach Ohio University
The franchise's early decisions under Smith included admitting mistakes and parting with receiver Jerry Porter and cornerback Drayton Florence, and making the more difficult choice to let running back Fred Taylor go.
Although the team signed Sean Considine to play strong safety as a less expensive alternative to free agent Gerald Sensabaugh, the other contracts Smith has put together so far have been for backups and strong special-teamers like Montell Owens, Brian Iwuh and James Wyche.
"A lot of people look at it as guys who can make your 53. I'm looking at guys who can get into our game-day 45," Smith said. "... Without question those type of players are players you can get your hands on earlier than a guy that you play every down, per se."
Bigger building blocks will come in the draft, where the Jaguars have the No. 8 pick, but the idea of solidifying the back end of the roster at the start of his regime is one that's worked for one of the teams the Jaguars are trying to catch -- many of the early moves of Tennessee's Mike Reinfeldt's were similar.
Smith was named to the post Jan. 12, and the move received big applause from the scouting community, which was pleased to see one of its own ascend. At his first big scouting event after taking on the new responsibilities, a dozen or so scouts quickly approached him in the Reliant Stadium parking lot at an East-West Shrine Game practice to offer congratulations.
Smith has been with the Jaguars since before they had a roster, hired by Tom Coughlin in 1994. One scout from another team classified him a quiet, hardworking, well-organized and well-respected football man.
As he works with Jack Del Rio, the coaching staff and a scouting staff he was long a part, Smith still has a touchstone in Monroeville. His parents have passed away, but Ringholz is still coaching. The 58-year-old member of the Ohio High School Football Coaches Association Hall of Fame said he talks to Smith just about every day.
When Del Rio and his staff coached in the Senior Bowl, Ringholz took in some practices in Mobile, Ala., with Smith.
"We talk almost daily, sometimes more than once a day," Ringholz said. "He'll talk a lot about what's going on, ask my opinion about things and he's always wanting to know what's going on back here. A lot of stuff that we talk about he wants it to stay just between him and me.
"He's had some very tough decisions to make, not just tough business decisions but tough personal decisions. Fred Taylor was somebody that he watched come up, he studied while [Taylor] was in college. It was a tough one for Gene, there is no doubt about that."
As the franchise looks to add
new players who might be great finds as Taylor was, Smith and Del Rio will be concerned with how they will factor into chemistry and develop into leaders.
Smith is hopeful that fresh blood will arrive and then follow a course similar to his own, working up through the organization.
"I certainly believe that players make the system," he said.
As a decision-maker, he said he intends to be more Ichiro than A-Rod.
"Certainly we'd like to get them all right, but I am probably someone with more of a base hit philosophy," he said. "If you get base hits, you get people on base, you're going to score and probably win more consistently than if you're standing up there trying to hit home runs. If you're trying to hit home runs, you're going to be striking out a lot."
He likes the baseball terminology, but said he's no baseball guy.
As a football guy, he's now got some pieces and a lot of power. He will be measured in his decisions, but undaunted by the new power.
"I try to be a good listener, then I also watch a lot of film myself," he said. "I say the value is in the evaluator. So I study a lot of film on players. I'm not one that's just listening and delegating, I'm also a doer. I think in the end, you try to build a consensus. But decisions have to be made and I am confident in my abilities, with the staff around me, to make those decisions."
February, 27, 2009
2/27/09
2:00
AM ET
Posted by ESPN.com's Paul Kuharsky
The Indianapolis Colts are generally willing to let their linebackers go when they hit unrestricted free agency. They are letting Freddy Keiaho go a year ahead of schedule as they did not make a qualifying offer to the linebacker who started 14 games last season and 25 in his first three years.
The third-round draft pick in 2006 (93rd overall out of San Jose State) is now free to sign anywhere.
Tyjuan Hagler, who started the season on the physically unable to perform list as he recovered from pectoral surgery and then played in nine games with three starts, finished the season listed as Keiaho's backup at weakside linebacker on the team's depth chart. But he's an unresticted free agent the team is showing no interest in re-signing.
Three other players in the AFC South who were in line to become restricted free agents, none of them with Keiaho's draft pedigree or experience, were also not given qualifying offers by their clubs: Houston defensive end Stanley McClover and receiver Harry Williams and Jacksonville defensive end James Wyche. Williams suffered a career-ending spine injury in the preseason.
According to the official release from the NFL, Houston was the only AFC South team with restricted free agents who were given qualifying offers.

Player/Compensation
Jacksonville signed both Montell Owens and Brian Iwuh before free agency opened, Indianapolis didn't have any scheduled RFAs beside Keiaho and Tennessee had none.

NFL SCOREBOARD
Thursday, 8/28
WEEKLY LEADERS