NFL Nation:

Brian Jennings
September, 1, 2013
9/01/13
12:16
PM ET
The mandatory reduction to 53-man active rosters Saturday provides an opportunity to pass along average age ranks for NFL active rosters overall as well as for offense, defense and specialists.
The chart shows the
Detroit Lions
as the oldest team and the
St. Louis Rams
as the youngest. Where the Rams rank comes as no surprise if you've been following their building process in the NFC West recently.
The
Seattle Seahawks
rank among the younger teams overall. They have the youngest offensive players after releasing fullback
Michael Robinson
.
The rankings exclude players placed on various reserve lists (physically unable to perform, non-football injury, injured and suspended). Note also that rankings are based on ages calculated to the day, not rounded backward to the nearest birthday. A player born in January will be older than a player born in October of the same year, for example. I've taken into account the difference in making these calculations. Rounding backward to the nearest birthday shaves about a half-year off the average ages.
I've shaded the NFC West teams in the chart for easier reference.
While the
Arizona Cardinals
did part with older players such as
Adrian Wilson
, they still have veteran flavor with
Yeremiah Bell
,
John Abraham
,
Carson Palmer
,
Darnell Dockett
,
Daryn Colledge
,
Larry Fitzgerald
and the NFL's oldest specialists.
Seattle got younger by releasing Robinson and 36-year-old cornerback
Antoine Winfield
. No player on the active roster has had his 32nd birthday. By comparison, six
San Francisco 49ers
are at least 32 years old.
The 49ers parted with 36-year-old long snapper
Brian Jennings
, 33-year-old
Kassim Osgood
and 33-year-old
Seneca Wallace
. They also added some veteran players this offseason, including
Anquan Boldin
,
Phil Dawson
,
Nnamdi Asomugha
and
Adam Snyder
. Asomugha and 32-year-old
Carlos Rogers
help give the 49ers the NFL's oldest defensive backs by average age. We should expect the team to get younger there over the next year, possibly by using an early draft choice for a cornerback.
Note:
I have not visited courthouses to pull birth records for NFL players. Neither have teams. As someone who has tracked dates of birth for NFL players since 2007, I know there are times when listed birth dates change or conflict with records listed elsewhere. I make efforts to verify the dates. The team rankings at the extremes are more valuable than the ones in the middle because there is very little difference in average age for some teams.
August, 31, 2013
8/31/13
6:35
PM ET

Most significant move:
The
San Francisco 49ers
released long-snapper
Brian Jennings
eight days before Jennings would have set a franchise record for consecutive games played. Jennings had been with the team since 2000 and was the longest-tenured current 49ers player. Undrafted free agent
Kevin McDermott
will handle snapping duties heading into the regular season. Coach
Jim Harbaugh
had called the snapping competition close, an indication the 49ers were thinking about going younger and cheaper at a position that can be taken for granted. Still, there was some shock value to such a longtime player receiving his release. The second-guessing will be justified if McDermott falters. Jennings, 36, was automatic.
Receiver trend:
The 49ers had the oldest wide receivers in the NFL by average age before and after teams reduced to the previous 75-man limit. They got younger at the position Saturday by parting with
Kassim Osgood
, who turned 33 in May and was primarily valued for his contributions on special teams.
Anquan Boldin
(32),
Kyle Williams
(25),
Jon Baldwin
(24),
Quinton Patton
(23) and
Marlon Moore
(26) were the five wide receivers sticking on the initial 53-man roster. The mix will change as the season progresses.
Michael Crabtree
and
Mario Manningham
enter the season on the reserve/physically unable to perform (PUP) list. Rules allow them to begin practicing between Aug. 15 and Nov. 19. Once they begin practicing, they have 21 calendar days to join the active roster.
What's next:
The 49ers will wait for several players to get healthy. Manningham, Crabtree, Tank Carradine,
Eric Wright
, Marcus Lattimore, Luke Marquardt and Quinton Dial are on the reserve/PUP or reserve/non-football injury lists. None of them counts against the 53-man roster. None can resume practicing before Oct. 15. Lattimore, the running back San Francisco selected in the fourth round this year, isn't expected back until next season. Another player,
Demarcus Dobbs
, is on the reserve/suspended list for Week 1. Having so many players on reserve lists gives the 49ers some roster flexibility early in the season. The cuts they made Saturday didn't require as many difficult choices as a team with the 49ers' overall roster strength might anticipate otherwise.
Players cut:
OT
Carter Bykowski
, WR
Austin Collie
, CB
Marcus Cooper
, TE
MarQueis Gray
, WR
Chad Hall
, RB
Jewel Hampton
, WR
Lavelle Hawkins
, LB
Joe Holland
, WR
Chuck Jacobs
, LS Brian Jennings, LB
Travis Johnson
, CB
Darryl Morris
, OG
Patrick Omameh
, WR Kassim Osgood, NT
Mike Purcell
, SS
Trenton Robinson
, FB
Jason Schepler
, SS
Michael Thomas
, OG
Wayne Tribue
, QB
Seneca Wallace
, OT
Kenny Wiggins
.
November, 16, 2012
11/16/12
3:41
PM ET
Among the details
San Francisco 49ers
coach Jim Harbaugh revealed during his Friday news conference following a Thursday procedure to correct an irregular heartbeat:
Harbaugh

Doctors performed a "cardiovert" to correct an accelerated heartbeat. There are electrical and pharmacologic versions of this procedure. Harbaugh underwent the electrical version.
Harbaugh underwent an "ablasion" procedure to correct the same condition while he was a player with the San Diego Chargers. He played with San Diego in 1999 and 2000. Harbaugh recalled missing a day or two of practices during training camp as a result.
Doctors recommended cutting down on caffeine intake and improving his diet overall. Harbaugh says he faces no restrictions affecting the time he spends coaching the team or his coaching style.
Harbaugh said he is "fine" and laughed when asked whether he might become a victim of "burnout" without toning down his approach.
Harbaugh, asked whether he might consider meditation to promote a regular heart rate, joked that he would make long-snapper Brian Jennings his "go-to guy" on that front. Looks like meditation isn't on the schedule, in other words.
Harbaugh underwent testing Wednesday night after sensing an accelerated heart rate. Doctors performed the cardiovert procedure at Stanford Hospital on Thursday in late morning. Harbaugh visited work Thursday, then went home. He caught up on game-planning from home Thursday night and from work Friday morning.
Harbaugh said the procedure did not cause him to "peel back the onion and get introspective" about life and death. Being away from work while players practiced and held meetings did lead him to revisit dreams Harbaugh and some NFC West bloggers have experienced. In these dreams, the dreamer becomes concerned after realizing he has failed to show up for a test or something else of great import. That's how Harbaugh said he felt while missing work.
June, 4, 2012
6/04/12
6:36
PM ET
The Mike Nolan era in San Francisco produced more heartache than the 49ers would care to revisit, but the long-term legacy isn't so bad.
Eleven draft choices, including eight current starters and five Pro Bowl selections, remain on the 49ers' roster from the Nolan era.
The other NFC West teams have a combined eight of their own draft choices from the same 2005-2008 window. That includes six starters and no Pro Bowl selections for the
Seattle Seahawks
,
Arizona Cardinals
and
St. Louis Rams
.
Improved coaching and ownership have helped San Francisco get more from its talent. The current personnel department has also fared well in continuing to build, adding high-impact draft choices such as
Aldon Smith
and
NaVorro Bowman
.
Overall, the 49ers have a division-high 38 of their own draft choices. The Seahawks are closest behind with 34, including 26 drafted since Pete Carroll became head coach in 2010.
In St. Louis, new coach Jeff Fisher inherits a young franchise quarterback in
Sam Bradford
, but he has only one Rams draft choice from 2005-2008: defensive end
Chris Long
. Consider this one more way to define first-year expectations for St. Louis relative to the expectations when Jim Harbaugh took over in San Francisco. Fisher inherits so much less.
Alex Smith
,
Frank Gore
,
Tarell Brown
,
Delanie Walker
,
Patrick Willis
,
Larry Grant
,
Joe Staley
,
Vernon Davis
,
Ray McDonald
,
Parys Haralson
and
Dashon Goldson
remain with the 49ers from their 2005-2008 drafts. Gore, Willis, Staley, Davis and Goldson have achieved Pro Bowl status. Those five and Alex Smith, Brown, McDonald, Haralson and (sometimes) Walker started for the 49ers last season.
Leroy Hill
,
Red Bryant
,
Brandon Mebane
and
Ben Obomanu
remain with Seattle from that era. The Cardinals still have
Calais Campbell
,
Early Doucet
and
Levi Brown
.
The chart breaks down NFC West draft choices by how many remain with their original teams and by the head coaches who welcomed those players into the league.
The 49ers have two players from the Dennis Erickson era (punter
Andy Lee
, defensive lineman
Isaac Sopoaga
) and one from the Steve Mariucci era (snapper
Brian Jennings
). They are the only team in the division with a draft choice remaining from five head coaches ago (Jennings). The Rams have one player,
Steven Jackson
, remaining from the Mike Martz era (four coaches ago).
Update:
I reduced by one the total for the Rams under Fisher to reflect the fact that Cortland Finnegan was a Fisher draft choice in Tennessee, not St. Louis.
October, 7, 2011
10/07/11
1:30
PM ET
»
NFC Final Word
:
East
|
West
|
North
|
South
»
AFC
:
East
|
West
|
North
|
South
Five nuggets of knowledge about Week 5:
[+] Enlarge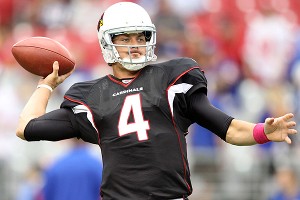 Christian Petersen/Getty ImagesKevin Kolb is completing just 38.9 percent of his throws from outside the pocket.
Burden could fall on Kevin Kolb.
Beanie Wells
' ability to carry the
Arizona Cardinals
' offense against the
New York Giants
might not translate to the team's game against Minnesota in Week 5. The Vikings are allowing 76.3 yards rushing per game and 3.3 yards per carry. Both figures rank among the top six in the league. Minnesota's strong run defense could put more pressure on Cardinals quarterback Kevin Kolb to carry the offense. Kolb hasn't made consistently good decisions on when to bail from the pocket and what to do once he does. He is completing only 38.9 percent of his throws from outside the pocket, one reason he ranks 27th among 32 quarterbacks in Total QBR from there (6.7).
Introducing the real 49ers.
The
Tampa Bay Buccaneers
shut out San Francisco at Candlestick Park last season, the 49ers' first home shutout since 1977. So much has changed for the 49ers since that game, however.
Alex Smith
has replaced
Troy Smith
at quarterback. Jim Harbaugh has replaced Mike Singletary as head coach.
Joe Staley
is back in the lineup at left tackle. The 49ers will have seven different starters on defense, most representing upgrades. One concern: The 49ers are without nose tackle
Isaac Sopoaga
, a potential concern against a runner as powerful as the Bucs'
LeGarrette Blount
. And to think, Blount would have been a 49er had he not
reneged on an agreement
with the team as an undrafted free agent.
Marshawn Lynch's opportunity.
The
Seattle Seahawks
' offensive line took pride in allowing no sacks in its most recent game. A repeat performance on the road against the New York Giants isn't realistic. However, this game does give the Seahawks an opportunity to improve their unproductive ground game. The Giants have allowed 100-yard rushers in their past two games. The Seahawks have failed to top 64 yards rushing in three of their four games. Marshawn Lynch has gained 61 percent of his rushing yards after contact this season, the fourth-highest percentage in the league, according to ESPN Stats & Information. Seattle's line need to keep defenders off him a little longer.
An unlikely interception drought.
Few safeties cover as much ground as quickly as the Seahawks'
Earl Thomas
, but that has not translated to interceptions. Thomas, after picking off five passes in his first 10 NFL games, has intercepted none in his past 12, counting playoffs. A penalty wiped out an interception for Thomas against Arizona this season. Seattle has collected only two of the 125 interceptions thrown in the NFL this season, and the Giants'
Eli Manning
has cut down on turnovers dramatically. A turnover from Thomas would certainly help their chances in a game few expect them to win. He's playing too well to go much longer without picking off passes.
49ers staring down history.
A victory over the Tampa Bay Buccaneers would leave the 49ers with a 4-1 record for the first time since 2002. Long-snapper
Brian Jennings
is the 49ers' only remaining player from that season. That 49ers team improved to 4-1 with a 28-21 victory over Seattle. How long ago was that game? One of Jennings' current coaches, Bobby Engram, returned a punt 61 yards for a touchdown that day.
July, 8, 2009
7/08/09
2:30
PM ET
Posted by ESPN.com's Mike Sando
Former Rams receivers Torry Holt and Isaac Bruce commanded spots on my NFC West all-decade team after leading one of the most-dynamic offenses in NFL history.
Larry Fitzgerald also seemed worthy after posting three 1,400-yard seasons and staking the Cardinals into a late lead with a dramatic 64-yard touchdown reception in Super Bowl XLIII.
With at least three worthy candidates for two spots -- and with receivers Anquan Boldin, Bobby Engram and Terrell Owens more deserving than any of the available tight ends -- something had to give.
"I'm hard pressed to come up with [a tight end] better than Vernon Davis," wrote regular blog contributor Mind of no mind. "But if there is nobody better, then maybe we should drop the TE from the team and go with 3 WR with Bruce."
Done deal.
Holt, Bruce and Fitzgerald became the receivers. That made more sense than adding Davis, Eric Johnson, Jerramy Stevens, Itula Mili or some other relatively unaccomplished tight end to the squad.
Such was the give and take as I sifted through nominations left on the blog and on my Facebook page. One request I couldn't quite accommodate: finding a spot for the legendary Kim Il Zong, a ka The Zonger.
A position-by position look at my NFC West all-decade team follows. Thanks to Adam from Mesa, Ariz., for getting the conversation started (download his suggested team here).
December, 19, 2008
12/19/08
1:05
PM ET
Posted by ESPN.com's Mike Sando
The chart shows our midseason all-NFC West team, as determined after a fairly spirited conversation.
It's time to consider changes for the mythical NFC West end-of-season all-star team. Most of the potential changes I anticipate making would be on the defensive side:
Seahawks defensive end Patrick Kerney hasn't played enough to hold that spot on the left side. We can consider the Rams' Leonard Little. I might consider plugging Cardinals outside linebacker Chike Okeafor into that spot.
Seattle's Leroy Hill has also struggled to stay healthy. The Rams' Pisa Tinoisamoa has come on strong later in the season. We need to consider the 49ers' Parys Haralson in some capacity.

In the secondary, Cardinals rookie cornerback Dominique Rodgers-Cromartie deserves a look. I could argue for putting him on the list at Nate Clements' expense.
On special teams, Seattle's Josh Wilson has about 50 percent more kick returns than the 49ers' Allen Rossum. Rossum has the higher average. Does Wilson deserve consideration?
We could always tweak the position names to help recognize deserving players.
Creating two generic spots for offensive tackles might help Joe Staley join the all-division team.
Creating a tight end position could help Vernon Davis (49ers) or John Carlson (Seahawks) move onto the list.
We'll put together the final team in the next couple weeks. I don't like naming all-star teams while seasons are in progress. The final two games could influence our thinking.
NFL SCOREBOARD
Sunday, 2/2
WEEKLY LEADERS