January, 1, 2014
1/01/14
10:30
PM ET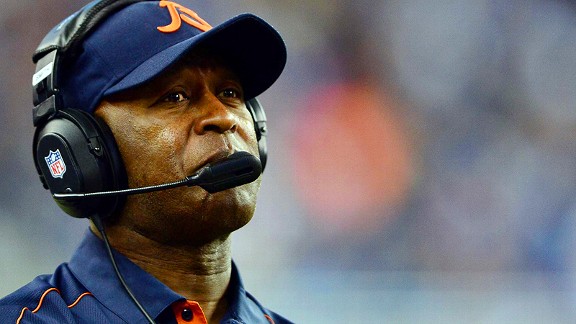 Andrew Weber/US PressiwireLovie Smith met many of the Lions' stated qualifications, but he's now off Detroit's list.
One of the candidates who appeared to most fit what the
Detroit Lions
are looking for in a head coach has accepted a job. Just not in Detroit.
A day after Bill O'Brien decided to go to Houston, former
Chicago Bears
coach Lovie Smith chose to sign with Tampa Bay, and the Lions search, less than 72 hours old, continues on.
Smith seemed like a potentially ideal candidate for Detroit -- at least based on the criteria Lions general manager
Martin Mayhew
laid out Monday. He runs a preferred four-man front, fitting the Lions' current personnel. He has head coaching experience, is considered an even-keeled, disciplined coach and he has won, taking the Bears to Super Bowl XLV.
He also understands the NFC North, which meant understanding the Lions.
Now the focus continues on other candidates -- many of whom Detroit won't be able to talk with until next week. That list almost certainly includes San Diego offensive coordinator Ken Whisenhunt, who once led Arizona to a Super Bowl appearance and has done a good job with
Philip Rivers
this season.
The Lions are also planning on interviewing Baltimore offensive coordinator and former Indianapolis coach Jim Caldwell, according to ESPN Insider Adam Schefter. While Caldwell isn't necessarily an exciting candidate, he does fit a lot of the Lions criteria, including head coaching experience and being able to win as he also guided a team to a Super Bowl.
More candidates are likely to emerge in the next few days, especially as wild-card weekend wraps up and more coordinators and other coaches become available to interview. And there's still a chance the Lions could look at some college head coaches like Vanderbilt's James Franklin, Notre Dame's
Brian Kelly
or try to make a run at David Shaw from Stanford. Shaw, though, appears to be comfortable at Stanford.
The one thing that Wednesday night made clear, though, is that this search might not wrap up all that quickly.
December, 30, 2013
12/30/13
8:35
PM ET
ALLEN PARK, Mich. -- The search is officially on for Detroit's next head coach.
ESPN Insider Chris Mortensen is reporting Penn State coach Bill O'Brien might already be coming off the board to Houston, but there are other attractive candidates out there for the Lions.
"I think this is a very attractive opportunity," Lions president Tom Lewand said. "I can verify that by the number of calls we've already gotten since the announcement was made at noon today and it will go through the process. I think going through a thorough process is extremely important.
"But that doesn't necessarily mean it has to be a long process, but it has to be a thorough process and we will go through a process of interviews, of research to make sure that we find the best fit for the
Detroit Lions
."
While Detroit would not identify candidates Monday, here are some names that could pop up in the search based off of the criteria Lewand and GM Martin Mayhew laid out Monday afternoon.

Whisenhunt
Ken Whisenhunt, San Diego offensive coordinator:
It would be surprising if he isn't one of Mayhew's top candidates. The two were teammates in Washington in 1989 and 1990. He is primarily an offensive guy and has worked with both
Ben Roethlisberger
in Pittsburgh and
Philip Rivers
last season. He also has prior head coaching experience, running the
Arizona Cardinals
from 2007 to 2012 -- and taking the Cardinals to Super Bowl XLIII. If a coach can take Arizona to the Super Bowl, he could fit well in trying to take the Lions to the next level.

Smith
Lovie Smith, former Chicago Bears head coach:
Smith has all the characteristics Mayhew would want in a coach. He runs a 4-3 defense, which would fit well with what the Lions already have assembled. He has head coaching experience, having led the Chicago Bears from 2004 to 2012. He knows how to build culture as he has taken a team to the Super Bowl and would be a strong hire for the Lions. However, Insider Adam Schefter is reporting Smith is the favored candidate in Tampa Bay.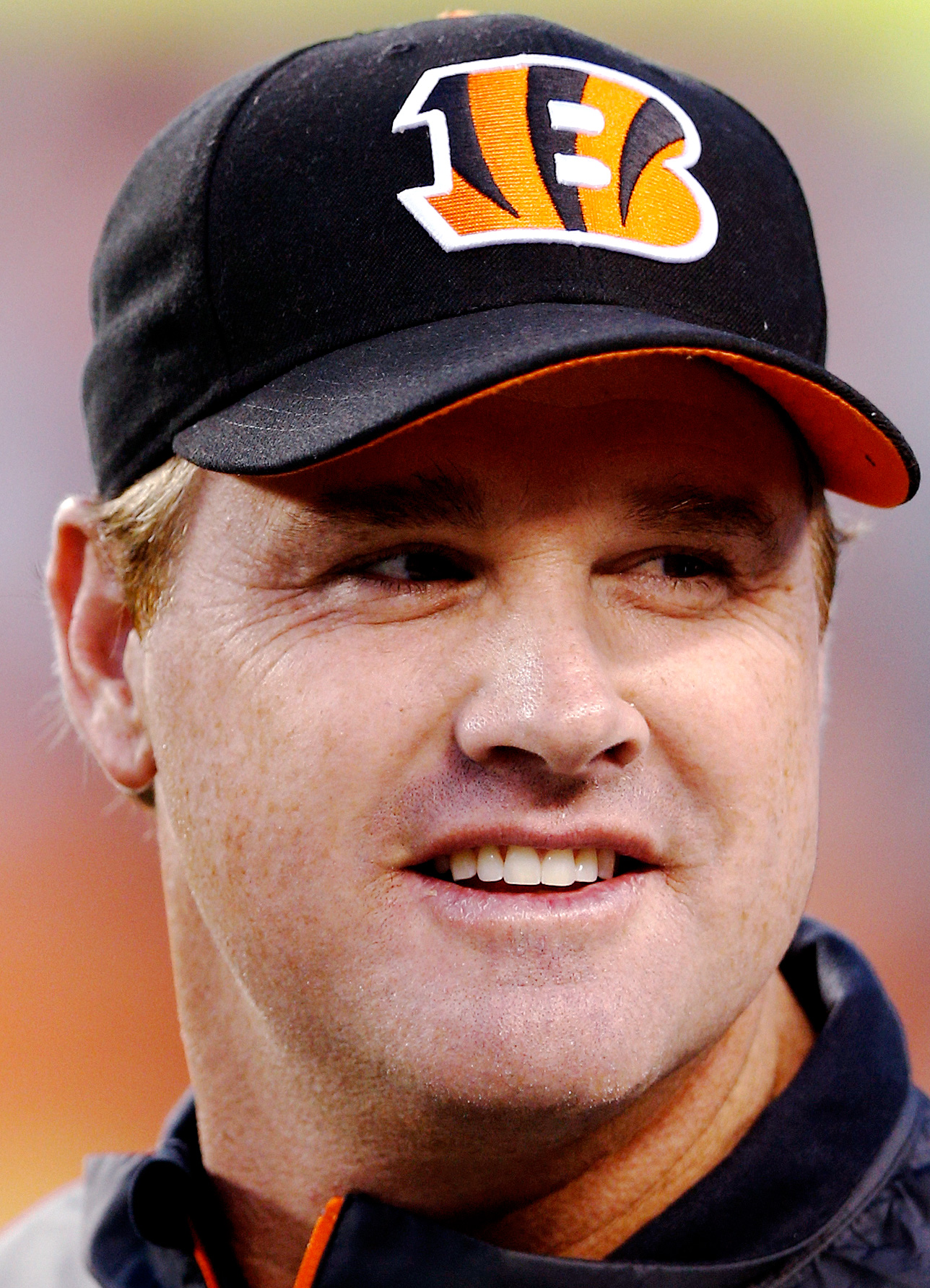 Gruden
Jay Gruden, Cincinnati offensive coordinator:
He helped in the development of
Andy Dalton
over the past three seasons and understands the importance of a strong quarterback-wide receiver combination as he worked with Dalton and
A.J. Green
. He doesn't have NFL or college head coaching experience, but was the head coach of the Orlando Predators of the AFL from 1998 to 2001 and the Florida Tuskers of the UFL in 2011. So he has some experience somewhere leading a team.

Jackson
Hue Jackson, Cincinnati running backs coach:
Jackson has head coaching experience from his 2011 season with Oakland. He's a former quarterback (University of the Pacific) who has been an offensive coordinator for years on the college and professional level.
In Baltimore in 2008 and 2009, he tutored
Joe Flacco
and worked with
Carson Palmer
as the offensive coordinator at USC.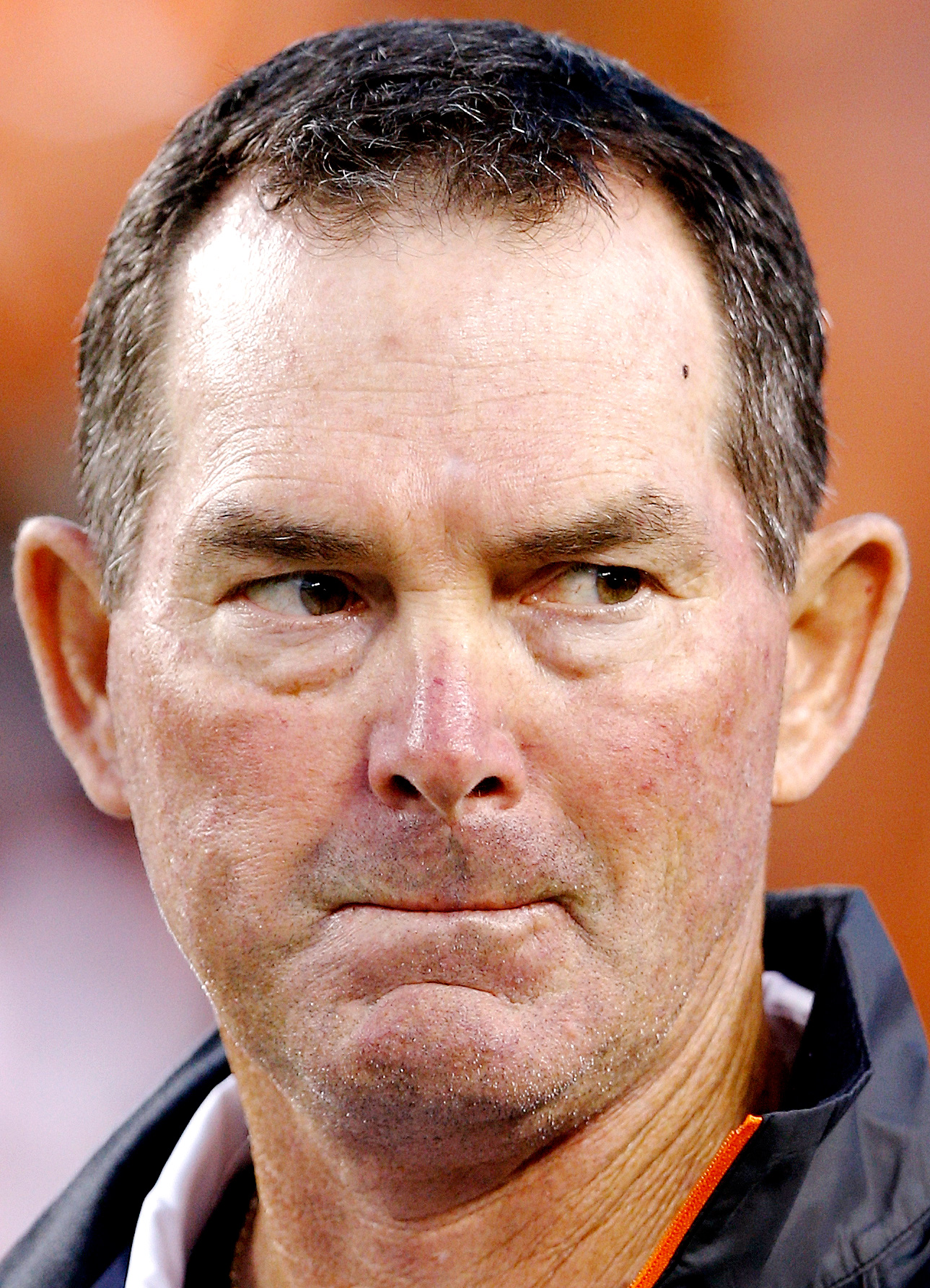 Zimmer
Mike Zimmer, Cincinnati defensive coordinator:
Zimmer has been a defensive coordinator in the NFL since 2000 and has spent a lot of time building playoff defenses, something the Lions have shown they have the pieces to build.
The concern here would be the lack of any head coaching experience or any experience on offense, which is a problem considering the struggles of
Matthew Stafford
. Mayhew indicated experience on a particular side of the ball would not be a huge factor.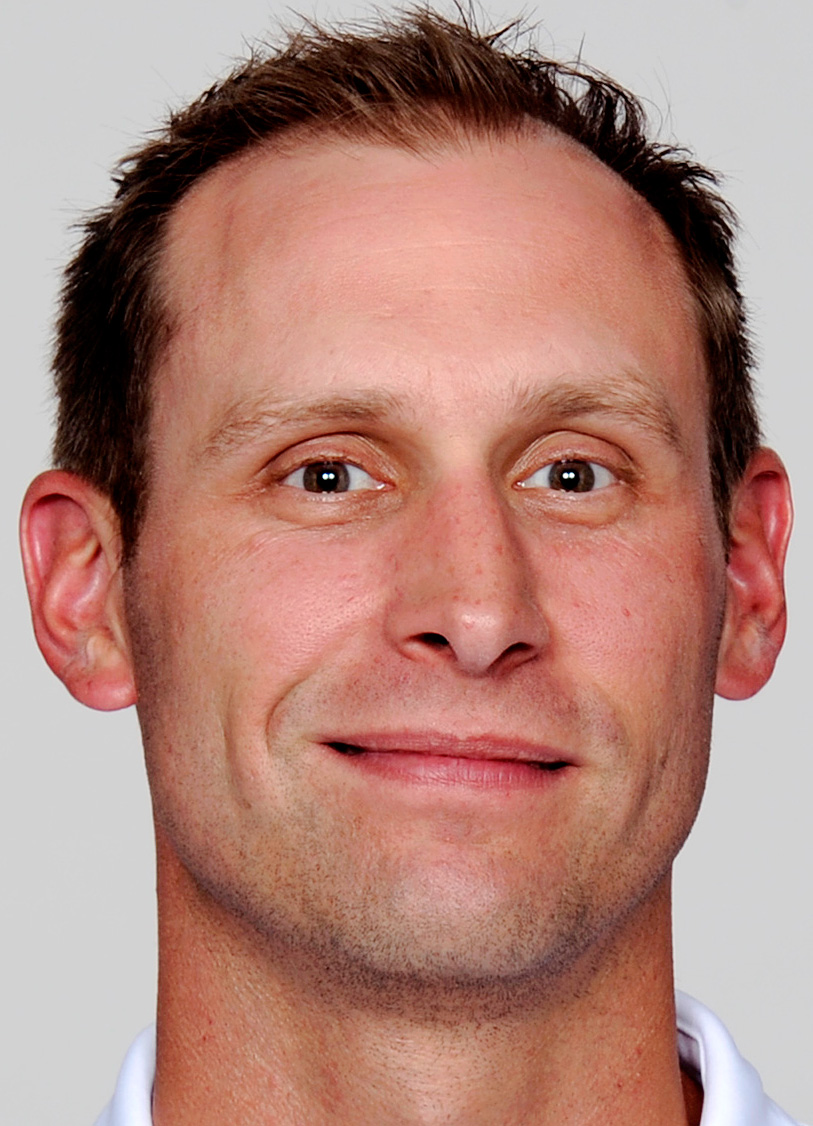 Gase
Adam Gase, Denver offensive coordinator:
The 35-year-old could be a wild-card hire. He doesn't have head coach experience, but worked with
Peyton Manning
both as a quarterbacks coach and as offensive coordinator. He was born in Ypsilanti, Mich., and went to Michigan State.
He scouted with the Lions from 2003 to 2005 and was a coach in various roles from 2005 to 2007.
Kelly
Brian Kelly, Notre Dame head coach:
He didn't have the best year last year, but he flirted with the NFL last season and the Lions are a team that could win immediately. He has an offensive pedigree, head coaching experience at one of the most pressure-packed jobs in college football and has elevated every program where he has coached. He could be a decent definition of a coach that can push a team over the hump.
The concern would be his lack of NFL experience.

Shaw
David Shaw, Stanford head coach:
If there was the thought Shaw would actually leave Stanford, he might be the top coach on this list. He has an offensive pedigree as an offensive coordinator with the Cardinal. He has extensive NFL experience grooming quarterbacks in Oakland and Baltimore before latching on with Jim Harbaugh. He has ties to the Lions as his father, Willie Shaw, was the defensive backs coach for Detroit from 1985 to 1988 and he spent part of his high school career in Michigan. He'd be the perfect candidate except for this -- will he leave Stanford?
Here's what he said about the NFL on Monday:
"I haven't been contacted by anybody. To be honest it's unbelievably flattering. I think it's really cool," Shaw said. "I think honestly it continues to shed light on our program, so I don't mind that it keeps happening. It keeps eyes turning toward Stanford, which I think is really cool. I told our players, to be honest, it's a testament to what they've accomplished, it's a testament to what our seniors have helped build at Stanford, to win consistently, win the right way, produce high-character young men and have a football game that's exciting to watch.
"So I don't mind it. I have no desires to pursue another job. As I said, I have not and don't plan on interviewing with anybody. I think it's really nice that my name gets batted around and that's great, and part of it is because I do have nine years of NFL experience, so it seems like an easy transition for some people.
"But honestly I'm looking forward to playing this game and getting into the offseason and starting to put together another winning season next year."
January, 14, 2013
1/14/13
10:20
AM ET
We have been discussing this
here for some time
. But with the rest of the outside world beginning to catch on (
Read: Peter King, No. 9 in "Ten Things I Think I Think
") and with Twitter followers now asking me for explanations instead of just calling me names, it's worth revisiting the question of why people are turning down the
Philadelphia Eagles
' head-coaching job. Over the weekend, Notre Dame's Brian Kelly became the third high-profile college coach (along with Oregon's Chip Kelly and Penn State's Bill O'Brien) to decide to return to his college job in spite of interest from the Eagles.
Peter muses that it's because the Eagles are "a team trending downward," but I don't think it's that simple. First of all, in the NFL, where at least one team goes from first place to last place every single season, there's sort of no such thing as a team trending downward. Any team is capable of a rapid turnaround given the right coach, quarterback and circumstances, and the NFC East is no longer a division that requires 11 or 12 wins.
And while I have been (unfairly) criticized on Philadelphia sports talk radio in recent days for my (accurate) opinion on this, that opinion has (of course) become distorted and presented to the angry Philadelphia public as "no one wants the Eagles job." That is not what I have written, nor do I believe it is the case. Someone will coach the Eagles in 2013, and there are candidates who would jump at the job this minute if it were offered to them. It's one of only 32 jobs in the world of its kind, and regardless of the flaws it offers the chance for a coach to live out his lifelong dream of running an NFL team on Sundays.
What I do believe is that, for several important reasons, the Eagles' head-coaching job is not as appealing as the Eagles and their fans wish it to be. And I think the fact that these three college coaches, O'Brien and the Kellys, decided after thinking about it that it wasn't the right NFL job for them explains why. They were willing to listen; they just didn't like what they heard.
So again, the three reasons someone who has a great college coaching job with control over the program and fans who adore him for what he's accomplished there might not want to leave to coach an NFL team in Philadelphia:
1. The Eagles have a GM in place.
This is nothing against Howie Roseman personally or professionally. He could turn out to be the greatest GM in NFL history for all any of us knows. But it's the fact that someone holds that position and will continue to hold it that gives a candidate pause. If you're a college coach used to control, you likely have an image in your head of what your dream NFL job looks like, and it likely includes a higher level of control over the draft and personnel matters than the next Eagles coach is going to have. Owner Jeffrey Lurie has made it clear publicly, and undoubtedly in these interviews, that Roseman and the new coach will report directly to him and that the new coach will be expected to work in harmony with Roseman. Whether the candidate likes Roseman or not is irrelevant. Being told up-front that you have limited (if any) say in the construction of your roster isn't an enticement.
2. The Eagles do not have a quarterback in place.
Michael Vick
has nine toes out the door.
Nick Foles
is a 2011 third-round draft pick that the last coach, Andy Reid, liked but who was passed over a couple of times by everyone else. Even if the new coach likes Foles, he'd have to admit he's still a question mark. And if you have a question mark at quarterback in the NFL, you have a problem. Granted, most of the teams with head-coaching vacancies have this same problem (which is a big reason why they have head-coaching vacancies). But it'd be naive to think it's not a significant enough problem to convince a high-profile college coach he's better off staying where he is. The defense needs a rebuild, too, but that's not the same level of issue for coaches as quarterback is right now.
3. Pressure.
There's no market like Philadelphia for pressure. There may be more pressure in other markets, but Philly has the market cornered on bitterness and negativity. The fact that the Eagles have never won a Super Bowl has taken over as the only thing about which Eagles fans care. Correcting it is the only way an Eagles head coach could win them over. And you can sit there and say that a good coach should relish such a challenge, and you may well be right. But not everyone's wired the same way. The pressure and expectations in Philadelphia, as well as the increasingly negative atmosphere around the team, would naturally be a concern of anyone who took the job. Whoever does take it will go in with his eyes open to the nearly impossible expectations he'll immediately carry, and it'll take a special sort of person to handle all of that and succeed there.
So there you have it -- my best, most logical and thorough explanation of why the best and brightest college coaching minds aren't climbing all over each other for the Eagles' head-coaching job. In the end, you may be happy about that. Maybe Gus Bradley is a star on the rise. Maybe Brian Billick is rejuvenated and improved in a second time around. Maybe there's somebody out there you don't even know about yet who's going to be better than all of the candidates we've seen so far. I'd just caution against dreaming too big, that's all. The Eagles are going to have to take a chance on someone and hope he's a hit.
January, 12, 2013
1/12/13
6:02
PM ET
By
ESPN.com staff
| ESPN.com
Brian Kelly is
staying with Notre Dame
.
Kelly met with the Philadelphia Eagles on Tuesday, and there was mutual interest after the interview, according to league sources.

CBSSports.com reported Wednesday that the Chicago Bears also were interested in Kelly. But sources refuted that report to ESPNChicago.com.
"This week, I had an incredible opportunity to speak with one of the premier organizations in sports about becoming their head coach," Kelly said in a statement released through the school.
"Like every kid who has ever put on a pair of football cleats, I have had thoughts about being a part of the NFL. However, after much reflection and conversation with those closest to me, I have decided to remain at Notre Dame."
May, 2, 2012
5/02/12
2:20
PM ET
The protocol becomes the same for nearly every freshly minted NFL draft choice, from first-round quarterbacks to seventh-round punters.
Not long after their selections, their new employers will connect them to local NFL reporters via conference call.
A surprise awaited the
Arizona Cardinals
after the team made Notre Dame receiver Michael Floyd the 13th overall choice in the 2012 draft.
Floyd's college coach, Brian Kelly, made an unsolicited call to the Cardinals, availing himself to media questions regarding his former player.
Kelly has vouched for other players, including
Minnesota Vikings
first-round pick
Harrison Smith
. A college head coach certainly has a recruiting interest in getting his name out there in association with prominent draft choices.
But in publicly testifying for Floyd, whose draft file includes three three alcohol-related incidents and a resulting
team suspension
, Kelly extended himself to an extent that wasn't necessary. It was a notable early marker for the Cardinals, who have never drafted a player with such significant baggage since Ken Whisenhunt arrived as head coach in 2007.
Floyd could not have scripted Kelly's testimonial more favorably:
On Floyd in general: "Well, a kid who got his degree in three-and-a-half years from Notre Dame. Probably in my 23 years now as a head coach, the best practice player that I've ever had. He just has a passion and a love for the football."
On Floyd as a teammate: "Whether he is getting the football or not, he is a guy who has never complained. He certainly always wants the ball in critical situations. He has never been a diva, if you will, in terms of not getting his catches. If we're successful and we're making plays, he's on the other end making blocks. That's why it was such a pleasure to coach the kid."
On what changed in Floyd following a suspension: "To have an opportunity to come back and play at Notre Dame and get a degree and be successful in the NFL, he had to make some choices. And he made some great choices. Now, you've got a young man who had been through some adversity, has handled it, has been humbled because of it and the best is in front of him now."
Authorities cited Floyd for underage drinking in 2009 and 2010. A DUI conviction last year made for three alcohol-related incidents in three years, raising obvious questions about judgment and the potential for a more serious problem.
College programs can become
enablers
for troubled star athletes. Handing millions to those troubled athletes usually doesn't help.
Those are generalities. Floyd's situation stands on its own. Whether he has a problem or carries a heightened risk cannot be known for certain.
The Cardinals' decision to draft Floyd was an organizational one, with team owner Michael Bidwill, a former federal prosecutor, participating directly in the vetting process.
Coach Ken Whisenhunt said the team asked tough questions, thought Floyd provided honest answers and felt Floyd made a positive statement by returning to Notre Dame for his senior season amid quarterback uncertainty that could have hurt Floyd's status.
"I just basically told them it was a bad decision," Floyd told reporters following his selection. "I learned from it and I moved on. I know I can't be like every other college student, just doing what a college student does, because the spotlight is on me. They wanted to see if I had improvements since that time, and I have."
There is less uncertainty over the Cardinals' on-field plans for Floyd. They anticipate him becoming their flanker opposite split end Larry Fitzgerald, who had been the most recent first-round wideout chosen by Arizona. With Floyd projecting as a starter, Andre Roberts becomes a candidate for additional playing time from the slot, where Early Doucet was already a factor for the team.
Fitzgerald and Floyd present matchup problems with their size alone. Both are nearly 6-foot-3. Floyd weighed 220 pounds at the scouting combine. Fitzgerald weighed 225 upon entering the league in 2004. He has preferred playing at a lighter weight recently.
Size matters for receivers in the NFC West, a division featuring punishing safeties and Pro Bowl credentials in the secondary.
Kam Chancellor
,
Earl Thomas
,
Brandon Browner
,
Richard Sherman
,
Adrian Wilson
,
Patrick Peterson
,
Carlos Rogers
,
Dashon Goldson
,
Donte Whitner
,
Cortland Finnegan
and
Quintin Mikell
come to mind immediately.
"You could consider Mike to be still a raw receiver in that he can get better in all the technical elements in route running and things of that nature," Kelly said of Floyd. "He is certainly a guy that attacks the football and attacks defenders and blocking -- he is an outstanding blocker."
Any rookie open to input from veteran players stands to benefit from joining a team with strong leadership at the player's position. Fitzgerald sets an impeccable standard for the Cardinals' receivers and the team in general. From that standpoint, Floyd couldn't have found a better working environment.
December, 10, 2010
12/10/10
12:34
PM ET
I am not saying this will happen, but I am saying it could.
It's purely hypothetical at this point, but I'm going to say I wouldn't be totally surprised if the
Carolina Panthers
bring in a coach from the college ranks to replace John Fox, who will be out the door the moment the season is over.
[+] Enlarge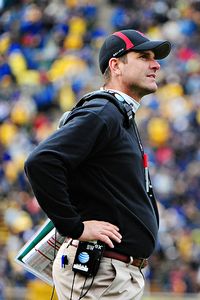 Kyle Terada/US PresswireWill Carolina target Stanford coach Jim Harbaugh to replace John Fox?
I've been saying all along I thought the Panthers would go with a rising NFL coordinator or assistant and I've thrown out names like Russ Grimm, Mike McCoy and Brian Schottenheimer as examples. I still think that is the most-likely scenario.
As I said in
this recent post
, I believe general manager Marty Hurney and team president Danny Morrison will spearhead the search. Owner Jerry Richardson will be involved and have ultimate say, but he's pretty busy working on the league's labor situation.
The reason I'm amending my theory, and at least leaving open the possibility of a college coach, is Morrison. Yeah, he runs the business side and Hurney runs the football side, but Morrison holds a great deal of power and comes from a college background. He knows people at the college level all across the country and I think he'll at least bring some college names to the table.
I also think Hurney is bright enough and has enough of an open mind that he at least would consider going the college route.
People already have been throwing around Jim Harbaugh's name and I think there are at least logical reasons for the Panthers to take a look at him. Harbaugh's had success at Stanford and he's young and enthusiastic. He also is the guy who has been coaching
Andrew Luck
. In case you haven't heard, there is a pretty good chance Luck will be the first player chosen in the 2011 draft. There's an even better chance the 1-11 Panthers will hold that pick.
A package deal? Perhaps. But I'm not convinced the people who still will be in power are ready to give up on
Jimmy Clausen
, although Fox never embraced him. It's possible the Panthers could hire Harbaugh and ask him to develop Clausen. It's possible they could try to trade the top pick to add more picks. But if Luck is as good as everyone seems to think he is, it would be awfully hard to pass on a franchise quarterback.
Harbaugh may be a college coach, but he had a lengthy NFL career, so the transition wouldn't be that dramatic.
Now, I'm going to throw out one other college name that I think could fit Carolina's profile. That's Notre Dame's Brian Kelly. He has no NFL experience, but neither did Morrison before he was hired. Like Morrison as an athletic director, Kelly has moved steadily up the college ranks. He had great success at Cincinnati and that got him the Notre Dame job.
Again, I'm not saying the Panthers definitely will hire a college coach. But I think it's at least a consideration. Keep in mind, this is a team that got stale the past few years under Fox.
The Panthers need a guy who will liven things up. Starting fresh with a college coach might not be a bad option.
March, 13, 2009
3/13/09
3:11
PM ET
Posted by ESPN.com's Kevin Seifert
A tip of the hat to NFC West colleague Mike Sando, who flagged the latest offering from a fellow known as AdamJT13 -- a blogger who has gained some cyber-fame for his ability to predict the NFL's awarding of compensatory draft picks.
The league has never publicized the formula it uses for this program, which gives extra selections to teams that lost more talent than it gained in free agency the previous year. The picks can be as high as the third round and as low as the seventh. I won't overwhelm you with too many details, but in general AdamJT13 -- whose true identity is unknown -- believes it is primarily based on the average annual value of the contracts in question.
Here is AdamJT13's personal blog, which lays out his methods.
Now, for the moment you've been waiting for: AdamJT13 predicts two NFC North teams will net extra picks when the NFL announces the results later this month.
Chicago Bears (3)
Detroit Lions (2)

December, 18, 2008
12/18/08
1:30
PM ET
Posted by ESPN.com's Tim Graham
New York Jets
Miami Dolphins
Buffalo Bills
New England Patriots
December, 9, 2008
12/09/08
8:23
AM ET
Posted by ESPN.com's Kevin Seifert
If the NFL has any mercy, it will give Detroit center Dominic Raiola a pass for making an obscene gesture to fans during the Lions' 20-16 loss Sunday to Minnesota at Ford Field. You can't punish Raiola any more than what he's already gone through, having been heckled for seven years as one of the Lions' longest-tenured players.
Imagine the impact of losing, often spectacularly, over so many years. It's clear Raiola simply couldn't take it any longer and snapped. Who wouldn't?
Here's what Raiola said to Detroit reporters on Monday, according to John Niyo of the Detroit News:
"I don't take one thing back. I'll say the same thing to a fan that I see on the street. I wish I could give my address out to some fans -- I'd do that. But you can't. Nobody plays with fists. Everybody wants to play with metal. So I can't. I'm just so frustrated. I'm tired of being a doormat. For people to just talk to us how they want to talk to us, I'm just not gonna put up with that anymore."
Challenging fans to a fight might be a bit over the top, but it's nice to see that at least one Lions player is fed up with the losing. And if anyone has absorbed the full brunt of the organization's failures, it's Raiola. The NFL should reward him for loyalty rather than punish him for a heat-of-the-moment hand gesture.
Now that we've gotten that off our chest, let's continue our spin around the NFC North:
October, 4, 2008
10/04/08
10:20
AM ET
Posted by ESPN.com's Kevin Seifert
Minnesota linebacker E.J. Henderson's left foot is so swollen that the team's medical staff hasn't been able to fully assess his condition, which includes two dislocated toes. That situation suggested a long-term absence from the lineup, and Saturday the Star Tribune reported Henderson will miss at least a month.
The absence is a huge blow for the Vikings, who consider Henderson a Pro-Bowl caliber linebacker and named him a defensive captain prior to the season. He'll be replaced by second-year player David Herron, but defensive coordinator Leslie Frazier said Friday that strong-side linebacker Ben Leber will take most of the playcalls from the sideline.
Surgery is an option for Henderson once the swelling subsides, according to the Star Tribune's Judd Zulgad. In his previous five seasons, Henderson played in 79 of a possible 82 games.
Elsewhere around the NFC North on this fall Saturday:
September, 9, 2008
9/09/08
12:04
PM ET
| | |
| --- | --- |
| | |
| | Scott Boehm/Getty Images |
| | In his first game with his new team, Minnesota's Jared Allen said Monday's game was "one of the least productive games of my life." |
Posted by ESPN.com's Kevin Seifert
The ball sailed past Minnesota receiver Bernard Berrian a few times. Once, it hit his feet. Another time, he couldn't adjust quickly enough as the ball was in the air.
On the other side of the ball, Vikings defensive end Jared Allen burst through the line a handful of times, tripped on a couple of plays and ultimately finished with what he called "one of the least productive games of my life."
In Atlanta, a defense stocked with newcomers was bumbling all over the field. The Detroit Lions gave up 21 points in the first quarter to the Falcons and never recovered.
Meanwhile, the Chicago Bears' veteran defense carried it to a surprising victory at Indianapolis. And the Green Bay Packers' homegrown roster proved to be the most decisive team on the field Monday night.
In retrospect, it shouldn't be a surprise that the NFC North teams who largely stood pat in the free-agent market were more prepared to play on the opening weekend of the season. High-profile acquisitions impress the media and whip up fan support, but it is a difficult task to bring a group of new veterans together in time to play your best football in September.
Perhaps that's why the Vikings were surprisingly calm and, in many cases, smiling after their 24-19 loss to the Packers on Monday night. Berrian entered the game with almost no game-speed work with quarterback Tarvaris Jackson. They played one quarter of one preseason game together because of injuries. He ended up catching three of the seven passes Jackson threw his way.
Allen's unofficial stat line was filled with zeros, with the exception of one defensed pass. And yet when we ventured into the Vikings' locker room, you couldn't hear a bowling ball drop, let alone a pin. Players weren't exactly jubilant, but they seemed far from discouraged.
"We're going to be fine, man, really," nose tackle Pat Williams said. "We gave up a few big plays, and that's it. I'm not worried at all. If we can get a little more consistency and not give up big plays, we'll be alright. We've just got to work on a few small things."
July, 31, 2008
7/31/08
9:38
AM ET
Posted by ESPN.com's Kevin Seifert
GREEN BAY, Wis. -- As we await the latest installment in Brett Favre mania, we are ruing one possible bi-product: We might have to scrap plans to attend Thursday night's annual joint practice between the Minnesota Vikings and Kansas City Chiefs in River Falls, Wis.
The event has been scaled down over the years, but it still represents a noticeable uptick in intensity and the first chance to see how players will respond in even a pseudo-game environment. It's usually good for a few tussles here and there, but both the Vikings and Chiefs can relax knowing that a prime instigator -- Vikings defensive end Ray Edwards -- isn't expected to participate because of a back injury.
One defensive end who will be on the field is the Vikings' Jared Allen, whom the Chiefs traded away in one of the biggest moves of the NFL offseason. Allen said this week that he "has bigger fish to fry" than the Chiefs but didn't hide his long-running disdain for Kansas City president Carl Peterson: "I've got nothing to talk to him about," Allen said.
The practice begins at 6:30 p.m. at the University of Wisconsin-River Falls. We'll provide some highlights if we can.
In other division news (and yes, WE KNOW THERE ARE MORE TEAMS IN THE NFC NORTH BESIDES THE PACKERS AND THE TEAMS THAT MIGHT HAVE INTEREST IN BRETT FAVRE.):