NFL Nation:

Brian Mitchell
February, 18, 2014
Feb 18
9:25
AM ET
• The Redskins won't have a tough time replacing
London Fletcher
's 2013 production; he did not have a strong season. But replacing his leadership will be difficult and whoever the Redskins sign to take over his spot must have those skills. Fletcher's replacement probably won't be the same as his predecessor, but he does need to be a leader. The Redskins may re-sign
Perry Riley
who knows the defense, but he is a quiet guy better suited as a sidekick in this area.
[+] Enlarge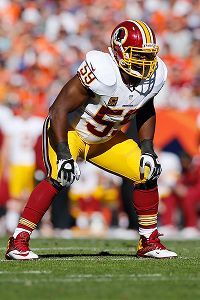 Ric Tapia/Icon SMIThe Redskins may need to look to free agency to replace London Fletcher's leadership.
• Here's what defensive coordinator Jim Haslett said on ESPN980 last week in a conversation with Doc Walker and Brian Mitchell about Fletcher: "I don't think I've ever been around a guy in 35 years that has the qualities you look for like him. When he's on the field he's outstanding. He's the smartest guy I've ever been around. When he's in the meeting room he's the ultimate guy."
• One player who has those qualities and will be a free agent?
Jon Beason
. I once spoke with someone who had worked with both Fletcher and Beason (did not coach them) and he felt Beason rated higher in preparation than even Fletcher. The problem with Beason now is that there are questions about his coverage skills. But he was very good against the run with the Giants this past season.
• Here's what Haslett told 980 about new coach Jay Gruden, who was his offensive coordinator in the United Football League, "You'll see a level-headed guy. You'll love the offense. He does multiple different things every week. He'll use our quarterback to the best of his ability. He'll take whatever they do best and use it. He's not going to find fault, he'll find what they do best."
• The Redskins will be at the scouting combine this week. I know a lot is made of 40-yard dash times, but that should only be a metric to see if a player plays as fast as he timed. There's an issue if the player looks slow on film, but fast in the 40. In that case? Stay away. Football is won with quick decisions, not with 40-yard dash times. If you're fast but make slow decisions, you'll soon be out of the league.
• After watching Buffalo's
Jairus Byrd
(a potential free agent), I was surprised to learn that he ran a 4.68 in the 40. That's not fast, but he more than compensates with knowledge and quick decisions.
• Gruden used bigger offensive linemen in Cincinnati, but that does not mean he'll necessarily look for bigger guards in the draft. The Redskins will use the same run game zone-blocking principles, though I'm sure Gruden will incorporate some of his beliefs as well. I'm sure they'll still look for some help in the interior.
• But if they did want bigger and wanted to promote from within, then this is a huge offseason for
Josh LeRibeus
. As a former third-round pick, he should be challenging for a starting job by his third season. LeRibeus had a terrible offseason in 2013 and took much of the year to return to his end-of-rookie-season form. If a team is doing a good job developing talent, then a player such as LeRibeus should be ready to play a lot more now. Yes, a lot of that is on him. If he has a good offseason, he could be a factor.
• But the way you help yourself when you need to cut players is by bumping up a young player. Otherwise, they can cut, say,
Chris Chester
and then have to find a somewhat expensive replacement. You're just spinning wheels after a while, in terms of creating cap space (which has typically been the Redskins' problem). It also limits a team's ability to then address other more costly issues.
• And,
to reiterate
, I would not take a flier on guard
Richie Incognito
. Football isn't played by choir boys, but there's a difference between being nasty and being disruptive. Incognito clearly is -- and has been -- the latter and has consistently hurt his own team. When a player's positives don't outweigh their disruptions, you let them go elsewhere.
• In watching games again from this past season, it's shocking how many tackles this defense missed –- the safeties in particular. Every team operates under the same CBA guidelines limiting the amount of contact in practices, so you can't blame that. When you consistently try to shoulder tackle or tackle too high, it sort of gets you in trouble. Or when you're just not good enough.
February, 14, 2014
Feb 14
9:30
AM ET
Washington Redskins
defensive coordinator Jim Haslett has two desires for next season: More sacks and more turnovers. If that happens, he knows what the result will be: more wins.
Haslett, speaking on ESPN980 Thursday for the first time since he was retained by the Redskins, also told Doc Walker and Brian Mitchell that improving the pass rush is a primary goal.
Haslett said that is one reason he hired Brian Baker to coach the outside linebackers (where the bulk of the pressure comes from in a 3-4 defense). Haslett sounded like a coach anticipating
Brian Orakpo
's return, too. Orakpo can be a free agent next month.
[+] Enlarge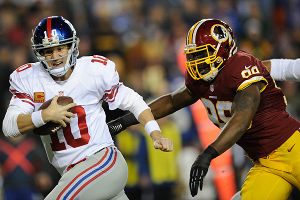 AP Photo/Nick WassDefensive coordinator Jim Haslett is expecting an improved pass rush next season, led by pending free agent Brian Orakpo.
"Can we get better? No doubt about it. I think Rak can get much better, and I know
Ryan [Kerrigan]
can get a lot better," Haslett said. "That's why we hired a coach to coach them on the rush element. We'll try to turn them loose more this year, do more with them game-wise. Don't worry so much if they lose contain, because they'll lose frickin contain half the time. Let's roll and make sure the tackles cover for them. Different things like that."
Orakpo and Kerrigan combined for 18.5 sacks this past season, which he pointed out was one less than Baltimore's duo of
Terrell Suggs
and
Elvis Dumervil
, and 3.5 less than Kansas City's tandem of
Tamba Hali
and
Justin Houston
.
Coaches often talk about pressures more than sacks (especially when the sack totals are low), but constant pressure also leads to more sacks. In 2011, with a healthy Orakpo,
Stephen Bowen
and
Adam Carriker
, the Redskins tied for 10th in the NFL with 41 sacks.
But in 2012 they finished tied for 23rd with 32, and this past season they were tied for 21st with 36.
Haslett pointed to turnovers as an area that must change. The Redskins only caused five fewer than they did in 2012 (going from 31 to 26 this past season). He dismissed yardage as a stat to measure a defense -- "That's kind of for losers," he said. (As an aside, I'll say this: Every coach I've covered will point to this stat when it suits them; every single coach. But I do agree that other stats matter, like points allowed and turnovers. They impact the game more. Yardage totals can be inflated by game situations).
"The object is to get the ball back from the offense and let them score points," Haslett said. "The offense has to control the ball and keep us off the field. Don't turn the ball over so we're on the field for 15-18 possessions like the last game of the year. And you win games. That's what we did down the stretch the year before; that's why we won seven in a row. That's our goal, we want to create more turnovers."
Haslett also said that "you'll see more of what we want to do from the standpoint of coverage."
He did not expand on that statement, but it stemmed from being asked how much more his personality would be revealed in the defense now that he's working for a coach who will stick to offense. Clearly, there was a difference of opinion in what previous head coach Mike Shanahan wanted and what Haslett wanted at times, whether it came from coverages or play calls.
"You've got to get these guys doing the same thing over and over and over to where they get good at what they do," Haslett said. "We bounced around early in the season. We had a heck of a preseason. We thought we were good, but that's preseason. It got your hopes up a little bit, but it wasn't really what we wanted to do.
"I think you'll see more of something we'll be good at. Whatever we do, we'll be good at. It doesn't make a difference what you're running ... We were in a four-man line 62 percent of the time last year anyway. But we're going to be good at what we do, and we're going to do it over and over and over until we get good at it."
November, 18, 2011
11/18/11
10:30
AM ET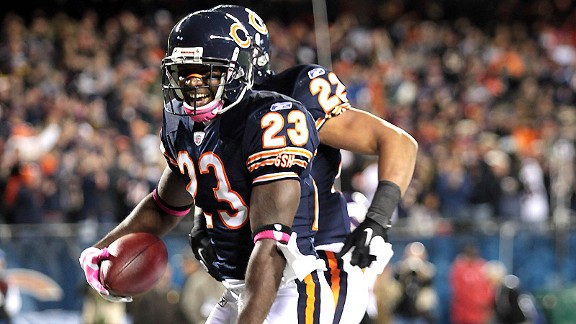 Tasos Katopodis /Getty ImagesDevin Hester is one return away from tying Deion Sanders' NFL record of 19 TD returns of any kind.
Chicago Bears
kick returner/receiver
Devin Hester
is 29. So it's reasonable to assume the actual debate on his candidacy for the Pro Football Hall of Fame is at least 10 years -- and probably a few more touchdown returns -- away. Already, however, Hester's unique status has conjured discussion about his place in history and whether he'll ultimately be recognized as one of the best players of this era.
Here are the facts:
Less than six years into his career, Hester has obliterated the NFL record for career kick returns for touchdowns. He has 17 in his 85-game career, most recently an 82-yard punt return last Sunday against the Detroit Lions, plus one more in the playoffs. It took Brian Mitchell 223 games to finish with 13, the previous record.

When you add in his return of a missed field goal in 2006, Hester is one return away from tying Deion Sanders' NFL record of 19 touchdown returns of any kind. Sanders played in 188 games before retiring.

The Hall of Fame has never inducted a player based on his impact as a returner. In fact, there is only one "pure" special-teams player in the Hall: Place-kicker Jan Stenerud.
Hester's record-breaking production, not to mention his pace, has spurred passionate discussion among his supporters. Bears linebacker
Brian Urlacher
provided a particularly direct assessment this week
during an interview with ESPN 1000
.
"He's the greatest of all time at what he does," Urlacher said. "And in my opinion, when you're the greatest of all time at your position, you should be in the Hall of Fame. He is a first-ballot Hall of Famer in my opinion. He's going to have 30-something touchdown returns if people keep kicking to him. It's a no-brainer for me. I just don't see how people can not agree with that."
From my amateur vantage point, the best way to consider Hester as a potential Hall of Fame candidate is to expand the analysis of his impact. It's going to be difficult for voters to elect a player based solely on "30-something" touchdown returns over the course of a decade, if that's indeed what Hester finishes his career with.
The reality is that punt and kickoff returns make up less than 10 percent of the total plays in an average game; the figures were about 12 of 138 plays in 2010. That's essentially the definition of a specialist who is hard-pressed to make a broad-based impact on games when he is typically exposed to so few opportunities. That's probably why neither Mitchell nor Dante Hall (12 return touchdowns) nor Eric Metcalf (12) have received serious consideration as a Hall of Fame candidate.
But Urlacher made an important point this week: "He changes every football game he's in."
How? By impacting the Bears' field position. Take a look at the chart accompanying this post, which we present after some dutiful research by Mike Corbo of the Bears' communications office.
The Bears have had the NFL's best field position, based on the start of their average drive, in three of Hester's five full seasons. They ranked No. 3 in the other two.
Multiple factors contributed to that success, including their Bears' strong defense of this era. And it's worth noting that they had top-10 field position in four of the five seasons preceding Hester's arrival. But it would be foolish to ignore the role of Hester's returns and also of kicks intentionally shortened or otherwise diverted by opponents to keep the ball away of him.
There are all kinds of politics, waiting games and backlogs involved in election to the Pro Football Hall of Fame. Given the difficulty that players like Kevin Greene (160 career sacks) and Cris Carter (1,101 receptions) have had getting attention, it's hard to imagine that a couple-dozen touchdown returns alone would put Hester on track for induction.
But when you consider him a player that impacts field position all game long, as Hester appears to have done for large portions of his career, then you're moving the conversation away from a specialist and towards the kind of criteria voters are looking for. If you're a proponent of Hester's burgeoning candidacy, that's the direction you need to head.
April, 11, 2011
4/11/11
11:54
AM ET
Eric Dickerson, Marshall Faulk, Roger Craig, Sean Morey,
Sam Bradford
and
Takeo Spikes
are among the NFC West players and alumni scheduled to appear at the NFL Players Association's draft-related festivities in New York beginning April 28.
Hall of Famer and current
Seattle Seahawks
radio analyst Warren Moon, who played for Seattle before the team's move back to the NFC West in 2002, is also on the guest list revealed Monday.
The NFLPA took criticism when news broke that it
planned to discourage players from attending
the draft itself, but these events have been scheduled to give players flexibility should they choose to attend both.
"The series of events is a celebration of legacy -- of past, present and future football players coming together to honor those making the journey from prospect to professional," the NFLPA said in a news release.
The NFLPA has scheduled a welcome meeting and dinner with families for 4 p.m. ET on Thursday, the first day of the draft, which begins at 8 p.m. ET. Draft prospects attending would then have time to appear at the draft, should they choose to do so, as both will be headquartered in New York.
The NFLPA has scheduled media access for Friday from 8 a.m. to noon, followed by a lunch and dinner with reception at 4:30 p.m. A fitness and skills clinic is set for Saturday from 10 a.m. to noon in Harlem, followed by lunch and a party beginning at 9 p.m.
NFL teams generally fly first-round choices to their facilities in the day or two following the first round. Rules will allow that to happen again, despite the lockout. Players heading to their new teams' facilities for news conferences could miss NFLPA-sponsored events for Friday and/or Saturday.
The initial guest list, subject to change, features the following current and former NFL players:
Charlie Batch
,
Cornelius Bennett
,
Dwayne Bowe
, Bradford,
Ahmad Bradshaw
, Craig,
Zak DeOssie
, Dickerson,
Eddie George
, Faulk,
Felix Jones
,
Maurice Jones-Drew
,
Dustin Keller
,
Brandon Marshall
,
Kevin Mawae
,
Willie McGinest
,
Brian Mitchell
, Moon, Morey,
Shaun O'Hara
,
Ray Rice
,
Tony Richardson
, Spikes and
Mike Vrabel
.
The list of draft prospects includes
Prince Amukamara
,
Marvin Austin
,
Adrian Clayborn
,
Marcell Dareus
,
Nick Fairley
,
Blaine Gabbert
,
A.J. Green
,
Mark Ingram
,
Julio Jones
,
Cameron Jordan
,
Ryan Kerrigan
,
Corey Liuget
,
Von Miller
,
Rahim Moore
,
Cam Newton
,
Patrick Peterson
,
Robert Quinn
,
Aldon Smith
,
Daniel Thomas
and
J.J. Watt
.
December, 21, 2010
12/21/10
3:00
PM ET
»
NFC High Energy
:
East
|
West
|
North
|
South
»
AFC
:
East
|
West
|
North
|
South
A look at a player who gave his team a significant boost in Week 15.
Devin Hester
is 28 years old.
The
Chicago Bears
receiver/returner hasn't yet completed his fifth season in the NFL.
[+] Enlarge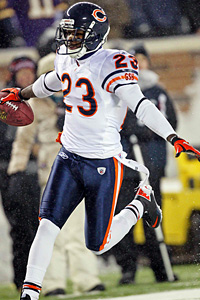 AP Photo/Andy KingChicago's Devin Hester returned a punt 64 yards for a touchdown Monday night.
And already he's the first
two-time winner
of the NFC North's High Energy Player of the Week award.
Oh, and he's now the best special-teams player in the history of the league as well.
With a 64-yard punt return Monday night at TCF Bank Stadium, Hester broke Brian Mitchell's NFL record for the most career kickoff/punt returns for a touchdown. Hester now has 14 and, as he said late Monday night, the party is not over.
"It's gonna be plenty more," Hester said. "It's gonna be a lot more than this. I guarantee you that."
Hester
grew emotional while speaking to reporters
, noting his history as a college player without a position and then how consistent the Bears' special-teams blocking has been over the years.
"Everything I'm thinking about, it's coming to me," he said. "Coming out of college, coaches told me I wasn't gonna be nothing but a kickoff and punt return dude. I wasn't gonna ever earn a position in the league. ... But I'm here today to say that I am a kickoff and punt returner, but at the same time, the best to ever do it. I'm glad that they said that because right now, I can say today that Chicago Bears are the best punt return team that would ever do this."
I wonder if Hester's emotion also emanated from his return to prominence after a two-year slump that called into question his future as a player. It's now long forgotten, but Hester went cold in 2008 and 2009 after 11 scoring returns in his first two seasons. But in 2010, Hester has now returned three punts for touchdowns and has a robust 35.2-yard average on 11 kickoff returns.
He's back.
He's indisputably the best.
And there is more to come.
December, 20, 2010
12/20/10
10:40
PM ET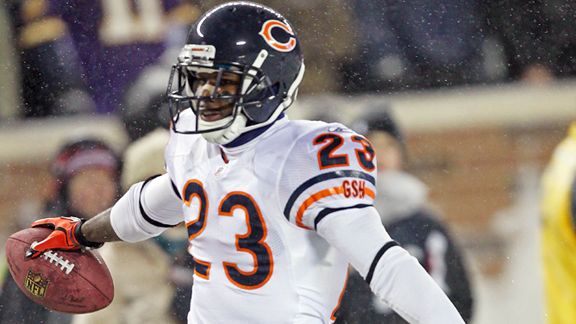 AP Photo/Andy KingDevin Hester celebrated an NFL record in the snow on Monday night with his 14th return for a TD.
MINNEAPOLIS -- And there it is.
Devin Hester
just put the
Chicago Bears
on the brink of winning the NFC North championship with a 64-yard punt return for a touchdown, giving the Bears a 27-7 lead over the
Minnesota Vikings
and allowing setting a new NFL record along the way.
Hester now has 14 punt or kickoff returns in his career, one more than Brian Mitchell's previous record.
We'll have more on this blowout shortly after the game.
May, 26, 2010
5/26/10
12:30
PM ET
By
Matt Mosley
| ESPN.com
In the little time I've spent with
Washington Redskins
general manager Bruce Allen, it's obvious that he has an affinity for the club's glorious past. But it doesn't seem like he's trying to rely solely on his famous father to give him credibility in Washington.
[+] Enlarge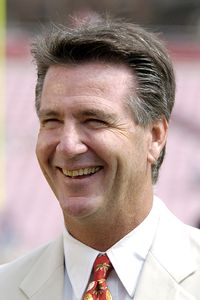 Al Messerschmidt/Getty ImagesRedskins GM Bruce Allen's efforts to reach out to the team's alumni may already be paying off.
He simply appreciates the great Redskins of the past, in part, because he grew up next to a lot of them. And that gives him a unique perspective as he attempts to bridge the gap between former players and the current regime. Mike Wise of the Post
talked to a couple of the more outspoken former Redskins
about Allen's efforts in a column Tuesday. It appears that Allen's initial efforts are already paying dividends. Brian Mitchell, who has been highly critical of his former team over the years, said he received an invitation to an alumni gathering at Redskins Park recently.
"[Allen] made it clear he wanted to reunite the burgundy-and-gold family, which has been fragmented," Mitchell told Wise. "Hell, I've seen it fragment. They used to reach out to a certain group of guys that told them what they wanted to hear. I can't say that right now. This feels like a sincere attempt to reconnect with their past in a good way."
If you've ever listened to Mitchell on the radio, you know that he doesn't often take a conciliatory tone. I'm sure Allen's lineage gives him a home-field advantage in his efforts, but he still has work to do. Owner Dan Snyder has done some notable things from a charitable standpoint, but he's never endeared himself to fans. In fact, his aloof persona has always overshadowed the fact that he's a passionate fan of the organization. I didn't agree with Hall of Famer John Riggins when he said Snyder had a "dark heart" during a television interview, but it speaks to how disenfranchised some former Redskins feel. Allen aims to help repair some of those relationships.
"Our job, as current employees, is to respect the history," said Allen in Wise's column. "The reason we have fans is the great performances of the players and coaches and the fans before. We didn't create this magic last year or the year before, or this year. It's everyone who came before us.

"So I do believe we owe more than a debt of gratitude to the players that came before us."
So should we expect to see
LaVar Arrington
and Snyder to share a hug in the coming months? Well, I wouldn't hold my breath for that reunion. But I do think Allen's gone a long way in repairing some of the damage. And you'd be amazed what 10 wins could do for the relationship with fans.
I'm wondering if it's important for you guys to see Allen reaching out to some of the former greats? Would that give you more pride as a Redskins fan? Please show your work in the comments section.
March, 25, 2010
3/25/10
2:16
PM ET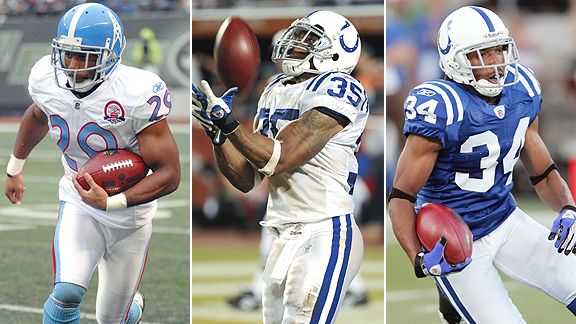 Icon SMIAFC South return men Ryan Mouton of the Titans and Chad Simpson and TJ Rushing of the Colts failed to get their teams the yards they needed.
The Titans' 2009 search for a returner was a failure. In recent years, the Colts haven't shown a lot of interest in finding a dynamic one.
Universal thinking is each team can solve the issue in the upcoming draft, though it would take a change in Indianapolis' approach for the Colts to focus on it.
So what does it take to unearth a quality return man?
I set out this week to address this from several angles, and I'm going to let some smart people with informative takes carry the day.
So without further ado…
Baltimore Ravens coach John Harbaugh
has a big background in special teams.
What's he want to see out of a prospective returner?

"Punt and kickoff return are completely different. In punt return, the bottom line is he's got to be a natural catcher. So catching a punt is a unique thing. If they can't catch, you can forget about it. Kick return is a little easier to catch, but some of these guys struggle to catch kicks. To me, a kick returner has to be a north-south runner. He's got to have a burst of acceleration and/or power, and he's got to have vision. It's usually more of a running back-type guy who can read the hole and cut off blocks. Punt return is a guy that can catch the ball naturally, has great body control and he can do two things at once. He's got to be able to catch the ball and feel the pressure around him. Make the guy miss, whether it's make or miss with the body control to slip through there, or be able to change speed and change angles."

Does he need to see a college player do that or can he project it?

"It's a good question. You'd rather see it because then you know. But if you don't see it, you can project it. But you've got to go work the guy out and see if he can catch. So you can take a guy that maybe wasn't a college punt returner, and maybe turn him into a pro punt returner. Maybe you find out that he has been catching punts every day but they didn't put him back there because he was their primary receiver or whatever. It's pretty rare to see a great pro punt returner who wasn't a pretty good college punt returner."

Matt Williamson of Scouts Inc. says he wants to see courage and toughness in a return man:

"It's funny. When looking/reading prospect reports on draft prospects this time of year, many scouts rightfully put something along the lines of, 'Also can contribute as a return man' as part of a young man's scouting report. That is all well and good, but like kickers and punters, is he one of the best 32 (or so) at this skill in the world? It is not for the faint of heart and while speed, elusiveness and vision are all paramount for either punt or kickoff returns, I think guts/fearlessness/toughness is maybe the most important. If you are going to keep a pure returner, he had better be outstanding-by NFL standards. Otherwise, he has to do something else. Be the fourth cornerback or wide receiver or be a core special teams player on coverage teams."

Keith Hawkins of ESPN Stats & Information took a look at some of the best returners in league history and some of the most productive guys in recent history to see if there were any commonalities:

"The one 'similarity' of the best returner historically (Brian Mitchell) and the best return man in 2009 (Joshua Cribbs) is that they were both college QBs.

"The other common denominator is that of the players below, only three were defensive backs in college: Darrien Gordon, Devin Hester, Deion Sanders.

"Another common denominator (with the exception of the 6-foot-1 Cribbs) is that they are all under six feet tall."
Finally,
Kevin Weidl of Scouts Inc
. was kind enough to run through the best return prospects in the draft:
Return Specialists

These guys will either be drafted or signed as free agents strictly for their return skills. Due to lack of size, they will need a creative offensive coordinator to contribute offensively at the next level.

Brandon Banks, Kansas State (5-7, 159) -- Banks is the top pure returner in this years' class. He possesses a nice combination of vision, quickness, speed and elusiveness to consistently set offenses up with favorable field position.

Brandon James, Florida (5-6, 176) -- James possesses great vision to locate and the short-area burst to quickly get through first line of defense. He also displays a quick stop and start and is very reliable tracking and fielding punts. Questionable overall long speed to outrun defenders when they have favorable angle in pursuit.

Trindon Holliday, LSU (5-5, 172) -- World-class track speed, and has the ability to exploit even the slimmest of creases. He is shifty but lacks elite elusiveness to make defenders miss in confined areas.

Other prospects that bring added value as returners (sorted by position);

Running backs

C.J. Spiller, Clemson -- The most dynamic and versatile offensive weapon in this year's class. Explosive short-area burst and elite top-end and long speed give him ability to rip off a big gain at any point in both phases of the return game.

Dexter McCluster, Ole Miss -- McCluster is pint sized (5-8) but shows great versatility and quickness to contribute as a change-of-pace back and wide receiver at the next level. Elite open-field capabilities make him dangerous as a punt returner.

Other RBs with returning experience: Joe McKnight, USC; Ben Tate, Auburn; Andre Dixon, UConn

Cornerbacks

Javier Arenas, Alabama -- Instinctive and tough football player who should step in and contribute immediately as a sub-package nickel back. Despite lack of elite top-end speed, Arenas is one of the more effective returners in this year's class. I love his vision, balance and quick stop and start as a returner.

Kyle Wilson, Boise State -- Physical press corner who shows great anticipation and ball skills out on an island. Wilson brings added value as a reliable punt returner with good speed and open-field capabilities.

Devin McCourty, Rutgers -- Not many holes in McCourty as a cornerback. Easy change of direction, strong overall ball skills, plays bigger than size indicates and not afraid to get jersey dirty in run support. McCourty is one of the most versatile special teams prospect in this year's class, an effective kick returner and outstanding gunner with punt coverage.

Akwasi Owusu-Ansah, IUP -- Possesses a nice combination of size, speed and ball skills teams covet as either a press corner or free safety at the next level. Owusu-Ansahis a strong open-field runner who has experience as both a kickoff and punt returner.

Other cornerbacks with returning experience: Perrish Cox, Oklahoma State; Syd'Quan Thompson, Cal; Walter Thurmond, Oregon; Dennis Rogan, Tennessee

Wide receivers

Golden Tate, Notre Dame -- Aggressive, savvy and sure-handed and should develop into at least a strong No. 3 WR at the next level. Reliable punt returner with good vision, balance and deceiving top-end speed.

Damian Williams, USC -- Smooth athlete and one of the most polished route runners in this year's receiver class. Despite lack of top-end speed, Williams will consistently field punts cleanly and has enough elusiveness to pick up positive yardage.

Mardy Gilyard, Cincinnati -- Instinctive and passionate playmaker on the field who should develop into a solid No. 3 WR. By no means a burner, but a difference-maker as a returner in both phases as he shows elite body control and never slows down out of cuts.

Jacoby Ford, Clemson -- World class track speed and should be a nice vertical threat at the next level. Elite top-end speed gives him ability to hit the home run at any point as both a kick and punt returner.

Antonio Brown, Central Michigan -- Quicker than fast, and should contribute working out of the slot at the next level. Brown brings added value as both a kick and punt returner with his open field capabilities and overall elusiveness.

Other receivers with returning experience: Jordan Shipley, Texas; Emmanuel Sanders, SMU; Andre Roberts, Citadel; David Reed, Utah

And a bonus
link
to a Pro Football Weekly story on the best special teamers in the draft, including three return specialists.
Final thoughts from me having taken all this in: Things always get twisted up with return guys. If the Colts or Titans draft a guy they intend to be a contributor as a cornerback or running back or receiver, there is a point at which they won't want to overload them with the extra job or expose them to injury on special teams. How long would we see Spiller or Wilson or McCourty or Tate be a special teamer? First-round receiver
Kenny Britt
returned kicks for the Titans late last season, but the team can't want him there much longer.
So I'd like to see both teams commit a pick to a return specialist, dedicating a roster spot to him.
Consistent fielding of punts and kicks was an issue for the Titans last year, and it's time for the team to actually have bigger expectations for its returner than an ability to fair catch.
Ryan Mouton
couldn't even do that reliably when things were at their worst.
The Colts have always seemed to figure they'd simply get the yards the return game doesn't provide from
Peyton Manning
and the offense. Their issues on special teams extend beyond the returners -- primarily
T.J. Rushing
on punts and
Chad Simpson
on kicks in 2009 -- and their blocking, and got magnified in the Super Bowl loss to New Orleans. But with offensive line and depth at corner and linebacker as the major needs in a draft where the Colts have eight picks, it appears a good time to try to add a dynamic piece.

NFL SCOREBOARD
Sunday, 2/2
WEEKLY LEADERS