August, 6, 2012
8/06/12
12:00
PM ET
BETHLEHEM, Pa. -- A year ago, as excitement swirled around the free-agent-happy
Philadelphia Eagles
and preseason predictions called for big things, something still didn't feel quite right.

"I didn't think the expectations were too high, but I knew that the timing might not match up as quickly as everyone wanted it to," cornerback
Nnamdi Asomugha
said after practice last week. "Because you would hear, 'Oh, they're going to be this, going to be that,' and then you'd come out in practice and you could see us blowing plays. Yes, we could be there, but we weren't there yet. That's what I was feeling in training camp. Right now in training camp, it feels completely different."
Last week, before the Eagles' training camp was rocked by Sunday's news of the death of coach Andy Reid's son Garrett, the atmosphere was serene and businesslike. The players have been practicing together since February, when Asomugha and quarterback
Michael Vick
were organizing players-only workouts at the University of Pennsylvania. And late July welcomed them to one of the hardest-hitting camps in the NFL. Their motivation is clear and simple -- they were 8-8 last year and believe they should have been better. They admit to being downright angry about the way the 2011 season went.
"Yeah, I think there's a determined effort to try to maximize our opportunity," Eagles general manager Howie Roseman said. "You see it from the players. You see it from the coaches. You see it from the support staff. And I think last year, maybe you underestimated how long it takes to acclimate."
No such issues or excuses this time around. This is basically the same group as last year's, with new guys at middle linebacker and left tackle. All of the coaches who were new to the team or their roles last year are back. All of the new schemes implemented last year by defensive coordinator Juan Castillo, defensive line coach Jim Washburn and offensive line coach Howard Mudd are familiar by now, and everybody should be more comfortable in them. If the Eagles flop again, there won't be anywhere to look for explanations other than within. That's why this August's focus is internal, and on the things that are important, rather than any hype they might be attracting.
"I don't want anyone buying into anything," Asomugha said. "I just want us to get into this season and just play the way we know how to play. I'll be completely honest with you: Our team looks very good. Obviously it's camp, we're not playing against anybody. But we're under specific instruction: Don't talk. Don't blow this thing up. Don't nothing. Let's just get in the season and let's just start playing football."
Once they do that, the Eagles believe that this time around, everything will be just fine.
THREE HOT ISSUES
1. Can Vick lead them to greatness?
There is no player in the league under more pressure in 2012 than Vick. The brilliance of his 2010 season was away under the disappointment of his injury- and interception-riddled 2011, in which he failed to take that critical next step in his late-career development as a leader and a quarterback. The popular narrative is that this is the first time since 2006 in Atlanta that Vick has had a real offseason as a team's starting quarterback. He began 2010 as the Eagles' backup, and the 2011 offseason was wiped away by the lockout. The result, everyone says, is that Vick has spent more time than ever before at the team facility, working out, studying film and applying himself to details in order to get better.
"It's all evident," Vick said of his 2011 film review. "A lot of the turnovers I had, I think eight of them, were on balls that got tipped, so I need to try and release the ball a little higher, do something differently. There's nothing more gratifying than learning from a mistake. Interceptions are going to happen, but you try to keep them to a minimum and think about ball control."
The more focus on detail, the better for Vick, who has long relied on his unusual and considerable talent to carry him through. As last year proved, being a quarterback is about the little things, and much more than just what you can do with your arm and your legs.
"I see him just being smarter," wide receiver
DeSean Jackson
said of Vick. "He's taking a leadership role where he can be coached and be taught by other people as well. He's not at a point where he doesn't feel like anybody can tell him anything. He interacts, and he wants to know what it is that he's doing something wrong. And if he is doing something wrong, you can just get on him, just like a regular individual, a regular player."
[+] Enlarge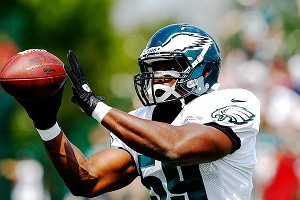 AP Photo/Brian GarfinkelThe Eagles believe veteran DeMeco Ryans will provide the defense with stability at linebacker.
2. The "quarterback of the defense."
The big player acquisition of the Eagles' offseason was middle linebacker
DeMeco Ryans
, whom they acquired in a trade with the
Houston Texans
prior to the draft. Ryans is a well-respected veteran who was emerging as one of the top linebackers in the league before his 2010 Achilles injury. A misfit in the 3-4 defense the Texans implemented during his rehab, Ryans is more comfortable playing the middle linebacker spot in the Eagles' 4-3. He's also healthy and looking like the player who was so universally loved and respected by Texans teammates, who called him "Cap." The Eagles' defense, which started unprepared rookie
Casey Matthews
as its middle linebacker last September, should benefit from Ryans' veteran presence in the role.
"You see that stability there," Reid said. "The game's slower for him than it would be for a rookie. So he's able to just kind of get everybody lined up, get everybody settled and calmed down."
Roseman said it was a priority for the Eagles to find "the quarterback of our defense," and Ryans is aware that he was brought in to correct 2011's biggest defensive flaw. But he's trying to keep those expectations as calm as he's trying to keep his defensive teammates.
"It's not going to take one person to fix all the problems," Ryans said. "It takes everybody working together and finding out how we can make all 11 guys play better and have a better defense."
Sure, but what they like about Ryans is that he can help teach everybody just how to do that. And who can play a little, too.
"It's not like we just got a guy off the street who has some experience," Asomugha said. "This guy is a big-time player."
3. Replacin' Jason.
Left tackle
Jason Peters
may have been the best player on the Eagles' roster last year, and that's no slight to anyone else. Peters was a monster blocker who was critical to the overall success of the offensive line and to the breakout season of running back
LeSean McCoy
. But Peters injured his Achilles in the offseason and is out for the year. His replacement is free-agent signee
Demetress Bell
, who's athletic like Peters and has the potential to be an adequate replacement. Bell's issue has been staying healthy and on the field, but so far his teammates say he's looking good and picking up Mudd's complex blocking schemes.
"I think he's one of the best options we could have had to replace Jason," left guard
Evan Mathis
said. "He displays great athleticism. He has a hunger to learn and a hunger to get better. And what's good for him is, Jason had a monster season, so he can go look at the film of Jason having a monster season, take what he's learning from Howard, apply it to what he's doing on the field and just try and replicate that and do exactly what Jason was doing. He's making strides daily."
REASON FOR OPTIMISM
For all that went wrong last year, the Eagles still managed to finish 8-8 and weren't eliminated from playoff contention until Week 16. Had they managed to hold just one of those blown fourth-quarter leads -- against the 49ers, Falcons or Giants, say -- we might be having a very different discussion about their 2011. They played well enough at the end of last year (and in the first three quarters of their September games) to prove to themselves they can be as good as they think they can be. If they can cut down on the costly mistakes, and if they get the mental boost they say they got from their season-ending four-game winning streak, it's not a long journey from where they were to a division title.
REASON FOR PESSIMISM
So much comes down to Vick, and with a backup corps that currently comprises
Mike Kafka
,
Trent Edwards
and rookie
Nick Foles
, it's more important than ever for him to stay healthy. He hasn't played 16 games in a season since 2006, and the Eagles were 1-2 in the three games he missed last year. When he's at his best, Vick gives the Eagles advantages at the position over any team in the league. He can do things with his arm and his legs that other quarterbacks can't. But his relatively small size and his all-out style of play have created a history of injury that can't be overlooked when forecasting his -- and the Eagles' -- season. If he doesn't play well, or if they lose him for an extended period of time, it's going to be difficult for them to compete with the top teams in the NFC.
OBSERVATION DECK
[+] Enlarge

Kevin C. Cox/Getty ImagesNow fully healthy, WR Jeremy Maclin has the tools to have a career season in 2012.
August, 2, 2012
8/02/12
6:46
PM ET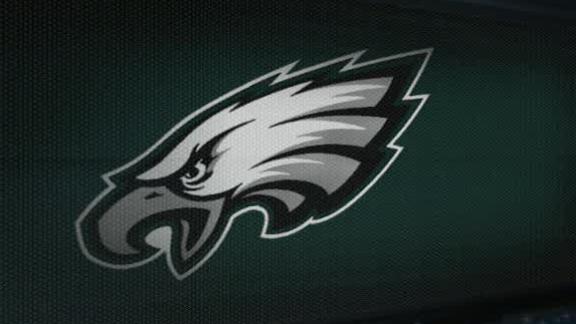 BETHLEHEM, Pa. -- Real quick, before I head home...
Thursday's Philadelphia Eagles practice wasn't as hard-hitting as Wednesday's was, but it was much hotter and there was a parade of guys leaving early with cramps and/or injuries. Those included running back LeSean McCoy and safety Nate Allen (cramps), safety O.J. Atogwe (groin) and linebacker Jamar Chaney (hamstring). Chaney was headed for an MRI, but none of the other issues were thought to be serious. It seems as though Andy Reid is trying to see how much his players can take, perhaps in an effort to make sure they don't lack toughness or stamina once the season begins and there are fourth-quarter leads to protect.
I thought DeSean Jackson was very active in Thursday's practice, and after speaking with him in the morning I took notice of the variety of routes he was running, including the underneath ones. "Defenses game plan on me," Jackson told me in the morning. "So all the downfield routes, all the deep routes that we always had success with, last year teams tried to prevent that and started backing up deeper. So I think whatever it is as far as underneath routes, getting the ball in our hands earlier and faster just so we can catch and make runs, I think that's going to be huge for us this year as well. Just not always trying to go deep for the home run."
Middle linebacker DeMeco Ryans looked like the proverbial "quarterback of the defense" as he called out the offense's formations and ordered the players around him into different looks and coverages depending on what he saw. Ryans left practice briefly with some kind of physical issue, but he only missed a play or two and was able to finish without any problems.
Once McCoy left, running back Dion Lewis ran with the first-team offense and looked good. I thought he was particularly impressive in traffic, whether it was catching the ball with a crowd around him or skittering around and finding a hole. He's clearly the primary backup to McCoy. As for the rookies, Bryce Brown still looks like the better, quicker and more decisive runner than Chris Polk, though he needs to do some work on his blocking.
Chaney was working as a first-team linebacker before he got hurt. His injury could result in an opportunity for Brian Rolle or Casey Matthews to assert himself as a possible starter along with Ryans and rookie Mychal Kendricks.
The defensive linemen who are playing as the first-team unit with all four starters out -- Brandon Graham, Fletcher Cox, Darryl Tapp and Derek Landri, made life difficult for McCoy as the Eagles worked on their inside running in 9-on-7 drills, though it should be noted that the defense is the side that has nine in that drill.
Second-year safety Jaiquawn Jarrett made a nice play to close on and break up a deep pass from Michael Vick to Jackson in team drills.
Cox, the first-round draft pick, got through the line a few times against third-team offensive linemen, but in general he looks like a rookie tentatively working his way through drills as he learns. He's massive and athletic, but he definitely looks like someone who's learning. Which is to be expected.
That's it for me from Eagles camp, though you will see plenty more posts based off of the interviews I did while here. Eagles Camp Confidential is currently scheduled for Monday, so look out for that. And I will complete my NFC East training camp tour with a stop in Oxnard, Calif., on Monday and Tuesday to see the Cowboys. That's all for now. Heading up the highway. Enjoy your evening.
August, 1, 2012
8/01/12
6:44
PM ET
BETHLEHEM, Pa. -- Yeah, they hit pretty hard at
Philadelphia Eagles
training camp. They go at it for about two hours in pads and in anger. When they're not in 11-on-11 drills, they're off to the side hitting each other. The most entertaining drill in camp is the ferocious one-on-one work the offensive linemen and defensive linemen do against each other, though part of the entertainment is the coaching duo of Howard Mudd and Jim Washburn.
Too much hitting? Too hard? Maybe. The Eagles have a bit of a walking-wounded thing going on. Starting defensive ends
Jason Babin
and
Trent Cole
are out (though Babin's injury isn't a contact injury), and defensive tackle
Cullen Jenkins
left practice Wednesday with a hamstring injury and is scheduled for an MRI on Wednesday night. Backup quarterback
Mike Kafka
took a hard shot from the first-team defensive line as he dove for the end zone in goal-line drills. And wide receiver
Jeremy Maclin
sat out a few plays after injuring his left hand on a hard hit he took in 11-on-11 drills, though he went back in and said afterwards that he was fine.
Yeah, if you need your football fix in early August, I'd say come on out to Lehigh and watch the Eagles pound on each other for a couple of hours. It was certainly the most lively and entertaining practice I've yet seen on my trip.
[+] Enlarge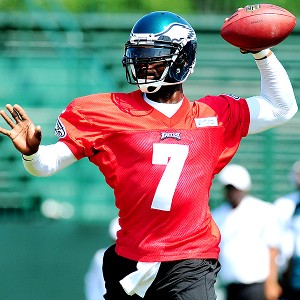 Evan Habeeb/US PRESSWIREMichael Vick didn't have his best day during training camp at Lehigh University on Wednesday.
Some other thoughts from said practice:
Michael Vick didn't have his best day. He threw into double coverage too often, was picked off twice and didn't dazzle the way we've seen him dazzle in training camp practices in the past. I doubt it's any cause for concern, but I know some people are going to ask how he looked, and the answer is I've seen him look better. And expect that I will again.

Backup quarterback Mike Kafka shows a decent command of the offense, but they reason the Eagles are in trouble if he has to go into a game is that he really can't throw the deep ball very well. And it's not as if this offense is going to want to live on dump-offs to the backs and tight ends and short passes over the middle. Maclin and DeSean Jackson are on this team, which makes the offense about field-stretching speed. Kafka's shortcomings in the deep passing game would be an issue if he had to play extended time.

Sticking with the quarterbacks for a second, it's easy to see what they like about rookie Nick Foles. First of all, he's 6-foot-6 and 243 pounds. But he has a big arm that really stands out when he takes the field with the third-team offense after Kafka's had his turn. He hit Mardy Gilyard with a beautiful deep pass down the right sideline at one point in practice, and while he can look scatter-armed at times, you can see the raw ability.

The first-team defense had a rough time against Kafka and the second-team offense in team drills, as the offense went down the field and scored on a Kafka touchdown pass to tight end Brett Brackett from the 1-yard line. (Brackett beat rookie linebacker Mychal Kendricks in coverage.) Of course, that first-team defense was without Cole, Babin and Jenkins, so that has to factor in. But it's not as though the replacements for those guys are no good. It suffices to say that the linebackers and defensive backs weren't thrilled with the way that series went.

I saw a fair bit of the two rookie running backs, and to my untrained eye Bryce Brown looks better than Chris Polk. Brown needs to get his pads lower, but he's running forward with burst and some power while Polk seemed to me to be running side-to-side too much. At some point, you need to go forward. They used Brown at the goal line.

With the injuries on the defensive line, the first-teamers up front were Brandon Graham and Darryl Tapp at the ends and Derek Landri and Fletcher Cox at the tackle spots. Graham looks fantastic. He was the star of those one-on-one lineman drills and looked good in the 11-on-11s as well.

Kendricks and Brian Rolle were the first-team linebackers flanking middle linebacker DeMeco Ryans. Kendricks also got some work with the first team, along with Jamar Chaney.

As expected, Nate Allen and Kurt Coleman are working at the starting safety spots. When I spoke with Andy Reid this morning, he called O.J. Atogwe the backup at Coleman's spot and Jaiquawn Jarrett the backup to Allen. Curtis Marsh and Brandon Hughes were the second-team corners, with Brandon Boykin in on nickel packages.

A lot of people have asked me about rookie receiver Marvin McNutt. He's big (6-2, 216) and there was at least one play on which he was able to use his size to beat Marsh on an inside route by shielding the ball with his body. So it looks as though he has good instincts.

I'm back for one more day here tomorrow, then I'll head home for a couple of days before completing my NFC East training camp tour with a trip to Oxnard to see the Cowboys early next week.
July, 28, 2012
7/28/12
10:29
AM ET
You guys know by now that I'm not one of these frenzied maniacs who's going to be all like, "I'm so excited to see guys finally hit each other today!!!!!
AHHHH!!! Football!!!!"
I mean, I'm not opposed to hitting in football practice in general. There are just things about the game that fire me up more than the crunching of bones and pads. And I also think it's important to keep in mind that we're still six weeks away from the start of the actual season.
[+] Enlarge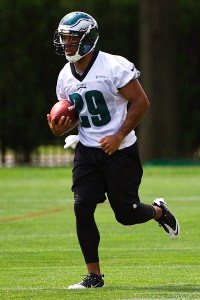 Howard Smith/US PresswireNate Allen and his fellow Eagles safeties will get to be physical for the first time in training camp on Saturday.
All of that said, though, I think this afternoon's
Philadelphia Eagles
practice over at Lehigh is significant. It's the first practice of this camp in pads. And for the Eagles, who have question marks at safety and need to establish a hierarchy in their running game as well as their linebacker corps, that provides a fresh opportunity for evaluation.
This is what
Kurt Coleman
, who's vying for one of the starting safety spots, had to say about it
to the Eagles' team site
:
"When you put the pads on, it really separates the boys from men -- people who want to hit, and people who are scared to hit," Coleman said. "In this game you can't be scared to hit anybody. So I think that's what the fans get to see, and it's a fun time for us to go out there and really knock some heads."
Now, clearly, Coleman is not in agreement with the thesis behind my first paragraph. But that's OK, because as an NFL safety he shouldn't be and because his point applies in particular to his position. Coaches everywhere will tell you that it's impossible to evaluate the safety position without watching players practice in pads. So much of what the safeties do is keyed around their ability to hit. And to this point, since OTA and minicamp practices were all non-contact and all training camp practices have been so far, the Eagles' coaches haven't seen their safeties hit anyone yet. So they don't know how Coleman or
Nate Allen
or
Jaiquawn Jarrett
or newcomer
O.J. Atogwe
really look.
Today, they can hit each other. Jarrett, the second-year safety whose reputation coming out of college was that of a fearsome hitter, can actually start showcasing some of the ability that led the Eagles to draft him. Atogwe, who was banged up for most of last season with the Redskins, can start trying to prove he can hold up physically under the strain of contact. It is these full-pad practices, and perhaps the preseason games even more so, that will allow the Eagles to determine who their starting safeties should be and how good they should expect to be at that position.
Similar points can be made about linebacker, where rookie
Mychal Kendricks
is looking to nail down the strongside linebacker spot and
Brian Rolle
,
Casey Matthews
and
Jamar Chaney
are competing at the weak side. To this point, the Eagles likely have been able to evaluate their linebackers in coverage and gauge their speed and their ability to react to what the offense is doing. But the linebackers in the Eagles' schemes are going to have to make some plays, and putting pads on them will help allow them to make more.
And if you've been to training camp and watched running backs in a non-contract drill, you know it's kind of anticlimactic. Yeah, they look good whizzing through that line, but ... well, no one's allowed to really try hard to stop them. Starting today, the Eagles can see more clearly how
Dion Lewis
,
Bryce Brown
and
Chris Polk
handle the rigorous part of their assignment as they compete for the backup running back job behind
LeSean McCoy
.
So that's why I think today's Eagles practice matters a little bit more than those that have come before it -- because the positions at which they're taking the closest looks are the ones you really need to watch in pads.
March, 28, 2012
3/28/12
1:09
PM ET
PALM BEACH, Fla. -- Don't you just hate it when football coaches start talking in ultra-technical football jargon and expect us all to understand it as though we're in the meeting rooms with them every day? Like
Philadelphia Eagles
coach Andy Reid this morning at the NFL owners meetings, explaining what went wrong on defense with his team last year.
"I goofed on that one," Reid said.
[+] Enlarge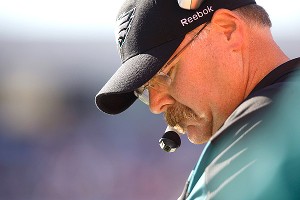 AP Photo/Derek GeeIn evaluating the Eagles' 2011 season, coach Andy Reid admits that his team's defensive strategy could probably have used better execution.
This is a new one on me, this "goofed." I'm not sure I've studied enough football to truly understand the complexities of this analysis. Let's back it all the way out and examine the full quote from which this one was plucked.
"The plan I had, I didn't execute it very well, right?" Reid said. "I goofed on that one. I expected the young guys on defense to get where they were getting towards the end of the season sooner, particularly the guys in the middle of the defense -- the linebackers and safeties."
So "goofed," then, appears to have something to do with a plan gone awry. The Eagles loaded up last year at cornerback and on the defensive line, brought in a new defensive line coach, converted their offensive line coach to defensive coordinator and believed their strengths -- on defense and on offense -- would overcome their deficiencies. Instead, the defensive deficiencies were a big part of what did the Eagles in during a 1-4 start from which they were unable to recover. Their "Wide 9" defensive front was very good at getting to the quarterback, but when teams attacked the middle of their defense with the run or were able to give their quarterbacks enough time to throw, those teams found major weaknesses at the linebacker and safety spots that were charged with protecting the middle part of the field.
"I expected the offense to carry it through, and that part didn't take place," Reid said. "But yeah, your linebackers -- the more gaps you open up, the more physical they have to be."
The Eagles patched the linebacker corps together with unprepared late-round rookies like
Casey Matthews
and
Brian Rolle
and second-year man
Jamar Chaney
, and it showed. Reid said the group demonstrated improvement and played well late in the year, when the Eagles won their final four games. But the weakness was still glaring enough that the team decided it needed to make a trade for veteran middle linebacker
DeMeco Ryans
last week, and it's possible they could still look to add at that position this offseason.
Listening to Reid talk Wednesday morning, the thing that seemed to bother him the most about the 2011 season was the high number of turnovers his offense committed. The 25 interceptions the Eagles threw in 2011 led the league, and when you add in their 13 fumbles, it brings their total number of 2011 giveaways to 38, which was second-highest in the league behind Tampa Bay. So no matter what happens on defense, the Eagles will need to make far fewer "goofs" on offense next year in order to get where they need to go.
But with an entire season under the belts of last year's new players and coaches, the addition of Ryans and a full offseason with which to prepare, the Eagles will enter 2012 with high hope that the "goofs" of 2011 are a thing of the past. Reid answered in the affirmative when asked if he believed he had a Super Bowl contender.
"That's what makes it exciting," Reid said. "We have a good group coming back. Every year is different, I understand that. But we've got to take that momentum that we finished with and build on it an continue to get better."
December, 11, 2011
12/11/11
4:53
PM ET
Some thoughts on the Philadelphia' Eagles impressive
26-10
victory against the Dolphins in Miami on Sunday afternoon:


What it means:
Well, I mean, I guess, technically you've got to say the Eagles are still alive. The victory moves them to 5-8 for the season, and if they can somehow find a way to play this well on defense the rest of the way and win their final three games, they could theoretically still win the NFC East at 8-8. It's a long shot, and it would require the Giants and the Cowboys to do a lot of losing. But this year in the NFC East, no one's very good. And as bad as the Eagles have been, you just can't put that little "x" next to them in the standings just yet.
Defensive clinic:
It looked bad early for the defense, as
Matt Moore
and the Dolphins went right down the field and Moore beat
Nnamdi Asomugha
with a perfectly thrown 16-yard touchdown pass to
Brandon Marshall
. But the Eagles' defense locked in after that. It got to Moore and eventually knocked him out of the game. Linebackers
Casey Matthews
and
Brian Rolle
made plays.
Asante Samuel
made a tackle and forced a fumble. It looked a lot like the way the Eagles had hoped they'd be able to play defense all season. And jeez, they went into the fourth quarter with a lead and never even looked as though they'd give it up. The defense had nine sacks, allowed 204 total yards, held the Dolphins to 3-for-15 on third downs and forced three turnovers.
Hoping it was rust, not ribs:
Eagles quarterback
Michael Vick
played after missing three games with broken ribs, and he didn't look great. He hooked up with
DeSean Jackson
for a long touchdown, but ended the day 15-for-30 for 208 yards and an interception to go with the touchdown. It's possible he was rusty, and the Dolphins' defense has played very well lately, but if the ribs are still hurting Vick when he throws, you have to wonder what the Eagles will or even can do about that.
Weird day for Shady:
Eagles running back
LeSean McCoy
entered the day ranked second in the league in rushing yards, but had just 38 yards on 27 carries against that tough Dolphins front. He did get two touchdowns to take him to 17 for the season (14 rushing, three receiving), but he wasn't his usual explosive self, and he lost ground to Jacksonville's
Maurice Jones-Drew
in the race for the rushing title.
What's next:
The Eagles have a tough home game Sunday against the
New York Jets
, who are 8-5 and making their own playoff push. New York's once-feared defense isn't quite what it used to be, and the Jets' lack of big-time pass-rushers could allow Vick a little bit more time to throw than he often gets, so it's not an impossible game. They'll just need to protect the ball, and they'll have a chance to outscore
Mark Sanchez
and the Jets' offense.
September, 3, 2011
9/03/11
6:31
PM ET
Click
here
for a complete list of the
Philadelphia Eagles
' roster moves.

Surprise move:
It's not a huge surprise that nickel cornerback
Joselio Hanson
was released, considering how deep the Eagles were at cornerback after their frenzied first week of free agency. But I do think people are surprised that they couldn't get anything for him in a trade before releasing him. It seems no team wanted to compensate the Eagles and also assume Hanson's contract, which had $7.6 million left over the next three years. He was an extremely effective nickel corner last year and surely will end up on someone's roster (Cleveland? Arizona? St. Louis? The Giants?) before long.
It was a bit of a surprise to see the Eagles cut defensive tackles
Anthony Hargrove
and
Derek Landri
and keep
Cedric Thornton
, but ultimately I guess they believed Landri and Hargrove weren't big enough to play the position in Jim Washburn's scheme. Very small but very effective former CFL star
Phillip Hunt
made the team at defensive end, though. And cutting both
Sinorice Moss
and
Johnnie Lee Higgins
leaves the Eagles looking for help in the return game.
No-brainers:
Keeping five safeties (
Jarrad Page
,
Kurt Coleman
,
Nate Allen
,
Jaiquawn Jarrett
and
Colt Anderson
) and six linebackers (
Casey Matthews
,
Jamar Chaney
,
Moise Fokou
,
Akeem Jordan
,
Brian Rolle
and
Keenan Clayton
) makes some sense because they have questions at those positions and will hold onto depth until they sort out roles. Tight end
Donald Lee
probably can help someone, but with all of the options the Eagles have at receiver, there isn't much room in the game plan for many two-tight end sets.
Mike McGlynn
started 14 games for the Eagles last year, but it was clear from the start of camp that there was no place for him on the new offensive line.
What's next:
The Eagles are likely to poke around and look for help at linebacker and kick returner, but they're set at almost every position and extremely deep at most. If I'm their front office, I begin focusing my attention on whatever potential resolution there might be to the
DeSean Jackson
contract situation.
September, 2, 2011
9/02/11
12:11
AM ET
The
Philadelphia Eagles
used only one offensive starter in their final preseason game, a meaningless 24-14 victory over the
New York Jets
, and so I thought I'd focus on him. He was
Danny Watkins
, the first-round pick out of Baylor and the Eagles' starting right guard. He played about 20 snaps against backup Jets defenders, looked good on some, looked lost on others, and I came away with no idea how prepared he is to help protect
Michael Vick
once the real games begin.

The good:
Watkins generally looks strong enough to hold his blocks once he gets his hands on his man. He got good second-level push on one of
Dion Lewis
' runs on the second offensive series of the game. And he did an excellent job getting down field to make a block on a defensive back on the screen pass to Lewis on the play right before the Eagles' first touchdown. (Oddly, he appeared to be beaten on the touchdown play, but it didn't matter since
Vince Young
made the throw before the pressure got there.)
The not-so-good:
There was a three-play sequence on the first offensive series where he looked very much like a rookie. On the first, his man beat him to the outside and got into the backfield. On the next play, he made some progress into the second level, as Howard Mudd is trying to teach his linemen to do, but got knocked to the ground quickly. And then on the next, he was kind of swimming around in the crowd, blocking no one and looking as though he didn't know where he was supposed to be. Two plays later, he failed to pick up a blitzing
Aaron Maybin
, who got to Young but was unable to sack him because he's Aaron Maybin and so Young completed the pass anyway.
Watkins is a rookie who didn't have an offseason, and as such he's a work in progress. He'll almost certainly be better by Week 4 and Week 9 and Week 17 than he will be in Week 1. The key is that he has to be good enough, consistently, from play to play, to keep Vick from getting crushed and help the Eagles' offense put points on the board early in the season. Because the Eagles are one of these teams, due to the offseason they had, that can't afford to get off to a slow start unless they're happy with the whole world jumping on their backs about it.
Anyway, some more stuff I saw in the Eagles' final preseason game:
1. Dion Lewis!
Oh, I don't have any idea how much he can expect to play -- if at all -- in an Eagles offense that features as many dynamic options as it does. He's the No. 3 running back behind
LeSean McCoy
and
Ronnie Brown
in an offense that passes more than it runs. So we might not hear much more from him the rest of the year unless they're going to use him on kick returns as they did Thursday. But if we do, man, is he fun to watch. Good burst at the line. Doesn't need much of a hole to squeeze himself through. Fast. Shifty. Patient. Balanced. Tough to bring down. Yeah, against second-teamers. But he's got some obvious skills, and should be a nice option for the Eagles if they suffer an injury or two at that position.
2. Vince Young is the backup quarterback
, and a very good one. The idea that
Mike Kafka
could beat out Young for the backup quarterback spot was rooted in the idea that Young would take a long time to learn the West Coast offense. And Young may not have it all down yet. But he looks more advanced by leaps and bounds than he did in the first preseason game and in the early training camp practices. And his pure athletic ability and experience as a quarterback making throws in the NFL puts him well ahead of Kafka in terms of being a guy the Eagles can put in, should Vick get hurt, and ask him to win them a game. Young did end up leaving this game with a hamstring injury (on a play that wouldn't have happened but for a botched field goal snap on the play before, incidentally), and Kafka with a rib injury, so there's no way to know what the depth chart looks like at quarterback for the opener. But if everyone's healthy, what Andy Reid said after the game about Young being the backup sounds obvious at this point.
3. Defensive backups.
Linebacker
Brian Rolle
looked good, and defensive lineman
Trevor Laws
had some nice moments after missing the bulk of the preseason due to injury. Defensive end
Phillip Hunt
also had a sack, and he's an interesting guy as cuts loom, because he made a big-time name for himself in the CFL and is someone who obviously knows how to play the game and the position. But he's so small for his position that you wonder if he can have any impact at all in a real game against first-team offensive linemen. Hunt has been very good this preseason, but nothing is assured for him yet. The Eagles have to decide if his playmaking ability outweighs his measurables.
4. Alex Henery doesn't look great.
And hasn't all month. And you do wonder if going with a rookie kicker is the wisest move in the world for a team with expectations as high as the Eagles' expectations are. Henery missed his first field goal attempt of the night -- a 43-yarder -- very badly. He made a 49-yarder late in the game, which is fine. But there's no doubt he can make a kick from almost any distance. What the Eagles would like to know about him is whether he's reliable enough to make every kick they need him to make. And the first-quarter miss is the kind of thing that makes you wonder. On the plus side, rookie punter
Chas Henry
looks excellent.
Anyway, four games, none of which mattered, and now the Eagles have a week and a couple of days before they need to beat the Rams in St. Louis or everybody starts yelling that the sky is falling. The spotlight -- and the bulls-eye -- will be on this team all year, and fun time is over.
August, 25, 2011
8/25/11
10:50
PM ET
The plan was for the
Philadelphia Eagles
' starters to play three quarters of Thursday night's preseason game against the Browns. But
Michael Vick
took such a beating in the first half, and it was raining so hard at halftime, that it just didn't make any sense to run him back out there. And while it's easy to look big-picture and say the Eagles looked a lot better in this
24-14 exhibition victory
than they did last week against the Steelers, the fact is the offensive line's play in the first half had to be extremely disconcerting to their fans and their coaches.

The issues Thursday were at and to the right of center. Rookie
Jason Kelce
got the start with the first team at center in place of the veteran
Jamaal Jackson
, and he did little to make you think Jackson's job is or should be in jeopardy. Kelce had a holding penalty, a bad exchange with Vick and he and fellow rookie
Danny Watkins
were repeatedly shredded by rookie
Phil Taylor
and the Cleveland defensive line. As a result, Vick was under pressure throughout the first quarter and didn't have time to find his wide receivers downfield.
Running back
LeSean McCoy
continued to look excellent as a runner and as a great check-down option for a harried Vick in the passing game. And if the line is going to be this shaky all year, McCoy could catch 100 balls. But the line has to get better, or it could sink this promising Eagles season.
Center can be fixed, of course, because they can just put Jackson back in there until Kelce is actually ready. And
King Dunlap
is only a fill-in starter at right tackle until
Winston Justice
and/or
Ryan Harris
is healthy. But Watkins was the first-round pick, and he's going to start. And he's going to have to block better and communicate better with whoever's out there to his right and left, or Vick is going to be knocked around a lot.
Now, as we keep saying, it's only preseason, and the Eagles still have more than two weeks of practice time in which to fix these problems. I am by no means saying they cannot or will not fix their issues. But while the result of this game doesn't matter any more than the result of last week's game did, there are some specific issues that came up, good and bad, and the poor play of the right side of the offensive line was the one that stood out the most.
Some others:
1. Better work by the linebackers this week.
The Eagles' defense this year will be based on aggressive upfield pursuit by the defensive line, which means the linebackers will have to be more effective and responsible in coverage. We saw that Thursday night, especially from
Jamar Chaney
and rookie middle linebacker
Casey Matthews
. Last week was rough on Matthews, but the Eagles seem to have done a good thing for him this week, replacing him with
Brian Rolle
and/or
Brandon Hughes
on passing downs and allowing him to focus on playing the run more. Matthews' first-quarter highlight was a big stop on
Montario Hardesty
up the middle, and in general the linebackers in this game seemed to be in the right place and for the right amount of time much more reliably than they were against the Steelers.
2. Mike Patterson helps.
Back in action less than a month after suffering a seizure on the practice field, Patterson was a big addition to the defensive tackle rotation. He picked up an early sack, drawing a nice ovation from the pre-rainstorm crowd at Lincoln Financial Field, and along with
Cullen Jenkins
,
Derek Landri
and
Anthony Hargrove
, he helped deliver somewhat consistent pressure up the middle as the game went along. If
Antonio Dixon
makes it back from his injury, the Eagles are going to have a very deep, very talented defensive line rotation that will allow them to keep everyone fresh as aggressive as Juan Castillo and Jim Washburn want them to be throughout the games.
3. Vick was better, but tough to evaluate.
He didn't throw three interceptions as he did last week, and in general he did a better job of identifying and reacting to the blitz. His inability to get the ball to his receivers wasn't his fault, as discussed above, but he did a good job of finding McCoy and, every now and then, taking off and running when all else had failed. We're not likely to see him in the final preseason game, so this was his last warmup before the regular season. But he'll surely hope
Jeremy Maclin
is back and fully healthy by then, since that will help matters all around.
4. The cornerbacks all did nice things.
Nnamdi Asomugha
was his swarming, suffocating self, taking receivers out of the game.
Asante Samuel
came up with an interception.
Dominique Rodgers-Cromartie
blocked a kick. As they are on the defensive line, the Eagles are deep in the secondary, especially if
Jarrad Page
and
Kurt Coleman
can continue to make the contributions they're making at safety. In general, the defense was much more intense and directed this week. Again, we don't know what we're looking at in preseason. The Eagles may have game-planned and the Browns may have not. But from a confidence standpoint, the Eagles had a lot more about which to feel good on defense than they did after
Ben Roethlisberger
took them apart seven nights earlier.
5. The Eagles are also deep at running back, too.
Ronnie Brown
continues to look like a one-year steal, and
Dion Lewis
like a guy who could make it not matter if Brown leaves after one year. If McCoy is going to be leaned on heavily, the Eagles can feel good about their ability to give him breaks and keep him fresh.
I also thought both rookie kickers looked good, and in general that most of the individual evaluations off of this game had to be position. But the offensive line play in the first half was so alarming that it had to be the story of the night, and all eyes will be on the right side of that line once the games start for real.

NFL SCOREBOARD
Thursday, 9/18
Sunday, 9/21
Monday, 9/22
WEEKLY LEADERS