NFL Nation:

Brian Scottenheimer
November, 5, 2010
11/05/10
4:02
PM ET
»
NFC Final Word
:
East
|
West
|
North
|
South
»
AFC
:
East
|
West
|
North
|
South
Five nuggets of knowledge about Week 9.

[+] Enlarge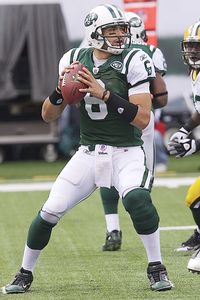 Richard A. Brightly/Icon SMIMark Sanchez of the Jets has thrown four interceptions over his past two games.
The Jets want Mark Sanchez to stop pouting.
To force Sanchez into acting as regal as a franchise quarterback should, offensive coordinator Brian Schottenheimer and backup quarterback
Mark Brunell
have been fining Sanchez for undesirable body language. This sounds like "Romper Room" stuff. Remember when the Jets color-coded Sanchez's play-call wristband last year? Schottenheimer suggested the fines are enacted for fun, but the team obviously felt something needed to be done. Perhaps the fines will help Sanchez refrain from whining to officials, gesturing to his receivers over drops or
haggling with pizzeria employees over 59-cent dipping sauces
.
We won't know how Randy Moss could have helped Miami until we see him in Tennessee.
The Dolphins could have had the future Hall of Fame receiver -- maybe the best deep threat in NFL history -- but declined to claim him off the waiver wire Wednesday and see what he could do with
Brandon Marshall
and
Davone Bess
. The Dolphins had 18th priority. The Titans got him at 22nd. We can imagine the impact Moss could've made for Miami, both positive and negative. The Dolphins' offense is struggling.
Marshall lobbied for the Dolphins to grab him.
Moss would have been a downfield threat and forced safeties to hang deep, opening up greater opportunities for
Ronnie Brown
and
Ricky Williams
. Moss also might have torn apart a young team from the inside out with his antics. The Titans might represent Moss' last NFL chance. If he wakes up, minds himself and plays well in Nashville, only then will Dolfans know how much they missed out.
The Bills' reward for being road warriors? A "home" game in Toronto.
The Bills haven't won a game, but they're still clawing and scratching. They lost their past two games by an overtime field goal on the road. What a pleasant change it would be to play in Ralph Wilson Stadium. Problem is, this is the week the Bills will play the Bears in Toronto as part of the
$78 million package of games they sold off
. The Bills last played a true home game in Week 5. With a bye, regular roadies and the Toronto subsidy, the Bills will go 35 days between games at Ralph Wilson Stadium.
Stats add up for a comfy Patriots victory in Cleveland, but that won't happen.
The Patriots have the NFL's best record, while the Browns rank 31st in scoring offense, 28th in total offense, tied for 12th in scoring defense and 22nd in total defense. But the Browns seem to play out of their Riddells against great teams. They knocked off the Saints a couple weeks ago in the Superdome. The Browns also are coming off a bye week, and head coach Eric Mangini always has a surprise or two in store for his mentor/rival Bill Belichick. The Patriots clearly are the superior team, but this matchup could be too close for comfort.
Cameron Wake will have a better Baltimore homecoming than Aaron Maybin did.
Although six years in difference, Wake and Maybin grew up 20 miles apart in Maryland. They both were noted pass-rushers at Penn State. Two weeks ago, the Bills made Maybin, their disappointing 11th overall pick last year, a healthy scratch in Baltimore. Perhaps he needs to do what Wake did to get a foothold in the NFL: reinvent himself by changing his name and going to play in Canada. Actually, the Bills are playing in Toronto on Sunday against a team that has given up the most sacks. Hmmmm ... I predict if Maybin plays, then he will record his first NFL sack on a field where Wake collected several. Maybin's odds would increase if he changed his name, as Derek Wake did a few years back.
October, 15, 2010
10/15/10
5:13
PM ET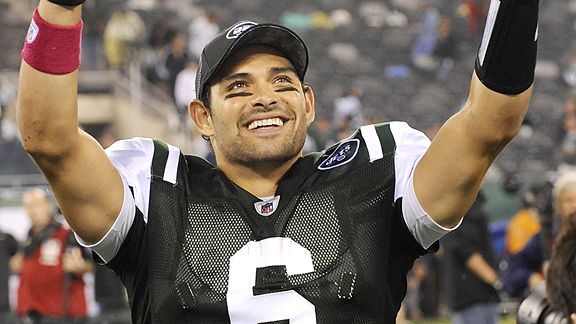 AP Photo/Bill KostrounQuarterback Mark Sanchez is on a tear to open the season, leading the Jets to a 4-1 start.
The quarterback duel we imagined hasn't materialized.
The hottest topic on the AFC East blog throughout the offseason was the debate about
Mark Sanchez
and
Chad Henne
, a pair of franchise quarterback hopefuls entering their second seasons as starters. They possessed substantial upside for their fans to get behind, yet plenty of imperfections at which their detractors could jab.
Sanchez started as a rookie and helped his team reach the AFC Championship Game despite his regular-season recklessness.
Henne, after a year as
Chad Pennington
's understudy, was more polished. Although the Dolphins didn't reach the playoffs, they were 2-0 against the Jets.
Then each team escalated the conversation by providing its young quarterback with more resources.
The Jets traded for receiver
Santonio Holmes
and signed free-agent running back
LaDainian Tomlinson
because he could catch out of the backfield.
Henne's loaded arm was handicapped by his lack of a big target last year. The Dolphins corrected that by trading for
Brandon Marshall
.
All Dolphins and Jets fans needed was the opening whistle so they could start comparing the box scores on a weekly basis from now until 2018.
Or so many of us thought.
The competition has been decidedly one-sided so far.
Sanchez hasn't been nearly as careless as last year and has been generating MVP talk with the Jets bolting to a 4-1 start.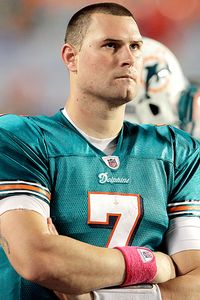 AP PhotoQB Chad Henne and the Dolphins are 2-2, but haven't established an identity on offense.
In South Florida, meanwhile, there's a growing sentiment the Dolphins should give the job back to Pennington. Henne hasn't been unleashed with Marshall running routes for him. In fact, the more Henne passes, the more trouble the Dolphins appear to be in.
They are 2-2. Henne threw one touchdown and averaged a modest 148 yards in the Dolphins' two victories. He threw four touchdowns and four interceptions while averaging 334 yards in their two defeats.
What has been the big difference?
We can't eliminate circumstance totally, but we can in many ways.
Sanchez and Henne have faced similar schedules. The Jets have played one extra game because they haven't reached their bye week, while the Dolphins are coming out of theirs. But they have faced three common opponents and, of course, one another.
A comparison of supporting casts isn't too heavily weighted in Sanchez's favor.
While the Jets have the better collection of receivers, Marshall is the best from either team and has been on the field since the season began. Holmes missed the first four games while serving a suspension. The Jets' next-best receiver,
Braylon Edwards
, missed the first quarter against the Dolphins in Week 3, yet Sanchez played superbly without him.
The Dolphins and Jets appear to match up well in the backfield. Although the Jets are having a much better season on the ground with Tomlinson and
Shonn Greene
, the Dolphins' running backs are one of the NFL's most threatening combos in
Ronnie Brown
and
Ricky Williams
.
New York might have a slight edge on the offensive line, but Miami tackles
Jake Long
and
Vernon Carey
are among the best bookends in the game.
Tight end is the only position where the Dolphins haven't measured up.
Dustin Keller
has emerged as an elite weapon. His five touchdown catches are tied for second among all tight ends. Dolphins tight end
Anthony Fasano
, while respectable, can't produce like Keller has.
But is one player enough to make Sanchez come across like a star and put Henne on the hot seat?
To me, the disparity so far comes down to a couple factors:
Sanchez is better.

The Jets know who they are.
A lot of teams passed on Henne in the 2008 draft. The Dolphins selected him late in the second round. The Jets traded up to take Sanchez fifth overall. Their pedigrees might be baring themselves.
Sanchez is slick on the run. He stops linebackers in their tracks with play-action. Henne looks robotic and rarely strays from the pocket. ESPN Stats & Information lists only eight passes for Henne outside the pocket (four completions for 18 yards and one interception) compared to 21 for Sanchez (11 completions for 108 yards).
Sanchez even has better long-ball numbers. On passes that travel at least 21 yards in the air, Sanchez has connected on four of 17 throws for 135 yards and two touchdowns, and Henne -- in one fewer game -- has completed two of six attempts for 86 yards.
But Henne isn't being helped by the Dolphins' inability to render an identity on offense. They seem caught between the run-dominant offense that overpowered opponents the past two years and a team that knows it can throw after investing two second-round draft picks and a mammoth contract extension in Marshall. The constant tinkering on the interior offensive line has been a problem, too.
Jets offensive coordinator Brian Schottenheimer has the Jets in a rhythm. They got off to a rocky start on opening night, but since then the offense has been clicking undeniably.
Sanchez is a big reason for that. Through five weeks, he appears to be the real deal.
August, 18, 2010
8/18/10
1:36
PM ET
ESPN.com NFL Power Ranking
(pre-camp): 7
CORTLAND, N.Y. -- There's a healthy chance you're already sick of the
New York Jets
.
You're sick of their loudmouth coach, sick of their hotshot quarterback, sick of their trash-talking defense, sick of their wheeler-dealer general manager, sick of hearing about their HBO series, sick of their delirious fans.
Get used to it all. They're not going away.
Every team wants to kiss the Lombardi Trophy, but the Jets have drawn the disdain of 31 other teams and their fans by being so cocksure about their plans.
Whether the Jets win a championship or crash and burn on their approach, they'll remain the NFL's most fascinating team in 2010. Win or lose, they're going to be a season-long story.
"That's our own expectations," Jets quarterback
Mark Sanchez
said on the first day of training camp at SUNY Cortland. "That's why we feed off of it. It's our own mentality, that Super Bowl-champion mentality. That's what we want, and that's what we're striving for. ... Now, we need to do it every day and prove it."
THREE HOT ISSUES
[+] Enlarge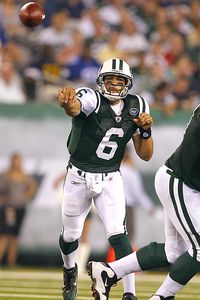 Jim O'Connor/US PresswireThe Jets are hoping Mark Sanchez has matured as a quarterback heading into his second season.
1. Can Sanchez handle the pressure?
There's a lot of skepticism surrounding the man at the controls. Sanchez threw 20 interceptions last year as a rookie. He fumbled 10 times and lost three of them. He was so befuddled at one point, the Jets had to give him a color-coded wristband to help him comprehend the plays.
The Jets hope he matured considerably over the offseason. To help him along as a passer, they added receivers
Santonio Holmes
and
Laveranues Coles
and out-of-the-backfield target
LaDainian Tomlinson
.
Sanchez still has to make the right calls and decisions. Coaches and teammates note his indefatigable work ethic.
And there's no disputing how impressive he appeared down the 2009 homestretch. Offensive coordinator Brian Schottenheimer corralled him in time to salvage the season. Although Sanchez had more than 20 attempts in only three games after Thanksgiving, the Jets won six of those eight outings, two of them on the road in the playoffs.
Sanchez will need to shoulder much more responsibility this year. How he handles being the leading man of a Super Bowl contender will determine the Jets' fate.
2. How will Darrelle Revis' holdout affect the season?
There's a belief among the Jets their defense will take care of itself. As nose tackle
Kris Jenkins
pointed out before training camp began, fans swooned when he suffered a season-ending knee injury six games into last season, but the Jets still finished with the NFL's top-rated total defense, scoring defense and pass defense.
Revis, of course, played an integral part. Maybe the
most
integral part.
All he did was establish himself as the preeminent shutdown cornerback. Revis was so good at shutting down the other team's top receivers, the Jets never had to worry about double-covering. That, in effect, gave them an extra defender to use however they wanted.
The Jets have cornerback depth to help them cope if Revis holds out into the season. They traded for cornerback
Antonio Cromartie
, a sensational cover corner (though not nearly the run defender Revis is).
Dwight Lowery
and first-round draft pick
Kyle Wilson
are capable.
But none of them are as good as Revis is. His return would provide invaluable peace of mind.
[+] Enlarge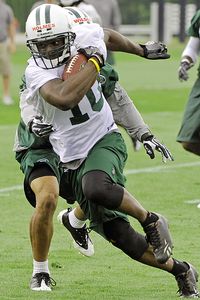 AP Photo/Bill KostrounSantonio Holmes was just one of the Jets' high-profile offseason acquisitions.
3. Did the Jets ruin a good thing with too many roster moves?
The Jets came within a half of the Super Bowl, taking a lead into the third quarter against the
Indianapolis Colts
-- in Lucas Oil Stadium, no less. It was a young team on the make, the type of roster you'd like to keep as intact as possible.
Or so you would think. Ryan and general manager Mike Tannenbaum got rid of a few starters with big voices in the locker room. Gone were the lead running back on the NFL's top ground attack (
Thomas Jones
), a perennial Pro Bowl left guard (
Alan Faneca
), a starting safety (
Kerry Rhodes
) and a respected kicker (
Jay Feely
).
The Jets made some high-profile acquisitions, too. But perhaps the two biggest moves, Holmes and Cromartie, were poaching other teams' misfits. They also signed Tomlinson and outside linebacker
Jason Taylor
, classy veterans but with question marks about what they have left.
BIGGEST SURPRISE
Other than references to his nickname, not much was written or said about Kentucky fullback
John Conner
when the Jets drafted him in the fifth round. The Jets had re-signed
Tony Richardson
for a 17th season, and they wouldn't bring him back if he wasn't going to keep his job, right?
Richardson might be on the bubble. Ryan has been diplomatic in speaking about Richardson's value to the Jets as a locker-room leader, but there's no doubt Ryan loves The Terminator. Conner has been a thumper in camp. Conner will make the team, and keeping two fullbacks is a luxury.
BIGGEST DISAPPOINTMENT
Revis' holdout is a shame on multiple levels. Both sides are standing by principles that are fully understandable. Revis is the NFL's best defender and wants to be paid as such. The Jets, meanwhile, have a signed contract that lasts three more years and refuse to consider as any kind of standard the
Oakland Raiders
' ridiculous deal with
Nnamdi Asomugha
, the league's highest-paid cornerback.
Unless they can reach a compromise or the Jets win the Super Bowl without him, both sides will forever regret this dispute. The Jets have a chance to win their first championship in four decades, and Revis might never get this kind of shot to win a title regardless of where he finishes his career.
OBSERVATION DECK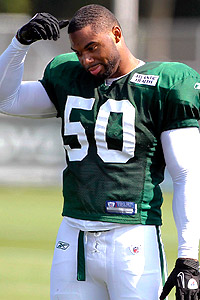 William Perlman/The Star Ledger/US PresswireNew York is comfortable with Vernon Gholston at defensive end in passing situations.
July, 27, 2010
7/27/10
10:30
AM ET
Can the AFC East send three clubs to the playoffs?
Sure seems possible to me. The past two years have produced different division champs and a third team that reached the AFC Championship Game last season.
The journey will start in a matter of days. The
Buffalo Bills
and
New England Patriots
blow the air horn on Thursday. The
Miami Dolphins
start Friday afternoon. The
New York Jets
open their "Hard Knocks" camp Monday morning.
All four teams have loose ends to tie up before camp. None has signed its first-round draft choice. Patriots left guard
Logan Mankins
remains unsigned and unhappy.
FOUR BIG QUESTIONS
Buffalo Bills: Who will be the quarterback?
Trent Edwards
takes the initial first-team reps.
Ryan Fitzpatrick
finished last year as the starter, but offers the least amount of upside. He's a sixth-year journeyman backup.
Brian Brohm
, a 2008
Green Bay Packers
second-round pick, provides the most intrigue, titillating Bills fans because he's the unknown quantity. The battle should be a slowly progressing storyline unlikely to be decided until preseason games have been played -- and maybe not until the week before the season opener.
Miami Dolphins: How quickly will receiver Brandon Marshall integrate into the offense?
The Dolphins' prized offseason acquisition missed voluntary workouts and minicamp because of hip surgery the Dolphins didn't anticipate when they traded for him in April. His absence delayed the Dolphins' ability to see how he could transform the offense, forcing any ideas to remain X's and O's on the dry-erase board until training camp. The injury also prevented quarterback
Chad Henne
from getting fully acquainted with Marshall, a player who can help expedite Henne's development. Henne must get used to Marshall's speed and route angles. How quickly they find their timing on intermediate and longer patterns such as deep outs and posts against a defense will be important to making sure they're totally on the same page when the season starts.
New England Patriots: Will the Patriots show noticeable improvement on defense?
Vince Wilfork
, inside linebacker
Jerod Mayo
and a solid group of safeties. But this ain't baseball. In football, especially with a 3-4 defense, teams need an outside presence. The Patriots are eager to see if they can improve their pass rush and be more consistent at cornerback. Those two areas depend on each other and contributed to the Patriots ranking 22nd in sacks per pass play last year. They'll have to sort through returning outside linebackers
Tully Banta-Cain
,
Derrick Burgess
,
Rob Ninkovich
and
Shawn Crable
and 53rd overall draft pick
Jermaine Cunningham
. At the all-important left cornerback spot, unproven sophomore
Darius Butler
will compete with first-round pick
Devin McCourty
.
New York Jets: Will quarterback Mark Sanchez take command in his second camp?
As a reckless rookie, Sanchez seemed hell-bent on squandering a team loaded in several key categories: No. 1 defense, No. 1 rushing attack, three Pro Bowlers on the offensive line. But late last season, Sanchez finally bought into what offensive coordinator Brian Schottenheimer had been preaching and closed the season with a deep playoff run. Knee surgery limited Sanchez's first full NFL offseason, but he participated in minicamp. He'll have two talented receivers,
Braylon Edwards
and
Santonio Holmes
, who weren't around at this time last year. How their chemistry develops over the next two months will be crucial.
HOTTEST SEATS
Bills:
Demetrius Bell
. It's odd to imagine a player drafted in the seventh round as a long-term project being on the hot seat going into just his third season. But Bell plays left tackle, and the Bills can't afford to fool around at such an important position. Bell didn't play a snap in 2008, yet emerged as last year's opening-night starter. He struggled before a knee injury ended his season prematurely. Bell was one of the NFL's most penalized players, and Gailey abhors pre-snap penalties. In eight games, Bell committed six false starts and allowed five sacks.
Dolphins:
Will Allen
. The 10-year veteran started last season as the club's top cornerback, but suffered a season-ending knee injury in the sixth game. The Dolphins played out the year with a pair of rookies,
Sean Smith
and
Vontae Davis
, at cornerback. While they were frequently broiled by opposing receivers, they are the future and there's something to be said for trial by fire. Allen's contract might doom him. He's scheduled to make base salaries of $5.2 million this year and $5.5 million next year.
Patriots:
Laurence Maroney
. He has been a polarizing player since the Patriots drafted him 21st overall in 2006. He has looked like a stud running back at times, but not nearly often enough. Maroney's entering his fifth season but has started only 14 games, hasn't cracked 900 rushing yards in a season and fumbles too much.
Jets:
Nick Folk
. Coaches don't have much patience for an erratic kicker. The Jets parted ways with a good one, letting
Jay Feely
leave via free agency. They signed Folk, a former Pro Bowler who was a disaster with the
Dallas Cowboys
last year. He was inconsistent in Jets voluntary workouts and minicamp,
already drawing playful ridicule from coach Rex Ryan
. If Folk continues to miss kicks, the Jets won't be laughing.
SECRET WEAPON
Patriots receiver
Brandon Tate
. When considering New England's top targets, the names
Randy Moss
,
Wes Welker
,
Torry Holt
and maybe
Julian Edelman
come to mind. Keep an eye out for Tate, a second-year pro with one reception. Tate still was recovering from knee surgery when the Patriots drafted him in the third round out of North Carolina. He made his debut in Week 7 and suffered another knee injury in Week 9. Patriots quarterback
Tom Brady
has
spoken highly of Tate during the offseason
.
CHANGING OF THE GUARDS
The Bills boast one example of stability over the rest of the AFC East -- on the offensive line, no less.
Andy Levitre
returns as the starter, while each of the other three clubs have uncertainties to address. The Jets and Dolphins are letting players compete for their left guard openings, while the Patriots have a two-time Pro Bowler who has demanded a trade.
In Jets camp, second-round pick
Vladimir Ducasse
and sophomore
Matt Slauson
are battling for the
vacancy created by the controversial release
of nine-time Pro Bowler
Alan Faneca
.
The Dolphins traded
Justin Smiley
, their left guard the past two seasons.
Nate Garner
started eight games, including four on the left side while Smiley was hurt last season.
Donald Thomas
started 12 games at right guard.
Richie Incognito
started at right guard for the
St. Louis Rams
and Bills. The Dolphins drafted guard
John Jerry
in the third round.
Mankins isn't expected to be at Patriots camp when it begins. He's an unsigned restricted free agent and
last month went public with his desire to be traded
. Right tackle
Nick Kaczur
has been working in Mankins' spot.
January, 10, 2010
1/10/10
12:05
AM ET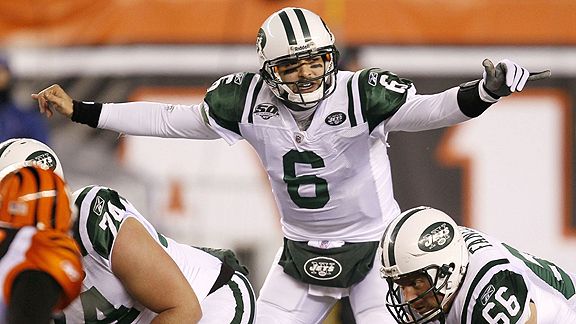 Jonathan Daniel/Getty ImagesMark Sanchez completed 12 of 15 passes for 182 yards and a touchdown in his playoff debut.
CINCINNATI -- This isn't one of those situations where naysayers formulated misbegotten attitudes.
The critics weren't clueless. No, there were plenty of clues about
Mark Sanchez
scattered throughout the
New York Jets
' season.
What we saw was the truth: a reckless rookie who didn't comprehend the NFL yet, who was costing his team games and, almost inevitably, the playoffs.
Then how in the world did we get here?
Sanchez is headed to the second round of the playoffs after a
24-14
AFC wild-card victory Saturday over the
Cincinnati Bengals
in frigid Paul Brown Stadium. Sanchez became the fourth rookie quarterback to win his postseason debut. He was nearly flawless.
"I think he's tired of hearing that he's the weak link of our football team instead of being a part of our success," Jets coach Rex Ryan said.
Sanchez, with a superbly conducted game plan from offensive coordinator Brian Schottenheimer, threw only three incomplete passes. One of them should have been a 41-yard touchdown strike -- except
Braylon Edwards
dropped it cleanly in the end zone. Sanchez otherwise looked like
Chad Pennington
, matriculating the Jets downfield by letting the players around him do most of the work.
Sanchez completed a dozen passes for 182 yards and one touchdown with zero interceptions.
Delusional Jets fans might scoff at all the criticism heaped on Sanchez -- from this writer, too -- and claim we missed all the signs of a maturing stud.
Fact is, not even the Jets glimpsed this Sanchez until recently. Behind the scenes, a new player was materializing. We're to believe we finally saw it on display in arctic Cincinnati.
"I see him getting better and better each day on the practice field," Ryan said. "His command of the offense is much better.
"He was all over me on the sideline for calling a timeout. I said 'Settle down, kid. We wanted to call a timeout there.' But he was 'Well, I know the coverage!' Hey, that's great. I was about to say 'It's about time.' "
Pro Bowl center
Nick Mangold
said they began to notice a difference in Sanchez three weeks ago. What fortuitous timing. The Jets had to win their final two regular-season games to loft a playoff prayer.
"I just feel like the last three weeks have been smarter," Sanchez said. "I've played with the utmost care for the football. I don't want us to get beat. I've seen what helps us win, and that's our running game and our defense and throwing the ball when we have to. But I also know what gets us beat, and that's turnovers. That's been the story for our season."
Four times this year, Sanchez threw three or more interceptions. Believe it or not, the Jets went 0-4 in those games.
But sometimes a switch gets turned inside a young player's head. Perhaps that kind of revelation occurred for Sanchez after months of the Jets badgering him to protect the ball and himself. The Jets had to color-code his wristband to help him understand. His progression went from honors courses to Romper Room.
And now it seems like he's finally gotten it. The Jets have won six of their past seven games.
"I've been spending some time with him, talking to him constantly every day," Jets fullback
Tony Richardson
said. "When you have the No. 1 rushing team, No. 1 overall defense, those situations don't come along very often. I think he understands that.
"I told him before the game, 'You don't have to have some outer-body experience today. Just go out and play the game, the same game you've been playing since you were a kid.'"
Schottenheimer's oversight has been crucial to Sanchez's sudden maturity.
Schottenheimer devised a Sanchez-friendly game plan that minimizes the risks and emphasizes pitch-and-catch plays that would impress
Wes Welker
. Most of Sanchez's yards were courtesy of long runs by tight end
Dustin Keller
after the catch.
Keller had three receptions. One was a bootleg pass he turned into a 45-yard touchdown. Another was a rollout dump pass Keller turned into a critical 43-yard gain in the fourth quarter.
"That's really a long handoff, and I get credit for those yards," Sanchez said, looking a tad guilty. "That's like stealing yards."
The Jets' run game was typically unrelenting. Rookie running back
Shonn Greene
went for 135 yards, including a 39-yard touchdown sprint in the second quarter.
Schottenheimer, mixing in the run and pass despite the potential liability of a Southern California kid making his playoff debut in sub-freezing temperatures, squeezed 317 of the Jets' 353 yards out of a trio with a combined four NFL seasons.
Sanchez is relying on his support staff. He's not single-handedly losing games.
The rookie has showed some growth -- finally.
Ryan noted he's starting to see Sanchez carry himself with the same charisma the club was drawn to when it traded up to draft him fifth overall.
"He was on fire," Ryan said of Saturday's performance. "There was no doubt about it. The thing I was most impressed with was just that confidence that he had.
"He wanted this game in the worst way. He felt confident. He felt comfortable. Like I say, one of these days he's going to be the biggest thing we got on this football team, the best thing we got. Maybe that day's coming sooner rather than later."
October, 10, 2009
10/10/09
5:22
PM ET
| | |
| --- | --- |
| | |
| | Jim McIsaac/Getty Images |
| | Jets quarterback Mark Sanchez will be in the spotlight Monday since the NFL is featuring the Jets-Dolphins game to celebrate Hispanic Heritage Month. |

Posted by ESPN.com's Tim Graham
Mark Sanchez
has failed before.
There was that nauseating upset last year in Corvallis, Ore., where Sanchez and his Southern California Trojans blew their chance at a national championship in just their third game.
Sanchez had a decent statistical night against Oregon State. He threw three touchdown passes and only one interception. The loss stung nonetheless.
The NFL doesn't work like college. Defeats, especially ones before Columbus Day, don't hurt for months or ruin a season. Nonconference games in early October are about as easily forgotten as a loss can be.
In general.
A rookie quarterback's first defeat, however, is significant, especially when it was his fault. The following start is when you discover a little more about what he's made of.
"Everybody is looking right here," Sanchez said.
Sanchez will try to show a nationwide audience how well he rebounds. His
New York Jets
will play the
Miami Dolphins
in Land Shark Stadium on "Monday Night Football."
The NFL is featuring the game to celebrate Hispanic Heritage Month. The new Dolphins owner has been proactive in reaching out to South Florida's Spanish-speaking population. He has added famous Latin singers Marc Anthony, Jennifer Lopez and Gloria Estefan to the board room. Estefan will help Hank Williams Jr. perform a special rendition of the MNF theme song.
But Sanchez will be the showpiece, making Monday night an even grander event for him.
"It's a big game for us," Sanchez said. "It's on Monday night. This one is for the whole country. We need to play smart and elevate our play as we need to every week. We need to bounce back from last week and play better."
Sanchez established himself as the clear-cut favorite for offensive rookie of the year by helping the Jets to a 3-0 start over quality opponents:
Houston Texans
,
New England Patriots
,
Tennessee Titans
. He was composed, mostly smart with the ball and tenacious. He became known as The Sanchise.
But he was horrible in Week 4 against the
New Orleans Saints
.
He committed four turnovers. One of his three interceptions was returned 99 yards for a touchdown. New Orleans recovered his fumble in the end zone. The Saints won by those 14 points and scored more points off Sanchez than they did against the Jets' defense.
"The most important thing was to get away from the emotional side," Sanchez said. "Don't get upset, frustrated, or mad at yourself. You have to move on ... for yourself and for the rest of the guys in the locker room."
Sanchez explained his mental recovery process began the moment he sank into his seat on the team's charter plane and watched footage of what transpired in the Superdome.
From there, he said his goal was to "wake up early the next morning and go through my same routine. Don't change anything. Don't cut any corners. Don't beat myself up too much. Just keep playing. I've shown that I can help this team win the last three weeks, and that is what I need to do next week."
Jets head coach Rex Ryan and offensive coordinator Brian Schottenheimer claimed Sanchez was successful in shaking off the humbling defeat with a solid week of practice. Wednesday's trade for
Cleveland Browns
receiver
Braylon Edwards
helped. Not only does Edwards provide a colossal downfield target, but the acquisition also took some of the attention off Sanchez.
Scouting reports on Sanchez emphasized the aura about him. There's no dearth of confidence, and while his strut probably had more limp than swagger when he walked out of the Superdome, those around him aren't worried.
"He's back," Jets head coach Rex Ryan said. "The main thing is to just be yourself. Bad games are going to happen. Is he going to be perfect the rest of the season? He's going to try to be, but we all know that's not going to happen. He's human just like anybody else."
Said Sanchez: "I was frustrated, but it's long gone now. It's time to move on and time to have a great game."