December, 14, 2012
12/14/12
1:30
PM ET
»
NFC Final Word
:
East
|
West
|
North
|
South
»
AFC
:
East
|
West
|
North
|
South
Five nuggets of knowledge about the Week 15 games:
Good news/bad news:
Coming off a loss to the
Carolina Panthers
, the
Atlanta Falcons
can take solace in the fact they've won their previous 11 games immediately after a loss. The Falcons have not lost back-to-back games since 2009. They also are playing in the Georgia Dome, where they've won 10 straight games (the NFL's longest active home winning streak). So everything appears to be in Atlanta's favor. Until you consider this -- the Falcons have not won a home game against the
New York Giants
since 1978.
[+] Enlarge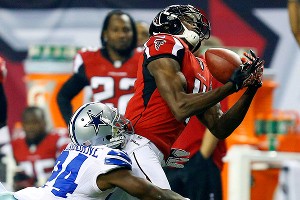 Josh D. Weiss/US PresswireWith three more receiving yards Julio Jones will reach 1,000 yards for the season.
Terrific tandems:
The meeting between the Falcons and Giants will feature the two most prolific pairs of wide receivers in the NFL since the start of the 2011 season. In that span, Atlanta's
Roddy White
and
Julio Jones
have combined for 4,392 receiving yards, while New York's
Victor Cruz
and
Hakeem Nicks
have combined for 4,384 yards. By the way, Jones needs only three receiving yards to reach 1,000 for the season. That would make Jones and White the first pair of Atlanta receivers to hit 1,000 yards since
Tony Martin
and
Terance Mathis
in 1998.
A record they don't want:
The
Tampa Bay Buccaneers
are allowing 311.6 passing yards per game. At that pace, they would give up 4,986 passing yards by the end of the season, which would be an NFL record. The current record was set last season when the
Green Bay Packers
gave up 4,796 yards.
A record he doesn't want:
New Orleans Saints
quarterback
Drew Brees
leads the league with 32 touchdown passes and is tied with
Andrew Luck
for the league lead with 18 interceptions. Since 1970, Lynn Dickey (1983) and Brian Sipe (1979) are the only quarterbacks to lead the league in both touchdowns and interceptions.
Intentional grounding:
The Carolina Panthers have been making the most of quarterback
Cam Newton
's running ability. He leads the team with 640 rushing yards. The last quarterback to finish a season as his team's leading rusher was Philadelphia's
Donovan McNabb
in 2000.
May, 5, 2011
5/05/11
11:15
AM ET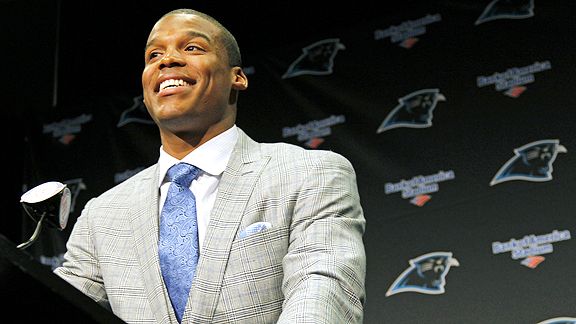 AP Photo/Bob LeveroneCam Newton was all smiles during his introduction in Charlotte. The smiles may continue into the season.
At a kickball game in Charlotte on Sunday,
Cam Newton
and
Jimmy Clausen
were on common ground for perhaps the first and last time in their lives.
The future and current quarterbacks of the
Carolina Panthers
(or is it already the current and past quarterbacks?) got together for a charity event that included some other players. It's kind of ironic, because Newton and Clausen have virtually nothing else in common, and, despite the fact they're going to be teammates, things already are setting up for them to be competitors, maybe even rivals.
You could see that building last Friday as Newton was introduced to the Charlotte media and asked what jersey number he wants to wear. At Auburn, Newton wore No. 2. Clausen picked that number when he was drafted by the Panthers last year. In the world of the NFL, the veteran usually gets to keep his number, unless some sort of financial agreement can be worked out.
Newton didn't concede the number to Clausen and made some reference like "we'll see." That might lead you to believe the man taken with the No. 1 overall pick in the draft might flex his muscle to wear No. 2.
It might not come with a bad ending for the Panthers, but you can see Clausen and Newton, two guys with entirely different backgrounds and personalities, already lining up on a collision course. The ending won't be happy for both, because they're playing for one job as the long-term starting quarterback.
It can only be coincidence, but the kickball game came precisely one year to the day that Clausen threw his first NFL minicamp pass and many people thought the Panthers finally had found their franchise quarterback. A year later, the Panthers turned around and drafted Newton to fill that role.
That's the role Clausen has been groomed for all his life, while Newton's grooming process was far less traditional.
Let's start with Clausen. Chances are pretty good you first heard of Clausen when Sports Illustrated ran
this story
, titled "The Kid with the Golden Arm."
In it, the writer talks about how people viewed Clausen as the next great quarterback: "Others see the arm of
John Elway
, the composure of
Tom Brady
and the quick release of Joe Namath."
Former NFL quarterback Brian Sipe said, "I've never seen anyone with a quicker release than Jimmy has."
The story was written when Clausen was
a junior in high school
. It goes on to reveal details of his grooming -- how he worked with a private quarterbacks coach since junior high, how his brothers, Rick and Casey, made it as college quarterbacks at the University of Tennessee -- and the recruiting wars that were being fought over him.
Skip ahead a little more than a year. If you somehow hadn't heard of Clausen by then, well, that changed. He
showed up in a white limousine
at the College Football Hall of Fame to announce he would attend Notre Dame. Notre Dame, the school with Charlie Weis (the man who developed Brady) and all sorts of quarterback pedigree (forget
Brady Quinn
, we're talking the days of
Joe Montana
and Joe Theismann).
Weis didn't really win big, but Clausen had a respectable career. Although some thought he might go in the first round of last year's draft, he slid to the second and the Panthers grabbed him. For the first time in his life, Clausen wasn't in a position where success was assured, and it showed. Former coach John Fox -- fighting the youth movement imposed by management and throwing farewell gestures on his way out the door -- refused to play Clausen until injuries left him no choice. In the offense of Fox and coordinator Jeff Davidson, which looked like it was created for a 1950s high school team, Clausen struggled mightily and the Panthers finished 2-14.
Clausen clashed with volatile receiver
Steve Smith
. Media and teammates described Clausen as self-centered, aloof and not the kind of guy who commands respect in a locker room or a huddle. The Panthers swear they haven't given up on Clausen and still think he can turn into a decent NFL quarterback.
[+] Enlarge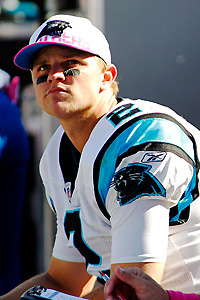 Geoff Burke/Getty ImagesJimmy Clausen could find himself watching from the bench again this season.
But they were saying that after they had drafted Newton, and logic says you don't go out and use an early pick on a quarterback if you think you have one on your roster.
Newton suddenly is the chosen one, and he's coming at it on a completely different track than Clausen. At his press conference the day after the draft, Newton was engaging and cracking smile after smile.
The Panthers talked about his charismatic personality and the passionate halftime speech that sparked Auburn to a win over Alabama last season. They talked of how Newton's teammates spoke about his leadership skills, and no one ever has questioned his physical skills. It's the kind of stuff Clausen can only dream about.
It's not as though Newton comes with a résumé that's empty compared to Clausen's. Newton won a national title and a Heisman Trophy at Auburn. He won a junior college national title at Blinn College. But he played only one year at each place, and neither program ran a Notre Dame offense, the kind of offense people said made Clausen the most NFL-ready quarterback in last year's draft.
Newton's résumé also included a brief stop at the University of Florida, which doesn't recruit quarterbacks from the bargain basement. But
Tim Tebow
already was there. Newton was involved in an incident in which a computer was stolen. There were reports of academic improprieties, reports Newton disputes. Newton left, went to Blinn, and, as he was looking to transfer back to a big-time school, things got murky.
There have been reports Newton's father, Cecil, sought money for the rights to his son, and the NCAA is investigating the matter.
The Panthers did all sorts of homework on Newton's background and decided that none of it suggests future problems. They put him under a microscope on and off the field and decided they loved what they saw.
If it means pushing aside the kid who grew up in a quarterback laboratory, the Panthers appear fine with that. In a best-case scenario, maybe Clausen rallies and pulls off something like
Drew Brees
did when he was in San Diego. Brees, at least temporarily, did a nice job of keeping
Philip Rivers
on the sideline.
But that's far fetched. The Panthers didn't draft Newton to sit, and, listening to them talk last week, you could read between the lines and see that they'd like nothing more than to open the season with their franchise quarterback as their franchise quarterback.
The labor situation could complicate things a bit. If there are no offseason workouts and a limited training camp, the Panthers might be forced to open the season with Clausen as the starter. But, seriously, how long is that going to last? Four games? Six, tops?
The smiles and relaxed atmosphere from the kickball game are over. Whenever the Panthers do get back to the practice field, Newton just has to show he's getting a grasp of the playbook and then he'll be the one on the playing field.
Really, it's all about pedigree. He might have taken an unconventional route through college, but Newton's got the upper hand now. Clausen, because he's had so much coaching already, might be as good as he's ever going to get.
Newton's the guy who has won championships and won over huddles. He's the one with potential that seems limitless. He's the one the Panthers picked in the spot that gives him the ultimate pedigree.
January, 20, 2011
1/20/11
5:40
PM ET
If the Jets advance to the Super Bowl, would Rex Ryan be the best coach in the NFL?

FLORHAM PARK, N.J. --
Peyton Manning
in Lucas Oil Stadium,
Tom Brady
in Gillette Stadium and
Ben Roethlisberger
at Heinz Field.
[+] Enlarge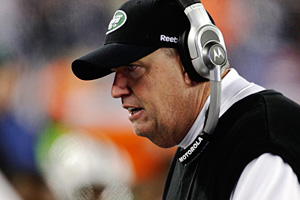 AP Photo/Stephan SavoiaIf Rex Ryan completes another improbable playoff run, is he the league's best coach?
That's the gauntlet
New York Jets
coach Rex Ryan must traverse.
And if he makes it through still alive and advances to the Super Bowl, then Bill Belichick, Lovie Smith, Todd Haley or anybody else who wins a 2010 Coach of the Year Award ought to ship it on over to One Jets Drive.
The sixth-seeded Jets can accomplish a rarity if they defeat the
Pittsburgh Steelers
on Sunday for the AFC Championship. Wild-card teams have reached the Super Bowl before, but only one team ever has knocked off the first, second and third seeds to do it.
The 2005 Pittsburgh Steelers were the first, but the quarterbacks they faced in those playoffs were
Carson Palmer
, Manning and
Jake Plummer
. Not exactly a Murderer's Row.
Manning, Brady and Roethlisberger have won six Super Bowls and played in eight. They have a combined 32-17 postseason record.
"That's a pretty strong task when you mention guys like that," said Tom Flores, who coached the first wild-card champions, the 1980
Oakland Raiders
, in Super Bowl history. "They've been there before. They've experienced being in big games before and winning big games before.
"You're going against the best. There's no unknowns there."
In addition to the superstar opposing quarterbacks, the Jets are venturing into some of the most difficult venues in any sport.
Flores got past an impressive group of quarterbacks for his first Super Bowl (he won another two years later as a division champ): Ken Stabler, MVP Brian Sipe and future Hall of Famer Dan Fouts.
But that lineup isn't as tough as what the Jets are facing. Flores sees Sunday's game being less intimidating than their showdown against the Patriots.
"Their biggest hurdle was in New England," Flores said. "That was almost impossible to beat them there."
Unfortunately for Ryan, awards like coach of the year are based on regular-season results.
He led the Jets to a 11-5 record, but they faded down the homestretch. Their lopsided 45-3 loss to the Patriots in Week 13 followed the next week by an ugly home loss to the
Miami Dolphins
erased any chance of Ryan winning honors.
But if Ryan can navigate this rugged playoff stretch and make it to the Super Bowl, then we'll know who really deserves to be considered the best.
"Well, I can say this: It's not easy," Ryan said. "I don't know who's next. [Terry] Bradshaw?
"Clearly, we have a ton of work to do to pull this off. But we think we're the men for the job, and we're going to find out Sunday."
December, 4, 2010
12/04/10
2:00
PM ET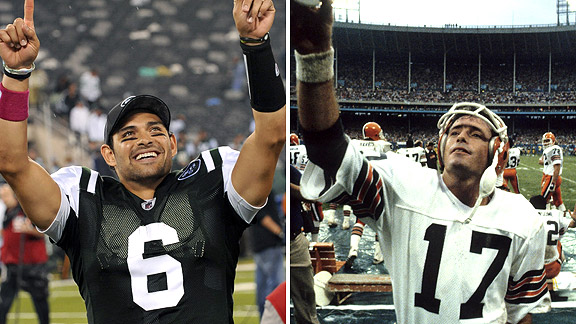 AP Photo/Getty ImagesMark Sanchez has shown the same uncanny ability to win games in the fourth quarter that Browns QB Brian Sipe had with the "Kardiac Kids" in 1980.
Dave Logan was hunkered down with some work notes two weeks ago, looked up at the television and traveled back 30 years.
The
Denver Broncos
' radio play-by-play man was preparing for their Monday night game against the
San Diego Chargers
in Week 11 and noticed old friend Gary Kubiak was about to score a big victory as head coach of the
Houston Texans
.
The Texans led the
New York Jets
by a point at the Meadowlands and had a first down at the two-minute warning because
Mark Sanchez
threw an interception. The Texans tacked on a field goal with 55 seconds left. That should've been that.
But then Logan watched Sanchez make "just a perfect throw" to
Braylon Edwards
down the right sideline for 42 yards. Logan remarked "There's just no way he's supposed to hit that route" based on the Texans' coverage. On the next play, Sanchez connected with
Santonio Holmes
in the left corner of the end zone to win.
"When they do stuff like that, it does remind me of a pretty good year," Logan said.
In 1980, Logan played wide receiver for a
Cleveland Browns
team known as the Kardiac Kids for their defibrillator finishes.
Win or lose, the Browns seemed to take it to the wire each week. Brian Sipe slung the ball around to five different targets who caught at least 50 passes. The Browns dropped their first two games, but won 11 of the remaining 14. Their three losses in that span were white knucklers that should've been victories.
The upstart Browns won the AFC Central after years of
Pittsburgh Steelers
dominance and back-to-back appearances by the Houston Oilers in the AFC Championship Game. The Browns lost in the divisional round of the playoffs that year, but that's not the part that Logan finds familiar when he considers the Jets.
The Jets have strung together an obnoxious number of stunning victories this year. They're riding a wave of confidence few teams get to experience.
"L-O-S-E is no longer in your vocabulary," said Sam Rutigliano, head coach of the 1980 Browns.
Invincibility becomes a weapon, and it might be necessary if the Jets are to stand up to the
New England Patriots
on Monday night in Gillette Stadium, where quarterback
Tom Brady
has won 25 straight games.
The Patriots have won with relative ease and seem to be in command of their opponents compared to the Jets' high-wire act of the past seven weeks.
[+] Enlarge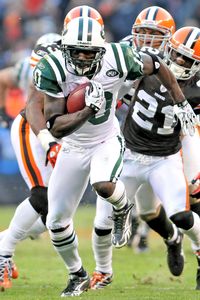 Jason Miller/US PresswireSantonio Holmes has come through several times in the clutch for the Jets this season.
The Jets routinely have trailed late or allowed a team to come back and tie the game.
Many look at what the Jets have done and call it blind luck. Regardless of how they're winning, however, the experience almost becomes a tangible, powerful asset.
"Now I know we have a chance no matter what," Sanchez said.
The Jets became the first team in NFL history to go into overtime on the road and win two weeks in a row. Tack on the miraculous Texans victory, and the Jets became the first team since the 2006
Tennessee Titans
to score their winning points inside the final 10 seconds of a game three straight times.
"When you win in that fashion you become really difficult to beat," Logan said. "Even if you get down in a game, you never feel like you're out. So you're still battling. You still have guys making plays.
"You get behind in a big game in the fourth quarter and you've never been there before, then maybe guys start to grip a little bit. But when you've had that kind of success like the Jets this year and we did in 1980, it's in the back of your minds that 'Listen, we've been here before. We know we're going to go down and score. How much time's left? Two minutes? OK. Where's the ball? Minus-30. OK, we got 70 yards in two minutes. No problem.' "
Logan called another one of the Jets' crazy victories. In Week 6, Sanchez threw a fourth-down desperation heave down the left sideline to Holmes. Broncos safety
Renaldo Hill
got his fingers accidentally tangled in Holmes' facemask near the goal line. Pass interference was called. One play later,
LaDainian Tomlinson
scored a touchdown. The Jets won by four points.
That was the start of the daredevil Jets dodging defeat.
"Don't think other teams around the league aren't aware of it, either," Logan said. "In tight games, late and the Jets have the ball with the chance to win, in the back of the other teams' minds, they're thinking 'Here it comes again.' "
Rutigliano was a Jets defensive assistant when Joe Namath was the quarterback. Rutigliano notices that Sanchez is developing the same ability Namath and Sipe (league MVP in 1980) had of turning teammates into believers.
"A quarterback is like a tea bag," Rutigliano said. "You don't know what you got until you put him in hot water.
"What's happening to Sanchez right now, the best quarterback coaches in the world can't teach him. He's learning it himself. Now he expects to win and is starting to empower people to play at a level they never thought they could play at."
Sanchez recently explained he'd never led a fourth-quarter comeback victory at any level until Denver. His teams at Mission Viejo High and USC were so dominant the opportunities were rare.
Now Sanchez has four fourth-quarter comebacks in his past six games.
"It's always been something that I've wanted," Sanchez said. "I know that that was kind of a knock coming out of college, that 'He's never had a come back in a game. They've been up. He hasn't played a lot of football.' To me, that was 'All right, give me a chance to come back. I'm going to win it, not making a miraculous play, but just making the plays we know how to make.' That's what we've done."
NFL SCOREBOARD
Thursday, 12/5
Sunday, 12/8
Monday, 12/9
WEEKLY LEADERS