NFL Nation:

Brian Stewart
January, 1, 2010
1/01/10
1:35
PM ET
By
Matt Mosley
| ESPN.com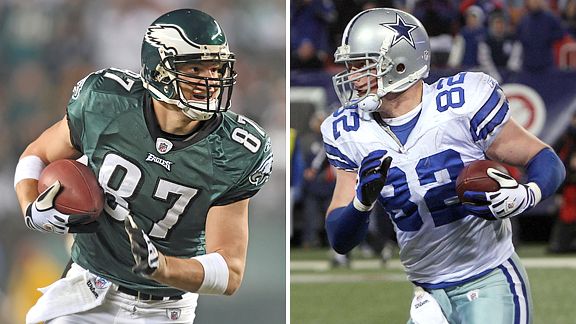 Getty ImagesTight ends Brent Celek and Jason Witten both figure to be an important part of the game plan for the Eagles and Cowboys.
There have been times that Week 17 hasn't had much to offer in terms of competitive games, but this should be a superb matchup. The Cowboys haven't forgotten about being embarrassed by the Eagles, 44-6, in Week 17 last season. This time around, both teams have already qualified for the playoffs but they are each playing for the right to host at least one playoff game. I've spent hours in the Beast film room this week and I'm prepared to offer five key matchups that will prepare your hearts and minds for Sunday's big game:
Cowboys NT Jay Ratliff vs. Eagles C Nick Cole and RG Max Jean-Gilles:
For the Eagles to sustain drives, they'll have to account for Ratliff on almost every snap. He has the rare combination of speed and power that makes it difficult to control him for prolonged periods of time. As you've probably heard by now, Cole's making his first start at center for the Eagles. Of course, he's started at left and right guard this season, but that's different than having to call out assignments to teammates. Fortunately for the Eagles, the Lawton, Okla., native is an intelligent player who does a nice job of adjusting on the fly. As long as Cole and quarterback
Donovan McNabb
have ironed out their snap-exchange issues from last Sunday, I don't think Cole will be much of a downgrade from
Jamaal Jackson
. Andy Reid would never say this publicly, but I believe there was a time this past offseason when he thought Cole might challenge Jackson for the starting center job. Now that Jackson's hurt, it seems like everyone in Philly is making him out to be some type of elite offensive lineman. He's certainly been effective and durable, but it's wrong to say he's irreplaceable. My bigger concern would be with Jean-Gilles. He and Cole have to be on the same page at all times. The Cowboys like to run a lot of slants with Ratliff, who's capable of jumping the snap and being in the backfield before a guard can get out of his stance. Jean-Gilles is somewhat of a mauler, but on Sunday he'll need to play under control. Ratliff's a highly intelligent player with a nonstop motor. If the Eagles can somehow neutralize him, they'll have a much better chance of moving the ball.
Cowboys LT Flozell Adams vs. Eagles RDE Trent Cole:
These two players have had some pretty good battles over the years. Cole's relentless motor and his ability to get underneath Adams' pads gives him the advantage at this point in their careers. Adams is a false start waiting to happen, but he certainly does a better job at staying focused when the Cowboys are playing at home. When he wants to, Adams can still dominate an opposing player. But from game to game, you never know which player's going to show up. I look for Cole to go right at him with the bull-rush early in Sunday's game in order to set him up for some outside moves. I'm glad to see that players and coaches recognized Cole's ability and put him in the Pro Bowl. It's not like he needs to have two or three sacks to be effective. He simply needs to get as many knockdowns or hurries on quarterback
Tony Romo
as possible. If Romo starts thinking about the rush too much, the Eagles will have succeeded. I think this will be a matchup that folks are talking about Monday morning.
Tony Romo vs. Sean McDermott's blitz package:
Cowboys offensive coordinator Jason Garrett had no clue how to protect Romo against Jim Johnson's blitzes in last season's 44-6 loss. It was another masterful performance by Johnson and it was a game that haunted Romo throughout the offseason. He and Garrett have done a much better job this season of taking advantage of pressure. In the first matchup between the Eagles and Cowboys, Romo was sacked four times. But he also beat the Eagles on a 49-yard touchdown pass to
Miles Austin
that changed the game. If you don't get to Romo right away, he'll find Austin streaking across the middle. And with the way the Eagles' secondary tackles, that's a dangerous proposition. McDermott loves to line up nickel cornerback
Joselio Hanson
in the slot and send him on blitzes. He had some success against the 49ers and Broncos with that approach. McDermott doesn't blitz as much as Johnson, but he does seem to choose his spots well. And don't forget that former Cowboys defensive coordinator Brian Stewart is coaching the Eagles' secondary this season. Stewart has a great feel for the Cowboys' offensive personnel, so that could be a factor on Sunday.
Cowboys TE Jason Witten vs. Eagles defense:
Witten absolutely loves facing the Eagles. For whatever reason, Jim Johnson never really found an answer for the Pro Bowl tight end. He has 70 catches for 835 yards and three touchdowns in 12 games against the Eagles. He's the master at setting up routes and he always did a nice job of exposing middle linebacker
Jeremiah Trotter
, who now rotates with
Akeem Jordan
at middle linebacker. The Eagles will try a variety of things against Witten. They may try to figure out how to get Hanson on Witten or they may even chip him with a linebacker before passing him off to safety
Quintin Mikell
. McDermott has a ton of respect for Witten and that's where a lot of his preparation will be leading up to the game.
Eagles TE Brent Celek vs. Cowboys defense:
Celek arrives in Arlington, Texas, with a chip on his shoulder after not making the Pro Bowl team even though he has seven more touchdowns than Witten this season. It's not like he begrudges Witten, though, because he's studied and learned from the Cowboys tight end ever since he entered the league three years ago. Celek is an extremely intelligent and physical player. He caught a touchdown pass against the Cowboys in the last game but he only had three catches for 39 yards. Last week, he had three catches of 30 yards or more and he's averaged 19.1 yards per catch over the past three games. If the Cowboys focus too much on
DeSean Jackson
and
Jeremy Maclin
, Celek will make them pay. And since I brought up Jackson's name, I think the Cowboys will play him straight up and not have
Mike Jenkins
follow him around the way
Champ Bailey
did last week. Jackson didn't have a big game against the Cowboys earlier this season, but he's obviously capable of going off at any moment.
Happy New Year! And enjoy the game.
November, 5, 2009
11/05/09
1:45
PM ET
| | |
| --- | --- |
| | |
| | Howard Smith/US PRESSWIRE |
| | Jason Witten and the Cowboys will return to Lincoln Financial Field for the first since last year's devastating 44-6 loss there on the season's final week. |
Posted by ESPN.com's Matt Mosley
IRVING, Texas -- In a span of about five minutes on Dec. 28, 2008, the Eagles' and Cowboys' seasons took completely different paths. There was a good chance heading into the final game of the regular season that the Eagles would not have anything to play for in terms of making the playoffs.
But shortly before the 4:15 p.m. ET kickoff, everyone at the Linc found out that the
Oakland Raiders
had done the Eagles a remarkable favor with a comeback win over Tampa Bay. Suddenly, the Eagles and Cowboys were in a winner-take-all situation -- and we all know what happened next.
In one of the most regrettable performances in franchise history, the Cowboys suffered an embarrassing
44-6 loss
. Eagles cornerback
Sheldon Brown
intercepted Cowboys quarterback
Tony Romo
late in the first half, setting up a
Brent Celek
touchdown catch that gave the Eagles a 24-3 lead. The rest of the afternoon is still a blur for some Cowboys players and coaches -- and they'd prefer to keep it that way.
In the postgame locker room, Romo delivered his now infamous "life goes on" speech. Romo made some critical remarks about offensive coordinator Jason Garrett, but that wasn't the worst part. He tried to offer some perspective at a time when Cowboys fans weren't ready for it by saying that if he never reached the Super Bowl, he'd still end up having a pretty good life.
It's something you might be able to get away with saying a few months later, but it was an awful miscalculation at the time. It fed the perception that other things were more important to Romo than winning football games -- and it's something that will linger until he wins his first playoff game.
Moments after the game, Cowboys owner Jerry Jones delivered the message of continuity, saying he would stick with head coach Wade Phillips. He also promised that he would take some of his employees "to the woodshed" in an effort to find out what went wrong. Based on their 13-3 '07 season, the '08 Cowboys had been a popular Super Bowl pick. An extremely disappointed and angry Jones set out to change the culture in his locker room, although he never phrased it quite like that.
Jones shut down his reform school that had housed Adam "Pacman" Jones and
Tank Johnson
. And then he made one of the toughest decisions of his career in releasing Pro Bowl wide receiver
Terrell Owens
. It shouldn't have been a difficult decision after watching T.O. splinter the locker room, but it was because it required Jones to admit that he'd made a mistake in giving Owens a lucrative contract extension.
Jones fired defensive coordinator Brian Stewart and gave that title to Phillips. He also replaced special teams coach Bruce Read with Joe DeCamillis, perhaps one of the most underrated moves of the offseason based on the Cowboys' immediate improvement in that area.
| | |
| --- | --- |
| | |
| | Tim Heitman/US Presswire |
| | Miles Austin's emergence has been a boon for the Cowboys' receiving corps. |
Now seven games into the '09 season, there doesn't seem to be as much sense of entitlement in the Cowboys' locker room. The one minor controversy --
Roy Williams
' lack of chemistry with Romo -- doesn't seem to faze the other players. I'm sure it's embarrassing for Jones to see Williams go for about 19 yards per game, but that is offset by the remarkable rise of former undrafted wide receiver
Miles Austin
.
I almost laughed in Jones' face when he told us at the owners meeting that Austin had the potential to make people forget about T.O. -- but that's exactly what's happened. The only time you hear T.O.'s name in Dallas is when someone's joking about his lack of production in Buffalo.
The Cowboys return to the Linc on Sunday a confident team. They're well aware of their reputation for falling apart in December -- and that's why they need to stack wins in November. It helps that their new emotional leader on defense, inside linebacker
Keith Brooking
, doesn't give a rip about last season's 44-6 loss. He was a member of a Falcons playoff team at the time, and his refusal to buy into the Cowboys' past has been an important part of the culture change at Valley Ranch. Players such as linebacker
Bradie James
certainly haven't forgotten how their '08 season ended, but they don't seem obsessed with it.
"We know what happened last year," James
told reporters Wednesday
. "This is a different team, a different season, but we haven't forgotten. The only way we can right that wrong is to go out there and win, whether it's ugly, sexy, it doesn't really matter. We've got to go out there and find a way to win. We'll definitely know where we are as a team after we play this game."
Williams said Wednesday that Phillips hasn't even brought up the Cowboys' last trip to the Linc. And the receiver said he didn't intend on reliving his two-catch, 4-yard performance in the game.
I think it's a good sign for the Cowboys. This team appears to have a different approach. It should be enough motivation that the winner of this game will be in the driver's seat in the division race. And you know what they say about crippling 44-6 losses.
Life goes on.
February, 5, 2009
2/05/09
1:25
PM ET
Posted by ESPN.com's Matt Mosley
Cowboys owner Jerry Jones' reputation for being a renegade helped him forge a friendship with Oakland Raiders owner Al Davis in the early '90s. And based on Jones' recent moves, it's becoming difficult to tell the men apart.
| | |
| --- | --- |
| | |
| | Wesley Hitt/Getty Images |
| | Jerry Jones was unable to get Dan Reeves to stay with the organization. |
Since taking over the Cowboys in 1989, Jones has emulated his GM predecessor, Tex Schramm, when it comes to selling his product. He's one of the most accessible owners in professional sports, in part because he loves the attention. But since the Cowboys' season ended with an embarrassing 44-6 loss to the Philadelphia Eagles, Jones has basically gone underground.
Just before disappearing from sight, he made the worst sales pitch of his illustrious career in a call for continuity that centered on head coach Wade Phillips suddenly changing his personality after 30 years of back-slapping. For the first time anyone can remember, Jones informed reporters at the Senior Bowl that several topics were off limits, including anything that seemed remotely pertinent.
Privately, he has conducted a witch hunt to identify the anonymous sources who've had ESPN's Ed Werder on speed dial this season. When I reached a longtime Cowboys employee by phone two weeks ago, he spoke in hushed tones as he explained that an internal e-mail had warned people in the building not to speak to the media unless they have clearance from the club's public relations office. That's in stark contrast to the beginning of the Phillips era, when Valley Ranch basically turned into a public park.
Phillips may have been the first head coach in club history to decline interviews at the Senior Bowl because "[P.R. director] Rich [Dalrymple] told me not to talk."
The latest gaffe involves a beloved member of the Cowboys family, Dan Reeves. At his end-of-the-season news conference, Phillips indicated that he would consult with former associates about how to clean up the mess at Valley Ranch. Reeves played and coached under Tom Landry before head-coaching stops with the Broncos, Giants and Falcons. Phillips had replaced him as head coach in Denver and Atlanta, but the two men had remained friends over the years.
| | |
| --- | --- |
| | |
| | NFL.com Video |
| | Rise and fall of the 2008 Cowboys. |
As I understand it, Phillips recommended that Reeves be brought in to serve as a consultant. Jones already had fired Phillips' close friend and defensive coordinator Brian Stewart, and Phillips thought Reeves' expertise on offense would allow him to devote most of his time to the defense. It seemed like such a good fit that Reeves moved into an office at Valley Ranch on Monday before details of his contract had been finalized.
A local TV station first broke the news of Reeves' presence at Valley Ranch on Tuesday evening. The next morning, Werder reported that Reeves would report directly to Jones. And by late Wednesday afternoon, Reeves was out of a job. (Cue the "Benny Hill" music.)
"I thought the thing was done, and we finally agreed on what the title was going to be," Reeves told ESPN late Wednesday. "I didn't want to have a coaching title and not have authority coaching-wise. I wanted to work with him [Jones] and Wade and help in any way that I possibly could. We finally agreed the coaching thing wouldn't be in there, but then the contract changed and there were some things in there I couldn't see being in there, and they were important to him. He made a lot of concessions, but this was something that was important to him, and I just didn't feel like I could live with it. So it didn't make sense for us to go forward."
Posted by ESPN.com's Matt Mosley
We're still waiting for an official press release from the Dallas Cowboys, but we've confirmed that former NFL head coach Dan Reeves has begun his work as a consultant for the club. The organization has been in lockdown mode for the past three weeks.
According to a source, an internal e-mail was sent out reminding employees that they are not to talk to reporters unless it is cleared through director of public relations Rich Dalrymple. In the past, Cowboys head coaches have visited with the local media during the Senior Bowl, but Wade Phillips told reporters in Mobile that Dalrymple had instructed him not to speak.
Moments ago, I called Reeves' new extension at Valley Ranch. Apparently he's moved into former defensive coordinator Brian Stewart's office because that's whose voice I heard on the message. Reeves will report directly to owner Jerry Jones, according to ESPN's Ed Werder.
And for those of you with short memories, Reeves was replaced by Phillips as head coach in both Denver (1992) and Atlanta (2003). Phillips was the interim coach for the Falcons when Reeves asked to be released with a 3-10 record. I'm sure Phillips is thrilled to have a former head coach with a lot more skins on the wall strolling around the complex.
Which team does this organization remind you of right now? Do the Oakland Raiders ring a bell?
January, 24, 2009
1/24/09
3:55
PM ET
Posted by ESPN.com's Matt Mosley
When the teams from the NFC East sit down to watch the Super Bowl next Sunday (probably not together), they will see some familiar faces. The NFC East split with the Steelers, with the Eagles and Giants grabbing the wins. And the division went 3-1 against the Cardinals in the regular season before the Eagles lost the one that counted most.
We gave the Eagles some grace since that 32-25 loss in Glendale, Ariz., is still pretty fresh. But I tracked down Redskins secondary coach Jerry Gray, former Cowboys defensive coordinator Brian Stewart and Giants middle linebacker Antonio Pierce to talk about both teams. All of them picked the Steelers to win, but they reserved the right to change their minds at least twice. You'll read and hear a ton of analysis this week, but hopefully these guys can take you inside the game.
Gray, a former All-American safety at the University of Texas, helped design a game plan that led to a 24-17 Redskins win over the Cardinals early in the season. As you might expect, Larry Fitzgerald is the focal point for any defensive game plan.
"We didn't want to get beat by No. 11," said Gray. "And you can't leave a defensive back alone out there with him. [Quarterback] Kurt Warner's so smart that you can't disguise anything. You have to try and make him hold the ball. If you hit him early, you have a chance."
The Redskins put Shawn Springs in one-on-one coverage with Anquan Boldin. They put cornerback Carlos Rogers on Fitzgerald and then shaded a safety to that side. Washington did a nice job against Fitzgerald for much of the game, but he turned what the Redskins thought was a corner route into a post for a 62-yard touchdown.
Pierce is still shocked that the Eagles gave Fitzgerald a free release at the line of scrimmage last week. The Giants had Aaron Ross jam Fitzgerald at the line of scrimmage and a safety play right behind Ross. Fitzgerald can beat a jam, but that split-second he's forced to dance around a defender gives the defensive line more time to get to the quarterback.
Gray said it's difficult to defend the Steelers, in part, because quarterback Ben Roethlisberger doesn't appear to have a favorite wide receiver right now. His ability to slide out of the pocket and extend plays makes him dangerous. And Pierce said the Giants missed at least three or four sacks in their win over the Steelers because of Roethlisberger's strength.
"Some quarterbacks will go down if you blown on them," said Pierce. "You actually have to wrap up Big Ben or he'll get away and make a play."
Pierce has a lot of respect for Donovan McNabb, but he said that Roethlisberger is tougher to defend. Interestingly, Pierce was the guy who said after the Giants' 37-29 win over the Cardinals that the two teams would meet again in the NFC Championship Game. Of course, the Giants came up a week short on that bid, but it's pretty impressive if Pierce really saw this coming. The Cardinals fell to 7-5 after that loss, which set up the cross-country trip to Philly, where things didn't go well -- to the tune of a 28-point deficit.
December, 12, 2008
12/12/08
1:34
PM ET
Posted by ESPN.com's Matt Mosley
Cowboys owner Jerry Jones ended his self-imposed silence following his infamous Marion Barber comments from last Sunday to shed light on the latest drama at Valley Ranch on Friday. Reports of a growing divide in the Cowboys' locker room continue to unfold, but Jones said it's all part of the club's cutting-edge "continual communication" program in which players are allowed to complain about each other without fear of retribution. Think of it as the Cowboys' whistle-blower rule.
Bill Parcells once benched a quarterback for having the audacity to ask about his role on the team. My how things have changed. Fortunately, Jones cleared the whole thing up on his weekly radio show on 1310 "The Ticket" in Dallas.
"There is no issue between the players. None," said Jones. "I'm underlining none. If you could be out there right this minute, or right out there today, you'll see these players. They're co-captains. You'll see these guys -- Witten, Owens, Bradie James -- you'll see these guys talking it up and getting ready for a ballgame Sunday.

"There's just no issue. And I think if you and I continue to talk about it and speculate and give what-ifs, then you make something that's not an issue an issue. Let's talk about something else that's going on out there. Who's Wade meeting with right now? Do you think he's meeting with Brian [Stewart], or do you think he's meeting with the special teams coach? Let's talk about that."
So you can see Jones' strategy is to pretend that nothing out of the ordinary took place at Valley Ranch this week. And with this team, he may not be far off. If I have this straight, Witten did a radio interview with a New York radio station Thursday that was booked before the latest controversy. He confirmed his close friendship with Romo, but said he and his pal were not secretly drawing up plays in their private time.
Cornerback Terence Newman went on ESPN's "First Take" on Friday and said the team chemistry was "great," but then he insinuated that coaches aren't owning up to their mistakes. But let me once again stress that team chemistry is better than ever.
Terrell Owens responded to the controversy last night in an interview with the Dallas Morning News.
"I'm not jealous of Witten," Owens said. "I'm not jealous of nobody. I can take the approach that I got paid, so screw everything, but that's not me."
The nobility of this man is stunning. He's continuing to play football -- after he's already been paid. T.O. called the meeting with Garrett "productive" and said there was "nothing negative about it."
Jones said he had the opportunity to visit with T.O. for 10 to 15 minutes during Thursday's practice, but said the subject of the meeting with Garrett never came up. And honestly, that points to the larger problem: These players aren't accountable to their teammates and coaches, in part, because they can always run to Jones' office. He is the ultimate enabler, and as long as he's running the team, this type of stuff will go in.
Phillips will go back to the time-honored tradition of blaming this entire episode on the media -- and maybe many of you guys will agree. Certainly, if the Cowboys beat the Giants on Sunday, all will be right with the world. But if they don't, the "secret meeting" will be another chapter in the story of how the 2008 Cowboys missed the playoffs.
Jones called Sunday's game the "most important one we've had in many, many years." And we'll have more on that game -- as well as the other two games involving NFC East teams -- in Audibles later today.
Posted by ESPN.com's Matt Mosley
The NFC Beast came roaring back Sunday with big wins over NFC South and AFC North teams. The Redskins' win over the Lions wasn't quite as impressive, but it sure beats the alternative. Now, settle in for another exciting edition of Overreaction Monday:
Cowboys
Randy Galloway of the Fort Worth Star-Telegram praises the "Stewart 3-4" in his Monday column.

"Let us celebrate fairness by saluting the Stewart 3-4," writes Galloway. "After a 13-9 sweatfest of a win, it wasn't defensive coordinator Brian Stewart who received the praise, or the game ball, from up high. Jerry Jones was mushy and benevolent in saluting head coach Wade Phillips, who no doubt had a rough week of criticism.

"Then again, Stewart had to endure the embarrassment of being publicly demoted, at least in theory, from his defensive play-calling duties. An exhaustive search, however, of the postgame locker room failed to uncover even one defensive player who thought anything was different, either in practice or during Sunday's game."

Tim MacMahon of DallasNews.com fame

has the scoop

on punter Sam Palescu's game-changing tackle in the first half.
"But, when pressed on the subject, it's clear that Paulescu does take pride in his tackling ability. After all, the guy was a pretty good safety for itty-bitty Whittier Christian, his private high school in Orange County, Calif."
Jean-Jacques Taylor gives most of the credit to Wade Phillips. And it doesn't sound like he had an issue with Phillips' decision to go for it on fourth down in the fourth quarter.
Eagles
Giants
Gary Myers talks about how Eli Manning outplayed Ben Roethlisberger on Sunday. And you have to appreciate this quote from defensive end Justin Tuck: "Everyone wants to call him dopey when he looks on the football field and he has no expression on his face," Tuck says of Manning. "But he's clutch. He really doesn't get rattled. He's just as calm as the back side of a pillow." Now that's calm!
Redskins
Jason Reid talks about the dramatic impact that Santana Moss had in Sunday's 25-17 win over the Lions.
Mike Wise says that head coach Jim Zorn continues to fuel the Redskins' surprising 6-2 start. And on Sunday, the Z Man was on fire.
October, 26, 2008
10/26/08
4:19
PM ET
Posted by ESPN.com's Matt Mosley


IRVING, Texas -- It wasn't pretty. In fact, it was barely watchable. But the Cowboys ended a two-game losing skid with a 13-9 victory over Tampa Bay and improved to 5-3 for the season.
The Cowboys started the game with three consecutive three-and-outs, but Tampa Bay missed several opportunities to take control. Following a week in which coach Wade Phillips took over play-calling duties from defensive coordinator Brian Stewart, the Cowboys harrassed Jeff Garcia for much of the afternoon and didn't allow the Bucs to establish any semblance of a running game.
Still, Tampa Bay was driving to win the game late in the fourth quarter.
Because of an injury to starting right cornerback Anthony Henry, the Cowboys finished the game with two rookies and a second-year player at the cornerback spots. The Cowboys took advantage of four penalties against Tampa Bay on a drive late in the first half.
Roy Williams caught his first touchdown of the game with a second left in the first half. Brad Johnson held for the point after attempt and then jogged straight into the locker room. Johnson had another rough afternoon, but he had the good sense to get the ball in the hands of running back Marion Barber throughout the game.
Nick Folk's 45-yard field goal put the Cowboys up, 13-6, midway through the third quarter, and it's a lead they were able to protect.
Barely.
Garcia was flushed out of the pocket on fourth-and-5 at the Cowboys' 20-yard line and his pass in the flat wasn't close to being completed. The Cowboys sideline erupted and several defenders raced over to congratulate Stewart.
October, 22, 2008
10/22/08
8:15
AM ET
Posted by ESPN.com's Matt Mosley

Romo
The Cowboys spent part of last week hinting that Tony Romo might start against the Rams despite the fact the team's medical staff had projected him to miss three games. Owner Jerry Jones fueled a lot of the speculation with optimistic comments on his weekly radio show Friday.
Now, it seems like Romo is facing the reality that he may miss two more games. Speaking on Terrell Owens' radio show Tuesday evening, Romo all but ruled himself out for Sunday's game against Tampa Bay.
"I'll say it will be Brad [Johnson]" Romo said. "Brad is going to go this week, unless something different happens that we don't foresee. It will be very difficult to change."
I think it was important for Romo to send a message to his teammates last week that he was willing to sacrifice his health in order to help them win. But the "will he or won't he" story line leading up to the game only served as another distraction for the Cowboys. By declaring himself out for Sunday's game early in the week, Romo is giving the team a chance to truly focus on winning with Brad Johnson.
Or maybe he's simply running a misdirection play like his owner. If Romo sits out the next two games, there's a good chance the Cowboys are 4-5 when he returns.
By the way, it also sounds like the splint on his right hand may need to be tweaked. After praising the athletic trainers, Romo said they would go "back to the drawing board."
October, 22, 2008
10/22/08
8:15
AM ET
Posted by ESPN.com's Kevin Seifert
Wednesday is normally one of the busiest days of the NFL week. It's when recovery time from the previous game officially ends and earnest preparation begins for the next game.
This Wednesday, however, will be pretty quiet with three of the NFC North's four teams entering their bye week. Only the Lions have a game scheduled (for Sunday against Washington), and so things will be a little slower here at the NFC North blog as well.
Chicago is scheduled to practice Wednesday and Thursday and then have a long weekend off, while Minnesota and Green Bay players won't practice again until Monday. Here on the black and blue blog, we'll keep up as much of our weekly schedule as we can, including a "Have at it" topic later today.
In the meantime, a quick jaunt around the division:
October, 1, 2008
10/01/08
12:34
PM ET
Posted by ESPN.com's Matt Mosley
I'm told the Bengals receiver formerly known as Chad Johnson came out smokin' today in a news conference with the Dallas media. I'll try to track down the entire transcript a little later, but here's the headliner, courtesy of the Dallas Morning News:
Chad Ocho Cinco: "I've got so much respect for y'all, if I score Sunday, I've love Dallas so much, I'm going to take my helmet off, get a fine and kiss the star."

Q: The one at midfield?

CO: Midfield? That's a long [expletive] jog.

Q: What do you mean 'if?'

CO: OK, when I score, I'm going to take my helmet off and kiss the star. Can I do that?

Q: Why not?

CO: That's not a sign of disrespect. That's a good thing isn't it?
And here's more fantastic stuff from Ocho Cinco:
"Get up, get your pen, get your records, get everything you need to get, because I'm letting it rip. I'm not holding nothin' back. We 0-4. We pissed off. I'm pissed off. The players over here are pissed off. Somebody's got to pay.

"I want you to tell [defensive coordinator] Brian Stewart that I love him to death, but somebody's got to get it."

"Man, we are going to throw everything, including the kitchen sink, out there in Dallas. I'm bringing the cold tub, the hot tub, I'm bringing the training room. What else can we do?"
That certainly seems like a lot of equipment for one man to transport to Dallas. OK, I'm headed out to Valley Ranch to listen to T.O. And don't worry. The entire afternoon will be devoted to the Eagles, Giants and Redskins. I have a phone interview set up with Redskins safety Chris Horton a little later. Talk soon.
NFL SCOREBOARD
Thursday, 12/5
Sunday, 12/8
Monday, 12/9
WEEKLY LEADERS