NFL Nation:

Brian Witherspoon
August, 24, 2011
8/24/11
4:26
PM ET

A couple of days after losing starter
Terrell Thomas
and backup
Brian Witherspoon
for the season due to injuries, the
New York Giants
today had a bunch of cornerbacks come in for workouts. Mike Garafolo reports that
there were four of them
(who all left in the same van, which is downright adorable) and that two of them were
Lito Sheppard
and
Brian Williams
. Mike also checked with
Randall Gay
's agent, who said his client was not one of the four.
Earlier in training camp, Giants first-round draft pick
Prince Amukamara
suffered an injury that will keep him out for at least the first month of the season, and reserve
Bruce Johnson
is also out for the entire season. The team is therefore looking at several options. Mike reported via twitter that safety
Antrel Rolle
was with the corners at the beginning of Wednesday's practice.
I assume the Giants will sign at least one of the guys they had in today, if for no other reason than to get an extra body in there for these practices.
Corey Webster
and
Aaron Ross
are going to have to handle starter's duties, but it's not a position at which you want to be caught thin. And right now, though Giants fans always get on my case for saying this about their team, the Giants are extremely thin at cornerback.
August, 14, 2011
8/14/11
12:02
PM ET
EAST RUTHERFORD, N.J. -- It's funny to say this about a team that plays where they play, but the
New York Giants
like it when nobody notices them. They like being forgotten, underestimated, treated as an afterthought. They're OK with the Jets getting all the back-page-tabloid attention and the Eagles being the big offseason story because of their free-agent shopping spree. The Giants believe in their own way of doing things, and if that means lying in the weeds while people on the outside are distracted by other teams that are hot at the moment, that's fine with them.
"We believe in our organization, and we believe in our coaches," said ninth-year offensive lineman
David Diehl
, who has moved from left tackle to left guard as part of the Giants' offensive line shuffle. "We're not running around doing the free-agency fiasco and all that stuff. Yeah, you hope that, if an opportunity arises, you bring in guys that fit holes. But at the same time, we've got guys that have been here, guys that are a part of this team, guys who know the system."
That's why, even though they lost tight end
Kevin Boss
and receiver
Steve Smith
in free agency and didn't sign new guys the way the Eagles did, the Giants say they're not worried. They have a different way of doing things here. They build through the draft and groom their own players to replace the ones who leave. And they have a few guys they think can fill the holes created by their cuts and free-agent defections. It remains to be seen whether they're right, of course, but the vibe at Giants training camp is clear: Go ahead, underestimate us. We'll see how it turns out in the end.
THREE HOT ISSUES
[+] Enlarge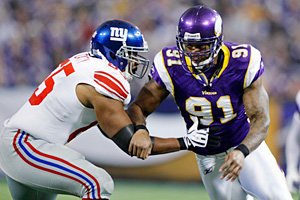 Bruce Kluckhohn/US PresswireThe Giants will have a revamped offensive line that includes William Beatty, left, at left tackle.
1. The new offensive line.
When they cut longtime center
Shaun O'Hara
and guard
Rich Seubert
on the first day of free agency, the Giants signaled a decision to change an aspect of their team that hadn't changed much over the past six or seven years. They signed free-agent center
David Baas
from San Francisco, moved Diehl inside, and gave the starting left tackle job to 2009 second-round draft pick
William Beatty
. So there are questions that must be answered about how quickly the newly configured group can jell, how smooth the relationship between Baas and quarterback
Eli Manning
will be and, perhaps most importantly, whether Beatty in his third NFL season is ready for the responsibility of protecting Manning's blind side.
"In the case of William Beatty, it's time," Giants coach Tom Coughlin said. "We've had him here. He's talented. He's had an opportunity to learn. He's practiced against some of the best. We've had some defensive ends around here that can play. So it's time. It's his turn."
Beatty started four games in his rookie season and two last season as he was being groomed for this opportunity. He's perhaps the best example of the Giants' belief in their ability to groom their own replacements for departing veterans rather than having to hit the free-agent market to do so. Now, he must prove that their faith in him was justified.
2. Can Osi Umenyiora be happy?
Upset about his contract, the Giants' star defensive end has sat out practice and demanded that the team re-work his deal or trade him to a team that will. Neither of those things appears likely to happen, though the Giants have offered an olive branch in the form of some 2011 incentives depending on the number of sacks Umenyiora gets this year. He had his knee checked out last week and there's a sense he could return to practice Monday. The way
Jason Pierre-Paul
played in Saturday night's preseason opener only helped the Giants' leverage in this situation. They believe Pierre-Paul, their 2010 first-round pick, can be a capable replacement for Umenyiora at the defensive end spot opposite
Justin Tuck
. Of course, if Umenyiora wants to come back and play, they'll be thrilled to be able to rotate three such weapons at the defensive end spots. It would also enable them to put
Mathias Kiwanuka
at linebacker and leave him there.
3. Manning's safety valves.
As the Giants' passing game evolved over the past couple of seasons, Manning relied heavily on Smith and Boss as targets when things broke down. Both are gone. The Giants hope that 2009 third-round pick
Travis Beckum
is ready to replace Boss. Beckum is a good receiver, but he doesn't have Boss' size or blocking ability. And they're trying everyone from
Mario Manningham
to
Domenik Hixon
to
Victor Cruz
in Smith's old slot-receiver role in the hopes that someone can play the position the way Smith did. Top receiver
Hakeem Nicks
appears poised to have another big year, and the Giants can use Manningham on the outside as they did last season. But Manning is justifiably concerned about who will be there for him when a play inevitably breaks down, and tight end and slot receiver are positions that need to be sorted out before camp ends.
"When we've gotten in trouble in the past, we always had Steve in the slot, and that's kind of all we worked on -- Steve's in the slot, there you go, he's got it down," Manning said. "And so last year, when he got hurt, we were in trouble. No one else really knew how to play it. So this year we're putting everybody -- Hakeem is in there, Manningham's getting in here, we're getting a lot of people in there to get them to learn some of it, so that'll probably create some more opportunities for us to move guys around and get some mismatches."
MAN IN THE MIDDLE
[+] Enlarge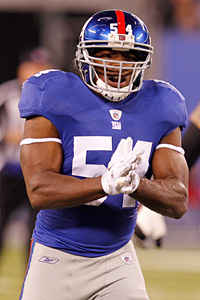 William Perlman/The Star-Ledger via US PresswireJonathan Goff is entering his second season as the starting middle linebacker.
Linebacker has been a weak spot for the Giants the past couple of years. Unable to add outside free agents because of cap concerns, they'll address it by moving Kiwanuka there for first and second downs. But much will still fall on the shoulders of
Jonathan Goff
, who enters his second season as starter at middle linebacker in the Giants' 4-3 defense. "I'll have better composure this year," Goff said. "Last year, being my first year, was a little bit of a learning experience for me. This year, I think we're all on the same page to move forward as a defense and get better. It's just natural now." Goff is responsible for communicating the calls from the sidelines and for making any front-seven checks. (The coverage checks are the responsibility of the safeties.) He knows he'll need to take a stronger on-field leadership role for the defense to play more consistently this season.
AN 'EXPLOSIVE' PHILLIPS
Two years ago,
Kenny Phillips
was on the verge of breaking out as one of the top safeties in the NFL. But he lost his 2009 season to a left knee injury, spent the 2009-10 offseason rehabbing the knee and wasn't the same player when he returned in 2010. This year, Phillips said, he was able to condition himself the way he normally would for a season, rather than have to rehab, and believes it has made a huge difference. "Just being more explosive," Phillips said. "Last year, just seeing the field, it was kind of difficult at times, because I'd been away from the game, to be able to break on the ball -- to actually see it and then be able to get to it. But this year, now, everything is just fluid. My technique and everything is sound. I just feel good about everything this year." Phillips said he learned a lot last season playing and working with veteran safety
Deon Grant
(who remains an unsigned free agent), and that, with his physical ability fully restored, he believes he'll be a better player.
OBSERVATION DECK
Hixon could be a very important player for the Giants if he's recovered from his knee injury. He showed ability to play that slot receiver position when he was healthy, and will get a chance to show it again, though it seems clear the Giants would like to have multiple options there in case something goes wrong.
Linval Joseph, the 2010 second-round pick, would seem to have the playing-time edge at defensive tackle over 2011 second-round pick Marvin Austin. But each brings impressive size and agility to the position, and between them the Giants should be able to capably replace Barry Cofield, who signed with Washington.
The starting secondary of Phillips, Antrel Rolle, Terrell Thomas and Corey Webster looks excellent in practice. The question is whether there's enough depth behind those guys if there's an injury. Cornerbacks Michael Coe and Brian Witherspoon and safety Tyler Sash have a chance to earn playing time with Prince Amukamara hurt and Grant not re-signed. Witherspoon has been impressive on special teams and looked good in Saturday's game. Sash appears to be very athletic, but he needs to play with more discipline.
Kiwanuka at linebacker is a work in progress. No question he has the ability to play it, but he over-pursued Saturday at times the way a defensive end might.
Even before he left Saturday's preseason game with a thigh injury, kicker Lawrence Tynes looked as though he might be cause for concern. Having missed a few practices as he recovers from knee surgery, Tynes was unable to boot kickoffs out of the back of the end zone the way it seems every other kicker in the league has so far this preseason. And he missed a couple of field goals (though the first was a 56-yarder he shouldn't have been asked to try). Worth keeping an eye out to see how he looks the rest of August.
As for punters, Matt Dodge has looked better than he did in his difficult rookie season, but it's going to be tough for him to beat out Steve Weatherford, who's just better at the job.
August, 13, 2011
8/13/11
11:48
PM ET

The
New York Giants
could have used a feel-good preseason opener Saturday night. No, I don't think you can read much into these preseason games. You don't know which teams are game-planning and which aren't. You can make judgments on individual efforts in certain cases, and get a sense of what teams might be planning in terms of playing time and defensive and offensive alignments. But when we say a team looked good or bad in a preseason game, we are not making any predictions or judgments about the way the season will go based on that.
All of that said, after a week in which they got knocked around in free agency and faced questions about whether their offseason plan was sound or even extant, the Giants could have used a match that left them feeling good about things. Kind of like the one the Redskins had Friday.
They didn't get it.
Yeah, some good things happened in their
20-10 exhibition loss
to the
Carolina Panthers
.
Jason Pierre-Paul
was the star of the first half, looking fast, athletic and hungry as he recorded two sacks. Both punters looked good, third receiver candidates
Domenik Hixon
and
Victor Cruz
had nice moments, and
Michael Boley
ran back an interception for a touchdown on the first series of the game. But all in all, it wasn't a good night. There were tackling issues, communication issues and special teams issues. The backup offensive line was so bad that it may have gotten kicker
Lawrence Tynes
hurt.
Other than the Tynes thing, none of this is cause for any reason concern. Just because they were sloppy Saturday night doesn't mean anything about the season. I'm just saying, given the way their fans were feeling in the wake of the free-agent departures of
Steve Smith
, they could have used a better performance.
Here's some stuff I saw:
[+] Enlarge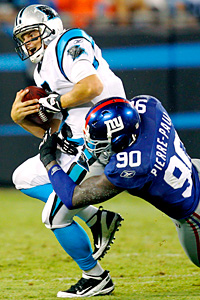 AP Photo/Chuck BurtonJason Pierre-Paul nabbed two sacks and could be a viable replacement if Osi Umenyiora continues to sit out.
1. Pierre-Paul looks like a monster.
The Giants' 2010 first-rounder has been getting a lot of snaps with the starters in practice with
Osi Umenyiora
sitting out, and he looked fantastic Saturday night. Two sacks, pressure on almost every play, quickness off the edge, athleticism, determination -- everything you want in a pass rusher. If Umenyiora wants to continue to sit out because of his contract, the Giants have some tape they can show him of a guy who looks like a very capable replacement. If Umenyiora wants to come back, the Giants have even more depth on the offensive line and can keep
Mathias Kiwanuka
at linebacker. Pierre-Paul's rapid development would be a very useful thing for the Giants.
2. Other good stuff from the defensive line.
We saw encouraging play from the defensive tackles, too, with
Chris Canty
getting into the backfield,
Rocky Bernard
getting a sack, rookie
Marvin Austin
playing well in the second half and the Giants generally producing a lot of pressure with their defensive front. As expected, they moved Kiwanuka up to the line in passing downs, and they did the same thing with
Adrian Tracy
when he replaced Kiwanuka in the second quarter. Tracy played well, helping generate the pressure that led to the Bernard sack as well as
Alex Hall
's. The Giants are looking for depth at linebacker, and Tracy could help if he plays like this.
3. The punters look good. The coverage? Not so much.
Matt Dodge
hit a couple of nice punts, including one that looked a little bit like a
Jeff Feagles
directional special. But
Steve Weatherford
was one of the best punters in the league the last couple of years and hits the ball farther than Dodge does. Could be tough for Dodge to win this competition. And regardless of who wins it, the coverage team will just have to do a better job. This is one area that actually does mean something in preseason, because the guys on special-teams coverage units should be playing hard and trying to win roster spots. They were miserable all night until Cruz came up with a big solo tackle on a punt return in the third quarter. A guy like
Michael Coe
, who has an opportunity with the Giants losing so much depth at cornerback, needs to come up bigger than he did on
Armanti Edwards
' long first return.
3a. Also, one punt-related question:
Why in the world did Tom Coughlin call for a 56-yard field goal attempt in the first quarter when Tynes is coming off knee surgery and he's trying to get a look at two punters? Just wondering. Seemed like a weird decision. Tynes, who is also the only kicker I've seen so far this preseason who hasn't been able to kick it through the end zone on kickoffs, missed the attempt.
4. William Beatty -- some good, some bad:
The new starting left tackle got manhandled a bit on the first two offensive series, looking overwhelmed and doing a lot of reaching and grabbing as he was getting beaten off the edge. But he seemed to settle in and looked much more authoritative and aggressive on the next few series. He stayed in longer than did the other starting offensive linemen, and it's no coincidence. Whether Beatty is ready to handle his new full-time job will go a long way toward determining how well the Giants handle their transition to this new offensive line assignment.
5. Brian Witherspoon was a bright spot.
The Giants' starting secondary looks as though it should be very good (though there did seem to be some communication issues there early on). The question is whether they have depth behind the starters, with
Prince Amukamara
and
Bruce Johnson
hurt. Witherspoon was a star of the second half on special teams as well as at cornerback. A guy to watch as the preseason rolls along.
6. Quick hits:
It was fun to watch top draft pick
Cam Newton
get his first game action for the Panthers. He beat Giants rookie
Tyler Sash
with a great throw on his first drive, but Sash and Coe made good plays to help keep him from capping that drive with a touchdown pass. ... It appears as though Hixon is the leader for that No. 3 receiver spot. He got a lot of work in the slot in the second half with
Sage Rosenfels
throwing to him. ... I thought
Danny Ware
looked all right as a third-down back catching screen passes. ... The word on Tynes was a thigh contusion, which is better than a knee injury for sure.
More on the Giants on Sunday, as you'll get my "Camp Confidential" report on them. Meantime, let me know what you thought.
September, 4, 2009
9/04/09
12:22
PM ET
| | |
| --- | --- |
| | |
| | Getty Images/Getty Images/Taylor Smith |
| | How much of a head start does AFC South blogger Paul Kuharsky need against the division's fastest men, including the Texans' Andre Davis (left) and the Titans' Chris Johnson (middle)? |

Posted by ESPN.com's Paul Kuharsky
NASHVILLE, Tenn. -- It's the kind of question I've heard come up over a couple beers in front of a game plenty of times, and one I'd asked in an NFL locker room to a couple of super-fast guys over the years to get a better understanding of their speed.
Put you at one goal line racing against me to the other goal line, and how much of a head start would I need to have even a chance?
During training camp, I set to work on your behalf on this project, a simple stand-in for a Regular Joe. I'm 40, 5-foot-9 and weigh around 190, which is 10 or 12 pounds too many. I like chocolate, and generally find it when I want it. And I want it all the time.
Soccer was my sport, but I haven't played in a couple of years. When I run, which isn't consistently enough, I find a soccer or football field and go sideline to sideline and back, then rest, usually 12 times total -- a fast sweat that takes usually only around 20 minutes, four or five songs on the iPod. I hustle, but have never been called fast.
My four AFC South opponents in this exercise are either universally regarded as the fastest player on their teams or are in the conversation: Titans running back
Chris Johnson
, Jaguars cornerback and return man
Brian Witherspoon
, Texans receiver
Andre Davis
and Colts safety
Matt Giordano
.
"Say that one more time, give me the scenario one more time," Jaguars coach Jack Del Rio says with a furrowed brow when I lay it out for him and ask him how he thinks I'd fare against Witherspoon. "I'm going to think realistically, probably for you, I'd give you maybe 60 yards to go and him a hundred, maybe a 40-yard head start.
"He's gonna get you. You've got to dig, man. Keep your head down and hope you don't blow a hammy. You're going to overextend, you're going to blow a hamstring, you're going to go down at about the 20 and not even finish."
When I talk to them during the preseason, I give each the basics: age, weight, maybe a bit about the unpredictable workouts. From there, I ask the four players to stereotype me off their eyeball tests. I don't offer much else, though I answer any further questions they have.
In my previous life as a newspaper reporter, I kicked field goals with Al Del Greco, dressed in a dog suit for a mascot camp, sold beer at a minor league baseball game and made it through a pre-combine workout with college prospects without throwing up. (OK, I'll admit mascot camp and beer vending weren't especially taxing. But it was hot inside that suit, and awfully humid at that game.)
Why, then, didn't I try to actually race these guys with the head starts they granted me?
Well, I wasn't about to ask the Titans if I could race Johnson after practice, knowing they'd worry about two things: Their hare managing to tweak something chasing this tortoise and their liability issues if I keeled over.
Instead, I gathered the necessary info in those chats. Then Wednesday, I headed to Carlton Flatt Field at Brentwood Academy in Brentwood, Tenn. Darren Mustin, a trainer at
D1 Sports
in Franklin, Tenn., who played high school ball here and was an Alabama linebacker, joined me with his trusty stopwatch. Five others from DI also joined us, making for an actual audience.
Mustin ran me through a warm-up he thought would significantly reduce my chances at fulfilling Del Rio's prophesy, talked with me a bit about my thinking regarding my start, timed my runs and coached me a bit between them, when he graciously gave me sufficient recovery time.
One important context acknowledgement here: Running these alone against the clock is a lot different than being tempted to look over my shoulder, feeling a professional athlete bearing down. There was no imitating that stress element.
Still, in the best simulation I could create, is it conceivable with the head starts given me I could beat an NFL speedster or two in a race?
Alge Crumpler
, who was part of my conversations with Johnson, gave me hope.
"Think about this, a slow-ass offensive lineman runs a 5.5 40," he says. "A normal fast guy runs a second under that. ... If you've only got to run 70 yards in 9 seconds, you can do that. You've got to be able to do that. We've got linemen who can do that."
Sounds good. Then he adds this, as if I am a slow Forrest Gump: "Put your head down, don't look up until you get 15 yards past the line and run. Don't worry about anything, just run."
Let's see, shall we? (Here are
more photos
of Paul in action.)
Giordano
| | |
| --- | --- |
| | |
| | Scott Boehm/Getty Images |
| | Colts defensive back Matt Giordano gave Kuharsky a 30-yard head start. |
While I urged everyone not to worry about my feelings as they considered my lack of speed, Giordano couldn't help himself.
"I don't know, I have to see you run," he says.
"Make assumptions and don't be polite," I push.
"I can't judge, I can't judge," he says. "We actually had this conversation with Dan Muir, our defensive tackle. We were saying if he had a 20-yard head start on a couple of the players who take the ranking of the fastest on the team, if we could catch him. Maybe I'd have to say with you, I'm hoping that you do have some speed. You look like you have a little speed."
"I'm going to run hard, but I am more of a hustler," I share.
"OK," he says. "That's tough. I'm going to have to say I've got to watch you on film before I make that call."
I tell him how Johnson and Witherspoon haven't held back.
He asks what they said.
I say it would violate the sanctity of the exercise to share their number before he names his.
He started out at 15 or 20 and when I show surprise -- probably a mistake given the context of this whole deal, sorry Matt -- he settled on 30.
The number out, as he's been such a nice guy, I now ask for his counsel on how best to "beat" a guy who estimates he can currently cover 100 meters in 10.3 seconds. (Don't worry about the meters, I'll account for the difference with the
help of this Web site
.)
"I wouldn't look back, we're taught never to look back when it comes to track," he said. "If I had to give you advice, I'd say focus on that goal line and don't look back. Give it all you got. ... That last 20 yards or so, that's going to be tough on you. It's tough on any runner who hasn't run that distance full speed in a long time.
"Football players, we're strong in our first 40s. From 40 to 60 I think that's where track athletes separate themselves, because they know how to run a full 100 meters."
I'm trying to arrange for a JumboTron, I tell him, so I can watch him closing on me while not turning around.
But the funding fell through.
One more tidbit before we get to the opening race: He says I'd fare better if we made it a 50-yard race, that if he started at midfield and put me at the 35, it would be close.
"But you might be a Rodney Dangerfield, you might have a lot more," he says. "You might be coming out there and smoking all of us."
Again, I say, look at me and judge the book by the cover.
Our first set of results:
Giordano's 100-yard time, converted from his 10.3 100-meter time: 9.418.
My time in a 70-yard sprint against that: 8.91.
Verdict: Narrow victory for PK. I'm 1-0. We really should wrap it up here. Aren't those storm clouds closing in?
Tip from Mustin: I need to explode more off of both feet at the start, not just off my back, right foot.
Davis
Inside the Texans practice bubble, Davis sizes me up and says he thinks he'd overtake me if he gave me a 35- or 40-yard head start. (I'm not running both, buddy.)
Because I can't remember the conversation I had 10 minutes earlier, I tell longtime offensive lineman
Chester Pitts
that Davis says he'd give me a 30- or 35-yard head start. Pitts says I'd need 40.
"No disrespect, you look like a superb athlete, you're in great physical condition, you look good," Pitts says. "But Andre Davis moves like the wind blows. You'll make it. You're definitely going to be down there sucking wind, but you can handle a 60-yard race, dead sprint."
Davis says the 100 is more his thing than the 40 because he's kind of a long strider.
Does he envision me as a long strider?
"Not so much," he says. "You're going to be that quick slot guy."
Not so much that either, I feel confident.
Heat two:
Davis' 100, converted from his 10.29 100-meter time in college: 9.409.
My time in a 65-yard sprint against that: 8.44.
Verdict: A win by nearly a second. A second feels like a lot in these conditions. It's the same as when I tell my wife I'll be there in a second, right?
Mustin's tip: I am too stiff in my upper body, arms and face, I need to be looser. But my "legs look good."
Johnson
Johnson doesn't hesitate. We had this conversation during OTAs. I circled back on Monday and he quickly said I could start at the 50.
"No, there is no doubt," he says when I ask if there is any chance he can't catch me in that setup.
"You're saying he can't run 50 yards in 10 seconds," Crumpler chimes in.
"Well, I don't think he can do it," Johnson says.
"You can't be twice as fast," veteran linebacker
Ryan Fowler
says.
"I'm just saying," Johnson says.
Crumpler thinks Johnson is way underestimating me, and says I should be at the 30. Fowler concurs.
There is a little more debate and discussion and then Johnson asks the exercise question.
"You were like, 'I'm 40, I'm overweight,' you've got to tell me that you exercise," he says.
Johnson amends his verdict and backs me up 5 additional yards. He'll spot me 45.
We bet a Coke. (Unless there is some NFL rule against it.)
Third try:
Johnson's 100-yard dash, which needs no converting because he knows it: 9.3.
My time in a 55-yard sprint against that: 7.31.
Verdict: The biggest margin of the day. Refer, please, to how I felt about a one-second margin against Davis, then double it. Crumpler and Fowler were right on target. If you use my 70 against Giordano against Johnson, I'd have "won" by just .39.
Mustin's tip: Before finding the right words, he slips and says I need to "re-loose," which I take as a new word the moment demanded to describe me in a relaxed, loose state while sprinting.
Witherspoon
| | |
| --- | --- |
| | |
| | Sam Greenwood/Getty Images |
| | The Jaguars' Brian Witherspoon thought he was twice as fast as Kuharsky. |
"About the 50," Witherspoon says. "I have no doubt, I'd beat you."
So looking at me, I ask, you don't think there is a good chance I could run 50 yards in under 10.1 seconds?
"Nah, not a good chance," said Witherspoon, who grew up dreaming of racing Deion Sanders and Darrell Green and went on to earn Division II All-America honors as a 100-meter track sprinter at Stillman. "I didn't think I would beat them, but I thought I'd keep up pretty good. Now that they are old, I'll get them. Tell Deion I want him."
Fifty yards sounds big, especially later when I talk to Crumpler and he says Usain Bolt isn't twice as fast as me.
Fourth go-round:
Witherspoon's 100-yard dash, converted from his 10.1 100 meter time: 9.235.
My time in a 50-yard sprint against that: 6.64
Verdict: Big win for PK.
Mustin's tip: He might have talked some, but all I could hear was my wheezing.
Crumpler
A bonus round with a player people don't look at -- apologies Alge -- and think "blazer."
Crumpler is listed by the Titans at 262 pounds, which is a very generous number. I've talked with him about his weight, he's said he's fine where he is doing what's asked, which is more blocking than catching these days. And honestly, he's looked good running with the ball in his hands this preseason.
Still, this is a guy I actually think I can beat with a head start.
"I'm a very fast big guy without having to change direction," he reminds me.
More conscious of the math of it all than any of the four fast guys, he said he'll spot me 20 yards.
So after I've done exhausting sprints of 70, 65, 55 and 50 yards, I take a starting stance -- if that's what you'd call it -- one last time at the 20-yard line.
Five for five is on the line:
Crumpler's 100 converted from his estimate of the low 11s, I used 11.3: 10.332.
My time in an 80-yard sprint against that: 10.60.
Verdict: A loss for me, and not even that close. Go figure. I guess a guy lacking supernatural speed has a better sense of the ground he, and others, can cover than some top-end speedsters might.
In conclusion: No, I did not yack. Yes, I am sore all over. No, I did not blow out a hamstring. Yes, I could be sleeping right now.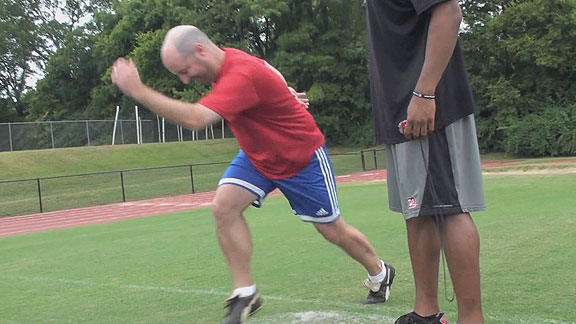 September, 19, 2008
9/19/08
4:33
PM ET
Posted by ESPN.com's Paul Kuharsky
Houston Texans (0-1) at Tennessee Titans (2-0), 1 p.m. ET

The Texans' inability to forge an identity since their inception is evident in their work against Tennessee. Houston is just 2-10 all-time against the Titans and has lost seven straight against them.
Matt Schaub was knocked out of both games last year and Sage Rosenfels did good work to rally the Texans, but they wound up swallowing three- and eight-point losses.
Schaub may be less likely to stand in and absorb a hit just after release than he's been in the past. Steve Slaton is expected to get the first turns at running back and if he can slip a couple of tackles at crucial moments he could really help the cause. But the Titans defensive line is tailor-made to counteract the Texans' zone-blocking run scheme. If Albert Haynesworth, Kyle Vanden Bosch et al are able to get off quickly at the snap and push the offensive line back, they believe they'll throw Houston off its plan.
Kerry Collins fought fierce winds last week in Cincinnati. Barring such circumstances, we should get a better read on how the Titans' pass-targets respond to him as the starter. He needs only 90 yards passing to reach 35,000 for his career. When he gets there, he'll be the 15th quarterback all-time to hit the number and join Brett Favre and Peyton Manning as the only active players who've hit the mark.
The Titans shouldn't need Collins to do much: Including the playoffs, the Titans have limited opponents to 17 or fewer points in six consecutive games.
Tennessee has the league's worst special-teams coverage units. If Houston's to spring an upset, a big return from Andre Davis or Jacoby Jones could be part of the formula.
Jacksonville Jaguars (0-2) at Indianapolis Colts (1-1), 4:15 p.m. ET

Beat-up offensive lines are the big issue in this game. Both teams will have three fill-ins at work. The team that can find run room and better protect its passer should have the edge. Jeff Saturday's return at center should help bolster the Colts.
Jacksonville retooled its secondary in the offseason, largely to be able to match up better with the Colts. Brian Williams, who's got a lot of experience as a cornerback, is the strong safety with Rashean Mathis and Drayton Florence at the corner spots. The way the Colts deploy Marvin Harrison, Reggie Wayne, Anthony Gonzalez and Dallas Clark is no secret -- though last week they put Wayne in the slot some with Gonzalez outside. How does that secondary react to those targets and can the Jaguars find ways to get Peyton Manning off rhythm?
Defensive coordinator Gregg Williams likes to blitz, but that's rarely proven an effective way to fluster Manning, who simply connects with hot reads. This is just the type of scenario for which the Jaguars drafted Derrick Harvey and Quentin Groves. Can the rookies get into the backfield?
The return games feature two intriguing rookies -- Justin Forsett for the Colts and Brian Witherspoon for Jacksonville. The Jags have covered better so far.
The Colts have won five of the last six matchups, and the Jaguars have not won at Indianapolis since Oct. 24, 2004.
September, 12, 2008
9/12/08
4:01
PM ET
Posted by ESPN.com's Paul Kuharsky
Indianapolis Colts (0-1) vs. Minnesota Vikings (0-1), 1 p.m. ET

The Colts, who aren't used to losing in September at all, are at risk of falling to 0-2 if they don't show a big improvement over their Week 1 performance against Chicago.
Expect Peyton Manning to look much more comfortable if he's not under constant pressure, which is the key story line of this game. Center Jeff Saturday appears to be on track to return from a knee injury, and while the won't be 100 percent, he will improve the offenses chances of handling the Vikings' intimidating interior line duo of Pat Williams and Kevin Williams.
The key is in the middle for the Colts defense as well. Ed Johnson got in trouble and got himself cut. Undrafted rookie Eric Foster will step in. Can he and the ends, who will slide inside as part of the mix, hold up against left guard Steve Hutchinson and center Matt Birk, two crafty veterans whose job is to create creases for Adrian Peterson?
Buffalo Bills (1-0) vs. Jacksonville Jaguars (0-1), 1 p.m. ET
If the Jaguars are to level their record at 1-1, the defense may need to carry the day. Young quarterback Trent Edwards can be rattled, and Jacksonville defensive coordinator Gregg Williams will use his rookie ends Quentin Groves and Derrick Harvey some and he will blitz some, though his biggest blitz last week backfired on Kerry Collins' first snap. But Edwards may have Jason Peters back protecting his blindside.
Jacksonville should look to run outside the majority of the time. A patchwork interior defensive line could struggle working against Marcus Stroud, a guy with something to prove in Northeastern Florida. David Garrard is one interception away from matching his 2007 season total. Matt Jones needs to continue to get separation and be a physical target.
This could be a great game for returners with Roscoe Parrish ever dangerous for Buffalo and Brian Witherspoon coming off an excellent debut. The Bills will cover better.
Tennessee Titans (1-0) vs. Cincinnati Bengals (0-1), 1 p.m. ET

The Titans put up a real dud in Cincinnati last season, getting shelled 35-6. But Carson Palmer played poorly last week and the Titans rush is coming off a seven-sack game, all from the line. If Albert Haynesworth is good to go, and I think he'll be back from a concussion that cost him some time against Jacksonville, the Titans should harass the quarterback again. Only shoddy tackling would make for poor run defense.
The Bengals best chance here comes if they can find a couple of plays that flip the field or produce points from the defense and special teams. Right defensive end Antwan Odom jumped from Tennessee to Cincinnati as a free agent and will be eager to get past Michael Roos and to make some noise.
September, 8, 2008
9/08/08
11:05
AM ET
Posted by ESPN.com's Paul Kuharsky
Opening day included some surprises, and at 1-0 the Titans sit atop the division for the first week.
Here's what they're saying in Houston, Indianapolis, Jacksonville and Nashville.
Something on your mind? Feel free to hit the mailbag.
Houston Texans
Indianapolis Colts
Jacksonville Jaguars
Tennessee Titans
August, 19, 2008
8/19/08
8:31
AM ET
Posted by ESPN.com's Paul Kuharsky
Our morning stroll though the AFC South...
Like something? Hate something? Did I miss something? Send links, complaints, praise, ideas and chocolate to me here.
Houston Texans
Indianapolis Colts
Jacksonville Jaguars
Tennessee Titans
August, 12, 2008
8/12/08
9:31
AM ET
Posted by ESPN.com's Paul Kuharsky
Greetings from Jacksonville. In order to join the Jaguars Tuesday morning, this edition of Reading the coverage is of the quick-hitting variety...
Houston Texans
Indianapolis Colts
Jacksonville Jaguars
Tennessee Titans
August, 1, 2008
8/01/08
9:11
AM ET
Posted by ESPN.com's Paul Kuharsky
Morning distraction: My background noise at the Jacksonville Marriott, Good Morning America, just informed me there is a workout pill that's replaced exercise for mice. Sign me up for the human trial. Also, a big undercover investigation revealed some smoothies are more fattening than you think. Shocker.
OK, while we anticipate the Jaguars' scrimmage Friday night, and hope the rain will be gone by then, we move on to our Good Morning AFC South look around the league.
Houston Texans
Indianapolis Colts
Jacksonville Jaguars
Vito Stellino talks with Fred Taylor, who went to the Super Bowl last year. Taylor doesn't think he will do it again if the Jaguars aren't playing in the game.
Tanya Ganguli writes that Jaguars rookie cornerback Brian Witherspoon claims he ran a 4.19 in college. Who was working that stopwatch?
The Times-Union says John Henderson was a little testy Thursday night. I saw for myself -- when he gets hot, he stays hot.
Tennessee Titans
Jim Wyatt says receiver Justin McCareins prefers Nashville or the Midwest to New York. And Mike Heimerdinger says McCareins isn't tensing up before practice any more.
Terry McCormick figured out that new Titans receiver Chris Davis and the receiving Chris Davis who was already on the roster actually played together as 8-year-olds on the Lakewood Junior Spartans in St. Petersburg, Fla.
Gary Estwick looks at rookie defensive lineman Jason Jones' learning curve on interior handiwork.

NFL SCOREBOARD
Thursday, 9/25
Sunday, 9/28
Monday, 9/29
WEEKLY LEADERS