October, 26, 2010
10/26/10
2:37
PM ET
By
Matt Mosley
| ESPN.com
A CT scan Tuesday morning determined that
Dallas Cowboys
quarterback
Tony Romo
will
likely miss six to eight weeks
, multiple sources have told ESPN.com. And the timetable is probably closer to eight weeks,
a source told ESPNDallas.com's Calvin Watkins
.
Romo suffered the injury in the second quarter of
Monday's 41-35 loss
to the
New York Giants
when linebacker
Michael Boley
came free on a blitz and buried the quarterback's shoulder into the ground. Boley said he heard a "little scream," which always seems like a bad sign.
I'm sure the Cowboys will wait a few weeks and see what this team does with
Jon Kitna
at the helm before deciding whether to place Romo on injured reserve. It's hard to imagine running Romo out there if this team is 3-10, but I'm sure he'll push for a return. He wanted to return to the field Monday night.
"I tried lifting my shoulder and it hurt like heck, but I was like, OK, it will just keep getting better," said Romo. "The adrenaline of the game will allow me to [play], it's my left shoulder, I don't need to use it too much. I will figure out a way what I can handle when I'm out there, but that was before I knew it was broken."
Cowboys associate athletic trainer Britt Brown took charge on the sideline and wouldn't allow Romo back on the field. Brown and Romo will spend several hours a day together for the next few weeks because he's in charge of rehabilitating players. Brown is considered one of the best in the league and it will be interesting to see how aggressive he is with Romo's rehab work.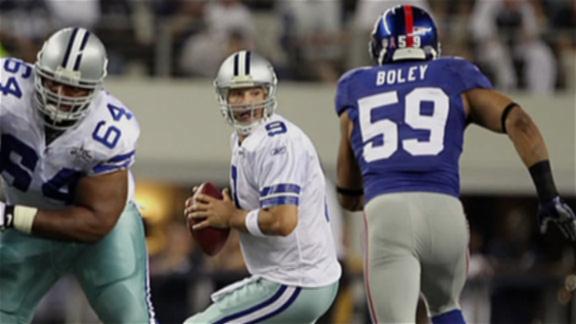 November, 26, 2009
11/26/09
11:30
PM ET
By
Matt Mosley
| ESPN.com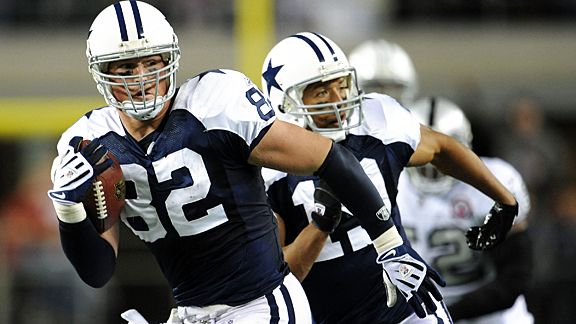 Ronald Martinez/Getty ImagesJason Witten caught five passes for 107 yards in Thursday's win over the Raiders.
ARLINGTON, Texas --
Jason Witten
has missed one game in his career, and that's because his broken jaw had been wired shut in his rookie season in 2003. But when he sprained his left foot in the first half of Sunday's win over the Redskins, there was a good chance he was going to sit out the Thanksgiving game.
And that's why Witten visited offensive coordinator Jason Garrett's office numerous times this week to make sure he wasn't left out of the game plan. The Pro Bowl tight end left Cowboys Stadium in a walking boot Thursday evening, but not before he had five catches for 107 yards in the Cowboys'
24-7 win over the Raiders
.
"He was adamant right from the start that he was playing," said Garrett. "He must have come by my office or circled around my office probably around 20 times during the last three days. 'Coach, you know I'm playing.' I kept telling him, 'Look at the game plan. There are a lot of Witten plays in the game plan. Don't worry, we know you're playing.' It's just what he's all about. That guy tries to be great every day, every play and with everything he does."
The Cowboys overwhelmed the Raiders' talented defense with big plays in the running and passing game. Their most catalytic wide receiver,
Miles Austin
, returned to form with seven catches for 145 yards and a touchdown, but Witten remains
Tony Romo
's most reliable weapon. His average-per-catch is down this season, but he's still the player defensive coordinators worry about the most.
[+] Enlarge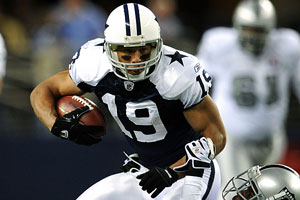 Ronald Martinez/Getty ImagesMiles Austin torched the Oakland secondary for 145 yards and a touchdown.
And I think his willingness to play through a painful foot injury meant a lot to an offense that had scored a combined 14 points in the previous two games. He'd never admit it publicly, but the thought of playing a game with
Martellus Bennett
and
John Phillips
riding herd over the team's much-publicized double-tight end formation had to scare Garrett. Witten has a calming influence on Romo and this offense as a whole.
After the game, Witten said he felt guilty about keeping athletic trainers Jim Maurer and Britt Brown at work so long this week. He admitted that he was nowhere close to being ready to play Monday, but by Tuesday he started to feel some improvement. Coach Wade Phillips asked Witten several times during the week how he was feeling and told him he needed an honest answer.
"Today during pregame he said he didn't really feel it," Phillips said. "He said he was ready to play. He said he wouldn't lie to me, so I think it wasn't quite as bad as we first thought. He and Tony are a heck of a combination."
Added Romo: "The fact that he is as competitive as he is makes him twice the talent. ... He was playing. I told him he was playing."
Romo and Witten know all too well that the big-boy portion of the schedule is about to arrive. The Cowboys may have a head of steam heading into December with an 8-3 record, but they know it's a month that has haunted them for years. Since taking over as quarterback in 2006, Romo is 5-10 in December and January, including two playoff losses. Dating back to the Chan Gailey glory years (1999), the Cowboys are 17-29 in December.
Unfortunately, you can only play the Raiders once every few years. After a 10-day grace period, the Cowboys will play the Giants, Chargers and Saints. At the end of that stretch, the Cowboys will either be ready to roar into the playoffs or searching for wild-card crumbs. Some players claim that this team is different than the ones in the past that have struggled during the holidays, but there's only one way to find out.
"They are a close-knit group," Phillips said of the '09 edition. "Our guys are not selfish. They are very focused. I could tell it this week and I think they will continue that. They are the kind of group you love to coach. It is not a big ego group, but it is a group that pulls together and pulls for each other on offense, defense and special teams."
Perhaps Phillips is onto something. Coming off a 13-3 season in 2007, last year's team had a sense of entitlement unparalleled in this league. On more than one occasion, I heard players talk about wanting to flash forward to the playoffs. This team has attempted to stay in the present, and with eight wins, that strategy seems to be paying off.
When the Raiders briefly tried to make a game of it in the second half, Romo connected with Witten on a crossing route that went for 44 yards and set up the Cowboys' third touchdown. As he raced down the middle of the field, there was no way to detect that he'd barely been able to put any weight on his left foot three days earlier. It was one of five plays for the Cowboys that went for more than 40 yards, and it ended any hope of a
Bruce Gradkowski
-inspired comeback.
I'm pretty sure the Cowboys had enough talent to beat the Raiders without Witten, but it's a chance they never wanted to take.