March, 11, 2013
3/11/13
1:37
PM ET
Tuesday is the deadline for teams to put tender offers on restricted free agents, guys who have played for three years and have expiring contracts.
There are three levels of tenders:
$2.879 million comes with a first-round draft pick attached as compensation
$2.023 million comes with a second-round draft pick attached as compensation
$1.323 million comes with an original-round draft pick attached as compensation
If another team negotiates an offer sheet with a restricted free agent, the original team can choose to match the offer or let the player go for the corresponding draft pick. Tender numbers count against the cap, so teams must have the room carved out and ready for a player to sign the offer.
Here's a team-by-team look at RFAs and their status as we know it.
Houston
OT
Andrew Gardner
(status unknown)
Indianapolis
LB
A.J. Edds
(not tendered), G
Seth Olsen
(not tendered), CB
Cassius Vaughn
($1.323 million), G
Jeff Linkenbach
($1.323 million)
Jacksonville
DE
George Selvie
, FB
Brock Bolen
, C
John Estes
, WR
Jordan Shipley
, LB
Kyle Bosworth
, TE
Zach Potter
Ryan O'Halloran of the Florida Times-Union has reported
none will be tendered
.
Tennessee
C-G
Fernando Velasco
($2.023 million
per Jim Wyatt
of The Tennessean).
September, 3, 2011
9/03/11
4:24
PM ET
Running back
Rashad Jennings
tweeted
that his knee injury prompted the Jaguars to place him on injured reserve.
So Jacksonville officially has depth concerns at running back.
Maurice Jones-Drew
is coming off knee surgery and did little in the preseason, appearing only in the finale. The team has talked about lightening his load, and the primary guy to do that was going to be Jennings.
Deji Karim
is a nice change-up back, but the team could now look for a bigger guy as insurance for Jones-Drew, and to take some of his work on first and second down.
Jacksonville media pressed Jack Del Rio recently about the running back plan if Jennings wasn't ready for the Sept. 11 opener against the Titans.
Here's that exchange:
If Rashad Jennings is not ready for the opener, how confident are you in Deji Karim to be the backup? Talk about him and his readiness if he has to be the number two guy.

Del Rio: "I feel great about our backfield. I think we have depth. I think we have productive guys that will step up and play big for us. Deji is one of them. I think you'll see an increased role with Montell (Owens), an increased role with Brock (Bolen). But Deji in particular has been very explosive this preseason. He's got some real quicks, he's got great vision and he's been improved in all facets of his game. And the thing that stands out is the explosive element that he brings."

So Brock Bolen and Montell Owens will carry the ball more?

"Yes, they'll be involved."

What's your thinking there?

"Just using our talent, just using the players we have."

So does that mean Maurice Jones-Drew won't have quite as many carries as he has in the past?

"No, that means that Maurice is still going to get his load but the question was asked if Rashad is not able to go, how will we fill that and I spoke about that."

So Deji Karim, Brock Bolen and Montell Owens will be the backups?

"Yeah, we like the whole group top to bottom."
It's hard to get excited about carries for Owens, a fullback who works as a special-teams ace or Bolen, also a fullback. Surely it was an oversight that Del Rio didn't mention a longtime favorite, starting fullback
Greg Jones
. Frankly, no team should ever carry three fullbacks.
The Jaguars need a second or third option who's spent time carrying the ball.
September, 19, 2010
9/19/10
3:43
PM ET
SAN DIEGO -- The Chargers just announced their inactive players for Sunday's game against Jacksonville.
Inside linebacker
Stephen Cooper
is out with a knee injury. He will be replaced by
Brandon Siler
.
Outside linebacker
Shawne Merriman
is active after being out three-plus weeks with an Achilles injury. However, second-year player
Larry English
is starting. Merriman has had limited practice time since ending his holdout in mid-August. He was injured shortly after his holdout ended.
Here are the complete inactive lists for both teams:
San Diego
Jacksonville
September, 4, 2010
9/04/10
10:29
PM ET
Check
here
for a full list of Jacksonville's roster moves.

Biggest surprises:
Three undrafted rookies won spots -- offensive tackle
Kevin Haslam
, defensive end
Aaron Morgan
and linebacker
Jacob Cutrera
. Getting anything for
Reggie Nelson
was big, and GM Gene Smith managed to send the safety to Cincinnati for
David Jones
. That's a surprise. That they also cut another veteran safety,
Gerald Alexander
, before adding one, also qualifies as a surprise. They seem sure to add someone in the coming days. Right now the starting pairing would come from
Anthony Smith
,
Sean Considine
,
Tyron Brackenridge
and
Courtney Greene
. I bet
Peyton Manning
and
Matt Schaub
endorse that. It's not clear who the third wide receiver will be with
Troy Williamson
gone.
Atiyyah Ellison
was a feel good story a year ago, now he's gone too. The team has three fullbacks with
Greg Jones
,
Montell Owens
and
Brock Bolen
.
Kynan Forney
was competing for a starting guard job, lost it and lost his place on the team.
No-brainers:
Not a ton. Three linebackers --
Teddy Lehman
,
Alvin Bowen
and
Tony Gilbert
-- of a weak group of reserves didn't make it and another (
Kyle Bosworth
) was placed on IR.
What's next:
Work at safety, first and foremost. The Jaguars will be thorough in their examination and consideration of the waiver wire and free agents. They have room at the back of the roster for upgrades. After safety, look for linebacker to be the spot that gets the most attention as the Jaguars have just five on the roster.
September, 2, 2010
9/02/10
11:55
PM ET
Some bullet-point thoughts on the Jaguars' 13-9 preseason win over Atlanta on Thursday night.
With Anthony Smith among the players held out, Courtney Greene got a start at strong safety. He nailed running back Antone Smith, forcing and recovering a fumble. The Jaguars forced three fumbles, recovering two.
Rookie fullback Brock Bolen completed his bid for a roster spot with a 16-yard scoring run, the only touchdown of the game.
Josh Scobee hit field goals of 40 and 49 yards to complete a perfect preseason (nine of nine).
Jacksonville's average drive start was the 32-yard line, 10 yards better than Atlanta's.
The offense was just three for 14 on third down.
The defense didn't record a sack.
December, 17, 2009
12/17/09
12:21
PM ET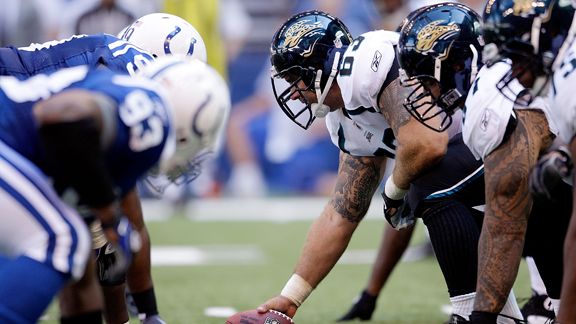 Andy Lyons/Getty ImagesThe Jaguars will be anxious to see how they measure up against the undefeated Colts Thursday night.
The Jaguars have a sellout, so Thursday night north Florida will be able to see a home game for the first time this season. Please hold any NFL Network availability cracks -- it'll be broadcast by the local Fox affiliate, too.
So here is the big moment for Jack Del Rio's team, overachievers who have been outscored by 52 points this season but have scrapped, survived inconsistency and positioned themselves at 7-6 to be the AFC's sixth playoff team.
To maintain that status, the Jaguars must do something no other team has done this season: beat the Colts. A young Jaguars team came close on opening day at Lucas Oil Stadium,
dropping a 14-12 decision
. Now we get to see how much better the Jaguars measure up against a team they want to emulate.
"Our goal is certainly to become what they are," first-year general manager Gene Smith told me last week. "That's what we're striving for."
A year ago in a Thursday night game
in Jacksonville,
Peyton Manning
clinched his third MVP award.
The Jaguars have struggled to pressure the passer most of the season and hardly have a loaded secondary. As in all games against the Colts, Jacksonville's methods for slowing the quarterback will be a major theme.
Here are half a dozen other things I'll be watching for or conscious of at Jacksonville Municipal Stadium:
Who benefits from the short preparation week?
Given less time to prepare, I lean in favor of the team with more weapons all the time. The Colts are stacked in that category. I'd rank
Reggie Wayne
,
Dallas Clark
,
Austin Collie
,
Joseph Addai
and
Pierre Garcon
as playmakers who belong in the "dangerous" or "extra dangerous" category. I'm not sure, even if
Rashean Mathis
is back from his groin injury, the Jaguars have enough quality defensive backs to slow those weapons.
The Jaguars, meanwhile, have only two players who fit the category based on resume and production:
Maurice Jones-Drew
and
Mike Sims-Walker
.
The team that has more to figure out how to defend is at a disadvantage in a short week. I also think the Jaguars were involved in a more physical game in last Sunday's loss to Miami than the Colts were in a win over Denver.
How much do the Colts rest?

The company line is they'll play like usual with some exceptions for guys who are injured. Cornerback Jerraud Powers was on the early list of players who are out, and defensive ends Dwight Freeney and Robert Mathis didn't practice this week and are questionable. Take the two pass-rushers and a key coverage guy out of the mix and the Colts are hardly the same defense. But Raheem Brock can be productive as an edge rusher and Keyunta Dawson would be in line for his most playing time.

Rookie tackles Eugene Monroe and Eben Britton, terrorized in Week 1 by Freeney and Mathis, will be pleased. If they can offer better protection and give David Garrard some time to make good decisions, the Jaguars have a much improved chance.

Fourth-down action

Before going for it on fourth down came into such vogue this year, Del Rio was already aggressive with it. This season the Jaguars have converted half of their 16 tries.

The Colts have been a very good fourth-down defense this season, especially recently. We all remember the Patriots' failed fourth-down attempt deep in their own territory when trying to preserve a late lead back on Nov. 15.

According to ESPN Stats & Information ace Marty Callinan, Indy has allowed just one fourth-down conversion in 11 attempts over its last nine games.

Houston converted a fourth-and-1 in Week 9. Since then, it's five consecutive games for Indy without allowing one. In the last two games, the Titans and Broncos each tried unsuccessfully three times.

Overall, the Colts' fourth-down defense has held offenses to a 29.4 percent conversion rate.

If it comes down to a kicker…

Josh Scobee's just 16-of-24 on field goals this year for the Jaguars. His big leg would figure to be the best thing going for him, but he's only 5-of-12 from 40 yards or longer this season. Jacksonville needs him to hit everything he's asked to try in this one.

The Colts know they aren't going to get great distance out of Matt Stover, who's in his 20th year. He's hit two of three tries over 40 yards in seven games. Get him inside of 40 and he's the guy in this game I'd rather take my chances with.

Does MJD miss Greg Jones?

The Jaguars love their fullback, but Jones is out of this game with an ankle injury. That means special-teams ace Montell Owens or Brock Bolen, just signed off the practice squad, will be leading the way for Jacksonville's best weapon. In seven games against Indy, Jones-Drew has an average of 6 yards a carry, five games of at least 91 rushing yards and six touchdowns.

His eight total touchdowns -- six rushing, one receiving and one as a returner -- are the most against the Colts by any individual since 2006.

Minimal flags

The Jaguars are the league's least penalized team (62), and the Colts are tied for second (63).

Let's hope we didn't just jinx that and assure ourselves of a sloppier, slower game.