NFL Nation:

Brooks Foster
May, 11, 2013
5/11/13
12:03
PM ET
Aaron Curry
's recent
signing
with the
New York Giants
invites a look back at the 2009 NFC West draft class, painful as it might be in some cases.
Four of the 29 players NFC West teams selected in that draft remain with their original teams:
Michael Crabtree
in San Francisco,
James Laurinaitis
in St. Louis,
Max Unger
in Seattle and
Rashad Johnson
in Arizona.
Unger is the only one of the 29 to earn Pro Bowl honors. Unger and Laurinaitis are the only ones to receive long-term contract extensions from their original teams.
NFC West teams have fired the head coaches and general managers associated with those 2009 selections.
Reasons for those firings went far beyond the 2009 draft, of course. Still, the massive turnover since that draft reflects poorly on what was, by most accounts, a weak class across the league. It also shows how frequently personnel turns over in the NFL. The league has 21 new head coaches and 19 new general managers since the 2009 season concluded.
Curry was widely considered the "safest" choice in that 2009 draft as a fearsome linebacker from Wake Forest. Seattle would trade him to Oakland for seventh- and fifth-round picks before Curry had finished his third season.
Jason Smith
, chosen second overall by St. Louis in 2009, supposedly had a mean streak and was a natural leader. The Rams would trade him to the
New York Jets
for
Wayne Hunter
after three disappointing seasons.
Beanie Wells
came to the Cardinals in the first round of that 2009 draft pretty much as advertised: highly talented, but not very durable. The Cardinals released him this offseason, and Wells remains unsigned amid questions about his knee.
2009 was also the year Arizona sought to upgrade its pass-rush by selecting Cody Brown in the second round. The 49ers tried to improve their depth at running back by using a third-round choice for
Glen Coffee
. Brown would never play in an NFL game. Coffee would retire after one season.
The chart shows how many regular-season NFL starts each 2009 NFC West draft choice has made, regardless of team.
April, 21, 2011
4/21/11
11:27
AM ET
Larry Fitzgerald
's arrival with the
Arizona Cardinals
via the 2004 NFL draft serves as the starting point for the latest item looking at
recent NFC West choices
.
Fitzgerald already has 613 receptions, far more than any other NFC West receiver over the last seven seasons.
In fact, the wide receivers with the most receptions for the Cardinals' division rivals during the same time period --
Torry Holt
(St. Louis),
Bobby Engram
(Seattle) and
Arnaz Battle
(San Francisco) -- have long since moved on. I ran across Engram in the 49ers' main lobby Wednesday; he's a quality control coach with the team.
History tells us receivers carry more risk than some other positions. For every Fitzgerald, there seems to be a
Koren Robinson
, David Terrell or
Troy Williamson
-- high picks that never came close to realizing their potential.
Mike Williams
' revival with Seattle last season was an exception.
The charts break down every receiver NFC West teams have drafted since 2004. Will the
St. Louis Rams
add Julio Jones to their list of drafted wideouts?
As in the past, I'll preface each chart with thoughts from the teams' perspectives.
Immediate needs don't matter so much when front-line talent is available ...
Time to start finding replacements for veterans who might not fit into our plans (Terrell Owens for the 49ers, Isaac Bruce and Torry Holt for the Rams) ...
These guys might not start, but every team needs secondary options in the passing game ...
We're getting late enough in the draft to consider grabbing a receiver while a few with decent potential remain on the board ...
Time to fill out the roster and hope we find depth for special teams ...
March, 28, 2011
3/28/11
5:22
PM ET
The
St. Louis Rams
needed more offensive firepower last season, particularly at wide receiver.
That was
obvious at critical moments
.
Left unsaid: The Rams have addressed the position. Since 2008, the team has used three draft choices in the first four rounds to select wideouts, tied with six other teams for second-most in the league. But
Donnie Avery
(2008 second round),
Keenan Burton
(2008 fourth round) and
Mardy Gilyard
(2010 fourth round) combined for six receptions last season.
Avery is
doing much better
following reconstructive knee surgery. Burton is off the roster and has not played in a regular-season NFL game since suffering a torn patella against New Orleans in 2009. Gilyard is recovering from wrist surgery after playing little and failing to catch a pass in the Rams' final 10 games.
The chart shows how many skill-position players NFL teams have drafted in the first four rounds since 2008. I excluded tight ends because some project more as blockers.
I'll break them out by NFC West team:
[+] Enlarge

Christian Petersen/Getty ImagesSam Bradford is coming off a record-breaking rookie season in which he threw for over 3,500 yards.
I singled out the first four rounds because those choices are more valuable.
NFC West teams have found some bargains at the skill positions in the later rounds since 2008, including:
Tim Hightower
,
LaRod Stephens-Howling
and possibly
John Skelton
in Arizona;
Josh Morgan
and
Anthony Dixon
in San Francisco and
Justin Forsett
in Seattle.
The Rams' late-round selections --
Keith Null
, Chris Obgonnaya and
Brooks Foster
-- no longer play for the team.
September, 8, 2010
9/08/10
2:21
PM ET
Roster turnover is a leading topic for discussion in Seattle following the release of
T.J. Houshmandzadeh
in particular.
I've addressed the subject in depth across the division -- first
May 26
and again
July 30
-- and it's worth another look now that teams have reduced to 53 players for the regular season.
This time, I'm going to break down the changes by position, listing players no longer on the active roster at each main position group (with new players in parenthesis). Departures outnumber replacements because some players finished last season on injured reserve, meaning they were not part of the 53-man roster.
Some players no longer on the active roster remain with the team (they could be suspended, deemed physically unable to perform or part of the practice squad).
St. Louis Rams (34 off roster)

Defensive back:
Eric Bassey
,
Quincy Butler
,
Danny Gorrer
,
Clinton Hart
, Cordelius Parks,
David Roach
,
Jonathan Wade
(added
Kevin Dockery
,
Jerome Murphy
,
Darian Stewart
)
Defensive line:
Victor Adeyanju
,
Adam Carriker
,
Leger Douzable
,
Leonard Little
,
LaJuan Ramsey
,
James Wyche
(added
Jermelle Cudjo
,
Fred Robbins
,
George Selvie
,
Eugene Sims
)
Linebacker:
K.C. Asiodu
,
Paris Lenon
(added
Na'il Diggs
,
Josh Hull
)
Offensive line:
Roger Allen
,
Alex Barron
,
Ryan McKee
,
Mark Setterstrom
,
Phillip Trautwein
,
Eric Young
(added
Renardo Foster
,
Hank Fraley
,
Rodger Saffold
)
Quarterback:
Kyle Boller
,
Marc Bulger
,
Keith Null
,
Mike Reilly
(added
Sam Bradford
,
A.J. Feeley
,
Thaddeus Lewis
)
Running back:
Samkon Gado
,
Chris Ogbonnaya
(added
Keith Toston
)
Special teams:
Ryan Neill
Tight end:
Randy McMichael
(added
Mike Hoomanawanui
,
Fendi Onobun
)
Wide receiver:
Donnie Avery
,
Keenan Burton
,
Brooks Foster
,
Jordan Kent
,
Ruvell Martin
(added
Mark Clayton
,
Dominique Curry
,
Mardy Gilyard
)
---
Seattle Seahawks (33 off roster)

Defensive back:
Jamar Adams
,
Deon Grant
,
Ken Lucas
,
Josh Wilson
(added
Kam Chancellor
,
Kennard Cox
,
Nate Ness
,
Earl Thomas
,
Walter Thurmond
)
Defensive line:
Lawrence Jackson
,
Patrick Kerney
,
Cory Redding
,
Nick Reed
,
Darryl Tapp
,
Craig Terrill
(added
Kentwan Balmer
,
Raheem Brock
,
Chris Clemons
,
Dexter Davis
,
Junior Siavii
,
E.J. Wilson
)
Linebacker:
Leroy Hill
,
Lance Laury
,
D.D. Lewis
(added
Matt McCoy
; note that Hill is suspended for the first regular-season game)
Offensive line:
Trevor Canfield
,
Brandon Frye
,
Walter Jones
,
Damion McIntosh
,
Rob Sims
,
Steve Vallos
,
Ray Willis
,
Mansfield Wrotto
(added
Stacy Andrews
,
Evan Dietrich-Smith
,
Ben Hamilton
,
Russell Okung
,
Chester Pitts
,
Tyler Polumbus
)
Quarterback:
Mike Teel
,
Seneca Wallace
(added
Charlie Whitehurst
)
Running back:
Justin Griffith
,
Louis Rankin
,
Tyler Roehl
,
Owen Schmitt
(added
Quinton Ganther
,
Michael Robinson
,
Leon Washington
)
Special teams:
Kevin Houser
,
Jeff Robinson
(added
Clint Gresham
)
Tight end:
John Owens
(added
Chris Baker
,
Anthony McCoy
)
Wide receiver:
Nate Burleson
, T.J. Houshmandzadeh (added
Golden Tate
,
Mike Williams
)
---
Arizona Cardinals (24 off roster)

Defensive backs:
Ralph Brown
,
Bryant McFadden
,
Antrel Rolle
(added
A.J. Jefferson
,
Trumaine McBride
,
Brandon McDonald
,
Kerry Rhodes
)
Defensive line:
Jason Banks
(added
Dan Williams
)
Linebacker:
Monty Beisel
,
Bertrand Berry
,
Cody Brown
,
Karlos Dansby
,
Gerald Hayes
,
Chike Okeafor
,
Pago Togafau
(added
Paris Lenon
,
Cyril Obiozor
,
Joey Porter
,
Daryl Washington
; Hayes can return from the physically unable to perform list after six games)
Offensive line:
Mike Gandy
,
Herman Johnson
,
Reggie Wells
(added
Alan Faneca
,
Rex Hadnot
)
Quarterback:
Matt Leinart
,
Brian St. Pierre
,
Kurt Warner
(added
Derek Anderson
,
Max Hall
,
John Skelton
)
Running back:
Justin Green
,
Dan Kreider
(added
Jerome Johnson
)
Special teams:
Neil Rackers
(added
Jay Feely
)
Tight end:
Anthony Becht
(added
Jim Dray
)
Wide receiver:
Anquan Boldin
,
Sean Morey
,
Jerheme Urban
(added
Andre Roberts
,
Stephen Williams
)
---
San Francisco 49ers (24 off roster)

Defensive backs:
Dre' Bly
,
Walt Harris
,
Marcus Hudson
,
Mark Roman
(added
Phillip Adams
,
Tramaine Brock
,
William James
,
Taylor Mays
)
Defensive line:
Kentwan Balmer, Derek Walker
Linebacker:
Scott McKillop
,
Jeff Ulbrich
,
Matt Wilhelm
(added
NaVorro Bowman
,
Travis LaBoy
)
Offensive line:
Tony Pashos
,
Chris Patrick
,
Cody Wallace
(added
Alex Boone
,
Anthony Davis
,
Mike Iupati
)
Quarterback:
Nate Davis
,
Shaun Hill
(added
David Carr
,
Troy Smith
)
Running back:
Thomas Clayton,
Glen Coffee
,
Brit Miller
, Michael Robinson (added
Anthony Dixon
,
Brian Westbrook
)
Special teams:
Shane Andrus
,
Ricky Schmitt
Wide receiver:
Arnaz Battle
,
Isaac Bruce
,
Jason Hill
,
Brandon Jones
(added
Ted Ginn Jr.
,
Kyle Williams
,
Dominique Zeigler
)
---
The first chart shows how many players are back -- at least for now -- from Week 17 rosters and injured reserve lists. Seattle has the fewest number back with 26.
The second chart shows how many players each team has shed since Week 17 last season. This counts players who were on injured reserve. Teams with lots of players on injured reserve had more players to lose.
July, 26, 2010
7/26/10
3:43
PM ET
The
Cincinnati Bengals
, apparently suspecting
Terrell Owens
might be using the
St. Louis Rams
for leverage,
called the free-agent receiver's bluff
earlier Monday.
Now the Rams have made it clear they won't be used, either.
As Jim Thomas of the St. Louis Post-Dispatch reports, the Rams have decided
not to pursue Owens
after discussing the matter in recent days.
This is probably a wise move even though Owens would have become the best receiver on the team. Current Rams receivers include
Brandon Gibson
,
Keenan Burton
,
Dominique Curry
,
Danny Amendola
,
Donnie Avery
,
Laurent Robinson
,
Brandon McRae
,
Mardy Gilyard
,
Jordan Kent
and
Brooks Foster
.
Earlier:
Pros, cons
of adding Owens to the Rams.
June, 24, 2010
6/24/10
1:00
PM ET
»
NFC On the Radar
:
East
|
West
|
North
|
South
»
AFC
:
East
|
West
|
North
|
South
A player, coach or issue that should be on your radar as training camp approaches.
A sore hip bothered
Kurt Warner
at
Arizona Cardinals
camp last summer. It wasn't a big deal.
[+] Enlarge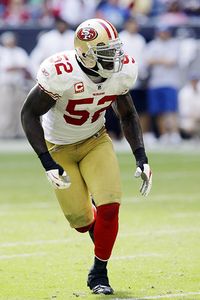 Brett Davis/US PresswirePatrick Willis has already practiced after his offseason knee surgery and will seemingly be ready for training camp.
Two summers ago, the
Seattle Seahawks
downplayed
Matt Hasselbeck
's bad back because they didn't know the full extent of the problem. That one turned out to be more serious than expected.
Having the right feel for each injury situation can be tough. I'm sure a surprise injury or two will become a story after NFC West teams report for training camps in late July.
San Francisco 49ers
linebacker
Patrick Willis
(knee),
St. Louis Rams
running back
Steven Jackson
(back), Arizona Cardinals cornerback
Dominique Rodgers-Cromartie
(knee) and Seattle Seahawks middle linebacker
Lofa Tatupu
(pectoral) are among the high-profile NFC West players coming off surgery rehabs. Their situations will bear monitoring.
The following players ended last season on injured reserve (some are no longer with NFC West teams):
Arizona Cardinals
Matt Ware
,
Mike Gandy
,
Justin Green
,
Cody Brown
San Francisco 49ers
Tony Pashos
,
Ricky Schmitt
,
Thomas Clayton
,
Jeff Ulbrich
,
Walt Harris
,
Kentwan Balmer
,
Curtis Taylor
Seattle Seahawks
Tyler Roehl
,
Walter Jones
,
Kevin Houser
,
Brandon Frye
, Tatupu,
Mike Hass
St. Louis Rams
Marc Bulger
,
Adam Carriker
,
Oshiomogho Atogwe
,
Eric Bassey
, C.J. Ah You,
Brooks Foster
,
Gary Gibson
,
Jacob Bell
,
Daniel Fells
,
Chris Massey
,
Bradley Fletcher
,
Laurent Robinson
,
Keenan Burton
January, 6, 2010
1/06/10
2:30
PM ET
»
NFC Wrap-ups
:
East
|
West
|
North
|
South
»
AFC
:
East
|
West
|
North
|
South
»
Clayton
:
Video
|
AFC grades
...
NFC
»
More
:
Fantasy MVPs
|
FB Outsiders

|
Awards

A team-by-team analysis of the division. The arrow indicates which direction each team is trending.

Arizona Cardinals
Final Power Ranking:
8
Biggest surprise:
Arizona posted a 6-2 road record, allowing the Cardinals to win the division comfortably even though they lost both games to the 49ers. Coach Ken Whisenhunt spent his first two seasons building a strong home-field advantage at University of Phoenix Stadium. It would have been shocking to think the Cardinals would finish the 2009 regular season with a better record on the road than at home.

Biggest disappointment:
Getting three key players injured during a meaningless game against the Packers in Week 17 could threaten the Cardinals' postseason staying power. Pro Bowl cornerback
Dominique Rodgers-Cromartie
(knee), receiver
Anquan Boldin
(ankle) and defensive end
Calais Campbell
(thumb) could be at less than full strength. It's possible one or more could miss the wild-card game. That's disappointing for a team that made staying healthy such a priority.
Biggest need:
The Cardinals need to shore up their situation at tackle as they move closer to life without
Kurt Warner
. Left tackle
Mike Gandy
is in the final year of his contract. He seemingly hasn't played well enough to command a lucrative extension. The team invested a high first-round pick in right tackle
Levi Brown
, with underwhelming results. Warner's ability to get rid of the ball quickly allows the Arizona passing game to function even without solid pass protection from the tackles. That arrangement will not last.
Team MVP:
Warner makes the offense work. The team appeared lost when he wasn't in games this season. Backup
Matt Leinart
was shaky in the second half at St. Louis and during extended playing time against the Packers in Week 17. The team had to put Warner back in the game after building a big lead at Chicago. Leinart put together an impressive drive at Tennessee, but that was about it. Appreciating Warner's value became easier every time Leinart went into games.
Future watch:
Significant decisions await the Cardinals this offseason. Franchise player
Karlos Dansby
can become a free agent. Free safety
Antrel Rolle
's salary is scheduled to swell, likely forcing a renegotiation. Receiver Anquan Boldin will be entering the final year of his deal. Is it time to trade him? Those are just a few of the issues facing Arizona in the coming months.
---

San Francisco 49ers
Final Power Ranking:
19
Biggest surprise:
Old-school coach Mike Singletary and older-school offensive coordinator Jimmy Raye ditched the team's power offense for a shotgun passing attack that diminished
Frank Gore
's role. The team gradually found ways to reincorporate Gore, but the offense remained quite a bit different. That was understandable once
Alex Smith
took over at quarterback and
Michael Crabtree
joined the team, but it went against everything Singletary and Raye preached all offseason.

Biggest disappointment:
Failing to beat the struggling Seahawks in Seattle, when the 49ers absolutely had to win, stood out as the most disappointing defeat, just ahead of the loss at Minnesota on
Brett Favre
's heave in the final seconds. More broadly, the offensive line wasn't as good as the team anticipated, preventing Raye from establishing consistency in the ground game. Both starting guards struggled for the first half of the season. The line seemed to play better late in the year, but by then a knee injury had sidelined left tackle
Joe Staley
. The line never really jelled to the degree San Francisco could have anticipated.
Biggest need:
Ahmad Brooks
' emergence might diminish the team's need for a pass-rusher, although that remains a subject for debate. If Brooks is the real deal, the 49ers' biggest need might be for another top-tier offensive lineman. Finding a right tackle to serve as a bookend with Staley would certainly help.
Team MVP:
Inside linebacker
Patrick Willis
is a dominant player in his prime. He helped the 49ers field the best defense in the division. Willis met or exceeded career highs with four sacks, three interceptions and three forced fumbles. He also had eight passes defensed. Willis scored a touchdown on an interception return for the second consecutive season.
Future watch:
Smith's partial emergence at quarterback left the 49ers hopeful but ultimately unsure of his prospects. The team will have to take a wait-and-see approach with him. It's possible the 49ers will draft a quarterback or sign a veteran in free agency, but Smith will likely enter the 2010 season as the starter.
---

Seattle Seahawks
Final Power Ranking:
27
Biggest surprise:
Third-string running back
Justin Forsett
emerged as a more capable runner than the Seahawks ever could have imagined. He was outstanding in pass protection and showed he could sometimes produce as an every-down back. Forsett probably isn't the answer as a starter, but he stepped up when called upon.

Biggest disappointment:
Having general manager Tim Ruskell resign during the season stood out as a low point in a winter filled with them. Ruskell had been riding high after a seemingly productive draft. But with the team slumping and the pressure mounting, Ruskell forced the organization's hand by asking whether his contract would be renewed. The team would not commit to him. Ruskell's resignation left coach Jim Mora as the next biggest target for criticism. It was a bad situation all the way around.
Biggest need:
Upgrading the offensive line has to stand as a top priority for the Seahawks. They were down to their fourth-string left tackle at one point, making success impossible for quarterback
Matt Hasselbeck
during a make-or-break game against Arizona in Week 6. Seattle needs to restore some toughness up front through the draft and possibly through free agency. The status quo simply isn't acceptable.
Team MVP:
Hasselbeck was the clear choice even though he tossed nine interceptions over the final three games. The veteran quarterback's toughness and resolve stood out all season. He played through injuries. He symbolized the fight Seattle needed to show during one of its darkest seasons. The production often wasn't there, but that could be said for the whole team.
Future watch:
The organization finds itself at a critical point four years after appearing in Super Bowl XL. Ownership must make the right choice in its search for a general manager. Its new leadership must make wise use of two first-round draft choices. Tough decisions must be made throughout the roster and on the coaching staff. The margin for error is gone.
---

St. Louis Rams
Final Power Ranking:
32
Biggest surprise:
Unknown receiver
Danny Amendola
provided instant life to the Rams' return game while also making contributions as a wide receiver. The Rams signed Amendola from the Eagles' practice squad in September. Amendola averaged 11.6 yards on 31 punts returns, 3.1 yards better than the league average, with five returns of 20 yards or longer. He also averaged 24.5 yards per kickoff return. The Rams ranked eighth in punt return average and 11th in kickoff return average. Amendola had a lot to do with that.

Biggest disappointment:
Injuries prevented several key young players from developing during a lost season. First-round draft choice
Jason Smith
had trouble shaking the effects of a concussion. He lost valuable experience and never got a chance to play left tackle for an extended period. Smith, receiver
Keenan Burton
, defensive tackle
Adam Carriker
, cornerback
Bradley Fletcher
, receiver
Brooks Foster
and receiver
Laurent Robinson
all needed to play more this season. Each wound up on injured reserve.
Biggest need:
The Rams lack playmakers on both sides of the ball. They badly need more firepower in the passing game. Finding a quarterback probably stands as the most important priority.
Marc Bulger
's $8.5 million salary next season appears prohibitive. Receiver is another position of need.
Team MVP:
Steven Jackson
showed toughness and leadership while producing at a high level all season even though teams were loading up against him every week. The maturity Jackson showed even when frustrated made life easier for first-year coach Steve Spagnuolo. Had Jackson spoken out -- as he had done previously -- a tough season could have become tougher.
Future watch:
The Rams have options in the draft because they hold the No. 1 overall choice. They'll have to decide whether they can afford to pass up a quarterback. The 2009 season was harder than the Rams ever expected. They have nowhere to go but up.
December, 13, 2009
12/13/09
7:11
PM ET
It's tough to fully evaluate a team when its third-string rookie quarterback is throwing to receivers who weren't on the roster when the regular season started, all while the starting right guard is drawing multiple 15-yard penalties for head butts and late hits.


These are the Rams of Week 14. And it showed during a
47-7
loss at Tennessee.
Perhaps most troubling for the team: Some key players aren't getting a chance to develop while the losses pile up.
The Rams likely do not have their long-term quarterback on the roster. That left sixth-round choice
Keith Null
, a rookie, to start against the Titans when injuries prevented
Marc Bulger
or
Kyle Boller
from playing. The experience was valuable for Null, but probably not for the Rams' future.
The offensive line should be building momentum at this point, but rookie first-round choice
Jason Smith
missed another game to a concussion, and right guard
Richie Incognito
landed on the bench after two more personal foul penalties. With left tackle
Alex Barron
probably gone after this season, left guard
Jacob Bell
and center
Jason Brown
were the only sure-fire 2010 starting linemen getting work -- and they're the ones who need it the least.
Second-round linebacker
James Laurinaitis
and fourth-round defensive tackle
Darell Scott
are getting extensive playing time. But the Rams remain without third-round cornerback
Bradley Fletcher
and fifth-round receiver
Brooks Foster
, both on injured reserve, while a return date for Smith remains unknown. Linebacker
David Vobora
, a seventh-round choice in 2008, left the game Sunday with an apparent knee injury.
There was a time several weeks ago when the Rams appeared to be making strides. That time has clearly passed.
Up next: a home game against the apparently rejuvenated Texans.
November, 17, 2009
11/17/09
11:30
AM ET
»
NFC Stock Watch
:
East
|
West
|
North
|
South
»
AFC
:
East
|
West
|
North
|
South
Falling

Burleson
1. Nate Burleson, Seahawks WR.
Enjoying an impressive season following knee surgery, Burleson predicted a Seahawks victory over the Cardinals. That was the last we heard from him. Burleson finished with zero catches during a 31-20 defeat in Week 10. Seattle tried to find him early in the game, but Cardinals cornerback
Dominique Rodgers-Cromartie
had Burleson blanketed. When the game had concluded,
T.J. Houshmandzadeh
had caught nine passes for 165 yards, moving him past Burleson for the team lead in receptions and yards. Week 11 would be a good time for Burleson to atone. He'll get a shot at Minnesota, the team he left for Seattle.

Dockett
2. Darnell Dockett, Cardinals DT.
If the film doesn't lie, neither does the high-definition digital video. And it's pretty clear Fox cameras caught Dockett pressing his elbow into
Matt Hasselbeck
's throat following a second-quarter sack. Dockett denied bad intentions, but Seahawks coach Jim Mora expressed outrage, dragging down Dockett's stock at least temporarily. Dockett defended himself through his Twitter account, saying he would lose no sleep over the matter thanks to his king-sized bed and posh pad. Dockett also suggested stuff happens in football, implying that Mora wouldn't understand because he never played the game. Mora did play at the college level and he's been around the game his whole life.

Kerney
3. Patrick Kerney, Seahawks DE.
I'm a little reluctant to harp on the Seahawks' pass-rush woes against Arizona because we have
covered the subject
in detail. But Kerney has set a high standard over the years. He had three sacks and five quarterback hits in the Seahawks' most recent victory over the Cardinals (2007). His surprising inability to beat Cardinals tackle
Levi Brown
stood out as a primary reason for the Seahawks' struggles Sunday. Kerney is earning $4 million in salary this season and the Seahawks are on the hook for more than $9 million in salary proration beyond 2009. They need more from him to regain their footing in the NFC West.
Rising

Boldin
1. Anquan Boldin, Cardinals WR.
Boldin's stock was falling a week ago after he voiced selfish complaints following an impressive Cardinals victory over the Bears. There was nothing selfish about the way he played against Seattle. His 37-yard reception sparked the Cardinals' victory. Boldin finished the game with eight receptions for 105 yards, his first 100-yard receiving game of the season. Arizona, somehow 5-1 without Boldin since the start of last season, needed him against Seattle. Boldin played angry, reaching the ball forward for extra yardage. If the Cardinals do decide to trade Boldin after the season, the value they get in return could hinge on whether Boldin can build upon his strong showing in Week 10.

Forsett
2. Justin Forsett, Seahawks RB.
The Seahawks weren't sure heading into offseason minicamps whether Forsett could adapt his running style for the zone blocking scheme. They liked what they saw during minicamps and they love what they've seen from Forsett this season. Forsett carried 17 times for 123 yards against the Cardinals, taking over most of the snaps after starter
Julius Jones
suffered a bruised lung. Forsett has answered every question anyone could have raised about him. With Jones expected to miss at least one game, Forsett might now get a chance to prove whether he can hold up as more of an every-down back. His efforts in passing situations -- including a terrific block on
Adrian Wilson
in blitz pickup -- have been critical for Hasselbeck.

Gibson
3. Brandon Gibson, Rams WR.
A backup's job is to be ready when called upon, and Gibson certainly held up his end after the Rams lost
Keenan Burton
to a season-ending knee injury Sunday. The rookie receiver caught seven passes for 93 yards against the Saints. Rams general manager Billy Devaney took some heat, including here, when linebacker
Will Witherspoon
, the player St. Louis traded for Gibson, scored a touchdown in his first game with the Eagles. The trade looks good right now because injuries continue to strike the position. The Rams have had nine receivers on their 53-man roster this season. Gibson will get plenty of chances to develop over the final seven games as long as he avoids joining Burton and fellow Rams wideouts
Laurent Robinson
and
Brooks Foster
on injured reserve.
August, 17, 2009
8/17/09
5:45
PM ET
Posted by ESPN.com's Mike Sando
The Rams' roster requires additional study after a thorough house-cleaning this offseason. With so many new faces, I feel less familiar with the Rams than with the other teams in the division. This initial look at the roster will hopefully help bring some focus.
Donnie Avery's injury and overall health concerns at receiver could influence how many players the Rams carry into the season at the position.
Marc Bulger's broken pinky shouldn't affect the roster as long as he recovers on schedule. Teams must reduce to 75 players by Sept. 1 and 53 players by Sept. 5. Those initial 53-man rosters sometimes change by Week 1 kickoffs. For that reason, I've been focusing on Week 1 rosters when setting baseline expectations for each position.
St. Louis Rams
Week 1 Roster
Counts since 2003
QB
RB
WR
TE
OL
DL
LB
DB
ST
Fewest
2
5
5
2
9
8
5
8
2
Most
3
7
6
4
10
9
7
11
3
Average
2.8
5.5
5.5
3.0
9.2
8.3
6.3
9.7
2.7
Currently on roster

4

7
10
5
15
13
9
14
3
The chart provides a framework for how many players the Rams might keep at each position heading into the regular-season opener against the Seahawks.
Here's a quick look at which Rams players I might keep on the cutdown to 53 players:
August, 13, 2009
8/13/09
2:30
PM ET
| | |
| --- | --- |
| | |
| | AP Photo/Jeff Roberson |
| | St. Louis coach Steve Spagnuolo has taken control of the Rams' locker room. |
Posted by ESPN.com's Mike Sando
EARTH CITY, Mo. -- Steve Spagnuolo has much to prove as a first-time NFL head coach.
Winning over the St. Louis Rams' locker room is no longer one of them.
"Just the way he came in and took control of this building was impressive," quarterback Marc Bulger said in lauding the way Spagnuolo "captivates the team and has everyone focused on one goal."
Players tend to say nice things about their bosses, or else, but Rams players aren't just paying lip service as they work through an unusually physical training camp complete with live tackling.
Steven Jackson, a harsh critic of Rams dysfunction under previous leadership, nearly interrupted an important family matter in Las Vegas just to attend a voluntary March practice (Spagnuolo ultimately told Jackson not to worry about it). If Jackson weren't buying into Spagnuolo, we'd know it.
While others used Memorial Day Weekend as a respite during the ever-shrinking NFL offseason, new Rams center Jason Brown rented a U-haul and made the 13-hour drive from North Carolina to St. Louis. It was about the only time Brown could make the move without jeopardizing his perfect attendance in the Rams' offseason program.
Franchise player Oshiomogho Atogwe practiced with the team all offseason even though he remained unsigned until July, hoping to score a long-term deal.
Fantasy Football: 32 Questions
Ken Daube examines whether Steven Jackson should be selected among the top five in fantasy drafts. Story

"I thought he was very classy in the way (Atogwe) handled the franchise tag and I thank him almost every other day," Spagnuolo said. "That tells me a lot about him."
It might reveal plenty about Spagnuolo as well. The no-nonsense approach he adapted from mentors Tom Coughlin and Andy Reid has brought structure to a floundering organization. Brown, signed from the Baltimore Ravens in free agency, says he sees parallels to John Harbaugh.
Spagnuolo has gotten the Rams' attention and held it through the first two weeks of training camp. The vibe is unmistakably positive.
"The hiring of Coach Spagnuolo is definitely the biggest move this offseason, the right step for us," Bulger said. "You are either onboard or you are not. I respect that approach and I think everyone has bought into it."
August, 9, 2009
8/09/09
6:04
PM ET
Posted by ESPN.com's Mike Sando
The Rams' depth at receiver was already a concern before they learned top wideout Donnie Avery would miss four to six weeks with a foot injury.
Avery reported soreness in his foot Saturday, but never did the Rams expect to find an injury this significant. Avery apparently suffered it during the team's scrimmage Friday night.
The Rams have conducted a very physical camp, but none of their injuries appear related to live tackling. This is a very tough break for a rebuilding team without enough depth to compensate for injuries to certain positions, notably receiver.
With Avery out, the Rams might need to consider adding another veteran. Keenan Burton, Laurent Robinson, Ronald Curry, Tim Carter, Derek Stanley, Brooks Foster, Jarrett Byers and Sean Walker are the other receivers on the roster.
According to the Rams, the MRI showed more damage than the initial X-ray revealed.
Update: With the regular-season opener five weeks out, Avery has a chance to return in Week 1 or Week 2.