NFL Nation:

Bruce Mathews
December, 20, 2012
12/20/12
1:43
PM ET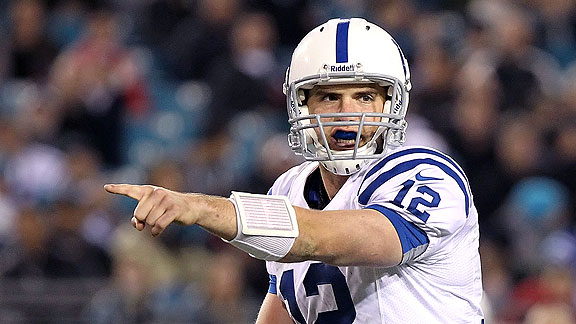 Kim Klement/US PresswireRookie Andrew Luck of the Colts is among the QBs asked to call the bulk of his team's protections.
A young quarterback breaks the huddle and steps to the line. There is much to assess staring at him from across the line of scrimmage.
What's the coverage? Is it better to run or pass against it? Is that safety really coming at me or is he disguising before backing off to be part of a Cover 2? I need to send that receiver in motion. How would the cornerback across from him react to that? Who's hot here if someone comes free at me?
On top of all of that, in some systems, the quarterback is also setting the protections.
Is asking him to manage the blocking scheme putting too much on his plate?
Some teams think so, leaving those decisions mostly to the center and giving the quarterback power to make a simple switch. Other teams want their quarterback to control everything, and ask him to assess what needs to happen up front, not just downfield.
"Personally, I think it ties the quarterback into everything," said Colts offensive coordinator and interim coach Bruce Arians, who asks rookie
Andrew Luck
to call protections most of the time. "I don't think the center can see what the quarterback can see. When the center depends on the [middle linebacker] because of safety locations, he gets fooled too many times.
"The quarterback can see everyone's body language and everything else. That's his job. He's got to know who the 'Mike' is, where the safeties are for him to know his hots and sights. There are a lot of offenses that the center does it because the quarterback doesn't throw hots or sights, they don't have them in their offense. I'm not one of those people."
In Jacksonville, meanwhile, the Jaguars rely heavily on 13-year veteran center
Brad Meester
.
"It starts with the center, but everybody's had the ability to get us in the right protection to obviously make us more sound," coach Mike Mularkey said. "I think it's a very user-friendly offense. I think because of players having to come in and learn the system yearly, you've got to be careful just how much you put on their plate. But I think our guys can handle it pretty well."
In Tennessee,
Jake Locker
doesn't have the responsibility Luck does in the Colts' offense.
The linemen sort out the protections, with the center serving as the key communication person. Veteran backup quarterback
Matt Hasselbeck
said there is typically one guy whose interpretation serves as the default if there is any confusion. Once left guard
Steve Hutchinson
became comfortable in his new team's system and before a knee injury knocked him out, he was that guy for Tennessee.
With Tennessee's offensive line now stocked with backups, the lone remaining original starter, left tackle
Michael Roos
, surely has a louder voice.
The Titans lost
Eugene Amano
in the preseason and plugged
Fernando Velasco
in at center. When Hutchinson went down, they settled on Velasco shifting to left guard and
Kevin Matthews
as center. In Week 15, Matthews was lost for the remainder of the season with an ankle sprain. Third-stringer
Kyle DeVan
played the bulk of that game as the pivot. He could be there again Sunday in Green Bay, or the Titans could put Velasco back in the middle and play recent waiver claim
Mitch Petrus
at guard.
Got all that?
Whoever is doing the decision-making up front and whoever is communicating it, Locker has veto power. If he sees something he believes isn't right for what the Titans are intending to run, he is expected to alter it.
The case for a quarterback setting protections starts with the view. Linemen in three- or four-point stances don't see things as clearly as the quarterback, who can stand upright and scan the field before getting under center.
"They might start somewhere, we see where they start and we might say, 'No, no, no, let's do this' or 'Yeah, yeah, yeah let's do that,'" Hasselbeck said. "Or if a team blitzes, we have different words that mean 'same protection other side' or whatever it is."
The Texans and the Jaguars work in a similar fashion, where the line and quarterback work in conjunction. Both teams have veteran centers who typically get things started,
Chris Myers
in Houston and Meester in Jacksonville.
A couple of weeks ago when the Titans prepared for the Texans, offensive line coach Bruce Matthews made the quarterbacks aware of three especially difficult looks. If the center saw one of those, he'd take the lead and tell Locker what to check into.
At other times, the quarterback's ability to recognize things he wasn't advised about is very important.
"One thing that is big with me and veteran players in general is, you develop problem-solving skills," Hasselbeck said.
On the bus or plane after the game, he might talk with a lineman or a blocking tight end who says he knew a certain play wasn't going to work.
"The coaches don't care if you change the play if you're getting them out of a bad play," Hasselbeck said. "They care if you change the play and you are getting them out of a decent or good play.
[+] Enlarge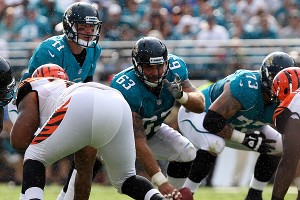 Rob Foldy-USA TODAY SportsThe Jaguars rely on veteran center Brad Meester to make the majority of their protection calls.
"My advice to guys is just to scream 'this play is not going to work' or 'check it.' Something. I don't need to know everything about why. I just need to know that someone along the line isn't feeling good about their assignment. I can always get us into a decent play. Always."
Some quarterbacks don't want to be real involved in sorting out protections.
Mike Munchak was the Titans' offensive line coach while Steve McNair quarterbacked the Titans. He said McNair didn't want to be concerned with setting protections. His safety blanket receiver, tight end Frank Wycheck, recalled McNair asking weekly what his "emergencies" would be against an opponent and making sure he had a solution in mind or was ready to freelance when he saw those.
But Hasselbeck thinks most coaches want it on the quarterback, at least to some degree. He was responsible for calling protections in Mike Holmgren's scheme in Seattle. He likes not having to do it all when he's playing in Tennessee.
"It's partly 'best seat in the house,' it's partly you're expected to be the guy who spends the most hours at the facility watching the most amount of film," he said. "You're the coach on the field. You're the guy that talks in the huddle."
Still, there are situations where he's been told in meetings that top offensive linemen would just "feel it" when it came to certain stuff from a defense, and that the line would "just pick that up," Hasselbeck said.
"That's not a world I've ever lived in," he said. "I've lived in a world where you use your cadence to try to get a tip. You move the protections. You tell the running backs exactly where to block. And if you have to throw hot, you have to throw hot. And that's a hard way to live on the road or against certain guys."
Munchak said the center can be fooled more easily, so the quarterback needs to be involved, but he doesn't want Locker making constant protection decisions at the line.
A quarterback like
Peyton Manning
, who controls everything, can handle it. Munchak played with Warren Moon, who did the same during some of the run-and-shoot era.
"But for the most part, I don't think a lot of quarterbacks are comfortable doing that," Munchak said. "I don't think they want to do it. I think it's too much for them. And then all of a sudden they're not making the throws and doing the things you want them to do. I think there is a place for a percentage of doing it, but not all the time."
Some athletic quarterbacks wind up in situations where they have no real idea of where a protection might break down, but can make guys miss when they come free. Hasselbeck's seen this year's top three rookie quarterbacks -- Luck,
Robert Griffin III
and
Russell Wilson
-- as well as
Ben Roethlisberger
do it this season.
When Hasselbeck was a backup behind Brett Favre in Green Bay, he saw it to an extreme.
"He knew how to pick things up, and he was very, very good at it," Hasselbeck said. "But sometimes he just wouldn't care. He was like, 'Ah, I can get it off.' And he'd get it off and take a shot in the chin. There is a price to be paid sometimes when you do it.
"I would lean on coaching it up."
The Titans clearly hope Locker comes to buy himself time in the fashion that Roethlisberger, Luck, RG III and Wilson can and do.
Myers is a key leader for the Texans, and he carries a lot of responsibility for calling protections. He likes working with a veteran quarterback, in
Matt Schaub
, who participates in the process, and he likes having other offensive linemen who are capable of making calls or adjustments, too.
While Myers welcomes the play here and there when he doesn't have to figure out the equation and solve it before the snap, he's always ready and willing to do so.
"We have the quarterback do it, have a tackle do it sometimes when we have to fan out in certain play-actions," Myers said. "So the responsibility isn't solely on one guy, and I think that's a great thing. We have the ability and the leadership and the people who have played long enough, we're able to put it on everyone's shoulders as opposed to just one guy."
February, 8, 2011
2/08/11
2:29
PM ET
Mike Munchak's made his first big decision as Titans coach. According to Jim Wyatt, Munchak will have a new offensive coordinator. He's fired Mike Heimerdinger.
"Mike is going to do what is best for Titans," Heimerdinger
told Wyatt
. "I know it is part of the business ... I appreciate my time here. Every head coach has to make their decisions and this was his."
Too many people are marveling that one of the team's four candidate for Jeff Fisher's old job is now out of work. But once Munchak was hired, he was not asked to line up with the existing one-year contracts for assistant coaches.
Executive vice president Steve Underwood and general manager Mike Reinfeldt viewed Heimerdinger as a potential head coach. That's a separate deal from Munchak keeping Heimerdinger as his offensive coordinator.
I think Heimerdinger is an excellent coach who had a bad year, failing to do enough to get
Chris Johnson
opportunities in space in the passing game and unable to get his middling quarterbacks to force the ball to
Randy Moss
after the team acquired him on waivers.
Heimerdinger handled his fight against cancer that began during the season with absolute grace: showing football coach stoicism and missing virtually no time with the team.
What's next for him? It's hard to guess considering most staffs around the league are filled.
Who's in line to replace him? Munchak emphasized that he wants a staff filled with teachers, and odds are the new guy will be grooming a draft pick while overseeing a veteran newcomer.
Whoever he is, he'll now have at least a small voice in selecting who those quarterbacks are.
Wyatt also says the Titans will interview Bruce Matthews for the offensive line job. Matthews had a two year offer from the Texans to remain as an assistant offensive line coach, but has not signed it, Wyatt reports.
UPDATE (3:15 p.m.):
The team sent out an official announcement that Heimerdinger, offensive assistant Richie Wessman and defensive assistant Rayna Stewart will not be retained.
Munchak on Heimerdinger: "I have a great deal of respect for him as a person and admiration for the way he is fighting against cancer. He is an innovative offensive mind and we have worked well through the years, but I believe we need to go in a different direction at offensive coordinator. This wasn't about his health -- he is feeling good -- it is a change of direction for us. This is not something that I take lightly and I wish him and his family the best."
February, 26, 2010
2/26/10
9:15
PM ET
INDIANAPOLIS --
I doubt Bill Belichick will be too impressed
with this declaration.
Nevertheless, NFL Network analyst Charley Casserly made a bold statement Friday about this year's draft class.
[+] Enlarge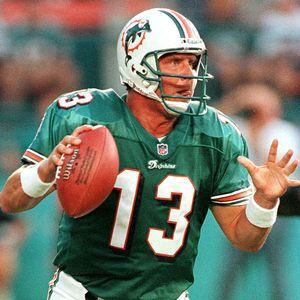 RHONA WISE/AFP/Getty Images Dan Marino was the 27th player drafted from the very successful Class of '83.
The former
Washington Redskins
and
Houston Texans
executive asserted the players taken in this year's first round will be the greatest collection of talent since the most celebrated class turned pro nearly three decades ago.
"This is the best first round I've seen since 1983," Casserly said at the NFL scouting combine in Lucas Oil Stadium.
Of the
28 players selected in the first round in 1983
, six have been inducted into the Pro Football Hall of Fame. They went to 77 Pro Bowls and won nine Super Bowls.
The 1983 quarterback class is legendary. All five AFC East clubs selected quarterbacks.
The Baltimore Colts took John Elway first overall. The
Buffalo Bills
drafted Jim Kelly 14th. One spot later, the
New England Patriots
chose Tony Eason. The
New York Jets
got Ken O'Brien 24th, and the
Miami Dolphins
used the 27th pick on Dan Marino.
Other first-round stars included running backs Eric Dickerson and Curt Warner, offensive linemen Chris Hinton, Jimbo Covert and Bruce Matthews and defensive backs Joey Browner, Gil Byrd and Darrell Green.
Casserly claimed only that crew will surpass the one that comes together in April.
With a rookie salary cap expected to be part of the next collective bargaining agreement, 53 underclassmen declared for this year's draft so they can sign under the current CBA, which allows rookies to get whatever they can.
"In talking to general managers throughout the league, decision-makers," Casserly said, "I think it's the result of two things. Last year, there was a concentrated effort to keep players in school. Conversely, both sides in the labor negotiations have talked about a rookie wage scale.
"So when you have those two things working, players without a motivation to stay in school will say 'The players who stayed in last year, you have a perfect storm to have the best junior crop you've had since all the way back to '83.' So I think this is the best first round I've seen going into a draft since 1983."
NFL SCOREBOARD
Thursday, 11/20
Sunday, 11/23
Monday, 11/24
WEEKLY LEADERS