September, 22, 2013
Sep 22
5:00
PM ET
FOXBOROUGH, Mass. -- Observed in the locker room after the
Tampa Bay Buccaneers
'
23-3 loss
to the
New England Patriots
:
McCoy
Defensive tackle
Gerald McCoy
got visibly upset when reporters asked if losing could rip the team apart. McCoy said that's not going to happen. McCoy is one of the team captains, and his words carry as much weight as just about anyone's within the locker room.
I saw Buccaneers co-chairman Bryan Glazer from a distance in the stadium tunnel after the game. I'd love to know what's in his mind after an ugly loss that can only increase the chances that next Sunday's home game with Arizona will be blacked out in the Tampa area.
Coach Greg Schiano usually is consistent in his sessions with the media. That wasn't the case Sunday. His answers were much shorter than usual, and he seemed agitated. Schiano was asked if any thought was given to replacing quarterback
Josh Freeman
with rookie
Mike Glennon
. He said no thought was given to that scenario. But, still, I wonder if the Bucs turn to Glennon after their bye if they fall to 0-4 next week.
November, 3, 2011
11/03/11
11:44
AM ET
Forbes put out its
annual list
of the 10 best and 10 worst owners in the NFL, and I'm thinking the NFC South didn't get a real fair shake.
The division got one owner on each list, and I'm not sure I agree with either selection.
New Orleans Saints
owner Tom Benson came in at No. 8 on the best list. There's no question Benson's reputation with fans has improved in recent years. That's largely because the Saints have been successful, the Super Bowl is coming back to New Orleans in 2013, and the Saints have committed to stay for the long haul. But there are still a lot of New Orleans fans that haven't forgiven Benson for reportedly looking to relocate the team. Forbes cites a 13-percent increase in franchise value over five years as one of the reasons for Benson's selection, and also points to the team's five-year winning percentage (61 percent).
[+] Enlarge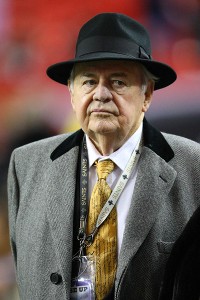 Brett Davis/US PresswireSaints owner Tom Benson has been through several ups and downs with the franchise.
If Benson is on the list, I think Atlanta's Arthur Blank and Carolina's Jerry Richardson also deserved strong consideration. Neither has ever made any noise about relocating their teams. Blank also learned from some early mistakes and has his franchise in the best shape it's ever been in. The Falcons have had three straight winning seasons. Prior to that, they never had back-to-back winning seasons.
Richardson's popularity with fans took a big hit as the Panthers have struggled in recent seasons. He was roasted for being "cheap'' as he prepared his franchise for the labor lockout, and no employees lost their jobs. Richardson was extremely instrumental in eventually getting a new labor agreement. Once that was in place, he came out spending more than he ever has, and the future appears bright because the Panthers finally have a franchise quarterback in
Cam Newton
.
The only NFC South representative on the list of the league's 10 worst owners is Tampa Bay's Malcolm Glazer. First off, it should be noted that Glazer hasn't been in good health for several years and sons Bryan, Joel and Ed handle the operations of the team. I know there's a disconnect between Tampa Bay fans and the Glazers, but I don't really understand it. The Glazers might not be the best owners in the league, but they're far from the worst.
For those of you who weren't around before the Glazers, and those without long-term memories, let me remind you of what things were like when Hugh Culverhouse owned the team. The Bucs were almost always horrible. They played in the old Tampa Stadium and always had one of the league's lowest payrolls.
The Bucs have a low payroll these days, but Glazer did spend big for a while before former coach Jon Gruden and general manager Bruce Allen showed that shuttling in high-priced free agents every year doesn't bring consistent success. The Bucs are building through the draft these days, and the team appears to be on the upswing.
Plus, when Glazer still was heavily involved, he helped the Bucs get Raymond James Stadium, which still is one of the league's finest facilities. He brought in coach Tony Dungy, who made the franchise consistently respectable for the first time. When Dungy couldn't quite get over the hump, Glazer made a trade with Oakland to bring in Gruden.
The Bucs turned around and won the Super Bowl. The Glazer era has been much more prosperous than the Culverhouse days.
September, 26, 2011
9/26/11
11:54
AM ET
In recent days, a lot of readers have been asking about when – if ever – was the last time a Monday Night Football game did not sell out and was blacked out on local television.
It took some extensive searching by ESPN Stats & Information and a couple calls to the NFL office. But we've got the answer.
The last time a Monday Night Football game was blacked out was Jan. 3, 2000. That was Week 17 of the 1999 season and the matchup was San Francisco at Atlanta. The game was not televised live in the Atlanta market.
This has become a very relevant question because the
Tampa Bay Buccaneers
host the
Indianapolis Colts
next Monday night. The Bucs have a streak of 10 consecutive home games that haven't sold out and it certainly doesn't help that Indianapolis quarterback
Peyton Manning
is hurt.
The Bucs aren't giving constant updates on where ticket sales stand for the Indianapolis game and they've drawn around 50,000 for their first two home games this season. Raymond James Stadium holds about 65,000.
In a recent radio interview with Steve Duemig on Tampa's WDAE (620 AM), Bucs co-chairman Bryan Glazer discussed ticket sales.
"Ticket sales are still slow," Glazer said. "We've got the two nationally televised games (against the Colts and Cowboys) which are ahead of the other games this season (in sales). But we're still a long ways to go this year. We just want to be realistic and not put expectations in people's minds."
I've got a hunch this one will go right down to the wire (72 hours before kickoff, which would be Friday night) and I think there's a reasonable chance the game will sell out and the blackout will be lifted.
But, ultimately, this is going to come down to the fans and whether they buy tickets. Manning may not be playing, but the Bucs have done their part on the field. They went 10-6 last season and are 2-1 this year, including a big win against division rival Atlanta on Sunday.
I know the local economy is in hard times, especially in Florida. But, if the Bucs can't sell out this game, they might not sell out any.
July, 13, 2011
7/13/11
12:49
PM ET
TAMPA, Fla. -- Of all the hundreds -- maybe thousands -- of moments Jimmie Giles could have picked as his favorite with the Tampa Bay Buccaneers, this one's definitely not the cleanest. It also may surprise you a bit at first.
"Wrestling in the mud with (teammate) David Lewis,'' Giles said Wednesday as the Bucs announced he will be inducted into the team's Ring of Honor at a Dec. 4 home game with Carolina.
[+] Enlarge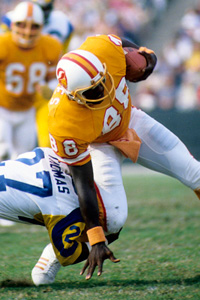 Darryl Norenberg/US PresswireJimmie Giles compiled 4,300 receiving yards and 34 touchdowns in nine seasons in Tampa.
The wrestling session happened at the end of the 1979 season, a crucial one for the Buccaneers. Needing a win to make the playoffs for the first time in franchise history, the Bucs beat the Kansas City Chiefs, 3-0, in a torrential downpour.
The team that began as an expansion franchise in 1976 and started 0-26 would go on to stun everyone and reach the NFC Championship Game. It was a high-water mark for a franchise that soon would fall back to its losing ways. Giles was with the Bucs from 1978 until 1986 and, by that point, the Bucs were mired in something well below mediocrity.
They spent the latter half of the 1980s and the early and middle parts of the 1990s as a national joke. Actually, there were all sorts of jokes in those days.
"The sign on the ticket window was "Sorry, we're open,'' cracked long-time Tampa Bay radio personality Jack Harris, who was one of the guest speakers before Giles took the microphone.
But one of the best things the Bucs have done since starting the Ring of Honor two years ago is that they've embraced their past. It would be easy to try to forget it all and skip the whole era before coach Tony Dungy came along and changed the climate and the uniforms switched from orange and white to pewter and red.
That also would be a mistake because there were some good times and good players from those early years. Co-chairman Bryan Glazer made it a point to say the team's present and future wouldn't be possible without its past. He's right.
Lee Roy Selmon and John McKay, the first two inductees, created some magical moments for a young franchise. So did Giles, who played tight end and went to four Pro Bowls while with the Bucs.
"It was Jimmie Giles and some others who helped turn this team around,'' Harris said. "It was a great era.''
But a short era. Sooner or later, the Bucs will open the floodgates for their Ring of Honor. That will start when Derrick Brooks goes in, which will clear the way for guys like Warren Sapp, John Lynch, Mike Alstott, Ronde Barber, Dungy and Jon Gruden.
It's not quite time for that yet. Although there was a long dry spell between the 1979 team and the teams of the late 1990s, there are some other guys from those eras who deserve the honor. Guys like Ricky Bell, James Wilder, Paul Gruber and Hardy Nickerson should go in before the Bucs get to their more-recent past.
Then, there's Doug Williams. He was the quarterback of the 1979 team and, by all rights, he should be going into the Ring of Honor before or with Giles. He's not. That's mostly Williams' fault. He did some great things as a player and left Tampa Bay in a bitter salary dispute with former owner Hugh Culverhouse. Williams carried a grudge before finally returning to work in the team's personnel department.
Things were good for a few years, but Williams left after the 2010 draft. Williams and general manager Mark Dominik weren't getting along. Since his departure, Williams has taken some public shots at the Bucs. He's not going to get into the Ring of Honor as long as that's going on.
As Giles talked, I think there might have been a subtle message to Williams. Giles was talking about how the Bucs of long ago went through some tough times and weren't beloved. Giles said that things change with time and that no one should succumb to bitterness.
That's an excellent point. The Bucs are going out of their way to reach out to their former players. Let the water flow under the bridge.
The Bucs and their former players need to stay above the bridge -- above the pettiness.
March, 21, 2011
3/21/11
10:04
PM ET
NEW ORLEANS -- The Glazer family, which owns the
Tampa Bay Buccaneers
, often gets labeled as reclusive by fans and the media.
That's kind of strange, because the guy I just spent 20 minutes talking to might have been the most gregarious person I ran into all day. That would be Bucs co-chairman Joel Glazer.
At an NFL owners meeting, where a lot of people are walking around looking worried or sad about the labor situation, Glazer was a notable exception. He spent time individually with reporters from the two main newspapers in the Tampa Bay area and with the NFC South Blog. In my portion, which was roughly 20 minutes, Glazer was almost effervescent.
[+] Enlarge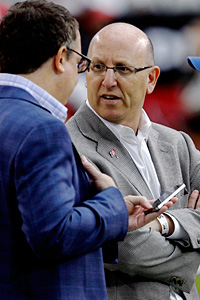 AP Photo/Ross D. FranklinTampa Bay Buccaneers co-chairman Joel Glazer is excited about the future of his team.
He did most of the talking and was animated and happy almost the entire time. There's a reason for that. Glazer, along with brothers Bryan and Ed, is presiding over a team that's clearly in a good spot. Glazer didn't want to talk much about the lockout but said he's confident the labor situation will be resolved at some point and his team will be ready to jump out of the gate.
"I couldn't be more excited about where this team is at,'' Glazer said. "When we set out on this path two years ago, there was a plan in place. We said we're going to be disciplined in that plan. We're not going to deviate from that plan. The one thing we recognized was when you're doing something like this, you have to have thick skin and endure the early part of the plan. There are a lot of people with opinions. Their opinions are immediate and reactionary. To see the plan to start unfolding and for last year to play out like it did was one of the most exciting, fun seasons I've ever experienced in football.
"What's most exciting is the fact that we're the youngest team in the National Football League and the exciting players we have and where we can go from here.''
You know the story, so we'll keep the recap very short. After a 9-7 season in 2008, the Buccaneers fired coach Jon Gruden and general manager Bruce Allen and replaced them with Raheem Morris and Mark Dominik. Veteran players like
Derrick Brooks
were shown the door and, at times, Morris and Dominik looked like they didn't know what they were doing.
The Bucs went 3-13 in 2009, but things turned in a big way last season, and the Bucs went 10-6.
The Glazers get labeled as detached owners because they're not as visible as some others in the league. But I think that's a huge misconception. Although you don't see the Glazers on the sidelines like some others, they're far from absentee owners. It's not unusual to run into them at One Buccaneer Place or see them roaming Raymond James Stadium. Back when Malcolm Glazer, the father of Joel, Bryan and Ed, first bought the team, one of the reasons he cited for making the move was his sons' love of the game.
"I love football,'' Joel Glazer said. "I haven't missed a Tampa Bay Buccaneers game since we've owned the team and gone all the way to Japan. I live for Sundays. I live for the wins and can't stand the losses. Anybody who knows myself or knows my family knows this is a true love. To have a young team that you know is going to get better and to compete for the ultimate prize, that's what you're in this for and that's why it's so exciting.''
Glazer even is excited about the one thing that wasn't a positive last season -- attendance. The Bucs didn't sell out a game at Raymond James Stadium, and none of their home games was shown on local television. Before last season, the Bucs had sold out every home game since their stadium opened in 1998.
"Our new sales in January, February and March have been stronger than I ever remember them being,'' Glazer said. "Renewals are extremely high. The sense you get is that the community is reacting to what they saw last year. That excitement is starting to percolate throughout the community, and it is translating into ticket sales.''
Glazer's not ready to guarantee sellouts, but he's optimistic things are headed in the right direction.
"There's still a lot of work to do,'' Glazer said. "Even before the season ended, we sat down and we started to change our pricing to reflect the economy and what's going on and trying to find ways to make something available for everybody. The one thing that hasn't been lost on us is Florida has been hit very hard. Unemployment is very high in Florida. You can't just ignore that. You have to adapt to the situation.''
By the way, you're going to hear a good bit more from Glazer in the coming days. He filled up my tape recorder, which is something reclusive people generally don't do. But, hey, maybe, as Glazer said, he and the Bucs are adapting to the situation.
August, 12, 2010
8/12/10
3:50
PM ET
TAMPA, Fla. -- The Derrick Brooks retirement announcement just ended a few minutes ago. It was lengthy (deservedly so) as accolades flowed from all directions and Brooks talked at length. But let's cut straight to the chase.
The
Tampa Bay Buccaneers
and Brooks both did what they had to do. They made things right for their pasts and their presents. Their futures?
"I don't know,'' Brooks said when asked about the next step in the process. "We'll move on from here.''
That's important just to hear that Brooks and the Buccaneers are moving forward. Kind of like the one between Tampa and St. Petersburg, there is a bridge between the Buccaneers and the best player in franchise history.
Like I said yesterday, the Buccaneers need Brooks on their side right now, perhaps more than they ever needed him as a player. They didn't need another "Curse of Doug Williams'' and another feud that went on for decades.
This one went on for 18 months. Brooks had his feelings hurt when the Buccaneers released him just after coach Raheem Morris and general manager Mark Dominik took over. The Bucs didn't handle that situation very well. Truth be told, Brooks wasn't exactly flawless in handling things either. This whole thing could have been worked out by both sides long ago. Instead, it took 18 months.
All that really matters now is that there's an official truce. The Bucs went out of their way with a spectacular ceremony, and team co-chairman Bryan Glazer put one in the upper deck when he referred to Brooks as "such a symbol of what we want our franchise to be on and off the field."
When Brooks got his turn, he never put on any airs or implied that he was thrilled by how his departure from the team came down. There was no official "I forgive you'' or anything close to that from Brooks. There was no announcement by the Bucs that they were adding Brooks to the coaching staff or giving him some exotic title in the front office.
But just making this ceremonial move was a big step for both sides. Brooks said he's not interested in coaching anything beyond his son's youth league team. Although there have been rumblings about a career in politics -- and Brooks didn't totally rule that out for the future -- he said that's not what he wants at this point.
He's doing some broadcasting work. He's staying active in his various charity work. That's all great. But the most important thing Brooks can do going forward is just continue being Derrick Brooks.
There wasn't a more fitting quote Thursday than the one sent down from New York, and we'll end it with that.
"Derrick Brooks exemplified the best of the NFL, a true class act both on and off the field,'' NFL commissioner Roger Goodell said. "He will be remembered as one of the greatest players in Buccaneers history. But even more important is the type of man Derrick represents -- his leadership and integrity have few peers.''
June, 16, 2010
6/16/10
5:20
PM ET
TAMPA, Fla. -- As ceremonial press conferences go, what I just saw was as good as it gets.
The
Tampa Bay Buccaneers
officially announced former coach John McKay will be the next inductee into the team's Ring of Honor. For a franchise that has a history of not always doing things the right way, this one was spectacularly graceful.
[+] Enlarge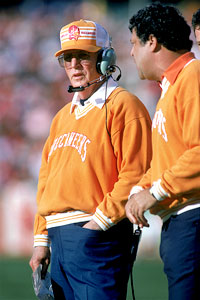 George Rose/Getty ImagesJohn McKay coached the Bucs from 1976 to 1984.
Some of that might have been because of the subject matter and the people involved. Start with Lee Roy Selmon, the first member of the Ring of Honor.
"I really believe [McKay] should have been in last year,'' Selmon said.
Buccaneer history might not always be pretty, but Selmon is Mr. Buccaneer and he and McKay, who passed away in 2001, are the only two people who could have brought together the collection of folks who showed up at One Buccaneer Place on Wednesday.
At the end of his coaching tenure, Tampa Bay fans were screaming, "Throw McKay in Tampa Bay'', but it became obvious Wednesday the man built a pretty impressive bridge across areas where there were some choppy waters.
That brings us to the next speaker. It was Rich McKay, the coach's son. Rich was the general manager of the Buccaneers in the 1990s and, along with coach Tony Dungy, turned the franchise from hapless to respectable and helped bring a new stadium.
A few years later, Rich McKay lost a power struggle with coach Jon Gruden. He ended up going to the
Atlanta Falcons
where he's now the team president.
Prior to Wednesday, Rich McKay never had been in the new One Buccaneer Place. For those who haven't seen it, it's a palace under any circumstances and light years from the team's initial facility. With current general manager Mark Dominik standing against a wall, co-chairman Bryan Glazer introduced Rich McKay as "our friend."
Yes, the president of the Atlanta Falcons is a friend of the Tampa Bay Buccaneers. Rich McKay walked onto stage carrying a fedora Tampa Bay hat like his dad used to wear, and talked all about the early years of the Buccaneers. There was no hint at bitterness about his own departure, just glowing terms about his father, who Rich repeatedly referred to as "the coach."
Rich McKay, who came into Tampa's Jesuit High School as a senior and grabbed the starting quarterback job away from would-have-been legend Jeff Bender, talked about the Bucs winning their first game on Dec. 11, 1977, and how a crowd showed up at the airport. He talked extensively about the 1979 season in which the Buccaneers went to the NFC Championship Game.
With former John McKay assistant Wayne Fontes, McKay's daughter Terri and legendary Tampa restaurant owner and family friend Malio Iavarone sitting in the front row, Rich McKay said that season might have been the most gratifying of any for his father, who built a dynasty at the University of Southern California.
"I can assure you he was as proud or prouder of the '79 team than any national championship team,'' Rich McKay said.
The Bucs officially will induct John McKay into the Ring of Honor Dec. 5. They'll wear their 1976 throwback uniforms for that game. It will be against the Atlanta Falcons. A perfect fit for the McKay family and the McKay legacy.
May, 25, 2010
5/25/10
6:27
PM ET
A little update since my last post, where I said it was sunny and 90 degrees in Tampa. It's now raining and probably about 89 degrees.
But, hey, weather doesn't really matter. NFL owners have voted to give New York the 2014 Super Bowl. For the record, that will be in February of 2014. But, hey, isn't there some saying about how it's always sunny is Piscataway?
Anyway, I just got off a conference call with
Tampa Bay Buccaneers
co-chairman Bryan Glazer and members of the Tampa Bay Super Bowl bid committee that finished a close second to New York. Glazer said he was not told the final tally of the vote, but said he was told by league officials and several owners that the vote was much closer than expected.
"Under normal circumstances, we probably would have walked away with the trophy," said Sandy MacKinnon of the Tampa Bay Super Bowl bid committee. "But the NFL was interested in making history with New York City and a new stadium. I think the odds were stacked against the traditional sunshine climate."
That's probably the strongest statement out of the call. The Tampa Bay group was very careful not to point fingers at NFL commissioner Roger Goodell, who many in the media have said steered this game to New York and I share that opinion. Glazer and the members of the bid committee seemed to take some consolation in making the vote closer than many expected.
"This has gotten us well positioned for getting another Super Bowl in Tampa," Glazer said. "The Tampa Bay area is a great area for the Super Bowl and the owners know it."
That's a very good point and it made me reflect a bit on history. Many years ago, I was covering the Bucs for The Tampa Tribune, when Tampa Bay was putting in a bid on the Super Bowl following the 1999 season. The Bucs wound up losing that game to Atlanta, almost entirely because there was sentiment by owners to give a Super Bowl to former Falcons owner Rankin Smith.
After the vote went down, Tampa Bay owner Malcolm Glazer, usually a very quiet man, got up and got very loud. He started reminding former commissioner Paul Tagliabue and the rest of the owners that Tampa Bay had delivered on getting a new stadium. Glazer's pitch wound up getting Tampa Bay the Super Bowl the following year.
Malcolm Glazer's health isn't so good these days. Sons Bryan, Joel and Ed run the team now and many fans view them as quiet. They are, to a degree. But they can be very firm when they have to be. I know for a fact Bryan was in that room when his father stood up and I'm sure he remembers it well.
"There are no guarantees," Bryan Glazer said. "We are a strong contender for next year or the year after. I feel like we came out of this feeling very strong.''
True, there are no guarantees. But I'm thinking the Glazers and the Tampa Bay folks have sent a message to the owners and it goes something like this: "We took one for the team. You owe us one."
Another quick weather update: The rain has now stopped. It's still in the upper 80s. The sun is back out.
February, 7, 2010
2/07/10
2:28
PM ET
MIAMI -- Already, there's an NFC South flavor to the Super Bowl and we're not even talking about the
New Orleans Saints
yet.
One thing I've tried to do this week is give you a bit of a behind-the-scenes glimpse into how things work at the biggest show in sports. The Saints may be the only NFC South team playing in this game, but the other three franchises have people working the game.
Just a few minutes ago, I had the opportunity to run into Charlie Dayton, the dean of NFC South public relations directors, and several branches of his version of the Bill Walsh coaching tree. Dayton, who has been with the
Carolina Panthers
since before they played their first time, spent a little time catching up with me and Ted Crews, who, as best anyone can figure, is the only P.R. director to endure two 1-15 seasons.
Crews joined the
St. Louis Rams
as the main man last season after spending his career with the Panthers and Falcons. Crews said the Rams' season wasn't nearly as miserable as the 1-15 season the Panthers endured under George Seifert in 2001. In that season, there was no hope for Carolina fans and a coaching legend fell apart. At least the Rams are young and have room to grow.
Also in the media room is DeeDee Mills, who has worked for the Panthers since the start. She, Dayton and Crews will be helping the media throughout the day and night. The
Atlanta Falcons
also have Brian Cearns here and I've seen an intern from the Buccaneers helping out.
There's another behind-the-scenes NFL connection to this game: That's Carolina's Brandon Beane, who basically handles all travel and logistical issues for the Panthers. Beane was brought in by the league to help out with logistics throughout the Pro Bowl and Super Bowl.
Some other NFC South dignitaries I've run into throughout the week include
Tampa Bay Buccaneers
co-chairman Bryan Glazer, current ESPN broadcaster and former Carolina and Tampa Bay receiver Keyshawn Johnson and current ESPN broadcaster and former Tampa Bay quarterback Trent Dilfer. Atlanta coach and Mike Smith and general manager Thomas Dimitroff also have been making the rounds.
December, 27, 2009
12/27/09
6:58
PM ET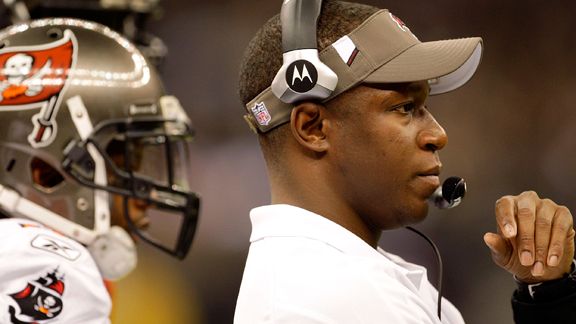 Jamie Squire/Getty Images
Coach Raheem Morris' Buccaneers took down one of the best teams in the league Sunday.
NEW ORLEANS -- On a day when speculation about Raheem Morris' future was running wild, the coach of the
Tampa Bay Buccaneers
might have emerged safer than ever.
"This is the best job in football,'' Morris said soon after the Bucs upset the Saints with a
20-17 overtime win Sunday
.
And it still is Morris' job.
"I've got a great relationship with my owners,'' Morris said. "I'm pretty sure if I'm getting popped or fired my owners would come tell me.''
Joel and Bryan Glazer, who run the franchise, sure didn't look they were ready to fire Morris after his team came back to win after trailing 17-0. They were smiling out in the hallway of the Superdome and shaking hands with players, coaches and team employees.
They exchanged pleasantries with the media, but declined any formal comment about reports from several media outlets that the
Bucs had been in contact with Bill Cowher
about their head-coaching job. Team officials denied there has been any contact with Cowher.
If the Bucs seriously were thinking about pulling the plug on Morris after one season, they might want to re-think it because of what happened Sunday. The team and the coach who looked so hopeless for much of the season suddenly has hope.
"It wasn't a learning process for me today, but it may have been for [the media],'' Morris said. "They are starting to get there. They like winning. They found that out last week. They found that out against Green Bay. This team has the talent and the ability.''
It's finally starting to show.
The Bucs came into a very loud Superdome and beat one of the league's best teams. They beat
Drew Brees
and held the Saints scoreless in the second half. Consider that pretty strong evidence that Morris' plan is taking hold.
Morris has been saying all season that he's got a good team and it turns out he just might be right.
"I know this team is getting better,'' Morris said. "I could see it every week when were losing. That's how we play and how we should play like all of the time.''
Put this victory on top of last week's in Seattle and this rebuilding process suddenly starts to make sense. Could this be kind of like 1996, when Tony Dungy came in and struggled early, but had the franchise in the playoffs the next season?
There are similarities. Those Bucs finished strong and these Bucs are finishing strong. No matter what happens in next week's regular-season finale with Atlanta, the Bucs have established some promise as they head into the offseason.
Rookie quarterback
Josh Freeman
is the real deal. For the first time since Doug Williams, the Bucs have a true franchise quarterback. Yes, it's early in his career and there still will be ups and downs. But think about what he did Sunday.
He beat Brees. The kid doesn't even turn 22 until next month.
"We never felt out of it,'' Freeman said.
By all rights, the Bucs should have been out of it. It should have been over when they fell behind a team that came in with a 13-1 record. But then you saw Freeman and the Bucs grow up right in front of us.
Freeman was pretty close to flawless in the second half as he completed nine of 13 passes for 136 yards, and he wasn't the only bright spot. The defense played a great second half and
Cadillac Williams
carried 24 times for 129 yards.
Think about that. The Bucs have a promising quarterback, a good running game and a defense that shut down one of the league's best offenses.
Maybe they don't need Cowher to come in and fix the mess. Maybe the mess already is being fixed. Maybe, after some very rocky times, Morris is showing he really can coach in this league.
NFL SCOREBOARD
Thursday, 12/5
Sunday, 12/8
Monday, 12/9
WEEKLY LEADERS