July, 1, 2010
7/01/10
11:00
AM ET
Notable players:
Running back Mel Farr, center Ed Flanagan, tight end Charlie Sanders, linebacker Paul Naumoff, defensive tackle Alex Karras, cornerback Lem Barney, cornerback Dick LeBeau.
[+] Enlarge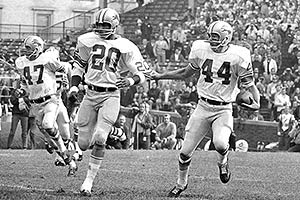 AP Photo/Jim PalmerCornerbacks Lem Barney and Dick LeBeau combined to snag 16 interceptions during the 1970 season.
Analysis:
I'm fully aware that this franchise played for four NFL Championships during the 1950s, winning in 1952, 1953 and 1957. It was without question the golden age of Lions football, but you can make a decent argument that the best team came two decades later.
The 1970 Lions ranked second in the NFL in points scored and points allowed, won their first two games by a combined score of 78-3 and finished the season with the league's second-highest average point differential (10.4), according to pro football-reference.com. They had the best turnover ratio in the league, were the victims of Tom Dempsey's then-record 63-yard field goal and produced an impressive five-game winning streak to end the regular season.
This team fielded two Hall of Fame cornerbacks, and both Barney and LeBeau had the best seasons of their careers. LeBeau intercepted nine passes, while Barney had seven -- returning two for touchdowns. The Barney/LeBeau team helped the Lions limit the powerful Dallas Cowboys to five points in the playoffs, and that total should have been enough for an offense that put up at least 28 points in six of its regular-season games.
But the offense inexplicably fell flat that day in a 5-0 defeat, leaving Lions fans their first in a series of torturous "what-ifs." At the time, there was a feeling the Lions were
bound for a Super Bowl victory
had they gotten past the Cowboys.
I realize there is some room for discussion here. But the 1970s were a newly competitive era for the NFL, and that's where I landed when comparing this team with the 1950s teams.
Most impressive victory:
I'll go with a tie for the Lions' collective performances in shutting out Green Bay twice -- 40-0 in the season opener and 20-0 in the season finale. The Packers weren't a good team that year but they did win six of their other 12 games.
Did you know?
The 1970 Lions were the first wild-card playoff team in NFL history. When the league merged with the AFL, the postseason was expanded to eight teams -- three division winners and one wild-card team.
Did you know, Part II?
Soul musician Marvin Gaye had a failed tryout for the 1970 team.
Honorable mention
1952:
A high-powered offense scored 40-plus points five times on the way to a 9-3 record and an NFL Championship.
1953:
A similar team scored a touchdown in the final minutes of the championship game to become the third team in NFL history at that point to win back-to-back titles.
1957:
The Lions overcame the training camp resignation of coach Buddy Parker and the broken leg of quarterback Bobby Layne to win its last NFL title.
March, 30, 2010
3/30/10
2:30
PM ET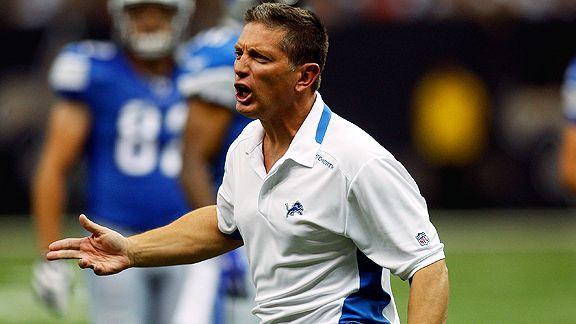 Chris Graythen/Getty ImagesLions head coach Jim Schwartz hopes to project a calmer demeanor on the sideline this season.
If you've ever been in the Orlando airport, you know it makes chaos seem tame.
At any time of the day, you can find thousands of over-sugared, under-rested children in hysterics after spending a week at Disneyworld. Stressed parents are stopped in the middle of cramped terminals, trying to read ever-changing message boards. No one seems to know what to do at X-ray machines even after waiting 30 minutes in a security line. (Take off your shoes, fool!) Sunlights embedded in the high ceilings might look nice, but in reality they heat the terminal to such a muggy state that everyone gets that slimy, glazed-over look.
Well, almost everyone.
I was standing amid that scene last week when I spotted Detroit coach Jim Schwartz striding through the terminal, heading home after the NFL owners meeting. He was wearing aviator-style sunglasses. He walked at a beachcomber's pace. His face bore no expression as he found a reasonable security line. He was a picture of serenity amid absolute insanity.
[+] Enlarge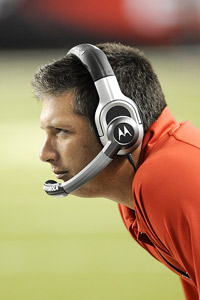 Chris Graythen/Getty ImagesJim Schwartz had a tendency lose his temper during his first season with the Lions.
That's the image many of us recall during Schwartz's time as Tennessee's defensive coordinator -- calm, calculating and thinking clearly despite the bedlam of a game-day sideline. And that's why it was such a surprise to see Schwartz flat-out lose his mind during several games of his rookie season as the Lions' coach. (See the vein-popping eruption in the photos accompanying this post.) The development was enough to make you wonder if Schwartz would bury himself in frustration during the earliest stages of arguably the NFL's most difficult coaching job.
Mostly tongue-in-cheek, Schwartz said his top offseason goal is to control those outbursts and project a more collected version of his personality. "When we get this team the way we need to be," Schwartz said last week, "you'll see a lot different me. Because if you look at me for all my years in Tennessee, I wasn't that guy with veins popping out of my head. But you can only do that when you have good players and you have confidence in them and they know you really well. We're not at that point.
"I admire Tony Dungy. I admire Tom Landry and those kind of coaches."
Kidding aside, Schwartz will have to walk a fine line in tempering his, well, temper. The only thing worse than losing your mind during a game is losing your competitive edge.
I would think Lions fans were mostly energized to see a normally mild-mannered coach displaying such visceral reactions to the team's predictable stumbles during a 2-14 season. You can't make up such raw emotions. Schwartz's former boss, Tennessee coach Jeff Fisher, thought his protégé's newfound proximity to game management might have exposed him to more sources of rage.
[+] Enlarge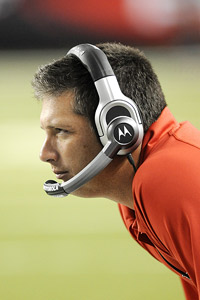 Al Messerschmidt/Getty ImagesJim Schwartz was known for staying cool and collected during his time as the Titans' defensive coordinator.
"All coaches are emotional and Jim's an emotional coach," Fisher said. "But when Jim was calling defenses, he was very focused. That was the thing that was unique about Jim. He was very composed. He kept his focus. Because you have to. You can't let a big play or anything affect your train of thought. So when you're not calling defenses, it's normal to get caught up in either side of the circumstances of the game and get emotional."
As a result, some of Schwartz's ire was directed at officials. But there is no doubt some of it arose when it was apparent early on in 2009 that the Lions had a long road ahead. After spending much of his career in a stable and relatively well-oiled program in Tennessee, it was surely jarring to watch inferior talent at far too many positions.
It began on opening day in New Orleans, where the Lions absorbed a 45-27 drubbing by the eventual Super Bowl champions. Photographers caught Schwartz in a number of heated moments. In a clipped postgame news conference, Schwartz was asked what disappointed him most.
"Good gracious," he said. "What wouldn't disappoint me? Points allowed, third-down defense, red zone defense, rushing. There's no silver lining in that performance."
It was the type of gut-punch to professional pride that many former Lions coaches have endured. Check out the chart below.
Here's what stood out to me while compiling that table: No Lions coach since the 1970 NFL-AFL merger has managed a winning record in his second season. In fact, you have to go all the way back to 1952 and Buddy Parker to find one who did.
Every coaching tenure is different, but from the big picture I think we can understand that recent Lions coaches have historically taken on rebuilding projects that offer no quick fixes. Some had first-year success, but none have sustained it over time.
The Lions have steadily improved their roster over the past 18 months or so, but Schwartz still faces similar obstacles. He's going to confront a few more freak-out moments before he can calm himself down.
You can only hope the Lions give him a fair amount of time to compile a winning season. Schwartz made a point to say last week that the NFL is "about now, not about developing" and added: "You're not graded on a curve." But I think we can all agree the Lions' record last season was generally in line with their talent level.
In the meantime, Schwartz will have to smile through gritted teeth when fans hand him a vein-popping photo to sign -- as they already have on more than a few occasions.
"I'll look at it and say, 'Blood pressure looks like it was high during that one,'" Schwartz said. "I think there's probably a million pics they could have printed, but whatever."
He'll be a cool customer. Eventually.

NFL SCOREBOARD
Sunday, 12/28
WEEKLY LEADERS