November, 1, 2013
11/01/13
3:43
PM ET
HOUSTON -- Asked about the tribute planned for his late father during Sunday night's game, Texans defensive coordinator Wade Phillips was overcome with emotion.

W. Phillips
He didn't know that was happening.
"Don't get me going there," Phillips said. "It goes in waves. I appreciate that if they are doing that."
The tribute will occur after the first quarter against the
Indianapolis Colts
. In honor of Bum Phillips, the Texans will have former Oilers Mike Barber and Dan Pastorini come out of the tunnel pre-game as honorary captains.
Houston's Lakewood Church, headed by Joel Osteen, held a memorial service Tuesday evening for Bum Phillips. The memorial and the fact that several players attended meant a lot to his son.
"It really helped our family and everybody," Wade Phillips said. "It's not something that you get over quickly. It's a club you don't want to be in but a lot of people have. We had a tribute the other night and that was really special for us. This game will be special for me too."
He also expects the game to be a lot of fun. It is the family business, after all.
Said Wade: "We're going to have fire coming out of our backsides."
October, 19, 2013
10/19/13
10:06
AM ET
Bum Phillips was one of those people who transcended his job and came to symbolize and characterize a time and a place.
"Luv Ya Blue" in Houston with the Oilers was, in many ways, loving Phillips -- his drawl, his style, his hat and the team he coached.
Now the city mourns his passing.
His son,
Houston Texans
defensive coordinator Wade Phillips tweeted: "Bum is gone to Heaven-loved and will be missed by all -great Dad,Coach, and Christian."
As famous sports quotations go, I rank his comment on Don Shula as one of the all-time greats: "He can take his'n and beat your'n and take your'n and beat his'n."
The Oilers lost consecutive AFC Championship games to Pittsburgh to close out the 1970s. In 1980, after a first-round playoff loss, Oilers owner Bud Adams fired Phillips in what he later called one of his most regrettable moves.
This is from
David Barron's obituary
of Phillips in the Houston Chronicle:
Former KHOU (Channel 11) sports director Gifford Nielsen, who played quarterback for Phillips in the late 1970s, then worked with him on Oilers radio broadcasts in the 1990s, said Phillips built winning teams by knocking down barriers between players.

"He could take a conservative kid out of Utah, put him with a kid who grew up in the projects in Pittsburgh, a guy from Southern California and a guy from the Deep South, and it didn't matter what color was their skin, how big they were and what their talent level was," Nielsen said. "He would bring them together as a team.

"The reason people liked Bum so much is because he was real. He always said, 'Trust me, and we'll do things my way and great things will happen.' When we did trust him, we were successful, and it carried over not only to the team but the fans.

"Whenever we went on the road, people wanted to see Bum Phillips, and it was because of the genuine person he is. That is his legacy."
Update:
The Titans sent out this statement today on Phillips' passing:
We are very sad to hear of the passing of Bum Phillips. He meant a great deal to this franchise, the NFL and the city of Houston, and he was instrumental to the Oilers during the 'Luv Ya Blue' era. Growing up in Texas and working his way up through the Texas football ranks, he was a natural match for our team. Those were such magical years, and his leadership and personality helped our team rise to the top. He became an iconic figure on our sideline. Our thoughts are with his family, and we know he will be missed.
September, 12, 2013
9/12/13
5:52
PM ET
NASHVILLE, Tenn. -- Tennessee Titans owner Bud Adams is a Hall of Fame candidate who has a case and some support.
But the crowd in front of the 90-year old Adams and voters' understandable propensity to elect players ahead of contributors is likely to keep him out despite the case several voters make for him.
[+] Enlarge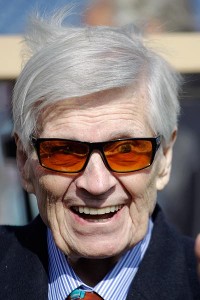 Wade Payne/AP PhotoTitans owner Bud Adams believes he belongs in the Hall of Fame.
Adams
told Jim Wyatt
of The Tennessean:
"Besides the playoffs, one thing I would like to accomplish is to be considered in the Pro Football Hall of Fame. I realize there may be some hard feelings about me moving the team to Nashville, but I truly feel my body of work …

"I don't like tooting my own horn. But at my age, and now being the senior NFL owner, there is no one from back in those days than can really speak up for me now. I really feel this year could be a year I get serious consideration after 53 years. I'm sure hoping that's the case."
No, you can't write the history of Pro Football without him. His part in the creation of the AFL and its ultimate combination with the NFL was crucial.
But history didn't stop then, and his contributions to NFL in the 43 years since the merger didn't do anything to build on those big contributions and don't warrant a bronze bust in my eyes.
A good argument on Adams' behalf is that if Ralph Wilson is in the Hall, Adams should be. The logical counter argument is that Wilson doesn't necessarily belong there, and you can't put the next guy in because the last guy got in.
Here are some nuts-and-bolts of a case against Adams:
He couldn't build or maintain a relationship or partnership with Houston mayor Bob Lanier. That created a scenario where he had to break the hearts of a very good AFL/NFL market and move. (That move, I point out in the interest of full disclosure, was very good for my career.) Houston ultimately got an expansion franchise and the stadium Adams so desired. Had he been better at political relationships, the Oilers might still exist and perhaps Nashville would have been an expansion market.

In exchange for the league paving his way to Nashville, Adams basically agreed to be a "yes man" for commissioner Paul Tagliabue, and now Roger Goodell, in perpetuity. That means Adams has been a follower since 1996, not any sort of leader during a crucial era in league growth.

His best football moves also amount to ancient history. His most recent fingerprints on the franchise were the drafting of Vince Young (a major setback for a team that's not fully recovered, still) and the foolish firing of beloved Oilers coach Bum Phillips.
Another event shouldn't leave much of a mark. But in the Internet, cable TV age, it showed the degree of his disconnect that an inability to control himself left an indelible, negative imagine behind. On Nov. 15, 2009, after a regular-season win against the
Buffalo Bills
, he celebrated from his box by extended two middle fingers toward the visiting team. That was without purpose, cost him a $250,000 fine, and is the first thing that comes to mind for some when his name comes up.
Is that stuff bad enough to offset the strong part of his resume and his strong role in the early history of the AFL, and the AFL and NFL combining forces?
Four of five Hall of Fame voters who Wyatt talked to make a compelling case for Adams, despite it all.
I'm glad it's colleagues and not me deciding.
But I'll have no beef if they put a player in ahead of him, again.
August, 29, 2013
8/29/13
10:30
AM ET
IRVING, Texas – Before Wes Phillips joined the
Dallas Cowboys
' coaching staff in 2007, he was a quarterbacks coach at Baylor for one year and spent two years coaching the position at West Texas A&M. His first official coaching job was as a student assistant at UTEP, his alma mater.
It helped that his father, Wade, was named Cowboys head coach in 2007.
If he got in the NFL door thanks to his father, Wes Phillips' work has kept him around.
"I think a lot of people look at nepotism and they think, 'Well, guys get jobs that maybe don't deserve them,'" said Cowboys executive vice president Stephen Jones, who, as son of Dallas owner Jerry Jones, heard similar comments when he started in the NFL. "I think that shows that obviously Wes is a sharp guy. He loves football. He works hard at it. He has a passion for it. He's obviously made his mark around here … I think his arrow is up, and he's only going to get better in this league."
Phillips always wanted to get into the family business started by his grandfather, Bum, and continued by his father. Unlike Bum and Wade, Wes is an offensive coach.
"He's the black sheep of the family," said Wade, now the defensive coordinators for the
Houston Texans
, who visit Dallas tonight in the preseason finale for both teams. "He knows that. He went on the dark side, but we still love him."
Wes Phillips joined the Cowboys as a quality-control coach. He has worked with wide receivers, the offensive line and even was the special-teams coach for a game in 2009 when Joe DeCamillis underwent an emergency appendectomy.
Cowboys head coach Jason Garrett made Phillips the tight-ends coach this year.
[+] Enlarge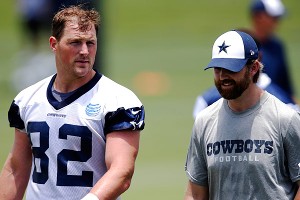 AP Photo/Tony GutierrezWes Phillips, son of Wade and the Cowboys' tight-ends coach, said he searches for "one little nugget" to give standout Jason Witten, left.
"A lot of what you do as an assistant is you sit in the room and you watch other coaches coach," Wes said. "You do a lot of work behind the scenes in the office and now you're more involved in all aspects of game planning, preparing your meetings. I was fortunate to sit in that room and listen to some excellent coaches."
There is also some symmetry to his father's early coaching career. Wade coached Hall of Famers to-be Elvin Bethea and Curly Culp in his second year on Bum's Houston Oilers' staff. Wes' first time running a position group comes with a Hall of Famer to-be in
Jason Witten
.
"I coached Elvin Bethea and Curly Culp and I thought, 'Man, I'm really a good coach,'" Wade said, "but maybe I wasn't. Maybe that was the players … (but) it gave me confidence to know I could coach. Hopefully that will help him, too."
Wes is Witten's fifth position coach in 11 seasons; the tight end has eight Pro Bowl appearances in his first 10 years.
"When you've got a guy like that it's, 'How can I stimulate him?'" Wes said of Witten. "How can I take a guy who's had so much experience and so much success and give him one little nugget or something that can help him be more successful? … With him it's got to be very succinct, very direct on what you're trying to get accomplished, and you'd better know your stuff because he knows it like a coach."
Earlier this week Wade (
@sonofbum
) tweeted about how well-coached the Cowboys tight ends looked as he prepared for tonight's game at AT&T Stadium. He said he feels the pride his father felt when he became a successful coach.
"The only thing I regret with Wes is I didn't give him a position a lot sooner," Wade said.
Which position?
"Well, I'd make him offensive coordinator first, but that wasn't my choice," Phillips deadpanned, an acknowledgment that Garrett was named coordinator before Phillips was named Cowboys head coach in 2007. "No, I just think he deserved a position because of the kind of coach he was and it would've helped his career a lot more. But he's going to have a fine career. Hopefully he'll be the third NFL head coach in this family. That will be the only family that's ever done that."
If Wes Phillips ever gets that far in this profession, it will have been on merit.
"The way I look at it is one way or the other, everyone gets hired because they know somebody," Wes said. "They have some sort of connection. And it's not how you get there. It's what you do once you get there. I do take pride in just doing my job the best I can. The fact that I've been able to stay here going on seven years is really a long time in the NFL. I've been fortunate."
September, 27, 2012
9/27/12
12:23
PM ET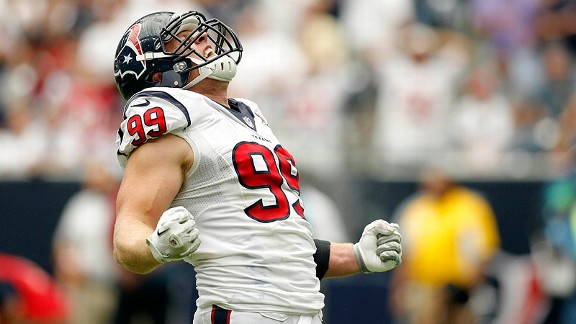 Brett Davis/US PresswireHouston's J.J. Watt leads the AFC with 5.5 sacks, and sees room for improvement.
J.J. Watt
isn't pretending he's not been productive.
But when the
Houston Texans
defensive end looks at film of his performance through three games -- three games that include an AFC-best 5.5 sacks, seven tackles for a loss, five passes defensed and a fumble recovery -- he sees what hasn't happened more than what has.
"I'm confident in my game and the best part about it. And the most exciting thing for me right now is watching the film, I still have so many things, so much more that I can do to get better," he said. "I can't wait to improve ...
"Obviously the sacks are nice, and the batted balls and the TFLs [tackles for loss], but I am still leaving a few plays on the field. That's what excites me, and those are the plays that I focus on."
Sunday, he'll bounce from one side to the other against the
Tennessee Titans
at Reliant Stadium, typically going to the formation's strong side and working with outside linebacker
Brooks Reed
behind him.
Tennessee has been poor in terms of run-blocking but has protected the passer well. However, the Titans have not faced anyone playing as well as Watt.
"He fits that system perfectly," Titans coach Mike Munchak said. "I was upset when they got him, because I knew we were going to face him twice a year. The guy makes plays. He fits that scheme perfectly, probably better than most do …
"We're going to have our hands full with him this week, and when we play them in the future. He reminds me of [San Francisco's
Justin Smith
]. He's one of the guys that stands out as being a stud in that system, which is a very similar system."
Such production from a 3-4 end is an attention-grabber, though Watt and defensive coordinator Wade Phillips say it shouldn't be.
Perhaps it's because we tend to think of a 3-4 end as a two-gapper, responsible primarily for taking up blockers and freeing linebackers to make plays.
Aaron Smith, the former
Pittsburgh Steelers
end, for example.
"Houston is not the normal 3-4," Matt Williamson of Scouts Inc. said. "They are an attacking defense, and they don't ask their DEs to two-gap like, say, Aaron Smith in his prime. Really, Houston is an attacking 5-2 more than a traditional 3-4. But ends in just about any 3-4 should be able to bump inside on throwing downs and pressure the QB."
What Smith did for the Steelers is not Watt's role, or the role of
Antonio Smith
, Houston's weakside end, in its base package.
"I'm trying to break the mold," Watt said. "A lot of people keep telling me that, that we're not allowed to make plays or we're not supposed to make plays. One of the things is that Coach Phillips puts me in great position to have success, he gives me great opportunities. And I think another thing is just having the belief, and not buying into this thing where you can't make plays.
"I mean, I don't know why people say that you can't make plays. If you bust your tail and you're rushing the passer, you're going to get a sack. If you're chasing down a runner from the back side and you beat your blocker, you're going to get a TFL. I don't see why you have to be a block-eater."
Watt doesn't like hearing that what Houston's running isn't really a 3-4. We sometimes paint it as a 5-2 or some wild twist on a conventional 3-4. But as the league evolves, maybe we are too quick to label something conventional. If defenses like Houston's and San Francisco's are so strong, maybe they redefine convention.
"I play the 5-technique [shaded outside the tackle] and the 3-technique [shaded outside a guard] just like all the other 3-4 ends," Watt said. "We're a 3-4, and I play the same position as those guys."
Phillips jumped in when I started to ask about uncommon production from a 3-4 end.
What about Oilers Hall of Fame Elvin Bethea, who Bum Phillips deployed in a similar fashion? What about Bruce Smith, who Wade Phillips
coached in Buffalo
?
"That's why we don't play a conventional 3-4," Phillips said. "In the Phillips' 3-4, my dad's 3-4, he said, 'Elvin Bethea isn't going to play two-gap, he can stunt, he can move, let's get him on the move where he can make plays, because he's a great player.' You do what your players can do, you can utilize that kind of personnel in our defense."
The Houston front is such a strong group that blocking schemes have difficult choices to make.
Inside linebacker
Brian Cushing
will rush a lot on third down. So offenses tend to move their center toward him. That helps Watt wind up with one-on-ones with a guard, since the tackle has to deal with another very good rusher in Reed.
"I don't know what they are going to do," Phillips said of the attention Watt can draw.
Watt gets moved around based on what Phillips calls and the matchups the Texans are looking to exploit. But the default is the strong side, which Watt estimates puts him against right tackles and guards 70 percent of the time.
In Watt, the Texans have a largely egoless guy. He's easygoing when he chats with a reporter, relentless when he's on the field. He's not too far removed from working as
a pizza delivery guy
, so he cherishes the job he's got and the chances that come with it.
"He's a perfect guy," Phillips said. "He's a perfect player for you, he works hard, he studies hard, he plays hard, he's first in everything he does, all the drills and all that stuff. He's what you want. Plus, he's a great athlete, too."
Early in training camp, I asked Watt about how he could get better at after a great rookie season that included a point-blank interception of
Andy Dalton
and a 29-yard touchdown return in a playoff win against Cincinnati. After the great three games so far, I asked how he had improved.
He said it's all been about calculated risks he's now willing to take.
"It's confidence, first of all," he said. "I have more of an array of moves. But I have the confidence in maybe taking a risk in order to make a play. They are extremely calculated. I'm not going to put the team in harm's way or give up a big play. I do them at just the right time where, hopefully, if everything goes according to plan, I have a very small chance of failure.
"Sometimes if I'm going to knife underneath a block or I am going to swim over a blocker, those are things where you can get caught with your arm over a blocker, he can hit you right in the chest and you're in some deep trouble there. But if you play it right and you do it at the right time and you set him up long enough, you can make it where your chance of failure is pretty small."
Watt is appreciative of the comparisons to Justin Smith, who he respects and regards as a great player.
"Watt is on a defensive MVP type of pace," Williamson said. "To me, Justin Smith was the clear No. 1 3-4 defensive end heading into this season, but Watt was great as a rookie and is even better in Year 2. He is pushing for that crown. The ends in Arizona have been fantastic as well in their more traditional 3-4."
Growing up in Pewaukee, Wis., Watt admired Howie Long and Reggie White. But the young Texan isn't real big on comparisons.
Please don't call him the next anybody.
"I think the mark of a truly great player is the guy who wants to have the most success, a guy who wants to do things that have never been done before," he said. "So that's my goal. I want to come out here and hopefully work my tail of for my career and do things that have never been done before."
January, 15, 2012
1/15/12
10:35
PM ET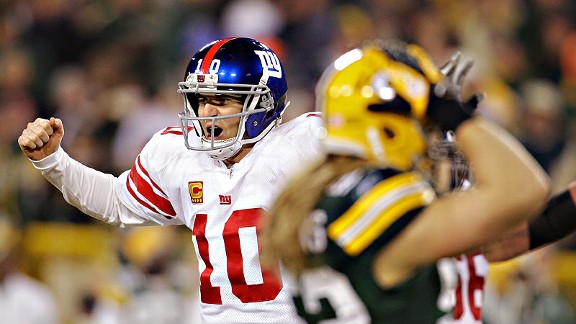 AP Photo/Darron CummingsTom Coughlin has Eli Manning and the New York Giants just one win away from the Super Bowl.
GREEN BAY, Wis. -- Deep in the bowels of Lambeau Field on Sunday night, America's youngest 65-year-old practically bounced up to the podium, a grin creasing his famously red face as he broke down his latest huge coaching achievement.
When you push yourself as hard as Tom Coughlin pushes himself, you have to revel in nights like this. The
New York Giants
had just crushed the 15-1
Green Bay Packers
,
37-20
, to move into the NFC Championship Game, and Coughlin finds himself in the middle of a postseason run every bit as delightfully surprising as the one on which he took the Giants four years ago.
"Just very happy," Coughlin said, and who can blame him? This is a remarkable coaching achievement he's pulled off. His team looked dead in the water just four weeks ago, sitting at 7-7 and in second place after a miserable home loss to the Redskins. The story in New York was about whether he would be fired if the Giants didn't make the playoffs, and the consensus seemed to be that the Giants would have little choice.
Four games and four victories later, such talk has turned preposterous. Coughlin, whose contract runs through 2012, has put himself in line for a multi-year extension. This run with this team is establishing him -- if he hadn't already done so -- as one of the elite head coaches in the game. If he wins his next two games, he becomes a two-time Super Bowl champion and, quite frankly, people are going to start to ask whether he belongs in the Hall of Fame.
"There's nobody outside of this room who believed we could get where we are right now," Giants left tackle
David Diehl
said. "You go back a month, and it was all, 'Should Coughlin be fired?' But he knew what we had here, and we knew what we had here, and we used all of that for motivation."
The mark of a great coach is his ability to identify the kind of team and the kind of players he has and coach accordingly. Bum Phillips famously said that what made Don Shula great was that "he could take his'n and beat your'n, or he could take your'n and beat his'n." Coughlin is of that school. At a time when so many coaches seem to be slaves to their own system, or seek to have control over roster construction, Coughlin sees his role more simply. His is not to mope and complain that the team didn't do more in free agency, or that defensive starters dropped like flies in the preseason. His is to figure out how to win with what he has. And as he did four years ago, when he tore through Dallas and Green Bay before taking out the undefeated Patriots in the Super Bowl, he has figured out how to push exactly the right buttons with a roster that didn't look playoff-caliber for most of this season.
"The way the leadership part works is, it starts with the coach," Giants safety
Deon Grant
said. "And what we have here is a coach who knows his team. He knows how to talk to the veterans in this locker room, when to challenge people, when to lighten up. You want a leader who believes in you, and in order to believe in you, he's got to know you."
[+] Enlarge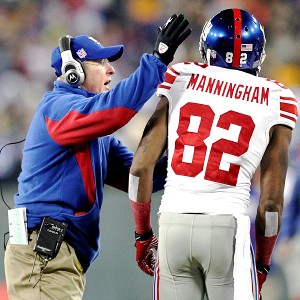 Matthew Emmons/US PresswireNew York's playoff run is establishing Tom Coughlin as one of the league's elite coaches.
Coughlin knows his team. He knew, after that Redskins loss, that the way to approach the following week was to build his players up rather than tear into them. They have responded, and are playing with a champion's level of confidence at exactly the right time of year. No fewer than four players in their locker room said Sunday night, "I knew we were going to win this game," and every single one of them was convincing and sincere.
"We've got a lot of confidence right now," running back
Ahmad Bradshaw
said. "We've been here before, a lot of us, and we've been here together. And I think that helps us a lot."
This really is starting to feel like four years ago all over again, and the reason why is the seasoned, even-keel performance of the leaders who keyed that playoff run.
Eli Manning
is playing quarterback at an incredibly high level, and Coughlin is delivering the right message during the week and projecting cool, experienced certainty during the games.
"Our coach is always consistent with his message," defensive lineman
Chris Canty
said. "That's a big deal, because it makes it easy to buy in. Confidence comes from demonstrated performance, and we have people in our building who have some pretty good records."
Sunday was Coughlin's sixth career playoff road win, one short of the all-time record held by a guy you may have heard of named Tom Landry. That's heady company, and it says a lot about the advantage Coughlin gives the Giants at this time of year. To have a coach who's not going to be surprised or thrown off by any situation, who has shown a sincere belief in you and earned your reciprocal belief in him -- that's the kind of stuff that allows a team to keep its head in intense playoff games.
"Success breeds confidence," Coughlin said. "And right now they're a pretty confident group."
That starts at the top, and while he would scoff at the notion, the fact that the Giants are one of the final four NFL teams left standing is a direct result of one of the finest coaching jobs of Coughlin's fine coaching career.
January, 7, 2012
1/07/12
11:16
PM ET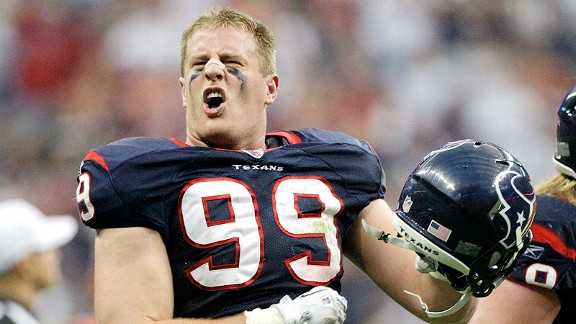 AP Photo/Tony Gutierrez"That's kind of what I do, that's my thing," J.J. Watt said of his game-turning first half interception.
HOUSTON -- The stadium rocked. A struggling team rebounded. Another rematch was set in motion.
A tie to the old era of Houston's NFL football beamed.
"It's just a great feeling to know that Houston's back," proclaimed Bum Phillips, coach of the Luv Ya Blue Oilers and father of Texans defensive coordinator Wade Phillips.
The Texans' best players played best Saturday at Reliant Stadium in
a 31-10 thrashing
of the Bengals that propelled Houston forward in the NFL playoffs to a Jan. 15 game in Baltimore. Houston lost to the Ravens at M&T Bank Stadium on Oct. 16, 29-14.
After clinching the AFC South with a Dec. 11 victory at Cincinnati, the Texans sputtered, dropping their final three regular-season games, though the finale meant nothing to their playoff standing.
"We kind of got back to what we were doing during that seven-week stretch [Oct. 23 through Dec. 11, when we were 7-0]," coach Gary Kubiak said. "We played great defense, we found a way to run the ball, we never really hurt ourselves as a team. That was the key."
The game had plenty of heroes, including efficient rookie quarterback
T.J. Yates
and cornerback
Johnathan Joseph
. Three of the team's other top players, though, produced first-rate efforts worth a deeper look.
Running back Arian Foster:
After Foster popped an 8-yard touchdown run in the first quarter to tie the score at 7-7, he changed sports as he celebrated.
A Lakers fan who apologizes to Houstonians for his NBA affection, he was talking to fans via Twitter during a recent Lakers-Rockets game. If the Rockets won, he pledged he'd do a touchdown celebration paying homage to them.
The Lakers won and got him off the hook. But Foster decided to follow through with the idea anyway. He celebrated with Hakeem Olajuwon's "
Dream Shake
" -- a hard stop with a ball fake, followed by a reversal and fade-away jumper he tossed over the crossbar.
Foster finished with 24 carries for 153 yards and two scores. He was only the third undrafted running back in league history to eclipse 100 yards in his first playoff game, joining
Ryan Grant
(2007) and Paul Lowe (1960).
The Texans' blocking was tremendous. According to ESPN Stats & Information, 102 of Foster's rushing yards came prior to initial contact. That's two-thirds of his total.
The second touchdown, a 42-yard ramble, was his most impressive run of the day. He got to the right sideline and looked to have no chance to stay in bounds. But he followed one good block and surprised strong safety
Chris Crocker
with his balance and ability to navigate the sideline as he slowed down, then hit the jets.
"I guess he thought I was going out of bounds," Foster said.
Defensive end J.J. Watt:
Shortly after
Jake Delhomme
signed with the Texans on Nov. 30, the veteran quarterback was running the offense at a walk-through. Watt batted down several of his passes at the slow-paced practice, and felt guilty for doing so.
"He was kind of mad at me," Watt said. "And I was like, 'That's kind of what I do, that's my thing.'"
He did his thing to Bengals quarterback
Andy Dalton
with 52 seconds left in the first half, but rather than knocking down the ball thrown from point-blank range, he caught it. And before many people on the field realized where it was, he was carrying it to a 29-yard touchdown that put Houston ahead 17-10.
Coaches and teammates said while reporters and fans don't see it, Watt snares balls like that all the time at practice.
And while several pass-catchers wouldn't go so far as to say they'd struggle to make the same play, the guy with the best hands on the team wasn't too proud to say otherwise.
"It's almost impossible," fullback
James Casey
said. "You're so close to the ball and obviously the guy is throwing it hard to have it on that trajectory. To be able to catch it like that is remarkable, that's why you never see it happen.
"Guys bat balls down but they don't actually catch it. I'd catch zero out of 10. Maybe out of 100 I'd catch one every now and then just getting lucky."
Watt followed up that giant play by tracking Dalton as he fled the pocket and sacking him on the final play of the first half.
It was Watt's first touchdown since high school. He didn't score one as a tight end at Central Michigan or as a defensive end at Wisconsin.
Denver's
Von Miller
or San Francisco's
Aldon Smith
will win defensive rookie of the year, but Watt didn't trail them by much in terms of overall initial impact. Miller will have a chance to match Watt's postseason pace in a game Sunday.
[+] Enlarge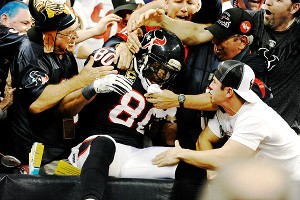 AP Photo/Dave EinselReceiver Andre Johnson's post-score jump into the stands sent Reliant Stadium wild.
Receiver Andre Johnson:
He missed nine games this season with two different hamstring injuries. The Texans gave him a chance to knock some rust off last week. But he and Yates were out of sync for a good portion of this game.
The always-calm Johnson has been waiting for a playoff game since 2003, when he was the Texans' top pick in the franchise's second season. He admitted to being antsy and overly anxious to make a play. After one failed pass attempt, he returned to the bench and slammed his helmet to the turf.
Late in the third quarter, though, he and Yates made a connection that sealed the game. Lined up on the left, Johnson put a double move on
Adam Jones
, who bit, slipped and moved laterally instead of back as he recovered.
Johnson was wide open and Yates delivered a ball that hit him in stride for a 40-yard touchdown that gave the Texans a 24-10 lead.
In the end zone, he stopped and looked to be enjoying a contemplative moment to take it all in and consider all that had come in his career before the big moment.
But that wasn't it at all.
"I've jumped in the stands a few times here and I've been grabbed by the facemask and everything," he said. "So I was kind of thinking about jumping, that's what the pause was for."
He jumped.
The play had about put Reliant Stadium into orbit, but Johnson made it safely back to Earth.
May, 20, 2011
5/20/11
1:08
PM ET
Examining the most crucial event in the history of every team in the division.
Peyton Manning
melded a team and a town, resurrected the once-proud horseshoe and will finish up as a contender for the greatest of all time on the quarterback list.
There is no minimizing his impact.
Said DaveatIU: "Without drafting Peyton Manning... they would be the Los Angeles Colts right now. 'Nuff said."
The Blog Network offered four choices per team, plus the option to vote "other." And out of 160 total options, the drafting of Manning got a higher percentage of votes on his team's ballot than anyone or anything else.
As of Thursday afternoon, Manning had a whopping 87 percent of the Colts' vote. He didn't win by a little. He outpointed the next three biggest Flash Points in your eyes by 18 percent: Joe Namath's guarantee for the Jets, the Broncos trade for
John Elway
and the Packers' hiring of Vince Lombardi were all at 69 percent.
In general, AFC South voters went modern. With the Jaguars and Texans, there is no other choice. With the Colts and Titans, you chose not to hearken back to Baltimore and Houston, respectively.
I understand many of you don't regard Baltimore/Indianapolis and Houston/Nashville as single histories. But we don't get to decide. The Irsay and Adams families did.
As edutil21 wrote: "The question is asking about the colts FRANCHISE, not the cities of Indianapolis or Baltimore, and with that in mind it is perfectly plausible to include anything that occurred during the Franchise's time in Baltimore."
And so, as big a moment as drafting Manning was in setting his franchise's course, I think my vote has to go to The Greatest Game Ever Played, the 23-17 overtime win over the Giants in the NFL Championship Game at Yankee Stadium in 1958.
Without that game, are we certain the league turns into an entity where Manning has the chance to make the impact he has?
j_sleik83 was disgusted with the balloting: "And the idiots voting reign supreme. It's the 58 title game. In NFL history it's number 1, much less Colts history. And btw, Johnny Unitas is still the greatest QB in Colts history."
Added CPCaesar: "Do Colts fans have zero sense of history?! I can understand a strong showing for Peyton, but to have him blowing out the game that made the NFL into a televised sport is ridiculous! This team has a legacy that includes Don Shula and Johnny Unitas, but it seems as if their impact on the game is lost on a modern fan base…"
There was also a pretty good other mentioned by a few, including krankor: "The actual Colts Flash Point didn't even involve the team. It was in 1955 when the
Pittsburgh Steelers
brilliantly decided that it would be a shrewd move to cut Johnny Unitas."

TITANS: Epic playoff collapse set stage for relocation
With the Titans, modern also ruled. I understand why 52 percent of voters clicked the button for The Music City Miracle.
For Nashville sports fans to get a play like that in the team's first year as the Titans, in the city's first playoff game, was absolutely remarkable. It put the team's claws into everyone with any sort of interest that day for the long haul. Quite frankly, it spoiled them, too.
With apologies to greenlawler and the majority of voters, I've got to go a different direction again.
The Oilers/Titans are, historically, average at best. Since the AFL-NFL merger, the team has had 18 winning seasons, 17 losing seasons and six .500 seasons. It's 14-19 all-time in the playoffs even counting the AFL days when it won a couple of titles. Since the Music City Miracle season, the team is 2-5 in the playoffs. What was transformed?
Put the MCM aside, and the biggest historical moments for the franchise are generally not wins: A yard short of overtime in its one Super Bowl appearance; back-to-back AFC Championship Game losses in Pittsburgh to end the 1978 and 1979 seasons; and the firing of Bum Phillips after an 11-5 year in 1980.
And the mother of bad playoff moments, that epic playoff collapse in Buffalo on Jan. 3, 1993, when the Oilers blew a 35-3 lead to lose 41-38 in overtime.
That's the Flash Point to me.
What if that team or the 12-4 team a year later (that was scarred by that disaster), went to a Super Bowl? What if it won a Super Bowl?
Surely Bud Adams would have maintained a better standing in the city, which would have been more willing to build a new stadium. Take away that loss, and there still could be a team in Houston wearing powder blue and an oil derrick. (And a guy like me, who got his big break in sports writing because Nashville got an NFL franchise, might be an admissions director at some private high school.)
So I align with mag5011ad: "If they don't blow that 32 point lead, I think they represent the AFC in the Super Bowl, not the Bills. With that excitement in the city, they get the support to build a new stadium, which keeps the team in Houston. Most defining moment. . ."
JAGUARS: Quick Final Four appearance boosted city
A trip to the AFC Championship Game in the Jaguars' second season of play had quite an impact on the market in 1996. It got 52 percent of your votes as the Jaguars' Flash Point, and I am in agreement.
But your comments were mostly about the 1999 season, when the Jaguars hosted the AFC Championship Game. They lost to the Titans for the third time that year, in a season which they lost to no one else.
Said markpark64: "I would say the 1999 AFC Championship Game. It was the last home playoff game and ended a run of four straight playoff appearances. The Jags' history can really be divided into pre-1999 (2 AFC Championship Game appearances in 4 years) and post-1999 (only 3 playoff games and 1 playoff win in over 10 years). The team has not been the same since the 1999 loss."
You also wanted to spin forward, which isn't the game we're playing but was understandable.
Said SeattleJaguar: "It may be too soon to say, but I think the promotion of Gene Smith to GM will be looked at as the most significant turning point for this franchise. The fan base is starting to become more mature and a unique football culture is beginning to establish itself. We are seeing a young, die-hard, fan base emerge from the 'Jaguars babies' of the 90s. If you go to any games, its remarkable how young the fans are and they will stay loyal to the Jags, unlike the old farts that abandoned the team after the 90s. Go Jags!"

TEXANS: Controversial draft choice proved correct
Texans fans voted, narrowly, for the drafting of
Mario Williams
in 2006 over the awarding of the franchise in 1999.
The Texans got crushed for the selection, but history shows they knew exactly what they were doing. He's a superior player to
Reggie Bush
or
Vince Young
.
The decision to draft Williams did not transform the team, but there is nothing that's boosted a nine-season-old team in such a dramatic fashion.
Said vonstev1668 "Though I voted for the win against the Cowboys [in the franchise's first game], the truth is the Texans haven't had their defining moment yet."
Said EMajorwitz: "Trick question, hasn't happened yet. [Dom] Capers and [Charley] Casserly essentially ruined this team with their horrible drafting and free-agent signings. Other than
Andre Johnson
, I don't like a single first-round pick. Nearly a decade into the franchise's history and we still haven't made the playoffs while recent expansion teams like Carolina and Jacksonville have been deep into the playoffs."
May, 11, 2011
5/11/11
1:04
PM ET
What key event significantly changed the fortunes of the Titans -- for better or worse? Give us your take and we'll give you our definitive moment on May 20.
Do you lean happy or sad, positive or negative?
The Houston Oilers/
Tennessee Titans
have extreme moments on both sides of the ledger. So as we look to select only one as decisive, do we turn to the good or the bad?
The Luv Ya Blue Oilers were a wonder, and in 1978 and 1979 they may well have been the second-best team in the NFL. Unfortunately for them, they resided in the same division as the best team, the
Pittsburgh Steelers
. When they fell short of a third consecutive trip to the AFC Championship Game in 1980, owner Bud Adams regrettably fired coach Bum Phillips.
But if you're looking for a tough turning point -- one that might now even outscore the other Houston option -- there's the famous playoff collapse in Buffalo in January 1993, when the Oilers blew a 35-3 lead. Rare is a significant collapse in an NFL game, or a playoff game in any sport, where the Bills' comeback on the Oilers isn't referenced.
Perhaps for Houston, even that was topped by the Oilers' departure, but of course in Nashville that qualified as a happy occasion.
And while the appearance in Super Bowl XXXIV was the franchise's football high point, it became possible thanks largely to the Music City Miracle, an improbable, last-second trick kickoff return that beat Buffalo in the 1999 playoffs.
You're invited to do better than I've done here.
If you vote Other, give us your suggestion in the comments area below.
April, 16, 2010
4/16/10
10:20
AM ET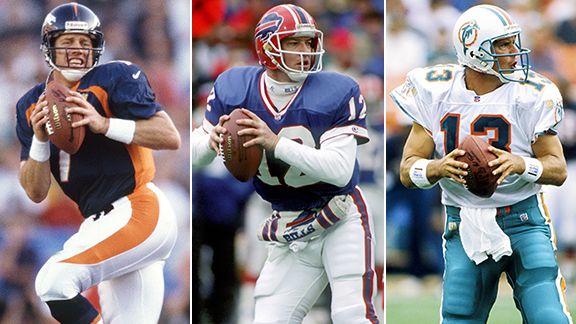 US PresswireJohn Elway, Jim Kelly and Dan Marino are a part of a draft class that may be the best in NFL history.
The 1983 NFL draft might have been the best of the modern era even without Hall of Fame quarterbacks
John Elway
,
Jim Kelly
or
Dan Marino
.
It was that good.
"I think if you asked each guy to a man, in particular the Hall of Fame guys, there has always been a pride about our class," said cornerback
Darrell Green
, the 28th overall choice in 1983 and a Hall of Famer. "Without ever discussing it, we knew we were a pretty special class of athletes."
The class produced six Hall of Famers –- Elway, Kelly, Marino, Green,
Eric Dickerson
and
Bruce Matthews
-– in addition to recent Hall finalists
Richard Dent
and
Roger Craig
. Of the 335 players drafted, 41 combined for 142 Pro Bowl appearances.
No other draft class has produced more than 34 Pro Bowl players since the NFL and AFL combined for a common draft in 1967, according to ESPN Stats & Information. That year served as the starting point for this project ranking the five best draft classes. The 1996, 1981, 1969 and 1985 drafts also made the cut.
Not that making the cut was good enough for some.
"If you took the defensive players in our draft and put them on the field against any class, we would shut them out," said
Ronnie Lott
, one of the more decorated members of a 1981 class featuring
Lawrence Taylor
, Mike Singletary,
Rickey Jackson
,
Howie Long
and Kenny Easley.
The project was biased against recent classes because their players haven't had time to achieve in ways that set apart the older classes. The 2001 class has already produced 33 Pro Bowlers, same as the 1996 class and more than every other class but 1983, 1987 and 1988. But the best players from that class aren't finished achieving.
The biggest challenge, at least to me, was settling on the right criteria. ESPN Stats & Information provided an updated version of the spreadsheet used to identify elite draft classes for
a previous project

. The spreadsheet awarded points to players based on:
Hall of Fame enshrinement (15 points)

MVP awards (8)

Player of the year awards (6)

All-Pro first-team awards (4)

All-Pro second-team awards (3)

Super Bowl victories (3)

Pro Bowls (2)

Rookie of the year awards (2)

Super Bowl defeats (1)
I used the spreadsheet as a starting point.
From there, I assigned 15 points to current or recently retired players likely destined for Canton. The players I singled out were:
Troy Polamalu
,
Dwight Freeney
,
Ed Reed
,
LaDainian Tomlinson
,
Steve Hutchinson
,
Brian Urlacher
,
Tom Brady
,
Champ Bailey
,
Peyton Manning
,
Randy Moss
,
Alan Faneca
,
Orlando Pace
,
Walter Jones
,
Tony Gonzalez
,
Jason Taylor
,
Jonathan Ogden
,
Marvin Harrison
,
Ray Lewis
,
Brian Dawkins
,
Terrell Owens
,
Derrick Brooks
,
Marshall Faulk
,
Larry Allen
,
Michael Strahan
,
Brett Favre
,
Junior Seau
and
Deion Sanders
.
I added five points for Hall of Fame finalists not yet enshrined -- Cortez Kennedy, Shannon Sharpe, etc. These changes allowed the rich to get richer, of course, because all those players already had lots of Pro Bowls on their resumés. But if it was important to recognize current Hall of Famers -- and it was, I thought -- then it was important to acknowledge the strongest candidates not yet enshrined.
Another thing I noticed: These changes didn't significantly alter results, which were predicated mostly on Pro Bowl appearances, a statistical correlation revealed.
The next challenge was making sure the formula didn't acknowledge great players at the expense of good ones. ESPN's John Clayton and Gary Horton of Scouts Inc. felt the formula should take special care in this area. I wasn't as adamant.
"You love the Hall of Famers," Horton said, "but I like the class where the guy plays at a high level for a long time. I love those third-round picks that just play and play. We shouldn't make a mistake at the first pick. That guy should be a great player."
Clayton used
approximate-value ratings
from Pro Football Reference to produce averages for each draft class. The 1993 class produced the highest average, followed by the 1996, 1983, 1975 and 1971 classes. Clayton also plugged in total games played. The 1983 class edged the 1993 class for the most, followed by the 1990, 1976 and 1988 classes.
A few key variables changed along the way.
Teams drafted at least 442 players annually from 1967 to 1976. They drafted more than 330 players each year from 1977 through 1992. The 1993 class featured only 224 players, fewer than any class under consideration. The first 224 players drafted in 1969 had much higher average approximate-value ratings than the 1993 class, for example. More recent draft classes also benefited from league expansion, which opened roster spots and opportunities for additional players.
NFL regular seasons also grew in length from 14 to 16 games beginning in 1978.
My focus was more on what the draft classes produced and less on extenuating circumstances.
The 1993 class is among those deserving honorable mention. Do the most decorated members of that class -- Strahan,
Willie Roaf
,
Will Shields
,
John Lynch
,
Jerome Bettis
and
Drew Bledsoe
among them -- hold up to the best from other years?
Take a look at my top five classes and decide for yourself.
---
[+] Enlarge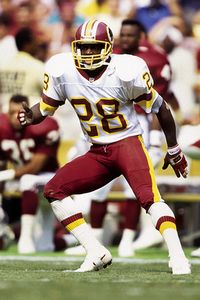 US PresswireDarrell Green was the last pick of the first round in the 1983 draft.
1983
Why it's the best:
No other class came close using the point system from ESPN Stats & Information. The 1983 class finished in a virtual tie with the 1996 and 1981 classes even when I removed from consideration the three Hall of Fame quarterbacks -- Elway, Marino and Jim Kelly. No class had more combined Pro Bowls from its top-10 picks (42) or more combined Pro Bowls from players drafted later than the 200th overall choice (26). Five of the six Hall of Famers played their entire NFL careers with one team for 83 combined seasons, or 16.6 on average.
Hall of Famers:
Elway (Broncos), Kelly (Bills), Marino (Dolphins), Green (Redskins), Dickerson (Rams), Matthews (Oilers)
Hall of Fame finalists:
Richard Dent (Bears), Roger Craig (49ers)
Other big names:
Karl Mecklenburg
(Broncos), Joey Browner (Vikings),
Chris Hinton
(Broncos),
Charles Mann
(Redskins),
Dave Duerson
(Bears),
Leonard Marshall
(Giants),
Albert Lewis
(Chiefs), Curt Warner (Seahawks), Jimbo Covert (Bears),
Henry Ellard
(Rams),
Mark Clayton
(Dolphins),
Tim Krumrie
(Bengals),
Greg Townsend
(Raiders), Gill Byrd (Chargers),
Don Mosebar
(Raiders),
Darryl Talley
(Bills).
Late-round steals:
Mecklenburg was the 310th overall choice. Dent went 203rd overall. Clayton went 223rd. They combined for 15 Pro Bowls.
Ah, the memories:
Green grew up in Houston rooting for the Oilers, but his hometown team wasn't very accommodating on draft day. His family didn't have cable TV, so they couldn't watch the draft on ESPN. They had heard the Oilers would be showing it at their facility, or at least providing real-time updates, but Green was turned away.
"They sent my little behind on out of there," Green said. "That is the way that went. What is funny, I'm a Houstonian, I played 20 years in the NFL, started 18 years and I never played in Houston but one time, so I couldn't stick it to them. ... But you always love your hometown. I was a Luv Ya Blue, Bum Phillips, Kenny Burrough, Earl Campbell, Dan Pastorini fan."
Green was used to the cold shoulder. Tim Lewis, drafted 11th overall by Green Bay, was supposed to be the superstar cornerback that year. Looking back, Green liked going one spot after Marino. Green also values being a bookend to a first round featuring Elway on the other side.
"[Redskins general manager] Bobby Beathard told me if I was there, he would take me," Green said. "I'd always been told by pro players, 'Hey, don't believe anything they say.' As an adult, I know why. Things change. But the man told me. We got down to Dan Marino at 27 and I knew I wouldn't be 27. Then when we got to 28, the last pick of the first round, now I've got nothing else to do but believe it. I was extremely excited he maintained his word."
---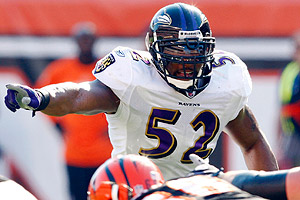 Frank Victores/US PresswireRay Lewis could be one of the best linebackers to ever play in the NFL.
1996
Why it's No. 2:
Jonathan Ogden and Ray Lewis arguably rank among the three best players at their positions in NFL history. Marvin Harrison and Terrell Owens arguably rank among the
10 greatest receivers
. Between four and seven members from this class have strong credentials for Canton. Only the 1983 class produced more total Pro Bowl appearances. Unlike some other classes -- 1988 comes to mind -- this one provided star power deep into the draft.
Hall of Famers:
none yet.
Hall of Fame finalists:
none yet.
Strongest Hall credentials:
Jonathan Ogden (Ravens), Marvin Harrison (Colts), Ray Lewis (Ravens), Brian Dawkins (Eagles), Terrell Owens (49ers),
Zach Thomas
(Dolphins),
La'Roi Glover
(Raiders).
Other big names:
Mike Alstott
(Bucs),
Willie Anderson
(Bengals),
Simeon Rice
(Bucs),
Lawyer Milloy
(Patriots),
Tedy Bruschi
(Patriots),
Eddie George
(Titans),
Jeff Hartings
(Lions),
Keyshawn Johnson
(Jets),
Donnie Edwards
(Chiefs),
Jon Runyan
(Oilers),
Amani Toomer
(Giants),
Muhsin Muhammad
(Panthers),
Stephen Davis
(Redskins),
Joe Horn
(Chiefs),
Marco Rivera
(Packers).
Late-round steals:
Fifth-rounders Thomas, Glover and Horn combined for 17 Pro Bowls. Another fifth-rounder,
Jermaine Lewis
, added two more. No other fifth round produced more total Pro Bowls during the period in question. Although expansion added additional picks to more recent fifth rounds, those picks were also later in the draft. Thomas and Glover should get strong Hall of Fame consideration.
Ah, the memories:
Glover was the 16th defensive tackle drafted in 1996. He wasn't even invited to the combine initially, and when he did get the call, there wasn't enough time to prepare for the specialized events. Glover, who weighed about 265 pounds at San Diego State, was in trouble and he knew it.
"It's funny to me now, but it wasn't funny then," Glover said. "I got a call maybe a week before the combine, so I wasn't prepared. I was out there doing my long-distance conditioning training and I wasn't doing speed-type training. I may have ran like a 5.1 or 5.2, a very bad time."
Glover performed much better at his personal workout, dropping those times into the low 4.9s. Oakland made him the 166th player chosen that year.
"I just remember feeling goosebumps and I started sweating -- the dream is coming true," Glover said. "And then I was put on the phone with Mr. Al Davis. He asked me a very specific question: 'How would you like to be an Oakland Raider?' And I damn near lost it. I didn't cry or anything. I kept my composure over the phone. As soon as I hung up and saw my name come on the ticker -- I lived in a tiny 2-3 bedroom home -- the place just erupted. All the women were crying and all the men were asking for tickets."
---
[+] Enlarge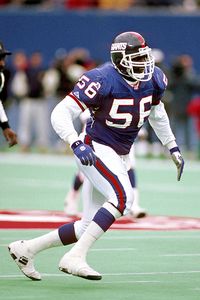 US PresswireLawrence Taylor helped the New York Giants win two Super Bowls.
1981
Why it's No. 3:
This was arguably the greatest defensive draft under consideration, particularly near the top. The NFL's best athletes typically played offense, but 1981 draftees Taylor, Lott and Easley helped change the dynamics. This draft wasn't as strong as some throughout, but its star power on defense set it apart. Key players from this draft helped the 49ers, Redskins, Giants, Bears and Raiders dominate at times during the decade. Only the 1986 draft produced more Super Bowl winners.
Hall of Famers:
Taylor (Giants), Lott (49ers), Mike Singletary (Bears), Howie Long (Raiders), Rickey Jackson (Saints), Russ Grimm (Redskins).
Hall of Fame finalists:
none.
Other big names:
Easley,
Eric Wright
(49ers),
Dennis Smith
(Broncos), Cris Collinsworth (Bengals), Hanford Dixon (Browns), Freeman McNeil (Jets), James Brooks (Chargers), Brian Holloway (Patriots), Hugh Green (Bucs), Carlton Williamson (49ers), Neil Lomax (Cardinals), Dexter Manley (Redskins),
Mark May
(Redskins),
E.J. Junior
(Cardinals).
Late-round steals:
Charlie Brown, chosen 201st overall by the Redskins, caught 16 touchdown passes in his first two seasons, earning Pro Bowl honors both years.
Wade Wilson
, chosen 210th, played 19 seasons and earned one Pro Bowl berth, in 1988.
Ah, the memories:
Once the 49ers drafted Lott eighth overall, the USC safety headed to the airport to use a ticket the team had held for him. Easley, chosen sixth by the Seahawks, was the other great safety in that draft class and the two were so closely linked that the person behind the airline counter mixed up Lott's destination.
"You are going to Seattle?"
"No, San Francisco," Lott replied.
Lott often looks back on how things might have been different if the Saints had drafted Taylor instead of George Rogers first overall. That wasn't going to happen because the Saints wanted a running back to help them control the clock, and they were especially particular about character in that draft -- their first with Bum Phillips as head coach.
"Lawrence Taylor, I didn't realize he was going to be that type of player, but Rickey Jackson did turn out to be the player we needed [in the second round]," Phillips said. "We needed a great player and a great individual. We needed some leadership and we needed the right kind of character to be leaders."
The 49ers needed a new secondary. They used that 1981 draft to select Lott, Wright and Williamson.
"I talked to Bill Walsh and his statement was, 'If I see it on film once, then my coaches should be able to get it out of a guy,'" said Horton, the Scouts Inc. founder and veteran NFL talent evaluator. "That always stuck with me. He was amazing at seeing things on tape. That '81 draft was a smart draft. You could look at that draft and you could see what teams were thinking."
---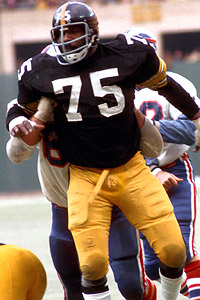 Malcolm Emmons/US PresswireJoe Greene is one of five Hall of Fame inductees from the 1969 draft class.
1969
Why it's No. 4:
Roger Wehrli's 2007 Hall of Fame enshrinement gave this class five inductees. Only three other classes managed more combined Pro Bowl appearances. Some of the names in this class won't resonate with recent generations, and that is understandable. But this was still a strong class and one worthy of our consideration.
Hall of Famers:
Joe Greene (Steelers), Ted Hendricks (Raiders), O.J. Simpson (Bills), Wehrli (Cardinals), Charlie Joiner (Oilers).
Hall of Fame finalists:
L.C. Greenwood (Steelers), Bob Kuechenberg (Eagles).
Other big names:
George Kunz (Falcons), Bill Bergey (Bengals), Bill Stanfill (Dolphins), Calvin Hill (Cowboys), Ed White (Vikings), Gene Washington (49ers), Jack Rudnay (Chiefs), Bill Bradley (Eagles), Ted Kwalick (49ers), Jim Marsalis (Chiefs), Ron Johnson (Browns), Fred Dryer (Giants).
Late-round steals:
Greenwood was a six-time Pro Bowl choice and was the 238th overall pick. The Falcons found five-time Pro Bowler Jeff Van Note with the 262nd choice. Larry Brown, chosen 191st overall, was a four-time Pro Bowl selection.
Ah, the memories:
There was no scouting combine back then. Wehrli couldn't remember seeing a pro scout, even at Missouri practices. He had never even run a 40-yard dash until a Cardinals scout asked him to run one at the Hula Bowl all-star game in Hawaii.
Wehrli agreed to run on the spot even though he was wearing pads, the playing surface was natural grass and the stakes were higher than he realized.
"At the time, I didn't know it was a Cardinals scout," Wehrli said. "I ran the 40, came back and he said, 'Man, we didn't realize you were that fast.' Later, he told me that timing moved me up to a first-round draft choice [from the third round]."
Wehrli had clocked in the 4.5-second range. He would run 4.4s on Astroturf later in the pros.
"You never really trained for it back then," he said.
---
[+] Enlarge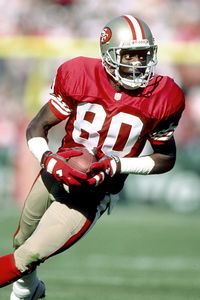 US PresswireJerry Rice, the best receiver in NFL history, helped San Francisco win three Super Bowls.
1985
Why it's No. 5:
Just as the 1983 class featured more than quarterbacks, the 1985 version offered much more than the most prolific receiver in NFL history. Yes,
Jerry Rice
was the 16th overall choice, helping set apart this class from some others. But the supporting cast featured elite talent, from
Bruce Smith
to
Chris Doleman
and beyond.
Hall of Famers:
Rice (49ers), Smith (Bills).
Hall of Fame finalists:
Andre Reed
(Bills).
Other big names:
Lomas Brown
(Lions),
Steve Tasker
(Oilers),
Ray Childress
(Oilers),
Kevin Greene
(Rams),
Jay Novacek
(Cardinals),
Bill Fralic
(Falcons),
Jerry Gray
(Rams),
Randall Cunningham
(Eagles),
Ron Wolfley
(Cardinals), Al Toon (Jets),
Jim Lachey
(Chargers),
Kevin Glover
(Lions),
Mark Bavaro
(Giants), Herschel Walker (Cowboys),
Duane Bickett
(Colts),
Doug Flutie
(Rams),
Jack Del Rio
(Saints).
Late-round steals:
Tasker became a seven-time Pro Bowl choice on special teams as the 226th overall choice (albeit with Buffalo, after the Oilers waived him). Greene was a fifth-rounder, Novacek was a sixth-rounder and Bavaro, one of the toughest tight ends, provided excellent value in the fourth round.
Ah, the memories:
Bill Polian was a little-known pro personnel director with USFL roots when Bills general manager Terry Bledsoe suffered a heart attack two months before the draft. The Bills had already landed their franchise quarterback in Kelly two years earlier, but his two-year detour through the USFL had set back the organization. Buffalo held the No. 1 overall pick, and the stakes were high.
Polian took over GM duties. Norm Pollom, a holdover from the Chuck Knox years, headed up the college scouting side.
The Bills were in great hands. Although some fans hoped the team would draft Flutie, Polian and Pollom found building blocks.
Aggressive wheeling and dealing allowed Buffalo to land cornerback Derrick Burroughs with the 14th choice, acquired from Green Bay, even after drafting Smith first overall. Reed was a steal in the fourth round. The decision to draft Smith over Ray Childress was the right one even though Childress became a five-time Pro Bowl choice for the Oilers.
February, 26, 2010
2/26/10
8:05
PM ET
By
Matt Mosley
| ESPN.com
INDIANAPOLIS -- Cowboys head coach Wade Phillips was kind enough to stop and visit with four reporters in a hotel lobby earlier this afternoon. I asked him several questions, but his most interesting response involved outside linebacker
Anthony Spencer
. He said Spencer was "one of the best players in the league at the end of the year."
[+] Enlarge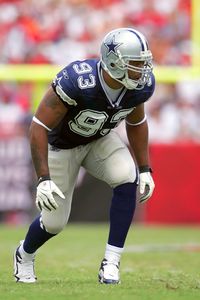 Cliff Welch/Icon SMI Anthony Spencer had 67 tackles last season -- third most on the Cowboys -- including 10 for a loss.
Phillips indicated that Spencer was talented enough to one day be compared with a member of the Saints' famed "Dome Patrol," linebacker
Rickey Jackson
. The former New Orleans star was voted into the Pro Football Hall of Fame a couple weeks ago and he was part of Bum Phillips' first draft class in New Orleans (1981).
Phillips also talked Friday about how much he enjoys the scouting process. His father, Bum, used to send coaches out on the road to scout players. Wade was responsible for the University of Tulsa when the Oilers selected wide receiver Steve Largent in 1976. But when the Oilers needed a roster spot in the preseason, the offensive coaches decided that Largent was expendable. He was eventually traded to the Seahawks for an eighth-round draft pick. And I think most of you know the rest of that story.
In other news, Phillips said he thought the Cowboys' inclusion in the Hall of Fame Game
was a positive
despite the extra travel and practice time it will require.
"With our team, I think it's a good thing," Phillips said. "We have a lot of young players. We had some young players that were hurt last year, or didn't play a whole lot or played some and need more playing time. I can just see that helping."
When I last saw Phillips on Friday, he was catching up with Redskins coach Mike Shanahan. Phillips was replaced as head coach of the Broncos by Shanahan after the 1994 season. Now the two will square off in the NFC East. OK, let's do this again Saturday.
August, 3, 2009
8/03/09
5:15
PM ET
Posted by ESPN.com's Matt Mosley
It's been one week of Eagles training camp, and the team has already dealt with a lot of adversity. First and foremost, there was the death of longtime defensive coordinator Jim Johnson, one of the best minds in the game. There's also been the distraction of rookie wide receiver Jeremy Maclin's contract holdout.
Now it appears that starting middle linebacker Stewart Bradley, one of the team's best young players, will miss the season with a torn anterior cruciate ligament that he suffered during Sunday's Flight Night at the Linc. I don't know the exact play during the scrimmage where Bradley suffered the injury, but Les Bowen of the Daily News says the linebacker got caught up in a pile of players.
In recent days, I've written about how some teams feature more contact in training camp than others. Cowboys head coach Wade Phillips said there would be no tackling in San Antonio, and he said that's something that goes all the way back to how his father, Bum, approached training camp. In Denver, though, there will be full-pad tackling like the old days. Andy Reid had said Saturday that the scrimmage would include full-contact.
And with what happened to Bradley, it's time to make the immediate second-guess. In fact, that's one of my specialties. I'll ask around to my fellow bloggers, but my sense is that most team's don't tackle in training camp -- except sometimes in red zone drills. So is tackling in training camp worth the risk?
This afternoon, I'm sure a lot of Eagles fans are wondering how to answer that. Bradley's one of the smartest players on the team and he's an emerging leader. In addition to trying to fill the shoes of the great Jim Johnson, defensive coordinator Sean McDermott will now be forced to find a replacement at one of the most important positions on the field. He could go with a veteran such as Omar Gaither who was benched last season in favor of Akeem Jordan or an '08 late-round draft pick named Joe Mays.
We'll keep our eye on this one for you. And thanks for your patience this afternoon. I had to step away from the Beast news desk for another assignment.
January, 28, 2009
1/28/09
1:00
PM ET
Posted by ESPN.com's Tim Graham
They were the first words out of New York Jets coach Rex Ryan's mouth at last week's introductory news conference, a clever declaration establishing that he intended not only to win a Super Bowl, but quickly.
"With all the cameras and all that, I was looking for our new president back there," Ryan said, then paused for dramatic effect.
"You know, I think we'll get to meet him in the next couple years anyway."
To make that happen, Ryan must contradict history. Ryan is the fifth son of a former NFL head coach to follow in his father's sideline paces -- and the first four have set a poor standard.
Father-son NFL head coaches
Father
Record
Son
Record
Don Shula
328-156-6 (.678)
David Shula
19-52-0 (.268)
Bum Phillips
82-77-0 (.516)
Wade Phillips
70-49-0 (.588)
Jim E. Mora
125-106-0 (.541)
Jim L. Mora
26-22-0 (.542)
Dick Nolan
69-82-5 (.457)
Mike Nolan
18-37-0 (.327)
Buddy Ryan
55-55-1 (.500)
Rex Ryan
??-??-? (.???)

David Shula, Wade Phillips, Jim Mora and Mike Nolan have pockmarked résumés. They've combined for a 133-160 regular-season record and a single playoff victory.
Shula and Nolan each posted winning percentages under .300 and were fired by the Cincinnati Bengals and San Francisco 49ers, respectively, with zero playoff appearances.
Mora is the only head coach's son to win in the playoffs, going 1-1 with the Atlanta Falcons. Phillips, the most successful with a regular-season winning percentage of .588, has failed to win in the postseason after four tries with the Denver Broncos, Buffalo Bills and Dallas Cowboys.
So when somebody tells you about Ryan's pedigree, enlighten him or her that bloodlines mean zilch when it comes to coaching.
Ryan will need to be his own man.