NFL Nation:

Byron Westbrook
October, 23, 2011
10/23/11
11:49
AM ET
CHARLOTTE -- The Panthers and Redskins just announced their inactives for Sunday's game.
For Carolina, quarterback
Jimmy Clausen
, safety
Jordan Pugh
, running back
Mike Goodson
, tight end
Richie Brockel
, linebacker
Omar Gaither
, tackle
Lee Ziemba
and defensive tackle
Frank Kearse
are inactive.
For Washington, receiver
Donte Stallworth
, safety
Oshiomogo Atogwe
, cornerback
Byron Westbrook
, tight end
Chris Cooley
, linebacker
Markus White
, tackle
Trent Williams
and defensive lineman
Darrion Scott
.
September, 18, 2011
9/18/11
7:37
PM ET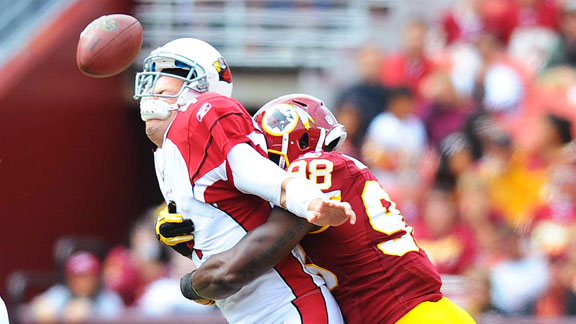 James Lang/US PresswireBrian Orakpo and the Redskins' defense pressured quarterback Kevin Kolb all day.
LANDOVER, Md. -- The play that could have broken the spirit of the
Washington Redskins
' defense happened with 11:09 left in Sunday's game. Linebacker
London Fletcher
was just a quarter of a second too late in getting to Cardinals quarterback
Kevin Kolb
, who found
Larry Fitzgerald
deep down the right side of the field for a 73-yard touchdown that stretched Arizona's lead to eight points. After a day of missed opportunities, a game in which they'd dominated time of possession and should have had things well in hand, the Redskins were staring at the strong possibility that they'd let one get away.
"There was no panic on our sidelines," Fletcher said after a
22-21 victory
that pushed the Redskins two games over .500 for the first time since 2008. "We were disappointed to give up the touchdown, of course, but I was really stressing to the guys that there was a lot of football left to be played."
The Redskins still had a lot going for them. They knew they'd been stopping the Cardinals pretty much all day. Their offense was marching down the field behind
Rex Grossman
and
Roy Helu
for a touchdown drive. And perhaps just as important as either of those two things, they had Fletcher, their inspirational leader, urging them on, as he always does.
"He's obviously still got a lot left in his tank," Redskins nose tackle
Barry Cofield
said. "If a guy who's played as long as he has can still be that fired up and that hungry, it makes you feel bad if you can't be that same way yourself."
There were some who predicted that the Redskins would play this whole season and not win any more games than the two they've already won. Those who did so ignored the improvements Washington made on defense, the benefits the returning players would draw from the season they spent in Jim Haslett's 3-4 defense in 2010, and the veteran leadership the Redskins have on that side of the ball. Fletcher was all over the field Sunday, making five tackles, hitting Kolb twice and collecting an interception. He blitzed out of the Redskins' shifting, confusing defensive fronts as if he'd been playing in them his whole career. The Redskins' linebackers were the stars of the defensive show as the banged-up secondary kept losing players to injury, and Fletcher led them.
"He's the captain of our ship," said reserve cornerback
Byron Westbrook
, who forced the
Chansi Stuckey
fumble that sealed the game for Washington in the final minute. "He's vocal. He has a lot of passion. He's always positive and upbeat. Guys want to follow a leader like that."
[+] Enlarge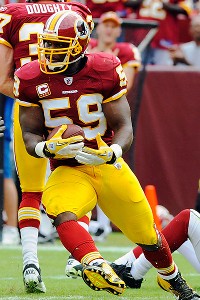 Brad Mills/US PresswireThe Redskins forced two turnovers against the Cardinals -- including a London Fletcher interception.
It was Fletcher who organized those Redskins player workouts during the lockout, scribbling down plays he remembered Haslett running (or trying to run) last season and keeping them on a piece of paper tucked into his back pocket so he could make sure those workouts were directed and productive. It was Fletcher who set the attacking tone the Redskins wanted to set against Kolb and the Cardinals Sunday -- a plan that resulted in three sacks. It was Fletcher who made sure, once the Cardinals started to have success running the ball and then hit that monster pass play, that no one got discouraged.
"When he sees guys in the huddle with their heads down, he's always bringing them back up," linebacker
Brian Orakpo
said. "That's what I really respect about him. He's always the same."
The great leaders are, and Fletcher-as-leader is a bit of a secret weapon for the Redskins, who aren't as surprised as you are that they're 2-0, by the way.
"We really don't get caught up in what's said about us outside our locker room," Fletcher said, affably, not angrily. "What matters is the way we feel about ourselves."
And in case you're wondering how they feel about themselves ...
"There's just a belief on this team that we're going to win," defensive end
Adam Carriker
said. "We honestly believe we have one of the best defenses. We believe we're going to win. We believe we're good. And when teams have that belief, they're not going to fold."
And so it was that the Redskins, after Grossman went down the field and cut the lead to two points with a touchdown to
Santana Moss
, went out and got the three-and-out that put the ball back in their offense's hands. And Westbrook, pressed into service thanks to an injury to starting cornerback
Josh Wilson
, jumped up from the back end of the depth chart to make the game-clinching play.
"Our young guys, they have resolve," Fletcher said. "And they study."
They probably do so because of the example Fletcher and the other defensive veterans on the Redskins set. And while that may not be the kind of thing that shows up in statistical projections, the belief and confidence it inspires can be hugely valuable to a team, like this one, that's growing and figuring out what it's going to be.
"We know we have a long way to go," Fletcher said. "But the thing we can be happy about is the character of the football team."
He probably won't, but Fletcher should take a bow for that.
June, 3, 2010
6/03/10
1:00
PM ET
By
Matt Mosley
| ESPN.com
»
NFC On the Radar
:
East
|
West
|
North
|
South
»
AFC
:
East
|
West
|
North
|
South
A player, coach or issue that should be on your radar as training camp approaches.
I don't know about you guys, but I'm anxious to see how Mike Shanahan divides carries among his stable of former star running backs. Shanahan surrounds himself with running backs the way Jon Gruden used to do with quarterbacks. He believes there's strength in numbers and he's left no stone unturned when it comes to backs whose careers peaked in 2006.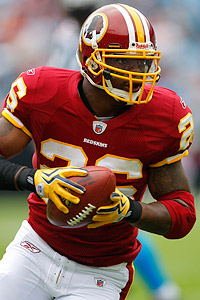 Bob Donnan/US PresswireThe Redskins have some veteran options backing up Clinton Portis.
As we
discussed on the blog this morning
, the Redskins have now made an offer to former Eagles star
Brian Westbrook
. Shanahan has even lobbied Westbrook's younger brother,
Byron
, who plays cornerback for the Skins. In my mind, Westbrook would have a highly specialized role in the Redskins' offense. Coming off a year in which he had two concussions in a short period of time, there's no way Westbrook can have more than seven or eight carries per game. He'd be used as a third-down back and the Redskins would try to get him matched up one-on-one with linebackers.
If Westbrook signs with the Redskins, either
Larry Johnson
or
Willie Parker
would be the odd man out. It would be silly to keep all four players active. It's not like any of them can help you on special teams. Are you going to ask Parker to run down on kickoffs? From the folks I've talked to at Redskins Park, Parker probably would be the first player to go. He has not looked all that explosive in practice sessions, but obviously we have a long way to go.
Given Shanahan's success in Denver, we've come to believe that any back can have success in his zone-blocking scheme. But that wasn't the case his last couple of seasons with the Broncos. Denver had a ton of injuries and the Mike Andersons and Olandis Garys of the world stopped showing up out of nowhere. Just because the Redskins' running backs have recognizable names doesn't mean they'll automatically put up big numbers in Kyle Shanahan's offense.
Johnson's at his best when running downhill. But Washington's offense will require him to be patient and wait for cutback lanes to develop. He's never seemed like a good fit in this offense to me -- even if he still had his '06 legs.
Quarterback
Donovan McNabb
is convinced that finally having a consistent running game will allow him to have more success. But I don't see anyone in this backfield who would scare an opponent. Is anyone worried that
Clinton Portis
or Johnson will take it to the house from midfield?
I'm curious to hear what Redskins fans think of this rotation. You guys think there's room for Westbrook?
October, 26, 2009
10/26/09
10:02
PM ET
Posted by ESPN.com's Matt Mosley
LANDOVER, Md. -- Eagles running back
Brian Westbrook
was able to walk off the field after taking a
London Fletcher
knee to the helmet. It was a scary moment as players from both teams appeared to huddle around him and pray. Westbrook's younger brother, Byron, is a defensive back for the Redskins. He was the only player who was allowed to stand next to his brother.
It certainly wasn't a glancing blow. Westbrook was being tackled by another player when Fletcher accidentally hit him with his knee. Westbrook's been ruled out of this game and I'd be a little surprised if you see him return in time for the Giants game next Sunday.
Here's our report on ESPN.com
.