NFL Nation:

C.J. Fiedorowicz
May, 29, 2014
May 29
12:15
PM ET
In the weeks and months after an 11-year-old
Anthony Denham
was taken from his family and placed into foster care, he often felt alone.
His three siblings were all in different places. His mother battled drug problems away from them all. He didn't feel like he fit in as a black kid placed in a Hispanic household in a mostly Hispanic neighborhood.
But Denham was always a kid who wanted to see the bright side of things. He wanted to trust people; he wanted to believe things could work out better for him than they did for so many of his family members and friends. So he did.
[+] Enlarge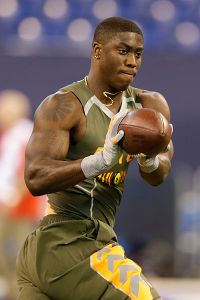 AP Photo/Michael ConroyCompeting at a crowded position in Houston is just another challenge in a life full of them for Utah tight end Anthony Denham.
"I didn't want to be poor," Denham said. "I kind of lived that life. I didn't want to struggle. I know if I kept going on that path, I would be either dead or in jail. I'm more someone who, if I set my sight on something, I'll go and get it to the best of my ability."
His sight right now is on trying to make the Texans' roster. Signed as an undrafted free-agent tight end this month, Denham is part of a group that is one of the Texans' strongest positions. It includes veteran
Garrett Graham
, second-year player
Ryan Griffin
, this year's third-round draft pick
C.J. Fiedorowicz
and free-agent acquisition
Zach Potter
. That will also make winning a roster spot tough. Denham has plenty of experience with tough.
"What's harder is what's best," Denham said. "What's easy is not the way. It don't take nothing to drop out. It don't take nothing to choose the wrong path. You don't have to think to do certain things. When you're thinking, you're on the right path. When you're thinking, your mind is good. Just stay focused and maintain your goals. Set them. Set goals."
That mentality took a while for Denham to develop. He grew up in Pasadena, California, a suburb of Los Angeles. In addition to his mother's drug problems, he had no contact with his father. His mother was in and out of jail during his childhood.
In elementary school, because he wanted to be like his older brothers and cousins, there were days when he didn't get up to go to school. He guesses he missed school more than he attended in fifth and sixth grade.
One day, Denham's great-grandmother had enough of his mother's inability to take care of her children. She called child protective services and had them removed.
One brother went to live with his father's family. His younger sister bounced around between foster homes. Denham was placed in a home with a single mother to her own biological children as well as several foster children in El Sereno, a neighborhood in east Los Angeles.
"When I moved into the foster home, just being around everybody that wasn't like me, not being from that culture, I was just like, 'What's the point?'" Denham said. "'Everybody's different. I don't fit in this area because it's predominantly Hispanic.' I was like, 'I could at any moment just leave.' But I didn't do that. I stayed positive and just focused. I had a goal. My goal was to do my best and make it to the NFL."
Denham started to see football as a way to reach his goals when he started excelling at the sport in high school. He says he used football as a "father figure." There he had structure and learned morals. Back then, he was a lanky wide receiver who drew comparisons to Randy Moss. But it took more than his athletic ability to accomplish that -- that was another lesson Denham learned.
He passed the classes he took in high school, but was missing a core class he needed to qualify to play at a Division I college. So Denham went to East Los Angeles College instead and worked his way up to a Division I program.
"Very shy, very reserved kid that didn't talk much," said Nick Garrett, then an assistant at East L.A. College who recruited Denham. "Just kind of kept to himself a lot. He had a hard time trusting people and dealing with people. ... My impressions of Anthony, he's a quiet kid, very respectful kid. Once you earn his trust, he would run through a brick wall for you."
Denham became a two-time junior college All-American, the top receiver in junior college and earned scholarship offers from a handful of schools. He chose Utah, where he could stay close to his home but also leave the state.
This past winter, his size (6-foot-4, 235 pounds) and pass-catching ability got him invited to the NFL scouting combine, but he was described as raw by NFL.com analyst Nolan Nawrocki.
It's another challenge in a life that has been full of them.
Late in high school, Denham reconnected with his siblings. He's now reconnected with his mother, too, who he didn't see for several years.
"It's better now, because I'm more mature," Denham said. "I see her situation, and I know sometimes you can't beat drugs. It's really up to her. It's all in her head. She's been in and out of jail a majority of my life, but every time she sees me she can't do nothing but cry. That's all she can do, because she's just, I'll say, motivated by what I've become from where I came from.
" ... I look at it all the time like, man, I've been through hell and back. Honestly, I've really been there. I've always managed to find positive and upside to every negative situation. You know what they say in math, a negative and a negative is a positive. So everything that happened negative turned into the situation I have today."
May, 21, 2014
May 21
3:45
PM ET
JACKSONVILLE, Fla. -- The
Houston Texans
did the sensible thing and took
Jadeveon Clowney
with the No. 1 overall pick, landing the best pass-rusher to come out of college in more than a decade and pairing him with
J.J. Watt
to have one of the best pass-rushing duos in the league.
But what if they hadn't?
What if they had taken quarterback
Blake Bortles
instead? Tony Pauline of TFYDraftInsiders.com wrote this week that the Texans' choice
came down to Clowney and Bortles
and the team had draft cards with both of their names written on it before finally settling on Clowney.
[+] Enlarge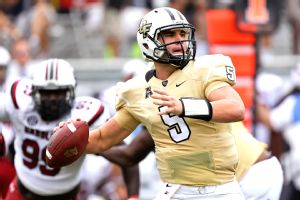 AP Photo/John RaouxIf the Houston Texans had used the No. 1 overall pick on Blake Bortles, it would have had a ripple effect throughout the draft.
That would have significantly impacted the AFC South.
It might not have altered the rest of the Texans' draft plans. They took guard
Xavier Su'a-Filo
with the first pick of the second round, and it's logical to assume they would have stayed with that pick to help protect their new franchise quarterback.
Same with the third-round selection of tight end
C.J. Fiedorowicz
. It only makes sense to add additional weapons for a young quarterback, and Fiedorowicz caught 75 passes in his final two seasons at Iowa. He's also a solid blocker who should help in the run game.
The Texans' other third-round pick was defensive tackle
Louis Nix III
, who will be a big piece of defensive coordinator Ray Horton's hybrid 3-4 scheme. General manager Rick Smith likely wouldn't have changed his strategy there.
But he certainly wouldn't have taken quarterback
Tom Savage
with the 35
th
pick in the fourth round. Who might he have drafted? Mammoth Stanford offensive tackle
Cameron Fleming
(6-foot-5, 323 pounds), Florida State outside linebacker
Telvin Smith
, LSU outside linebacker
Lamin Barrow
, and San Jose State cornerback
Bene Benwikere
are possibilities. All would have addressed a need.
Certainly the Texans wouldn't have ended up with a defensive player that could make the kind of impact that Clowney can had they taken Bortles, but they might have fixed perhaps the biggest reason for the team's disastrous 2013 season.
It's hard to argue with the Clowney pick, though, because he and Watt will be terrorizing quarterbacks for years.
If they had taken Bortles, though, that would have forced the
Jacksonville Jaguars
to drastically alter their draft plan.
It has been widely reported that the Jaguars and
Atlanta Falcons
had agreed to a trade in principal that would have allowed the Falcons to move up to No. 3. Jaguars GM David Caldwell called Falcons GM Thomas Dimitroff on the day before the first round to tell him that he was going to stay put and take the player he wanted, which only a few people knew was Bortles.
Had the Texans taken Bortles, Caldwell would have tried to rekindle the trade. The Falcons really wanted Clowney, and it's likely he would have still been available at No. 3 because the
St. Louis Rams
were intent on shoring up their offensive line for quarterback
Sam Bradford
. Offensive tackle was their No. 1 need, which is why they took
Greg Robinson
with the No. 2 overall pick, and it likely wouldn't have changed if Clowney were available.
The Jaguars and Falcons would have swapped picks, allowing Dimitroff to take Clowney. At No. 6, the Jaguars would not have gone quarterback. It would have been offensive tackle
Luke Matthews
,
whom the team really liked
, or receiver
Mike Evans
.
Derek Carr
was the No. 2 quarterback on the Jaguars' board, but they might have missed out on him, as well, because Oakland selected him with the fourth pick of the second round -- three spots ahead of the Jaguars. The Falcons' first pick in the second round was No. 5, so even if the Jaguars had gotten that pick as part of the trade they would have been unable to get Carr -- unless they worked another trade.
That probably would not have happened. The Jaguars tried to work out a trade to move up higher into the second round to get receiver
Marqise Lee
, but couldn't get anything done. Lee ended up falling to the Jaguars at No. 39 anyway, but would he have been the pick had they taken Evans in the first round?
The bulk of the Texans' draft might not have changed significantly had they chosen Bortles with the No. 1 pick, but it would have certainly altered the Jaguars' draft.
May, 10, 2014
May 10
12:10
AM ET
HOUSTON -- The
Houston Texans
' single biggest need continues to blare like an annoying alarm clock without a snooze button to shut it up.
On Friday they drafted three players who will probably suit the team very well. Tough, versatile players at good value who fit certain needs. But none of them was a quarterback.
They drafted
Xavier Su'a-Filo
, a guard
out of UCLA
who said he tries to model his game after Logan Mankins because of Mankins' nastiness and physicality.
Bill O'Brien has always been clear on what a premium he puts on toughness and physicality, so he'll love that.
"You watch Logan play, sometimes he kicks out to tackle, he's athletic enough to do it all," Su'a-Filo said. "He's physical, he's nasty, he comes off the ball. He tries to punish people. Plays his game trying to punish people. That's the biggest thing that I love that sticks out to me about him."
They drafted
C.J. Fiedorowicz
, a tight end who
excels at blocking
, but who performed well enough in pass-catching drills when O'Brien worked him out to earn a place in Houston.
"I'm still smiling, I've got a smile from ear to ear right now," Fiedorowicz said. Then with misplaced but endearing gratitude: "I still can't even believe it, but thank you so much."
Then they took
Louis Nix III
, who answers to a variety of nicknames that include the word "chocolate" -- a big nose tackle some thought could go in the first round but who didn't seem to care how far he "fell."
These will all be good players for the Texans, I bet. Su'a-Filo and Nix could be very early starters at left guard and nose tackle. Fiedorowicz gives them the kind of blocking threat they didn't previously have.
But ...
"I know there's an obvious need that we haven't addressed yet," Texans general manager Rick Smith said. "But ... we've gotten bigger, we've gotten stronger and we've gotten tougher."
Blake Bortles
went third, Jonny Manziel went 22nd and Teddy Bridgwater went 32nd to the Vikings who traded up to get him. After the first round ended, I called for patience. The Texans made clear they didn't see a big disparity between the consensus top three quarterbacks and the rest of the group. I figured they'd still be in good shape if they waited until day two.
On Day 2,
Derek Carr
went a few picks after Su'a-Filo. Jimmy Garappolo, who the Texans liked and who was in the conversation for the Texans' third-round pick, went to the Patriots late in the second round. Now we come to Day 3, a point in the draft when starters aren't expected -- especially at quarterback.
"Value" was a word Smith repeated many times in terms of the quarterback and the draft in general. You can't argue with the value they've gotten so far from these picks. And the Texans are right to not take a player sooner than his value would indicate. But the way that's fallen so far has kept them from solving what remains the biggest question of the offseason.
"There's still some good quarterbacks on the board," Smith said at the end of the second day of the draft.
Players such as AJ McCarron, Logan Thomas and Tom Savage remain.
Two days into the 2014 NFL draft, the most important position on the field remains unresolved in Houston.
May, 9, 2014
May 9
10:07
PM ET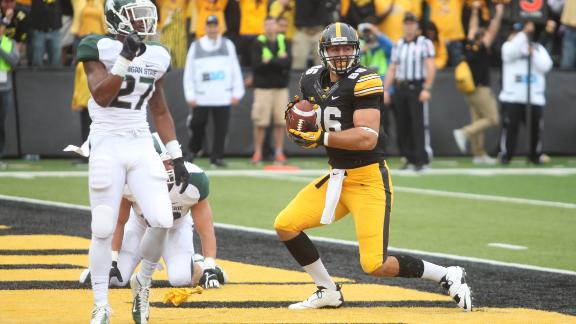 HOUSTON --
The pick:
C.J. Fiedorowicz
, TE, Iowa.
My Take:
I'm like a broken record over here. The Texans still need a quarterback. Jimmy Garappolo, who went a few picks earlier to the
New England Patriots
, was in the conversation for that third-round pick. Instead they took a tight end, giving them five tight ends on the roster. Fiedorowicz joins
Garrett Graham
,
Ryan Griffin
,
Zach Potter
and
Phillip Supernaw
.
Blocking skills:
When Fiedorowicz worked out for Texans coach Bill O'Brien, he said he did a lot of drills aimed at determining his hand-eye coordination and catching ability. Fiedorowicz was mostly a blocking tight end in college -- a skill the Texans need. But O'Brien needs a tight end who can do more than one thing.
What's next:
Unless they trade up, the Texans don't pick again until the 101st overall pick. That will happen Saturday. They still have needs on the defensive line, and at cornerback.
And quarterback.
May, 9, 2014
May 9
1:15
PM ET
GREEN BAY, Wis. -- Armed with three selections on Day 2 of the NFL draft, the
Green Bay Packers
are spending the day plotting their strategy for picks Nos. 53 (second round), 85 and 98 (both in the third round).
After taking Alabama safety
Ha Ha Clinton-Dix
in the first round -- a move that ESPN draft analyst Mel Kiper Jr. called
one of the winners of Day 1

-- the Packers reset their draft board to reflect the best players still available.
If their grades on the players still available at 53, 85 and 98 fit their needs, here is who they might consider:
Linebackers
:
Notes:
Borland, Brown and Skov would all project as inside linebackers in the Packers' 3-4 scheme. Kiper Jr. ranked Van Noy, an outside linebacker, as
the fifth-best player still available

, and Borland as the 12
th.
In his
second-round mock draft

, Kiper Jr. predicted Borland to the Packers at No. 53. He wrote: "This would be a steal. He's not a physical freak, but Borland is a football freak. Slots in next to A.J. Hawk."
Tight ends
:

Amaro
Notes:
If the Packers are going to get an impact tight end, they probably need to do it on Friday, because the drop off after these four is significant. Seferian-Jenkins and Amaro are receiving tight ends in the mold of
Jermichael Finley
, while Fiedorowicz and Niklas are more traditional players. Scouts Inc. has the Packers taking Amaro in its
updated second-round mock draft

.
Receivers
:
Lee
Notes:
Lee could be one of the first players off the board when the draft resumes, so it's unlikely the Packers would be in position to take him unless they traded up. Keep in mind that they cannot trade No. 98 because it is a compensatory pick at the end of the third round. Lee and Landry are smaller receivers in the 5-foot-11 range, and Ellington is even smaller at 5-9 3/8. The Packers might want to go bigger at this spot, because they already have a dynamic slot receiver in
Randall Cobb
.
Centers:
Notes:
The Packers are high on second-year pro
JC Tretter
as their possible next starting center, but the former collegiate tackle has yet to play an NFL snap at any position. There is a good chance all of these centers will be available at No. 53, with Martin and Richburg as likely late second-round picks who also could slip into the third round.
May, 2, 2014
May 2
12:30
PM ET
GREEN BAY, Wis. -- The last time the
Green Bay Packers
had four picks in the first 100 selections of the NFL draft, they came away with two quality starters and two players who never made an impact.
That was 2008, when they drafted receiver
Jordy Nelson
(No. 36 overall), quarterback
Brian Brohm
(No. 56), cornerback
Pat Lee
(No. 60) and tight end
Jermichael Finley
(No. 91).
General manager Ted Thompson will take a similar haul into this year's draft. With the addition of a third-round compensatory pick, the Packers have pick Nos. 21, 53, 85 and 98 in the first three rounds.
"It's good," Thompson said during his pre-draft news conference this week. "If we could, we'd have more. More is better. It gives you better odds. It wouldn't be any different if it were this year or last year or the year before or that sort of thing."
Can Thompson do better in the top 100 than he did in 2008? Nelson and Finley became major contributors while Brohm flamed out and Lee was only a short-term backup.
On Thursday night, ESPN draft analysts Mel Kiper Jr. and Todd McShay went through the top 100,
selecting players for teams
as if they were in charge of the draft rooms.
For the Packers, they came away with this:
Kiper and McShay alternated picks, so it worked out that McShay made the Packers' first three selections, while Kiper picked their fourth.
Looking at the first round, the top two safeties were both off the board before the No. 21. Kiper had Louisville's
Calvin Pryor
at No. 14 to the
Chicago Bears
and Alabama's
Ha Ha Clinton-Dix
gone two picks later to the
Dallas Cowboys
.
In picking Mosley, McShay said he had Mosley rated as the 12th-best player on his board and called him a relentless, tough playmaker. What isn't known is how the Packers feel about Mosley from a medical standpoint. There are concerns about a knee injury, which kept him from running at the combine, and other injuries during his college career.
If the Packers don't feel comfortable with Mosley's medical history but still want a linebacker at that spot, they could go with Ohio State's
Ryan Shazier
. McShay had Shazier at No. 31 to the
Denver Broncos
.
Nix has been described as a perfect 3-4 nose tackle.
"This is a value pick, as Nix merits late first-round consideration," McShay said. "Between first-rounder C.J. Mosley and Nix, we've now drafted the No. 12 and No. 30 players on my board, respectively, at No. 21 and No. 53."
Vereen and Fiedorowicz would fill clear holes at safety and tight end, respectively. However, waiting until late in the third round to address safety seems a little late considering that might be the Packers' greatest need in this draft.
April, 3, 2014
Apr 3
12:15
PM ET
The
Green Bay Packers
have four picks in the first 100 selections of the upcoming NFL draft -- something they haven't had since 2008, when they drafted receiver
Jordy Nelson
(36th), quarterback
Brian Brohm
(56th), cornerback
Pat Lee
(60th) and tight end
Jermichael Finley
(91st).
If draft analyst Mel Kiper were in charge of the Packers' draft room, he'd find plenty of defensive help along with an intriguing tight end prospect. In an ESPN Insider exclusive, Kiper put a different twist on the mock draft. Rather than predicting who he thinks the Packers will pick, he detailed who he would pick if he were in charge.
February, 21, 2014
Feb 21
8:00
AM ET
INDIANAPOLIS -- One by one, the top tight ends in this year's NFL draft rolled through Lucas Oil Stadium as part of Thursday's interview session at the scouting combine.
There was
Eric Ebron
of North Carolina,
Jace Amaro
of Texas Tech,
Austin Seferian-Jenkins
of Washington,
Troy Niklas
of Notre Dame,
C.J. Fiedorowicz
of Iowa and on and on.
Most, if not all, were asked which NFL tight end they admired, emulated or resembled.
For some, like Ebron, it was
San Francisco 49ers
tight end
Vernon Davis
.
[+] Enlarge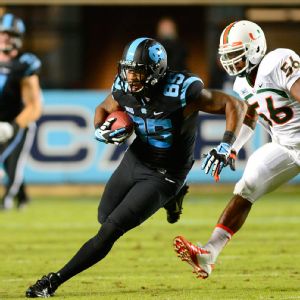 Bob Donnan/USA TODAY SportsCarolina likely would have to trade up in the first round of the NFL draft to have a shot at selecting Eric Ebron.
For others, like Amaro and Fiedorowicz, it was the New England Patriots'
Rob Gronkowski
.
For Seferian-Jenkins, it was the New Orleans Saints'
Jimmy Graham
and the Denver Broncos'
Julius Thomas
, who like him had a background in basketball.
Not one of them, however, mentioned
Jermichael Finley
.
Yet if the
Green Bay Packers
don't bring back their starting tight end, which is a likely course of action given his neck injury and his expiring contract, one of those players could become the next Finley.
Most of the top tight end prospects said Thursday that they had either visited with the Packers or planned to talk with team representatives this week at the combine.
So too will Blake Baratz, the agent who represents Finley, but the Packers may have already decided that Finley's neck fusion surgery was too much of a risk to bring him back. If that's their plan, then there are plenty of viable options in this draft, which features playmaking tight ends of all sizes.
It starts with the 6-foot-4, 250-pound Ebron, who likely will be the first tight end taken in the draft and could be gone before the Packers pick at No. 21.
"I'm very fast; I'm very different," said Ebron, who along with the other tight ends will do their on-field testing this weekend. "I play the tight end role like no one else."
In some ways, he plays it like Finley, whose physical presence is similar to Ebron's.
Amaro (6-5, 255) is as much receiver as he is tight end. Most of last season, when he caught 106 passes for 1,352 yards (the NCAA record for a tight end), he played standing up away from the line of scrimmage.
"That's why I'm so unique," Amaro said. "It's kind of a revolution into the game and how the tight ends are coming in across the board. I like to see myself as both a tight end and a receiver."
But can he block?
That's not an issue with Fiedorowicz (6-5½, 265), who was more of a blocking tight end in Iowa's run-heavy offense.
"A lot of tight ends in the NFL are either blocking tight ends or receiving tight ends," Fiedorowicz said. "I like watching Rob Gronkowski. He can dominate both the line of scrimmage and down the field."
Seferian-Jenkins (6-5, 262) said he was asked to do both last season at Washington, where he played basketball as a freshman.
"At the tight end position, you've got a lot of great players [in this draft]," he said. "But what I think I do is if you watched me play, I split out and played receiver. I've done fullback. I've played in line. I think I've showed I'm very capable of being a playmaker down the seam and run regular routes as a receiver, and I've shown the capability of being a blocker."
Niklas (6-6½ , 270) might be the biggest bruiser of this bunch. He began his college career as an outside linebacker.
"I can block, and I enjoy blocking," Niklas said. "I think it's something I can use to my advantage."
Further down the tight end pecking order is Jacob Pedersen of Wisconsin. He grew up just north of Green Bay in Michigan's Upper Peninsula. He's a late-round prospect who would love the chance to be the Packers' next tight end.
"Growing up 45 minutes away from Green Bay, obviously it'd be a childhood dream to play for your home team," said Pedersen, one of six Badgers invited to the combine. "But I'm just hoping to get drafted by a team. Whoever takes me, they're going to get my best effort."
February, 17, 2014
Feb 17
4:00
PM ET
With the NFL combine starting Wednesday, here's a look at the Jacksonville Jaguars' positions of need on offense and which prospects the team might be looking to take a closer look at in Indianapolis. Positions of need are listed in order of importance. A look at the defense comes Tuesday.
JACKSONVILLE, Fla. -- The Jaguars have a lot of holes to fill on the roster and the next part in the process comes this week when general manager David Caldwell and head coach Gus Bradley evaluate, watch and interview prospects at the NFL combine.
Here's a breakdown of what the Jaguars need, in order, on offense and some potential targets:
Quarterback:
There's no question this is the Jaguars' top need, although pass-rusher is only slightly behind. Caldwell wants to re-sign
Chad Henne
before free agency begins next month, but Henne is a bridge player or someone who can mentor a young quarterback and begin the season as the starter if the rookie isn't ready. The Jaguars haven't completely given up on
Blaine Gabbert
, either, but he's entering the final year of his contract and it would be surprising if he were re-signed after 2014.
Potential targets:
Teddy Bridgewater
,
Blake Bortles
,
Johnny Manziel
,
Jimmy Garoppolo
,
Derek Carr
,
Aaron Murray
.
Interior offensive line:
The Jaguars have to find a center to replace the retired
Brad Meester
and a left guard to upgrade from
Will Rackley
. The Jaguars will address this area in free agency as well but the team also wants to add some young talent. The Jaguars appear set at both tackles (
Luke Joeckel
and
Austin Pasztor
) and right guard
Uche Nwaneri
has two more years remaining on his contract. He's scheduled to make $4.775 million in each year, though, and could be a cap casualty after 2014.
Mike Brewster
and
Jacques McClendon
can play guard and center but neither appears, now anyway, to be the long-term answer. It wouldn't be surprising if the team took an interior offensive lineman in the third round, especially if the Jaguars took a quarterback earlier.
Potential targets:
G
Gabe Jackson
, G
David Yankey
, G
Brandon Thomas
, C
Marcus Martin
, C
Weston Richburg
, C
Russell Bodine
.
[+] Enlarge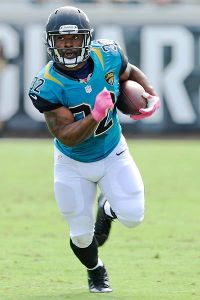 Stephen Morton/AP PhotoThe Jaguars need to find a feature back in the event they do not re-sign Maurice Jones-Drew.
Running back:
The Jaguars are more than likely going to lose
Maurice Jones
-Drew
in free agency, which leaves them with
Jordan Todman
,
Denard Robinson
,
Delone Carter
, and
Justin Forsett
on the roster. Forsett is likely going to be cut, but even if he's retained none of those players is a feature back. The Jaguars don't need to invest a high pick at this spot because good backs can be found in the later middle rounds.
Potential targets:
Lorenzo Taliaferro
,
Jerick McKinnon
,
Tre Mason
,
Lache Seastrunk
,
Dri Archer
,
Andre Williams
.
Receiver:
The Jaguars aren't planning on getting anything from
Justin Blackmon
in 2014 because they don't yet know his status, which is the correct way to approach his situation.
Cecil Shorts
is entering a contract year but has yet to stay healthy for a full season.
Ace Sanders
,
Mike Brown
,
Kerry Taylor
,
Lamar Thomas
, and
Stephen Burton
are complementary players. The Jaguars need to find a bigger, physical receiver. If they do that in free agency, this area drops to the bottom of the offensive needs list.
Potential targets:
Josh Huff
,
Odell Beckham Jr.
,
Davante Adams
.
Tight end:
Marcedes Lewis
came on strong at the end of the season and he should be a 50-catch player in Jedd Fisch's offense if he stays healthy. After Lewis, though, there isn't much.
Clay Harbor
is a flex tight end but he's a free agent and the Jaguars will have to decide if they want to re-sign him.
Danny Noble
is raw and needs more work. The Jaguars want a bigger tight end who can line up next to Lewis in two-tight-end formations.
Potential targets:
Marcel Jensen
,
C.J. Fiedorowicz
,
Crockett Gilmore
,
Jake Murphy
.
January, 20, 2014
Jan 20
1:15
PM ET
MOBILE, Ala. -- Nearly the entire Jaguars football staff is on hand for the Reese's Senior Bowl. The Jaguars will coach the South team and the
Atlanta Falcons
will coach the North team, but each will switch rosters for a day on Thursday so they can interact with all the players.
Here's a primer of what to expect:
Help wanted:
Jaguars coach Gus Bradley said he expected his staff to remain intact, but linebackers coach Mark Duffner left the team on Sunday night to take the same position with the
Miami Dolphins
. Duffner just finished his eighth season with the team. Defensive coordinator Bob Babich, who spent seven seasons as a linebackers coach with the
Chicago Bears
and
St. Louis Rams
, will work with the linebackers this week. In addition to being a college all-star game, the Senior Bowl is also part coaches convention. Unemployed assistants are here trying to land jobs and head coaches are also here trying to fill staffs.
Keep your eye on:
The Jaguars certainly have a lot of needs to fill, beginning with quarterback and pass rusher. So naturally all the quarterbacks -- particularly
Derek Carr
,
Tajh Boyd
and
David Fales
-- are players to watch during the practices and games. Though he is unable to play because of a torn ACL he suffered in late November against Kentucky,
Aaron Murray
is here to participate in meetings and interviews. It's a smart decision and one that GMs will like.
As for those pass rushers, Jeremiah Attaochu (who played linebacker at Georgia Tech), Michael Sams,
Kareem Martin
,
Chris Smith
, and
James Gayle
are defensive ends to watch. At outside linebacker,
Trent Murphy
and
Christian Jones
are worth watching.
Unfortunately, two of the country's top pass rushers won't be here. Buffalo's
Khalil Mack
has opted not to participate and UCLA's
Anthony Barr
will miss the week because of an undisclosed injury. Both are considered top-10 draft picks.
Some other players to watch: WR
Jordan Matthews
, TE
C.J. Fiedorowicz
, TE Jacob Pederson, G
Cyril Richardson
and C
Weston Richburg
.
What you'll get:
Each day I'll provide Jaguars news and notes as well as observations from practice. I'll concentrate on players at positions that correspond to the Jaguars' top needs (QB, DE, OLB, interior OL, RB, WR) but there will be other players as well. I'll have several blog posts a day and you also can follow me on Twitter @ESPNdirocco.
ETC.:
Among the other players who either opted out or cannot participate because of injury are RBs
Carlos Hyde
(opted out),
Andre Williams
(injury) and
Tyler Gaffney
(injury), OTs
Jake Matthews
(opted out) and
Taylor Lewan
(injury), WR
Tevin Reese
(injury), and DT
Dominique Easley
(injury).