NFL Nation:

Caldwell hire
January, 15, 2014
1/15/14
12:05
PM ET
Jim Caldwell is the new
Detroit Lions
coach, and though there has been a lot of consternation about the hire, the Lions will succeed or fail based upon his decisions and his ability to develop players, notably quarterback
Matthew Stafford
.
Caldwell will meet with the media for the first time Wednesday, and based on what I've heard and been told about his interview on Jan. 3, he has a detailed plan for how he is going to fix both the Lions and Stafford.
Those are his two most important tasks as Detroit's head coach. If he is unable to do that, he'll join the line of Marty Mornhinweg, Steve Mariucci, Rod Marinelli and Jim Schwartz as coaches who couldn't quite reach the level the team wanted.
[+] Enlarge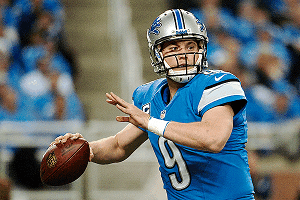 Tim Fuller/USA TODAY SportsDeveloping Matthew Stafford is one of the most important tasks facing new Lions coach Jim Caldwell.
If he can succeed, he'll have a chance to do something only one coach in the Super Bowl era, Wayne Fontes, has even come close to doing with the Lions: turn the team into a consistent winner.
Here's a look at five things Caldwell will have to do early in his tenure with the Lions.
1. Hire a competent staff:
He could have some names as early as his introductory news conference, but Teryl Austin is a name I've been told multiple times as a likely defensive coordinator. Bill Lazor was a name for offensive coordinator, but h has been hired by Miami. If Caldwell doesn't put together a strong staff, that will be an issue early on. Former Ohio State coach Jim Tressel also could end up on Caldwell's staff.
2. Make smart decisions about free agents with GM Martin Mayhew:
Dominic Raiola
and
Brandon Pettigrew
are two of the bigger free agents for the Lions. Raiola is a strong presence in the locker room, and it might be smart to bring him back for continuity on an offensive line that was one of the best in the league last season. Pettigrew could be interesting. He is an important cog, as was
Dallas Clark
, Caldwell's tight end in Indianapolis and with the Ravens this season. Of course, Clark is also a free agent, so Caldwell might push to get him to Detroit.
3. Matthew Stafford:
Part of the reason Caldwell was hired was to work with Stafford, with whom the coach met on his interview. Stafford, according to receiver
Kris Durham
, seemed to like Caldwell. That relationship will be critical to any success Caldwell has in Detroit. He believes he has a plan to fix Stafford -- both
Joe Flacco
and
Peyton Manning
are high on Caldwell's ability to help quarterbacks -- and the coach will have to be able to implement that plan as soon as possible.
4. Keep at least two current assistants:
This goes with the first point. John Bonamego did a really good job with special teams almost all season, including finding strong gunners in
Don Carey
and
Jeremy Ross
. Jeremiah Washburn turned an offensive line with two rookies on the right side into one of the top groups in the NFL, and players seemed to really like him. Jim Washburn and Kris Kocurek did a good job with the defensive line, and Matt Burke was strong with the linebackers. Consider at least some of them to keep some continuity.
5. Get out in the community:
This might sound silly, but Caldwell is not a popular hire with the Detroit fan base. By all accounts, he is a good, well-intentioned man, so by doing a lot of community outreach early on, he could turn some people who are currently not pleased about the hire. Of course, the best way to do that is to win games, but getting out in the community would be a strong start.
January, 14, 2014
1/14/14
4:30
PM ET
ALLEN PARK, Mich. -- Jim Caldwell has been the
Detroit Lions
coach for less than a few hours, but already a bunch of names have popped up as potential assistants and coordinators.
John Wooten, the chairman of the Fritz Pollard Alliance Foundation, told ESPN.com on Tuesday that Teryl Austin is a likely choice for Caldwell as his defensive coordinator. Austin was the secondary coach with the Ravens since 2011 and has been a defensive coordinator for just one season -- in 2010 at Florida.
Austin also has experience in Michigan, having been a defensive assistant with the University of Michigan from 1999 to 2002.
ESPN Insider Ed Werder is reporting that Bill Lazor, the quarterbacks coach with Philadelphia, will be a candidate for offensive coordinator. Wooten told ESPN.com that Ron Prince, currently the Rutgers offensive coordinator, is also a candidate to be on staff.
Dave Birkett from the Detroit Free Press is
reporting Caldwell might consider former Minnesota defensive coordinator Alan Williams
for his defensive backs coach and that Dwaine Board from Seattle or Ray Hamilton from Atlanta could be the team's defensive line coach.
January, 14, 2014
1/14/14
4:00
PM ET
ALLEN PARK, Mich. -- John Wooten compared it to winning a Presidential election.
The chairman of the Fritz Pollard Alliance Foundation, an organization committed to helping minority candidates get a fair look in coaching jobs, among other things, could think of no other comparison to describe Jim Caldwell being hired by the
Detroit Lions
.
"To be openly frank, we felt that he should be the guy," Wooten said Tuesday afternoon. "We really wanted him in that particular team. Thought it was an excellent fit.
"Our overall reaction was probably very similar to what we felt when President (Barack) Obama was elected six years ago, when the Virginia vote came in. That's how we felt. We felt that strongly about it. Great move for us."
Caldwell, the first black coach in Detroit Lions history, was at Wake Forest from 1993 to 2000, where he compiled a 26-63 record before being fired. Then he was a quarterbacks coach for Tampa Bay for a season before heading to Indianapolis, where he was the quarterback coach for
Peyton Manning
from 2002 to 2008.
Then he was hired to replace Tony Dungy and took the Colts to the Super Bowl in 2009, where they lost to the
New Orleans Saints
. He followed that with a 10-6 season in 2010 and then a 2-14 season in 2011 when the Colts lost Peyton Manning and had no viable option as a backup.
Indianapolis fired him following that season.
The Lions owner, William Clay Ford, was pleased with the way the hiring process went and feels like Caldwell is the right hire.
"On behalf on my entire family, I want to express how thrilled we are with the appointment of Jim Caldwell as our new head coach," Ford said in a statement. "We believe Jim is the right man to lead our team and deliver a championship to our fans.
"I also want to commend Tom (Lewand) and Martin (Mayhew) on the thoroughness of the coaching search," Ford continued. "We had a very specific plan and profile for our next head coach, and I am convinced that we found that man in Jim Caldwell."
To Wooten and his foundation, Caldwell's hiring for a second NFL head coaching job had that much meaning. Since the Lions fired Jim Schwartz on Dec. 30, Wooten had been speaking frequently about how good a fit Caldwell would be for the spot.
He also spoke glowingly of Caldwell's interview with the Lions, saying he laid out the entire plan of what he wanted to do and how he would improve
Matthew Stafford
.
That message reached the Detroit players Stafford spoke with following the interview.
"Excited about him," Lions wide receiver
Kris Durham
told ESPN.com in a text message. "Have heard nothing but amazing things about Coach Caldwell. Matthew (Stafford) spoke highly of him after their meeting during the interview process."
He wasn't the only one.
Running back
Joique Bell
played for Caldwell in Indianapolis in 2010.
"Good to know I'll have my old head coach back to replace another great coach," Bell tweeted earlier Tuesday. "Great move by our front office."
Offensive guard Rob Sims said some of the team's veterans had been communicating over the past few weeks about who could be the replacement for Jim Schwartz, who was fired after five seasons on Dec. 30.
Like many on the outside, he had initially thought he would be playing for Ken Whisenhunt, but when he found out he'd be playing for Caldwell, he was also happy, saying he thinks "is a good fit here."
"To be honest, I don't know too much about Jim other than the fact of where he's coached and the success he's had. I'm excited about the change from where we were a few weeks ago. I think that's going to help our team morale, just his presence as somebody who has been there and seen what it looks like to have a winner.
"...We still have a winner here and somebody to lead the ship that's been there is going to help out tremendously."
One of the players who helped make Caldwell a winner, Baltimore quarterback Joe Flacco, called Caldwell a friend and someone he respected both personally and professionally.
"Through his calming influence and extensive knowledge of the game, he was an integral part of our success over the past few years," Flacco said. "He will be missed by me and the Ravens. I wish him the best of luck in Detroit."
His former players were also pleased.
Jeff Saturday
played three seasons for the
Indianapolis Colts
under Caldwell, and what the former center saw is someone who will hold his players accountable, will be well organized and consistent with players.
"This will be a disciplined, well-balanced football team," Saturday said on ESPN just after the hire was announced. "He will set forth a plan, he does it every Wednesday. I heard people talk about how he's not known as the most charismatic guy, that's not true when he's in a team setting.
"This guy calls you to a level of accountability and gets you excited. He sets up a gameplan on Wednesday and that gameplan will be followed, and he will hold you to the line he has drawn."
Saturday also said much of Manning's success was enhanced by Caldwell.
"A great deal. Every player has to be coached. And Peyton Manning wants to be coached and always wanted to be coached. He wants a guy who's as committed to the organization and team as he is, and that was Jim Caldwell for him," Saturday said. "He's not afraid to correct or to talk about, 'You have to do this better' or 'here's a mistake you made.' That was what Caldwell brought to us. He has a great offensive mind, but he knows how to work with quarterbacks to get the most out of them.
"He did with Flacco, he did it with Manning and he'll again do it with Stafford. … He comes with such a calm demeanor that you never feel attacked as a player, you always feel like he's trying to build you up as a player and as a man."
Some of Caldwell's former players were also happy for their now-former offensive coordinator to land a head coaching job.
Congrats to Coach Caldwell...great coach/teacher and even better person..he always taught us something new..he will do well in Detroit

— Torrey Smith (@TorreySmithWR) January 14, 2014
Very happy for coach Caldwell. He is a great coach and a great person. I think Detroit is lucky to have him.

— Gino Gradkowski (@GinoGrad56) January 14, 2014
NFL Nation Baltimore Ravens reporter Jamison Hensley contributed to this report.