NFL Nation:

Calling Canton
July, 19, 2011
7/19/11
1:31
PM ET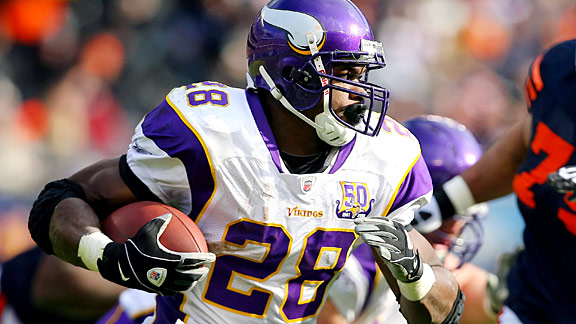 Dennis Wierzbicki/US PresswireAdrian Peterson's career is off to a hot start, but he still has work to do to become a Hall of Famer.
Last in a series on NFC North players whose career trajectories put them on a path to consideration for the Pro Football Hall of Fame:
Of the five players profiled in this project,
Minnesota Vikings
tailback
Adrian Peterson
might be the most accomplished relative to his career span. And yet his case exemplifies, more than any other, the difficulty of separating yourself as one of the all-time elites at your position.
Peterson has effected one of the most productive starts to a career for any running back in NFL history. And still, he'll probably need to repeat that output to land in the Pro Football Hall of Fame.
As the first two charts show, Peterson rushed for more yards (5,782) in his first four seasons than all but five running backs in NFL history and more touchdowns (52) than all but four. That measure quantifies what we already knew: Peterson has been the best back in the NFL over the past four years. It also gives us some perspective on how the start of his career compares to the best who ever played the game.
But four years of elite play doesn't necessarily qualify a running back for the Hall of Fame, not when players like
Emmitt Smith
endured for 15 years or
Marcus Allen
for 16 or Walter Payton for 13. The threshold for Hall of Fame running backs is the ability to sustain near-elite production beyond the short career arcs of most players at the position.
The next chart shows the 13 Hall of Fame running backs whose careers took place mostly in the post-merger era. Eleven eclipsed the 11,000-yard mark, and the two that didn't -- Larry Csonka and Earl Campbell -- were enshrined amid understandable mitigating factors. Csonka was the lead runner for the best team in NFL history, the 1972
Miami Dolphins
. Campbell's white-hot career was cut short after 115 games.
Let's say Peterson doubles his current rushing total to get to 11,564 career yards. Currently, there are 18 players who rushed for at least 11,000 yards. Of the seven who aren't in the Hall of Fame, only two are eligible.
Curtis Martin
(14,101) and
Jerome Bettis
(13,662 yards) missed out in their first year of eligibility in January, but both seem likely to be elected within a few years.
Of course, it will be no small feat for Peterson to double his total -- and it isn't likely to come in the four years it took him to get this far. Take another look at the first two charts, which illustrate the historical company Peterson has kept early in his career.
Quite simply, running back is a brutal position.
Terrell Davis
rushed for a stunning 6, 413 yards during his first four seasons with the
Denver Broncos
. Slowed dramatically by health issues, Davis managed only 1,194 yards during the final four seasons of his career.
Another former Broncos running back,
Clinton Portis
, rushed for 5,930 yards in his first four seasons and 3,993 in the five seasons since.
It's possible that history will grade Davis and Portis with a "Broncos curve," a reference to the annual success of running backs in the system of former coach Mike Shanahan. Regardless, both had more production in their first four years than Peterson but slipped off that Hall of Fame pace thereafter.
Since the moment he arrived in the NFL, Peterson has drawn comparisons to Campbell,
Eric Dickerson
and some of the NFL's other all-time great running backs. His production over that stretch, relative to their early career performances, has justified those associations.
But there is a reason why football people caution such early comparisons with Hall of Famers. Even the all-time greats slow down in the second half of their careers. But importantly, they still reel off a number of highly productive seasons after their early explosions.
Dickerson rushed for 6,291 yards over his final seven seasons after opening his career with 6,968 yards in his first four. Jumping ahead, the still-active
LaDainian Tomlinson
has rushed for 7,505 yards over six seasons after amassing 5,899 yards in his first four.
So let's arbitrarily say Peterson's cumulative production drops by 25 percent over the next four seasons. That means he averages 1,083 yards per season instead of his current 1,445. At that relatively optimistic rate, Peterson would need to play at least five more full seasons to eclipse 11,000 yards and demonstrate the kind of production over time that would give him the Hall of Fame spot he has positioned himself for.
Obviously, voters don't hold fast to the 11,000-yard barrier and have been known to consider mitigating circumstances. Campbell, for example, took a bruising 1,404 carries in his first four seasons. That's an average of 50 more per season than Peterson has taken, and it almost assuredly contributed to Campbell's short career.
It's easy to say that Adrian Peterson just needs to keep on running like Adrian Peterson in order to make the Hall of Fame. The history of running backs suggests he will slow down at some point in the next four years. The question is how much Peterson produces at a lower rate. To me, another five seasons of 75 percent Adrian Peterson should do the trick.
Earlier:
Green Bay Packers
quarterback
Aaron Rodgers
has
put himself on the path toward Canton
.
Chicago Bears
defensive end
Julius Peppers
and the Vikings'
Jared Allen
face stiff competition
. Vikings guard
Steve Hutchinson
has all the credentials
. Packers cornerback
Charles Woodson
is a lock.
July, 12, 2011
7/12/11
11:45
AM ET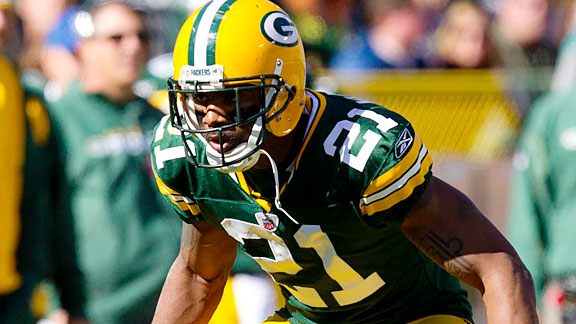 Jeff Hanisch/US PresswireCharles Woodson's longevity and nose for the ball have him on the path for the Hall of Fame.
Another in a series on NFC North players whose career trajectories put them on a path to consideration for the Pro Football Hall of Fame.
All of our previous Calling Canton nominees carry some kind of caveat among their credentials.
Green Bay Packers
quarterback
Aaron Rodgers
has been a starter for just three seasons. Defensive ends
Julius Peppers
(
Chicago Bears
) and
Jared Allen
(
Minnesota Vikings
) fall in a category that hasn't always rewarded high-sack producers. Vikings guard
Steve Hutchinson
plays an uncelebrated position amid some equally talented contemporaries.
I don't know that we'll find a substantive flaw in the candidacy of Packers cornerback
Charles Woodson
, however. Packers columnist Vic Ketchman recently suggested Woodson
will win election on the first ballot he appears
. It's always difficult to predict the first-ballot tendencies of voters, but I'm guessing Ketchman's perspective reflects that of the football establishment: It would be a stunner if Woodson isn't inducted soon after his career ends.
Why such a slam-dunk case? In 13 career seasons, Woodson has already put himself in the appropriate statistical range for Hall of Fame cornerbacks. He has enough interceptions. His coverage skills have never been in question. He won a defensive player of the year award at age 33, a testament to the longevity of his elite skills, and has a particular talent -- stripping the ball -- to hang his figurative hat on.
That's my case in a nutshell, but let's examine the details:
Fair or otherwise, interceptions are always a key measure for defensive backs. Woodson has 47, which places him No. 49 on the NFL's all-time list. Obviously, interceptions don't tell the whole story. But as the first chart shows, there are 11 Hall of Fame players who spent their careers almost exclusively at cornerback. The range for their career interceptions is 46-68. To me, that tells us Woodson's low(er) interception total, which should grow as his career concludes and is based at least in part on how often teams throw his way, won't hold him back.

Interceptions aside, Woodson has risen to near the top of several all-time NFL lists. His 10 interception returns for a touchdown ranks No. 3 all-time, behind Rod Woodson (12) and Darren Sharper (11). And Woodson has more forced fumbles (27) than any other cornerback in NFL history, according to the database at pro-football-reference.com.

Forced fumble records don't go back more than a few decades, as you probably noticed if you followed the link to the database. Even so, we can safely say Woodson is the best of several generations and one of the best ever. A forced fumble is less valuable than an interception, because it still requires recovery to qualify as a turnover. Regardless, the candidacy of any potential Hall of Fame player is buoyed by a skill that stands out from his peers. Woodson without question has that.
The performance that led to his 2009 DPOY award provides a strong illustration for Woodson's multi-faceted success. That season, he became the fourth player in NFL history to record at least nine interceptions and two sacks in a season. Against the Detroit Lions, Woodson became the first player in league history to record two interceptions, a touchdown return, a sack and a fumble recovery in the same game.

There is no reliable way to quantify a player's coverage skills. But throughout his career, Woodson has been well-known for his instincts, ball skills and physicality at the line. Scouts Inc.'s report on Woodson includes these plaudits: "Woodson does a great a great job anticipating break points and jumping routes. He does a great job at jamming and rerouting his opponent off the line of scrimmage in press coverage." And lest anyone doubt his one-on-one skills, go back and watch the play Woodson broke his collarbone on in Super Bowl XLV. He was running stride for stride with Pittsburgh Steelers speedster Mike Wallace, who, among other things, is 10 years younger.
As with our other Calling Canton posts, I think it's important to measure Woodson against his contemporaries, knowing that only the best of any given era typically find their way to the Hall.
Woodson was one of four cornerbacks to make the NFL's all-decade team for the 2000s, joining
Ronde Barber
,
Champ Bailey
and
Ty Law
. As the chart shows, Woodson has three more interceptions than Woodson and trails Bailey by one. Current stars
Darrelle Revis
and
Nnamdi Asomugha
will also enter the conversation at some point but will need several more years of sustained success to do it.
It's also important to note that since he entered the league in 1998, Woodson has more forced fumbles than any player -- at any position -- other than safety
Brian Dawkins
. Typically speaking, linebackers and safeties should have more opportunities to force a fumble than a cornerback. Woodson's numbers in that category are a testament to his all-around play and should be a big part of any argument for his inclusion on the first Pro Football Hall of Fame ballot he is eligible for.
Earlier:
Rodgers has
put himself on the path toward Canton
. Peppers and Allen
face stiff competition
. Hutchinson
has all the credentials
.
July, 1, 2011
7/01/11
10:45
AM ET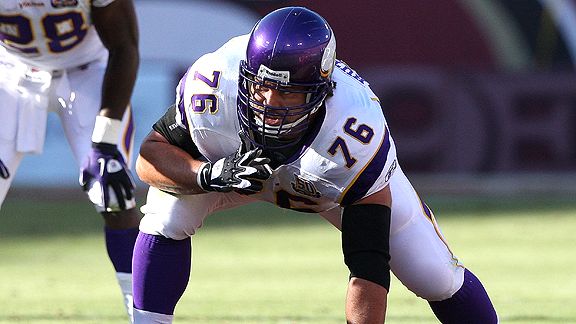 Tony Medina/Icon SMISteve Hutchinson has been named to seven Pro Bowls and seven All-Pro teams during his career.
Another in a series on NFC North players whose career trajectories put them on a path to consideration for the Pro Football Hall of Fame.
Of all positions and players we'll discuss in "Calling Canton," offensive line and
Minnesota Vikings
guard
Steve Hutchinson
will be the most difficult to quantify.
Offensive linemen compile no individual statistics. Evaluating them objectively is nearly impossible, and even subjective analysis is tricky. You could hand three knowledgeable football people a tape of an offensive lineman and get three different opinions. Knowing assignments and understanding the level of surrounding competence is crucial.
On top of it all, guard is the least visible position among the offensive line. Centers are typically leaders, make judgeable line calls and are the glue of a line. Tackles are scrutinized for their pass protection against elite rushers. Guards? They're in between, and that's part of why the
Seattle Seahawks
thought they could protect Hutchinson with a transition tag prior to his entrance into free agency six years ago.
Given that context, Hutchinson's 11-year career has without question has put him into discussion for enshrinement in the Pro Football Hall of Fame. He has been named to seven Pro Bowls and seven All-Pro teams. He didn't miss a game during his first 10 1/2 seasons. His teams have had a 1,000-yard rusher in each of his 10 full seasons and the NFL
named him to its all-decade team for the 2000s
.
As the chart shows, Hutchinson's postseason honors puts him in stride with the eight post-merger guards who have been enshrined. (For the purposes of this list, I left out two players: Billy Shaw, whose career ended in 1969, a year before the AFL-NFL merger, and Bruce Matthews, who played more than half of his career games at a position other than guard.)
For Hutchinson, the most relevant questions will be how he is judged against his contemporaries and how long he must wait to get the voting committee's attention.
On the latter, we should remember that even the best guards in NFL history had to be patient. Russ Grimm was enshrined last summer, 19 years after he retired. It took Larry Little 13 years to get in. Randall McDaniel and Mike Munchak waited eight years.
On the former, we can debate who Hutchinson's contemporaries should be. For now, let's consider the other three guards the NFL named to its all-decade team for the 2000s.
Considering the voting committee has elected eight guards in 41 post-merger years, it might be tough for all four guards of the 2000s to make it to Canton. More than with some other positions, the presentations and first-person testimonials given on behalf of Hutchinson, Allen, Shields and Faneca will play a big role. We can't predict the content of future election meetings, of course, but we can with some confidence state that Hutchinson has had a Hall of Fame-like career. His due seems mostly a matter of timing.
Earlier:
Aaron Rodgers
has
put himself on the path
toward Canton. Pass-rushers
Julius Peppers
and
Jared Allen
face
stiff competition
.
NFL SCOREBOARD
Sunday, 2/2
WEEKLY LEADERS