November, 8, 2014
Nov 8
1:00
PM ET
ALLEN PARK, Mich. -- The
Detroit Lions
return from their bye to face the
Miami Dolphins
, kicking off the second half of their season. Here are four things to watch.
Fairley
1. Defensive tackle rotation:
The Lions and defensive coordinator Teryl Austin have been good about being able to mask season-ending injuries to
Stephen Tulloch
,
Nevin Lawson
and
Bill Bentley
using various packages with multiple players to amplify their strengths in his system. Trying to do this with
Nick Fairley
's injury will be a bigger challenge because Detroit gives up 4.29 yards a rush when Fairley isn't in the game compared to 2.5 yards a rush when he is. That is a major difference, and the hole that will challenge Austin the most. Expect to see a combination of
C.J. Mosley
,
Darryl Tapp
,
Caraun Reid
and
Jason Jones
in the middle.
2. Calvin Johnson's return:
Johnson has looked like his typical self in the portions of practice open to the media this week, but offensive coordinator Joe Lombardi is still going to keep an eye on Johnson's conditioning and how that right ankle is holding up throughout Sunday's game. Detroit had already been playing Johnson fewer snaps than last season before the ankle injury to keep their star receiver fresh, but figure Lombardi is going to be watching it heavily again this week. That said, Johnson is quite motivated to make some plays in his return, and a focused Calvin Johnson is an even more dangerous Johnson than normal. He could be in line for a big day.
3. The running back split:
Before injuries knocked
Joique Bell
and
Reggie Bush
out of various games in October, the running backs were going at close to a 50-50 split of snaps while very rarely ending up on the field together. Expect that to change Sunday. Between Bush, Bell and
Theo Riddick
, the Lions now have three capable backs who can make big plays and run routes out of the backfield, an offset tight end spot and in the slot. That gives Detroit more flexibility with its personnel, especially while the team's tight ends continue to battle back from injuries. Expect to see more personnel groupings with two running backs on the field, but don't be surprised if at least one is lined up as a receiver in those sets.
4. Containing Ryan Tannehill:
This is somewhat related to the first thing to watch. Detroit's defensive line has faced quarterbacks who can run this season in
Cam Newton
and
Geno Smith
, but none run the zone-read with the efficiency Tannehill has the past three weeks. Tannehill's ability there means the Detroit front seven has to stay disciplined in its rush lanes and can't freelance much because Tannehill can take a small crease and turn it into a big gain -- similar to what many college teams now run. If the Lions do a good job on the zone-read, they can force Tannehill to pass, and Though he has been very good passing, they turn him into a more traditional quarterback that way. Doing so helps Detroit immensely.
May, 11, 2014
May 11
1:15
PM ET
It was a draft that started with criticism on Thursday night and ended with the feeling of an average draft -- not an average draft for the
Detroit Lions
, which isn't always good, but an average draft for an average NFL team.
ESPN draft analyst Mel Kiper Jr., who does this every year, feels similarly. He seemed impressed about what the Lions could present offensively at their skill positions and, like I wrote in this space, really liked the selection of
Kyle Van Noy
in the second round. But Kiper also sees the the same issues everyone else does.
The Lions went into the draft needing help in the secondary. They leave the draft not much better in the area. Overall, Kiper Jr. gave the Lions a B-minus grade, right in line with what an average draft would be.
To read the rest of Kiper's analysis,
check out this link

.
In tandem with Kiper's analysis, draft analyst Todd McShay listed his favorite pick by team and, somewhat in line with what I wrote Saturday, he believes in Princeton defensive tackle
Caraun Reid
. The fifth-round selection has nice size, extreme intelligence and won't be counted on right away. He can develop into a role and has talented people to learn from in
Ndamukong Suh
,
C.J. Mosley
and
Nick Fairley
.
Here's what I
wrote about Reid
on Saturday -- and what McShay
wrote about him
Sunday.
May, 11, 2014
May 11
11:15
AM ET
Here are some day-after thoughts on how the
Detroit Lions
did in the 2014 draft, with some time to sleep, reflect and also see the entire board of what they were trying to do.
The best pick the Lions made is probably second-round linebacker Kyle Van Noy. He fills an absolute need and Detroit general manager Martin Mayhew all but said Saturday night that he'll be a starter in the fall. That probably means Ashlee Palmer's job is in definite trouble as the third linebacker. But Van Noy gives Detroit some defensive flexibility. In person, he is a lot bigger than I initially anticipated. He's put together pretty well.
I panned the Eric Ebron pick throughout the draft -- not because Ebron won't be a good player, but because of who the team passed on at the point. Detroit desperately needed secondary help entering the draft and still needs help leaving the draft. Frankly, they needed defensive help overall, but they took care of some of those other needs later on -- including Van Noy. But Ebron felt more like a luxury. That said, if he becomes more of a wide receiver, which is entirely possible, it could end up being a very strong pick.
Speaking of the secondary -- this was probably Mayhew's biggest failing during the three-day period. Of the team's eight picks, Detroit used only one on its back seven -- in the fourth round on cornerback Nevin Lawson. Mayhew lauded Lawson's speed, but his height stands out. For months, defensive coordinator Teryl Austin explained how important tall cornerbacks were and in his history, he has often preferred players over 6-foot. Lawson is 5-foot-9. When asked about that, Mayhew said he was a short defensive back, so he can't be prejudiced about that. Nine corners went off the board in the fourth round before Detroit picked Lawson -- and one wonders how many of those were higher up on the Lions' board.
Fourth-rounder Larry Webster could end up being a good one -- but it won't be for a couple of years. He played at small-school Bloomsburg and has a good pedigree since his father played in the NFL. But even Mayhew acknowledged he is very raw at the position. He seems like an ideal candidate to learn for a year before being counted on for anything.
Drafting kicker Nate Freese in the seventh round likely means either John Potter or Giorgio Tavecchio probably won't be long for Detroit. The other will compete with Freese for the Lions' kicking duties.
Really like the addition of Caraun Reid. He is probably a bit of a developmental project as a defensive tackle coming from a small school, but he is an extremely intelligent and well-rounded person having gone to Princeton. As with many late-round guys, he'll make the team because of special teams at first -- and that is where he might excel. He appears to have a knack for blocking kicks, as he did that seven times at Princeton.
T.J. Jones could end up being a surprise as well. He's a receiver from Notre Dame who had 70 catches for 1,108 yards and nine touchdowns last season -- and was targeted 109 times by Irish quarterbacks. He will likely put pressure on Ryan Broyles and Jeremy Ross in the slot for a roster spot and playing time.
Good chance third-round pick Travis Swanson won't play much this season on offense, but he was drafted to be the team's starting center of the future -- unless he ends up as a starting guard. It's a fair bet he replaces either current center Dominic Raiola or left guard Rob Sims by 2015.
If Detroit can get some production out of its third-day players like it did out of the 2013 draft, the Lions' draft will likely look a lot better in retrospect than it does right now. But that's the thing with all of this. Until teams get on the field, this will all be speculation at best. A bit more informed speculation than before the draft, but we'll see how some of these players fit.
The Lions' undrafted free agents and tryout camp players won't be official until at least Monday and things can change quickly, so until it is official, be wary. But former Missouri quarterback James Franklin tweeted he will be joining the Lions -- and since the Lions did not draft a quarterback this weekend, that seems like a pretty safe bet. Among the other players who tweeted they will be a part of either the Lions' roster or rookie camp are Nebraska cornerback Mohammed Seisay, Appalachian State wide receiver Andrew Peacock, Kansas State offensive tackle Cornelius Lucas, Tennessee offensive lineman Alex Bullard and Oklahoma cornerback Gabe Lynn. The Detroit Free Press is reporting William and Mary safety Jerome Couplin, Robert Morris offensive lineman A.J. Dalton and Louisiana-Lafayette tight end Jacob Maxwell will also be undrafted free agents.
May, 10, 2014
May 10
6:30
PM ET
»
NFC wrap-ups
:
East
|
West
|
North
|
South
»
AFC
:
East
|
West
|
North
|
South
ALLEN PARK, Mich. -- A wrap-up of the
Detroit Lions
' draft.
Best move:
Trading up five slots to take linebacker
Kyle Van Noy
in the second round Friday night. He was clearly one of the top players on Detroit's board after the first day and a player the Lions front office has theoretically targeted for over a year after first seeing him while scouting
Ezekiel Ansah
in 2012. The Lions needed linebacker depth and someone who could be versatile enough to start right away. In Van Noy, they have a linebacker who can play every down and is both adept at rushing the passer and dropping into coverage, as evidenced by the seven interceptions in his career.
Riskiest move:
Waiting until the third day to take any secondary help. That the team ignored both cornerback and safety throughout the first three rounds was more shocking than surprising, considering two of the bigger needs entering the draft. That they focused two of those three picks over the first three days on offense is even more so. For a franchise that has placed a premium on winning now while
Calvin Johnson
is still in his prime, not bolstering an area where the team's cornerbacks have questions about ability, age or productivity is somewhat surprising. Detroit might have hoped a cornerback would fall to No. 133 in the fourth round, but none of the bigger ones did and the Lions ended up with
Nevin Lawson
, who is the opposite of the tall type of corner defensive coordinator Teryl Austin covets. Lawson was a three-year starter at Utah State but had more than one interception only once, when he had four picks as a senior.
Most surprising move:
The Lions focusing on offense for two of the first three picks after the team spent a lot of their primary free-agent dollars on signing receiver
Golden Tate
and re-signing running back
Joique Bell
and tight end
Brandon Pettigrew
. Detroit general manager
Martin Mayhew
continued to say throughout the draft that the team's defense and offense were not that far apart. He used the stat that the Lions were 15th in points allowed last season -- except Detroit lost a defensive end off of that team,
Willie Young
, whom it has yet to adequately replace and are still thin at safety. The Lions could have used another playmaker in the back end out of this draft, especially after passing on the secondary in the first day.
File it away:
Mayhew said before the draft that a successful one would have three starters, three contributors and three developmental players. With eight picks, Detroit won't get there exactly through the draft, but if you were to project out, those starters in the 2014 draft -- likely most beyond 2014 -- are tight end
Eric Ebron
, Van Noy and kicker
Nate Freese
from Boston College. The contributors would be defensive tackle
Caraun Reid
(fifth round), wide receiver
TJ Jones
(sixth round) and center/guard
Travis Swanson
(third round). As far as developmental picks go, those could be Lawson (fourth round), defensive end
Larry Webster
(fourth round) and a likely undrafted free agent. Of course, as is with every draft, the true barometer of how this class fares will be beyond this season, if not longer.
May, 9, 2014
May 9
12:18
PM ET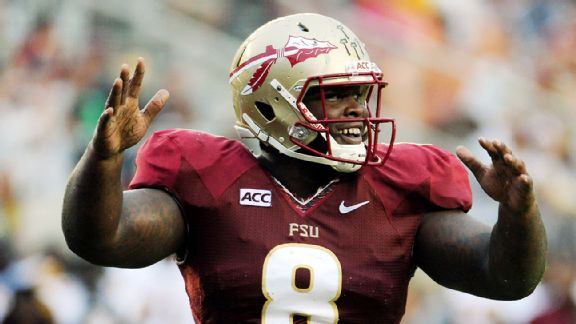 Melina Vastola/USA TODAY SportsFlorida State DT Timmy Jernigan was viewed as a first-round talent in early mock drafts.
LAKE FOREST, Ill. -- The
Chicago Bears
knocked out a need at cornerback on Thursday in Round 1 of the NFL draft with the selection of Virginia Tech's
Kyle Fuller
, and on Friday the team will stick to the plan of replenishing the defense in Rounds 2 and 3.
Despite perhaps more pressing needs at safety and linebacker, the Bears took a versatile cornerback in the first round. What's encouraging for the next two rounds is that this year's draft class is so deep, the Bears could still find players in need areas capable of contributing significantly as rookies.
[+] Enlarge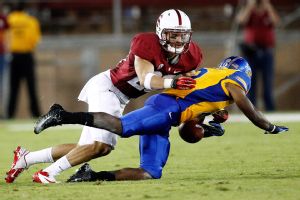 AP Photo/Tony AvelarStanford safety Ed Reynolds makes sense for the Bears in the third round.
The Bears pick 51st and 82nd overall in the next two rounds, and with options aplenty on Day 2, I'd use the second-round pick on the best defensive tackle available since that position represents the best value. I'm more partial to Florida State's
Timmy Jernigan
(I don't care about the alleged failed drug test) or Notre Dame's
Louis Nix
than a boom-or-bust prospect such as Minnesota's
Ra'Shede Hageman
.
Then, in the third round, I'd look to add competition safety with a long, rangy prospect such as Stanford's
Ed Reynolds
.
Looking at the players still on the board, the Bears have several options available at defensive tackle in Jernigan, Notre Dame's Nix and
Stephon Tuitt
, Hageman, and perhaps even later in the draft with players such as LSU's
Ego Ferguson
, South Carolina's
Kelcy Quarles
and Princeton's
Caraun Reid
.
At safety, the Bears should strongly consider Reynolds. He picked off seven passes over the past two years and has an NFL pedigree, from his father, Ed Sr., who played linebacker in the NFL for 10 years.
Dion Bailey
of Southern Cal could be another option for the Bears at safety, perhaps in the third round, and Wyoming's
Marqueston Huff
is a potential pick even later (six double-digit tackle games; 20 stops against Utah State).

Linebacker options are abundant, too. Brigham Young's
Kyle Van Noy
racked up 62 tackles for lost yardage over four years in college; he projects as a Sam linebacker in Chicago's scheme. Florida State's
Christian Jones
and
Telvin Smith
are also athletic possibilities for perhaps later in the draft.
Keep an eye out for Connecticut's
Yawin Smallwood
, who posted 332 career tackles and 9.5 sacks in college and met with the Bears at the NFL combine. New Bears defensive line coach Paul Pasqualoni is familiar with Smallwood, having served as head coach at Connecticut from 2011 to '13. Pasqualoni told the Hartford Courant, "[What] I really like about [Smallwood], which I think is a strength, is that he doesn't process what he sees. He just goes. Some guys look at it and they hesitate, then they go. He's not a process guy. He's a read-and-react guy, which is a big part of that position."
Perhaps Chicago general manager Phil Emery will pull one of his usual surprise picks and grab an offensive player. That wouldn't be too much of a stretch, because the benefit of a class this deep is that the Bears can legitimately find ways to address needs throughout all seven rounds.
Emery has been high on Texas Tech tight end
Jace Amaro
, who runs a 4.6-second 40-yard dash and made 106 catches last season.
February, 18, 2014
Feb 18
11:00
AM ET
With the NFL combine starting Wednesday, here's a look at the Jacksonville Jaguars' positions of need on defense and which prospects the team might be looking taking a closer look at in Indianapolis. Positions of need are listed in order of importance. We looked at the offense on Monday.
JACKSONVILLE, Fla. -- The Jaguars have a lot of holes to fill on the roster and the next part in the process comes this week when general manager David Caldwell and head coach Gus Bradley evaluate, watch, and interview prospects at the NFL combine.
Here's a breakdown of what the Jaguars need, in order, on defense and some potential targets:
Babin
Leo
: Call this need No. 1A, just barely behind quarterback. The Jaguars have finished last in the NFL in sacks in each of the last two seasons and desperately need someone that can affect the quarterback on a consistent basis.
Jason Babin
and
Andre Branch
manned this spot in 2013 but Babin is scheduled to make $6.175 million in 2014. The 33-year-old Babin led the Jaguars with 7.5 sacks in 2013 but he's making elite defensive end money and he's not an elite defensive end. He has said he'd be willing to re-negotiate his contract because he likes it in Jacksonville, but he also can declare himself a free agent because of a clause in the new CBA. It'd be a surprise if Babin is on the roster in 2014 under his current contract. Branch really improved in 2013 because defensive coordinator Bob Babich and defensive line coach Todd Wash got him to become more consistent with his effort. He's a long way from being a 15-sack player, though, and that's what the Jaguars need.
Potential targets:
Jadeveon Clowney
,
Dee Ford
,
Anthony Barr
,
Khalil Mack
.
Outside linebacker:
Geno Hayes
turned in a solid year in 2013 (78 tackles, two interceptions, three pass break-ups) despite playing through a nagging knee injury that eventually forced him to miss the last two games. But the Jaguars still need to upgrade both outside spots. It was partly due to his knee injury, but Hayes didn't make very many impact plays and
Russell Allen
, the starter on the other side, made none. The leo spot is a hybrid end/outside linebacker that specializes in rushing the passer, so the outside linebackers don't need to be elite pass rushers. They need to be athletic enough to play in coverage and have the ability to blitz if needed.
Potential targets:
Ryan Shazier
,
Telvin Smith
,
Lamin Barrow
.
Defensive end:
This is the spot opposite the leo in the Jaguars' defense and it doesn't call for an elite pass-rusher. The Jaguars want a big, physical end who can anchor the line of the scrimmage in the run game.
Tyson Alualu
held the job last season and was solid (44 tackles, eight QB pressures, three tackles for loss), but the Jaguars need more production there. The only other player at that spot is
Ryan Davis
, who spent most of last season on the practice squad. They're also hoping for a little more pass rush production than what Alualu had, but it's not the primary responsibility.
Potential targets:
Brent Urban
,
Jackson Jeffcoat
,
Scott Crichton
.
Defensive tackle:
The Jaguars' two starters are set with
Sen'Derrick Marks
and
Roy Miller
, but the Jaguars need to add some quality depth here. Marks is coming off a career year and was awarded a four-year extension. Miller battled a shoulder problem all season but underwent surgery after the season concluded and should be fine by the time OTAs begin in April.
Potential targets:
Will Sutton
,
Caraun Reid
,
Deandre Coleman
.
January, 20, 2014
Jan 20
7:10
PM ET
MOBILE, Ala. -- Here are 10 observations/thoughts from Monday's Senior Bowl practices and interviews:
1. Though there was only one period at the end of South team practice in which the entire offense faced off against the entire defense, Monday was a good day to evaluate the quarterbacks. It was mainly from a mental standpoint, Jaguars offensive coordinator Jedd Fisch said. The offense was put in Sunday night and Monday was the first chance to see how well the quarterbacks transferred it from the meeting room to the field. Fisch said he was pleased with the way
Jimmy Garoppolo
(Eastern Illinois),
Derek Carr
(Fresno State) and
David Fales
(San Jose State) handled that. There were mistakes and issues, but all the quarterbacks did a solid job.
2. There isn't a lot of size among the quarterbacks for either team, with the exception of
Logan Thomas
(Virginia Tech), who measured in at an impressive 6-5 5/8 and 250 pounds. Fales (6-1) and Carr (6-2) were both listed at 6-3 on the pre-measurement roster.
[+] Enlarge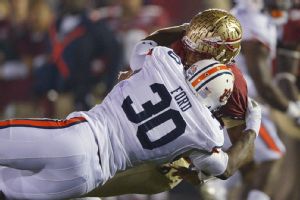 AP Photo/Mark J. TerrillDee Ford, who had 2 sacks in the national title game against Florida State and 10.5 sacks for the season, impressed on Monday at Senior Bowl practices.
3. Maybe it's my SEC background (I covered Florida and the league for 13 seasons), but defensive ends
Dee Ford
(Auburn) and
Chris Smith
(Arkansas) were noticeably quicker than the other defensive linemen. It really showed during one-on-one pass-rush drills. Offensive tackles
Joel Bitonio
(Nevada),
Wesley Johnson
(Vanderbilt),
Ja'Wuan James
(Tennessee),
Morgan Moses
(Virginia) and
Billy Turner
(North Dakota State) really struggled with those two players on the edge. Turner had a particularly hard time, which is partly to be expected because of the step up in competition. However, it was a bit surprising to see Johnson, James and Moses have issues. The layoff is partly to blame.
4. Ford had 10.5 sacks, including two in the national title game against Florida State, and was consistently beating the tackles around the edge. It'll be interesting to see how he handles coverage responsibilities. He's not really big enough to play a down end (6-2 1/4, 243 pounds) so he'd likely fit in the Jaguars' scheme as a leo.
5.
Jon Halapio
(Florida) had a rough start in one-on-one run-blocking drills -- defensive tackle
Will Sutton
(Arizona State) threw him aside pretty easily -- but he rebounded to have a solid performance in the pass-rushing drills. He handled Sutton and tackle
Deandre Coleman
(California) in pass-rush drills.
6. From the Don't Read Too Much Into This Department: Jaguars GM
David Caldwell
wandered over to watch some of the one-on-one run-blocking drills and stood next to end
Ed Stinson
for a while. The two appeared to be chatting while Stinson was sitting out some drills. Stinson weighed in at 292 pounds so he'd be a better fit for the spot that
Tyson Alualu
plays. The Jaguars were satisfied with the way Alualu played the run last season but they'd like more pass-rush production out that spot.
7. Here's a name to keep an eye on as the draft rolls into the later rounds: defensive tackle
Caraun Reid
(Princeton). He had a really strong day in run-blocking and pass-rushing drills. He moves very well for his size (6-2 1/8, 301 pounds) and showed good strength and quickness. He tossed guard
Gabe Jackson
(Mississippi State) aside and got underneath center
Bryan Stork
(Florida State) and drove him back.
8. Another small-school player that caught my eye was running back Lorenzo Taliaferro (Coastal Carolina), mainly because he's the biggest running back participating this week (6-0, 231 pounds). He had a couple nice runs during the short 11-on-11 period. He ran for 1,742 yards and 27 touchdowns and averaged 6.3 yards per carry last season. He has lost only 20 yards in 356 career carries.
9. Receiver
Jordan Matthews
(Vanderbilt) made a nice catch with a DB all over him during 11-on-11. Matthews (6-2, 209 pounds) is a physical player who caught 201 passes the past two seasons. He has good hands, knows how to use his body, and will make the tough catch. He doesn't have top-end speed, but he'll be one of the first several receivers drafted.
10. I wasn't that impressed with fullback
Jay Prosch
(Auburn), who struggled whenever he had to block an end or on the edge. Granted, there were only a few live periods but he seemed to be much better whenever he had to take on an inside linebacker.
NFL SCOREBOARD
Thursday, 11/27
Sunday, 11/30
Monday, 12/1