July, 31, 2014
Jul 31
4:59
PM ET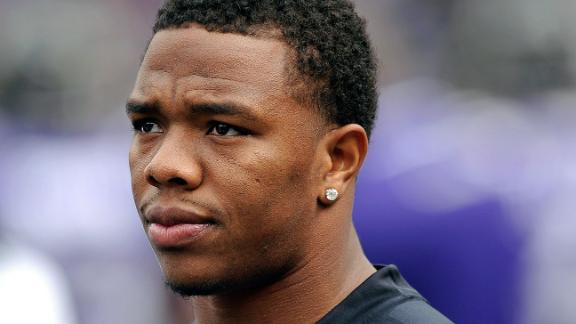 OWINGS MILLS, Md. -- In stark contrast to
Ray Rice
's awkward news conference in May, the
Baltimore Ravens
running back showed Thursday that he finally understood the weight of his actions from the alleged altercation with his then-fiancée in February.
He delivered the correct message, one the NFL failed to do last week with the two-game suspension, by not only apologizing to his wife, Janay Palmer, but also expressing a desire to become an advocate for domestic-violence causes.
Rice was compelling in his contrition, calling it the biggest mistake of his life. He stood in front of the microphone alone, without his wife standing by his side, and took full responsibility for the incident. Perhaps more importantly, Rice actually said the words "domestic violence," which weren't heard in his statement two months ago.
"My actions were inexcusable," Rice said. "That's something I have to live with the rest of my life."
Before anyone pats Rice on the back, this is what he should have said the first time when he broke his silence in May. Instead, Rice nervously fumbled through notes on his phone and apologized to team officials and his sponsors. That debacle of a news conference came across as damage control to his image.
His 17-minute news conference Thursday hit the right tones. He apologized to all women affected by domestic violence. He accepted the blame for losing the respect of fans. Rice came across as genuinely sorry.
"I let my wife down, I let my daughter down, I let my wife's parents down, I let the whole Baltimore community down," Rice said.
Rice's biggest misstep was not talking about what happened in the elevator. He was asked twice about it and declined to answer both times. His stance against domestic violence would have resonated stronger if he had explained his transgressions.
"I'll be honest: Like I said, I own my actions," Rice said. "I just don't want to keep reliving the incident. It doesn't bring any good to me. I'm just trying to move forward from it. I don't condone it. I take full responsibility for my actions. What happened that night is something that I'm going to pay for the rest of my life."
The only way Rice can move forward from this incident and show he's truly sincere is through his actions. It's not by his words. It's not by a hefty donation, which is merely a gesture. It's by proving this will remain a "one-time incident" and by supporting domestic-violence causes.
Thursday represented a small step forward for Rice. But it was an important one.
January, 17, 2011
1/17/11
5:15
PM ET
Three cities. Two stadiums. A total of 1,996 air miles traveled over 84 hours. Yes, I had the genuine privilege of shuttling between both of our division playoff games this weekend, a trip that brought us one golden prize: The second-ever postseason matchup between the
Green Bay Packers
and
Chicago Bears
-- an NFC Championship Game that will most assuredly make us the Epicenter of Humanity this week.
I won't pretend it was some kind of
Excellent Adventure
.
Odysseus
, I am not. But I tried to jot down some notes along the way to give you a feel for what it was like to witness the Packers and Bears advance within a day of each other. Don't worry. Whenever it got boring, I just embellished.
(All times local.)
Friday, 3:30 p.m.:
During a snow-driven drive to the Minneapolis-St. Paul airport, I turn on local sports radio. A Packers fan named Carl calls in from what he says is the bathroom in a Stuckey's in Murfreesboro, Tenn. Carl is part of a caravan of Packers fans driving to Atlanta and seems concerned for his safety. Hilarity ensues.
Friday, 5 p.m.:
The airport feels like the Metrodome concourse: Spilling over with people looking to get out. The flight monitors are on the fritz, so I follow a guy wearing a Falcons No. 7 jersey with "Vick" on the back to the Atlanta gate. I start looking for
worm holes
.
Friday, 7 p.m.:
The guy sitting next to me, who incidentally reminds me of
Marty McFly
, says his kids missed the entire week of school in Atlanta because of snow. (No insult intended here. After all, I myself am usually associated with the cast of "
Freaks and Geeks
.")
Saturday, 9 a.m.:
Look outside the hotel window to see at least two piles of snow. Starting to wonder about McFly's idea of a "storm."
Saturday, 4 p.m.:
Heading to the Georgia Dome with NFC South colleague Pat Yasinskas, I notice the shoulders and part of each outer lane of I-85 still iced over. Now I see what McFly is talking about. Apparently, Atlanta has gone green when it comes to snow removal: Sunlight will eventually do the trick, I suppose.
Saturday, 8:20 p.m.:
Pull out my stopwatch to test the delay between the live action and the television screens in the press box.
It's 23 minutes
. I keep my mouth shut to
avoid the wrath of hyper-sensitive Falcons fans
.
Saturday, 10:15 p.m.:
Start searching the excellent database at
pro-football-reference.com
to find examples of a better playoff game than the one Packers quarterback
Aaron Rodgers
is putting together. Not many instances are popping up.
Saturday, 11:30 p.m.:
Laugh as Rodgers starts ticking off games he might have played better in during his career, including an appearance in the Insight Bowl. Please.
Saturday, 11:55 p.m.:
Walk back to the press box to write. I'm struck by how confident the Packers are that they will advance to, and win, the Super Bowl. "We've got that swagger going now," receiver
Donald Driver
says.
Sunday, 2 a.m.:
Return to the hotel and start packing in anticipation of a 5:45 a.m. wakeup call. Debating whether to sleep. Cable TV is showing "Bette Midler: The Showgirl Must Go On." Sleep it is.
Sunday, 7 a.m.:
Arrive at Atlanta airport to see Fox analyst Mike Pereira, the NFL's former vice president of officiating, scheduled for the same flight to Chicago. Pereira tells
Brad Biggs of the Chicago Tribune
that the rule that cost
Detroit Lions
receiver
Calvin Johnson
a touchdown in Week 1 should be changed. Nowwwwwwwwww he tells us!
Sunday, 8:30 a.m.:
Arrive at Chicago-Midway and begin desperate search for coffee. See a policeman holding a cup of Dunkin' Donuts and ask him where he got it. He points across the street and said he brought it from the train station. I resist the urge to ask how he got more than 3 ounces of liquid past security. I guess
3-1-1
applies only to some people.
Sunday, 8:45 a.m.:
Get in a cab and cruise up Lake Shore Drive before encountering a standstill at the 18th St. exit. Our cabbie screeches into the left lane, floors it for about a mile and then cuts off the line at the last possible moment. He is tipped accordingly.
Sunday, 12:15 p.m.:
Watch No. 82 of the Bears catch a 58-yard touchdown pass and check a roster
to see who he is
.
Sunday, 12:17 p.m.:
With the Bears holding a 7-0 lead, I suggest it's time to start discussing a Packers-Bears matchup during our
Countdown Live chat
.
Sunday, 3:30 p.m.:
Get freaked out for the second time this season by Bears cornerback
Charles Tillman
, who hasn't removed his tinted contact lenses before giving media interviews. The dark part of his eyes are red. I keep my distance.
Sunday, 5 p.m.:
Get hammered for
re-tweeting Kristin Cavallari
, who is
Jay Cutler
's significant other and had tweeted: "Yaaaaaa that's my boyfriend!!!! Woot woot."
Sunday, 7 p.m.:
Wander a Soldier Field parking lot with NFC West savant Mike Sando, who isn't entirely sure where he left his rental car.
Sunday, 8 p.m.:
Celebrate our arrival at the Epicenter of Humanity at a deep dish pizza joint. But I'm shamed upon arrival after Sando tells me he dropped 38 pounds this season with a new exercise regimen. Let's just say I am currently suffering from the furniture disease. I order a salad and sulk.
Monday, 11 a.m.:
Touchdown at NFC North blog headquarters. Let's do it all again sometime soon!