January, 15, 2014
Jan 15
3:00
PM ET
So, yeah. It's happened again. Mel Kiper Jr. has done
his first mock draft

of 2014. And as some prior mock drafts have done, he's projected Alabama linebacker
C.J. Mosley
to the
New York Giants
with the No. 12 overall pick.

Usual disclaimers apply: I respect -- nay,
revere
-- the work Kiper does on the NFL draft. I don't think there's anyone who knows more about it, and I don't believe there's anyone who works harder to make sure that's the case. He's a machine, and nothing I write that disagrees with anything he writes should be taken as any kind of slight against the man, his work or his abilities.
However ...
The Giants have not selected a linebacker in the first round of the draft since Carl Banks in 1984.
Carl Banks. In 1984.
That's 30 years, during which the franchise has been run by basically the same people and under the same philosophy, and it's not a coincidence of history that it's been that long. Especially in the salary cap era, during which teams set their priorities and only allocate high-end resources (meaning big free-agent money and high draft picks) to those positions they feel deserve them, the Giants have consistently undervalued the linebacker position and sought to address it with bargains. Even more recently, as passing offenses have evolved to dominate the game, the Giants (and many other teams) increasingly spend more time in nickel defenses, which require only two linebackers on the field if you're a base 4-3. The Giants simply do not believe linebacker is a position worthy of a first-round pick, so they don't pick linebackers in the first round.
Is Mosley good enough to break that trend? Maybe. Did the extent to which Jon Beason revitalized their linebacker corps this year underline the importance of a high-energy field general at that position? Possibly, but it's worth noting that they only spent a seventh-round pick to get Beason, and that fact actually kind of supports their belief that they can get linebacker figured out without spending major resources on it.
So count me as a doubter that they'll pick Mosley at No. 12.
I think they
should
take the best available offensive lineman there, given the extent of their short-term and long-term needs on the line. Someone like Michigan tackle
Taylor Lewan
, should he fall (which he doesn't, in Mel's mock). But others will correctly point out that their bigger line needs are at guard and center, and can be addressed in Rounds 2 and 3. So what's most likely, in my opinion, is that the Giants take someone like Texas A&M wide receiver
Mike Evans
or North Carolina tight end
Eric Ebron
if one of them is there, to supply Eli Manning with a fresh new weapon on offense. Or they could go defense and snag someone like Florida State defensive tackle
Timmy Jernigan
or Alabama safety
Ha Ha Clinton-Dix
. Those picks would be much more in keeping with the Giants' drafting philosophy than would Mosley.
And hey, you never know. They went 11 years without drafting a running back in the first round before taking
David Wilson
two years ago. And they went 13 years without drafting an offensive lineman in the first round before taking
Justin Pugh
last year. So sometimes trends don't last. But this trend is at 29 years, which puts those others to shame. No offense to Mel or to Mosley, but I have a hard time imagining this.
September, 23, 2013
9/23/13
7:53
PM ET
By
ESPNNewYork.com staff
| ESPN.com
Former
New York Giants
linebacker Carl Banks called the Giants' performance against the
Carolina Panthers
"truly a disaster" on Monday -- and he was only getting started.

"I think aside from the Xs and Os, I think the most disturbing aspect of it is, in all my years being around this team -- and they've had some bad losses, they've had some highs and lows and some good teams and bad teams -- but I don't think I've ever seen a team just not show emotion, as they were just getting pummeled," Banks said, in an appearance on WFAN-AM 660. "I don't advocate fighting, but show some emotion -- show that you care that your quarterback was sacked six times in the first quarter. Show me -- push a guy, tackle a guy, do something other than just take it."
Banks, a former All-Pro who now serves as an analyst on the team's radio broadcasts, wasn't done there.
"They showed very little toughness at all," Banks continued, "and just the pride that you have to have. And not letting guys just punch you in the mouth, you get up, you let 'em punch you in the mouth again, and they just do it until the game is over with. I mean the game was over, [the Panthers] were still banging Giants, receivers getting knocked all over the place, and there's not one guy that showed emotion, and that's scary. That really is scary."
When asked how this kind of performance, and lack of emotion, could happen, Banks unleashed further criticism.
"Well, they don't like themselves, that's what it really comes down to," Banks said. "They don't like each other, they're not willing to fight for each other. When you have a premier quarterback in this league, and you don't have enough self-respect -- not for him, but for yourself -- to protect him and do your job, I think it speaks volumes. And I think these guys really do need to all stand in (front of) the mirror, and it's gut-check time."
At least one players agreed with Banks -- fellow linebacker
Mark Herzlich
.
"That's what happened. They kept hitting us, hitting us and hitting us and we didn't stop them," Herzlich said. "Carl's right, we need to have more passion, we need to have that fire."
April, 25, 2013
4/25/13
2:26
PM ET
Where they're picking:
19
Conventional wisdom tells us
the
New York Giants
are a "best-player available" team that uses the draft not to address specific areas of immediate need but rather to augment and maintain a deep roster from year to year. That means the player they take at 19 is probably going to be the highest remaining player on their board, and possibly someone who falls from a projected top-10 slot the way
Prince Amukamara
did two years ago. So the mock drafts have the Giants taking anyone from tackle
D.J. Fluker
to linebacker
Alec Ogletree
to cornerbacks
D.J. Hayden
or
Xavier Rhodes
or
Desmond Trufant
, but the Giants are generally content to wait and see what gem may fall into their laps.

History tells us
that, while the Giants do stick to their board, they do apply their own beliefs about position values when assembling that board. So that while someone like Ogletree or Fluker may be the objective "best player available" at 19, he may not be the highest-ranked player on the Giants' specific board. It has been 29 years since they took a linebacker in the first round and 14 since they took an offensive lineman. And while, yes, it had been 12 since they took a running back before they picked
David Wilson
last year, that was the 32nd pick in the round and their pre-2000 history shows that running back is a position that carries first-round value for them. They were able to ignore it for a while due to the success of
Brandon Jacobs
and
Ahmad Bradshaw
, who are now both gone. Recently, the Giants have seemed to like taking defensive backs. They've taken one with their first pick in four of the last eight drafts.
They probably won't
trade up. It would be unlike the Giants to identify a specific player or need and give up later picks in order to move up in the first round -- especially since their biggest needs are at positions to which they don't generally assign first-round value. That No. 19 spot feels like a comfortable spot for the Giants, who will likely find a player who can develop in their system and work his way into a starting job over the next year or so.
They could shock us by
taking Notre Dame's
Manti Te'o
. He'd be their first first-round linebacker since Carl Banks, so it would be a heck of a statement about what they think of him as a prospect. But it would be shocking for a number of reasons that have nothing to do with the Giants' draft history or established organizational philosophy about linebackers. Te'o comes with weird off-field baggage, the likes of which the Giants don't need in their market. He's tested poorly in the pre-draft process and he was beaten like a rug in his last college game. Some have connected Te'o with the Giants during the mock-draft period, but I'd be surprised if they broke a 29-year first-round linebacker drought for him.
My prediction:
I took cornerback
Desmond Trufant
for the Giants in the ESPN blogger mock draft earlier this week, and the reason I made that pick was because he was the highest-ranked defensive back left on the Scouts Inc. board at that time. If cornerback
Dee Milliner
or safety
Kenny Vaccaro
drops this far, I believe the Giants will run to the podium to draft him. Otherwise, Trufant, Rhodes, Hayden ... all good guesses, as are the Florida State defensive linemen.
April, 23, 2013
4/23/13
5:52
PM ET
Alec Ogletree
was sitting there at No. 19 when it came time to make the pick for the
New York Giants
in this year's ESPN.com
blogger mock draft
. And man, could the Giants use him. Heck, if I were running the Giants, that's probably the pick I'd make if the draft fell just that way. But I don't run the Giants. Jerry Reese does, and he apprenticed under Ernie Accorsi, and that's the way deep-rooted organizational principles live through the decades. The last linebacker the Giants took in the first round was Carl Banks in 1984. That's not a coincidence. That's 29 years' worth of evidence that they just don't assign first-round value to players who play that position.

Trufant
So linebacker was out, and since we were rolling with trends and history anyway, I figured why not pick the position to which the Giants consistently assign first-round value -- defensive back. There were some good ones available at this point. Only one cornerback (
Dee Milliner
) and one safety (
Kenny Vaccaro
) had been taken. I went with Washington's
Desmond Trufant
, mainly because he was the highest-rated corner after Milliner on the Scouts, Inc. draft board. It's entirely possible that, should they find themselves in this situation Thursday night, the Giants will have
D.J. Hayden
or
Xavier Rhodes
or
Jamar Taylor
rated ahead of Trufant and pick one of those guys. I do not know how they have the defensive backs ranked on their board. I just know that they've used their first pick on a defensive back in four of the last eight drafts, so it made sense to me to take one there this time around.
I thought about
Bjoern Werner
, the Florida State pass-rusher. I thought about
Sylvester Williams
, the North Carolina defensive tackle. Defensive line is another position on which the Giants like to use first-round picks, and either would have made sense there. My point was that, in predicting the Giants' first-round pick, it's important to understand the way they think. Yes, they believe it's important to take the best player still available on their board. But when they craft their board, the Giants tend to assign less value to some positions than to others. So while someone like Ogletree might look like the best player available at 19 to you or me, he likely doesn't look that way to the Giants, who believe they can find good value at linebacker in later rounds.
December, 17, 2012
12/17/12
1:34
PM ET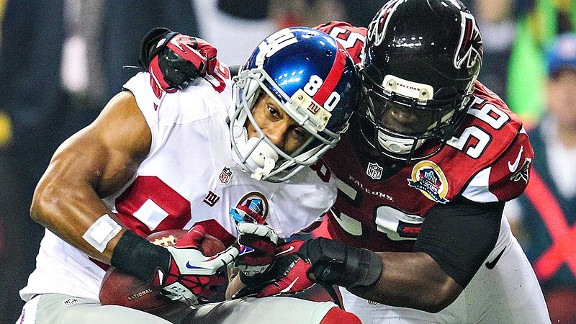 Daniel Shirey/USA TODAY SportsVictor Cruz and the New York Giants have just two weeks to salvage what's left of their season.
It would be easy to chalk this up to typical
New York Giants
behavior -- paste the Saints one week, get shut out 34-0 in Atlanta the next. One good, one bad, never consistent -- that's the party-line book on the Giants, and there are plenty of people inside and outside their locker room who are trying to fit this season into that narrative.
I think they're wrong. I think Sunday's loss in Atlanta was extremely atypical of the Giants -- that it contradicted many of the things we believed we knew about them and that they believe about themselves. And I think the fact that it went as wrong as it did offers the Giants and their fans good reason to think it might not turn out OK this time.
Now, you know where I've stood on this all year: Fool me twice, shame on me. I'm not going to count the Giants out until they're 100 percent mathematically out. What they did last year earned them every benefit of every pundit's doubt. But they've lost four of their last six games and allowed not one, but two teams to pass them in the NFC East standings. They still make the playoffs, at least as a wild-card team, if they win in Baltimore next week and beat the Eagles at home in Week 17. But any assumption that they'll win both of those games is rooted in what they showed you last year -- not what they've shown you this year. And that may be the
Giants' biggest problem
right now:
"I've been here too long. ...I've seen this too many times before to have any doubt in my mind," Osi Umenyiora said of bouncing back. "I know it can be done. But talking about it isn't going to do nothing. We have to go out there and get it done."
It is time -- perhaps past time -- for the Giants to stop assuming this will all be OK because it was last year. It is time -- perhaps past time -- to look seriously at this year's problems and seek solutions, rather than recycle the same old tricks and assume they'll work again. I get that it's easy for a team that won the Super Bowl to convince itself that it should stay the course. And of course the Giants (who are actually one game better than they were at this point last season) might just flip that switch this week and turn out to have been right all along.
But I argue that there are deeper concerns, specific to 2012, that point to doubt. And I think Sunday's game is a perfect example. If you believe in the narrative about a team that gets up for big games and thrives off of a confidence inspired by past accomplishments and victories, then that's a game you expect the Giants to win. Or at least come within 33 points. Instead, they didn't even show up against a team they beat 24-2 in a playoff game 11 months earlier. Their quarterback played one of the worst games of his career. They couldn't get a yard on fourth down when they needed one, and
Matt Ryan
couldn't have been any more comfortable in the pocket if it had been surrounded by electrified barbed wire. These facts are what bug you if you're a Giants fan right now. As much evidence as 2011 showed you that this team can get things done in the biggest and most dire of spots, Sunday was the latest in an upsettingly long chain of 2012 evidence that such things shouldn't be assumed.
I heard Carl Banks on WFAN radio this morning in New York talking about "collective will" and wondering whether this year's Giants have enough of it to succeed. I think he's spot-on. This year's Giants have shown an ability to play tough but not to stay tough. They haven't shown the collective ability to make good on their offseason goal of playing more consistent, more dominant football week in and week out. And the worst part is, their answer to this seems to be to wait around for a happy, nostalgic visit from the Ghost of Playoff Race Past -- to assume they'll do it again just because they did it before.
Doesn't work that way. The Giants need to spend a little less time reminding themselves how good they were in 2011 and a little more time focusing on the real, concrete problems of 2012. What is different and fixable about
Eli Manning
and the passing game? Why can't the pass-rushers get to the quarterback? Why is
Lawrence Tynes
missing 30-yard field goals? Why can't they summon that big third-down or fourth-down conversion when they need it most?
They didn't have to ask these questions in 2011, when Manning was brilliant every week and
Jason Pierre-Paul
ranked among the league sacks leaders, the breaks were going their way and they were never out of any game. But this year is different, as every one is, and they have 14 games' worth of evidence to prove it. A long, critical assessment of those 14 games would do the Giants a lot more good this week than any more talk about what they've proven in the past. Because if they keep focusing on last year, they're going to wake up in a couple of weeks and find that this year didn't turn out the way they were certain it would.
July, 31, 2008
7/31/08
10:44
AM ET
Posted by ESPN.com's Tim Graham
| | |
| --- | --- |
| | |
| | Ken Levine/Getty Images |
| | Andre Tippett is the Patriots' franchise leader in sacks (100) and fumble recoveries (17). |
FOXBOROUGH, Mass. -- The notion young New York Giants assistant Bill Belichick could hold up another player for Lawrence Taylor to emulate sounds preposterous.
Taylor was the nouveau outside linebacker, remaking the position before our eyes with every wicked movement. Taylor revolutionized the position, made it his own. He was considered the standard.
"When you're coaching Lawrence Taylor and Carl Banks," Belichick said, "there's not a lot of guys you can really put film up on and say 'Let's do it the way that guy's doing it.' In most cases (other linebackers) couldn't do it as well as those two could."
Except one guy. There was one contemporary outside linebacker who could be considered Taylor's peer.
Andre Tippett, who toiled on so-so New England Patriots teams for most of his career, was overlooked compared to the Big Apple spotlight Taylor enjoyed.
But in NFL film rooms he was looked at over and over and over.
"We'd watch him play and talk to our players about 'See how he's doing that? That's they way we want to do it,' " Belichick said.
"He was one who was every bit as dominating of a player in his time and in his game."
Tippett on Saturday night will be inducted into the Pro Football Hall of Fame in Canton, Ohio.
Tippett spent his entire career with the Patriots. He made five Pro Bowls, all in a row, and finished as the franchise leader with 100 sacks and 17 fumble recoveries. He recorded the highest two-season sack total in 1984 and '85, amassing 35 of them.
He was named the NFL Players Association's top linebacker in 1985, '86 and '87. That was in Taylor's prime.
"The average guy goes 'I don't really remember him.' Well, look at his stats," said former Miami Dolphins tight end Joe Rose. "He was special, boy.
"He was unbelievable. He was just phenomenal."
This weekend, though, Tippett's an emotional wreck. He admitted so himself. He has been overwhelmed since he got the call. The more he learns about Canton's magnitude, the more intense the whole thing gets.
"There is so much history here in the National Football League," Tippett said Thursday during a news conference in Gillette Stadium, "and to be part of the Hall of Fame is unbelievable."
Tippett rattled off numbers that put his awe in perspective, starting with his estimate that there have been 18,000 players in NFL history.
"The percentages will stun you when you look at it," Tippett said.
There are 247 Hall of Fame members. Only 230 were players. Tippett said 155 honorees still are alive.
He's the 17th linebacker to get in and the second career Patriot behind guard John Hannah.
"This is something you can't pay for," Tippett said. "You can't be cut from this team. You can't even quit.
"To be part of this is the greatest honor there is. There is nothing after this honor -- just to die."
For 11 seasons he snuffed opposing quarterbacks. He overmatched tight ends, tackles and fullbacks, leaving them strewn behind him in a path of tornadic ruin.
His sack total began with Mike Pagel in September 1983. He dotted the likes of Cliff Stoudt, Vince Ferragamo, Art Schlichter, Brent Pease and Browning Nagle along the way before stopping on Scott Mitchell in January 1994.
Two of his favorite destinations were within his division, Hall of Famers Dan Marino and Jim Kelly.
"I just remember seeing Andre as a guy that was dominant," Belichick said. "Tight ends couldn't block him. They couldn't run outside to his side. They couldn't run off-tackle to his side.
"He was a very powerful pass rusher. He was fast. He was athletic, and he used great technique. He used his hands well."
Oh, those hands.
That's where Tippett had it over everyone else. He studied martial arts since he was 13, when self-preservation in the Newark ghetto motivated him to learn karate. He was a black belt when he played, and the reflexive hand movements he demonstrated in his Sunday dojo were studied and adopted around the league.
Belichick, for one, put his linebackers through hand drills because of Tippett. When he became head coach of the Cleveland Browns in 1991, he hired a martial arts instructor.
"When you watched Andre play you could really see it," Belichick said. "You could see how fast his hands were and how he was able to swat people off him or knock blockers' hands down to create a better leverage."
Tippett explained his objective was to work the outside frame of a would-be blocker to make him reach. That's when Tippett unleashed a torrent of forearms and elbows. Former Patriots tight end Don Hasselbeck once said nobody inflicted more pain on him that Tippett did in practice.
"Pass rushing was really simple because of pass rushing and playing outside linebacker is hand-to-hand combat," said Tippett, who still owns two of the top six season sack totals for linebackers in NFL history.
Tippett was named to the NFL's all-decade team for the '80s, a period when outside linebackers overtook middle linebackers as the defensive glamour position. His best season was 1984. He recorded 18 1/2 sacks, 118 tackles.
Yet he never garnered the widespread attention Taylor did.
Taylor became known as the most vicious defensive weapon in NFL history, a reputation galvanized with a pair of Super Bowl victories.
Tippett, meanwhile, played for middling teams. The Patriots had six losing records in his 11 seasons. They totaled double-digit victories twice and reached the Super Bowl once -- the epic blowout defeat to the Chicago Bears.
The Patriots were ordinary during Tippett's tenure, but now he can count himself a member of football's ultimate team, every bit as worthy as Taylor or Jack Hamm or anybody else in Canton.
"It's cool," Tippett said. "I feel so cool. I can't wait to put that jacket on."

NFL SCOREBOARD
Thursday, 9/18
Sunday, 9/21
Monday, 9/22
WEEKLY LEADERS