May, 23, 2011
5/23/11
7:28
PM ET
Sam Bradford
has generally kept a low profile during the NFL lockout, except when
collecting awards
and
statues in his honor
.
The
St. Louis Rams
' quarterback has also been busy working on his second career as an NFL quality-control coach.
[+] Enlarge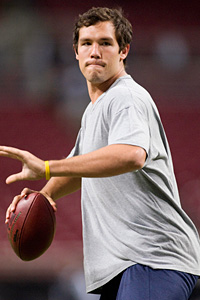 Jeff Curry/US PresswireRams quarterback Sam Bradford has taken on some coaching duties during the lockout.
Bradford, a $50 million man as the NFL's No. 1 overall draft choice last year, has assumed unconventional duties during player-organized practices that began in the St. Louis area Monday.
Those duties included drawing up plays on cards, the same work an entry-level assistant would undertake for the scout team in a regular practices. Because quarterbacks' playbooks are the most complex of all, Bradford was in better position to serve in a coaching capacity.
"He would call out a play and he would also break it down and explain it to all the other guys and the young guys who were there for the first time," guard
Jacob Bell
said by phone following the first session Monday.
Removing coaches from the practice-field equation makes it tougher for players to know for sure whether they're executing techniques correctly. That is particularly true for the Rams' offensive players as they adjust to a new coordinator, Josh McDaniels.
Players do have playbooks in their possession, however, and the books designed for quarterbacks contain much of the information needed for teaching. Two former Rams players,
Torry Holt
and
Corey Chavous
, are serving as coaches during daily sessions scheduled to run through Thursday.
"It's really cool to have them," Bell said. "They are coaching figures out there. Everybody is really working together."
Players have hired personal trainers to help with agility and conditioning drills.
Each day begins with weight-lifting sessions, followed by 45 minutes of agility work and about 80 minutes of practice. Players do not wear helmets or much padding. The non-contact sessions include seven-on-seven work. Players also practice breaking the huddle and calling plays at the line of scrimmage.
A few other notes related to these practices:
Bill Coats of the St. Louis Post-Dispatch lists 23 of an estimated 30 players attending the workouts. The breakdown included all three quarterbacks, five offensive linemen, four receivers, four tight ends, five linebackers and two defensive backs. Coats listed no running backs or defensive linemen, but noted that additional players were expected to attend over the next few days.

Two of the team's eight draft choices -- tight end Lance Kendricks and receiver Greg Salas -- were listed among those attending. I wondered whether some agents were advising their clients to exercise caution, but Carl Carey, who represents Rams first-round pick Robert Quinn, said he had not tried to steer Quinn either way. Carey also said he wasn't aware of these specific workouts.

While having more players attend speaks well for team chemistry, whether or not a specific player was there for a specific day reveals little. Quinn said during the draft that Bradford, James Laurinaitis and Chris Long were already making him feel welcome.

Bradford's participation is obviously more significant. Bell: "He's really doing it big. They are really breaking down and dissecting the plays, going over them, had the cards drawn up, looked pretty good out there."

Receiver Donnie Avery is looking "really good out there" after missing last season with a knee injury, Bell said.
It's tough to say whether these workout sessions will make a significant difference on the field once the season finally does begin. Strong attendance can only be a good thing, however.
"It says we're committed to winning and having a good season," Bell said. "On the other hand, it shows we're sick of sitting around and waiting for this thing to end."
March, 5, 2010
3/05/10
2:25
AM ET
By
Matt Mosley
| ESPN.com
NFL agents say the funniest things -- especially when they're trying to create more leverage.
Julius Peppers
' agent, Carl Carey,
told the Gaston (N.C.) Gazette
that Philadelphia might be waiting to visit with his client if things didn't work out with the
Chicago Bears
.
"Chicago will be our first visit and we don't want them looking over their shoulder worrying about other teams right now," Carey said. "They were the first to call and they've made us a ballpark offer and it's good enough to where we'll make a visit. Pending the outcome of that visit we may visit with Philadelphia and see where we are from there."
Carey also said the Redskins were still in the conversation. But something tells me that Redskins and Eagles fans aren't holding their breaths. OK, it's 2:17 a.m. ET. Let's pick things up in the morning if that's cool with you guys.
June, 24, 2009
6/24/09
4:41
PM ET
Posted by ESPN.com's Pat Yasinskas
As we've noted repeatedly, Carolina defensive end Julius Peppers is one of those guys who never seems to have a lot to say. He'd been silent since February, when he came out and said he wanted out of Carolina.
Now that Peppers has signed his franchise tender and isn't getting out of Carolina until next year, at the earliest, he finally talked just a little.
Through agent Carl Carey, Peppers issued a statement, which is all of three sentences and isn't particularly enlightening. The real test will come Aug. 2. That's when the Panthers report to training camp and there's no longer a question if Peppers will be joining them.
There likely will be a big group of media members waiting to hear from Peppers. (Note to the travel department in Bristol: Book me a flight to Charlotte and a rental car to Spartanburg, S.C. on Aug. 1).
Just a guess here, but the Panthers have been spinning the story today, saying Peppers is the same guy he's always been. If Peppers truly is the same guy he's always been, I'm guessing it will be four or five days after camp starts before he talks to the media.
June, 24, 2009
6/24/09
4:28
PM ET
Posted by ESPN.com's Pat Yasinskas
In the end, the Carolina Panthers won.
It's not just because defensive end Julius Peppers is going to have to come to training camp with his tail between his legs after finally signing his franchise tender Wednesday.
| | |
| --- | --- |
| | |
| | Bob Donnan/US Presswire |
| | Julius Peppers signed his one-year, $16.7 million tender under the franchise tag Wednesday. |
The real reason the Panthers won is because they're keeping a player they wanted to keep all along. A guy they've built their defense around for seven years. A guy who, is no worse than the second-best player in franchise history. (Steve Smith is the only other guy even in the discussion.)
"If you go by actions, and we've known Julius for seven years, Julius has been the same guy for seven years and we really haven't seen any change in that," general manager Marty Hurney said. "He's always been a very competitive person, who's always shown he likes to be a Carolina Panther. That's not a concern at all. He's the same guy.''
Hurney's a big believer in actions speaking louder than words. I share the same philosophy and so do a lot of other people. But you have to at least ask the question about the words Peppers and his agent spoke back in February.
They basically came out and said Peppers wanted out of Carolina, wanted to go to a team with a 3-4 defense and felt he hadn't been able to reach his potential with the Panthers.
If those statements came from another player or agent, you could roll your eyes and say it was all part of a contract negotiation. But Peppers isn't like any other player. He's about the most quiet and private player I've ever encountered. When he says something of that magnitude, you have to assume he meant it.
So what's changed in the months in between?
Maybe nothing. Before you go out and start buying No. 90 Carolina jerseys again, remember that Peppers really had no other choice than to sign the tender. Carey had months to shop him to the rest of the league. Nobody will say for sure if any team offered anything for Peppers, but we can at least be certain no one offered enough to convince the Panthers to part with the guy they drafted No. 2 overall in 2002.
The only other option was a holdout for the season and that would have cost Peppers almost $17 million in salary, so it wasn't really an option.
February, 8, 2009
2/08/09
6:28
PM ET
Posted by ESPN.com's Pat Yasinskas
For those who were hoping Julius Peppers would have a sudden change of heart about his desire to leave the Carolina Panthers, forget about it.
In a sideline interview during the second quarter of the Pro Bowl, Peppers told NBC's Tiki Barber he wants out. Peppers wasn't nearly as eloquent as his agent, Carl Carey, who came out several weeks ago and said the defensive end wants to go to another team.
"I just feel it's time to move on,'' Peppers said.
When Barber specifically asked what it would take for Peppers to stay with the Panthers, Peppers was suddenly more elusive than he's been in recent years. He basically dodged the question and that means Peppers was saying "That's not going to happen''.
Peppers, who can become an unrestricted free agent at the end of the month, also confirmed reports that he wants to play in a 3-4 defense. The Panthers still could place the franchise tag on Peppers. But that would cost them $17 million in cap space and they likely would be forced to trade Peppers if he is franchised.
January, 22, 2009
1/22/09
4:25
PM ET
Posted by ESPN.com's Pat Yasinskas
Just kind of thinking out loud here, but don't be surprised if you see a Carolina reunion in Jacksonville.
Coach Jack Del Rio already is with the Jaguars and it sure looks like Mike Trgovac could end up as the new defensive coordinator. Del Rio was the coordinator in Carolina in 2002 and Trgovac was his defensive line coach.
Contrary to the faulty memories of some fans in Carolina, Del Rio was not the defensive coordinator for the Panthers during the 2003 season when they went to the Super Bowl. Trgovac was because Del Rio already was gone to Jacksonville.
Anyway, this reunion might not end with Del Rio and Trgovac. I'm hearing rumblings Del Rio is considering switching from the 4-3 defense to a 3-4 scheme.
Gee, let's think about that for a second. What high-profile player recently has said he wants out of Carolina and on to a team that runs a 3-4 defense? Hmm, anybody thinking Julius Peppers to the Jaguars?
Yeah, keep an eye on this one. Peppers knows and likes Del Rio. Also, contrary to popular opinion, Trgovac wasn't one of the guys Peppers was talking about when he said he doesn't feel like he's been in a situation where he can play up to his potential. Trgovac and Peppers get along just fine, and maybe they'll be together again.
Also, one other thought on the whole Peppers situation. His desire to play linebacker in a 3-4 defense might be a good idea. But publicizing it to the world, as Peppers and agent Carl Carey have done, might not be the best negotiating ploy.
A top-notch defensive end would probably get around $13 million a season. Peppers wants to play linebacker in a 3-4. Top-notch outside linebackers make about $8 million a season.
January, 18, 2009
1/18/09
3:14
PM ET
Posted by ESPN.com's Pat Yasinskas
Just read through the lengthy interview Charles Chandler did with Carl Carey, the agent for Carolina defensive end Julius Peppers.
Some very interesting stuff in there, but one thing really jumped out. Carey says repeatedly about how much respect Peppers has for the Panthers -- specifically, the coaching staff and front office. That's all nice and diplomatic, but it doesn't ring true.
If you respect a coaching staff so much, you don't want to leave it. And you sure as heck don't make it a point to say you feel like you've got a better chance to reach your full potential somewhere else.
There are theories out there that Peppers is pointing the finger at defensive coordinator Mike Trgovac, defensive line coach Sal Sunseri or coach John Fox. Fact is, it's not any one guy. It's all of those three and probably some others.
This isn't something brand new. Peppers hasn't been happy in Carolina for some time now and he pretty much moped through the entire 2007 season when he produced a whopping 2.5 sacks. I thought maybe the situation had corrected itself in 2008, when Peppers had 14.5 sacks.
But it obviously didn't. It's easy to put the blame on Peppers and label him as a selfish malcontent. But that might not correct. This isn't about money. The Panthers made Peppers an offer that could have made him one of the highest-paid defensive players in the league.
Peppers turned it down because he's not happy with the situation in Carolina. If I'm Panthers owner Jerry Richardson and team president Mark Richardson, the question I'm asking myself is, why does perhaps the best player in franchise history -- a North Carolina kid through and through -- so desperately want to get out of here?
Then, I'm looking real hard at the people who chased him away.

NFL SCOREBOARD
Thursday, 9/18
Sunday, 9/21
Monday, 9/22
WEEKLY LEADERS