August, 8, 2012
8/08/12
5:53
PM ET
RENTON, Wash. -- "Welcome to the jungle" blared over loudspeakers while the crowd assembled at
Seattle Seahawks
headquarters awaited
Terrell Owens
' appearance on the practice field Wednesday.
That was about as wild as things got on Owens' first day with the team. A few things became clear before long:
Owens still runs pretty well. He got deep for a diving grab along the sideline.

Owens' hands held up. Though known for suffering too many drops over the years, he caught the ball well in this practice.

Owens will need time adjusting to contact. His new teammates have been hitting and jostling for a while. Owens hasn't faced NFL-caliber competition for a couple seasons. It showed when Seattle's physical corners roughed him up.

Owens wants to go under the radar at this point. He appeared to say little during practice. He was not at all demonstrative.
[+] Enlarge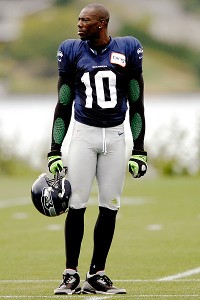 Joe Nicholson/US PRESSWIRETerrell Owens made his training camp debut with the Seahawks on Wednesday.
Dozens of reporters and fans with VIP passes crowded around the pathway leading from the locker room to the fields on a cool, cloudy day at team headquarters on Lake Washington. They craned in anticipation of a grand entrance, only to watch a procession of people other than Owens make their way onto the field.
Sidney Rice
and receivers coach Kippy Brown walked out, joining a sizable contingent already on the field. Fifteen other players, one scout and a team executive emerged before Owens, wearing No. 10 on a blue Seahawks jersey, finally appeared. Fans cheered. Owens, 38 and out of the NFL since 2010, was all business. He slapped hands with guard
Deuce Lutui
, but that was about it for pleasantries.
Doug Baldwin
appeared to initiate a conversation while the receivers lined up for stretching. Carl Smith, the Seahawks' quarterbacks coach, shared a laugh with Owens.
By this point, "Welcome to the Jungle" had given way to Phil Collins ("In the Air Tonight") and then AC/DC ("Back in Black"). Pete Carroll might be the NFL's anti-coach for allowing -- no, encouraging -- tunes to accompany practice.
So much has changed in the decade since Owens, then playing for division-rival San Francisco, celebrated a touchdown in the Seahawks' house by removing a Sharpie from his sock, signing the football and handing it to an associate seated in a suite owned by
Shawn Springs
, then a cornerback with Seattle.
Mike Holmgren, then the Seahawks' head coach, was so infuriated by the display that he excoriated Seattle players for failing to exact retribution.
The celebration seems quaint a decade later, particularly in relation to the hard miles Owens has accumulated in the interim. He's bounced from the 49ers to the
Philadelphia Eagles
,
Dallas Cowboys
,
Buffalo Bills
,
Cincinnati Bengals
and even to the Allen Wranglers of the Indoor Football League. He's gone broke and even allowed that he contemplated suicide during his darkest moments.
"The last two years have been life changing for me," Owens said. "I don't want to sit up here and try to emphasize how much I've changed. I think you'll kind of see that as these days go along."
It felt like a fresh start Wednesday. Owens sounded humble. He spoke quietly without sounding down or overly reflective. At times, it was hard to hear him.
"A lot of people probably don't expect me to use that word humble," he said, "but again, there's been a lot of moments within the last two years that have had me to face and say that word."
Facing the Seahawks' big, physical corners proved plenty challenging for Owens once practice got going. He did make a few impressive plays, none better than the diving grab he made on a deep ball up the right sideline. Owens tracked the ball and bobbled it while diving before securing it well enough to meet the approval of an officiating crew working practice. Another time, though, 6-foot-4 corner
Brandon Browner
locked onto Owens at the line and slammed the receiver to the ground. Owens did catch a pass against 6-3 corner
Richard Sherman
in one-on-one drills.
Browner, a Pro Bowl choice last season, showed plenty of swagger as he walked away from the play. He and the other defensive backs were primed to face a player with Hall of Fame credentials: six Pro Bowls, five Associated Press All-Pro selections, a spot on the 2000s All-Decade Team and career stats ranking among the top five in key categories.
Owens smiled when asked about such confrontations. He said he would need some time to shake off the rust after missing the 2011 season. He sounded confident and comfortable when discussing where he stood at this point in his career.
The other receivers seemed to step up their games.
Golden Tate
, already enjoying a strong camp, made multiple spectacular grabs, including a high deep pass inviting a big hit from Pro Bowl safety
Earl Thomas
. Tate held on to the ball.
Braylon Edwards
, the man likely most threatened by Owens' arrival based on their similar physical profiles, has had a couple strong practices.
Owens worked primarily with the second-team offense. He lined up opposite Edwards. Again, there was little fanfare. Owens went with the No. 10 jersey "because it was available" and because his preferred number, 81, belonged to Tate, who wasn't giving it up (as Tate explained, the jersey number had been through a lot, including the receiver's
infamous doughnut heist
).
"It's all about winning our division, getting to the playoffs and as everyone has seen the last 4-5 years, it's any team's game once you get to the playoffs," Owens said. "I'm looking forward to helping out in that challenge and the feat we have in front of us."
August, 3, 2011
8/03/11
12:51
PM ET
RENTON, Wash. -- NFL training camps aren't what they used to be now that players have secured day-spa treatment from coaches under the new labor agreement.

Still, teams aren't practicing in slippers and robes ... yet.
Earl Thomas
, the
Seattle Seahawks
' second-year safety, did go through a recent practice -- make that a walk-through, just to be safe -- wearing a visor that also would have served him well standing over a Titleist. Several teammates wore ball caps.
None of this shocks the system for Seattle.
Coach Pete Carroll ran a player-friendly camp last year as well, giving the team full days off from practice. But the veterans who lauded Carroll's approach in 2010 aren't around to celebrate it this year. And therein lies the biggest difference for the Seahawks this summer.
For the first time since 2000, quarterback
Matt Hasselbeck
isn't around to offer the insights and asides that made him mandatory viewing at Seahawks camp. Middle linebacker
Lofa Tatupu
, leader of the defense since 2005, also is gone. Other veterans I polled during the inaugural Camp Carroll are also elsewhere --
Lawyer Milloy
,
T.J. Houshmandzadeh
and
Olindo Mare
among them.
This day has been coming for a while. The Seahawks are getting on with their lives, untethered from what came before.
THREE HOT ISSUES
[+] Enlarge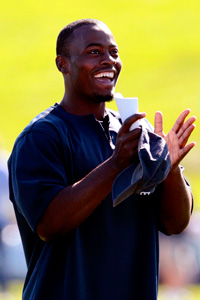 AP Photo/Elaine ThompsonTarvaris Jackson should be familiar with the Seahawks' offense since he spent five seasons with new coordinator Darrell Bevell.
1. Why Tarvaris Jackson?
The Seahawks decided it was time to move on from Hasselbeck before they had a long-term replacement lined up. Once that decision was made, the team targeted Jackson because he and the Seahawks' new offensive coordinator, Darrell Bevell, had spent five years together. Once Jackson was signed, Carroll wasted little time endorsing him as the starter. Three possible explanations come to mind. One, Jackson knew the offense. Two,
Charlie Whitehurst
hadn't asserted himself as a leader during offseason workouts when Hasselbeck was without a contract for 2011. Three, a quick endorsement gave Jackson a confidence boost following a rough run in Minnesota. There's a feeling that maybe, just maybe, Brad Childress did not give Jackson the best chance to succeed with the Vikings.
2. Who will lead the defense?
Tatupu's release following six seasons with the team leaves the defense in transition. Tatupu was instinctive and adept at getting teammates lined up properly. His play had deteriorated through injuries, but Tatupu had three Pro Bowls and a Super Bowl on his résumé. He was the defensive leader. Carroll pointed to linebacker
David Hawthorne
, pass-rusher
Chris Clemons
and defensive end
Red Bryant
as heirs. He named Thomas and strong safety
Kam Chancellor
as well. "I'm not worried about it," Carroll said. "There's a lot of very strong character kids on that side of the ball, particularly."
3. Does Whitehurst have a future?
It's tough to see him emerging in Seattle. The decision to go with Jackson even though rules prevented him from practicing right away said plenty about Whitehurst's status on the team. Whitehurst has been running the first-team offense while Jackson waits to become eligible under rules for players with new contracts. Everyone knows he's the backup even though there was never any competition. It's a tough situation for Whitehurst. Still, getting to work with the starters provided an opportunity to impress. It has not happened. Whitehurst's contract runs through the 2011 season. If Whitehurst doesn't show more as camp progresses, it's fair to wonder whether the team would consider bringing in a cheaper veteran.
BIGGEST SURPRISE
Signing Zach Miller in free agency.
Miller was on the Seahawks' radar when free agency opened. Assistant head coach/offensive line Tom Cable had high praise for Miller from their days together in Oakland. But the Seahawks never expected Miller to remain available so deep into the signing period. After a while, the Seahawks began to view Miller the way they would view a talented prospect falling to them in the draft. They felt compelled to pursue Miller with a strong offer. The Raiders made a push to keep Miller, but Seattle came through with a five-year, $34 million contract featuring $17 million in guarantees. Having Cable and former Raiders guard
Robert Gallery
in Seattle helped the Seahawks get this deal done. The team emerged from free agency with a 25-year-old Pro Bowl player.
BIGGEST DISAPPOINTMENT
Extending the lockout (sort of).
Carroll has bristled every day over the rules preventing newly signed players from practicing before Aug. 4, only one week before Seattle's exhibition opener at San Diego. Jackson,
Sidney Rice
and Gallery are among the key additions who were forbidden from participating in practices or even workouts with the team. The situation was tough for teams throughout the league, but Seattle felt challenged more than most because the team has undergone so much roster turnover. Seattle also has quite a few new coaches on the offensive side of the ball, including Bevell, Cable and quarterbacks coach Carl Smith. Going a week without getting key starters onto the field didn't make any sense from a football standpoint.
OBSERVATION DECK
[+] Enlarge

AP Photo/Elaine ThompsonRussell Okung has shown no signs of the injuries that nagged him last season.

The ankle injuries that slowed left tackle Russell Okung as a rookie last season haven't been a problem so far. Okung appears exceedingly smooth. He rides out defenders effectively during pass-rush drills, sometimes even driving them to the ground. He's a threat to flatten defenders in the running game. Another recent first-round pick on the line, James Carpenter, has made a positive first impression at right tackle early in camp. He's thick and massive. He plays with an edge. He's going to start in Week 1.

Rookie right guard John Moffitt projects as a starter, but he could need time to develop. That was my impression watching Moffitt in drills. Of course, it's not fair comparing Moffitt to Okung or Carpenter. Those guys were first-round picks. Moffitt was a third-rounder. Having youth on the line is a good thing overall. Getting the 31-year-old Gallery into the lineup is critical, however. Gallery has been serving as a coach on the field during practices. He knows Cable's blocking schemes and is already proving valuable as a resource. Durability is a concern for him.

Seattle is finished with the big-ticket purchases in free agency. The team could still add veterans at linebacker and kicker. The team lacks experience in the secondary as well. Marcus Trufant and Kelly Jennings are the only cornerbacks on the team with more than one start. Going young sounds great during the offseason, but throwing untested corners onto the field against veteran quarterbacks isn't very appealing when the games start counting. The Seahawks face Ben Roethlisberger, Matt Ryan and Eli Manning in the first five weeks of the regular season.

Strong safety Jeron Johnson and three linebackers -- Mike Morgan, K.J. Wright and Malcolm Smith -- are among the rookies impressing Seattle early in camp. Another rookie, safety Mark LeGree, is getting a chance to play safety when Thomas, the starter at free, shifts to cornerback against slot receivers. Carroll alluded to such an arrangement during the draft. One more rookie, Pep Levingston, has impressed in early one-on-one pass-rush drills. A defensive tackle at LSU, Levingston projects as an end with Seattle. He's leaner than I had anticipated, an advantage in pass-rush drills.

Seven of the 11 cornerbacks on the roster are at least 6 feet tall. Three are 5-foot-11 and one is 5-10. The biggest, Brandon Browner, goes 6-4 and 221 pounds. Impressive? Perhaps, but only three of the 11 have started an NFL game, and none of the three with starting experience stands taller than 5-11.

Size is a theme throughout the roster. Mike Williams, Rice and fellow receiver Kris Durham are at least 6-4.

The Seahawks might need to find more touches for Leon Washington if they hope to get sufficient return on their investment in him. New rules governing kickoffs figure to diminish the value of Washington and other top returners.

Seattle's front office trusted its coaches during free agency. Just about every free-agent addition has ties to a Seahawks staff member. Miller and Gallery played for Cable in Oakland. Jackson and Rice played for Bevell in Minnesota. Defensive tackle Alan Branch was an exception. Seattle added him after failing to land a defensive tackle in the draft. Ideally, Branch would be a backup. He could start for Seattle at three-technique, with Brandon Mebane moving to nose tackle. Branch will also back up Bryant at five-technique.

For the second year in a row under Carroll, the Seahawks are piping hip-hop beats and mixes into practices. A disc jockey stands behind two turntables near the front corner of the practices fields. "Halfway home and my pager still blowin' up, today I didn't even have to use my A.K. I got to say it was a good day ..." Hearing those lyrics from Ice Cube during a recent practice, I couldn't help but wonder what Chuck Knox would think of the arrangement. Did I mention times have changed in the NFL? Just a little.
July, 1, 2011
7/01/11
3:42
PM ET
Let's dive into the NFC West mailbag to answer lingering questions about quarterbacks.
Hashem from Imperial Valley, Calif.,
asked about rumors suggesting the
Arizona Cardinals
would consider trading cornerback
Dominique Rodgers-Cromartie
to Philadelphia as part of a deal for
Kevin Kolb
. Hashem hoped Arizona would not make such a move because Rodgers-Cromartie has too much value, while Kolb is unproven.
Zachary from Davis, Calif.,
wondered why we haven't heard much about the
Seattle Seahawks
possibly having interest in acquiring
Green Bay Packers
backup
Matt Flynn
.
Separately, NFC North blogger Kevin Seifert
tempered suggestions
that Seattle could be the logical landing spot for
Minnesota Vikings
quarterback
Tarvaris Jackson
.
Five quick considerations on these and other NFC West quarterback possibilities:
Jackson did play for Seahawks offensive coordinator Darrell Bevell when both were with the Vikings. I would not rule out Jackson as a possibility for the Seahawks, but neither would I expect Seattle to head into free agency targeting him. Matt Hasselbeck's status will be key. If Hasselbeck returns, Seattle probably goes through the 2011 season with a quarterback situation similar to the one last season. If Hasselbeck does not return, I could see the Seahawks going to camp with a few second-tier options. Jackson could be part of the mix. He knows the Seahawks' offense. That will make him more attractive to Seattle if the lockout extends deep into August.
Matt Leinart, released by Arizona before last season, drew no interest from Seattle last season. Like Jackson, he has ties to Seattle's staff. Leinart played for Seahawks coach Pete Carroll. The Seahawks' new position coach, Carl Smith, was Leinart's position coach at USC in 2004. As Seifert notes, those connections can work both ways. Familiarity does not always precipitate interest. But if Hasselbeck does leave, Seattle could conceivably stage a quarterback competition featuring Charlie Whitehurst and players such as Leinart and/or Jackson. As much as the Seahawks would like to solve their quarterback dilemma for the long term, they cannot do that in the absence of a franchise-caliber quarterback.
Carson Palmer's situation in Cincinnati could affect Seattle's thinking. Palmer played for Carroll (but not Smith) at USC. He's far more accomplished than quarterbacks such as Leinart or Jackson. If the Bengals changed their minds and decided to part with Palmer this offseason, the Seahawks would consider him.
Palmer would fit nicely in Arizona as a player with the experience and, if healthy, the physical ability to get plenty from the Cardinals' weapons. Palmer, like Kurt Warner, can size up situations quickly enough to get rid of the football before pressure arrives. Palmer took 52 sacks over the past two seasons, attempting 1,052 passes. Warner took 50 sacks over his final two seasons with Arizona, attempting 1,111 passes.
What about Kolb? He's a candidate for Arizona and Seattle, but much depends upon what the Philadelphia Eagles require in return. I don't get the feeling Seattle wants to trade away a first-round draft choice for the right to lavish Kolb with a massive contract. The Seahawks have shown interest in Kolb previously, however. What would Arizona part with? The points Kent Somers made a month ago still make sense. The Eagles want to drive up the price for Kolb. Seattle, Arizona and others want to drive down the price. Those competing agendas will drive reports as teams try to line up options.
Flynn has ties to Seahawks general manager John Schneider. They were in Green Bay together. Flynn's surprising performance against New England last season makes him an intriguing prospect. Is he more than that? He would have value as someone competing in the absence of a clearly defined starter, but not as an outright No. 1 option.
What, no mention of
Marc Bulger
? Len Pasquarelli has you
covered
on that front.
One more note:
I'll be taking my second and final week of summer vacation beginning Saturday. I'll be back July 11. Matt Williamson of Scouts Inc. has a three-part package planned for the NFC West blog in my absence. I've read it and am already looking forward to continuing the discussion upon my return. His analysis will get us thinking.
Have a great weekend.
April, 18, 2011
4/18/11
7:06
PM ET
RENTON, Wash. -- Highlights and interpretations from
Seattle Seahawks
general manager John Schneider's session Monday with reporters covering the team:
The Seahawks would rather trade back than up in the first round. Schneider said moving up is easier, however. Not having a third-round choice bothers him. Schneider: "Personally, I would like to move back because I have confidence in our ability in the middle rounds to do a good stuff and we have a coaching staff that has good teachers and they are excited to have these guys."

[+] Enlarge

AP Photo/John FroschauerGeneral manager John Schneider would rather see the Seahawks move back than move up.

Seattle would like to add at least one offensive lineman and one defensive lineman in the draft. The team wants to add at least one quarterback every year as a matter of philosophy. Quarterbacks become valuable commodities even if a team already has a viable starter.

Schneider wants the team to get younger in the mold of the Green Bay teams he helped put together. He said the Seahawks patched their roster with older players out of necessity last season, producing positive short-term results. Winning a playoff game was hugely helpful for Pete Carroll as a first-year coach in Seattle, but the focus this offseason will be on adding enough young talent to avoid patching so much.

The wide variety of quarterback styles in the draft will make the position less predictable. Schneider called it a "unique" year that way. He sees nine to 12 teams needing quarterbacks. He noted that Tampa Bay Bucs GM Mark Domenik said as many as six quarterbacks could become first-round choices. Schneider: "Mark is a good friend of mine and if he was sitting right here, I would say, 'He's got a quarterback, so he wants a lot of guys to be taken. He wants the offensive linemen to fall.' "

Schneider stressed the importance of remaining disciplined and not going after a quarterback just because the team remains unsettled at the position. He said the Packers were not "hellbent" on landing Aaron Rodgers and weren't going to move up for him. Of course, they didn't know just how good Rodgers would become, either.

Charlie Whitehurst is in the mix to start next season after playing well enough to beat St. Louis in Week 17. Whitehurst is also the only Seattle quarterback with a contract for next season. Schneider said he valued the game against St. Louis in particular because it was the one time Seattle built its game plan for Whitehurst.

Schneider thought long and hard, choosing his words carefully when I asked him to what extent Carroll, as a defensive head coach, has a vision for what he wants in a quarterback. I wanted to know how that vision might differ from the visions an offensive-minded head coach might have for a quarterback.

Schneider apparently thought I was asking whether the slow-footed Ryan Mallett would fit in Seattle's offense, but I had no one in mind. Schneider: "From a pure, uh, I'm reading your mind with this, I'm going to be really careful how I answer this. Pete and (quarterbacks coach) Carl (Smith) coached Drew Bledsoe, who is not a big movement guy, and he had his best season. I don't know if Pete has ever had a guy that is a big-time runner, huge movement guy. I wouldn't slam any of the guys he has had. But everybody likes a guy that can move, but a lot of these guys have compensating factors. So the guy that you're thinking about would be one of those guys that has compensating factors."

Picking at 25th overall, Seattle can probably pare down a short list to 10 players the team is most likely to select. This year could be less predictable, however, because the absence of free agency could lead teams to favor need a little more strongly. He said Seattle would not take that tack.
Those were a few highlights. I'll be taking a day trip to visit the
San Francisco 49ers
on Wednesday as they prepare for their first draft with head coach Jim Harbaugh.
NFL SCOREBOARD
Sunday, 2/2
WEEKLY LEADERS