NFL Nation:

Carlton Mitchell
August, 26, 2012
8/26/12
4:39
PM ET
The Browns and Ravens have already made some cuts as teams need to get down to the 75-player limit by Monday at 4 p.m.

As everyone knows by now, the Ravens cut kicker
Billy Cundiff
in
a gutsy move
by the team. That means undrafted rookie
Justin Tucker
takes over as kicker.
"Billy had a great camp, the best he has had with us," coach John Harbaugh said in a statement. "He showed, like he always has, a toughness and an ability to come back and be a top-flight NFL kicker. These decisions are never easy, and this one was difficult for all of us -- Ozzie [Newsome, general manager], Jerry [Rosburg, special-teams coordinator] and me."
Harbaugh added, "Of course, that says something about Justin, the way he has kicked and our belief in him. But, that does not say something less about Billy. Billy was ready in every way to be our kicker. He'll kick in the NFL. He's a very good kicker and an even better person."
The Ravens had signed Cundiff to a five-year, $14.7 million contract that included a $3 million signing bonus just 19 months ago.
The one notable player waived by the Ravens was center
Cecil Newton
, the brother of Panthers quarterback
Cam Newton
. Cecil Newton was on the team's practice squad last season. Here are the other players waived: tight end
Davon Drew
(a 2009 fifth-round pick), receiver
Devin Goda
, OL
Addison Lawrence
, cornerback
Jordan Mabin
, long-snapper
Patrick Scales
, quarterback
Chester Stewart
and receiver Patrick Williams.
These cuts bring the Ravens' roster down to 81 players, meaning six more need to go by Monday's deadline. One move could be placing wide receiver
Tommy Streeter
, who didn't practice Saturday, on injured reserve to store him away for a year.

For the Browns, the biggest name to go was wide receiver
Carlton Mitchell
.The Browns had hopes they could develop Mitchell when they drafted the 6-foot-3, 215-pounder in the sixth round in 2010. But he managed three catches for 31 yards in two seasons. Cleveland decided to move on after drafting
Josh Gordon
in the supplemental draft and taking
Travis Benjamin
in the fourth round in April.
Here are the other players waived by the Browns: offensive linemen
Jake Anderson
and
Matt Cleveland
, defensive back
Emanuel Davis
, linebacker
JoJo Dickson
, punter
Spencer Lanning
and wide receivers
Bert Reed
,
Jermaine Saffold
and
Owen Spencer
.
The Browns now have 80 players on their roster and need to make five more moves by Monday's deadline.
May, 4, 2012
5/04/12
12:00
PM ET
What are the Cleveland Browns doing at wide receiver?

The short answer: nothing. That is, unless you believe fourth-round pick
Travis Benjamin
is the next
Steve Smith
. The Browns ignored wide receivers in free agency and didn't address the position in the draft until the 100th pick (that was Benjamin).
What Cleveland is left with is perhaps the worst wide receiver group in the NFL with
Greg Little
,
Mohamed Massaquoi
,
Josh Cribbs
,
Jordan Norwood
and
Carlton Mitchell
. There are simply no elite playmakers in this group. Some of the wide receivers' ineffectiveness last season can be blamed on
Colt McCoy
and his lack of arm strength. But the Browns' wide receivers didn't help him out, either. Cleveland had the most drops in the NFL last season (33) and ranked second-to-last in average yards after the catch (4.4), according to ESPN Stats & Information. Little, who led the team in receptions, also averaged one drop for every five passes thrown his way, according to Pro Football Focus.
The Browns wanted to address wide receiver this offseason, but they didn't want to overspend on free agent
Pierre Garcon
, and all of their coveted draft prospects (
Justin Blackmon
,
Michael Floyd
and
Kendall Wright
) were gone by their second first-round pick. Team president Mike Holmgren insisted the Browns aren't panicking and stressed that the wide receivers will catch the ball better. If not, rookie quarterback
Brandon Weeden
will have a rough initiation into the NFL.
September, 2, 2011
9/02/11
11:00
AM ET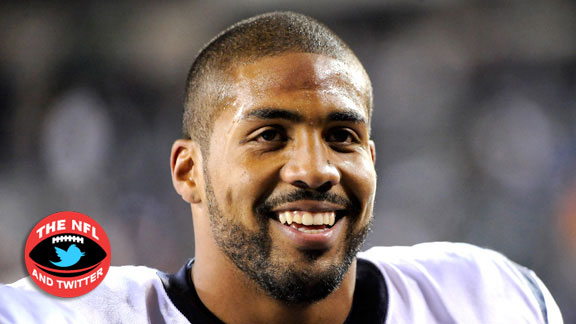 Howard Smith/US PresswireThe Texans' Arian Foster leads the way in this week's Twindex ranking.
OK, the Twindex has been retooled a bit as we set sail on the 2011 NFL season.
While I sift through hundreds of players' tweets, only five will make our weekly list, though there will be quirky honorable mention categories for stuff that grabs my attention.
As always, I ask for your assistance. If there is a tweet that needs to be considered, call it to my attention at
@ESPN_AFCSouth
or
@PaulKuharsky
.
You can see the "finalists" by looking at favorites at the ESPN account.
An announcement to our fine player pool: It's time to crank it up fellas. Camps are over, you're back home and getting to your in-season schedule. It demands a lot of time to rest. During said rest, why not cleverly tweet us insight into football and life and football life?
We'll be watching.
August, 19, 2011
8/19/11
10:58
AM ET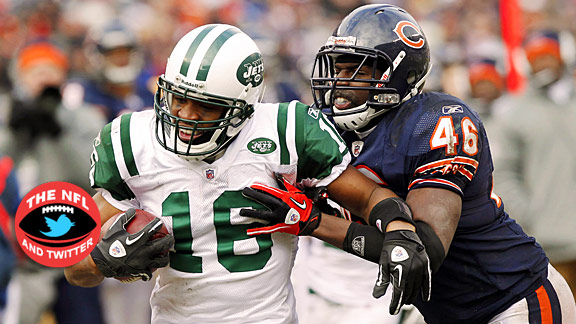 Mike DiNovo/US PresswireBears safety Chris Harris, right, rose to the top spot in the latest version of the NFL Twindex.
More football please.
When we started the NFL Twindex during the NFL lockout, many guys who earned top 10 spots did so on the strength of their comedy.
Now, it takes more. We need more. You, fare NFL player, have taken to Twitter to connect with your people. And to earn a top rating from this follower, you should have a reasonable share of football insight in the mix.
To stand your ground or gain some or to emerge as a member of the club, show us some of everything and be sure it includes some of what brought us to you in the first place.
I thought Arizona quarterback Kevin Kolb (
@KevinKolb_4
) had the best recent football tweet: "Our Z receiver,
@ARob12_Cards
, has been tearing it up in practice. Get to know him this year."
Unfortunately, Kolb's busy learning a new team and hasn't been tweeting much. Understandable, but he doesn't even earn an honorable mention here for lack of volume.
With no further ado, our new list…
See a tweet I need to be aware of for the Twindex? Make me aware. I am
@ESPN_AFCSouth
and
@Paul Kuharsky
.
July, 8, 2011
7/08/11
11:02
AM ET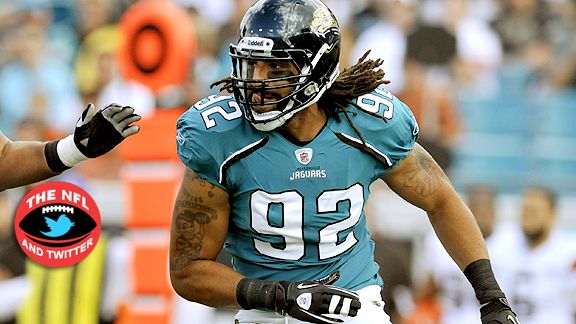 AP Photo/Stephen MortonAusten Lane has now been in the top-10 rankings of all four of the NFL Twindexes so far.
Show, don't tell. We're making it an NFL Twindex commandment.
"I usually hate when athletes tweet about how good their workout was," Matt Hasselbeck (
@Hasselbeck
) tweeted Thursday in a good start, "but we had a great one today!"
Bad finish.
Plenty of NFL fans starved for morsels and insight into football and beyond would love to know what made it good.
J.J. Watt (
@JJWatt
) did very well with show-don't-tell when he tweeted
this picture
. Yowza.
Alas, Hasselbeck and Watt are snapshot examples for us here at Twindex HQ, where we'd like to host Cleveland receiver Carlton Mitchell and Green Bay tight end Tom Crabtree. They hold the top two spots in our new poll, flip-flopping their standing from two weeks ago.
We could have a 10-event competition for the two including feats of strength and intellect and concluding with a tweet-off or a tweet-up or a tweet-meet.
They were neck and neck, and it came down to my gut feeling -- Mitchell was more consistently amusing.
Scroll through
my favorites
to see what was considered as we made the final cuts -- we are now trying to track 493 guys.
And hit me at
@ESPN_AFCSouth
and
@PaulKuharsky
with tweets I need to see and people I need to follow.
June, 24, 2011
6/24/11
12:01
PM ET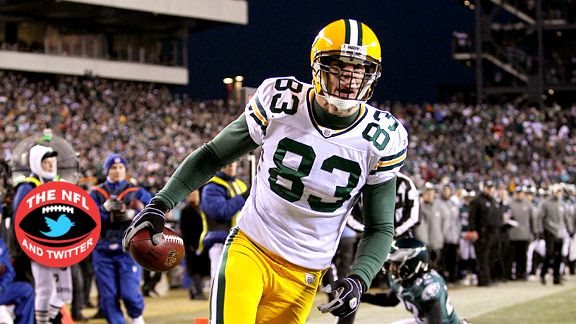 Michael Heiman/Getty ImagesCreative tweeting earns Packers tight end Tom Crabtree the top spot on the latest Twindex.
Want to rise and grind? Want to know how long a flight is delayed out of Atlanta? Want motivational quotes and bible passages?
Me neither.
That's not what I am looking for on Twitter. But I am curious what NFL players are saying and I have made a commitment to sort through it all to give you the highlights from NFL players since the last edition of the NFL Twindex.
Comedy is key during the lockout, but once things are settled we expect far more football talk to be involved here.
It's not all about laughs on Twitter, and Amy Nelson illustrated so well in
this piece
about Brandon Phillips of the Cincinnati Reds.
Check out
tweets I made favorites
. That's the list I then worked with to craft our new poll.
Seeing quality tweets you want to make sure are considered? Point me to them. I'm
@ESPN_AFCSouth
and
@Paul Kuharsky
.
November, 14, 2010
11/14/10
11:53
AM ET
July, 28, 2010
7/28/10
12:01
PM ET
You would be hard-pressed to find a division with more offseason intrigue and drama this year than the AFC North.
Whether it was the
suspension of a star quarterback
in Pittsburgh,
controversial signings
in Cincinnati,
new leadership
in Cleveland, or
Super Bowl hype
in Baltimore, this division remained in the headlines.
Three AFC North teams finished with winning records last year and enter 2010 with even bigger aspirations. Now it's time get on the football field and get the pads cracking in training camp, as each team has issues to address.
FOUR BIG QUESTIONS
Baltimore Ravens: Will the secondary get healthy this summer?
Ed Reed
and cornerbacks
Lardarius Webb
and
Fabian Washington
all have significant health concerns and began training camp on the physically unable to perform list.
Reed is coming off major hip surgery and is unsure if he will start the regular season on the PUP list, which would require him to miss the first six games. Webb and Washington are rehabbing knee injuries and also are possible PUP candidates for the regular season. Baltimore's secondary is one of the team's few questionable areas, and the Ravens would benefit greatly if any of these players are ready by Week 1.
Cincinnati Bengals: Can T.O. and the passing game jell?
The Bengals' downfall at the end of last season was due to their inability to pass effectively. Cincinnati became predictable and relied heavily on tailback
Cedric Benson
to move the offense. As a result, Cincinnati placed a huge emphasis on improving its passing game this offseason.
The Bengals paid receiver
Antonio Bryant
$28 million and
most recently added
receiver
Terrell Owens
with a one-year, $2 million deal. They also spent three draft picks on first-round tight end
Jermaine Gresham
and receivers
Jordan Shipley
and
Dezmon Briscoe
. With so many new faces, can everyone coexist and
quickly find their roles
? Training camp and the preseason will be key for Cincinnati to put it all together.
Cleveland Browns: Will QB Jake Delhomme erase concerns?
Whether you're Browns president Mike Holmgren, the coaching staff or a fan of the team, no one is exactly sure what Cleveland
will get out of Delhomme this year
.
Carolina Panthers
.
The Browns are quietly confident that last year was an aberration. But a strong performance in training camp and the preseason would go a long way to ease concerns. If Delhomme, 35, doesn't have anything left, backup quarterback
Seneca Wallace
and rookie
Colt McCoy
are waiting for their opportunity.
Pittsburgh Steelers: How will coach Mike Tomlin divide quarterback reps?
Should suspended quarterback
Ben Roethlisberger
get more first-team reps this summer than
Byron Leftwich
and
Dennis Dixon
?
This is an interesting issue facing Pittsburgh's coaching staff. The Steelers need to find the best quarterback option between Leftwich and Dixon because Roethlisberger will not be available for the first four to six games of the regular season. Yet, training camp and the preseason are the only times "Big Ben" can get practice reps and playing time, because he will be banned from the facility during his suspension. How do the Steelers properly balance short- and long-term preparation at quarterback simultaneously?
HOTTEST SEATS
Ravens: Terrell Suggs.
The three-time Pro Bowler raised the stakes for himself this offseason by saying his sub-par performance in 2009 will "
never happen again
." The Ravens certainly hope so, because Suggs did not live up to standards (he had a career-low 4.5 sacks) in the first season of his new contract. Baltimore needs more of a pass rush this year, and Suggs is the most capable to help in that area.
Bengals: Carson Palmer.
Cincinnati's aforementioned struggles passing the football have raised questions about its franchise quarterback. Is Palmer, 30, past his prime? Have knee and elbow injuries caught up to him? Can Palmer get back to his 4,000-yard form of 2006-07? This is a very important year for Palmer. It's the deepest team he's had in Cincinnati, and added weapons in the passing game leave no excuses for not performing well.
Browns: Eric Mangini.
Perhaps no person in the entire AFC North is on a hotter seat than Mangini. He must be successful this year to keep his job, and it's not going to be an easy task getting Cleveland out of the basement in the division. As a former head coach, Browns president Mike Holmgren believed Mangini deserved more than one year to implement his program. Cleveland won five games last season under Mangini and will have to do better in 2010 to impress "The Big Show."
Steelers: Bruce Arians.
Pittsburgh's offensive coordinator was on the hot seat even before Roethlisberger's suspension. Now Arians really has to be on top of his game for the Steelers to be successful early in the season. Arians has been
a lightning rod with Steeler Nation
. Despite Pittsburgh having a 4,000-yard quarterback, a 1,000-yard tailback and two 1,000-yard receivers last year, Arians still has a lot of detractors. He can prove many of his critics wrong by helping lead Pittsburgh to victories without the team's best offensive player.
SECRET WEAPON
Steelers WR Mike Wallace:
Pittsburgh is showing a
tremendous amount of confidence
that Wallace, a second-year receiver, can step up for the departed
Santonio Holmes
. The No. 2 receiver opposite starter
Hines Ward
is an important position in Pittsburgh's offense. It's reserved for the receiver who consistently makes big plays, which Wallace is certainly capable of with his speed.
Wallace had 39 receptions for 756 yards and six touchdowns last season. He averaged an impressive 19.4 yards per catch, quickly gaining the trust of Roethlisberger by making plays when his number was called. Now in the starting lineup, expect Wallace's number to be called more this year and for him to post better numbers, especially in the second half of the season once Roethlisberger is back in the groove.
FEARLESS CAMP PREDICTIONS
Ravens:
Expect a closer kicking competition than expected between free agent
Shayne Graham
and
Billy Cundiff
. Graham will eventually win the job, but Cundiff was solid for Baltimore last year and won't go away without a fight.
Bengals:
Adam Jones
will win the third cornerback spot in training camp. After sitting out an entire year, he's had enough time to get his football legs back and
his natural athleticism
will help keep him ahead of the competition.
Browns:
Rookie receiver
Carlton Mitchell
will be a pleasant surprise this summer for Cleveland. Mitchell, a sixth-round pick, comes to the Browns with few expectations. However, he has a nice combination of speed and size and will get plenty of opportunities at a thin position for the Browns.
Steelers:
Look for second-year cornerback
Keenan Lewis
to raise some eyebrows in this training camp.
Ike Taylor
and
Bryant McFadden
are the starters, but Lewis' size, athleticism and second year in the defense will earn him a role with the team in sub packages.
June, 22, 2010
6/22/10
11:00
AM ET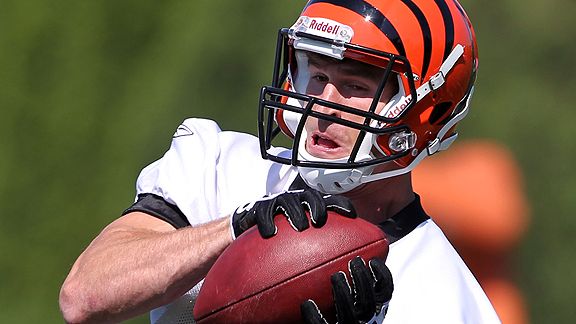 Frank Victores/US PresswireJordan Shipley stood out at Cincinnati's recent minicamp and could be a contender to be the Bengals' No. 3 receiver.
Every year there are rookies around the league who, seemingly out of nowhere, quickly develop and contribute to their respective teams.
Pittsburgh Steelers
receiver and 2009 third-round pick
Mike Wallace
was a perfect example last season.
So who could be this year's version of Wallace in the AFC North?
Here are seven rookies drafted in the third round or lower who could surprise in 2010:
1. Jordan Shipley, WR, Cincinnati Bengals
Draft status:
Third round (No. 84 overall)
Analysis:
Shipley was one of the stars of Cincinnati's mandatory minicamp last week. The receiver caught everything from the slot position and already looks like a good fit for the Bengals' offense. Shipley has a knack for manipulating the middle of the field and finding openings in coverage. Cincinnati has lacked this type of receiver since the departure of
T.J. Houshmandzadeh
. Look for Shipley to have a good competition with third-year veteran
Andre Caldwell
for the No. 3 receiver spot behind
Chad Ochocinco
and
Antonio Bryant
.
2. Ed Dickson, TE, Baltimore Ravens
Draft status:
Third round (No. 70 overall)
[+] Enlarge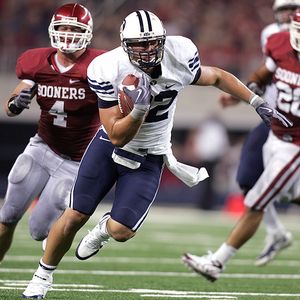 Tim Heitman/US PresswireDennis Pitta will battle with fellow rookie tight end Ed Dickson for playing time in the Ravens' offense.
Analysis:
Dickson was one of the top receiving tight ends in this year's draft, and he should be able to stretch the field for Baltimore's offense. At this point, Dickson is a luxury as a backup to starter
Todd Heap
. That should allow the Ravens to bring Dickson along and only put him in positions to be successful. He will have an interesting competition with rookie teammate
Dennis Pitta
, who is also on this list.
3. Carlton Mitchell, WR, Cleveland Browns
Draft status:
Sixth round (No. 177 overall)
Analysis:
Someone has to catch passes in Cleveland. Why not Mitchell? The Browns have arguably the worst receiving depth in the league. So this is a good opportunity for Mitchell to step up and impress Cleveland's coaching staff in training camp. He's a bit unpolished but has good size and a good burst. If Mitchell can show some potential, that could be enough to earn playing time in Cleveland's offense, which is lacking playmakers.
4. Emmanuel Sanders, WR, Steelers
Draft status:
Third round (No. 82 overall)
Analysis:
The Steelers found Wallace in the third round last year. Could they find another solid contributor in the third round this season with Sanders? Pittsburgh's receiving depth took a hit with the offseason trade of
Santonio Holmes
and the season-ending Achilles injury to
Limas Sweed
. Each instance has moved Sanders up the depth chart. Wallace and
Hines Ward
are the starters, and veteran
Antwaan Randle El
probably is set as the No. 3 receiver. But Pittsburgh will give Sanders an opportunity in training camp to earn a role with the team.
5. Dennis Pitta, TE, Ravens
Draft status:
Fourth round (No. 114 overall)
Analysis
: In a bit of a surprise move, the Ravens took tight ends in back-to-back rounds. The organization felt the value for Pitta in the fourth round was too good to pass up. He had outstanding production at Brigham Young, and what Pitta lacks in athleticism, he makes up for with savvy and great hands. Pitta will compete with Dickson to back up Heap. The Ravens only need one of these rookies to pan out this season and put up numbers in what should be a very good offense.
6. Shawn Lauvao, G, Browns
Draft status:
Third round (No. 92 overall)
[+] Enlarge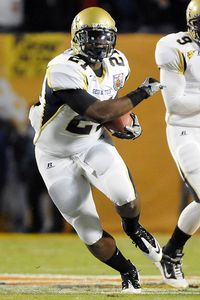 Richard C. Lewis/Icon SMIJonathan Dwyer could make an impact for the Steelers in the red zone.
Analysis:
The middle and left side of Cleveland's offensive line are set with tackle
Joe Thomas
, guard
Eric Steinbach
and center
Alex Mack
. But the two right positions are still undecided, which provides an opportunity for third-rounder Lauvao to produce in his rookie year. For what it's worth, Lauvao has looked good in non-contact practices and is getting quality reps in Cleveland's offense. But it's difficult to mark the progress of offensive linemen until there's full contact in training camp. Browns coach Eric Mangini likes to use various linemen in games, so Lauvao could see playing time regardless.
7. Jonathan Dwyer, RB, Pittsburgh Steelers
Draft status:
Sixth round (No. 188 overall)
Analysis:
Dwyer was very productive in college, rushing for 1,395 yards and averaging 5.9 yards per carry at Georgia Tech last season. But right now, Pittsburgh is more interested in Dwyer's nose for the end zone; he rushed for 26 touchdowns the past two seasons. The Steelers lacked a short-yardage running back who could move the chains last year. The team also struggled in the red zone, and if Dwyer proves he can move the pile, he could have an immediate role with Pittsburgh.
Not all of these players will surprise in their rookie year, but there's a decent chance some from this group will be productive.
Which mid- to late-round draft pick do you think will surprise in 2010?
April, 20, 2010
4/20/10
3:02
PM ET
This is the time of year when the fine folks in the NFL's public relations department really earn their pay.
Thanks to them, my wake-up call this morning came from a FedEx driver, who delivered a package with bios on just about every draft prospect you can imagine. They're also sending out a steady stream of draft-related e-mails. Some of them are very lengthy, but you can find some really interesting stuff if you take the time to sort through them.
One of my favorites is the little "fun facts'' section that came in an e-mail just a bit ago. I don't have space to share them all with you, so I picked out five that I thought were pretty interesting:
Tennessee safety Eric Berry studied dentistry at Tennessee and interned at a Georgia dentist office this past summer.
South Florida wide receiver Carlton Mitchell's mother, Angela, is the "cut man'' for professional boxer Antonio Tarver.
Oklahoma's Sam Bradford, Gerald McCoy and Trent Williams will be in New York for the draft. It will be the first time three players from the same school have been present since Penn State's Ki-Jana Carter, Kerry Collins and Kyle Brady were there in 1995.
Speaking of Oklahoma, the Sooners have had a great program, but they're not known for producing quarterbacks. Although Bradford is likely to change things, you want to take a guess who's the last Oklahoma quarterback to throw an NFL pass? Jack Jacobs for the Green Bay Packers back in 1949. Before you start filling up the mailbag saying that's not correct, Troy Aikman doesn't count. Yes, he spent two years at Oklahoma, but he transferred to UCLA and that's where he earned his way to the NFL.
Penn State defensive tackle Jared Odrick has invited his college defensive line coach Larry Johnson Sr. to wait with him in the "green room'' during the draft. Johnson also is the father of NFL running back Larry Johnson Jr.
NFL SCOREBOARD
Sunday, 2/2
WEEKLY LEADERS