NFL Nation:

Carmelo Anthony
March, 22, 2012
3/22/12
3:00
PM ET
New York is such a huge media market that it always needs royalty in place.
So who is the current sports king of New York? Can new Jets quarterback
Tim Tebow
fill that void?
[+] Enlarge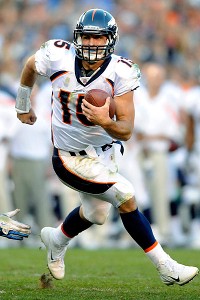 Christopher Hanewinckel/US PresswireWill New Yorkers embrace Tim Tebow like fans did in Denver?
The crown right now is on the head of
New York Giants
quarterback
Eli Manning
. He's won two Super Bowls in the past five seasons and went through the ringer with New York fans and media. Manning persevered and came out on the other side a stronger person and better quarterback. He showed the toughness it takes to be a professional athlete in New York, and he's earned Gotham's respect. That crown will be hard to take.
But every sports king needs a sports prince. That is where Tebow-mania has the potential to take over.
Tebow already comes to the media capital of the world with an immense fan base. The Gang Green No. 15 jersey sales will go through the roof. Tebow just needs to do his part on the field, which he did in Denver last year by leading the Broncos to the playoffs. Based on his character and work ethic, we already know no one is going to work harder. Those are admirable traits that the New York metropolitan area will respect.
The competition for New York's No. 2 athlete has some contenders. I consider Derek Jeter, 37, in his own category. He's run New York for so long that he's in the "King of New York" Hall of Fame. He's more of the governor or mayor at this point. Leave the rotating crowns to the younger guys. Let's look at five who are in the running for the prince role behind Manning:
Jeremy Lin, PG, Knicks: For about a three-week period, there was nothing bigger in sports than Lin. His story of going undrafted out of Harvard to starring for the New York Knicks at Madison Square Garden captured the imagination of the sports world. But the Knicks have since fizzled out and so has Lin's momentum. He's still averaging a solid 14.9 points and 6.3 assists per game. But the Knicks are a game below .500 and in danger of missing the playoffs.

Carmelo Anthony, F, Knicks: He came to New York with a ton of fanfare, but there are already signs that Anthony is starting to wear out his welcome. The Knicks seemed to play better without him this year, which isn't a good sign. Maybe that's just a coincidence, but that hasn't stopped New Yorkers from pointing that out as the Knicks currently stand with a losing record (23-24). Anthony is averaging 20.3 points per game and his star has fallen significantly in the King of New York race.

Henrik Lundqvist, G, Rangers: Now, here is a dark-horse competitor. He already has the nickname "King Henrik," and the New York Rangers are in first place and one of the favorites to win the Stanley Cup. Winning matters more than numbers, but Lundqvist is putting up both. He has a 1.87 goals against average and a stellar 34-15 record as of Wednesday. If the Rangers win the cup, look out.

Mark Sanchez, QB, Jets: Similar to Anthony, Sanchez had "King of New York" potential upon his arrival, but production and results have dipped of late. That basically kills his chances, especially now that Manning has that spot for the rival Giants. Sanchez helped lead the Jets to back-to-back AFC title games his first two years and was on his way to being New York royalty. But failing to get over that hump and crashing and burning last year has put him back in the pack. Having Tebow-mania waiting behind him also doesn't help.

Darrelle Revis, CB, Jets: Revis Island gained a good following, but it's hard for a cornerback to get that kind of recognition -- especially a quiet cornerback like Revis. Knowing Revis, he probably doesn't want this kind of spotlight and publicity. He leads by working hard and being the best cornerback on the field. The Jets need to win, though, and go far for everyone in New York to truly appreciate what Revis can do.
Unless Tebow can win two Super Bowls in New York -- which isn't likely, the crown isn't leaving Manning's head any time soon. But Tebow has such a huge fan base that there is potential to capture the imagination of New Yorkers and challenge for the No. 2 spot.
February, 22, 2011
2/22/11
10:15
AM ET
The
Carmelo Anthony megatrade is a dominant sports
story at the moment.
Anthony is headed to the New York Knicks in a three-way trade that involves 15 players and draft choices plus $6 million in cash.
NFL writers are comparing the trade to the Herschel Walker jaw-dropper in 1989. The
Dallas Cowboys
sent him to the
Minnesota Vikings
in a
deal comprised of 18 players and draft picks
.
That got me thinking ...
Rather than rehash some of the most leviathan trades in AFC East history, let's conjure up something that would be in the Anthony or Walker ballpark.
My assignment to you: Sketch out a trade scenario involving an AFC East club and a superstar that involves more components than an assemble-it-yourself entertainment center.
The rest I'm leaving up to you. Be as creative as you want. The featured player could be coming into the division or exiting. Send
Tom Brady
to the
Arizona Cardinals
. Lure
Michael Vick
to the
Miami Dolphins
. Swap
Darrelle Revis
for
Troy Polamalu
as a starting point.
Drop your proposal in the comments section underneath this article. I'll sift through the submissions and highlight the best in a future post. I'll be on the lookout for the most reasonable, unwieldy and imaginative offers. Bonus points if you explain your logic.
Now get transcrackin'.
August, 22, 2010
8/22/10
12:21
PM ET
The AFC North trash talking continues from
Chad Ochocinco
.


The
Cincinnati Bengals
' Pro Bowl receiver resumed his verbal assault on his division rivals, with his latest installment coming via Twitter on Saturday night. NBA star and Baltimore native Carmelo Anthony was
praising his hometown Ravens
following last night's
23-3 preseason win
against the
Washington Redskins
.
Then Ochocinco jumped in with a response.
"Bruh don't get to [sic] excited we [will] smash the Ravens, I owe
Ray Lewis
big time, I won't lose across the middle this time,"
Ochocinco tweeted back to Anthony.
Ochocinco was referring to a tough hit he took from Lewis last season in Baltimore, a game Cincinnati won. In fact, the Ravens have
struggled in recent seasons
against the Bengals, which includes last year's season sweep.
Simply add this to the other
bulletin-board material
Ochocinco continues to provide AFC North teams.